There's a new Instagram museum in town! And it's a good, good, good, good time!
Pop-Up Disney: A Mickey Celebration has moved into the old ESPN Zone space at Downtown Disney at The Disneyland Resort in Anaheim, CA. If you have never experienced an Instagram museum, such as the Museum of Ice Cream, they are large spaces transformed into smaller rooms with photo-worthy art installations. They exist solely to provide fun photo experiences, and Pop-Up Disney is no different!
The whole exhibit is an ode to our favorite mouse, the one who started it all: Mickey! At Pop-Up Disney there are lots of 'Grammable walls and props, and some installations are even slightly interactive.
A quick shout out to my friend Katie Pritchard who took all my photos! Thank you, Katie!
Pop-Up Disney:A Mickey Celebration
Watch my Pop-Up Disney video tour here:

I visited Pop-Up Disney on opening day and had so much fun! I tried my best to avoid spoilers but it was tough when half of my Instagram feed attended a media event a couple days prior. So I knew about a couple photo ops and planned my outfits accordingly. However, most of the exhibits were a surprise to me and I loved not knowing what was around every corner. I'll leave it up to you if you want to continue reading or watch my video tour, or if you want to be surprised when you go!
I also received a lot of comments about my outfit changes on social media. You absolutely DO NOT have to change your clothes! I brought extra clothes with me because I thought it would be fun. I had four shirts and a skirt that fit over my shorts. I also brought three pairs of Minnie ears, a belt, and sunglasses as accessories. If you plan to change clothes, you must wear appropriate clothing underneath as there are no private areas to change in. I wore a camisole under my top so I could easily swap tops without scaring people.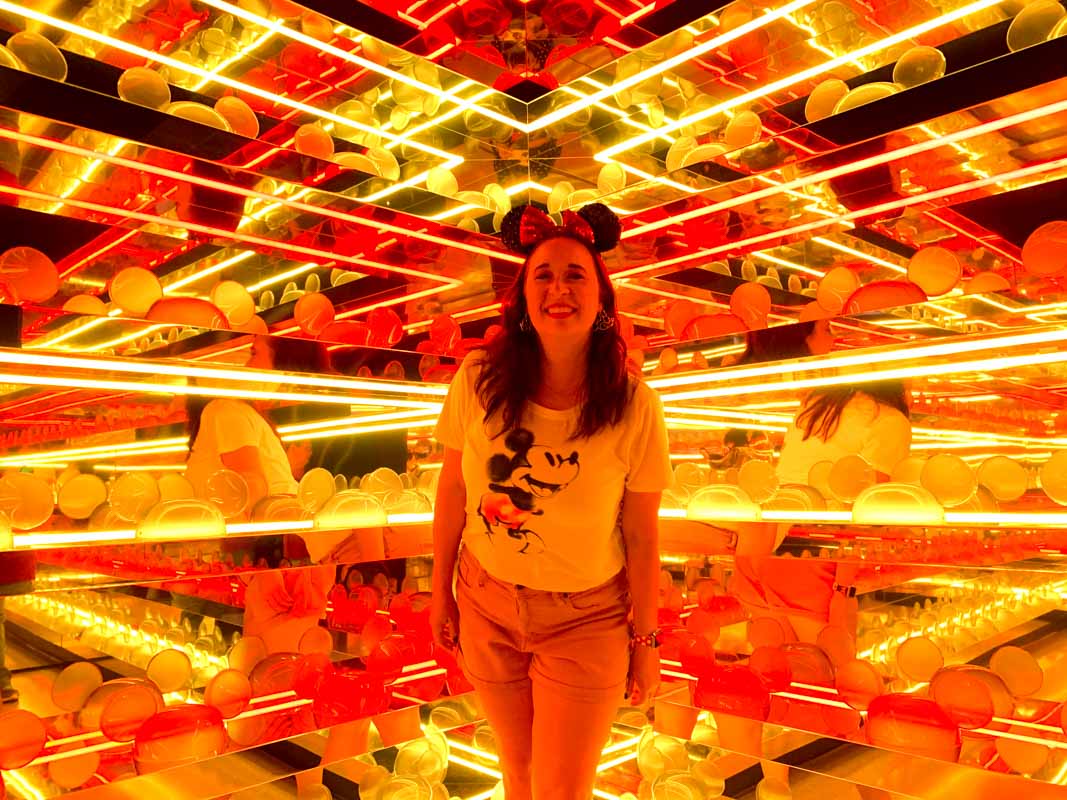 My ticket time was 4pm, the first time slot of the day. We were allowed to check in 15 minutes early and were given a plastic pass with a colored border. A Cast Member would announce our color when it was time for our group to go into the exhibit.
There's a waiting area on the first floor and it is also themed to Mickey and Minnie. There are sofas and benches to rest, if you choose, or pre-game by taking some photos against the large murals on the wall. There is also a Beats by Dre listening station, where you can put on a pair of headphones and listen to the specially curated Pop Up Disney playlist. (PS – if you love the Pop-Up Disney playlist, like I do, it's available on iTunes for Apple Music subscribers.)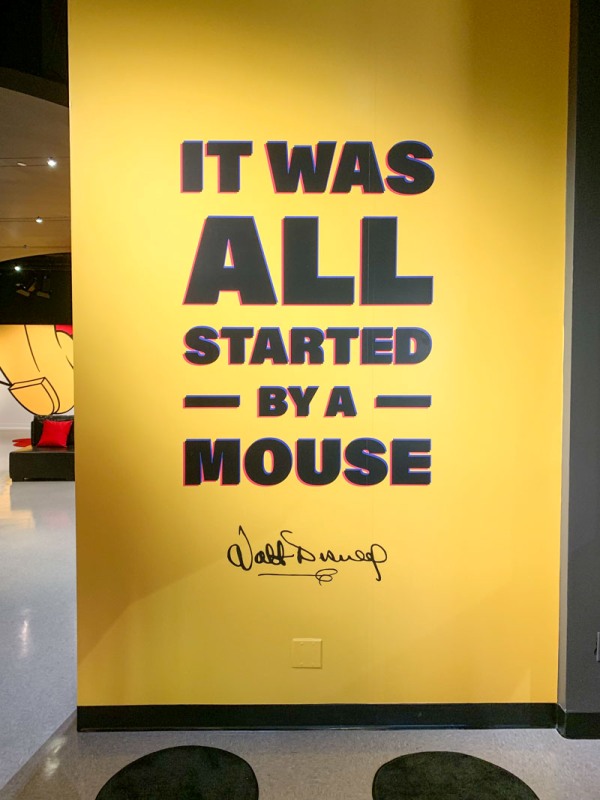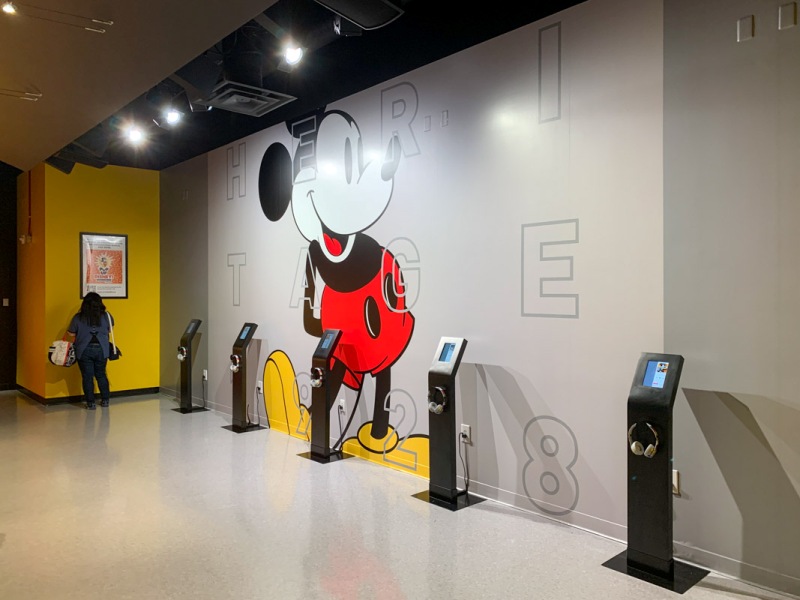 In the waiting area you can find a map of the exhibit, showing all the different themed rooms! The map is right next to the restrooms. You won't see another restroom for a while, so be forewarned.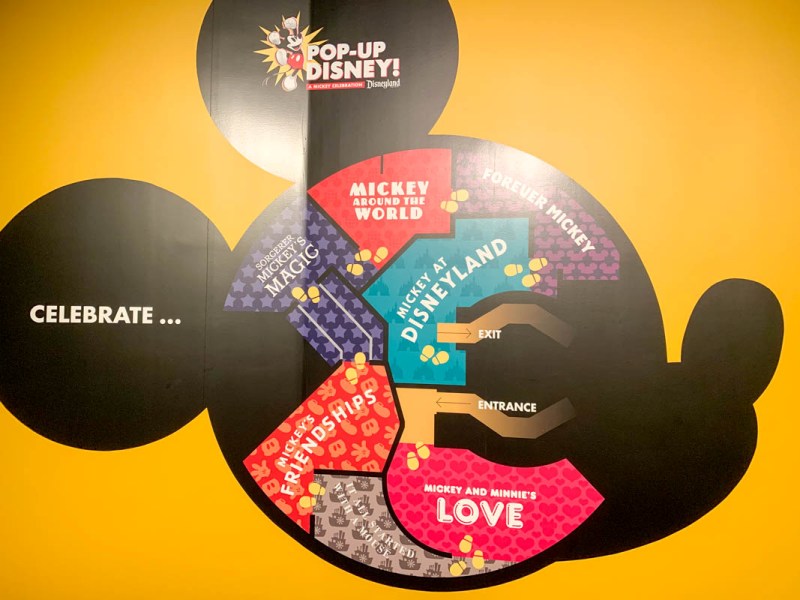 Before we knew it, our group color was being called! A Cast Member led our group up the stairs and into the first room. I'll describe the rooms a little bit, but otherwise will let the photos speak for themselves.
Mickey and Minnie's Love
The first room celebrates Mickey and Minnie! Lots of pink and red in this room, including a large pink shimmery heart.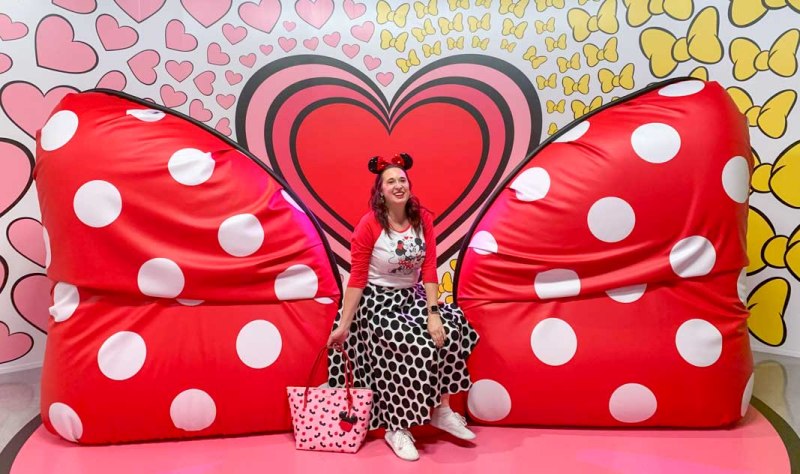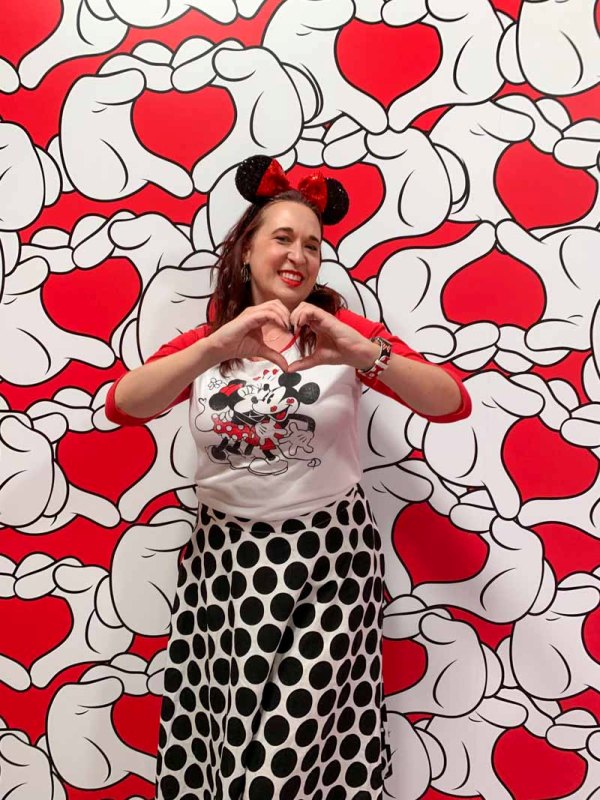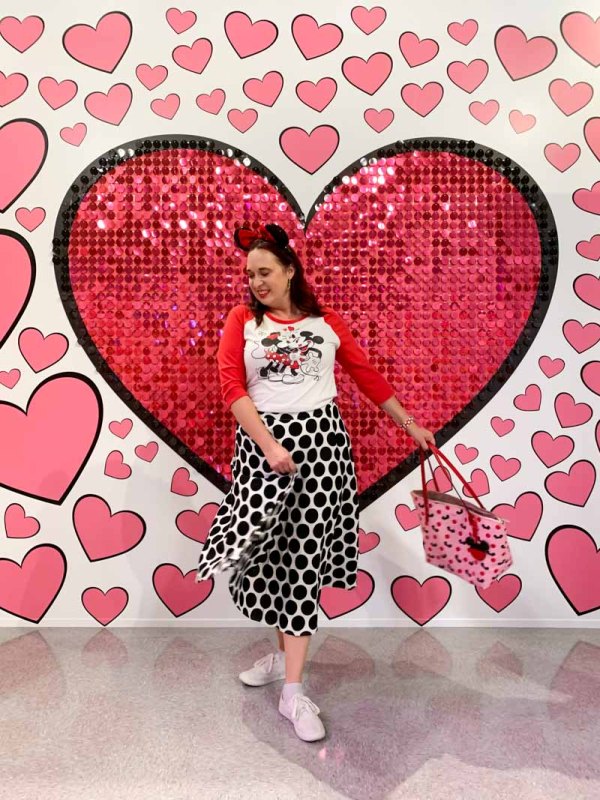 It All Started With a Mouse
With all black and white, this room pays tribute to Mickey's early days. When you're there, look closely at the Mickey plush wall – there's one hidden Minnie!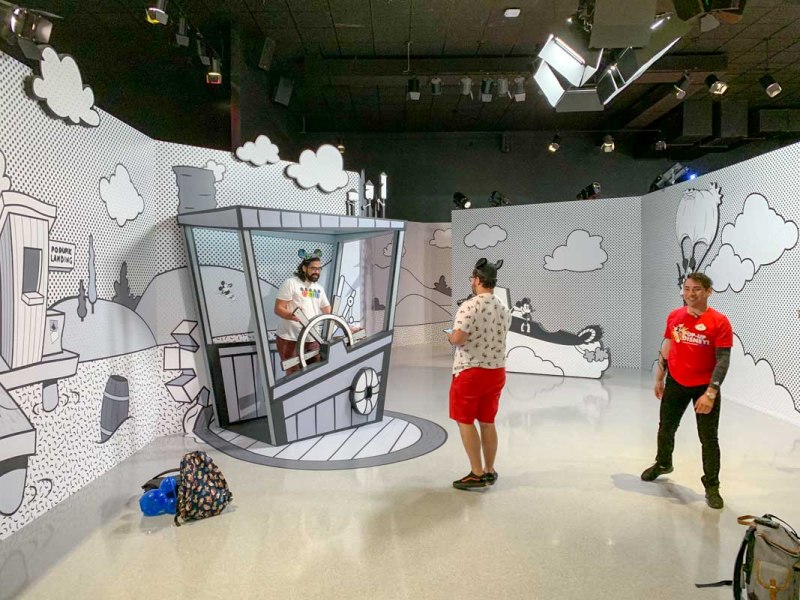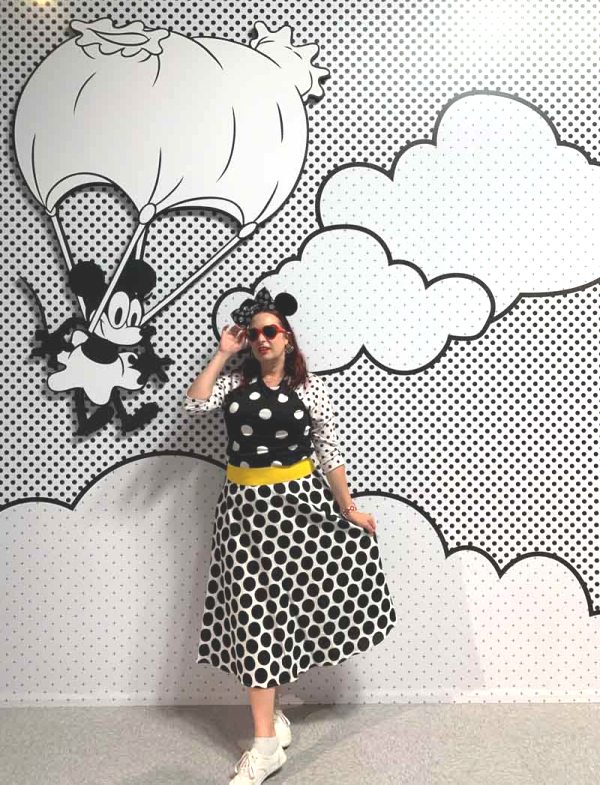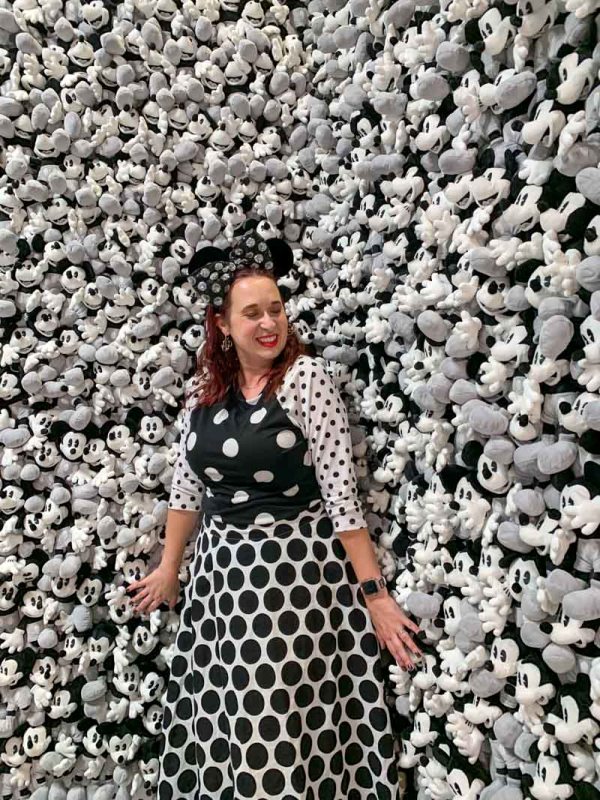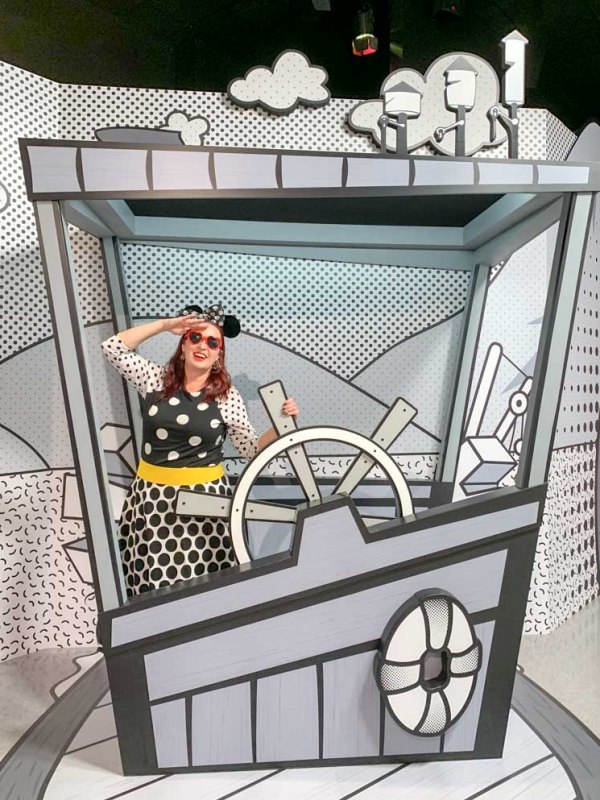 Mickey's Friendships
This room celebrates Mickey's friendships with Minnie, Pluto, Donald, Goofy, and Chip and Dale. Each friend created their own exhibit for Mickey – aren't they cute?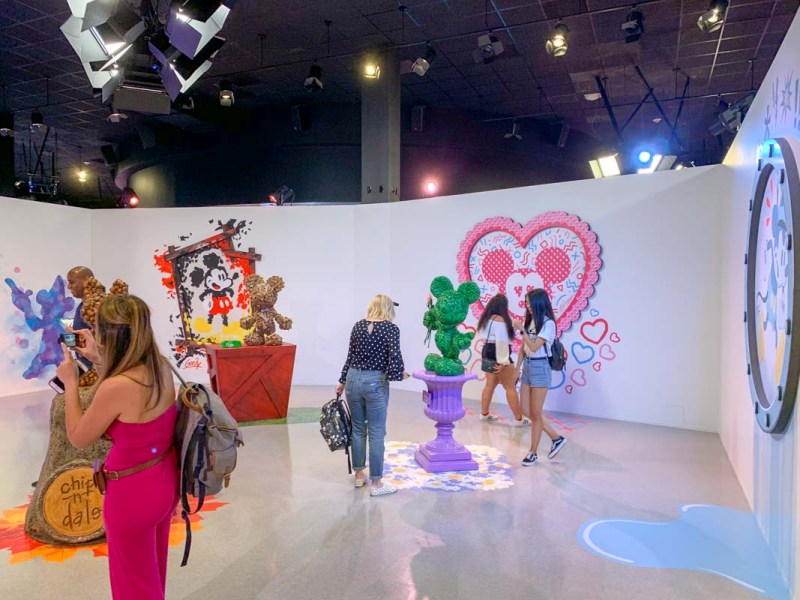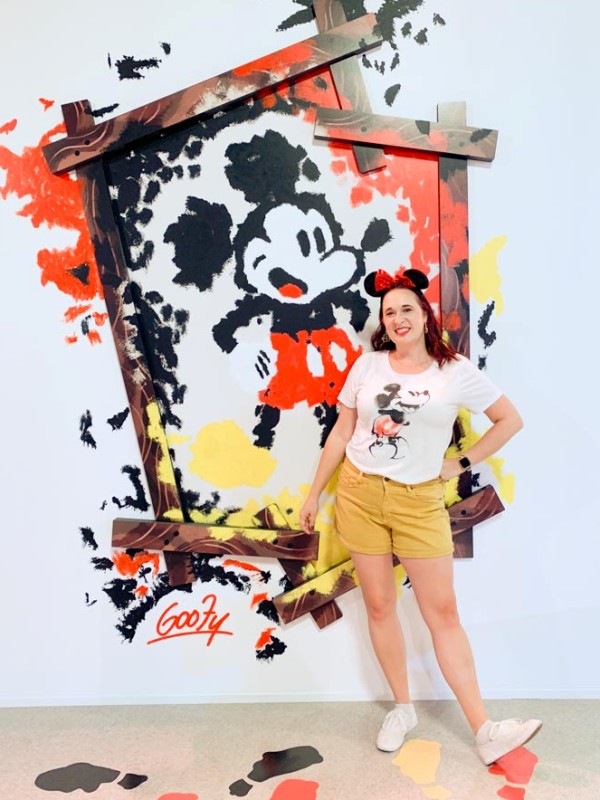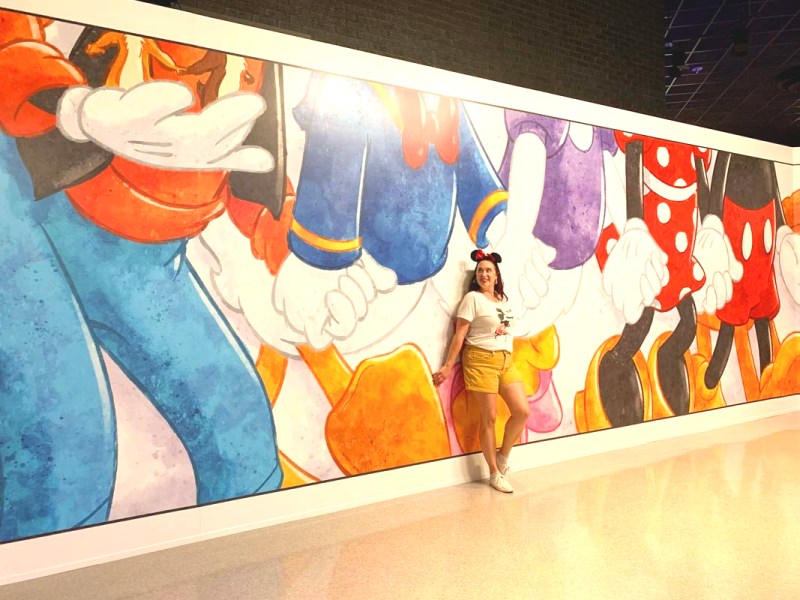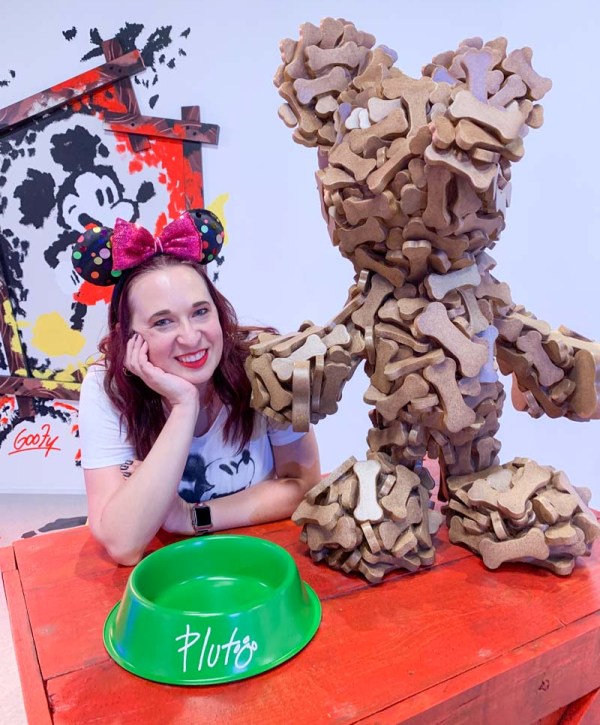 Sorcerer Mickey's Magic
This room starts with hallway where you're surrounded by neon waves, and ends in a darkened room with fiber optics and glow-in-the-dark paint. Photos are tricky in this room but everything is fun to look at.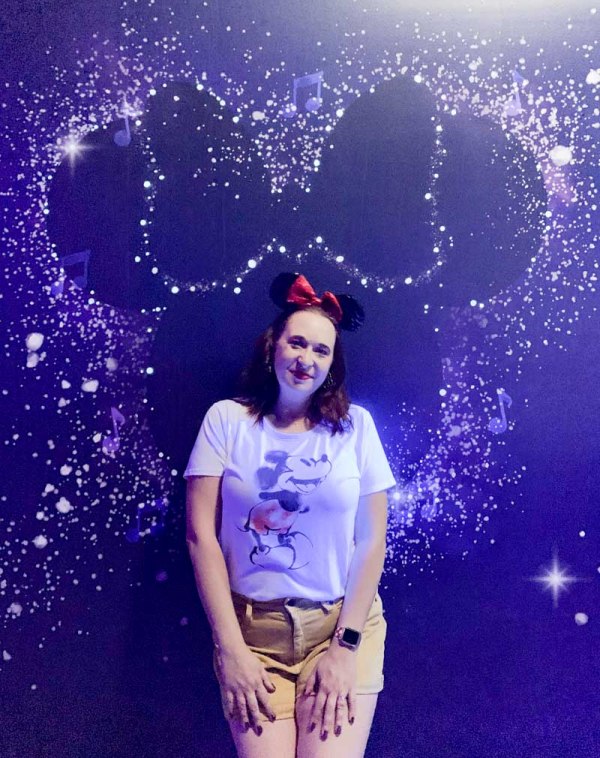 Mickey Around the World
Celebrating Mickey's travels with oversize postcards and exhibits reminiscent of China and Mexico. (The only upstairs restroom is in this area.)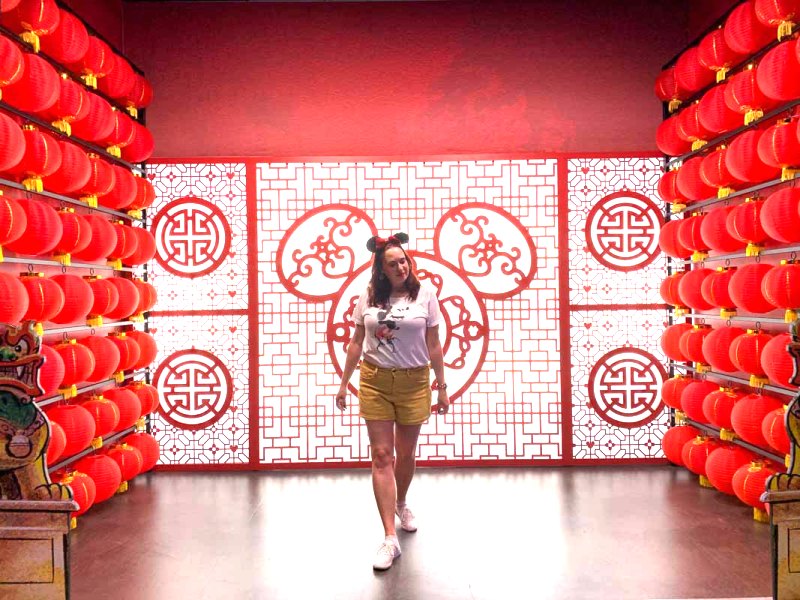 Forever Mickey
A futuristic depiction of Mickey with endless mirrors, chrome, and neon.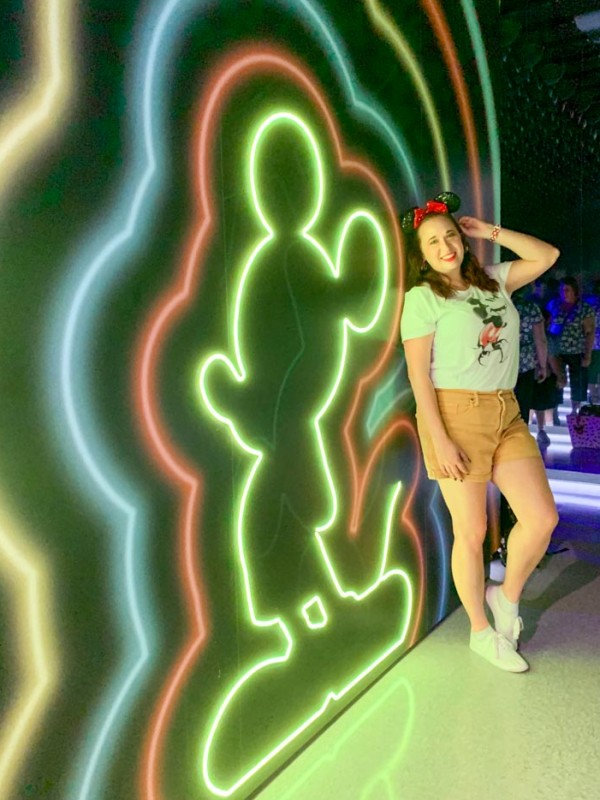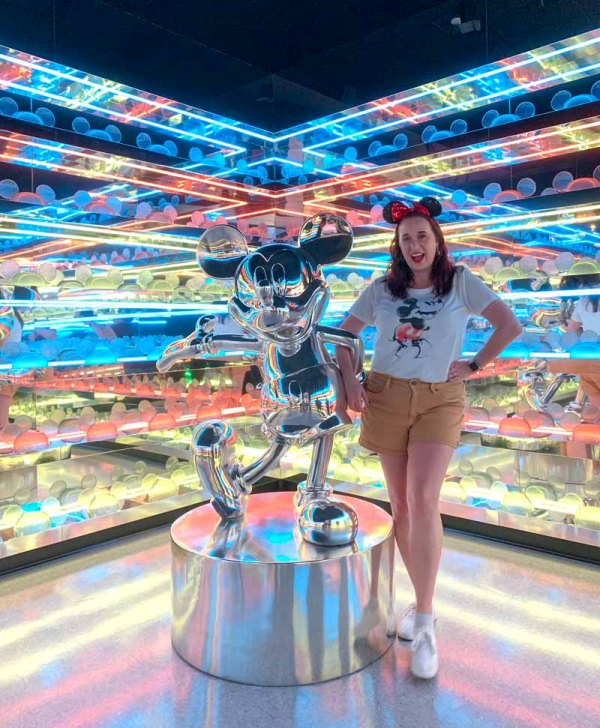 Mickey at Disneyland
The final room celebrates Mickey's home! There's a fun Mickey Balloon installation and murals with Disney snacks. There's also a fun projection-mapping area.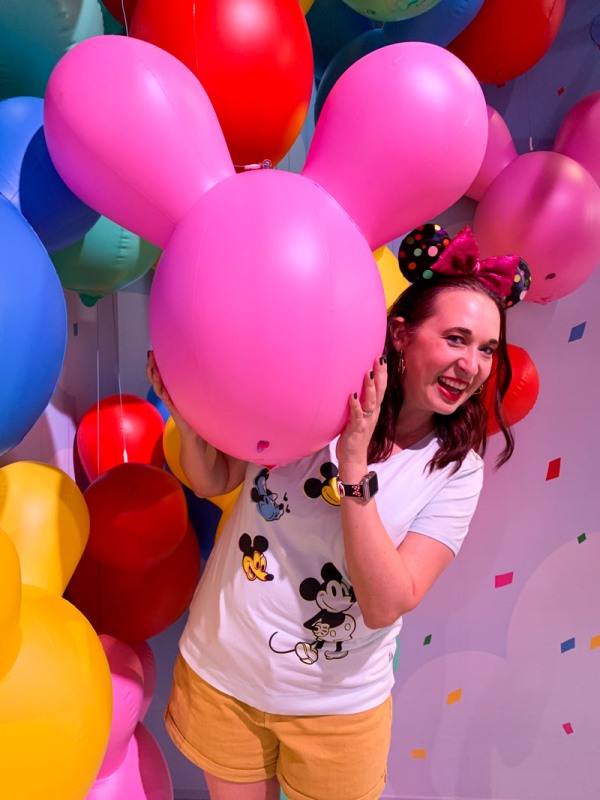 There is also a Pop-Up Disney gift shop selling exclusive merchandise and treats. Be sure to add on some extra time before or after your exhibit experience to check out the shop! The shop is open to everyone, even if you don't have a ticket for the exhibit.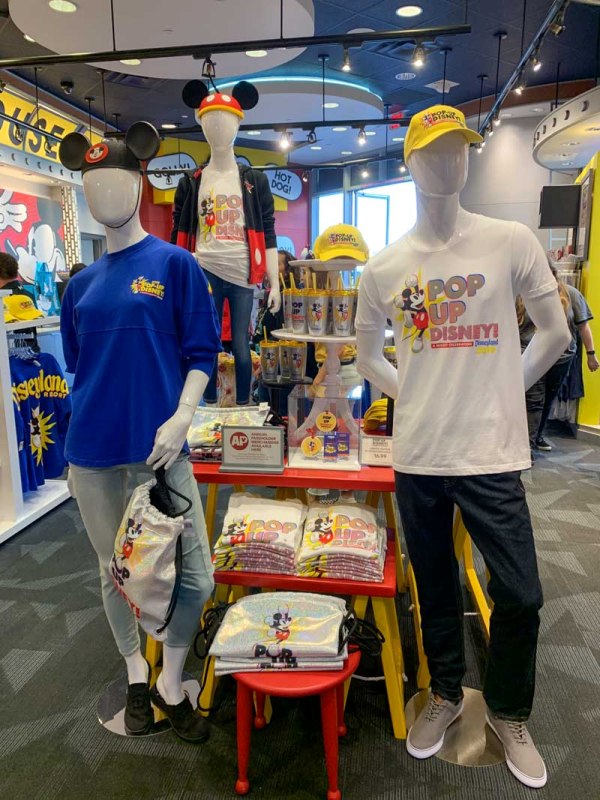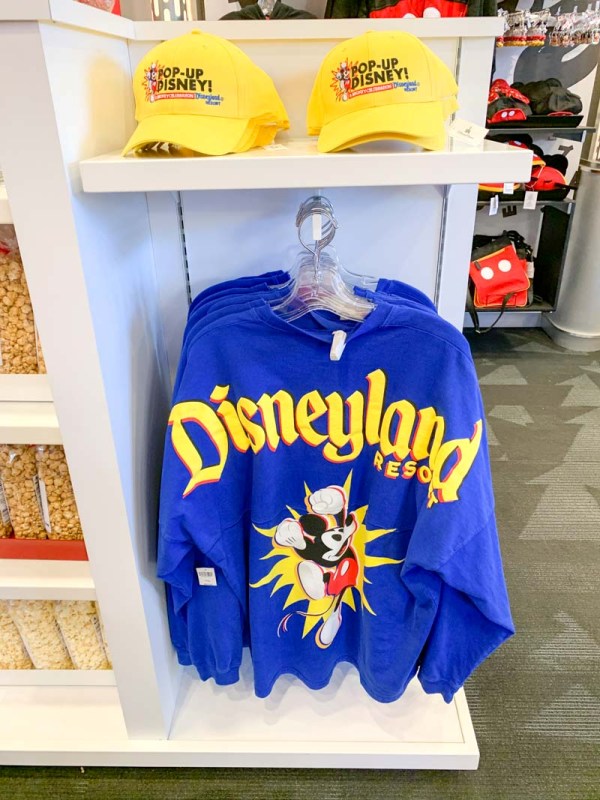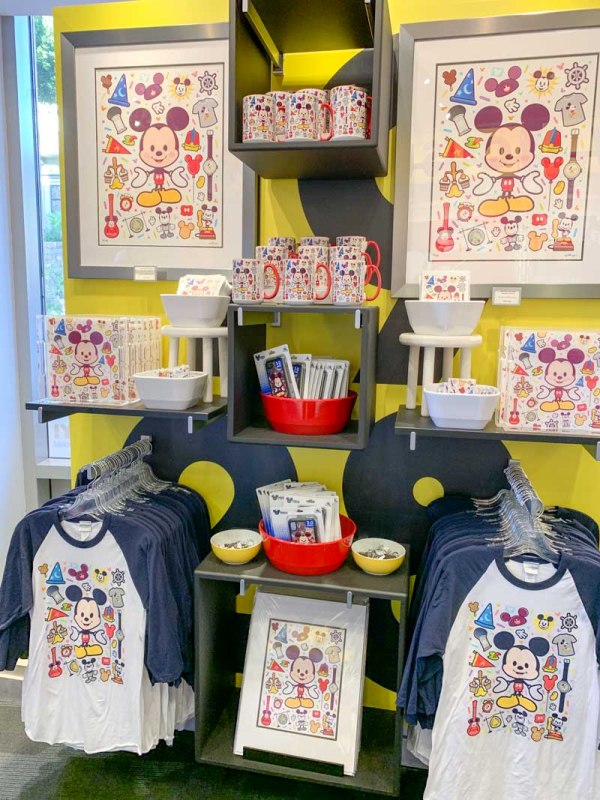 Last but not least, show your Pop-Up Disney ticket at Marceline's for the opportunity to purchase limited-edition treats! A fudge Mickey Bar or Mickey glove marshmallows. They are $4.99 each.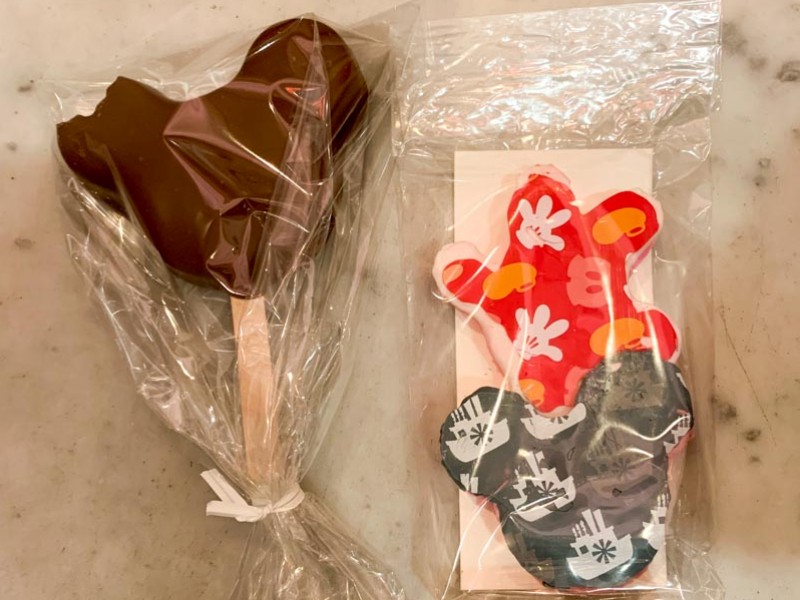 I hope you enjoyed my recap! I had a great time at the exhibit. If you're planning on going, be sure to tag me in your Instagram posts so I can see!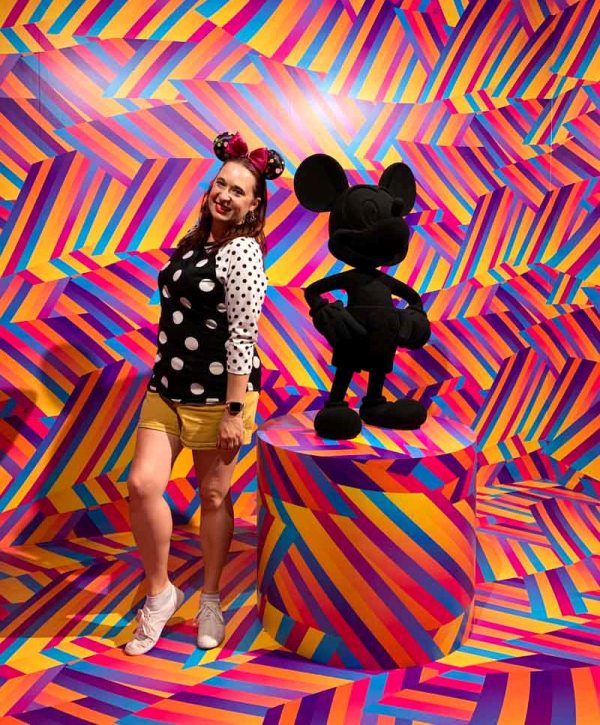 Want to visit Pop-Up Disney? Here are the details you need to know ~
WHAT IS IT: Pop-Up Disney: A Mickey Celebration exhibit
WHERE IS IT: Inside the old ESPN Zone building at Downtown Disney in Anaheim, CA
WHEN IS IT: The exhibit is currently scheduled to run through June 30, 2019. There are several time slots throughout the day.
HOW MUCH DOES IT COST: $30-$38, depending on the day of the week and the time you select. Weekends and evenings are more expensive. Tickets MUST be purchased in advance online.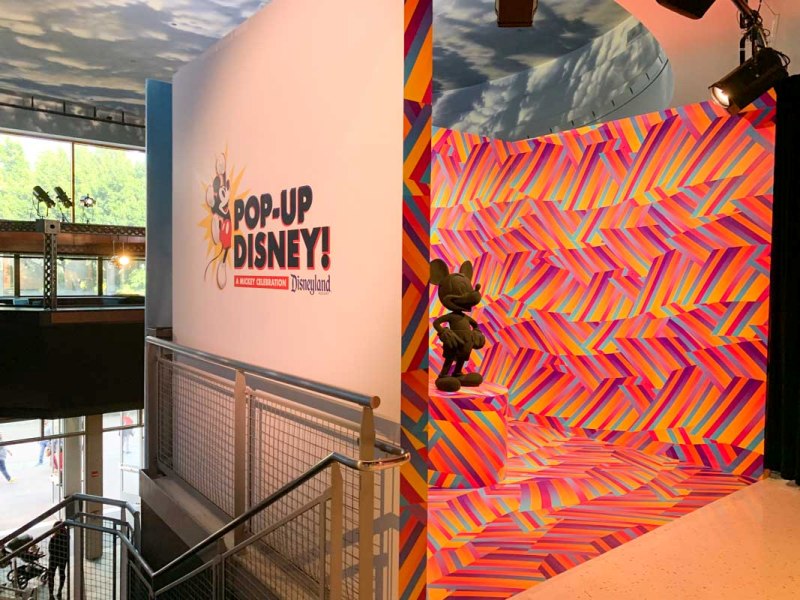 Pop-Up Disney: Frequently Asked Questions
I received a few questions on my social media after I attended the exhibit, so here's a quick little FAQ for ya!
What do guests receive with their ticket? Guests receive entry into the exhibit, and you also get 5 hours of free parking at Downtown Disney when you validate your ticket at the check-in desk, so don't forget! There are no complimentary snacks, and no professional photos, and no parting gift. Your ticket basically just gives you entry to the exhibit.
How much time does it take to go through the exhibit? How long you spend inside is really up to you. The Cast Members will say you spend around 10 minutes in each room, and there are seven rooms, which would equal 70 minutes. I spent around 90 minutes inside and felt I went at a really leisurely pace. I would give yourself a full two hours to arrive a little early, use the restroom, take photos in the waiting area, enjoy the exhibits, and browse the gift shop.
Is Pop-Up Disney like an actual museum, with history lessons? No, it's strictly fun photo opportunities. No learning involved!
Are there spots available to change your outfits? No. If you want to change your outfits you'll need to wear clothing under your clothes, like a camisole and bike shorts. About halfway through the exhibit there's a restroom where you could potentially swap out your outfit. But keep in mind you can't go backwards through the exhibits.
Is the exhibit worth the cost? Honestly, this is a judgement call everyone will have to make. I paid the peak price of $38 on opening day and, for me, I felt it was worth it to get some cute new photos for social media. I also want to point out that some of the exhibits are really detailed. The mirrored room with all the acrylic Mickey ear hats and the neon lighting does not feel inexpensive. And, my friend and I had a LOT of fun going through the rooms and posing each other. If you're a family of 4 and not really into Instagram, it's probably not worth the expense. Obviously if you can go during a $30 time slot, then do that.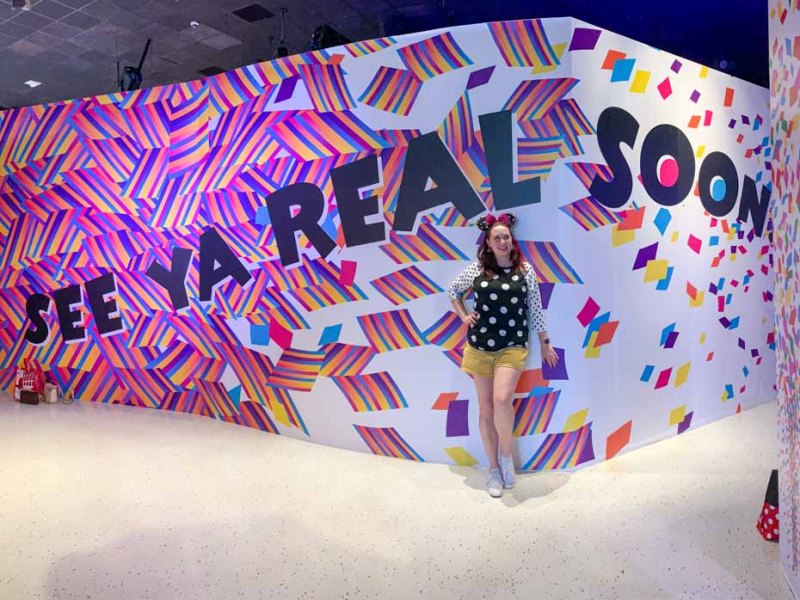 Thanks for reading! Click here to purchase tickets for Pop Up Disney!