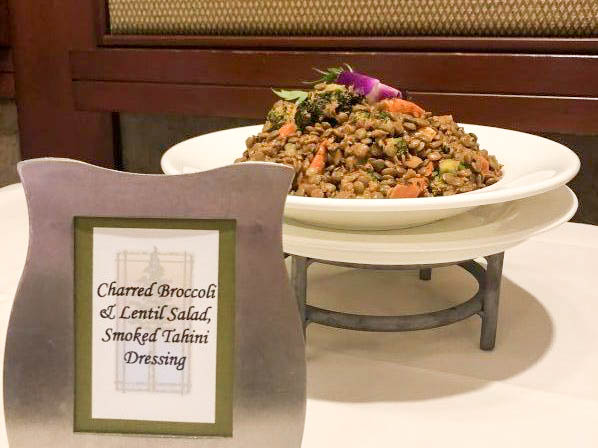 Disney Bride Sara is planning a Disneyland wedding at Disney's Grand Californian Hotel for March 2019.
When Amanda and I started dreaming of our Disney wedding we were a little nervous about the food. I had read internet posts from other couples about the food at their wedding, how amazing their dinner was, and how their guests couldn't stop talking about it.
We were worried they might not be able to do the same justice to a vegan menu. I am a long time vegan and Amanda eats vegan at home with me but is not vegetarian. It was important to me to have a vegan dinner at our wedding that would wow our guests and show them vegan food can be just as delicious as a traditional wedding plate. Amanda was completely on board, as long as the food would be good!
When I asked for information from other vegetarian couples about their experience with the banquet teams at Disney, everyone had great things to say. But when I saw their menus and photos I was left feeling unenthused. I received information from our planner about what Disney does for vegan dinners and it seemed to be a choice between a mushroom "steak" and vegetables, or cauliflower "steak" and vegetables.
The majority of our guests are not vegan and one of our main concerns was that they would leave dinner feeling hungry and looking for the first burger joint on the way out. We wanted people to not even notice that their meal was vegan and be thrilled with their food. Most long time vegans I know don't even like "vegetarian food" – plates of grains and vegetables and burgers made from beans. I have eaten far too many tubs of hummus, piles of lentils, and flavorless tempeh in my life. The way the majority of modern vegans eat is very similar to an omnivores diet but substituting vegan options in place of animal products. So especially when feeding meat eaters we wanted to make sure the food didn't seem weird or too "earthy."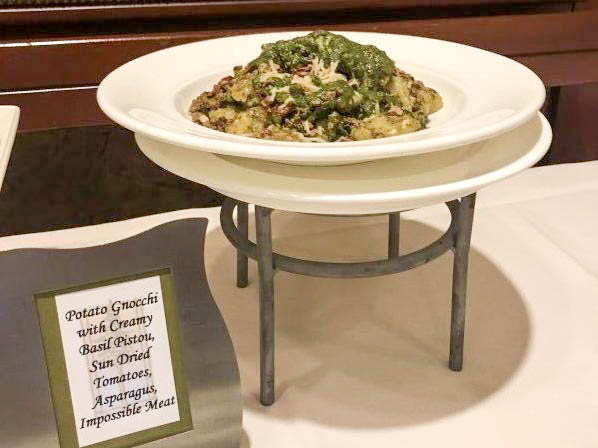 We met Chef Chris at Disney's Grand California Hotel when we went for the wedding showcase last August. We spoke to him about needing a vegan menu and told him we didn't want the options we had been shown, that is to say, stacks of vegetables. I asked if they could get any fake meats because a lot of guests on my side are bodybuilders and fitness people and we eat high protein diets. We told them we were open to tofu but we also needed protein in our food.
A few months later we were given our first menu to review and it was not what we had in mind. It was three cold salads, tempeh curry, hot mixed vegetables, and tofu agedashi. The desserts were a berry cobbler, chocolate cake (this would be in addition to wedding cake), and a coconut tapioca pudding. I think it was about $100 per person, and it seemed like a table full of salad. I didn't want to sound like a jerk but it seemed very lackluster. Curry is great but not what we wanted for our wedding. I also didn't want to serve our guests chunks of tofu.
I was starting to get concerned that we wouldn't be able to do our wedding at Disneyland if we couldn't fix the menu. We discussed how to handle it and decided it would be best if we gave them some examples of the type of menu we were hoping for. I put together a few options for two different cohesive themes: Italian food, recreating classic Disney favorites, or Mexican food. I also wrote out a whole menu for an example of an Italian dinner including brands of faux meats and cheeses I recommend. I used to be a personal chef so I have some experience in writing flowery food descriptions. Our planner said she would pass on our notes to the kitchen and let us know what they could do.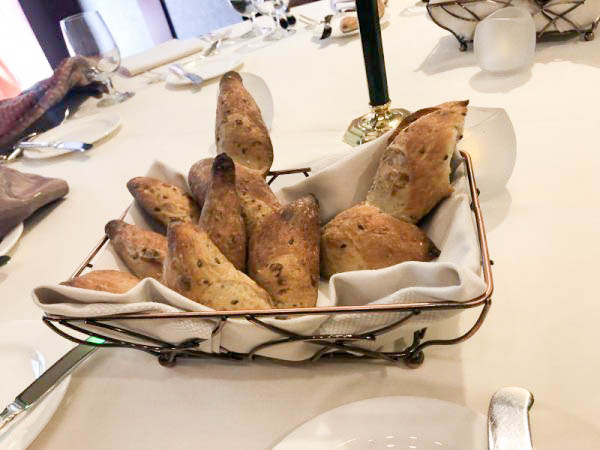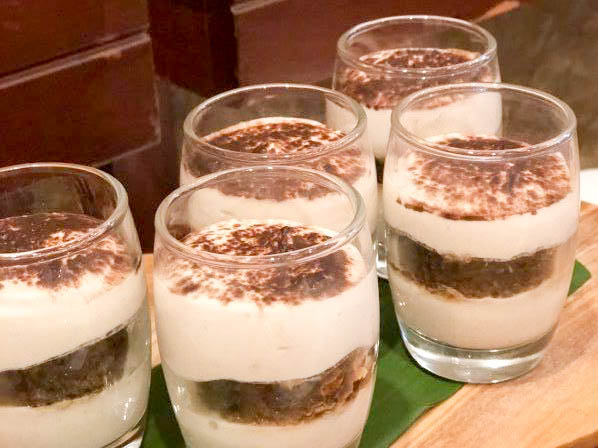 The next menu we got back was so much better! I asked if we could change the desserts because they were still trying to give us more cake – we didn't need any more cake since we had our wedding cake! The bakery seemed very willing from day one to try anything we requested and experiment with vegan treats.
At the end of August we got to go in for our food tasting. We brought two bridesmaids with us, and out of the four of us two are vegan. It was great to be able to hear the opinions of two long-time vegans and two meat-eaters. We all LOVED the food. I can't stress strongly enough to go to your food tasting if at all possible. We had to travel down from Seattle and it took a chunk of our budget but it was an amazing experience and completely worth it. It felt like we were getting a mini preview of the dinner and service our guests would enjoy the night of our wedding. The whole team of servers, chefs, and management treated us like honored guests and made the experience magical.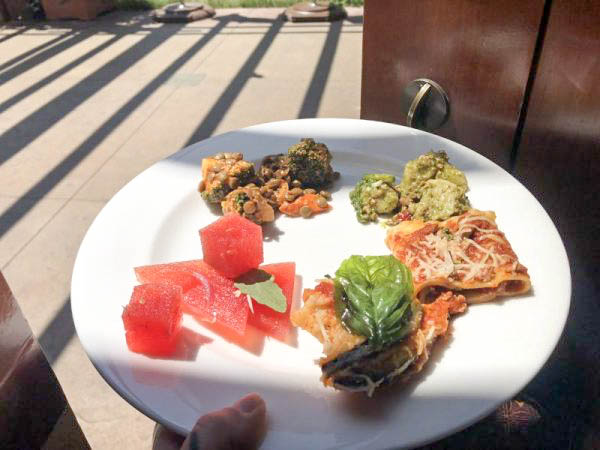 Here is the final Italian-inspired menu we agreed on:
Pre-reception:
Antipasto – Olives, Peppers, Mushrooms, Artichoke Hearts, Rice Cheese, Oumph! Meat
Duo of Bruschetta's – Roma Tomatoes, Basil, Balsamic syrup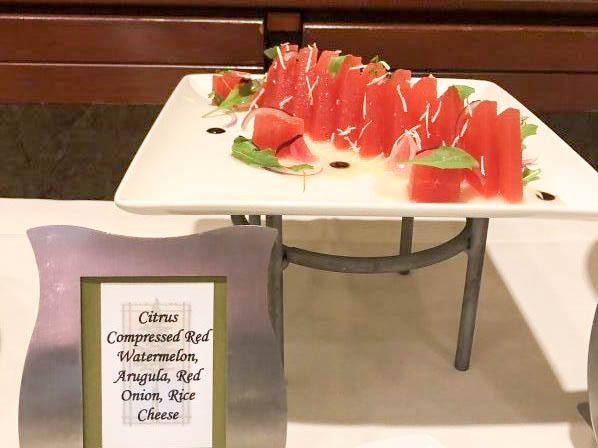 Reception:
Grand Californian Mix of Baby Greens, Micro Herbs, Red Wine Vinaigrette, Roasted Garlic Dressing
Charred Broccoli & Lentil Salad with Smoked Tahini Dressing
Citrus Compressed Red Watermelon Arugula, Red onion, Rice Cheese
Potato Gnocchi with Creamy Basil Pistou, Sun Dried Tomatoes, Asparagus, and Impossible Meat
Lasagna Rolls with Bolognaise, Crimini mushrooms, Tofu Ricotta
Eggplant Parmesan with Smoky Marinara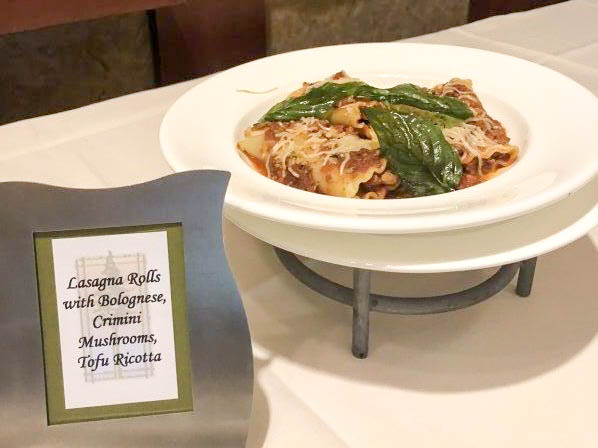 Desserts:
Mickey Shaped Macarons
Tiramisu
Cannoli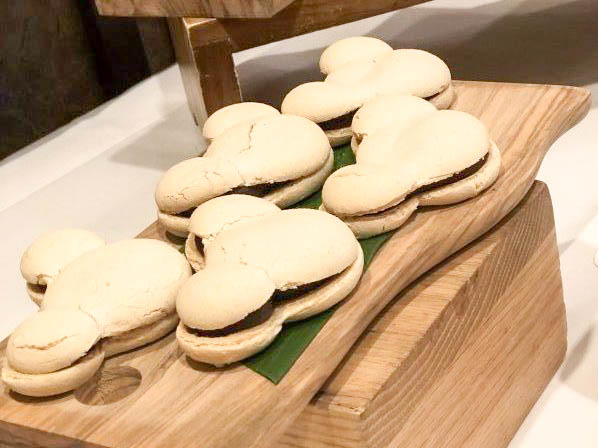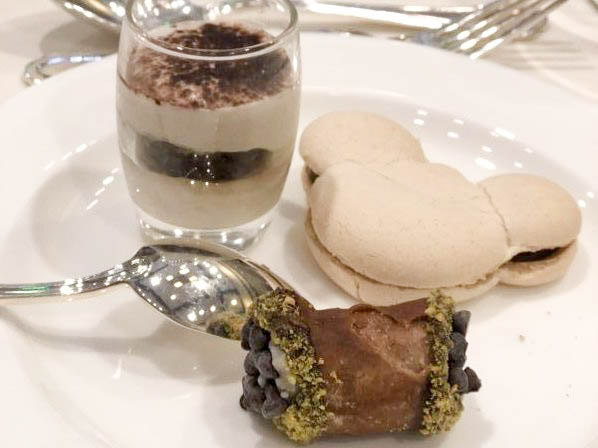 Every so often Disney swaps the positions of their staff to keep them fresh and learning new things. We got to meet the current chef at Disney's Grand California Hotel, Chef Martin. He and his team executed Chef Chris' menu and it couldn't have been better. Everything was cooked and seasoned perfectly. The food was interesting and the flavors were well layered. He was brand new to the idea of vegan meats, and we loved his enthusiasm and obvious desire to make food we were excited about.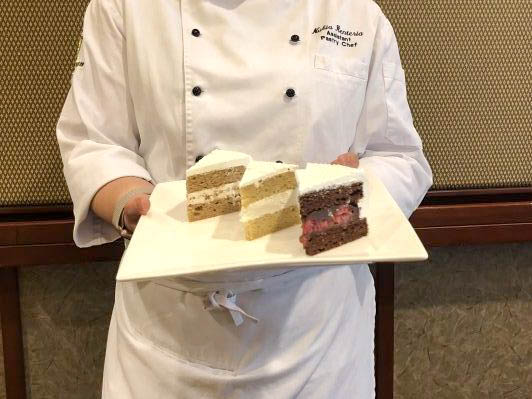 Next our Pastry Chef Nubia brought out our cake. She had the same obvious desire to create food we would love and was super open to input on ingredients and little tweaks. We were so impressed with what the bakery put together. She told us some of the techniques they used and it was really interesting and cool to learn about.
Our vegan cake flavors: Churro, chocolate cake with strawberries, and lemon cake with non-dairy whip.
Our servers Ben and Valencia were mind readers, bringing coffee just as we were finishing our dinner and anticipating all of our needs. We also met Leslie who is the Banquet Captain. She told us some great stories about creating magical moments for guests and her dedication to providing exceptional service was clear to see.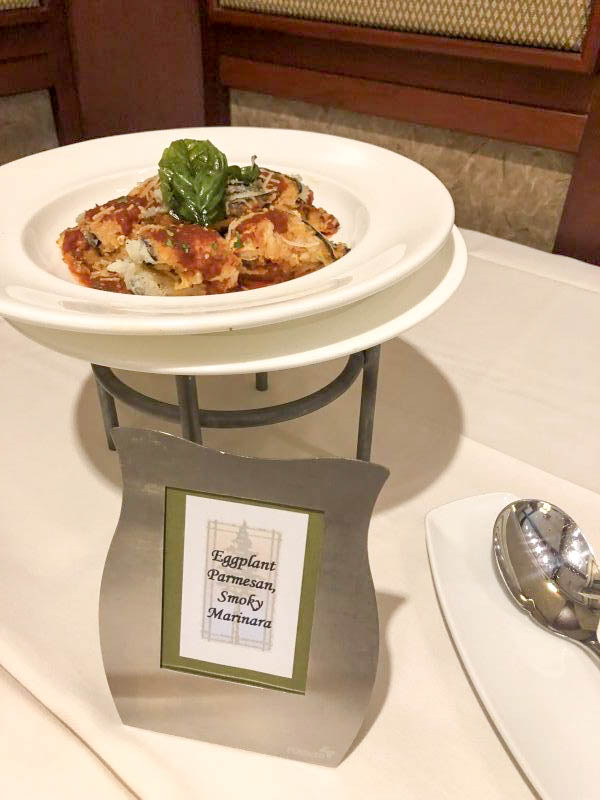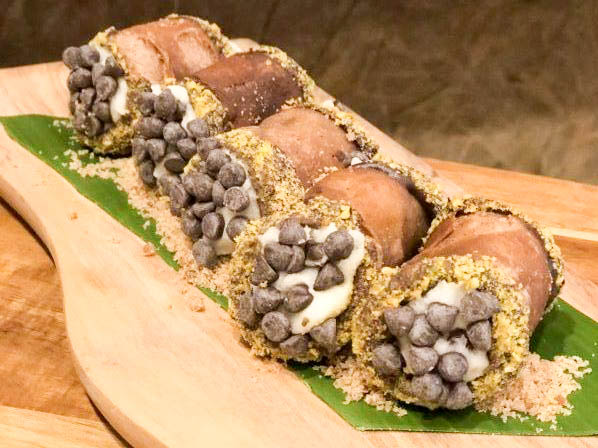 Our wedding planner was a great intermediary and assured me I wasn't being a bridezilla when I refused the first menu. She was very communicative through the whole process and sent me updates regularly, even if just to say that they were going through a busy season but had not forgotten about us.
I hope our experience will give other vegans and anyone with dietary restrictions confidence to trust the team at Disney. They have the skills and the desire to work with a challenging menu and you won't be disappointed with the results! If you feel like you aren't being heard it doesn't hurt to ask again and clarify your expectations.