When I last left off on our honeymoon trip report, we had just arrived back to the ship from our morning in Mykonos, and headed to our Chef's Table dinner! Mr. BFT and I really enjoy the Chef's Table at Napa Rose so when we read about the Norwegian Cruise Line's Chef's Table for our sailing, we made sure to sign up right away! We boarded our ship pretty late on Day 1 and I was afraid we had missed out on it, since it fills up so fast. Luckily I found out there were TWO offerings on our sailing since it was a long itinerary, and we got the last spots!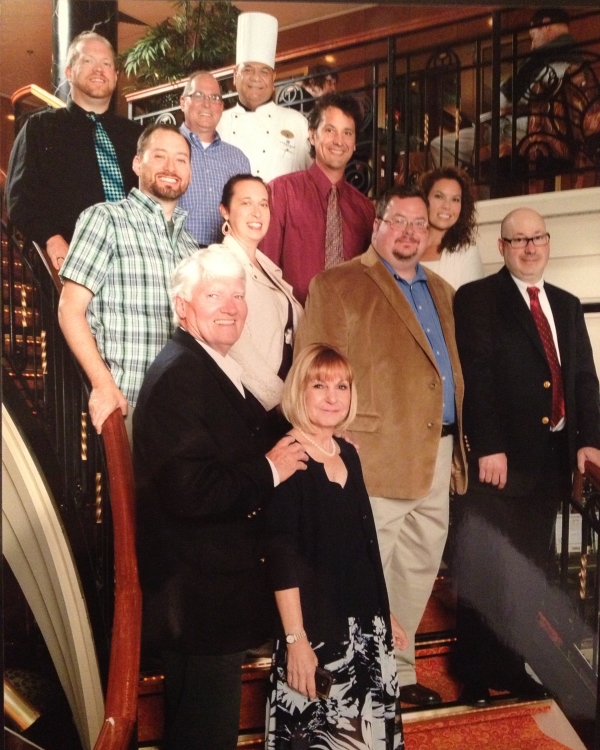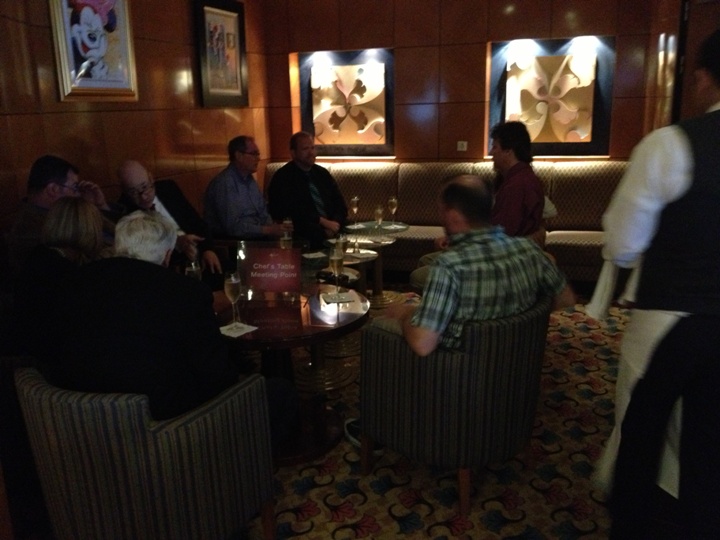 The Chef's Table dinner was a 9 course meal with three wine pairings for $89 per person. Per the instructions received when we signed up, we met up with everyone at Champagne Charlie's at 5:45 pm where we were served champagne, then escorted to the atrium stairway for a group picture before proceeding to the Garden Room, which is a private room at Cagney's Steakhouse. We had escort cards directing us where to sit and then our champagne flutes were redelivered to us, which was very impressive. Soon the servers were introduced to us and the Executive Chef Vaughan Sanft came out to welcome us and give us a run down of what we would be eating and how the meal would be served. Tim and I had purposefully not looked at the menu so we would be surprised with every course, just like at Napa Rose.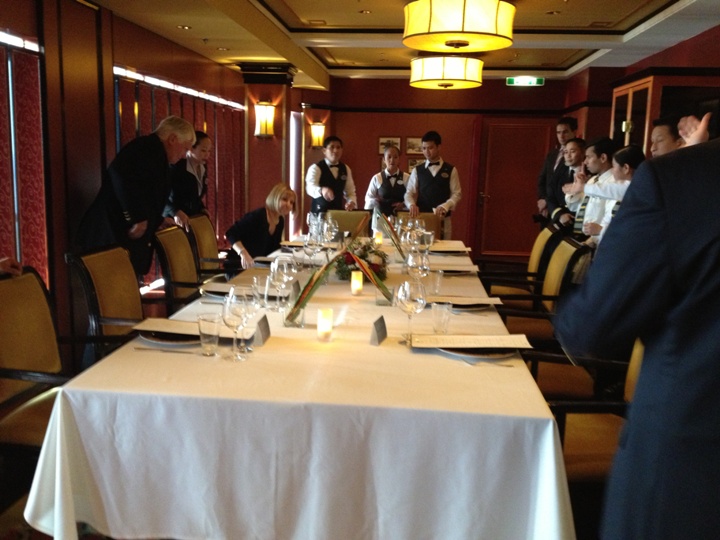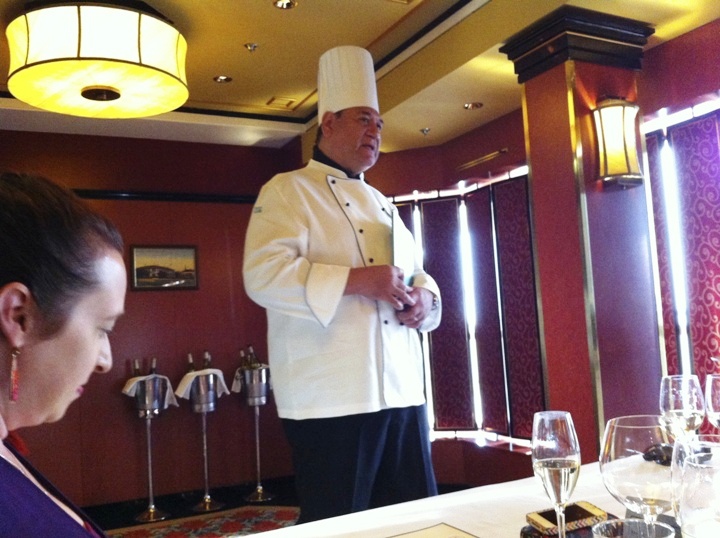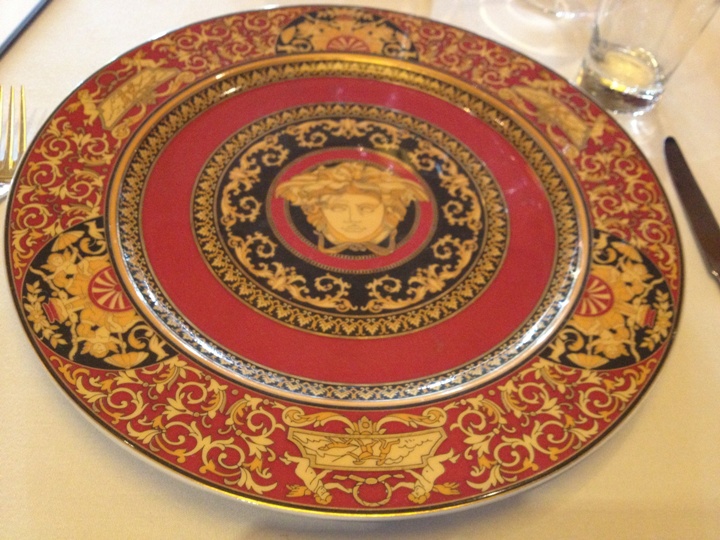 I'll post the menu and food photos here, but I'm guessing the menu is seasonal and has changed by now! So if you found this because you are sailing with NCL and you're curious about what you might get, I bet it won't be the same food. Also, I didn't take pictures of the wine pairings, but I'll list them here, in case you want to do your own "at home Chef's Table."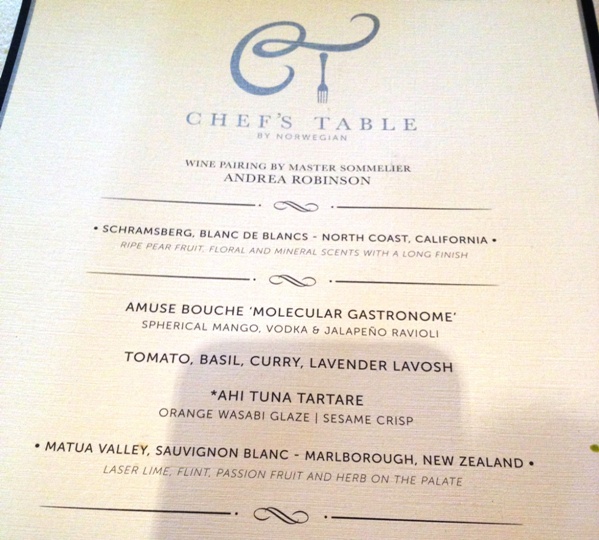 We started with a glass of white wine "Schramsberg, Blanc de Blancs." Although I enjoy wine I'm really not an expert and I can't remember the nuances of each. But I remember they were all very good and they kept refilling the glasses … take a sip, refill, take a sip, refill. Needless-to-say, we were all feeling pretty good by the end of the dinner!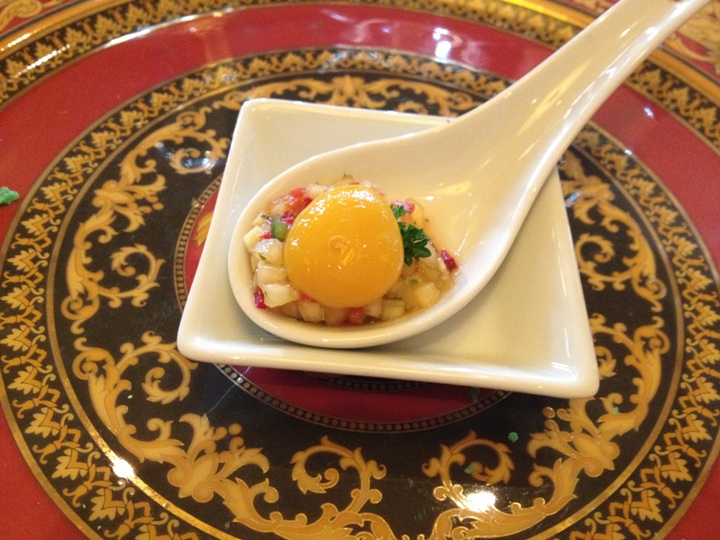 Amuse Broche 'Molecular Gastronome' – Spherical mango, vodka & jalapeno ravioli. This was tasty and reminded me of one of my favorite dishes at one of my favorite restaurants – the "new" olives at The Bazaar in Los Angeles. The liquid mango just pops on your tongue and the flavor is indescribable.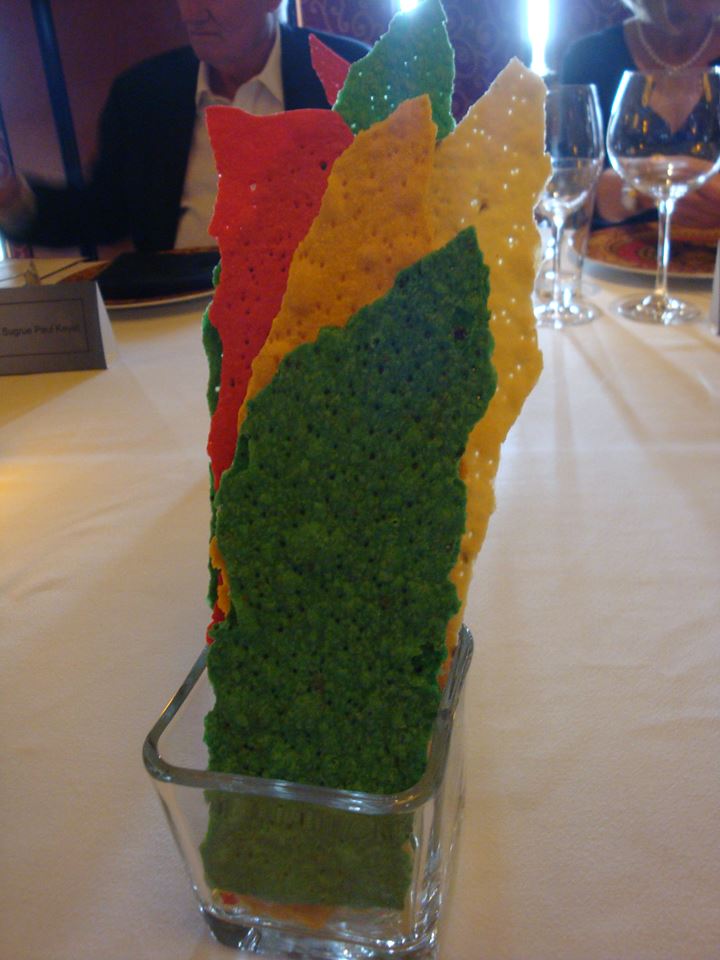 The Tomato, Basil, Curry, Lavender Lavosh was actually the bread (which they also kept refilling and refilling and refilling). It was so colorful.
Ahi Tuna Tartare – Orange wasabi glaze and sesame crisp. I am really not a seafood person at all but I took a couple bites of this. I'm pretty sure that was caviar on top – not a fan!
At this point we received our next wine, "Matua Valley Sauvignon Blanc" from New Zealand.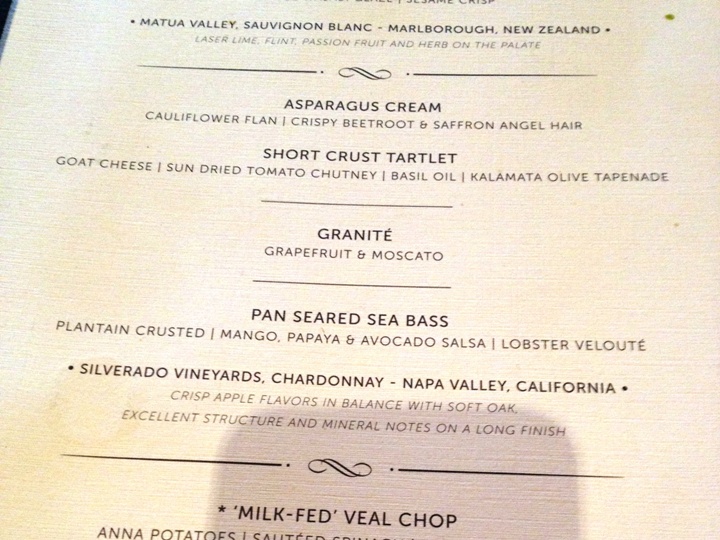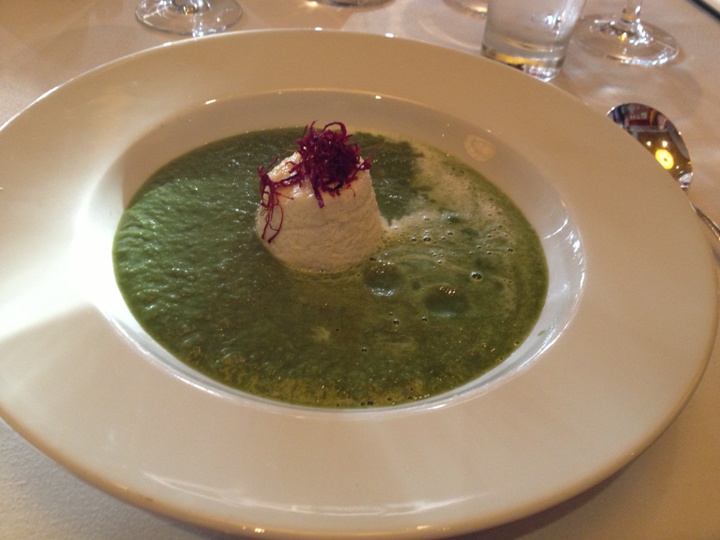 Asparagus Cream – Cauliflower flan, crispy beetroot, and saffron angel hair. I really love asparagus and had never had it in soup form before. It was delicious.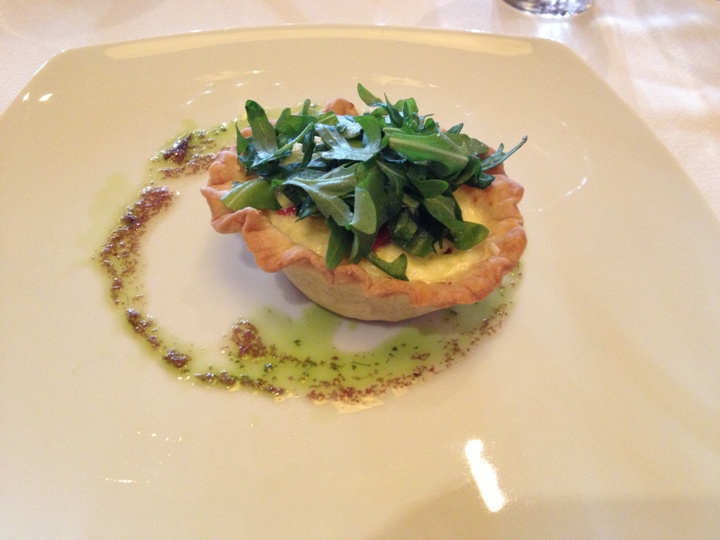 Short Crust Tartlet – Goat cheese, sun dried tomato chutney, basil oil, kalamata olive tapenade. This was my favorite dish of the night!!! It was kind of like a fancy pizza in tart form. I'm sure Chef Vaughan would cry if he heard me say that.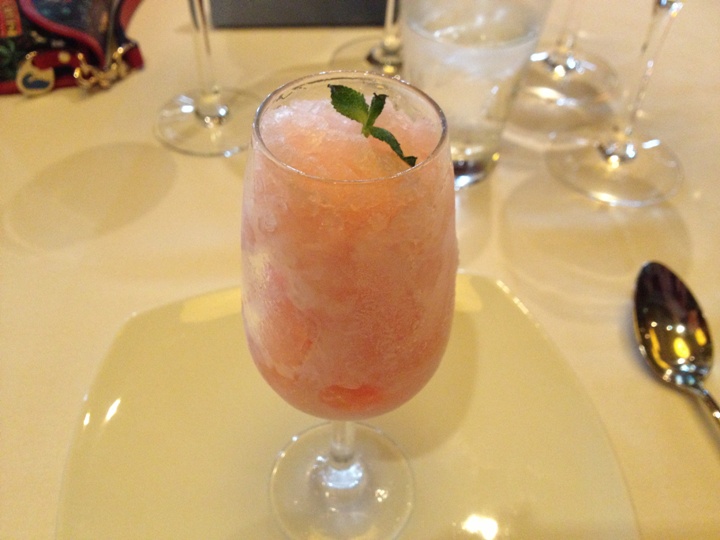 Granité – Grapefruit and Moscato. This was a palette cleanser and I was so happy to see it because not only was it delicious but it reminded me of our palette cleanser sorbet we served at our wedding!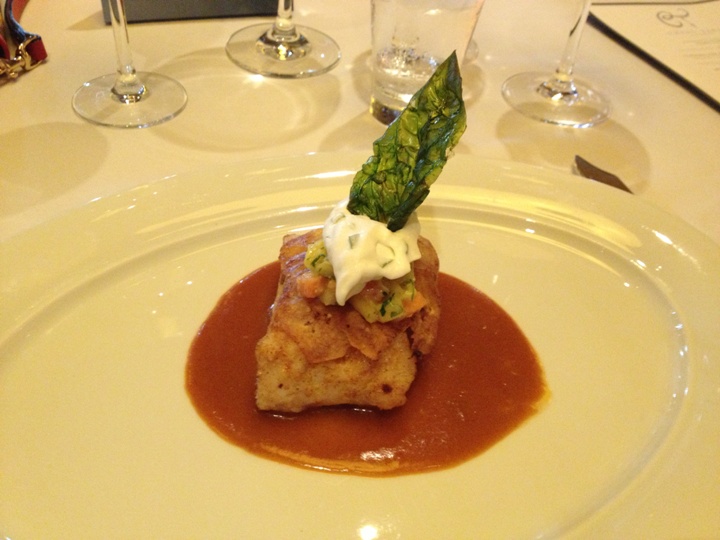 Pan Seared Sea Bass – Plantain crusted, mango, papaya, and avocado salsa, lobster velouté. Again, I really tried to be a grown up and like the fish, but I just didn't. Mr. BFT thought it was wonderful but I just don't do fish. The salsa was incredible.
With the Sea Bass we received a new white wine pairing – "Silverado Vineyards Chardonnay" from Napa Valley.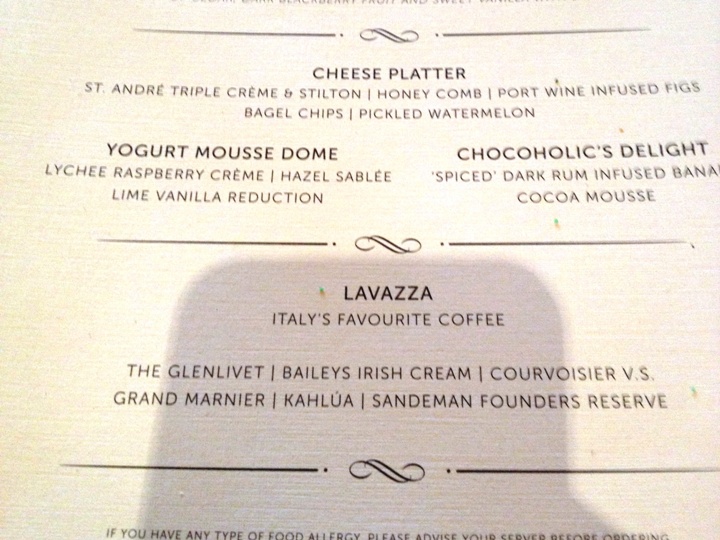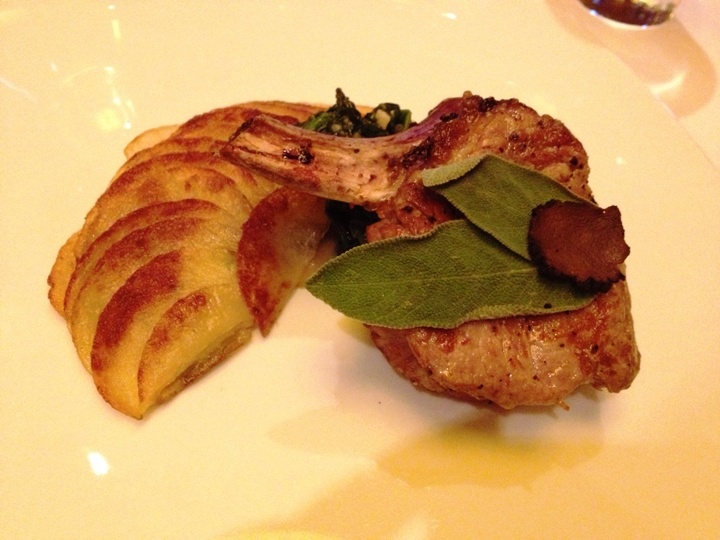 Milk-Fed Veal Chop – Anna potatoes, sautéed spinach, truffle veal jus. I'm realizing my picture of the menu cut this item off. The veal was wonderful. Perfectly prepared, and I love my meat with potatoes and spinach so I was in heaven.
And with the veal we received our final wine pairing, "Franciscan Cabernet Sauvignon" from Napa Valley. I'm not a fan of red wines (although I did try it) and I asked if I could have more of the chardonnay, and they were happy to provide it.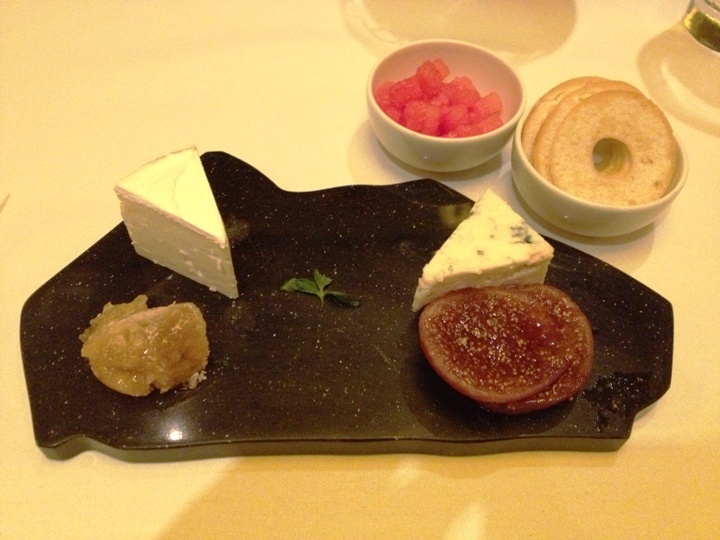 Cheese Platter – St. André triple créme & stilton, honey comb, port wine infused figs, bagel chips, pickled watermelon. This was a fun plate! My favorite part was the little honey comb but it was all delicious.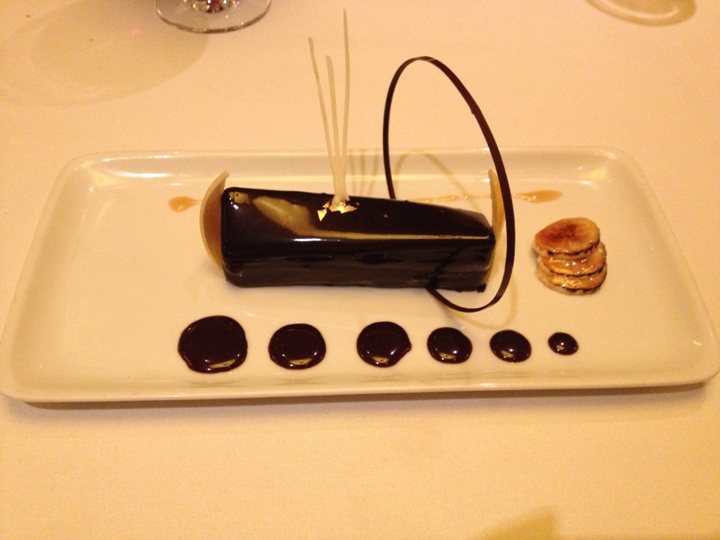 Chocoholic's Delight – Spiced dark rum infused banana and cocoa mousse. Oh goodness. The desserts. There were two desserts, and each couple got one of each dessert to split. But, I secretly wanted my own plates. Okay, so it wasn't a secret. But the truth is, I could only take one or two bites of each dessert because at that point I was SO FULL. This little chocolate number was nothing short of amazing.
Yogurt Mousse Dome – Lychee raspberry créme, hazel sablée, lime vanilla reduction. This dessert was also very yummy. Lighter than the dense chocolate but equally delicious. I'm a sucker for anything raspberry.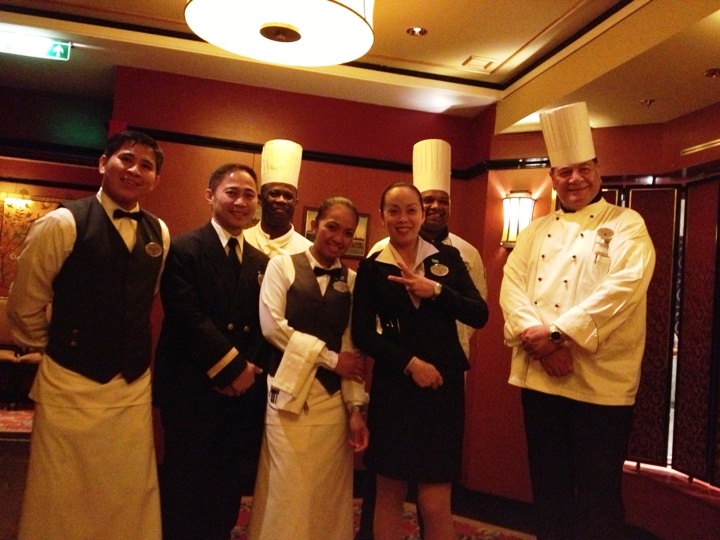 The meal was wonderful, as well as the wine pairings, and the chef got an ovation at the end of the meal. The staff posed for a group picture and I'm sure they felt a little bit like celebrities with all the cameras flashing, hehe. On our way out we received our photos and a signed copy of the menu.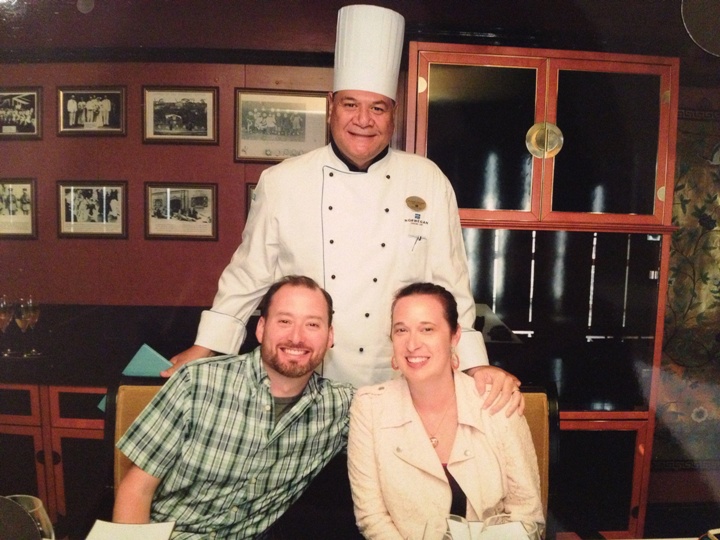 After the meal we were rolled escorted back to Champagne Charlies where we were offered an after dinner drink. I like Frangelico which wasn't on the options menu, but I asked and they were able to provide it. We then chatted with our meal mates until couple by couple, everyone started to leave to retire for the night. The whole process was about three hours! We were so stuffed and tired we decided to call it an early night. Even too tired and slow to go to the casino! We waddled back to our cabin and quickly fell asleep, dreaming of goat cheese tarts.
The next day's adventure was in Istanbul, Turkey, where we had the first "bad" day of our honeymoon. How's that for a cliff hanger?
Past Honeymoon Posts:
Chapter 1 – All Aboard the Norwegian Spirit!
Chapter 2 – Barcelona, Spain
Chapter 3 – Toulon and Bandol, France
Chapter 4 – Florence, Italy
Chapter 5 – Rome, Italy
Chapter 6 – Naples, Italy
Chapter 7 – Sea Day 1
Chapter 8 – Mykonos, Greece