Heyyyy, remember my honeymoon trip report? It has been a while since my last installment. Losing my job and then the madness of the holidays has really thrown me off my game, but I'm hoping to get back on track and finish this sucker before the one year mark!  To refresh your memory, we just enjoyed our first Sea Day and we were refreshed and ready to explore Mykonos, Greece!
We had an early start in Mykonos at 7am, although we had small breakfast delivered (we knew we wanted to stuff ourselves with Greek food) from room service and we leisurely ate on our balcony and watched people leave the boat. We didn't have any set plans in Mykonos; we were just going to wander around and explore the island. We disembarked around 7:30 and decided instead of taking the shuttle to the heart of Mykonos like everyone else was doing, we would walk straight, which was into the neighborhoods. We were in no rush! We walked along hilly, sleepy streets (so early!) and took pictures along the way, the view getting more and more breathtaking. It's just like all the pictures you see on Pinterest, just white and blue buildings everywhere. We eventually started to walk back downhill towards water.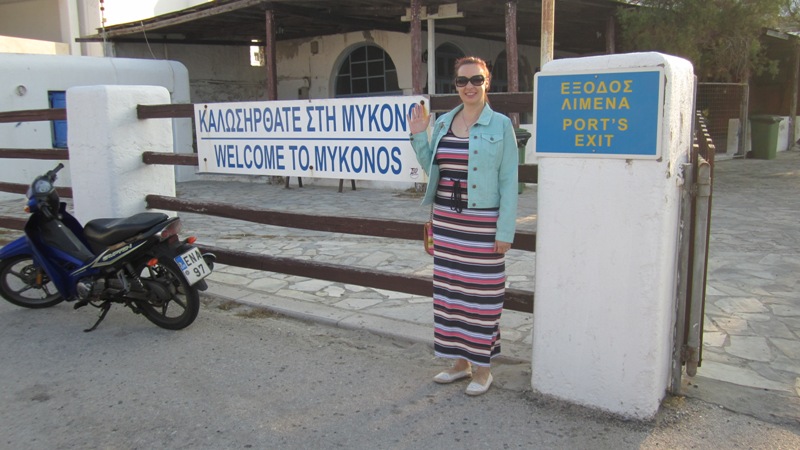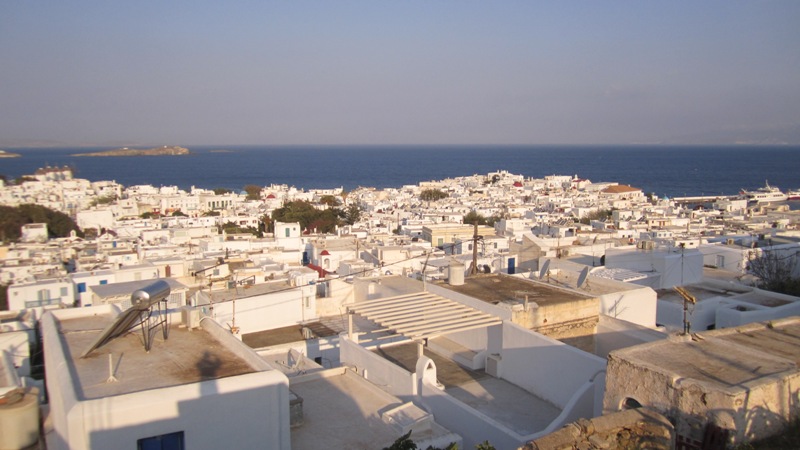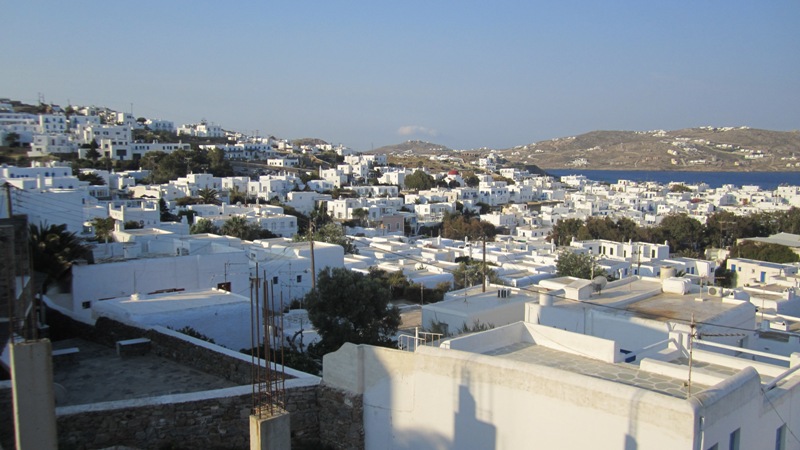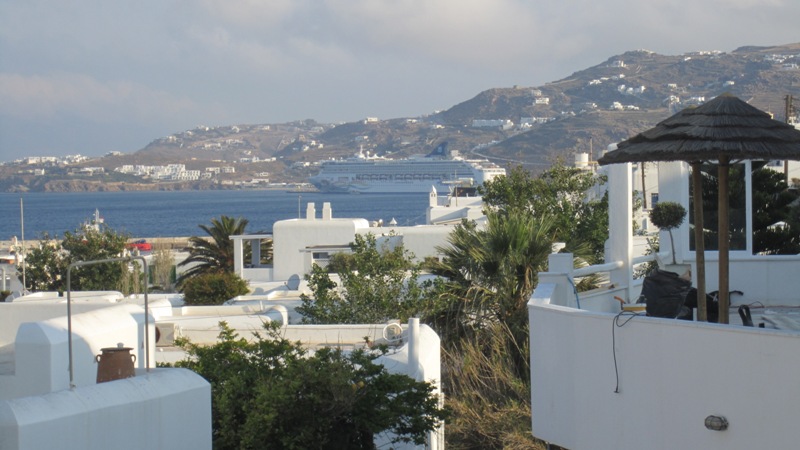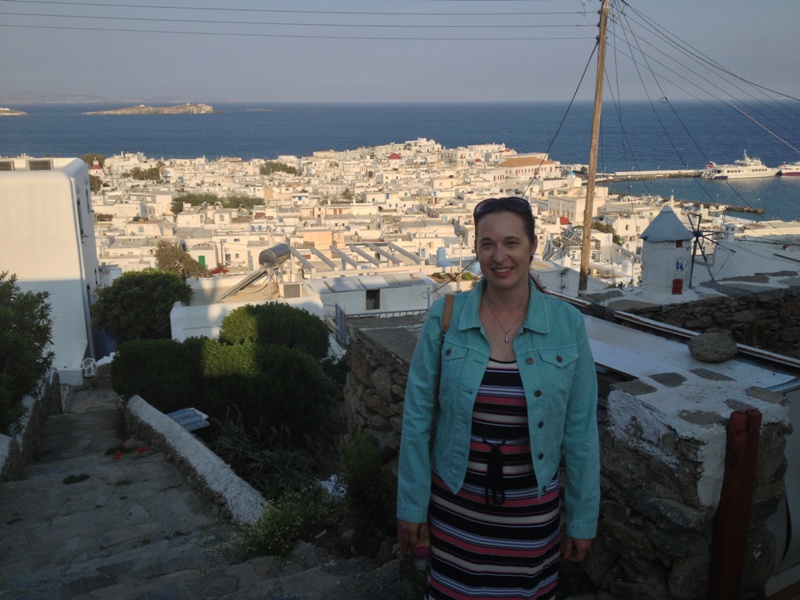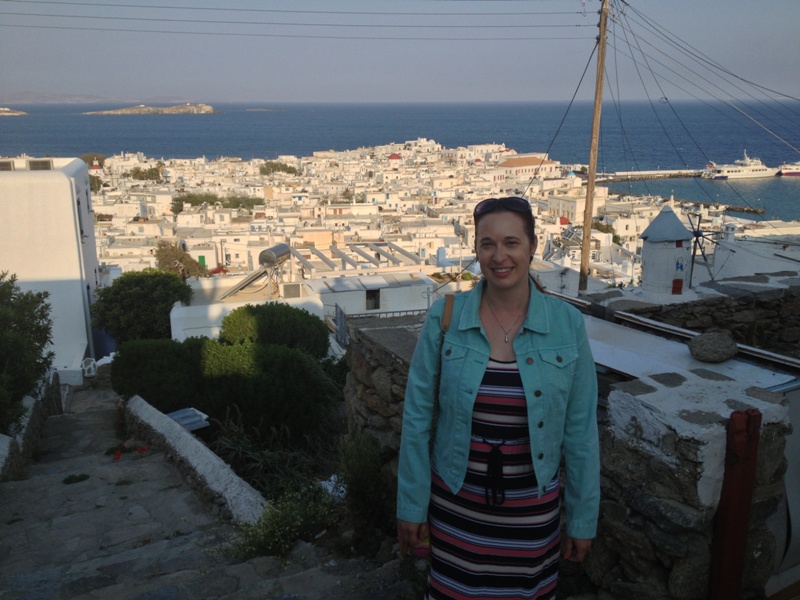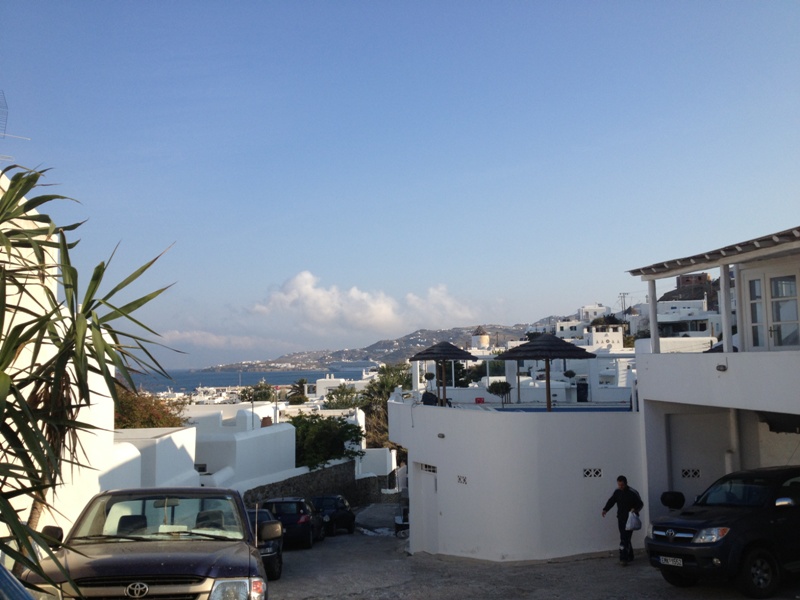 We stumbled upon a cemetery and went inside to take some pictures. (If you're new here, I have a weird obsession with cemeteries. The older the better.) The cemetery was where we encountered our first Mykonos cats! I had heard Mykonos was known for their wild cat population and I was very excited about it.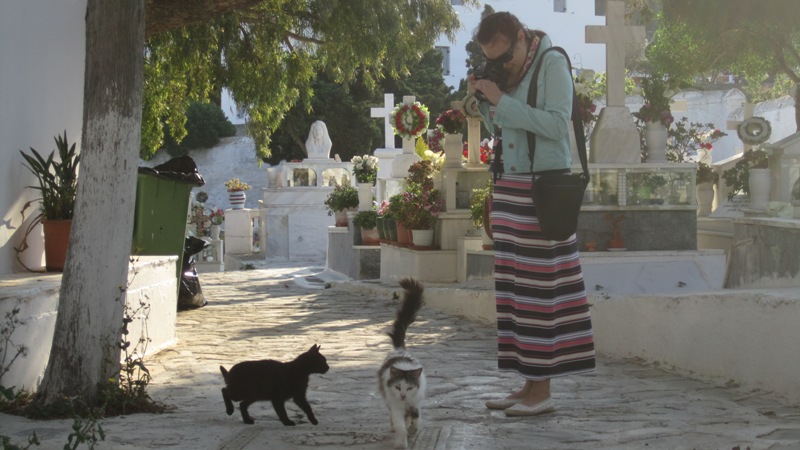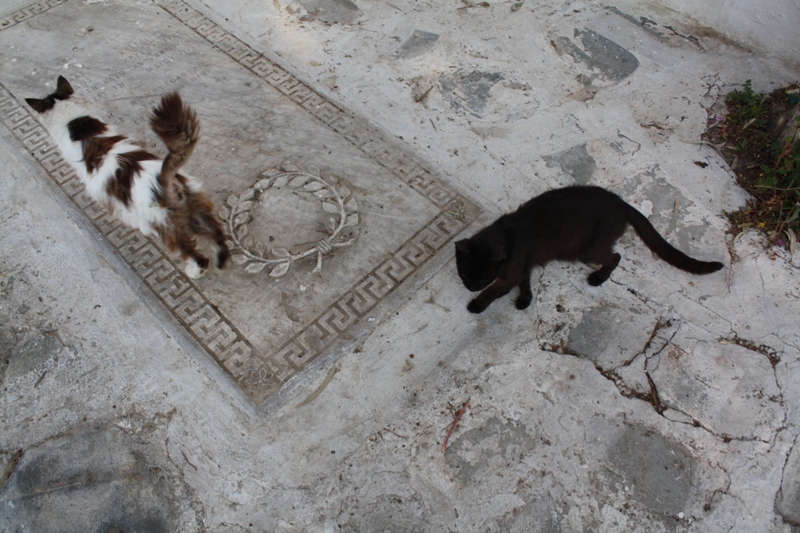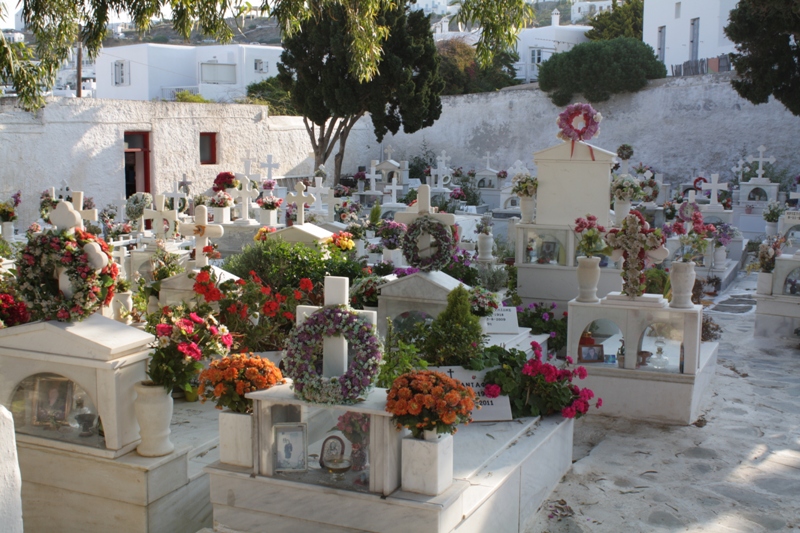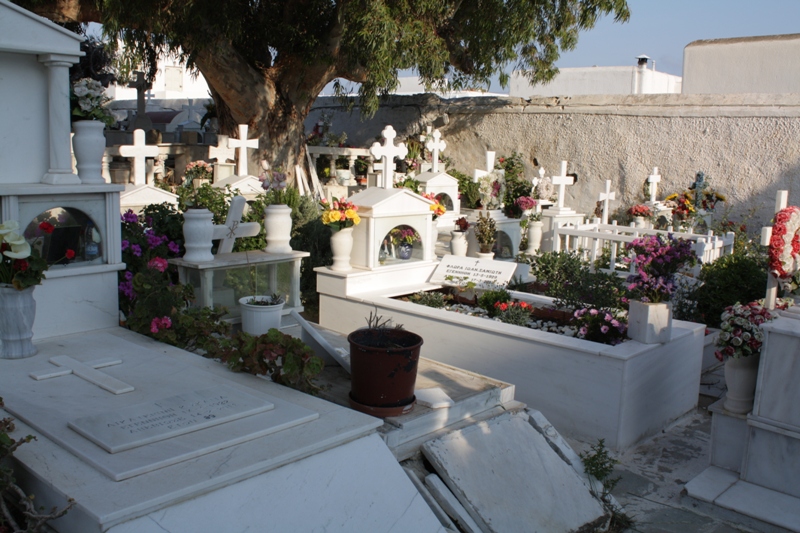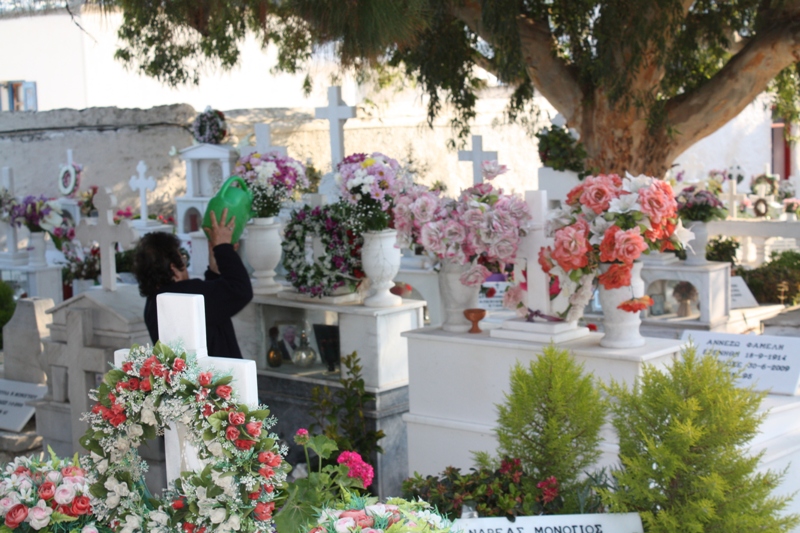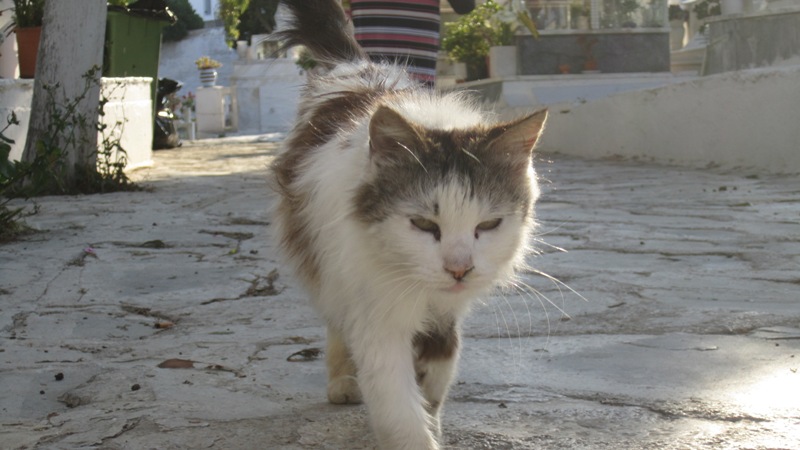 We left the cemetery after a few minutes and continued walking downhill. It was so early in the day that it was very quiet and none of the shops were open yet. I had a bit of the sniffles so I was looking for a convenience store that might sell Dayquil. We found one that was open but they didn't seem to have any cold medicines and the shop owner certainly did not know what Dayquil was. So we kept walking. We came across a shop that was open that sold crepes. We were told by a friend that they are not like the french crepes that we know, but better. We wanted just a quick snack to tide us over until lunch time so we split a "traditional crepe" which had lettuce, tomato, cucumber, olive, and so much feta cheese, all wrapped up in a gyro-like bread but a little thicker. It was so delicious. We sat on the patio of this little cafe and watched the tourists go by and the shops start to open up.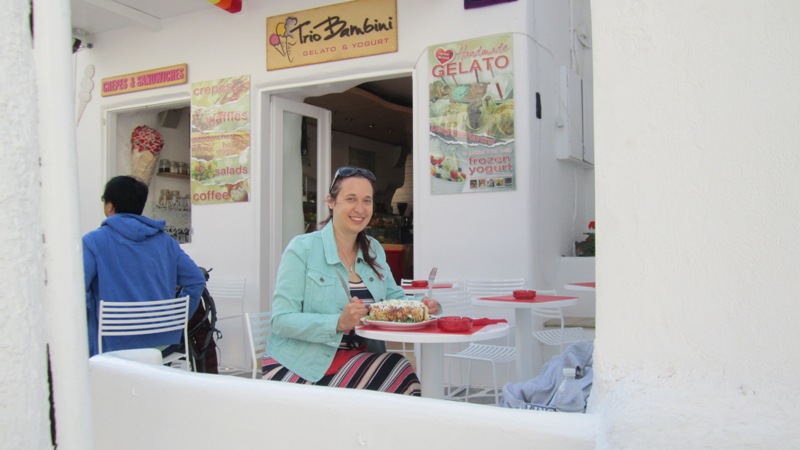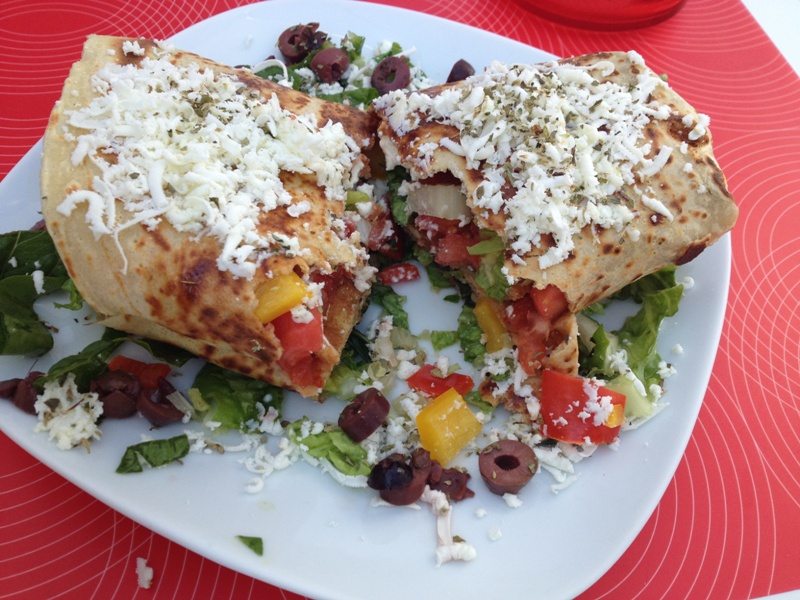 By the time we were done eating the city had come alive. We kept wandering and getting lost in little side streets, each turn more charming than the next. We were told by friends that it's pretty much impossible to get lost on Mykonos, even though all the streets look the same. If you're going uphill, you're going away from the water, and if you're going downhill you're going towards the water. Even though we went in circles a couple times, we never needed a map! And there were so many cats! I was seriously in heaven … with the feta cheese and the cats and the sea, Mykonos was my favorite stop during the entire trip.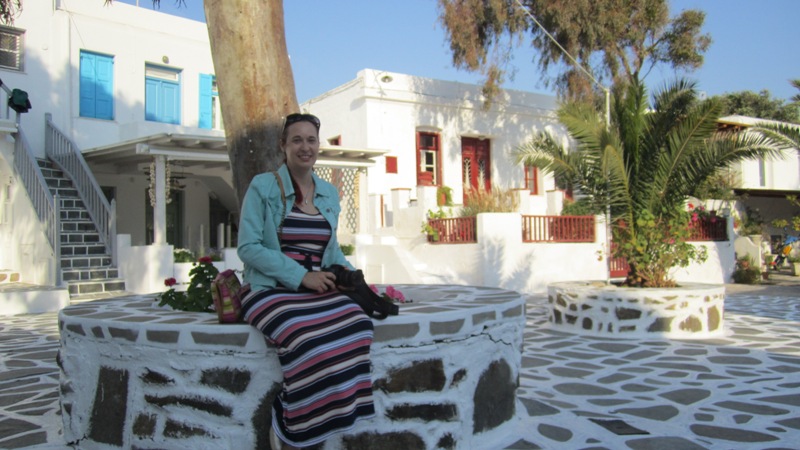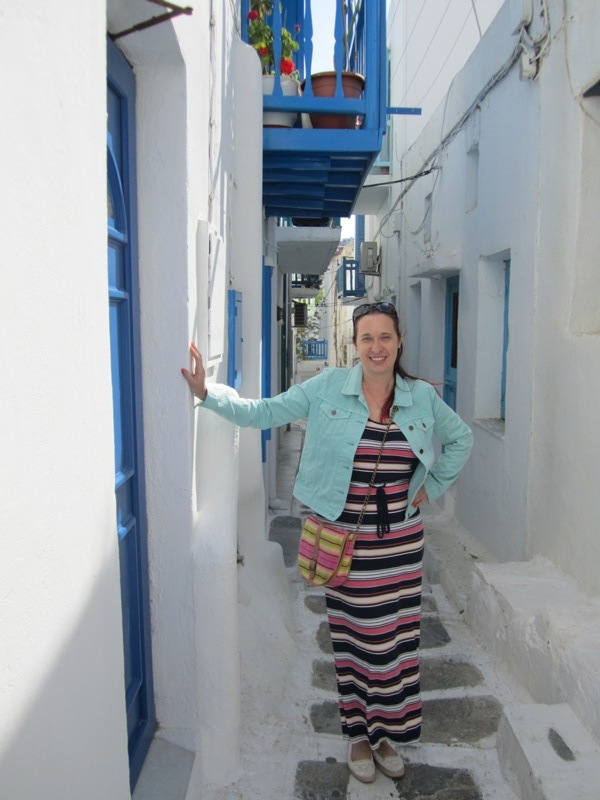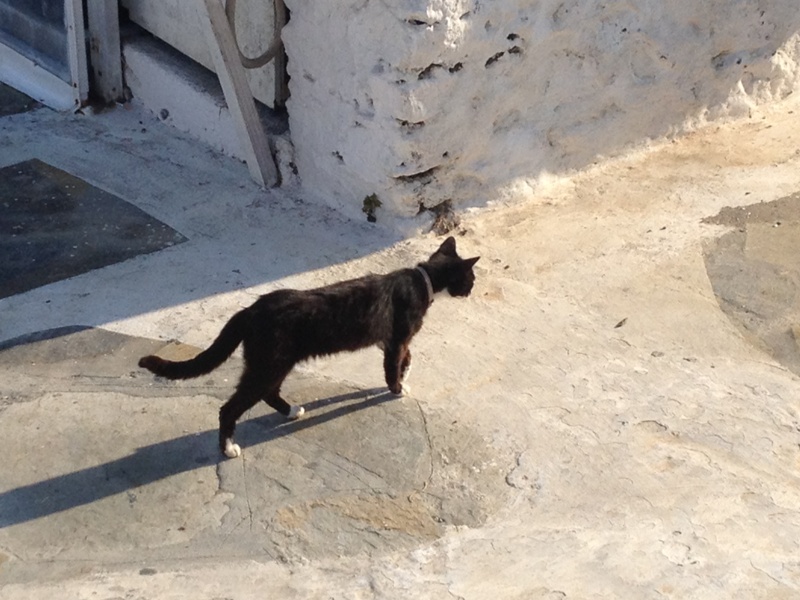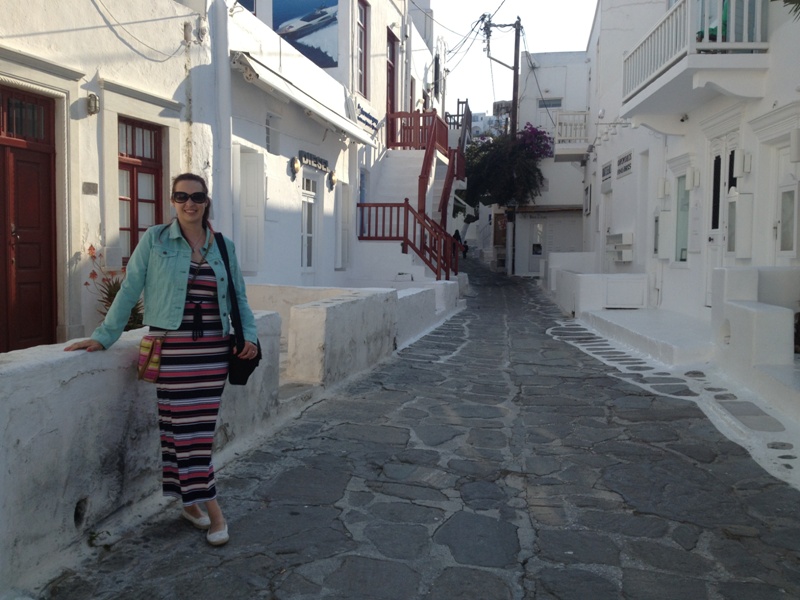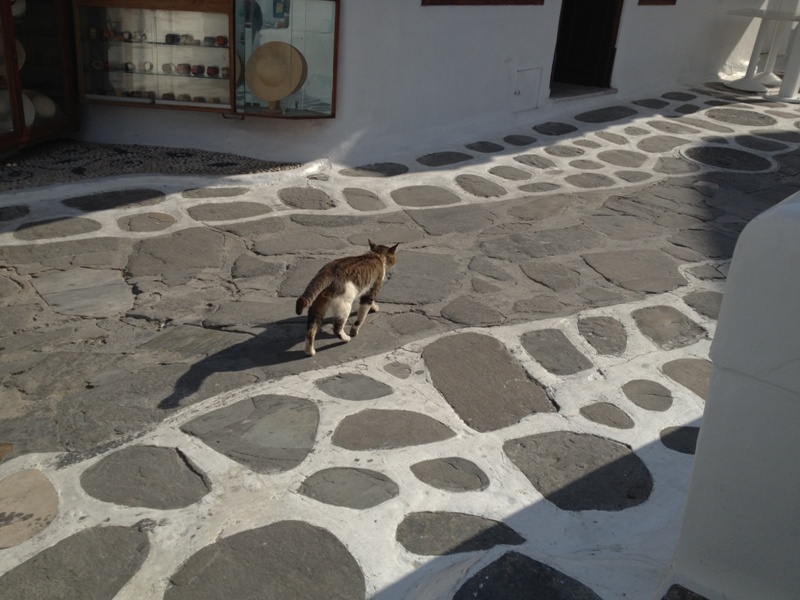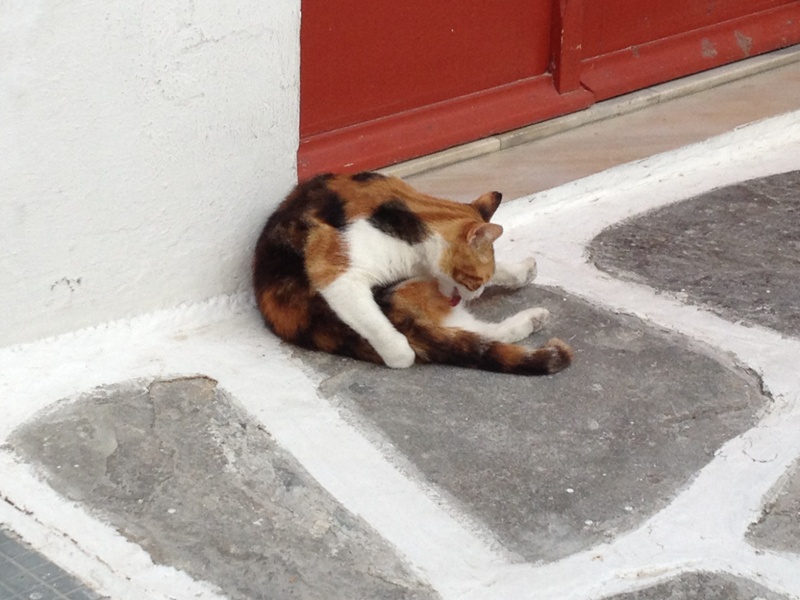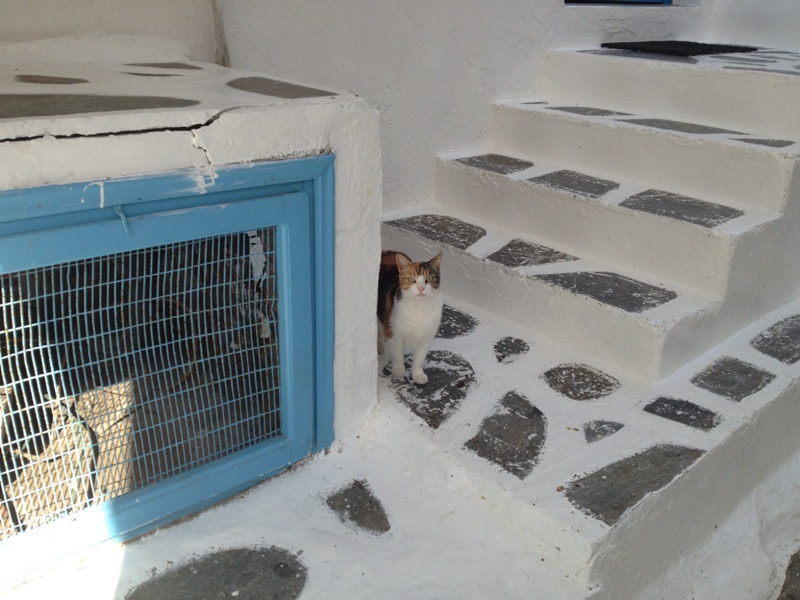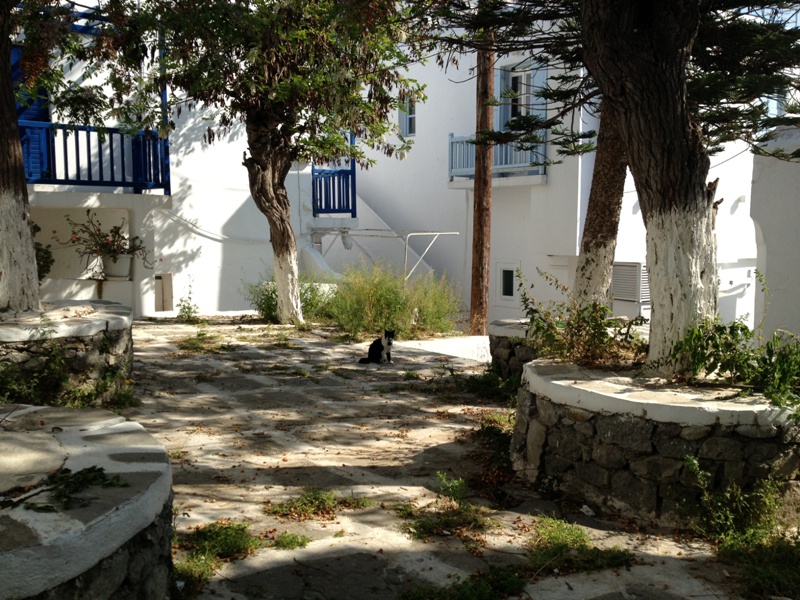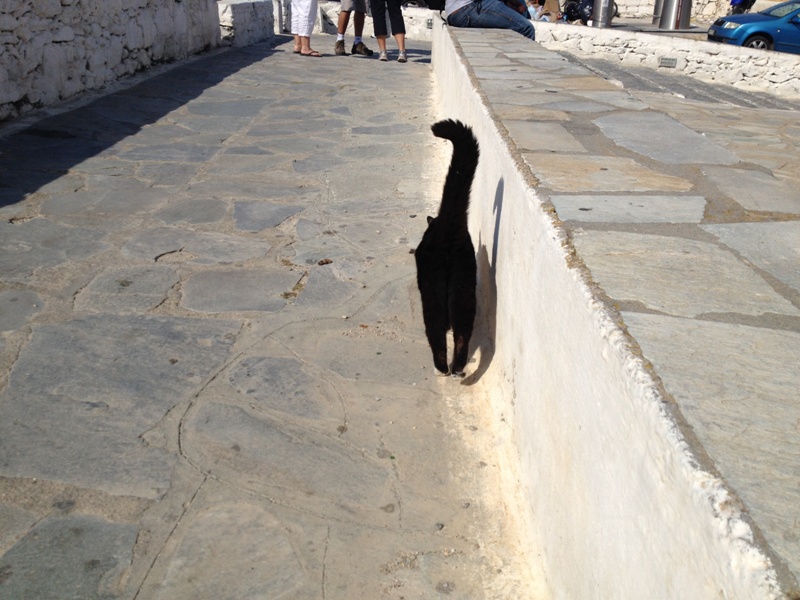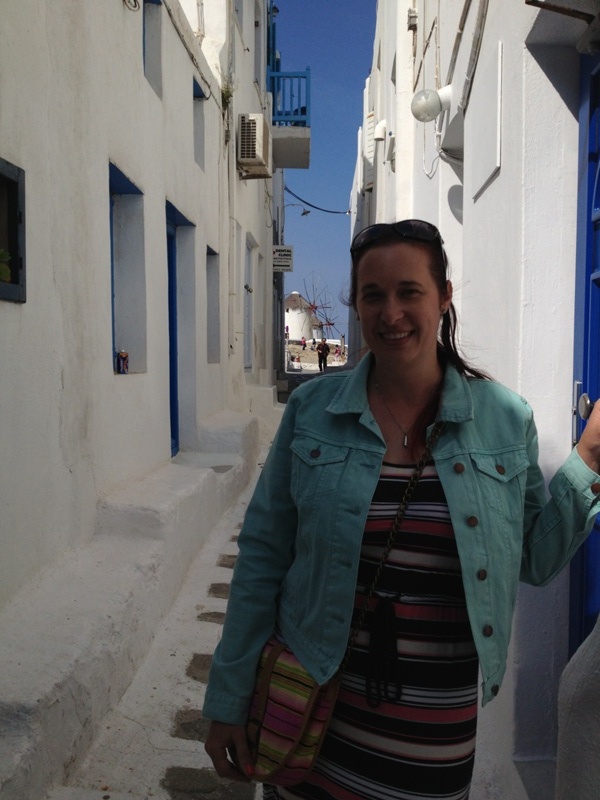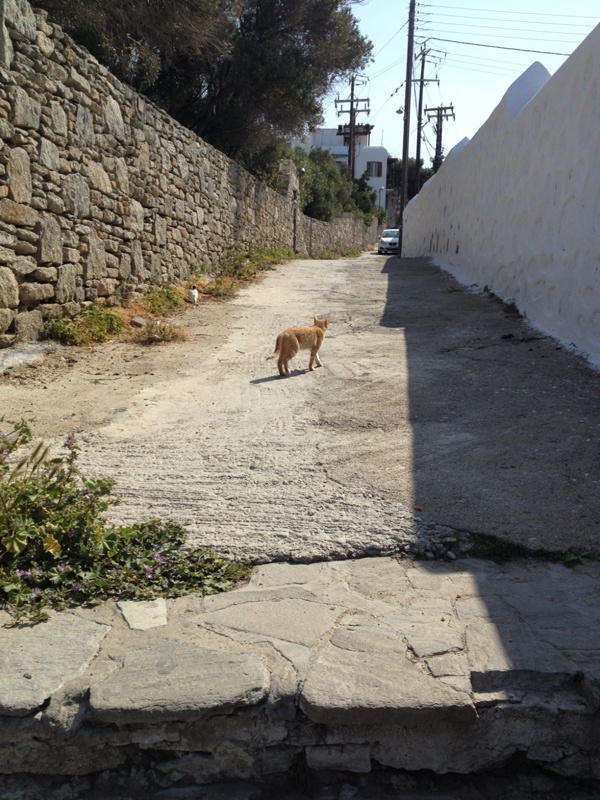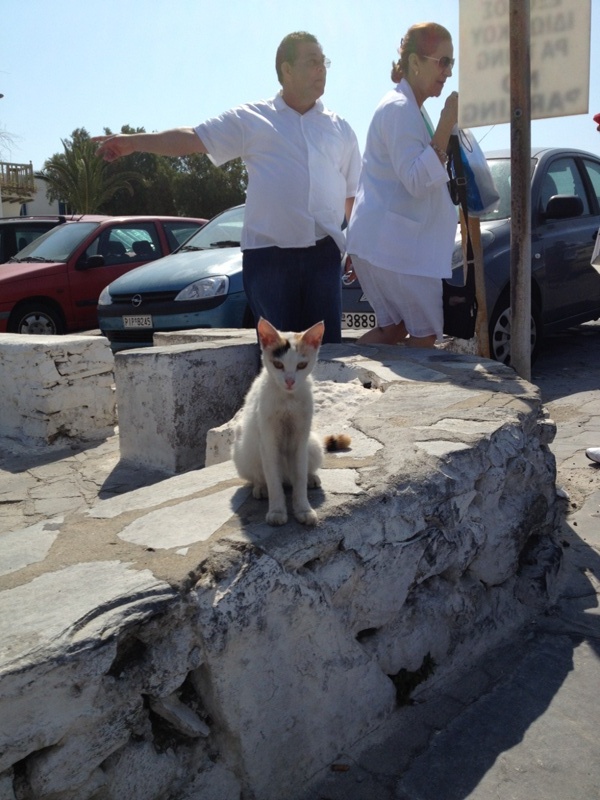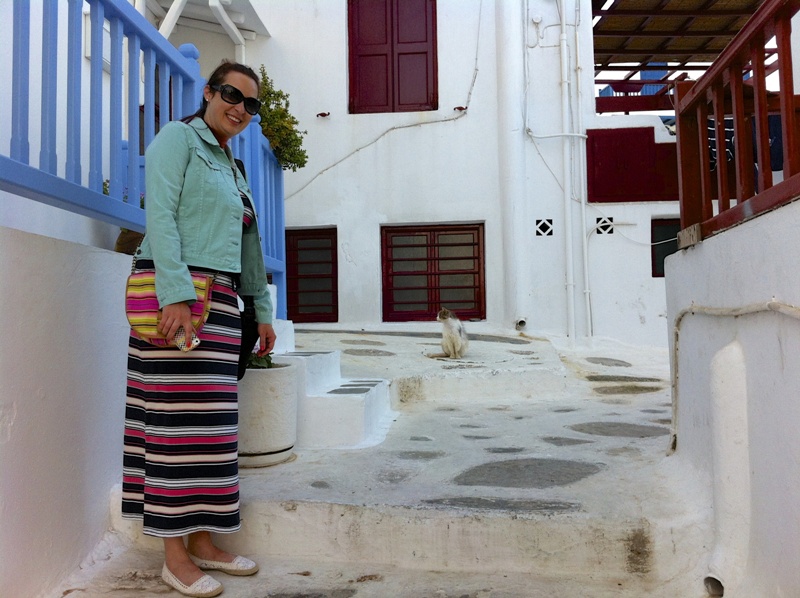 By the way, everywhere you go, there are workers painting walls with white paint. It must just be a constant process.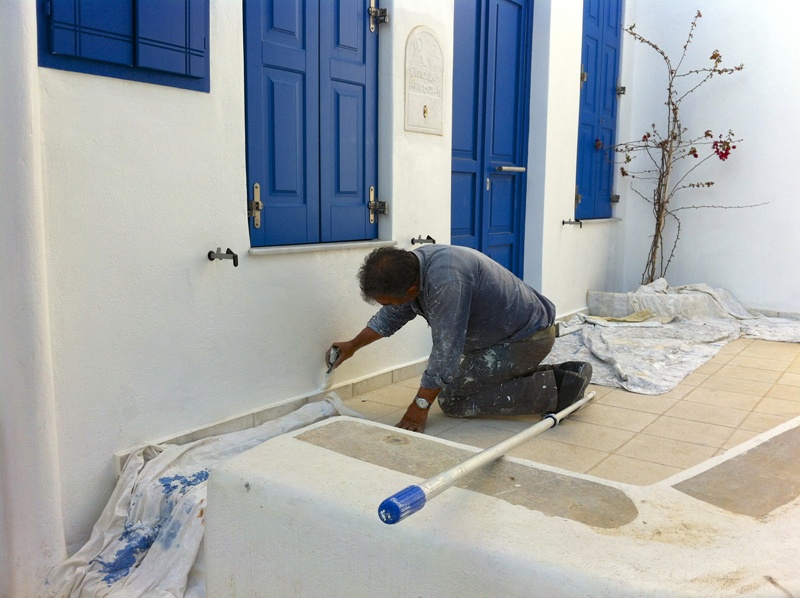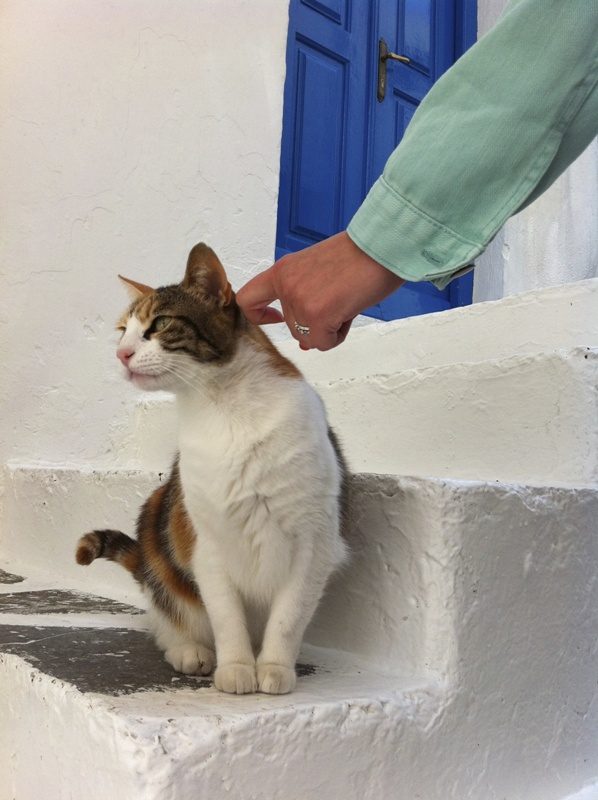 At one point I found an office of my then employer. That was not fun! Who wants to think about work on their honeymoon?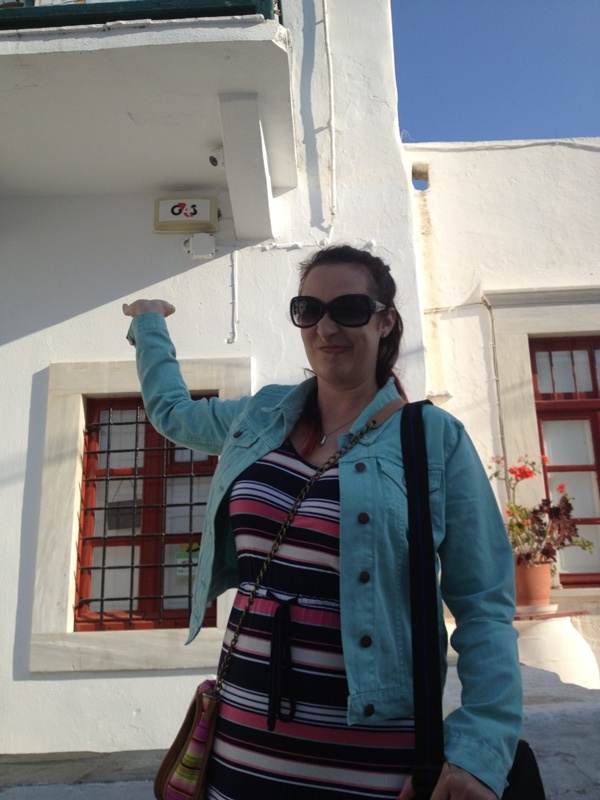 We found another pharmacy shop and decided to try our luck again. This shopowner spoke english very well and didn't have Dayquil but sold us some Greek medicine he said was comparable to Tylenol cold and sinus. The package was all greek to me (har!) but we trusted him, and at only 4 euros a box it was a good gamble. It did the trick and I still have the box, and just used that medicine over the holidays when I had a cold! As we exited the store, a display of sandals caught my eye. For about a decade I have been looking for Birkenstock type sandals with white soles. I found them in a magazine and tore the picture out because I loved them so much. The display was Dr. Scholls brand but they had the exact sandals I have been looking for! I tried the display one on and it fit perfect (turns out my feet are a European size 37). I asked the price and was told 55 euros (about $65 US dollars). Way cheaper than Birks but not exactly what I was planning on spending that day. So we left but after wandering about an hour I couldn't stop thinking about them and what a crazy coincidence it was, so we went back and purchased them. Turns out they were the last pair so the shop owner cleaned up the display shoe and gave us a 5 euro discount! That little shop ended up being a really great find. My plan was to buy some gladiator style sandals when we visited Athens, but these ended up being better.
We kept wandering and eventually found the famous stretch of windmills, where we took pictures and walked around and admired the view. We also found the "Little Venice" section of Mykonos, a line of restaurants along the water with a view of the windmills in the back. We spotted our new friends Mark and Kent and asked if they wanted to have lunch. We checked the menu of the first place we found and it was reasonable and they had wifi, and one table empty by the water so we sat down and ordered wine, sambuka, greek salads, and gyros. We were greeted by several more cats during our meal.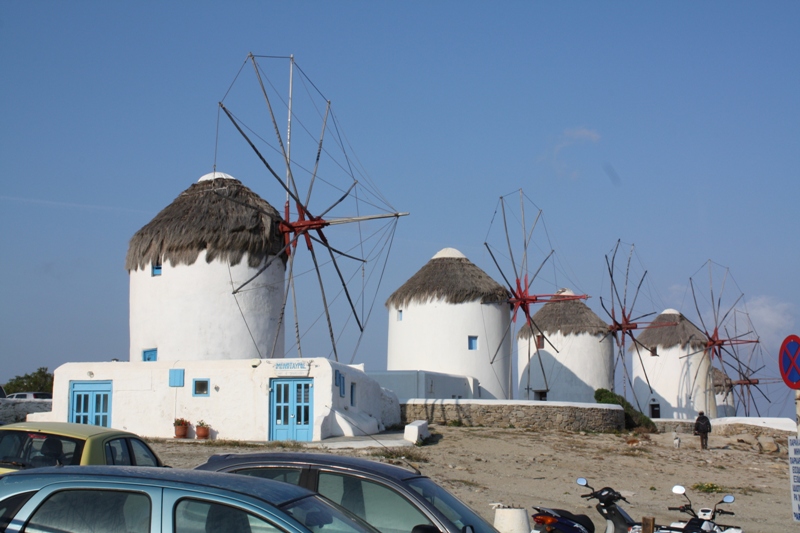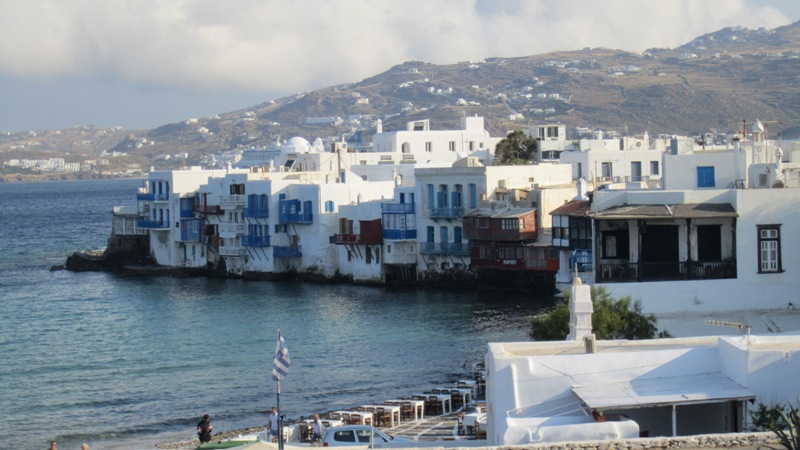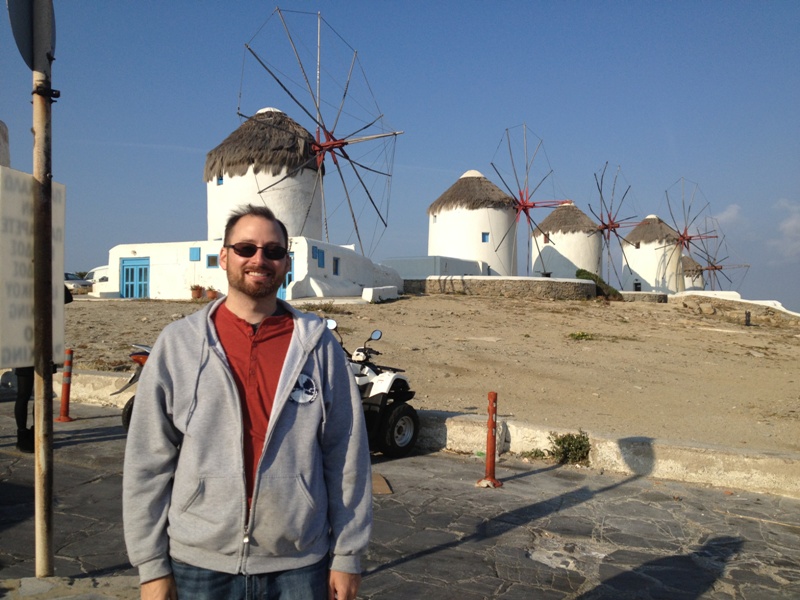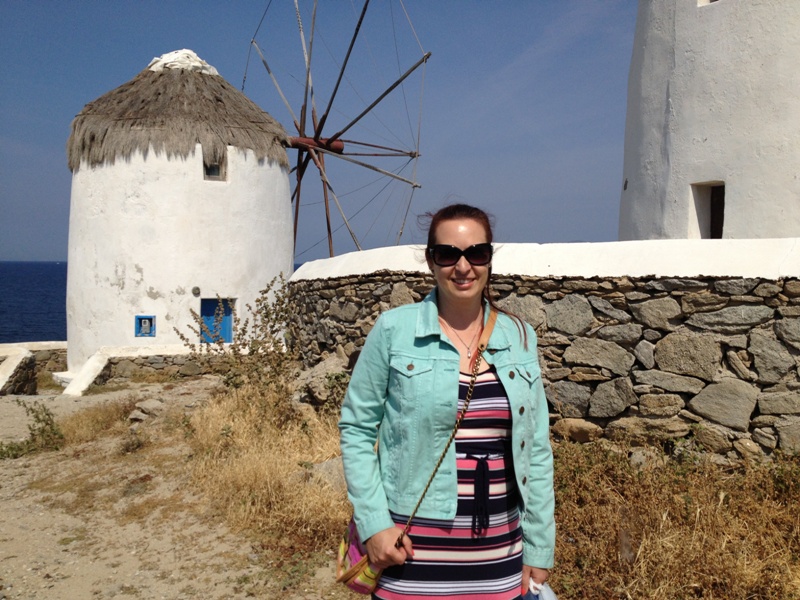 The water around Mykonos is perfectly crystal clear, it's insane.  Absolutely gorgeous.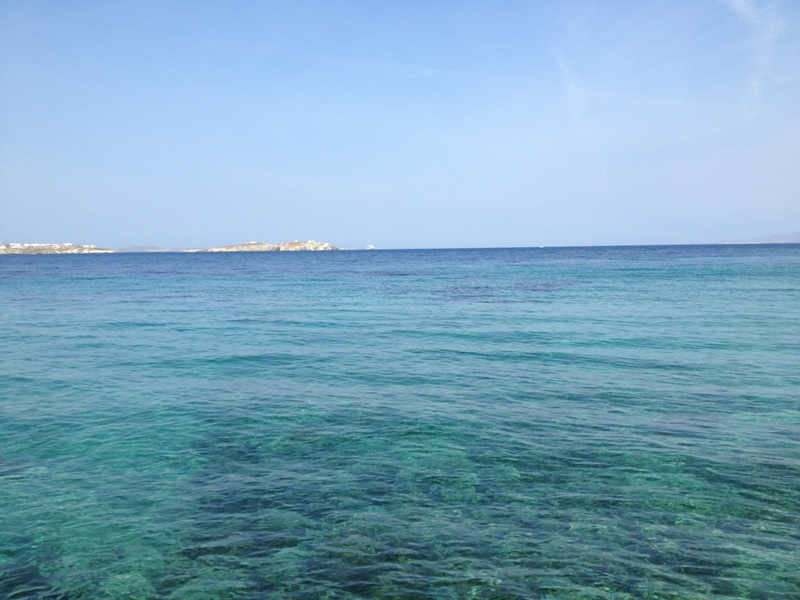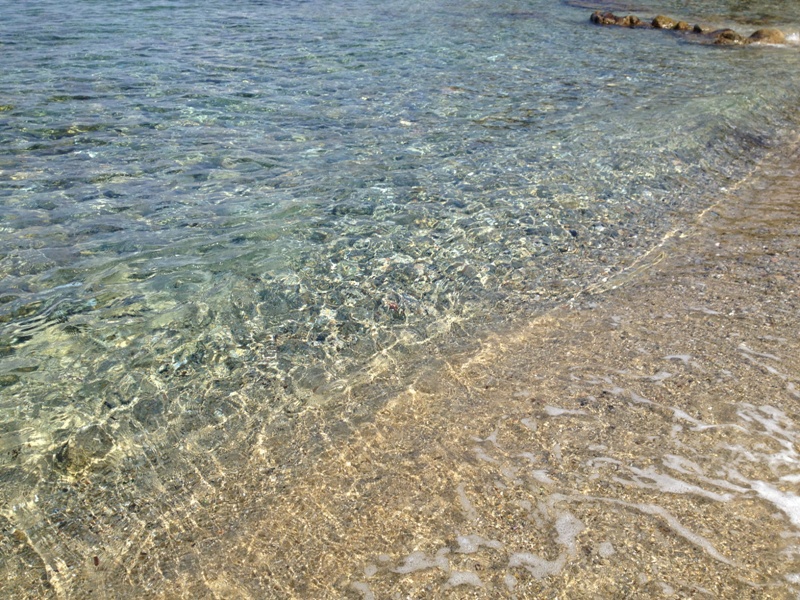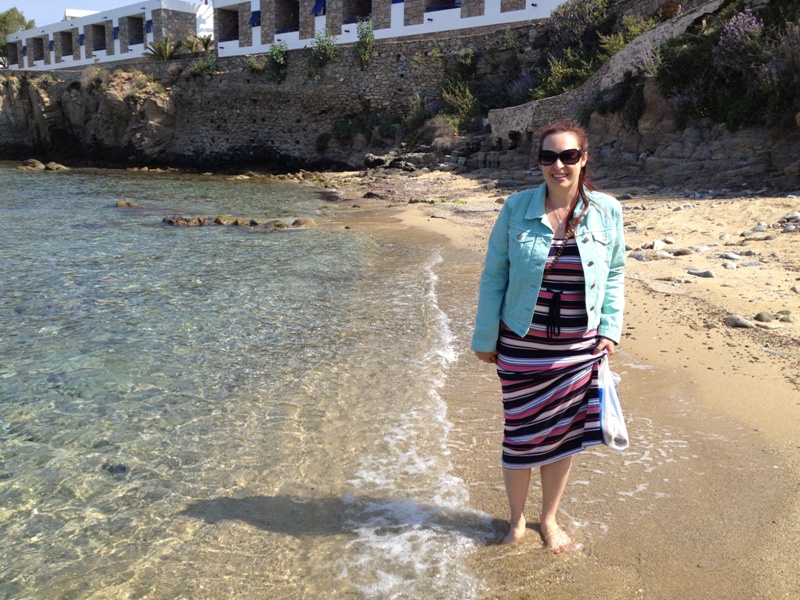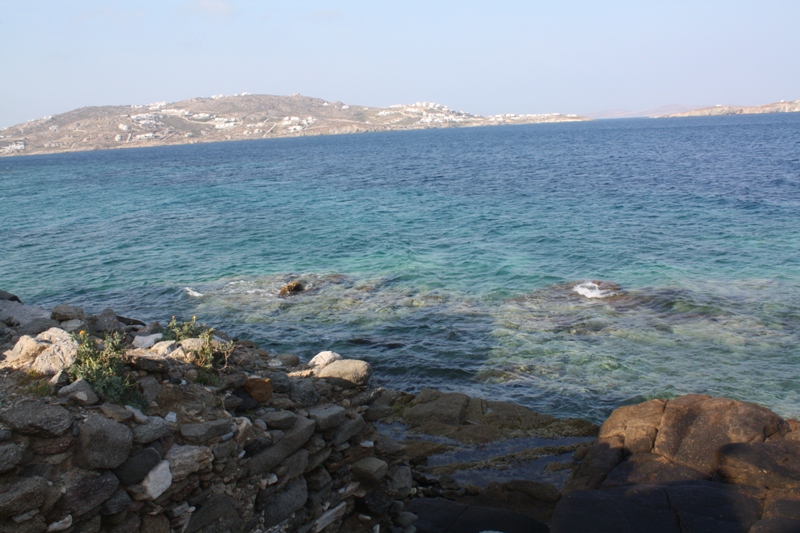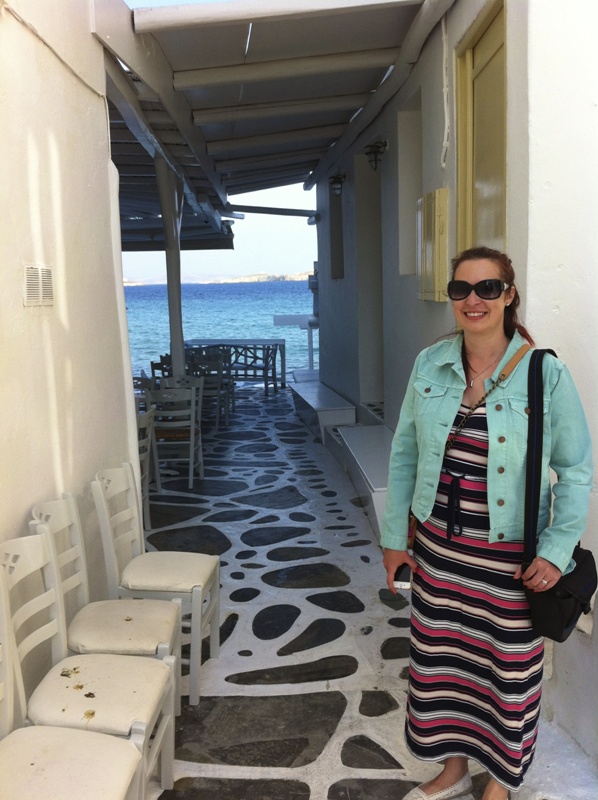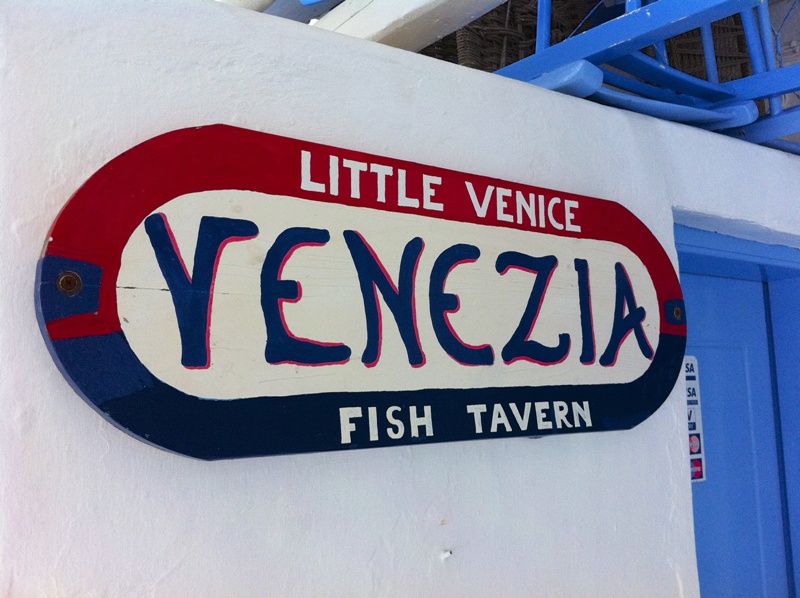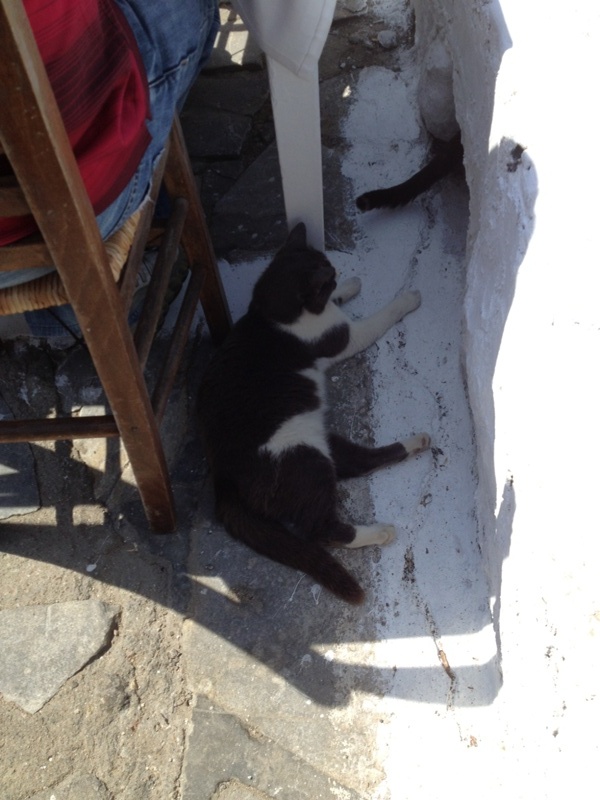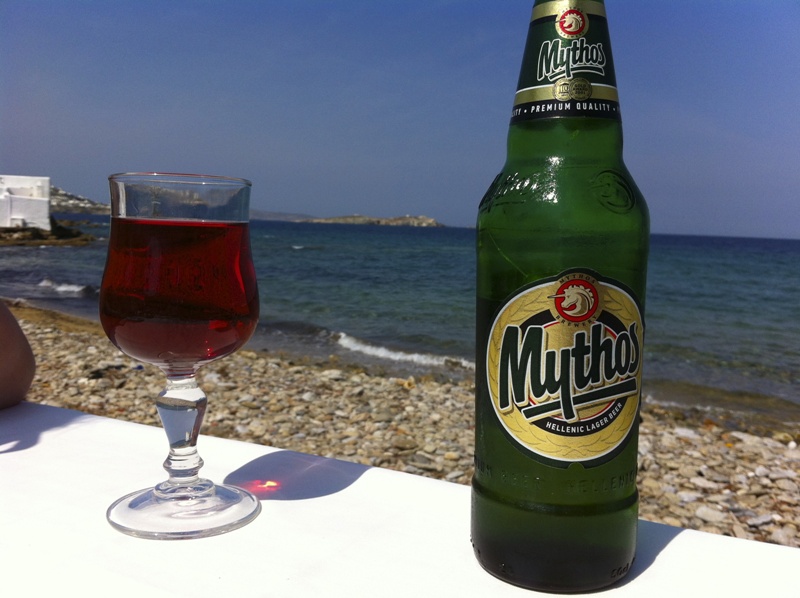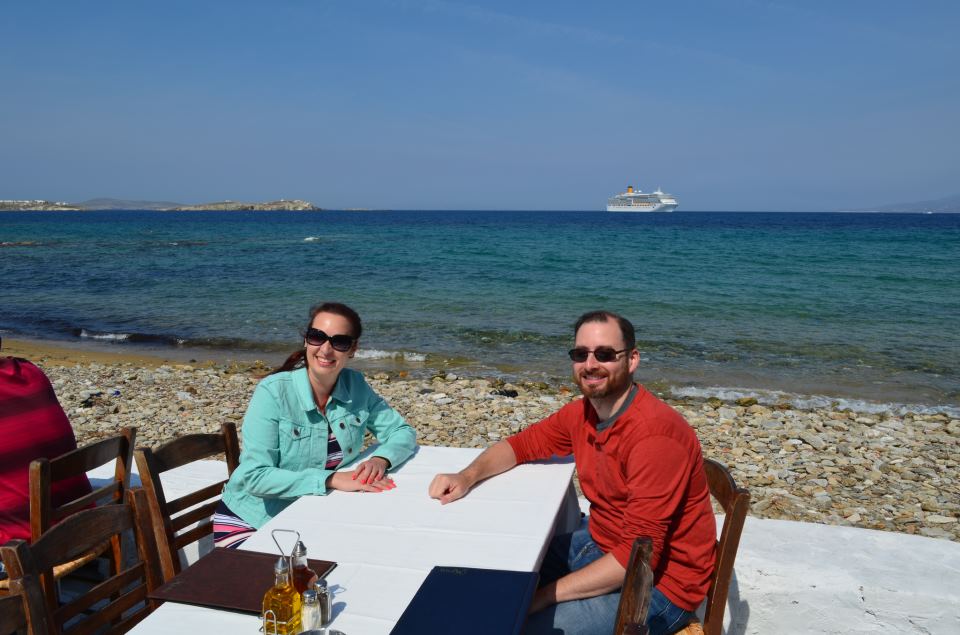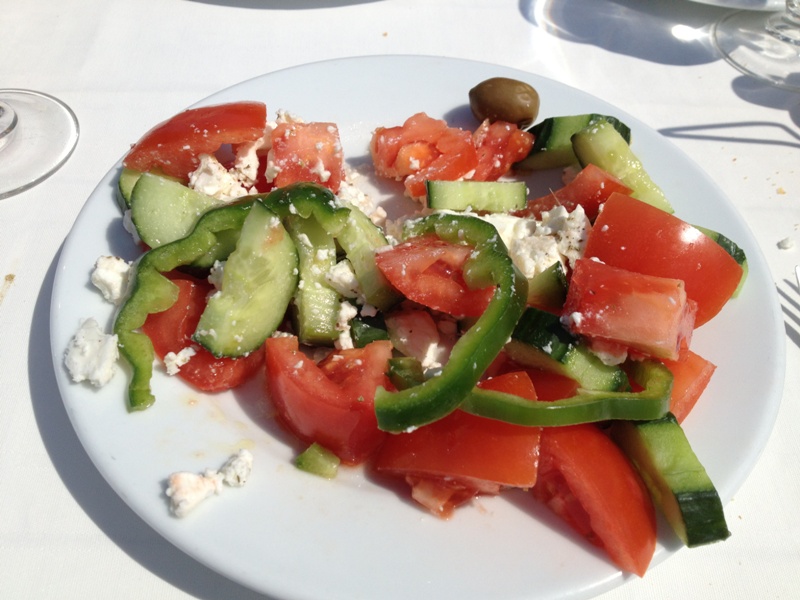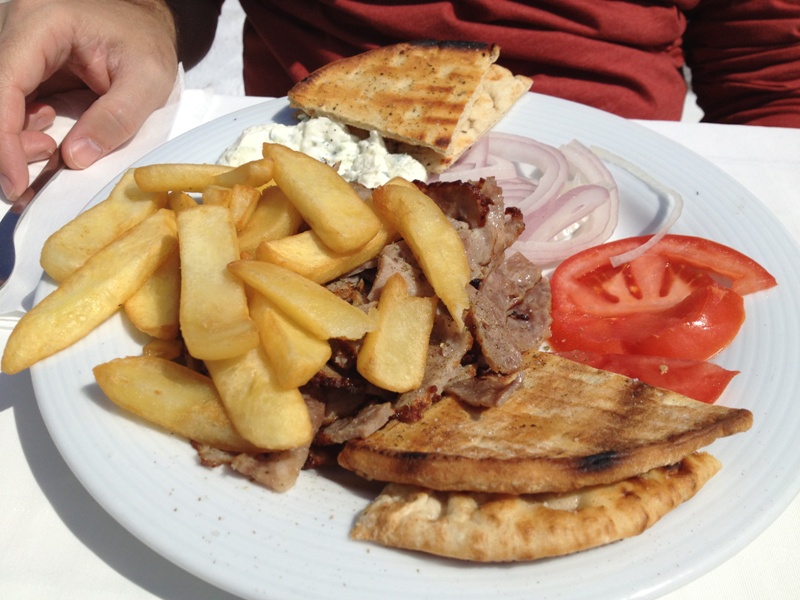 This is where we had lunch, in case anyone wants to find it … highly recommended!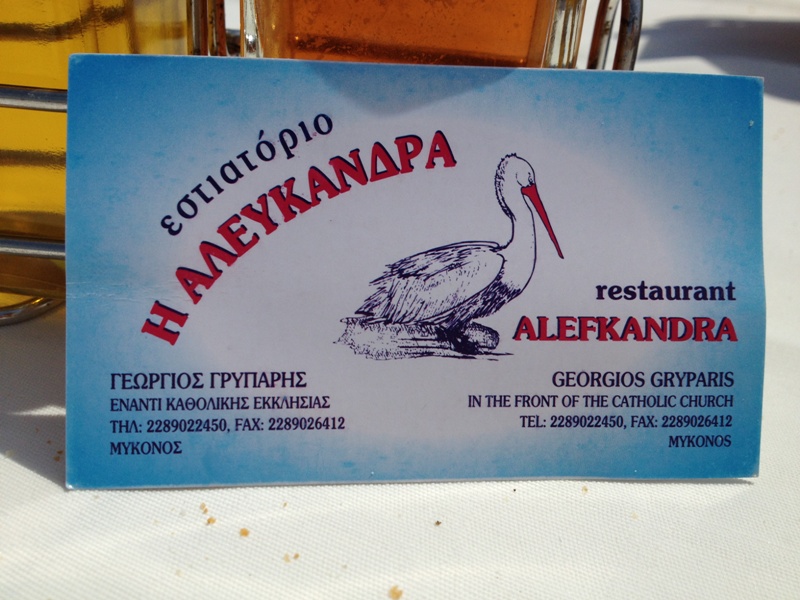 After our leisurely meal we did some window shopping and after an hour or so it was time to head back to the pier to catch the shuttle back to the ship before 2pm. This time we walked back along the water, which was much more busy and touristy than our backroads walk in the morning. We were glad we took the long way to the heart of Mykonos in the morning. After taking our time going in and out of shops and taking pictures of the scenery and more cats of course, we made our way to the shuttle line where we found some other new friends and we chatted while waiting in line.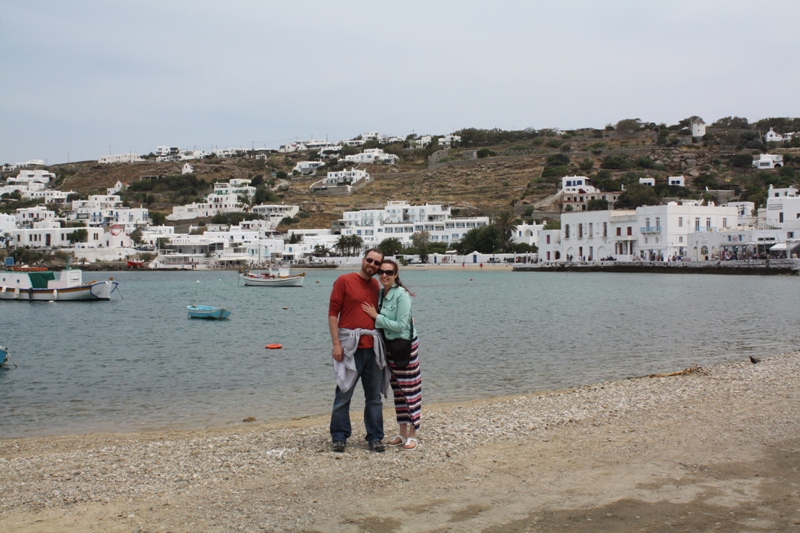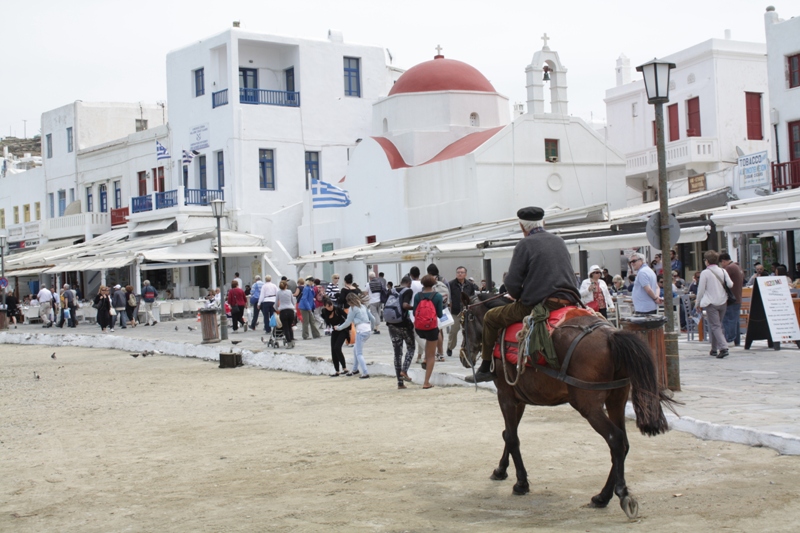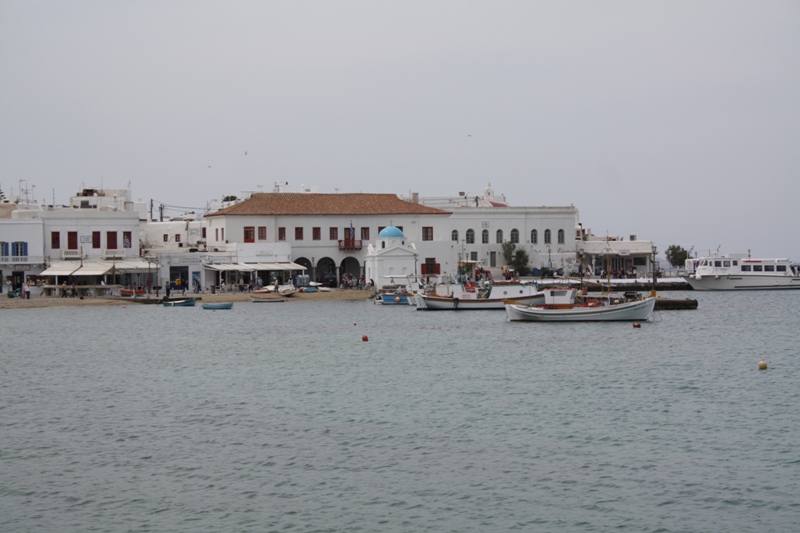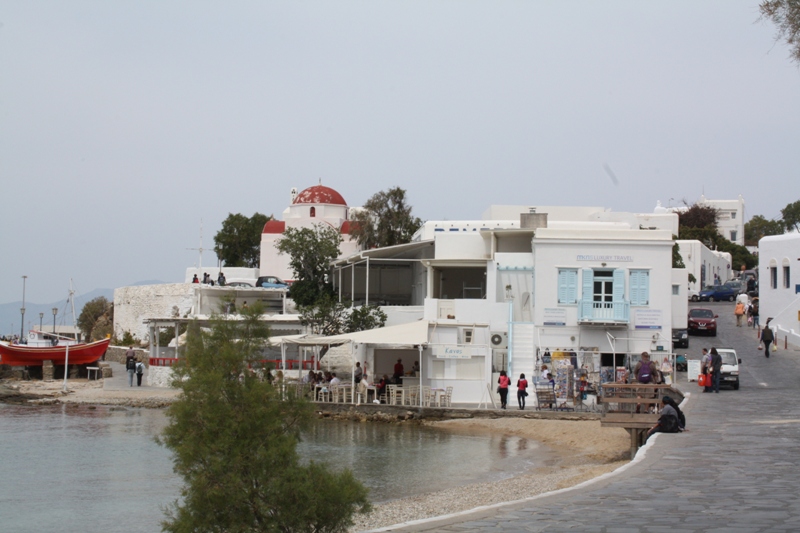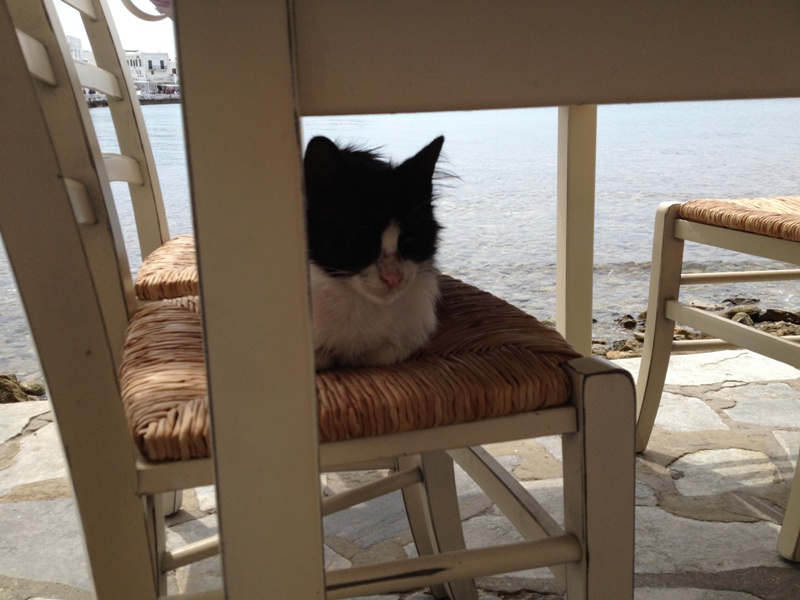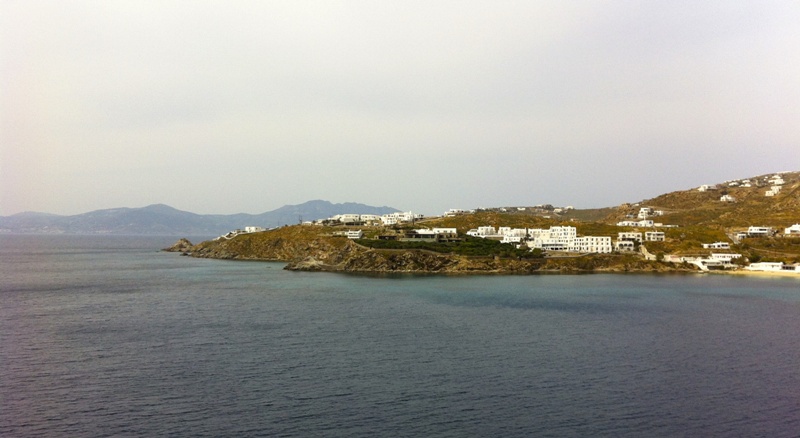 Once back on the ship we sat on our balcony and ate our snacks for that day and watched people come back to the ship late. We heard the staff below say "seven" so we watched as groups of people arrived via taxi until it totaled seven and then we watched them pull up the gangway and set sail. The view as we pulled away from Mykonos was stunning and we spent a while out there taking pictures. Then we went to the casino for about an hour before going back to the room for Chef's Table.
Our Chef's Table experience was incredible and since this is ending up being a long trip report entry, and I have lots of food pictures, I think I'll save it for my next installment! Sorry for the food tease but it will be worth the wait, I promise!
Past Honeymoon Posts:
Chapter 1 – All Aboard the Norwegian Spirit!
Chapter 2 – Barcelona, Spain
Chapter 3 – Toulon and Bandol, France
Chapter 4 – Florence, ItalyChapter 5 – Rome, ItalyChapter 6 – Naples, Italy
Chapter 7 – Sea Day 1