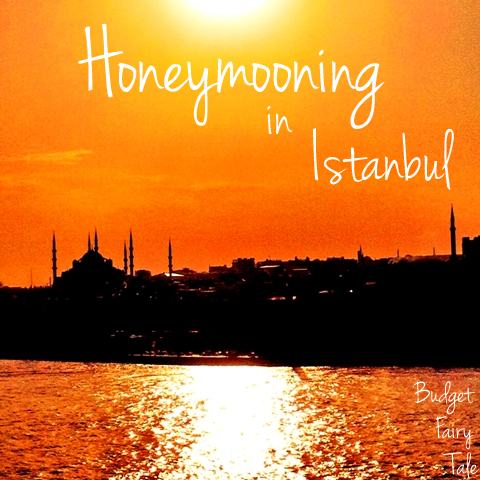 Our day in Istanbul started pretty early and we met in The Cafe with the 10 other people on the tour I organized. I had rescheduled the tour we had originally booked for the Sunshine because they were also available on our date. We made our way off the ship and went through a customs building with one teeny tiny opening. We were given some kind of paper card we needed to keep with us and return when coming back to port. Once back outside we easily found our tour guide and boarded our bus. Traffic in Los Angeles is nothing compared to Istanbul! We moved very slowly but as we moved along Jamie, our guide, gave us a quick overview of Istanbul and pointed out landmarks as we made our way to the mosques.
Our first glimpse of Turkey from our balcony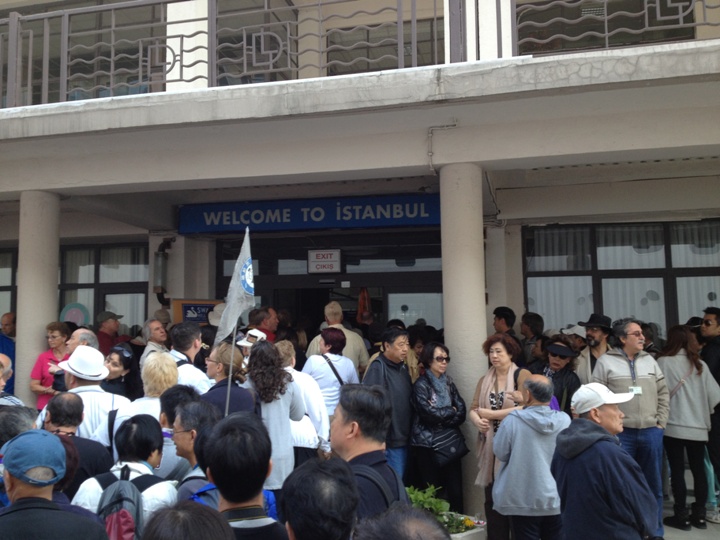 Our first stop was Hagia Sophia, a very pretty mosque that is now a museum. We toured the mosque and took pictures as Jamie gave a history of the mosque. The gilted detailing was gorgeous.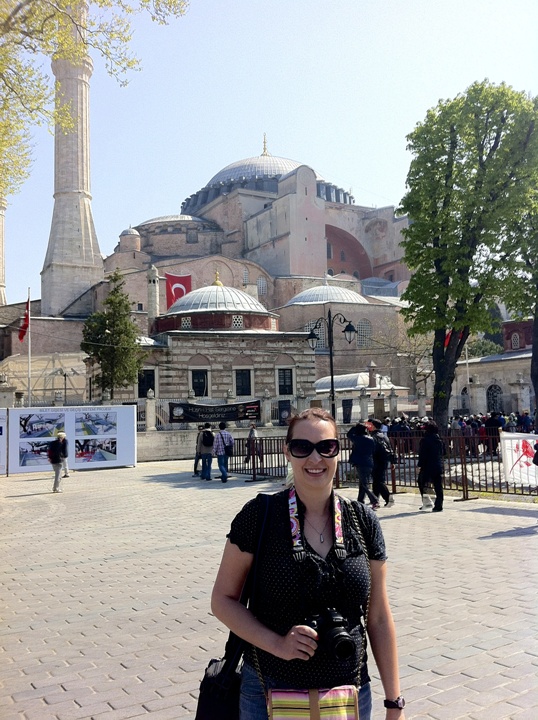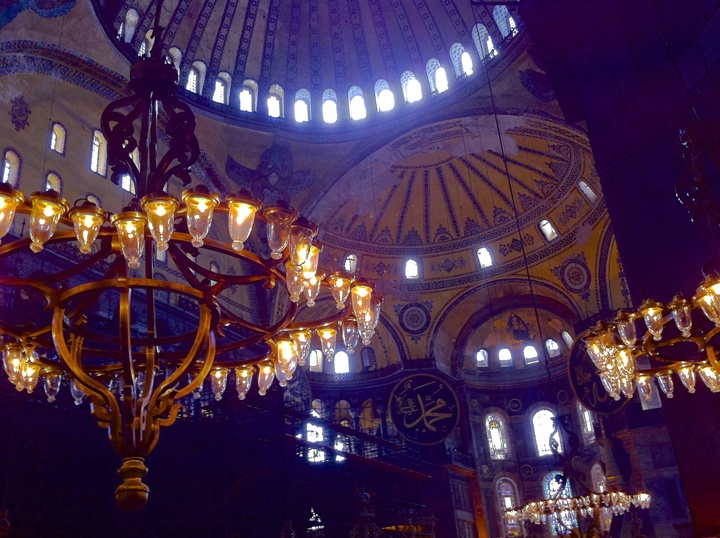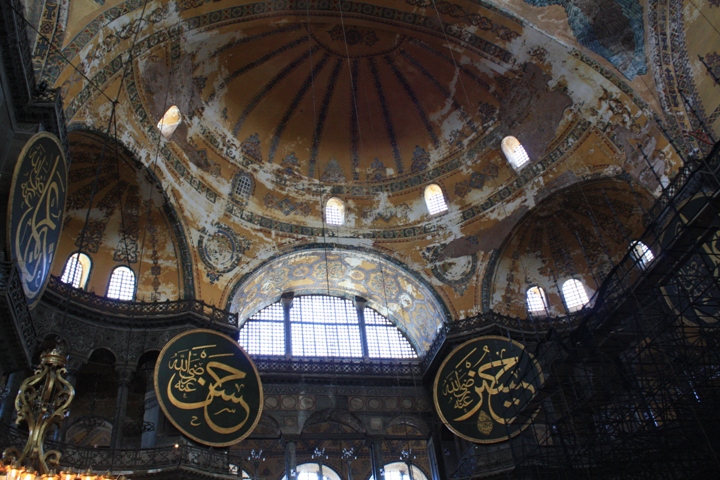 Next we walked across the esplanade to the Blue Mosque, which is still an active mosque. Luckily we arrived between prayer times so we were able to go in with just a small wait in line. Before we entered everyone had to take their shoes off (we were provided pastic bags to carry our shoes) and women had to cover their head and shoulders with a wrap that was provided. One of the perks of having to take your shoes off is feeling the soft carpet underneath your feet. Another beautiful building rich in history.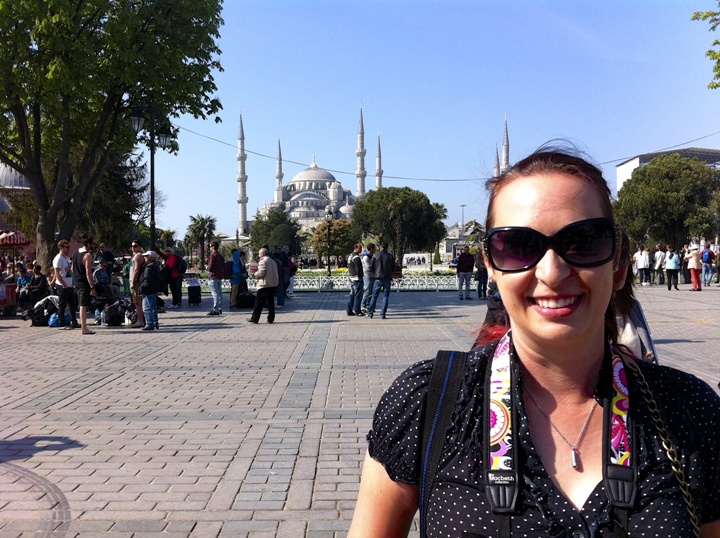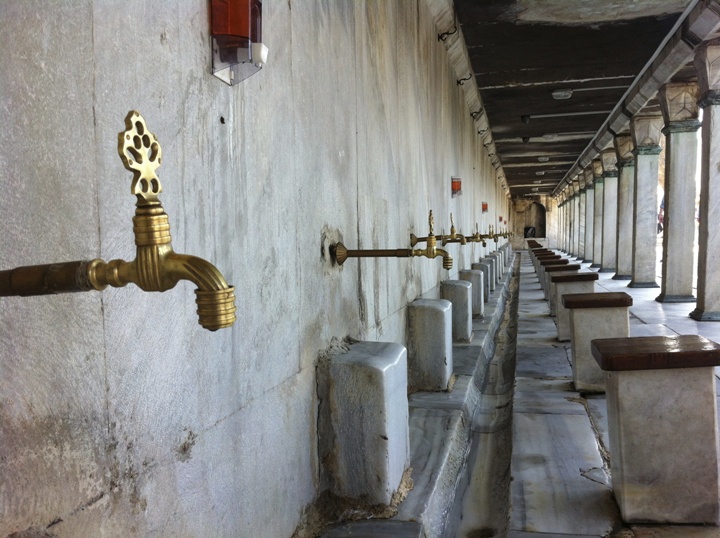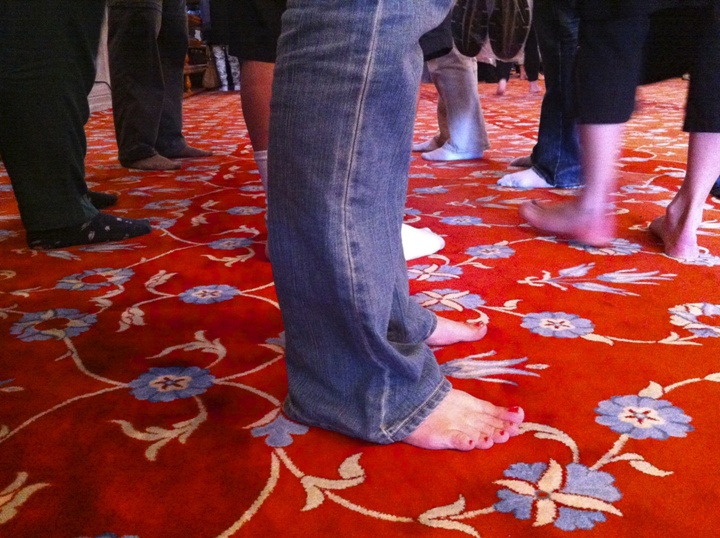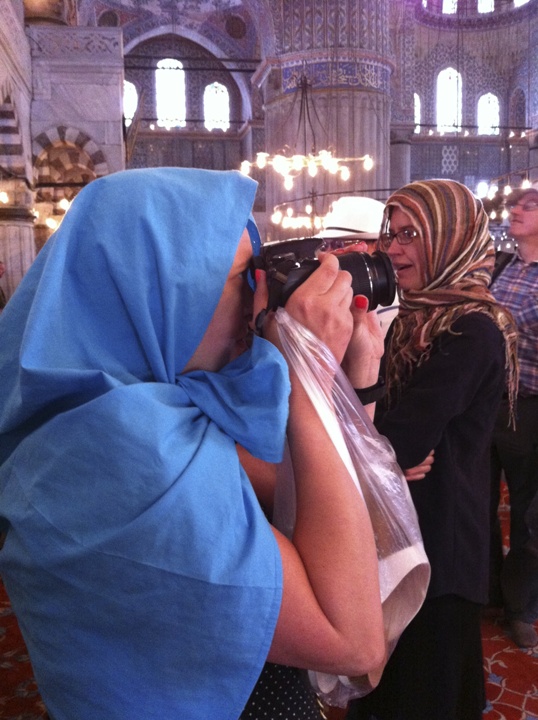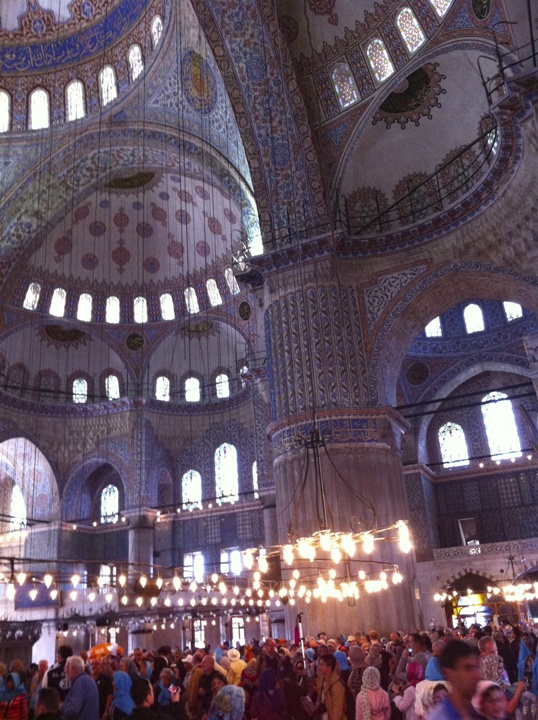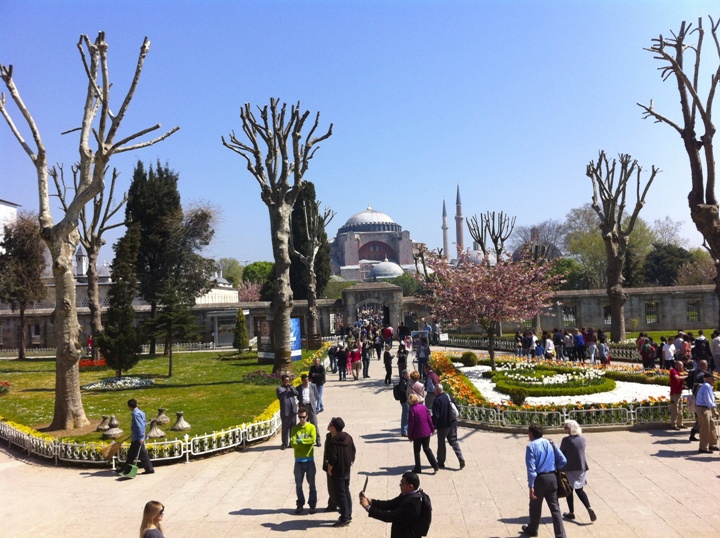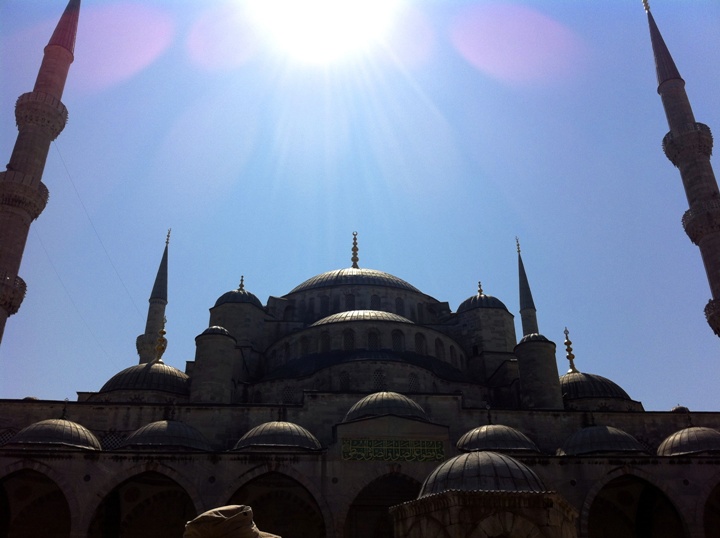 After this we took the bus to a spot for lunch. Before lunch we were taken inside of a jewelry store, because we were told the old water cisterns were inside. I was skeptical; I was pretty sure we were about to get a sales pitch but we all went in and were led downstairs to the cisterns. It had been converted to an art gallery of sorts. It was creepy and cool.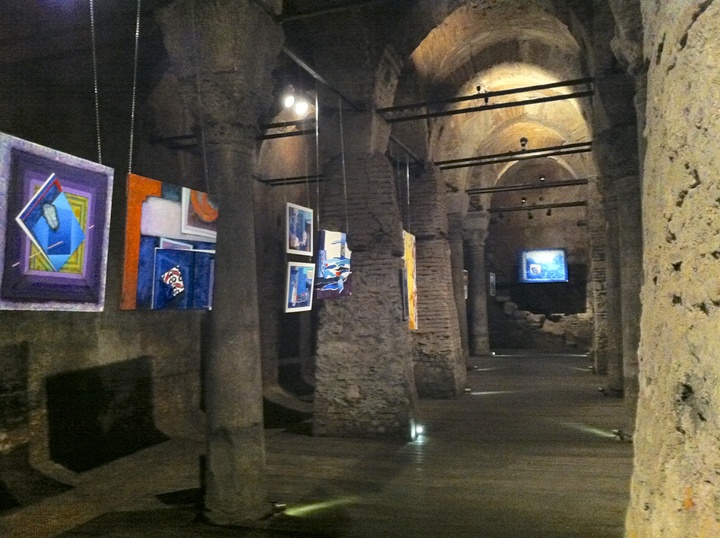 Once we were all upstairs again, we were shown a rug demonstration, where a woman was making a turkish rug. I asked someone if I could use a restroom. When I returned, the only one in the room was Mr. BFT! He told me everyone was led upstairs for a "tea ceremony." YEAH RIGHT, I knew they were trying to give us a sales pitch for rugs! I went upstairs where everyone was sitting and I asked "What's going on?" No one in our group seemed to know the answer. It was so confusing.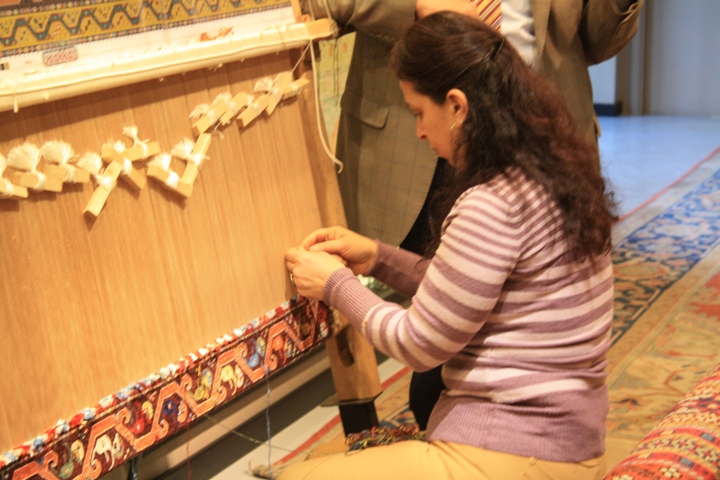 I found Jamie and asked him what was going on; there was nothing on our itinerary about a tea ceremony and we definitely were not interested in a sales pitch. He kept saying, "It's customary, it's traditional." I kept saying we had a tight schedule and we all wanted to go have lunch. He said we could after the tea ceremony. Finally Mr. BFT said, "We are your clients, and we are not happy right now. We are not doing anything that's not included on our original itinerary." Jamie very frustrated said, "Okay, okay." He said something in Turkish to the store workers and I went up and gathered everyone. Jamie took us across the street to a restaurant and helped us order. He then left us while we ate. I'm sure he went back to his buddy's shop to talk bad about us! I felt really bad the rest of the day because I was the one who organized the tour. I apologized to everyone but everyone told me it was okay and no harm was done. During lunch I actually was a little nervous Jamie was going to abandon us, but he didn't. I was so upset about everything, I totally forgot to take a picture of my food! Mr. BFT took a picture of his apple tea, and took a picture of our group through the window. We are holding up some kind of sweet cake-like dessert. After about an hour, the bus pulled up and we boarded for Topkapi Palace.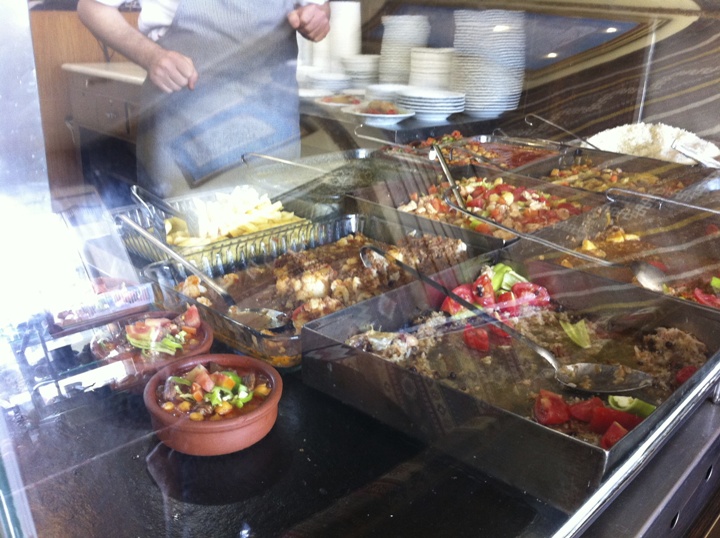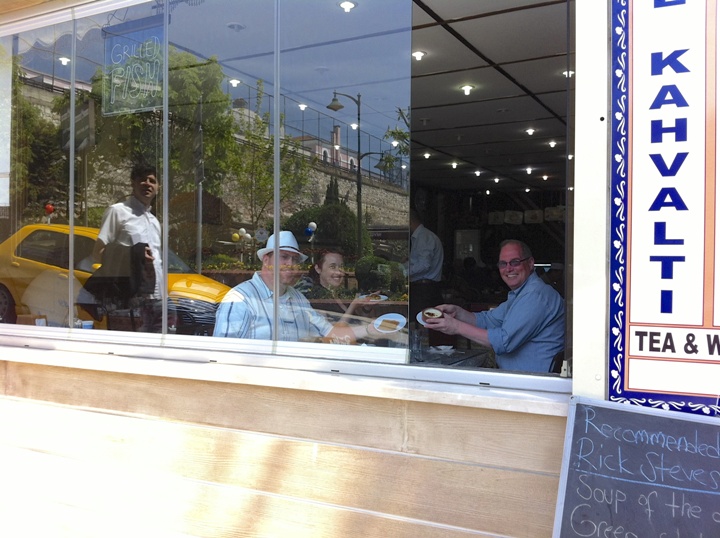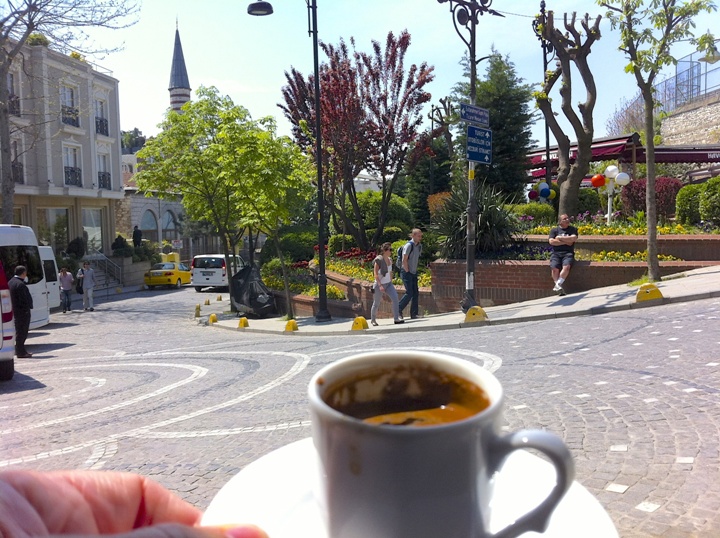 Once we got to Topkapi Palace, we were given about an hour of free time before being asked to meet back at the bus. There were lots of little rooms with treasures on display and we saw a few, but honestly we were more interested in walking the grounds and checking out the views. Topakapi Palace was built along the Bospherus Strait on a hill, with sweeping views of the Asia side of Istanbul. It was smart – the palace guards could see anyone coming from miles away in all directions. We walked the palace, checked out tiled and gilded rooms, took lots of pictures of the tulips (tulips are huge in Turkey – who knew?) and soaked in our Istanbul experience.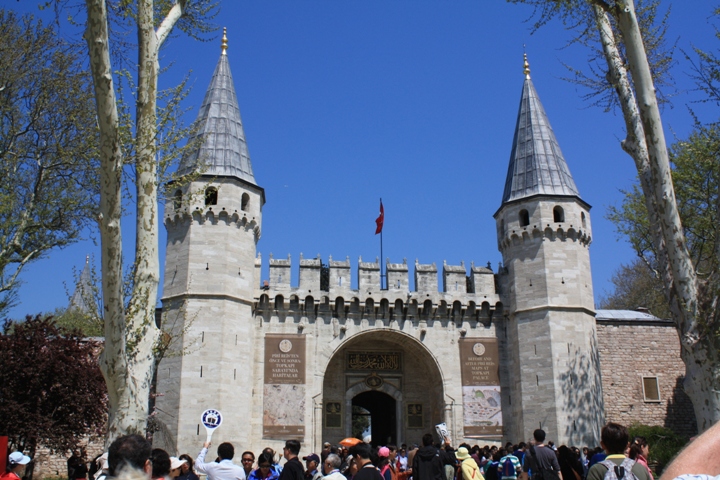 As soon as we get off the bus, someone from our group says "Mindy, look, a cat!" My new friends already knew me so well.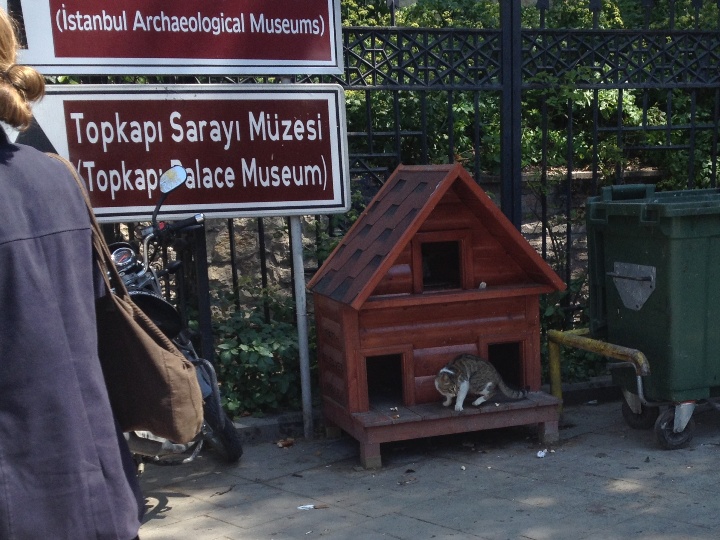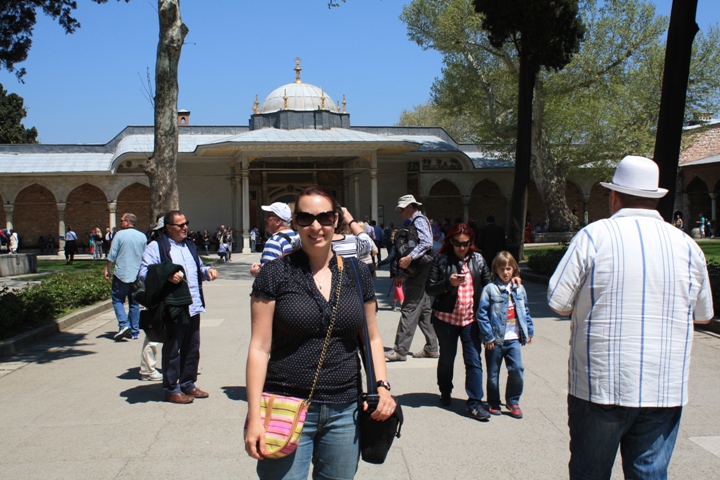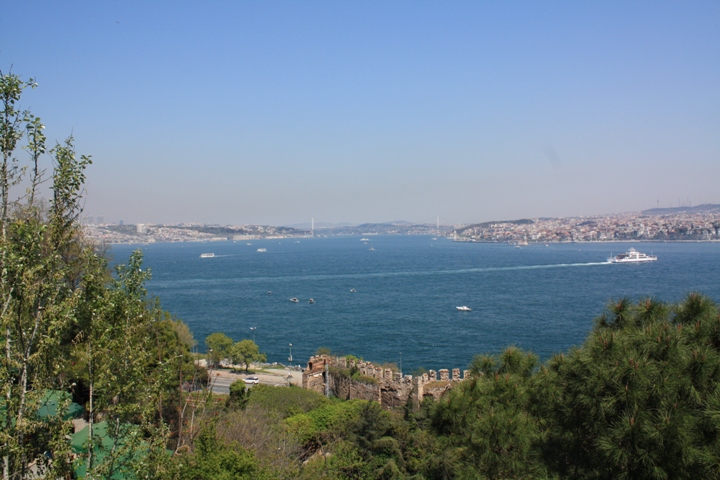 Another Topkapi cat: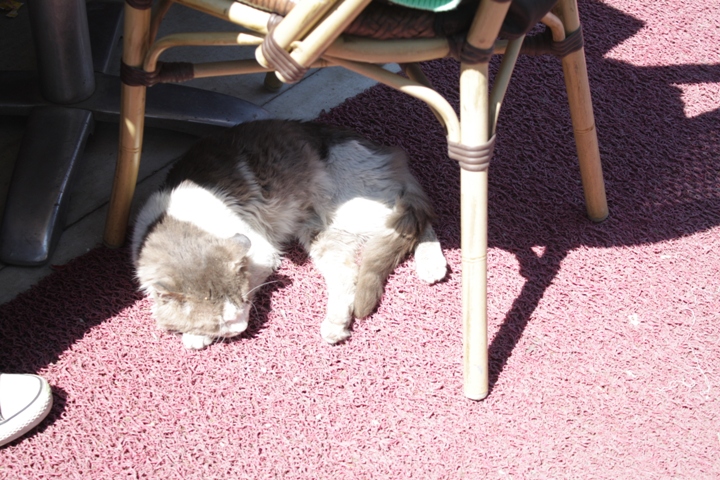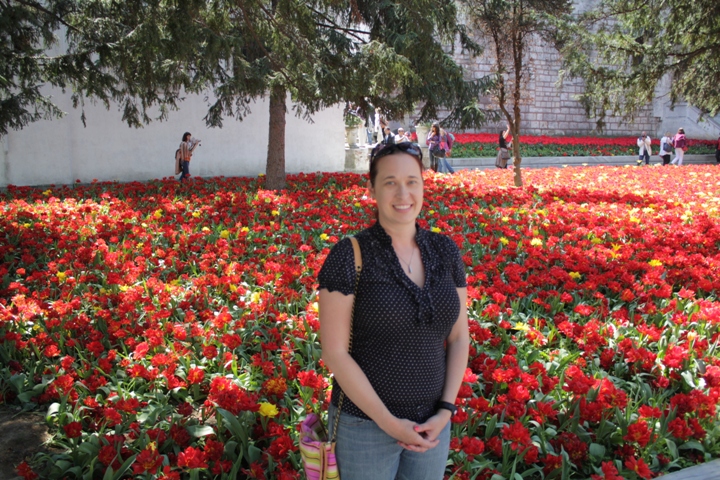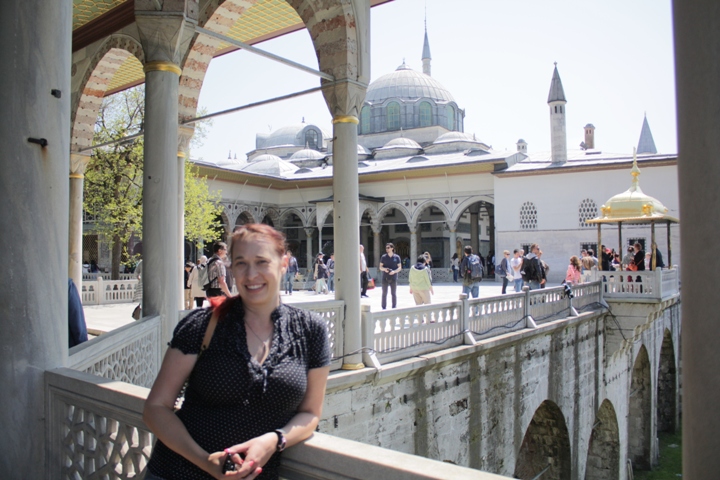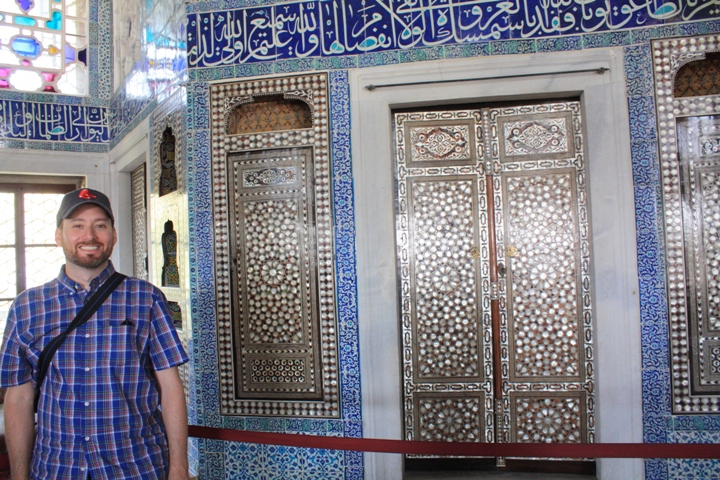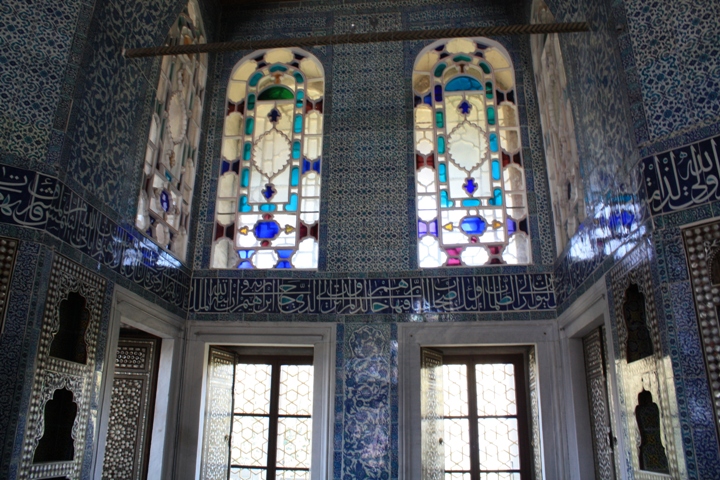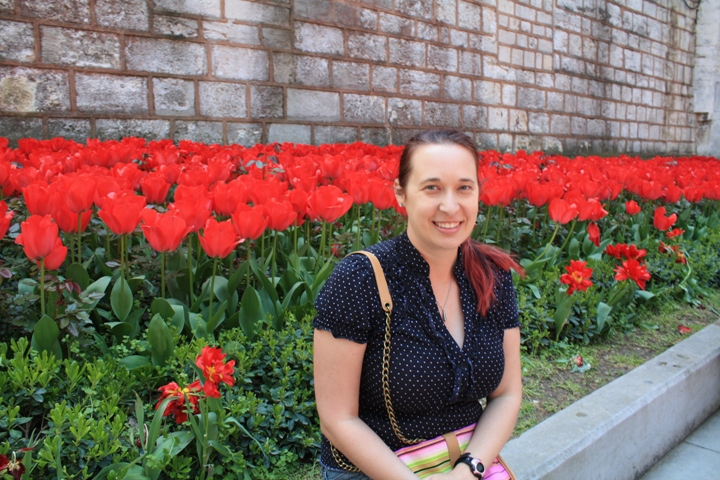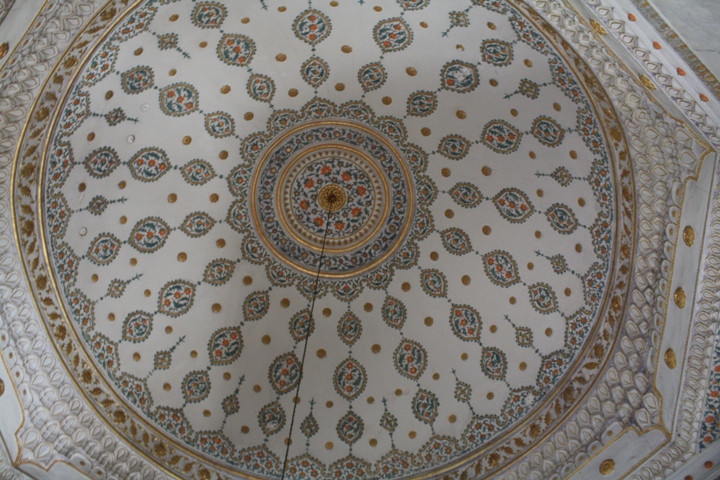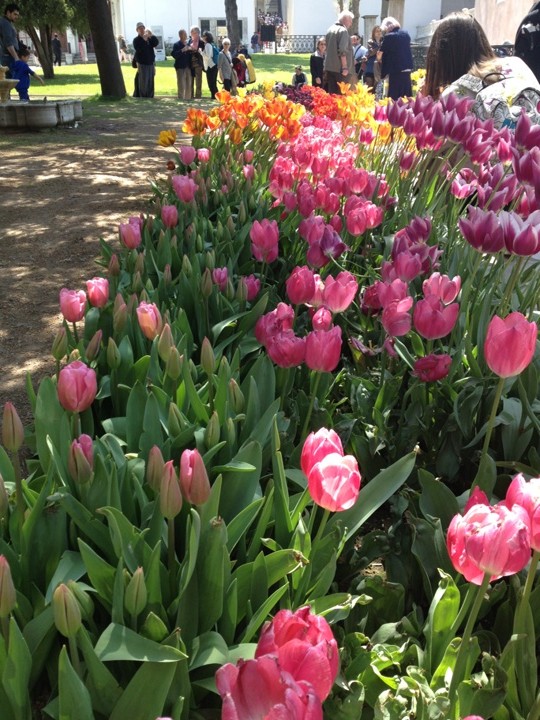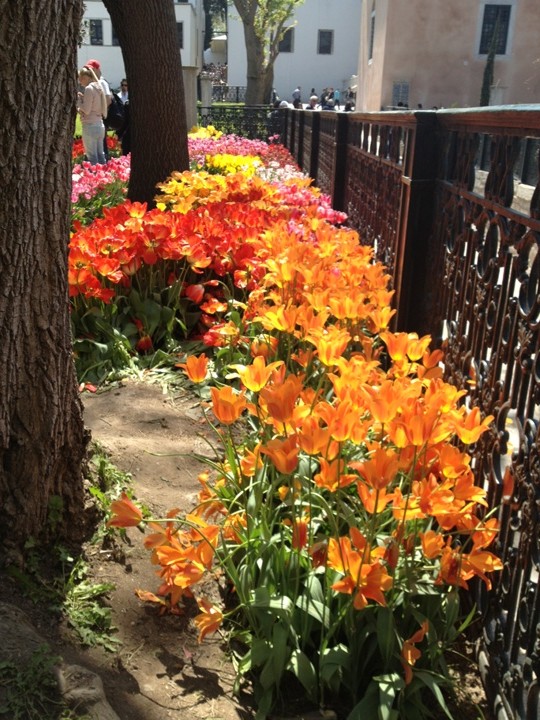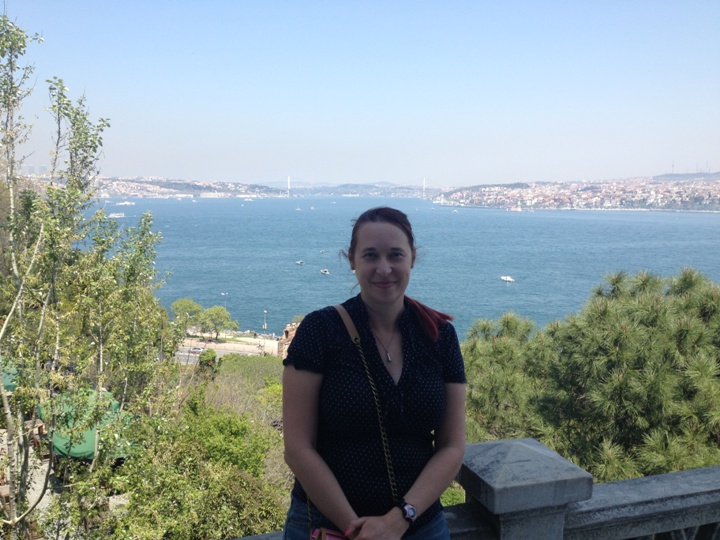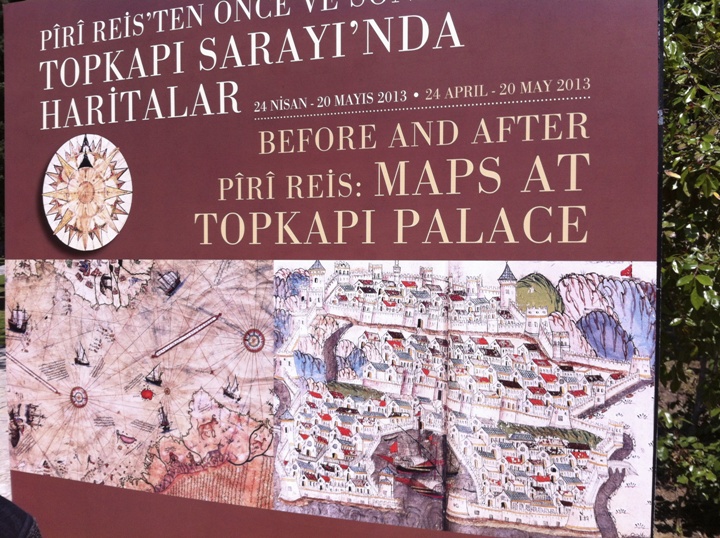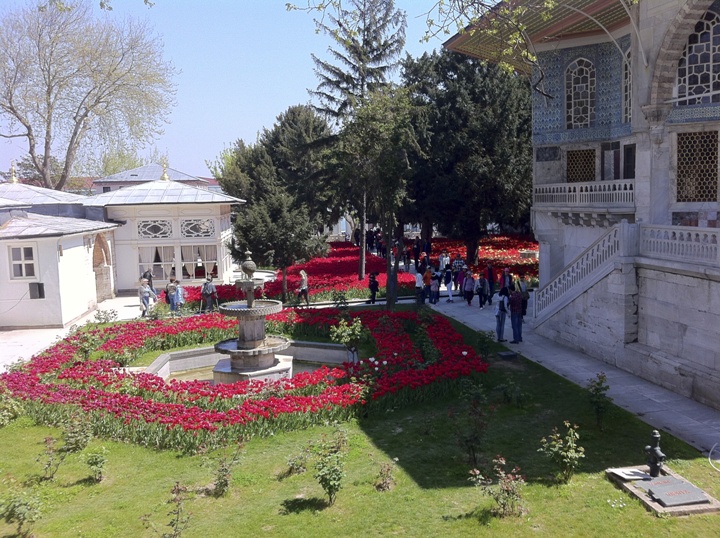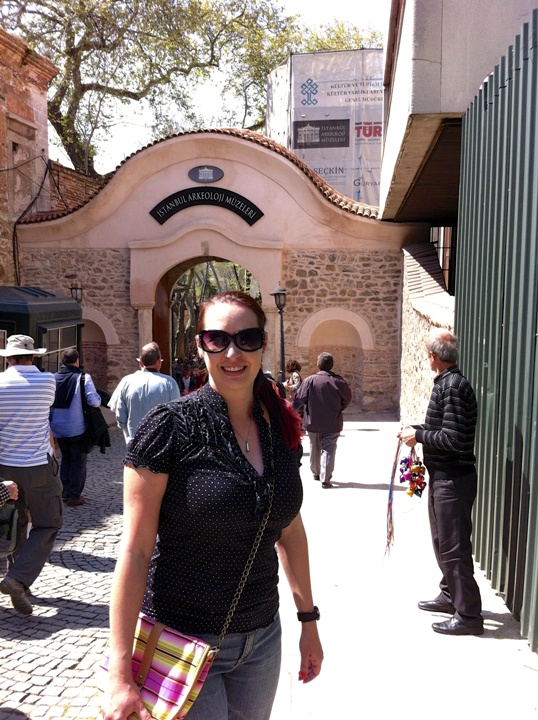 After meeting back with the group, we took a short bus ride to the Grand Bazaar. Here we had about 90 minutes to shop and gawk. Our tour guide poo-poohed the Bazaar saying everything was made in China and it wasn't a real Turkish experience. Kind of like how I roll my eyes whenever non-LA people say they want to go to Universal Studios to see how movies are made. But we were all excited to see the Bazaar. To say the area around the Bazaar is chaotic is an understatement. Even outside the Bazaar there are street vendors and food carts wanting your money. Once inside the Bazaar you are immediately lost. It is vast, with many aisles and they all look the same. It didn't take us very long to realize that, despite the many many many shops, they all sell pretty much the same stuff. Lanterns, ornate knick-knacks, colorful beaded jewelry, scarves, handbags, ties. And when I say it's the exact same stuff, I mean the exact same. We saw the same painted ashtrays at several booths. Regardless, we bought a few souvenirs and something I really wanted to find was an evil eye bracelet and I found a good one and haggled a good price. We then stepped outside the Bazaar and found a little shop selling Turkish Delight. I had never had any and the shop owner gave us some samples. I'm not sure how authentic it was, but it was not good. We didn't buy any.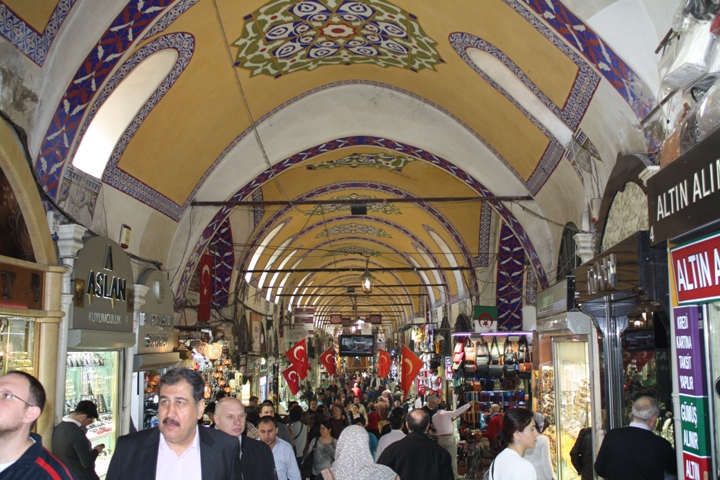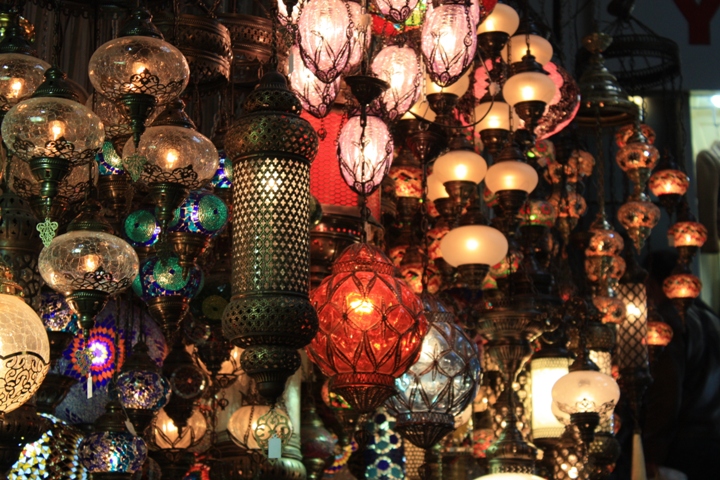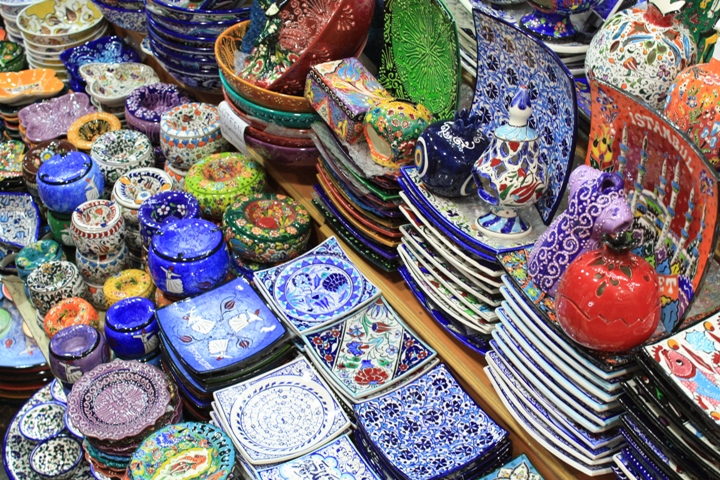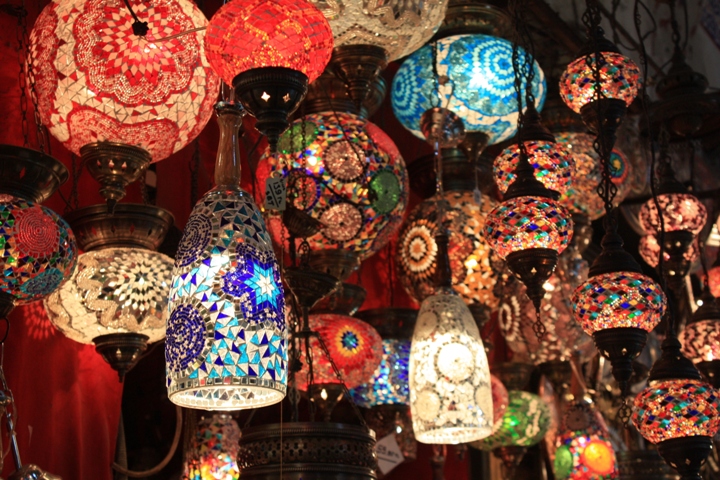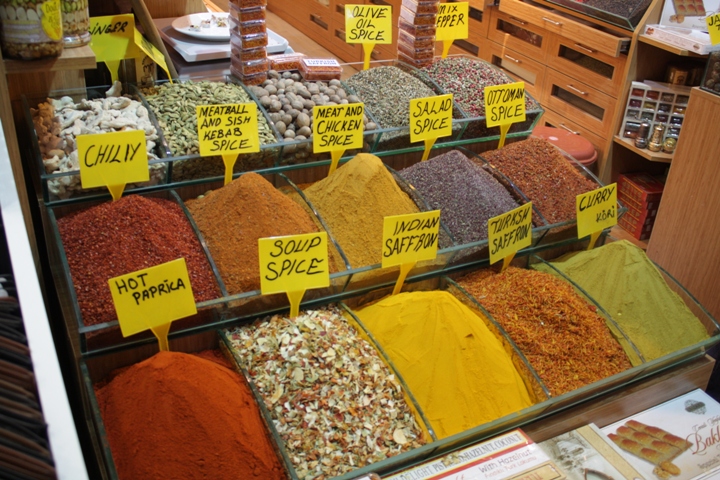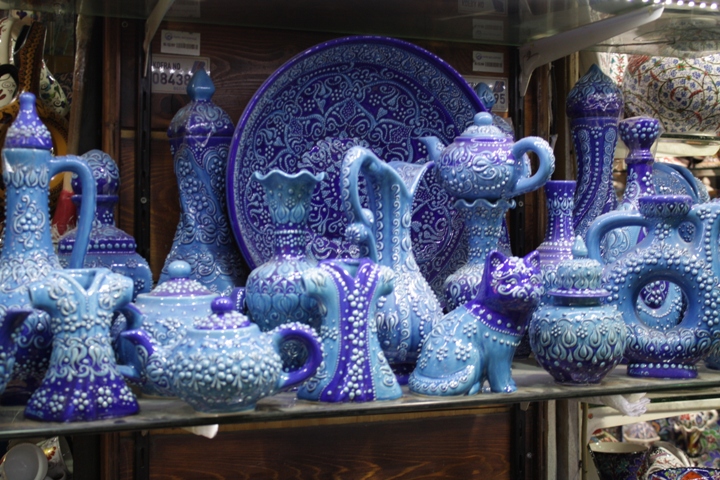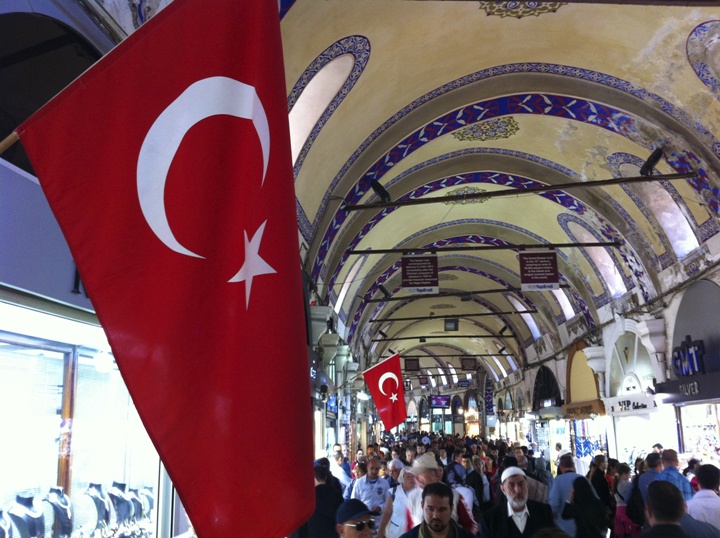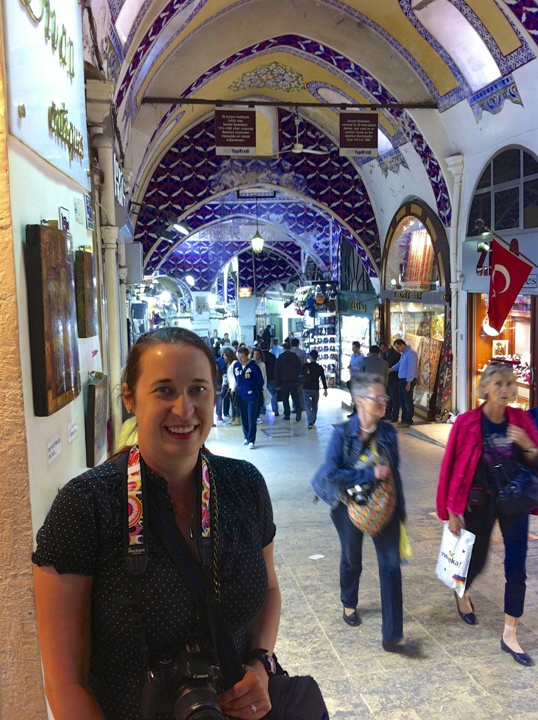 This is my overwhelmed face.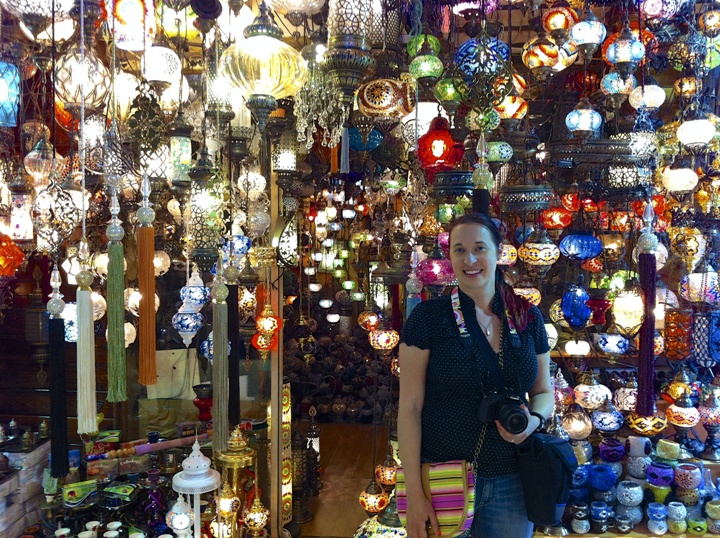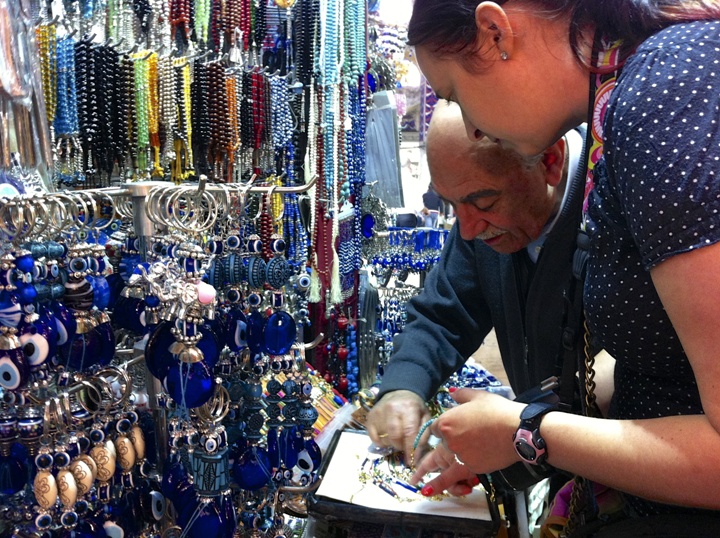 When it was time to leave the Bazaar, we waited on the street corner with Jamie for our bus. We waited … and waited … and waited …. As the tour organizer I started to feel very stressed, even though we had a couple hours before all aboard. With Turkish traffic and the crush at customs that morning, I was nervous. Eventually our bus made its way through the traffic and we got back to port with plenty of time. We had so much time in fact, that we (Me, Mr. BFT, Kent, and Mark) decided to stop into a little shop that sold Turkish Delight and other candies. Here I tried another piece of Delight, this one without any nuts and because it was pink. Turns out it was Rose Water and I loved it! I bought a box and we also picked up a discount gift set of various Turkish Delight flavors to take home as gifts. We all kept getting samples and sharing them with each other – so good!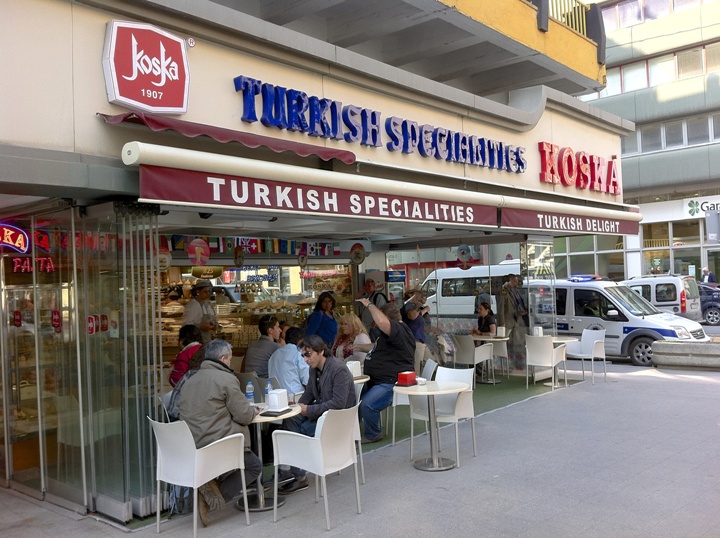 Have you noticed that Comic Sans is everywhere in Turkey? This is what they think of us Americans, apparently. That we all love Comic Sans. I was having an internal meltdown.
Right before we were about the board the ship, Kent decided he wanted to try to find a Starbucks to get a mug for his sister who collects Starbucks mugs with the city names on them. According to his map there was one a couple blocks away so he decided to make a run for it. We told him we would watch for him to come back on our balconies! When we got back to the cabin I poured myself a glass of wine to take over to Marks room to sit and watch for Kent, but as I was pouring I spotted Kent getting back on the boat! That was quick! Kent came back to the room (he couldn't find the Starbucks) and we all chatted for a bit before going up to the top deck for some picture ops. We were sailing out of the Bosphorous Strait and past all the mosques while the sun was setting. It ended up being one of the more memorable moments of the trip. The Istanbul skyline is simply stunning and unique – like nothing you have ever seen.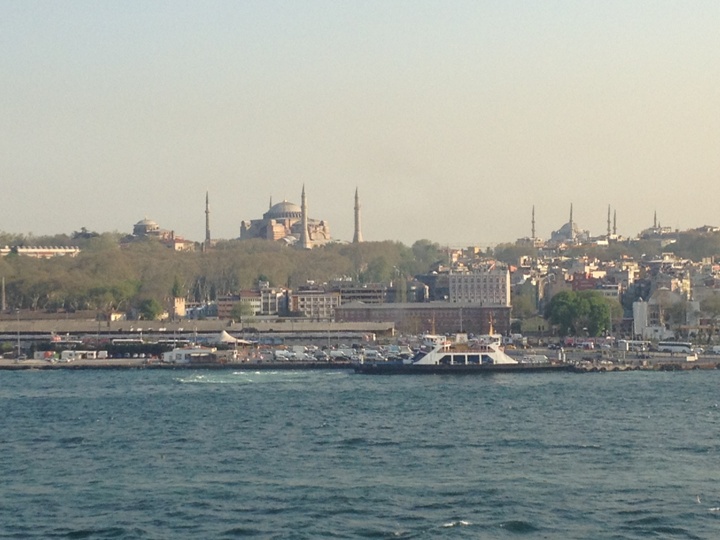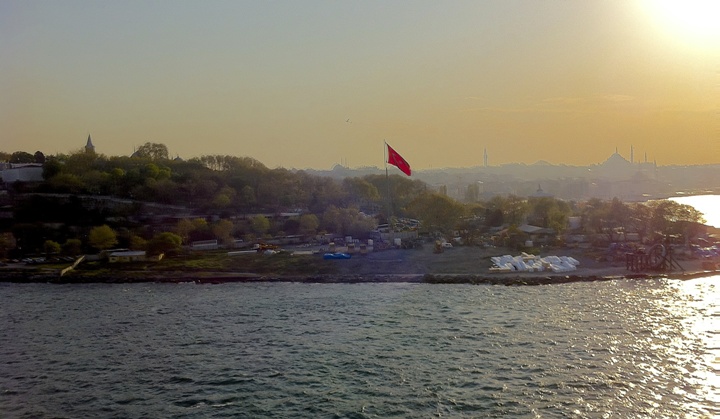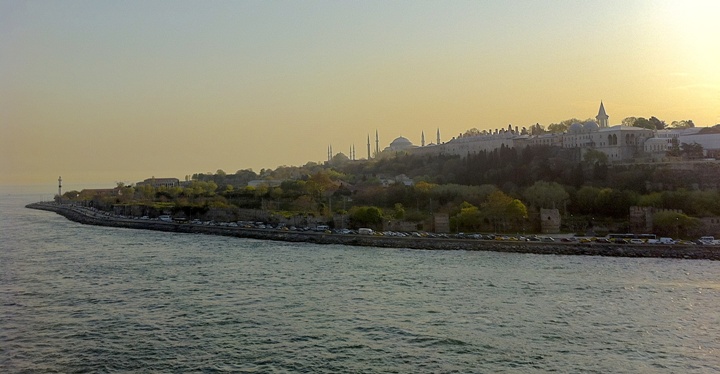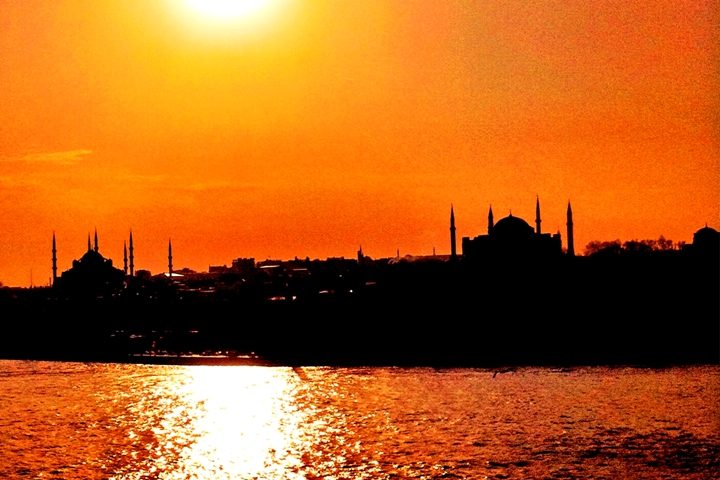 After a stressful (but very fun and educational) day, it was great to let loose and relax with a tropical drink on our floating hotel.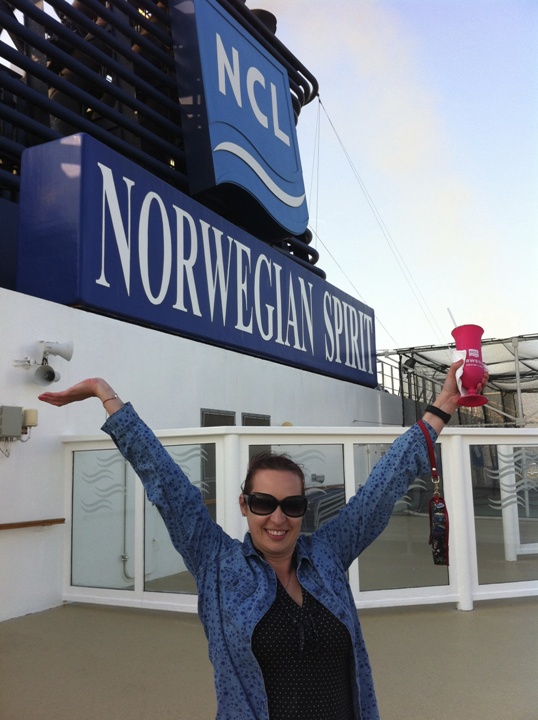 When we returned to our room, our treat for the day was chocolates and strawberries, and we watched the sun sink below the horizon from our balcony.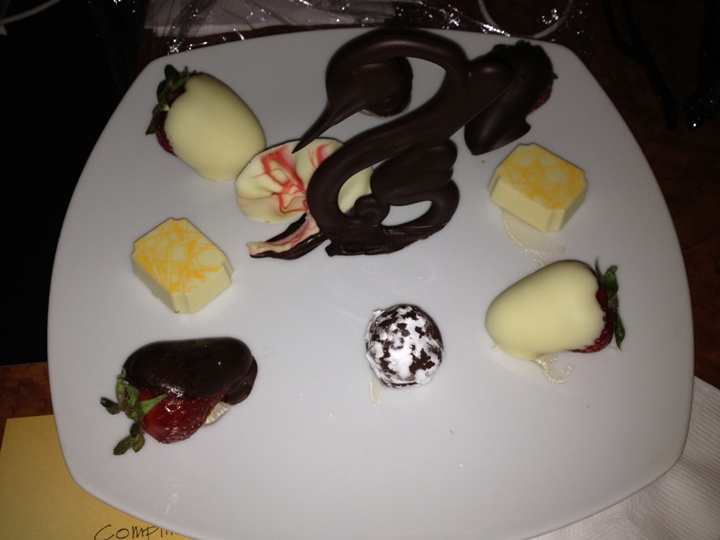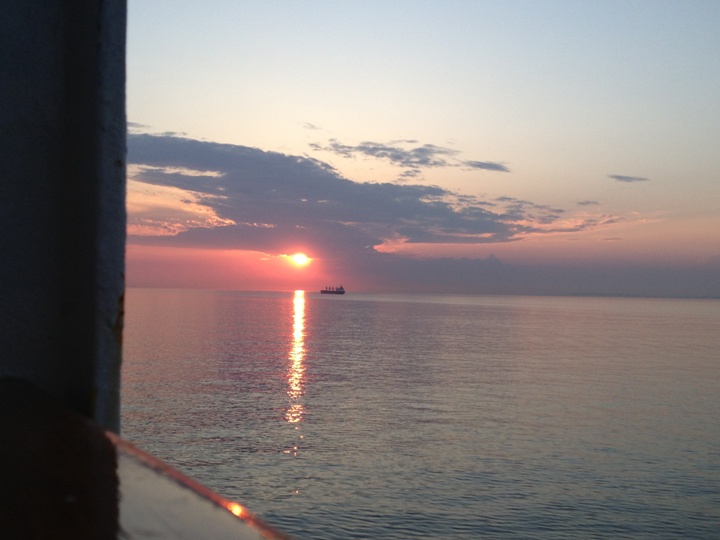 I don't have any notes on dinner this evening, which means we probably ate something quick at Blue Lagoon.
After dinner was another fun night of karaoke with our friends. I sang Zombie and attempted Summer Nights with our new friend Kent. Wooooboy.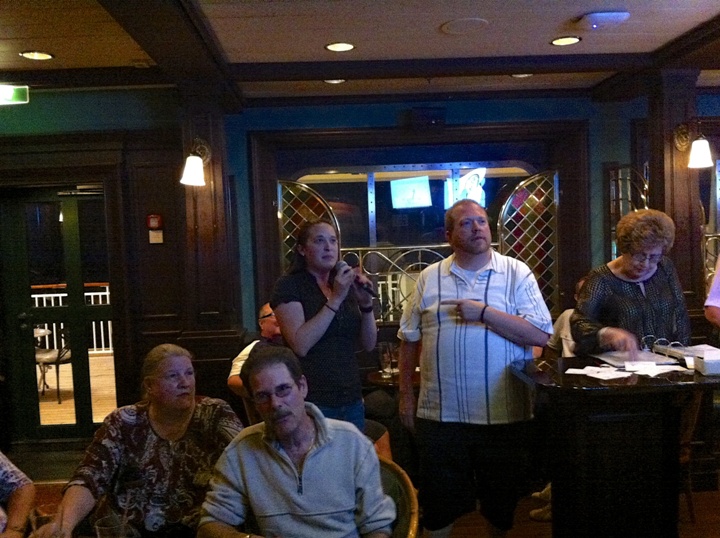 I think after karaoke we had another early bedtime, as the next day was another exciting stop in Turkey – this time the port of Izmir and the ancient city of Ephesus.
Past Honeymoon Posts:
Chapter 1 – All Aboard the Norwegian Spirit!
Chapter 2 – Barcelona, Spain
Chapter 3 – Toulon and Bandol, France
Chapter 4 – Florence, Italy
Chapter 5 – Rome, Italy
Chapter 6 – Naples, Italy
Chapter 7 – Sea Day 1
Chapter 8 – Mykonos, Greece
Chapter 9 – Chef's Table on the Norwegian Spirit