This is a trip report documenting our Mexican Riviera cruise on the Disney Wonder in April 2011.
Disney Cruisin' the Mexican Riviera – Day Five, Part One – Cabo San Lucas
When I woke up on Day 5 we were still moving. We weren't scheduled to arrive in Cabo San Lucas until 11am. I woke up to a bit of color in the sky.
Today we had the excursion Pacific Horseback Ride, meeting in Wavebands at 10:45am. We woke up early enough to have a sit down breakfast in Tritons. I had the buckwheat crepe with Eggbeaters, soy, and tomato salsa. It tasted okay but was VERY salty so I couldn't finish it. I ate about half. The crepe itself was very good. I requested a delicious McDonalds-style hashbrown to help fill me up for my excursion. Mr. BFT had Belgian waffles and requested strawberries and a side of crispy bacon. They brought him strawberries in syrup, which he doesn't like. He was hoping for normal sliced strawberries but it wasn't a big deal. Mr. BFT said his waffles were okay – just normal waffles. Our server (not our regular dinner server) noticed Mr. BFT wasn't eating his strawberries and asked what was wrong, and brought out normal sliced strawberries right away.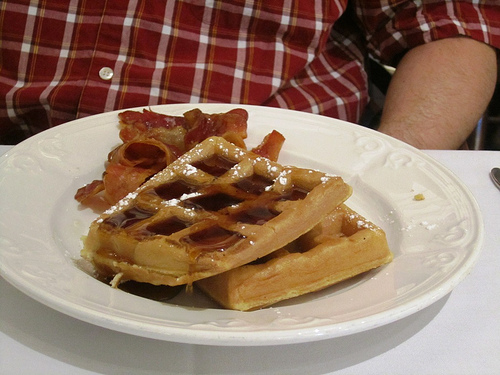 During our breakfast we could see out the windows and noticed we were arriving in port and eventually stopped. After breakfast we had some time to kill before our excursion meeting time, so we up to Deck 10 to look around and take some pictures.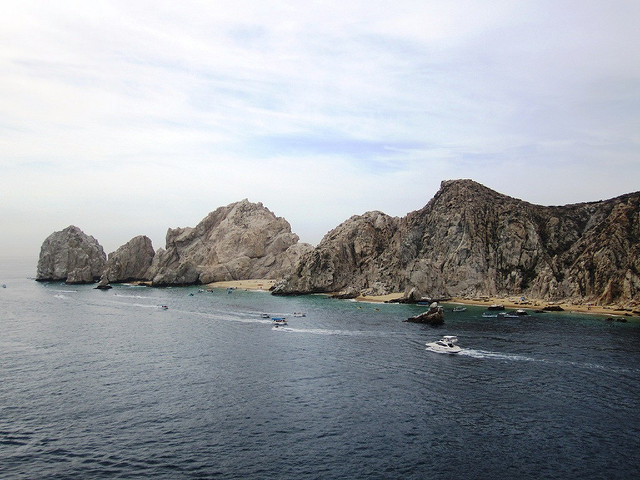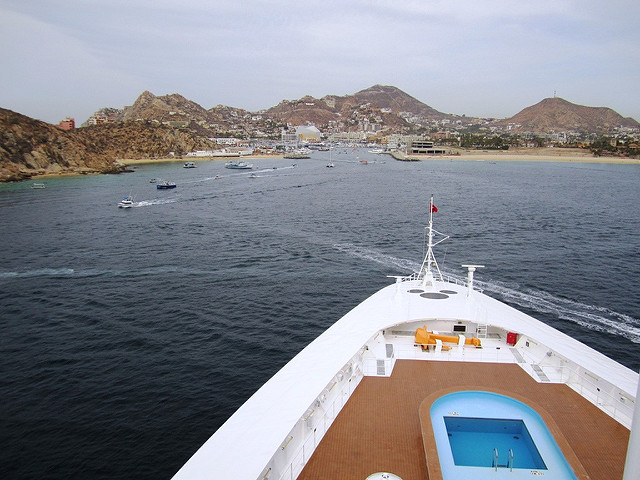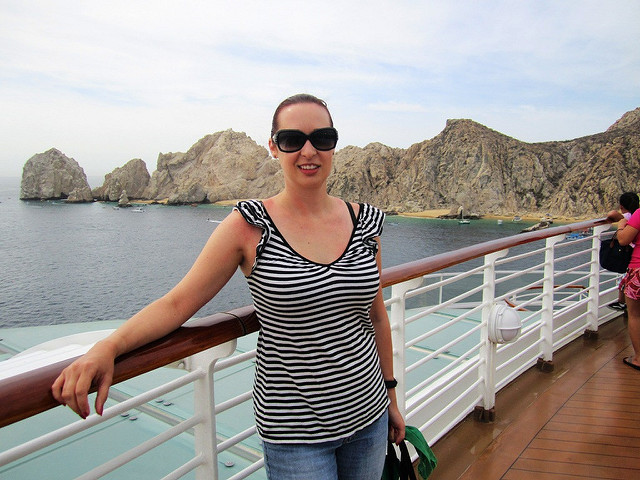 Christiaan looking official.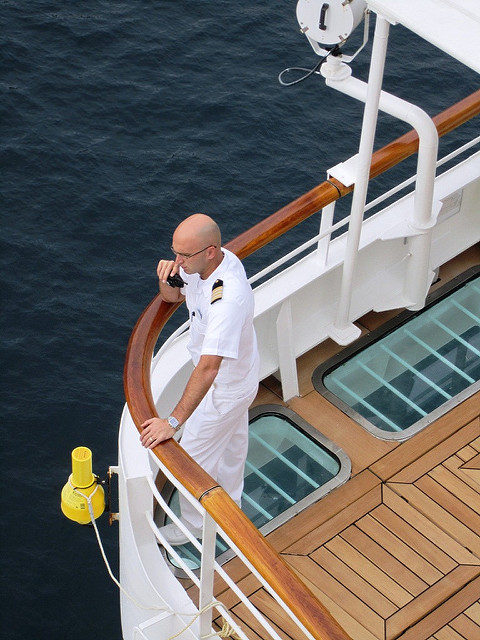 We headed to Wavebands and turned in our tickets for a blue Belle sticker, which identified us for our excursion. From there we were led to a tender boat (the ship anchors off shore in Cabo and you have to take small boats, called tenders, to the dock), and once we were on dock there was a Cast Member with a matching Belle sign waiting for us. We lined up and waited for our entire party, and then the CM led us through the marina to a building where our bus was waiting. The whole thing was extremely organized.
Our bus ride was about 30 minutes into the desert outside Cabo. We passed through neighborhoods showing "real" Mexico, and then there was a whole lot of desert.
In the middle of nowhere we came upon a ranch. We got off the bus and we were given some instructions on how to direct our horse (how to make them stop, for example). Then we were each paired up with a horse.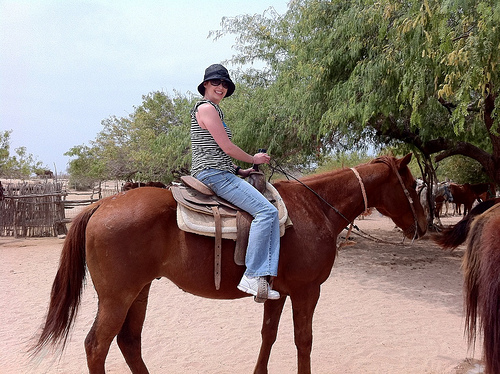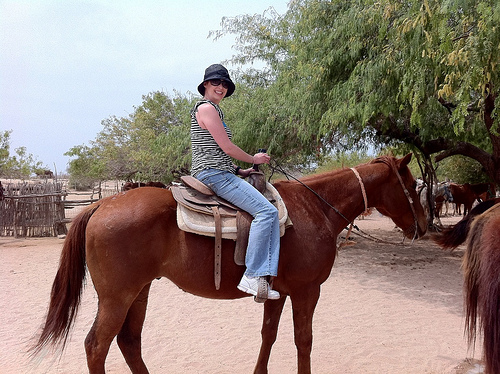 There were two guides, one at the front and one who stayed towards the back. Mr. BFT and I were more towards the back of the line. The horses were trained very well and knew to get into a line. If the horse in front sped up, the rest sped up. I didn't really need to direct my horse, except to slow it down once in a while.
We were led out of the ranch into the desert.
The girl in front of me took about a million selfies.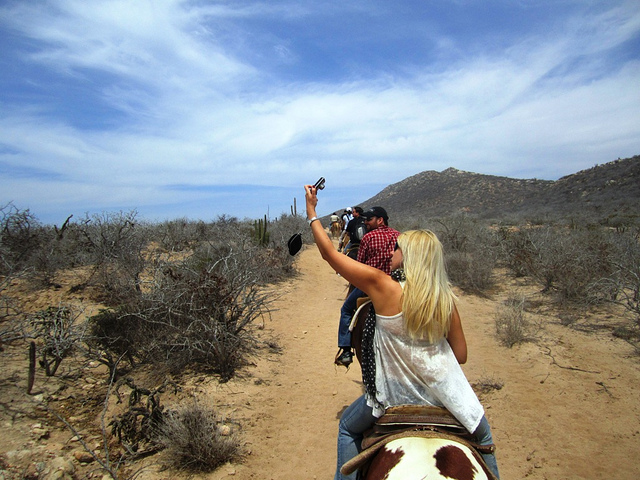 After about 5 minutes through the desert, we turn a corner and there's the ocean!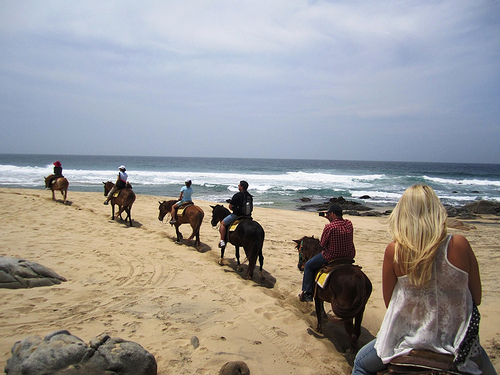 We rode along the ocean for quite a while, maybe 40 minutes. The best thing was that it was so secluded. We were pretty much the only one out there.
During the ride, one of the guides, while riding on his own horse, went down the line and took pictures of each person with their own camera. It was quite the feat to ride along side, grab the camera, back up, take the picture, then hand the camera back, all while the horses were moving. Very talented. Anyway, my horse decided it was time to poop during our big moment in front of the camera. I didn't know that of course, but the guide kept trying to take a picture and laughing. He took several. Unfortunately all the ones where my horse is not pooping are blurry. So here's my non-blurry pooping horse picture. Haha.
At some point we did a U-turn and started walking back the same way and eventually ended up back at the ranch. The whole ride lasted maybe a little over an hour.
Back at the ranch they had free bottles of water and Coronas to buy. They also take a professional picture of you on the horse which they had printed and ready to purchase for $20, I think. Neither of us bought our picture. Mr. BFT bought a couple Coronas and was excited to learn he could bring his open beer on the bus back to town. It's the little things.
During the bus ride back we both looked back through our 100s of photos we took and the time flew by. I noticed we were back in town and happened to look up and see Cabo Wabo, which we wanted to visit at some point during our vacation so I made a mental note of where it was. About a block later, the bus stopped and our driver made an announcement that we would be back at the marina shortly. Someone asked if we could get off the bus now and the driver said yes, so Mr. BFT and I decided to just visit Cabo Wabo now and we got off the bus. On the way we passed a shop with postcards by the door, so I stopped and bought some to mail later. In just a couple minutes time we arrived at Cabo Wabo.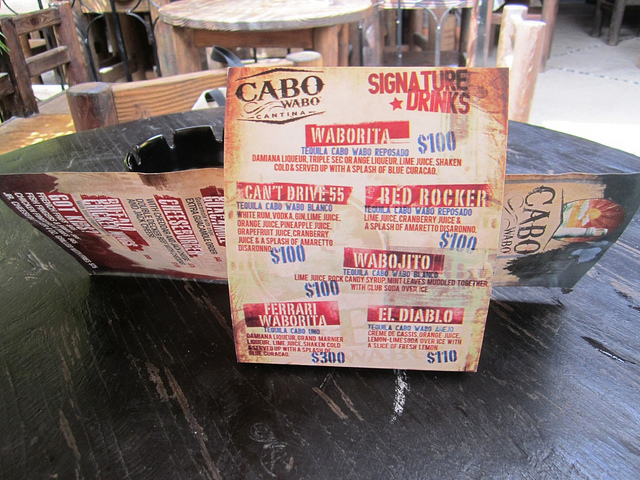 We grabbed a table outside and ordered two Waboritas – which is basically a fancy way to say Overpriced Margarita.
It was actually really delicious and I had to restrain myself from downing more than one.
We just needed a light snack to hold us over til dinner so we ordered the chicken nachos.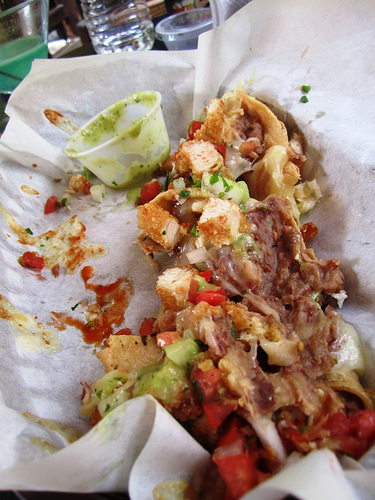 I must have been excited to eat them because I forgot to take a picture until after they were half gone. They were very good and the chicken was breaded which is a little unusual for nachos but very good. To sum up, everything was overpriced but we're glad we stopped there.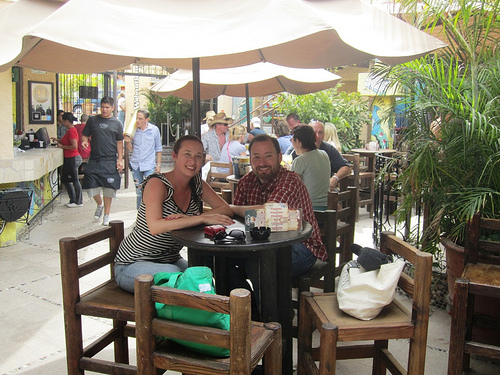 We found our way to the gift shop and bought three bottles of Cabo Wabo tequila, one for us and a bottle for both our parents, a shirt for my dad and shot glasses for my brothers. Funny story – a couple weeks after our trip, I spotted bottles of Cabo Wabo tequila at our local CVS. So much for exclusivity!
After leaving Cabo Wabo we made our way back to the marina and walked back to the boat, stopping for pictures and souvenirs.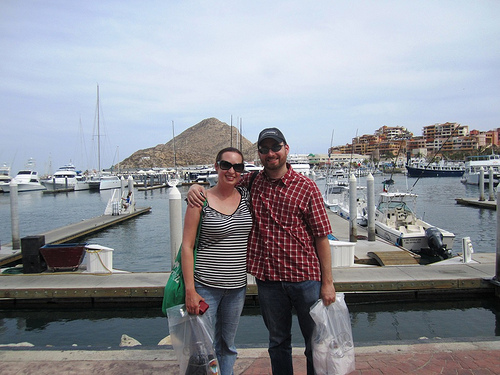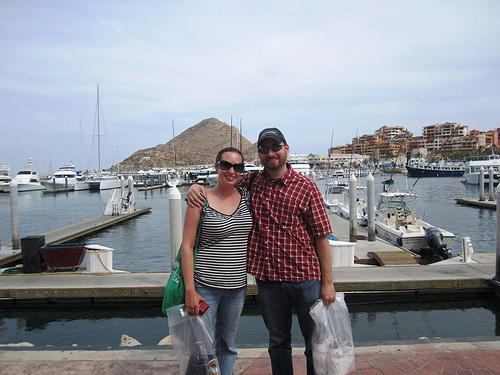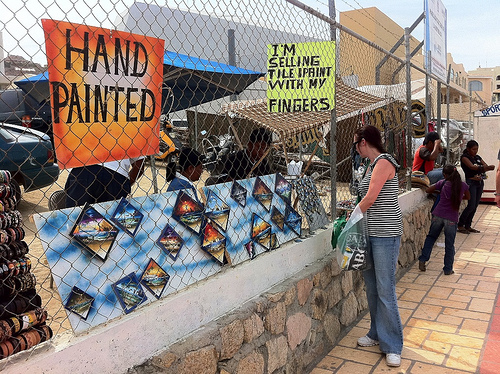 These magnets caught my eye because they had pictures of the cruise ships on them, but I didn't see any with the Disney ship. So I asked if they could make one with the Disney ship on it. They said it would be ready in 5 minutes and it would be $4. I agreed, so we walked along the marina to kill time. I went back to pick it up. It looks really nice and I'm pleased I got one.
After picking up my magnet we headed back to the tender dock. We were put on a large, two deck tender.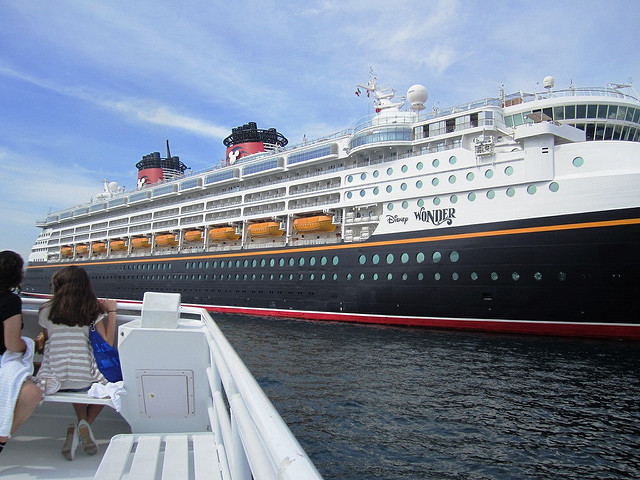 This is me being terrified we were going to hit the boat. At the time I wasn't too smart about how boats worked and Mr. BFT explained there were bumpers between the ship and the tender. Make sense.
Next:
Disney Cruisin' the Mexican Riviera – Day Five, Part Two – Palo Dinner
All chapters:
Disney Cruisin' the Mexican Riviera – Day One, Part One – Embarkation
Disney Cruisin' the Mexican Riviera – Day One, Part Two – First Night at Sea
Disney Cruisin' the Mexican Riviera – Day Two – Our First Day at Sea
Disney Cruisin' the Mexican Riviera – Day Three – Another Lazy Sea Day
Disney Cruisin' the Mexican Riviera – Day Four, Part One – Puerto Vallarta
Disney Cruisin' the Mexican Riviera – Day Four, Part Two – Animator's Palate
Disney Cruisin' the Mexican Riviera – Day Five, Part One – Cabo San Lucas
Disney Cruisin' the Mexican Riviera – Day Five, Part Two – Palo Dinner
Disney Crusin' the Mexican Riviera – Day Six – Cabo Again!
Disney Crusin' the Mexican Riviera – Day Seven – Final Day at Sea