This is a trip report documenting our Mexican Riviera cruise on the Disney Wonder in April 2011.
Disney Cruisin' the Mexican Riviera – Day Four, Part One – Puerto Vallarta
All chapters:
Disney Cruisin' the Mexican Riviera – Day One, Part One – Embarkation
Disney Cruisin' the Mexican Riviera – Day One, Part Two – First Night at Sea
Disney Cruisin' the Mexican Riviera – Day Two – Our First Day at Sea
Disney Cruisin' the Mexican Riviera – Day Three – Another Lazy Sea Day
Disney Cruisin' the Mexican Riviera – Day Four, Part One – Puerto Vallarta
Disney Cruisin' the Mexican Riviera – Day Four, Part Two – Animator's Palate
Disney Cruisin' the Mexican Riviera – Day Five, Part One – Cabo San Lucas
Disney Cruisin' the Mexican Riviera – Day Five, Part Two – Palo Dinner
Disney Crusin' the Mexican Riviera – Day Six – Cabo Again!
Disney Crusin' the Mexican Riviera – Day Seven – Final Day at Sea
When I woke up the ship wasn't moving, and this was the view from our veranda.
Pirates! I'm guessing this was the ship for the pirate excursion.
We didn't have any excursions planned, so we had a leisurely breakfast at BBB and headed off the ship.
I had read on previous trip reports about taking a taxi to downtown/Malecon, so this is what we did. We walked out of the marina area and found a taxi parked on the street. We were offered a ride to downtown for $4 per person. I tried to talk him down to $3 but he wouldn't budge so we paid the $8 plus a $2 tip. They took US dollars.
Downtown runs along the shore and there are several street performers and sand artists. There are also several statues. We walked along this stretch of street, taking pictures of the sights and leaving tips for the performers. Then we walked around on the other side of the street, where the shops were.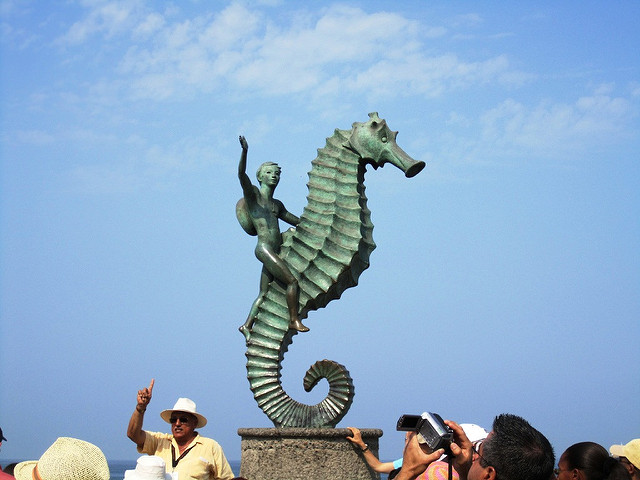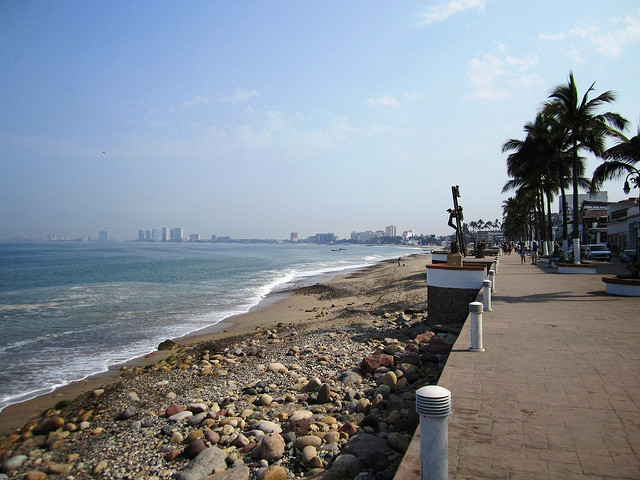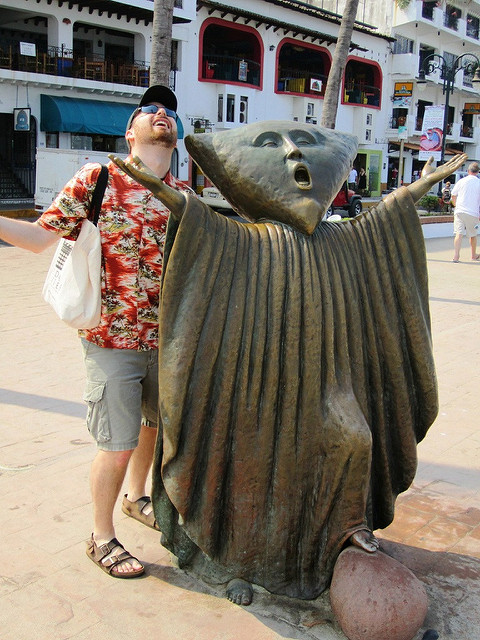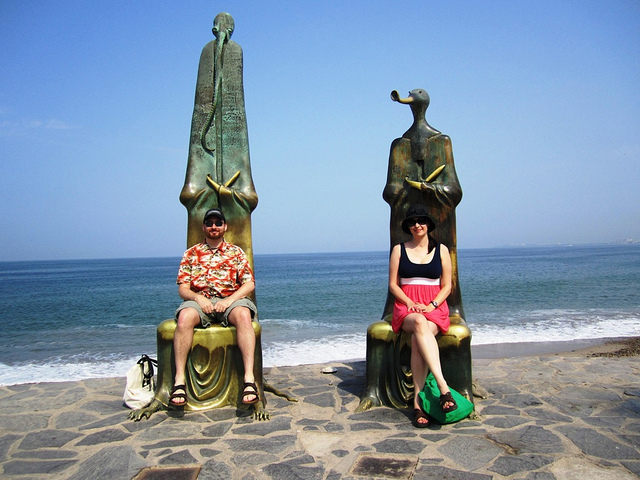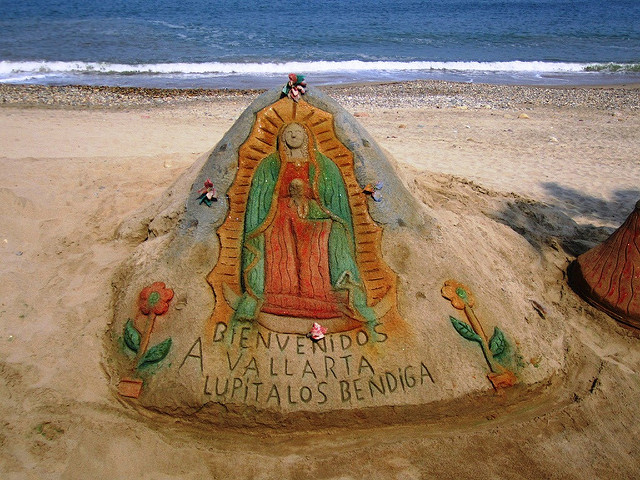 I loved these little figurines made of beads but they were a bit pricey, so Mr. BFT took some pictures for me.
At some point, the touristy area stops and the beach turns into a stretch of resorts and restaurants. I had done some research and read about a restaurant called La Palapa. I had heard it was a bit pricey but worth it. So I figured we walk along and try to find it, and if we get too hungry we can just stop anywhere. Walking along the sidewalk, everyone was trying to get us to stop and have food or buy a day pass for their resort. I think we walked about half a mile south of the downtown area before we came upon La Palapa.
Before we sat down, we asked if we could stay there for a couple hours as long as we kept ordering drinks and they said no problem. We were led to a table right on the sand. They had lounge chairs and tables closer to the beach but they looked uncomfortable for eating so we were happy with our table in the shade. We were there at around 11am or so and it wasn't very busy. Their margaritas were very good.
Their menu was indeed a little pricey but their food was very unique. (These prices are in pesos, so no, a taco plate is not $140 US dollars, but is actually around $14.)
We ordered the guacamole with chips, I had the beef arrachera (like carne asada), and Mr. BFT had the crab enchiladas with shrimp. Everything was very good.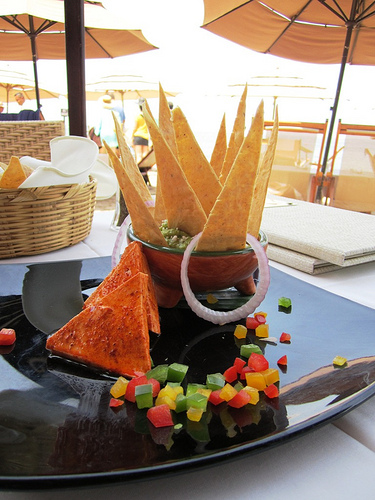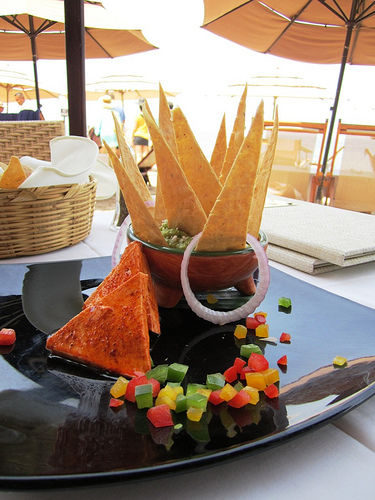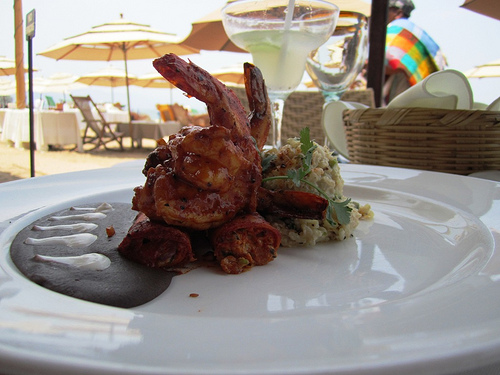 Our servers were great, spoke perfect English, and were aware we wanted to sit there for a while and brought our food out slowly and kept our drinks full. We sat there for about three hours, enjoying the drinks, food, and view of the ocean. We didn't have a clear view of the beach but we were content being in the shade. We were very happy with this restaurant. I should note that the vendors are plentiful here, and we did say "No Gracias" about 100 times, but it didn't diminish our enjoyment of the restaurant.
After our lunch we walked back towards downtown but along the beach this time.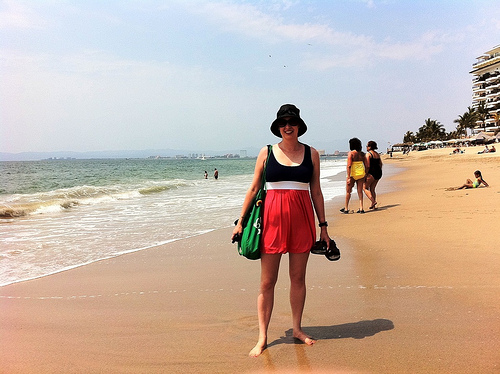 The plan was to look for the bus that said WALMART to take us back to the marina for much cheaper than a taxi (another tip from previous cruisers).
Just to backtrack a little, while I was researching things to do in Puerto Vallarta I came across the story of Casa Kimberley. In a nutshell, Richard Burton bought this house for Elizabeth Taylor in the 1960s when they were filming a movie there together. He then bought the house across the street and built a pink bridge to connect the two houses, called "The Lovers Arch." Taylor apparently owned the property until the 1990s, when she sold and it was converted into a bed and breakfast and the owner also gave tours of the property. This sounded really interesting to me, until I did further research and found the property had been foreclosed on in 2009 and was now abandoned and dilapidated.
Back to us looking for the bus, I noticed we were on the street for Casa Kimberley, called Calle Zaragoza. I asked Mr. BFT if he was up for an adventure and she said sure. So we headed east, away from the beach. Soon we came upon a steep and long set of stairs.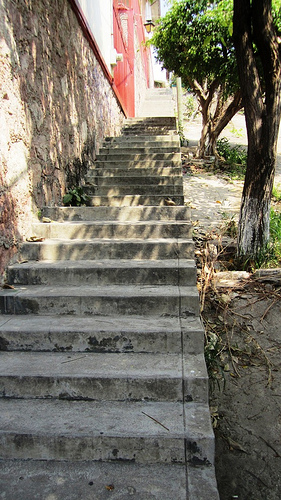 At the top of the stairs we were greeted by a very friendly native!
I was so distracted by the cat that I failed to notice what was right in front of us.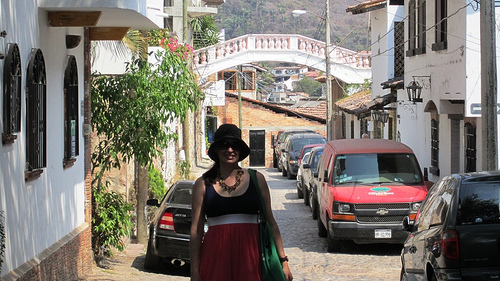 The street was very quiet and the property was in very bad shape. It was kind of sad. We took a few pictures and then headed back down the stairs.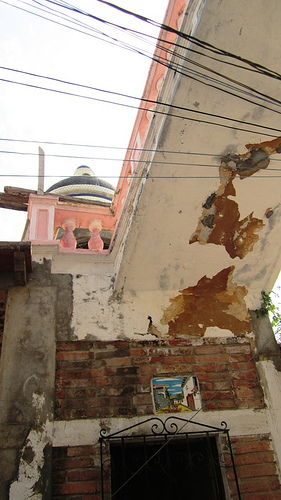 We got back down to the street and walked towards the marina. We saw the Walmart buses but couldn't figure out where they stopped. Finally a taxi stopped and offered a ride, so we got in and got the same rate as before, $4 per person. This cab driver was really friendly and indulged me a bit as I tried to carry on a conversation using the basic Spanish I learned in high school (which was a LONG time ago). The drive back to port flew by and we gave him an extra tip for his friendliness.
We had about three hours before we had to get on the boat but didn't really have anything else we wanted to do, so we walked around a bit and took pictures and then headed back on the boat.
We came across this big guy.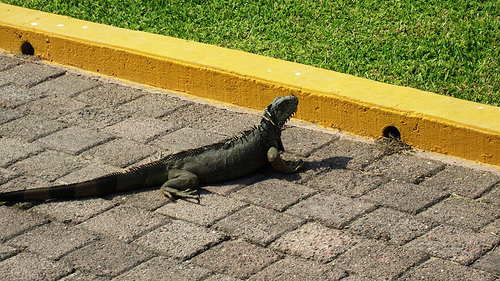 Obligatory Walmart picture (it's a big joke that there's a huge Walmart right across from the port – not exactly the exotic view one's expecting).
Back to the ship. I love how they call the ship "home."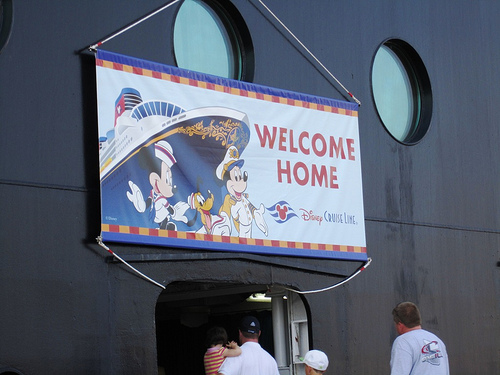 Back on the ship and walking up the stairs to our deck, we saw Captain Mickey in the atrium so we got in line for pictures.
Always a gentleman!
(BTW, I bought that necklace on our walk back after lunch. It's a bunch of wooden stars and it has nothing to with Mexico but I LOVED it.)
Then up to our cabin to get ready for our dinner in Animator's Palate. Show night! My review of Animator's Palate is coming up in the next post.
Next:
Disney Cruisin' the Mexican Riviera – Day Four, Part Two – Animator's Palate