This is a trip report documenting our Mexican Riviera cruise on the Disney Wonder in April 2011.
Disney Crusin' the Mexican Riviera – Day Seven – Final Day at Sea
We had a Palo brunch reservation at 11am this morning so we slept in. Mr. BFT went for a run around Deck 4 while I went up to BBB in my jammy-jams and got a quick bite to eat to hold me over until 11am. For some reason I'm ALWAYS hungry as soon as I wake up in the morning, but Mr. BFT can go for hours without eating. After eating my snack and making myself presentable to the world, I went down to the Captains Q&A session with Captain Guss, Christiaan, and the director of hotel operations (shoot, can't remember her name). This was very informative and I highly recommend it. One adorable little boy asked Captain Guss "Is there someone to replace you????" in a somewhat panicked voice. No one really understood the question so the boy's mom translated: "He wants to know who's driving the ship right now." Everyone cracked up. (The answer is, there are three captains and they work in 8 hours shifts.)
By the time Q&A was over it was time for brunch. I went upstairs to collect Mr. BFT and we headed up to Deck 10. We checked in and the host asked if we had dined at Palo for dinner. I replied that we had and they asked us if we wanted our same server. I said sure, and requested Nikola. As we were seated we saw several other DisBoarders. Sea Days must be popular for Palo brunch! I peeked around at what everyone was eating and got some recommendations. Nikola showed us around to all the stations and I took my pictures, of course.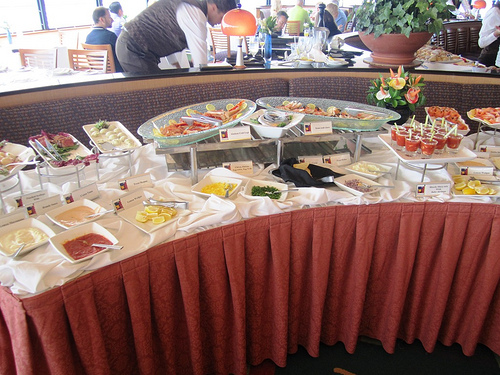 Seafood station

Antipasto station

My personal fave, the cheese and bread station. The blue cheese and walnut bread is to die for!!!

Dessert station.
We made our plates and also ordered a la carte items. I had the grape and gargonzola pizza (pretty good, but a little too sweet for me to finish) and the strawberry soup (very good, like drinking melted sherbet). Mr. BFT had the frittata (he loved it and ate the whole thing).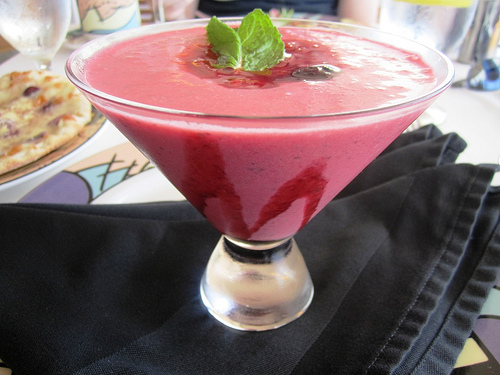 Seriously Mr. BFT talked about how good that frittata was the rest of the trip.
One thing I should mention is that Nikola offered us one complimentary drink of mimosa or sparkling wine. I said "just one?" and he said yes. Well, I thought he meant one per table, so Mr. BFT ordered a mimosa (I had a mimosa in the room that morning while he was out jogging – haha – so I didn't really need another). I found out later that it was one per person. Another Palo lesson learned for next time!
Nikola remembered that we like to take our time with our meals and brought our a la carte items out slowly. We eventually made our way over to the dessert table.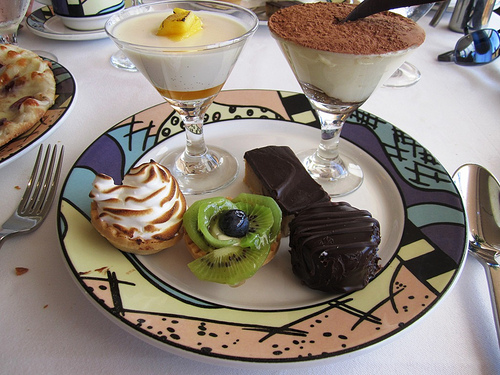 This plate was just for me.
I had some kind of mango custard thingy (kind of reminded me of flan), chocolate pudding/mousse, lemon meringue tart, fruit tart, white chocolate brownie, and mini chocolate cake. The only thing I ate completely was the lemon meringue tart. IT WAS SO GOOD YOU GUYS.
I only ate half my pizza so Nikola offered to wrap it up to go. We signed the payment slip and rolled out of there, but not after I snuck a few more lemon tarts on my to-go plate (seriously, so good).
After brunch we waddled back to the room and we both laid on the bed for a bit, too full to move. After a while we decided to get up and go for a walk around Deck 4 but it was too windy, so we tried Deck 10, then Deck 9 … all were too windy because the ship was moving so fast. So we went inside Outlook Cafe and got some lattes and did some reading.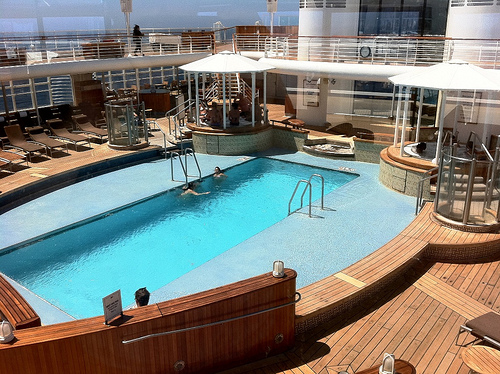 A nearly-empty Quiet Cove.
I apparently was still in a food coma and didn't last too long.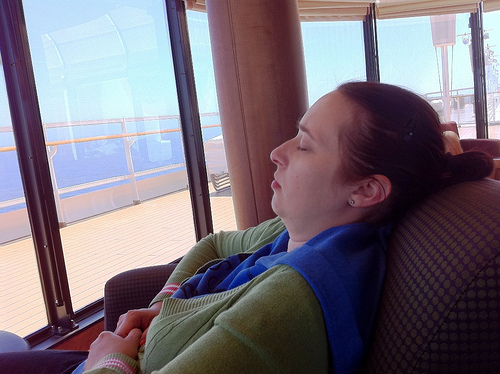 My dear sweet Mr. BFT took some flattering pictures of me before I headed down to the room to take a proper nap. After my nap I sat out on the veranda and flipped through a wedding magazine. Mr. BFT came back eventually and we started to do some packing. We ate our leftovers from Palo for lunch and after that decided we could stand to run a few minutes on the treadmill.
After the gym we cleaned ourselves up, finished packing and put out our luggage before heading to watch the Dreams show. We both really enjoyed the show, despite the child in the row behind us who kept sneezing on the back of our necks. I oooh-ed and aaaaah-ed at the fiber optics (remember – easily amused).
If I ever win the lottery I am going to have fiber optic stars installed in my bedroom ceiling.
After the show it was time for our final dinner in Animators Palate. No show tonight but there was lots of good stuff on this menu, and that morning our Palo server Nikola even said the "Til We Meet Again" menu was his favorite.
I started with the spinach, artichoke, and jalapeño cheese dip (not spicy and very good).
I believe Mr. BFT got the potato leek soup and liked it, but sadly no picture.
For entree I ordered the Tenderloin which was REALLY good, and so was the William Potato on the side.
Mr. BFT ordered the garlic and rosemary lamb (good) and the orange roughy (very good).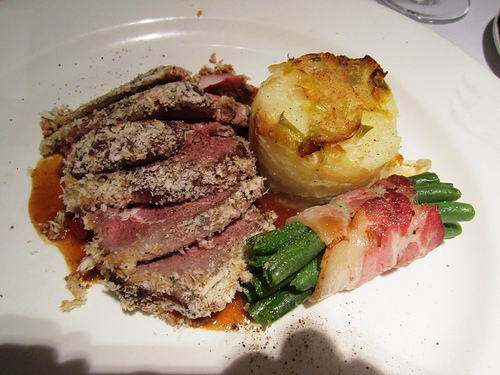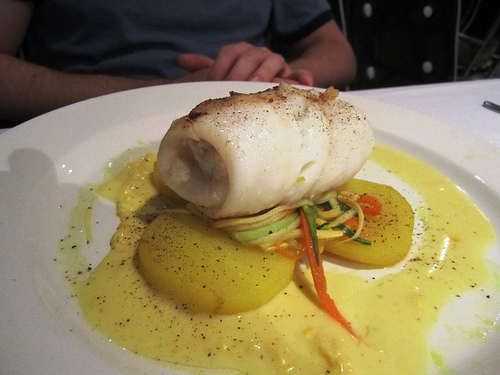 For dessert we shared the Baked Alaska.
We were halfway through it when they did the presentation of the "flaming" Baked Alaska.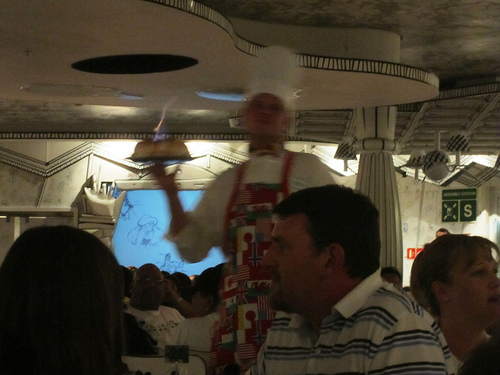 We joked that perhaps they forgot to "flame" ours because we didn't see what the big deal was. It was just okay.
After dinner we went to the atrium for the Til We Meet Again show, which is not really a show but rather all the characters come out and you have one last chance to get pictures with them. The only character I managed to get a picture with was Belle, who is my least favorite princess and she had her eyes closed, so oh well. We went up to the room to make some drinks and then headed down to Wavebands for Pub Night. The CMs do a very funny skit and this is a must-see show!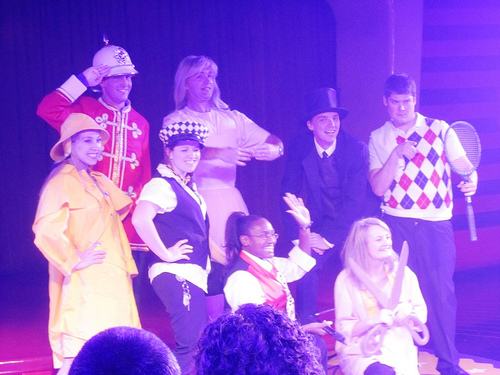 This picture needs some explanation but I'm not gonna give it to you!
After the show Wavebands turned into a dance club. Mr. BFT DESPISES clubs so I asked if I could dance for a bit and he said sure. After a couple songs I was having a lot of fun so Mr. BFT said I should stay and dance and he would go to Diversions to watch ESPN. So I danced with myself for an hour or so. I love dancing but am generally too shy to go dancing alone, but I should have done it earlier in the week. I had so much fun. We headed back to the room around midnight (party animals!) and found this waiting for us.
Mr. BFT dubbed this the laziest of the towel animals.
Since we had to be up early to debark , we set the alarm and went right to sleep. 🙁 🙁 🙁
Day 8 – Debarkation
No pictures for this day, I guess I was just too sad.
Since we had late dining we didn't have to be at breakfast "until" 8:45am. We gathered up all our belongings and did one last sweep of the room before heading out a bit early for breakfast (NOTE – DON'T get to your breakfast location early on the last day! We ended up waiting in line with all our luggage for the restaurant to turn over from the early diners.)
When we headed out we saw Anthony and were able to give him his tip and a personalized name bracelet I bought for him in Cabo. There were hugs all around and we wished Anthony luck with the 10 day cruise after ours.
Breakfast this morning was definitely an assembly line feel. The options were quite simple. Mr. BFT had the Denver omelette and requested some kind of substitution, which he didn't get. I ordered the Route 66 which was scrambled eggs, bacon, sausage, ham, and a hash brown. We also ordered a side of crispy bacon which was cooked perfectly. We gave our servers their tips and there was more hugging and I fought back the tears. I was going to miss Nelson bringing my dinners to me every night. We discussed sitting at our table until we were kicked out, but once we heard our luggage tag called (Donald), we headed out and off the ship.
Customs was super easy. There were no lines and no bag searching. We had our tequila we purchased in a separate bag because I thought we had to declare it. The enforcement officer was a bit intimidating. He barked, "What's in the bag?" and Mr. BFT and I both said "Tequila!" We probably sounded rehearsed. He kind of stared at the bag for a while and then asked us the usual questions about fruits or animal parts (eww) and then let us on our way. We collected our luggage in the Donald area and made our way out to the car, and the line to pay to get out of the parking lot took longer than it did to go through customs. With a 40 minute drive home, we were home by 11am! Sad to be no longer on vacation but nice to see our crazy cat, who was happy to have us back home.
So that's the end of my Disney Cruise trip report! I hope you enjoyed it. If anyone ever has any questions about going on a Disney Cruise, just asked! I loved the Wonder and can't wait to sail with Disney again (someday!!!!)!
All chapters:
Disney Cruisin' the Mexican Riviera – Day One, Part One – Embarkation
Disney Cruisin' the Mexican Riviera – Day One, Part Two – First Night at Sea
Disney Cruisin' the Mexican Riviera – Day Two – Our First Day at Sea
Disney Cruisin' the Mexican Riviera – Day Three – Another Lazy Sea Day
Disney Cruisin' the Mexican Riviera – Day Four, Part One – Puerto Vallarta
Disney Cruisin' the Mexican Riviera – Day Four, Part Two – Animator's Palate
Disney Cruisin' the Mexican Riviera – Day Five, Part One – Cabo San Lucas
Disney Cruisin' the Mexican Riviera – Day Five, Part Two – Palo Dinner
Disney Crusin' the Mexican Riviera – Day Six – Cabo Again!
Disney Crusin' the Mexican Riviera – Day Seven – Final Day at Sea