This is a trip report documenting our Mexican Riviera cruise on the Disney Wonder in April 2011.
Disney Cruisin' the Mexican Riviera – Day Two – Our First Day at Sea
All chapters:
Disney Cruisin' the Mexican Riviera – Day One, Part One – Embarkation
Disney Cruisin' the Mexican Riviera – Day One, Part Two – First Night at Sea
Disney Cruisin' the Mexican Riviera – Day Two – Our First Day at Sea
Disney Cruisin' the Mexican Riviera – Day Three – Another Lazy Sea Day
Disney Cruisin' the Mexican Riviera – Day Four, Part One – Puerto Vallarta
Disney Cruisin' the Mexican Riviera – Day Four, Part Two – Animator's Palate
Disney Cruisin' the Mexican Riviera – Day Five, Part One – Cabo San Lucas
Disney Cruisin' the Mexican Riviera – Day Five, Part Two – Palo Dinner
Disney Crusin' the Mexican Riviera – Day Six – Cabo Again!
Disney Crusin' the Mexican Riviera – Day Seven – Final Day at Sea
Day 2 – At Sea
I didn't sleep very well the first night because our cabin was very creaky. I brought earplugs with me but didn't think about it the first night. I used them for the rest of the trip and I was fine.
At around 6:30 I decided to take a peek at the sunrise. I'm sure glad I did! Best sunrise I've ever seen (not that I see many).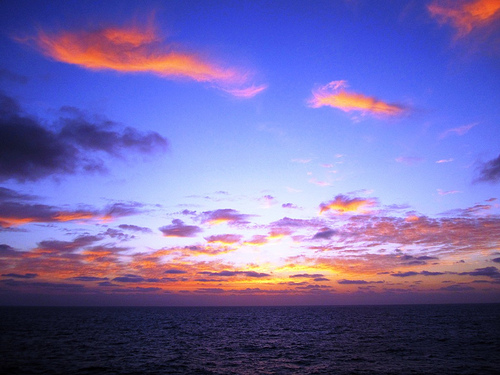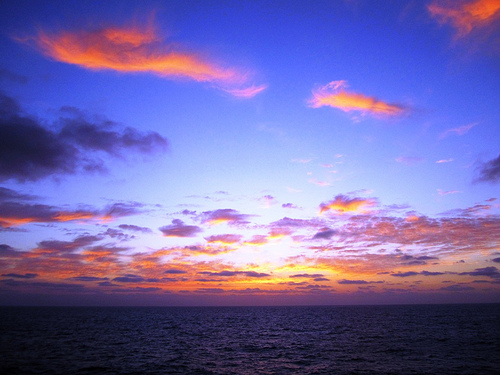 I went back to bed and listened to my iPod for another hour or so until Mr. BFT woke up. We decided to run up to BBB in our jammies and grab a light breakfast of fruit and muffins which we brought back to our cabin and ate on the veranda along with mimosas made from the leftover Korbel from our dear friends.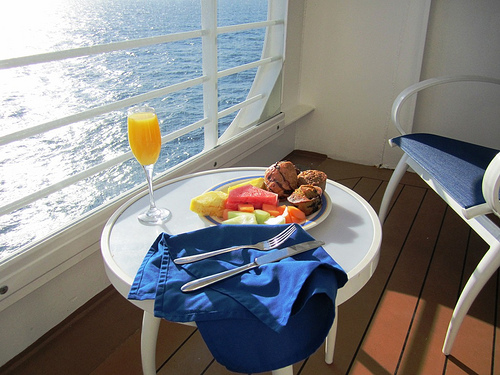 After breakfast we washed up and changed into our swimsuits and cover-ups and then went to ….. second breakfast at Tritons! I had the eggs benedict (very good) and HASH BROWNS, which taste just like McDonald's hash browns which to me is a GOOD thing. I could have had 20 of them. I forget what Mr. BFT had. We must have been too hungry to take pictures.
We left Triton's around 10am and went up to the Quiet Cove pool. We found the last two empty lounge chairs in the shade. We knew the sun would make it's way up over the ship eventually so we took them and I huddled under some towels because it was so cold! We both alternated between napping and reading, and we stayed at the pool for about five hours!!!! Again I have no pictures of this so I must have really been getting into relaxation mode. At some point I grabbed lunch from Goofy's Galley – a mozzarella and tomato pesto sandwich and some turkey wraps. I had read other trip reports where people raved about these sandwiches. I found them to be greasy and messy. I didn't really care for them. Mr. BFT got chicken strips and fries and they looked much tastier. He said they tasted okay.
At around 3pm I decided I had been lazy enough for one day, so I went up to the room to change into my gym clothes. I went to the gym and ran-walked on the treadmill for about 40 minutes, then showered using the gym showers. Again, other reports have raved about the gym showers but I liked the cabin shower better. The gym shower is a bit roomier but I missed the adjustable and removable shower head from the cabin.
When I got back to the room, Mr. BFT was back from the pool and watching baseball. It was time to get ready for our tequila tasting at 5pm! While I was getting ready, Mr. BFT took some pics of our cabin.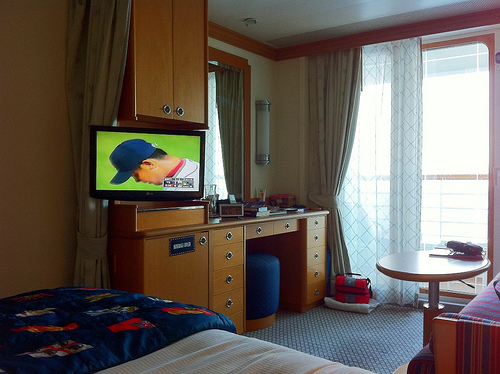 The next day, our blue duvet was replaced by an AWESOME yellow blanket. It looked some much nicer and felt so new and clean. I seriously loved that yellow blanket and I don't think I took any pictures of it. I wanted to sneak it home in my luggage but Mr. BFT reminded me that Disney has my credit card number on file.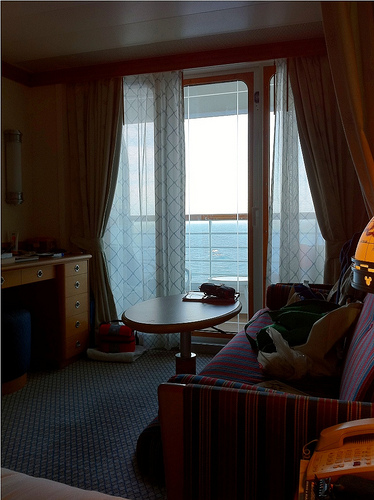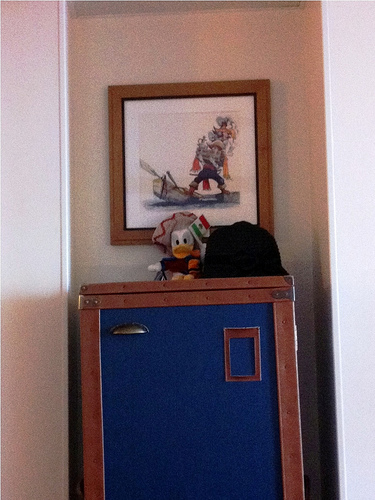 Our room had a single steamer trunk which held all of my non-hanging clothes. It was very useful!
When we left the room to go to our tasting, we had another surprise!!!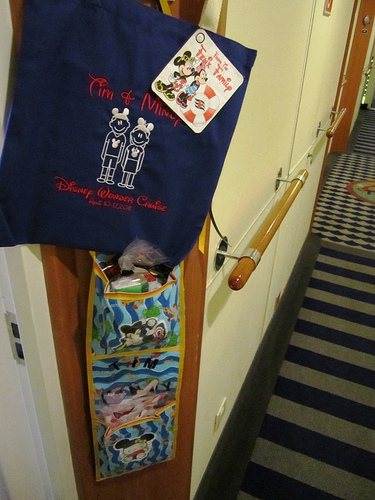 A personalized totebag and photo album from another DisBoards friend, and some other goodies! Thanks, friends! I carried the tote around the rest of the cruise!
A quick stop by the Ariel statue before heading to the tasting.
Our tasting was held in Cadillac Lounge and was led by Romy, who was hilarious. He was always walking around so I didn't get any non-blurry pictures of him.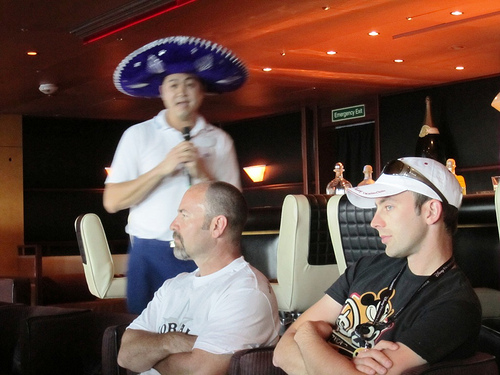 Don't these guys look excited?
When we got there, our drinks were already poured and ready for us.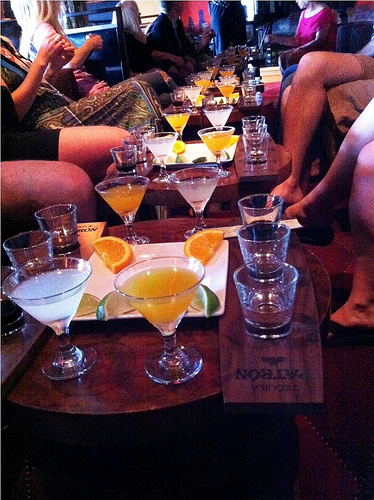 We found a spot with our DIS friends and turned in our tickets. During the tasting, Romy described each tequila and how it's made. All the tequilas were very good and so were the margaritas (regular and mango). At the end, we got to drink all the leftover margaritas and I had a couple more of the mango ones. I was feeling pretty good when we left to go watch the Golden Mickey's show.
Bottom's up!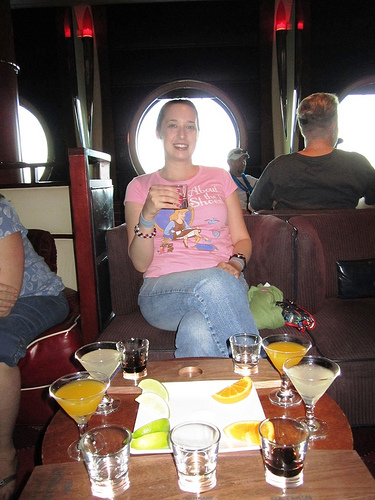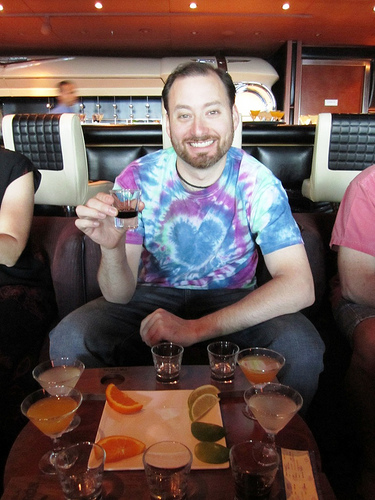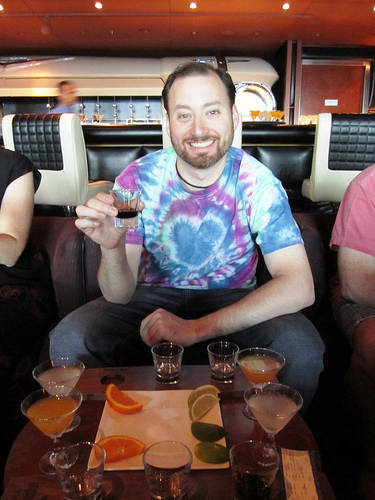 "But why is the tequila gone?"
After the tasting it was time for the Golden Mickeys. We stumbled our way to the theater and found seats with a DisBoards friend and her husband. We really enjoyed the Golden Mickeys show. And I got to see my girl, MULAN. Mulan is my favorite Disney movie, perhaps favorite movie of all time. And I NEVER see Mulan so I got really excited and sang along to "Be A Man." My new friend probably didn't know what to think of the crazy girl sitting next to her.
After the show we rushed up to the cabin to change for formal night. I wanted to get my picture with Captain Gus and Mickey and Minnie so we went down to lobby early. We got some free appletinis and got in line to meet Captain Gus. Then we went upstairs to get in line for M&M. While I waited Mr. BFT took some pics of the lobby.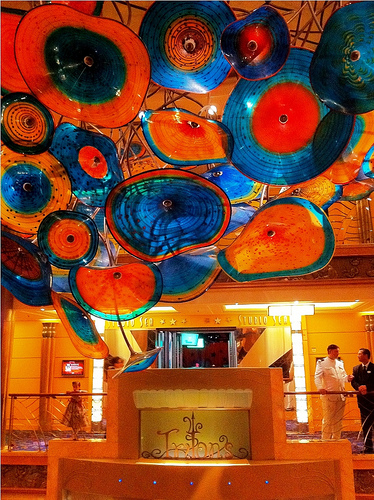 They ended up cutting off the line after us and we heard the poor CM say to people over and over, "This is M&M's last family, they need to get to the theater for the Golden Mickey's show, they will be back at 9:30." I forget the CM's name but we chatted a lot and I found out he is from West Hollywood, which is very close to where we live.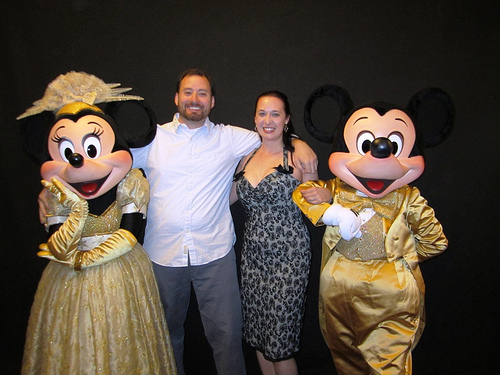 Dinner tonight was in Triton's.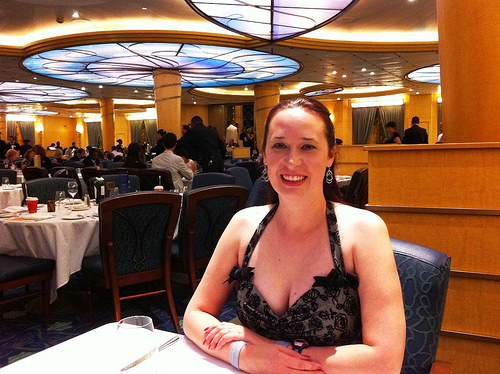 To start, Mr. BFT had the crispy ravioli and I had the asparagus and citrus delight.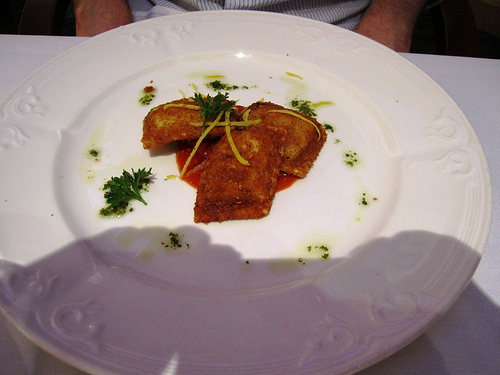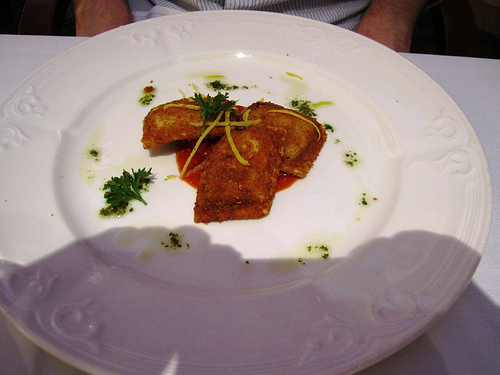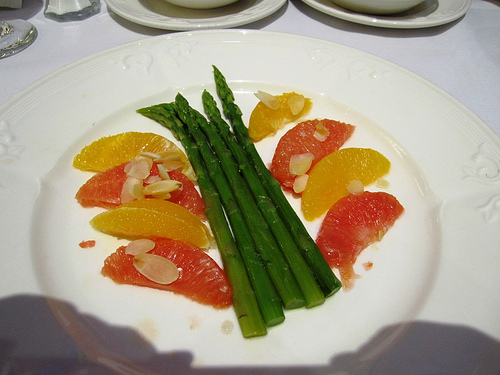 I also had the broccoli and blue cheese soup, which was very good (so good I forgot to take a picture).
My entree was the NY strip steak, which was very good but sadly I could barely eat it. By night two we hadn't quite got the hang of how we should prepare for dinner, basically by skipping lunch. We did better as the week went on.
All the steaks I had on the cruise were tender and delicious.
Mr. BFT got the swordfish, which he liked. We also split an order of the gnocchi which was fab.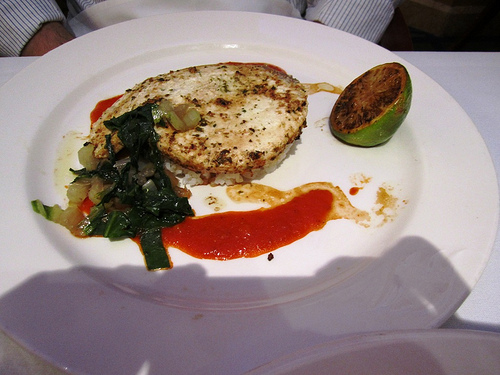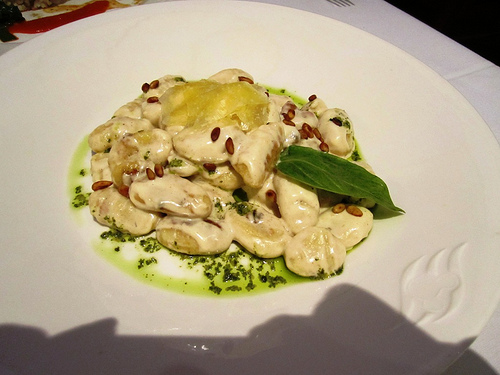 We barely ate any of our dinner and we were way too stuffed for dessert, but we promised Nelson the night before that we would try something, so we ordered the dessert trio to split. Nelson teased us for ordering such a small dessert and we again promised we would do better the next night. He brought out our trio right away.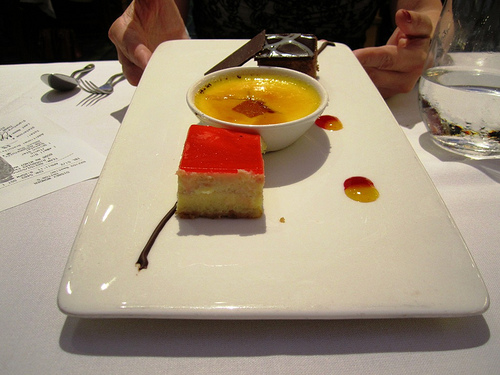 All I could manage was a couple bites of the creme brulee, which was just okay.
We waddled up to our room and had a lost puppy waiting for us. Anthony told me the next day it was not just a puppy, but a lost puppy looking for a home. Hehe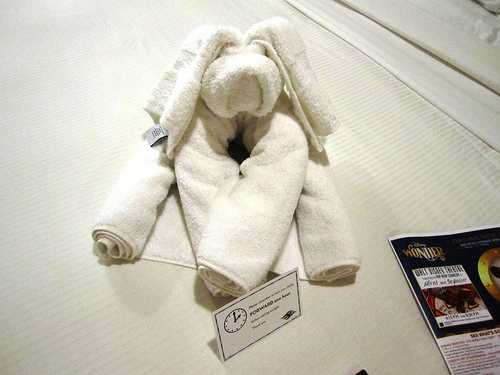 We decided to change clothes and walk around Deck 9 for a bit while our dinner settled. Planet Earth was playing on Funnel Vision so we stopped and watched for a bit. Then we decided to have a nightcap in Cadillac Lounge with our new friend Romy. We sat at the bar and I had a chocolate martini. I think Mr. BFT had a beer. I am easily amused by fiber optics so I loved watching the twinkling lights on the cityscape wall.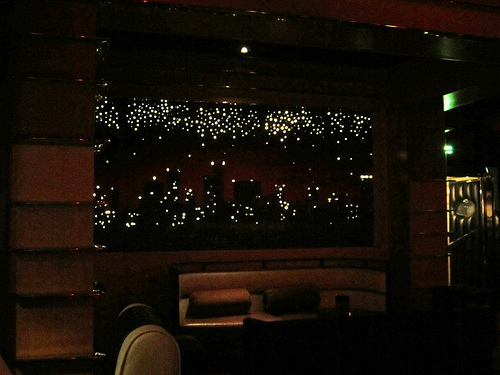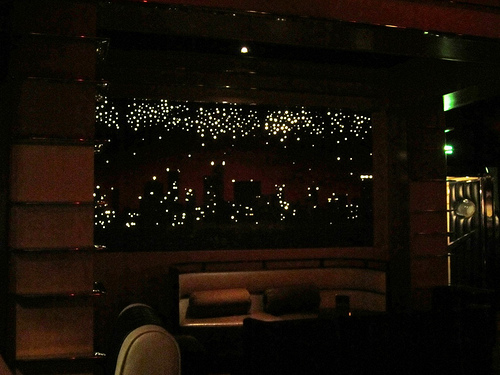 After our drinks we retired to the room and looked over our Navigator before going to bed. Mr. BFT told me not to get too excited but Mulan was going to be playing on Funnel Vision at 9:45pm the next day. WOOOOOOHOOOOOOO! I was so excited I could barely go to bed, but I eventually did.
Next: Disney Cruisin' the Mexican Riviera – Day Three – Another Lazy Sea Day