This is a trip report documenting our Mexican Riviera cruise on the Disney Wonder in April 2011.
Disney Crusin' the Mexican Riviera – Day Six – Cabo Again!
The night before we put our room service tag out for delivery between 7:00-7:30am but I think Mr. BFT checked the wrong box because I was awoken at 6:40am by a knock at the door. (When something goes wrong, try to blame it on your husband, if possible. :P) I awkwardly let the Cast Member in and then went back to bed for a little bit. We wanted a light breakfast because we were only in Cabo from 7-noon today, and we knew we would be having an early lunch. So we had a quick breakfast of muffins and fruit on the veranda.
Inferior ship blocking my view!
After breakfast we headed to the Buena Vista Theater to wait in line for the tender, but there was no line so we were directed right down to deck 1, and we were on shore around 8:30am. We knew we wanted to take a water taxi tour around Los Archos and then get dropped off at The Office at Medano Beach, like Christiaan had recommended. As we walked along the marina, tons of vendors tried to get our attention for water taxis. One vendor said, "Hey I recognize you guys from yesterday, please take my card for a water taxi." Now, I'm sure he didn't recognize us per se, but we both were wearing Disney shirts and I'm sure they know the ship was in port for two days, soooo …. but his little ploy caught my attention so I asked him how much for a taxi tour around the Arch and then drop off at Medano Beach. At first he said $12 per person and we said "no thanks" and he immediately dropped it to $10. So we agreed, and he called over a co-worker who led us around the marina to the boat. As we walked, he pointed to a little dingy with wooden planks for a bottom and he said, "that's the boat" to which I said, "NO BUENO!!!!" We all had a good laugh. I wish I had taken a picture of the little boat but trust me when I say it was really sad looking.
When we got to the REAL boat, there were already some people waiting. We got on and the boat took off. At first I was nervous because we started headed towards Medano Beach which was not what we wanted, but it turns out one of the couples on board wanted to go to Mango Deck restaurant, so we dropped them off and then headed across the marina to the Arch.
Now, I had seen a lot of pictures of this area on past trip reports so I was kind of "meh" about doing this boat tour, but Mr. BFT wanted to do it and Christiaan recommended it, and I'm SO GLAD we did. The pictures do not do this place justice. The rock formations are so tall and intricate, it was really something to see them up close.
Pelican Rock (no joke – I wonder why the pelicans like this particular rock the best?)
Near Pelican Rock our guide stopped the boat so we could see the tropical fish. He handed us each a cracker to break up and throw over the side to attract the fish. They were really pretty and I wasn't expecting to see any tropical fish in Mexico's less-than-crystal-clear waters so, bonus.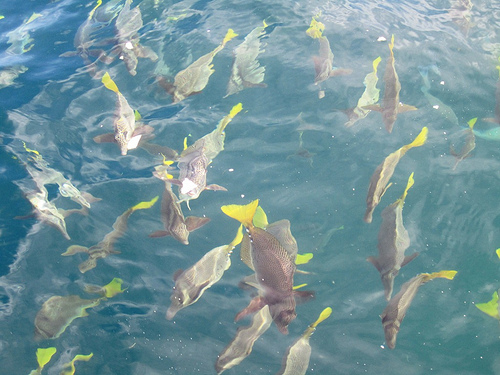 Also, while we were stopped here a seal swam under our glass bottom boat but I couldn't get a picture fast enough.
The rest of our boatmates wanted to get dropped off at Lover's Beach, so after they got off we had a private tour around Los Archos. It was great! Our guide was wonderful and offered to take several pictures of us with our camera, and each time he would say "1-2-3, TEQUILA" which cracked me up.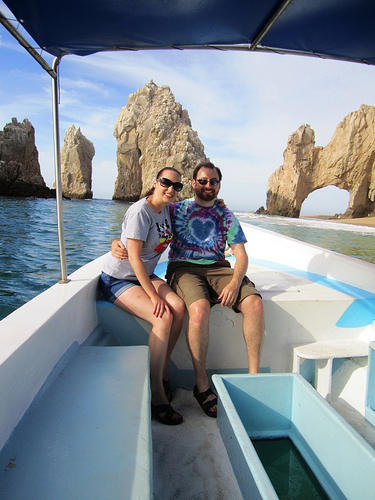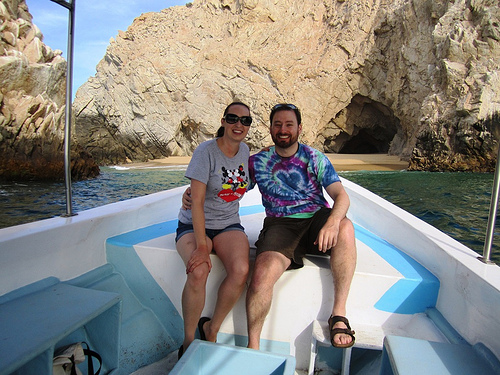 Seal Rock – again, they weren't joking about that name.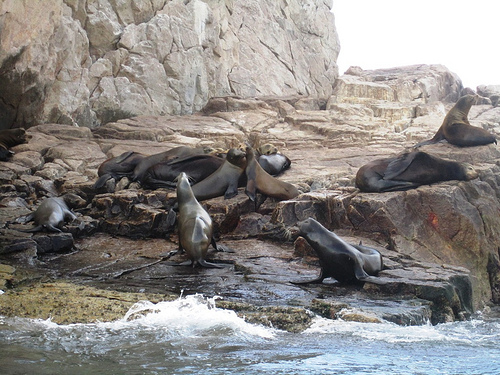 The tour took us close to the Arch, then around to the Pacific side, stopping for picture opportunities. Our guide asked us if we wanted to be dropped off at Lovers Beach and we told him we wanted to go to The Office. He started heading that way and asked when we wanted him to pick us back up. We explained we wanted to walk back. I almost felt kinda bad because he was so eager to help us. We got to Medano Beach and tipped our guide $5, and hopped off the boat (more difficult than it sounds). A guy was there to help us off the boat, turns out he worked at Mango Deck which is right next door to The Office, and seemed annoyed when we said we weren't going to Mango. Sorry dude, it's not like we asked for help getting off the boat.
We got a table at The Office and were offered water or juice. I forgot it was still early morning. I asked Mr. BFT if it was too early for a margarita and he said "if you get one I'll get one." So we ordered strawberry margaritas at 9:30am. What, I'm on vacation!!!!!!
We ordered the chilaquiles and they were fantastic. Both the food and drinks here were REALLY good and I highly recommend this place.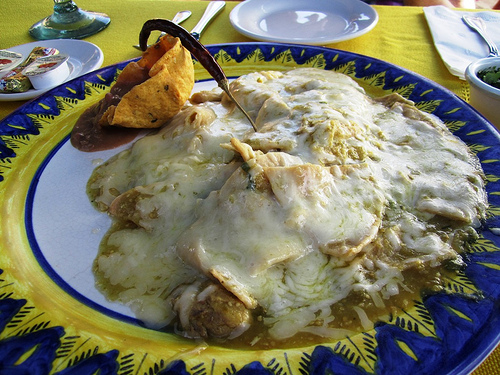 *drool*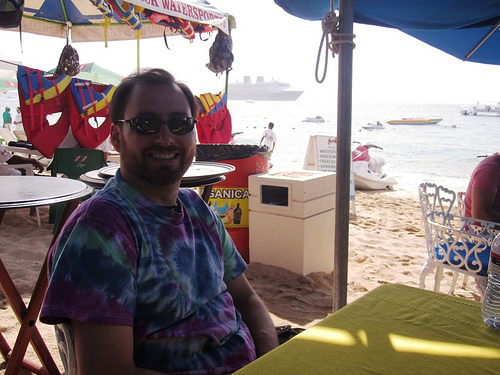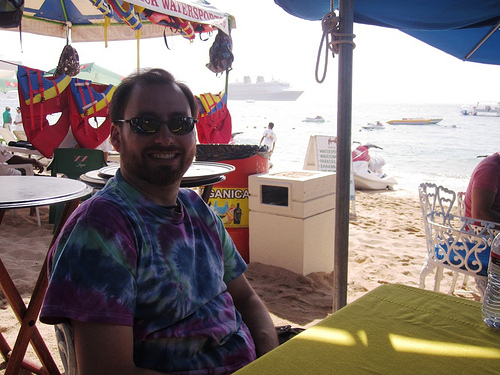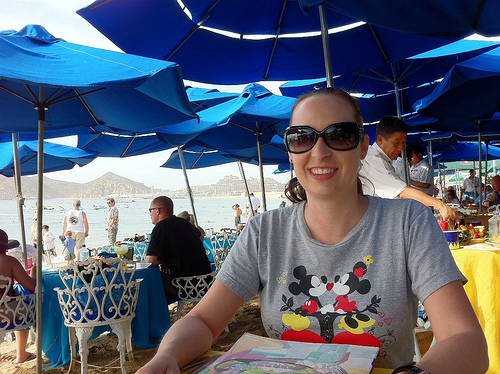 We had a leisurely brunch and stayed for about an hour and a half.
After brunch we had about an hour before we had to be back on the ship. We had some postcards to send so we head out in search of the post office. I had a map with the general location of the post office, and we were pointed in the right direction by someone at the restaurant. After about a 15 minute walk we found the post office and mailed our post cards ($7 for five cards, hardly seems worth it!) If I would have known I would have just mailed them when I got back to L.A.
We walked back through the marina and Mr. BFT sat and read while I went inside the flea market right near the dock. I was looking for something for my mom, best friend, and also for the bracelet that a previous cruiser had lost. It didn't take long to find the lost bracelet and I also bought a pink bracelet made of chiclet wrappers for my BFF. I ended up finding a little coin/makeup pouch for mom, and I gathered up Mr. BFT and we headed back to the ship. We were back on the ship by noon, whew! I was not a fan of the short Cabo day, too early and felt too rushed. But when you're on the cruise ship's schedule, there's not much you can do about it!
Back on the boat we had lunch at BBB, which I found to be very good today but sadly I don't have a picture of my plate. The one thing I remember was a crepe dessert station. YUM. During lunch we discussed whether or not we should rebook on board. We decided we would talk to the CM at the future cruise desk and we agreed that, if we could keep pushing out our cruise for an infinite amount of time, AND, our deposit could be completely refundable at any time, AND, we could rebook for under $300, then we would book a dummy cruise (basically a cruise you know you're not going to sail but just need something to hold your place so you get the benefits).
After lunch we headed back to the cabin for some naps, and then we both went to the gym and ran on the treadmill for a bit. After cleaning up, we went to the future cruise desk and waited in line for about 20 minutes for our turn. To make a long story short, all the answers to our questions were YES so we rebooked a dummy cruise. Not sure what we are going to do yet but eventually I want to go to WDW and maybe do a 3 or 4 night cruise while we are there, so maybe we will do that for our first or second anniversary, depending on funds. (Editor's note – That didn't happen, still waiting! haha)
Back to the room to hang out until it was time for dinner. We were in Tritons and it was semi-formal night, but we didn't dress up. Goofy was outside the restaurant when we went in.
For whatever reason, I find formal Goofy HILARIOUS but I couldn't get a clear picture of him. I think it's the missing hat that makes me find the whole look so odd.
Tonight was another great menu. We both ordered the Stripes cocktail which was excellent.
I started with the wild mushroom soup and Mr. BFT had the beef and tomato consommé (after asking what the heck that was). Both were good, but sadly I forgot to take pictures.
For entree I ordered the asparagus and blue cheese risotto (no surprise there) and the fettuccine with Parmesan crusted chicken. Both were very good, although the fettuccine was a little tough. Still delicious. Mr. BFT had the lobster tail and he enjoyed it.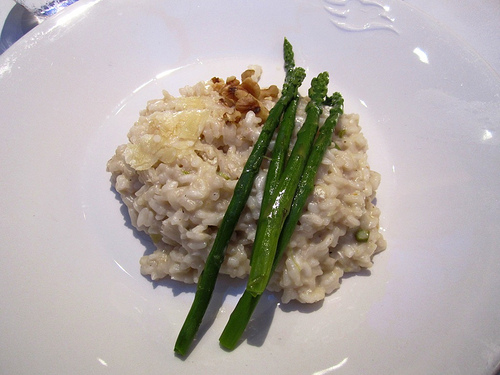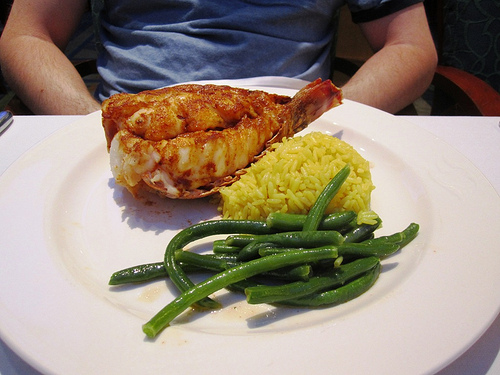 For dessert I ordered the banana creme brulee (disappointing – it was just regular creme brulee with some banana slices on top) and Mr. BFT ordered the amaretto cheesecake (again disappointing, it just tasted like regular cheesecake). They were still good desserts but not what we were expecting. When we ordered our desserts, Nelson informed us we also wanted lava cake. Who are we to argue with the pros so we agreed. Good thing we did because we both loved the lava cake and that was the only dessert we finished. Nelson asked us if we wanted another which we sadly declined because we were stuffed. Nelson told us there was a dessert buffet that night at Triton's at 11:15pm so to be sure to come back. We said okay knowing fully well we would be too stuffed still for more food. But now, looking at the pictures in other trip reports, I wish we had at least gone and checked it out.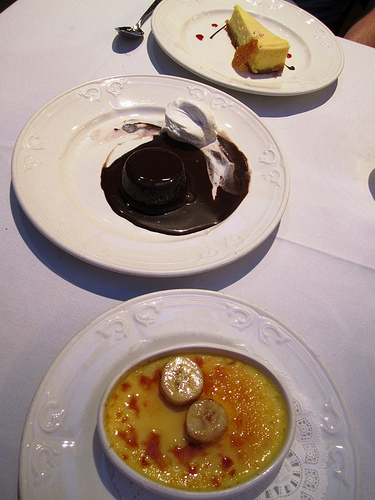 After dinner I think we walked a few laps around Deck 4 before heading back to the cabin, where we met this guy: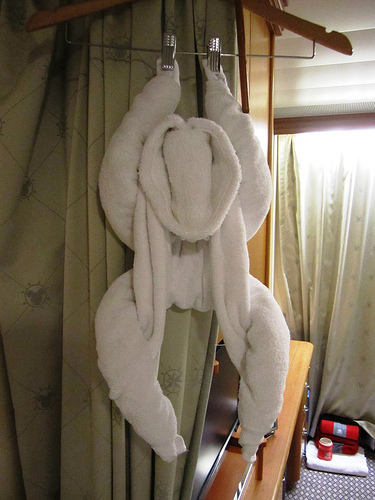 We decided to go down to Route 66 and see if anything was happening, but the ship was moving pretty fast and was a bit rocky, and I decided I would rather just go back to the cabin and watch TV. And so we did.
Next:
Disney Crusin' the Mexican Riviera – Day Seven – Final Day at Sea
All chapters:
Disney Cruisin' the Mexican Riviera – Day One, Part One – Embarkation
Disney Cruisin' the Mexican Riviera – Day One, Part Two – First Night at Sea
Disney Cruisin' the Mexican Riviera – Day Two – Our First Day at Sea
Disney Cruisin' the Mexican Riviera – Day Three – Another Lazy Sea Day
Disney Cruisin' the Mexican Riviera – Day Four, Part One – Puerto Vallarta
Disney Cruisin' the Mexican Riviera – Day Four, Part Two – Animator's Palate
Disney Cruisin' the Mexican Riviera – Day Five, Part One – Cabo San Lucas
Disney Cruisin' the Mexican Riviera – Day Five, Part Two – Palo Dinner
Disney Crusin' the Mexican Riviera – Day Six – Cabo Again!
Disney Crusin' the Mexican Riviera – Day Seven – Final Day at Sea