This is a trip report documenting our Mexican Riviera cruise on the Disney Wonder in April 2011.
Disney Cruisin' the Mexican Riviera – Day Three – Another Lazy Sea Day
All chapters:
Disney Cruisin' the Mexican Riviera – Day One, Part One – Embarkation
Disney Cruisin' the Mexican Riviera – Day One, Part Two – First Night at Sea
Disney Cruisin' the Mexican Riviera – Day Two – Our First Day at Sea
Disney Cruisin' the Mexican Riviera – Day Three – Another Lazy Sea Day
Disney Cruisin' the Mexican Riviera – Day Four, Part One – Puerto Vallarta
Disney Cruisin' the Mexican Riviera – Day Four, Part Two – Animator's Palate
Disney Cruisin' the Mexican Riviera – Day Five, Part One – Cabo San Lucas
Disney Cruisin' the Mexican Riviera – Day Five, Part Two – Palo Dinner
Disney Crusin' the Mexican Riviera – Day Six – Cabo Again!
Disney Crusin' the Mexican Riviera – Day Seven – Final Day at Sea
Slept a little better this morning and missed the sunrise. Still, not a bad view!
We had put out our room service tag the night before and had fruit, muffins and orange juice delivered to us at 8:00. Note to future cruisers: when the room service tag reads "assorted muffins," they mean one tiny muffin. Lesson learned.
At 9am I went to the gym for yoga class. We met inside the gym and our instructor led us up to the basketball court on Deck 10. There was loud music blaring and I couldn't hear the instructor very well, and some pretty strong winds made for a bit of a challenging workout, but overall it felt good. It was 30 minutes of some basic yoga moves.
After yoga I met back up with Mr. BFT in the cabin and we went to the pool. We grabbed some pizza and fries for lunch. After only about an hour we determined it was a bit too hot up at the pool in the direct sun, so we decided to check out the loungers on Deck 4. They are so comfy and bonus points for being in the shade!
I was too hot in the sun but too cold in the shade, haha. I lasted about 30 minutes before I decided to roam the ship. I checked out our formal night pics at Shutters and then got my picture with Duffy. Yes, I am a grown woman taking a picture with a teddy bear. We were told this was Duffy's first appearance on the Wonder! And I just happened to be in the right place at the right time. Very lucky!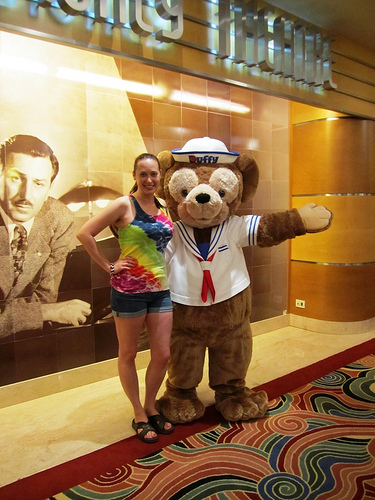 Back to the room and more treats waiting for us!
And turns out I *did* take a picture of the new blanket!!!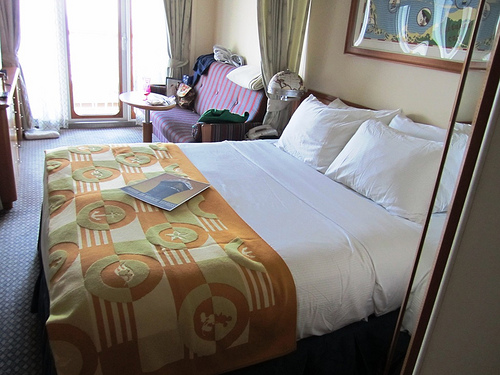 At 2pm we went to the Buena Vista Theater to check out the Art of Imagineering presentation.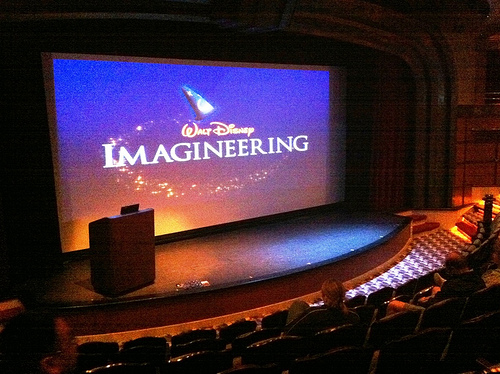 I'm not sure if it was the dark room or the motion of the boat but we both were having a tough time staying awake. After about 40 minutes we decided to head back to the room for a quick nap before our spa treatment at 3:20.
I surprised Mr. BFT by booking the Exotic Rasul and didn't tell him until that morning. I told him it was a private couples treatment but that's all I said. We really enjoyed the Rasul! (Sorry, no pictures ) When we arrived we signed the waiver promising not to sue if we faint or fall and hit our heads, and then our CM Amanda showed us to the changing rooms and showed us how to use the lockers, then left us to change into robes. She then led us to the Rasul room and showed us the proper way to do the treatment. First there is an exfoliating scrub, then you rinse, then an icy-hot type substance for any sore muscles (I wrote on the intake form about my carpal tunnel and Amanda recommended this for my arms; it felt really nice), then a bluish mud substance that smelled like peppermint. After you slather on the mud she recommended sitting in the steam room. The mud felt really nice. After sitting in the steam room for quite a while, I said "I wonder how long we have been in here?" Almost immediately Amanda knocked on the door with our 10 minute warning. We showered off the mud and applied the final step, the moisturizing lotion. After leaving the Rasul we were given glasses of champagne and led to the Rainforest Room, and told we could stay as long as we liked. We sat in the heated loungers and drank our champagne. Overall it was a nice treatment and I'm glad we signed up.
Back in the changing area I saw one of our Dis friends and found out her and her husband had the next Rasul time! I told her it was excellent, so I hope they enjoyed it. I quickly changed, doing my best not to flash my internet friends and met up with Mr. BFT in the lobby of the spa. Next we had the mojito tasting at 5pm.
At the tequila tasting, Romy said he would be hosting the mojito tasting so we signed up. Unfortunately he was not there, and the mojito tasting was very unorganized. It seemed as though everyone forgot it was happening! We waited several minutes for our drinks to be made, but once we got them they sure looked good!
There were several flavors, including regular, mango, and raspberry. I can't remember the others but my favorite was the raspberry. These were good size drinks and a great value for the $15 ticket, but they were just too sweet and sugary to finish. I only drank two, and part of Mr. BFT's raspberry mojito since that was my favorite. We each took a glass with us, though, to enjoy later.
After leaving the tasting we decided to walk around Deck 9 for a bit, and found Monsters Inc playing on the Funnel Vision. We sat and watched until the end of the movie, then made our way back to the room to clean up for dinner. We had some time to kill and I realized I had never took pictures of our decorated door.
On our way to dinner, we saw our Cruise Director Christiaan and decided to stop for a picture and quick chat.
I asked him if this was his first time on the Mexican Riviera, and he said he had been on the route many, many times and asked what our plans were for port. We said we had no plans for our second Cabo day and he recommended taking a boat around Los Archos and getting food at a restaurant called The Office. And so we did! More on that later! Thanks Christiaan!
Dinner tonight was at Tritons again, with their French menu.
Same pose and location as last night, only this time the girls are covered.
Tektas graciously agreed to take a picture of us. Our head server Nelson is in the background.
We of course had to try the escargot. It tasted fine, although it was very chewy and mostly butter.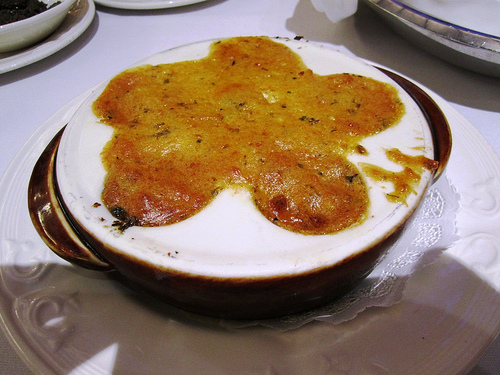 Mr. BFT got the French Onion soup and I got the Tomato Basil soup, but apparently forgot to take a picture of mine. Both were very good.
For entree I got the chicken salad (very good) and I asked Nelson if I could have just a side of the mushroom herb risotto that came with the sea bass. I told him I'm a risotto connoisseur. He shook his head no at first but then quickly said yes of course! The risotto was VERY good. Mr. BFT got the tenderloin and the lobster macaroni. Both were good. I liked Mr. BFT's tenderloin better than my salad so he let me have a few bites.
We made good on our promise to Nelson tonight and ordered three desserts. I had the souffle, Mr. BFT had the ice cream sundae, and we shared the dessert mini trio. All the desserts were very good. I really enjoyed the souffle.
We had to rush through our desserts to go watch MULAN on Funnel Vision at 9:45. We stopped at the room to fill our glasses with rum to make rum and Cokes, and then went up to Deck 9. Mr. BFT grabbed blankets and made our drinks at the soda machines next to the pool so I could sit and watch.
It was really loud on Deck 9, with lots of children running around. I realize it's a Disney Cruise and you're on vacation and all, but geez, isn't 10pm a little late for the kids to be hopped up on soft-serve and soda? Haha, but it was still really fun and yes I cried at the end when they play Reflection over the credits like I always do.
After the movie we headed back to the room where we had an alligator (?) waiting for us.
We went out on the veranda for a while and saw another cruise ship!
It was waaaaaaaaaaay out in the distance heading in the same direction as us.
After a nightcap on the veranda, it was time for bed. Tomorrow was our first port day – Puerto Vallarta!!
Next:
Disney Cruisin' the Mexican Riviera – Day Four, Part One – Puerto Vallarta