I was invited to the Naples grand re-opening media event. All opinions are my own.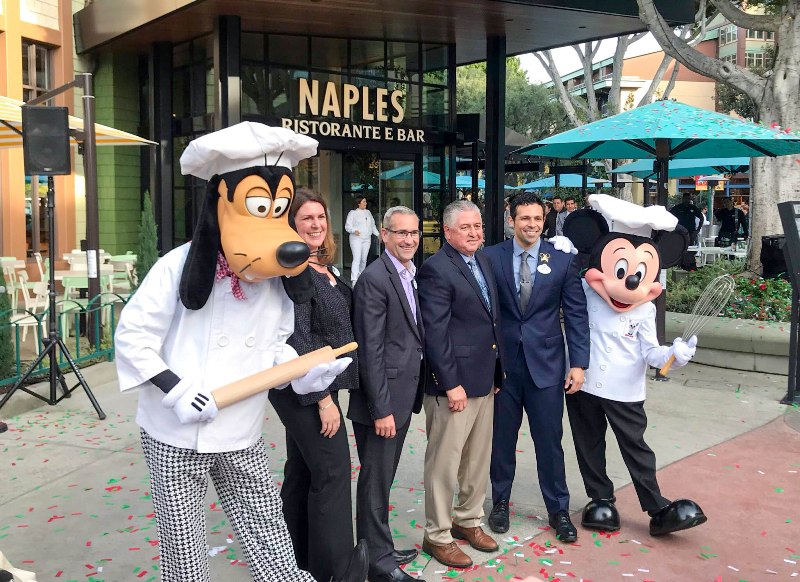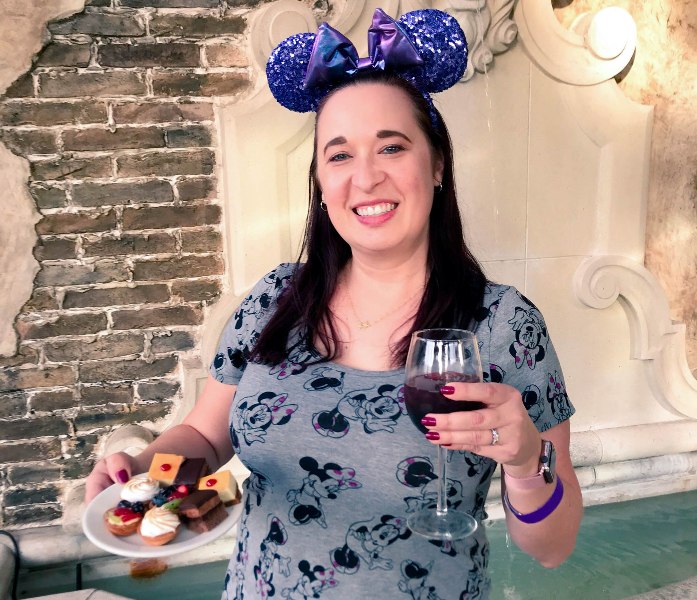 Everyone who has been following me for a long time knows I have a soft spot for Naples Ristorante e Pizzeria in Downtown Disney at The Disneyland Resort. And not just because pizza is my favorite food! Back in 2012 we hosted our wedding welcome party at Naples, on their upstairs balcony. They took such good care of us and since then I have always recommended Naples for private events!
Well, Naples has undergone a major renovation and just opened back up to the public, and it's better than ever! Last week I was invited to celebrate their grand re-opening and sample some of their delicious food and drinks.
The event started with some special guests – Chef Mickey and Chef Goofy! They joined executives from Disneyland and Patina Restaurant Group to cut the ribbon (with a pizza cutter!) and welcomed us inside the new Naples!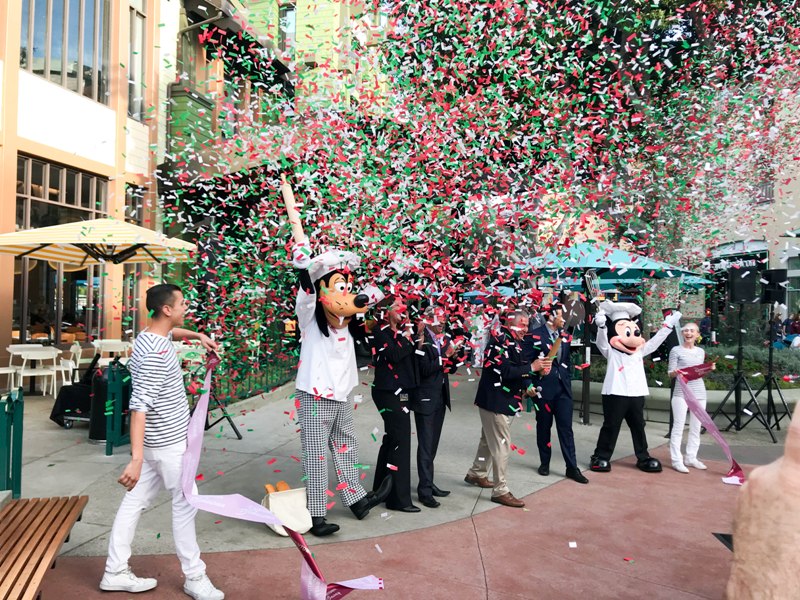 Aside from the dramatic new entrance, the first floor features a show-stopping chandelier and gorgeous new tile on the floors. The open kitchen is still there, as well as a floor-to-ceiling wine fridge. #goals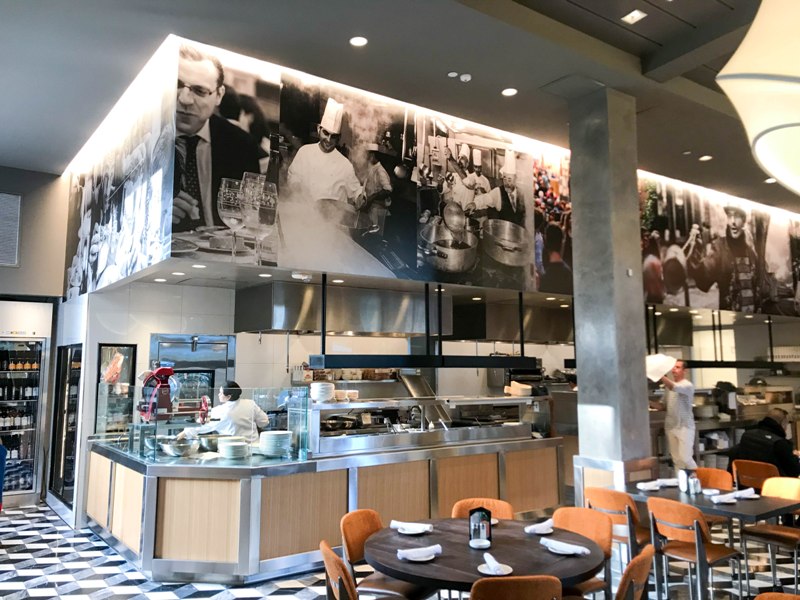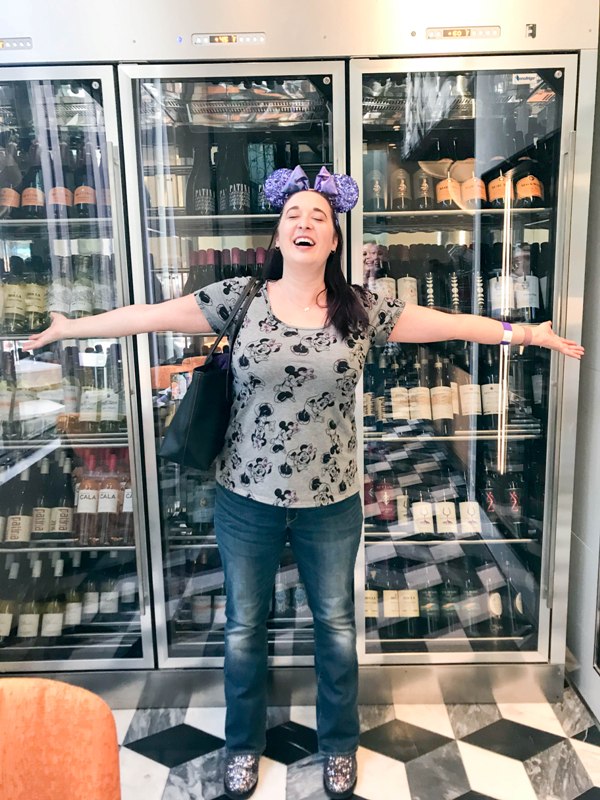 The inside bar is now gone, but it has been replaced with a huge wrap-around bar outside! And one of my favorite things about the Naples bar are the USB outlets! It's my favorite place to take a break from the Parks and charge my phone.
The upstairs restaurant is dramatically different. The outside breezeway has been closed in, making the interior of the upper level feel so much bigger. Gorgeous modern artwork lines the walls adjacent to the open kitchen where you can watch the Naples chefs work their pizza magic.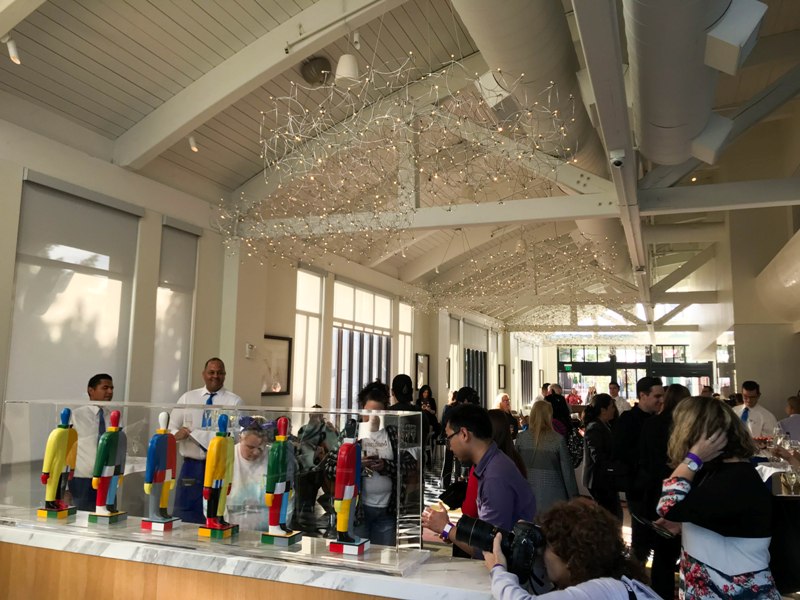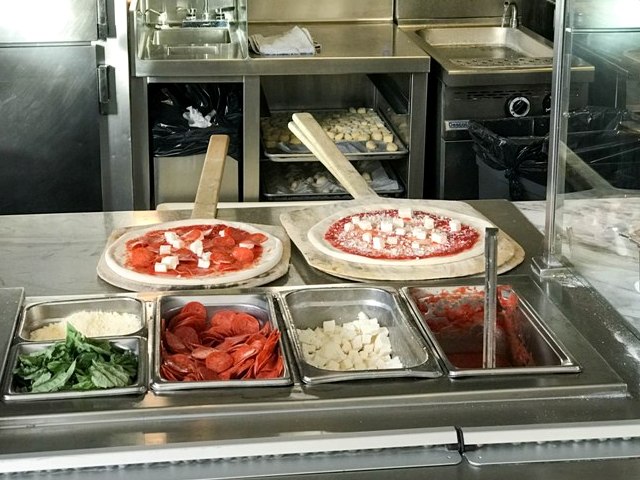 The shape of the outdoor balcony is largely unchanged and my favorite feature – the fountain – is still there! The exterior got some upgrades with new hanging plants and new glass walls that will help on windy nights.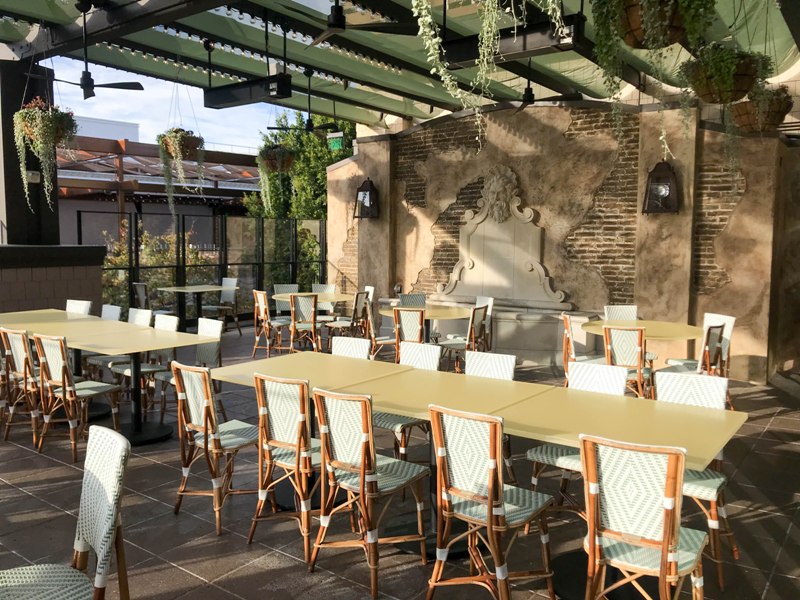 Oh, yeah! Let's talk about the food!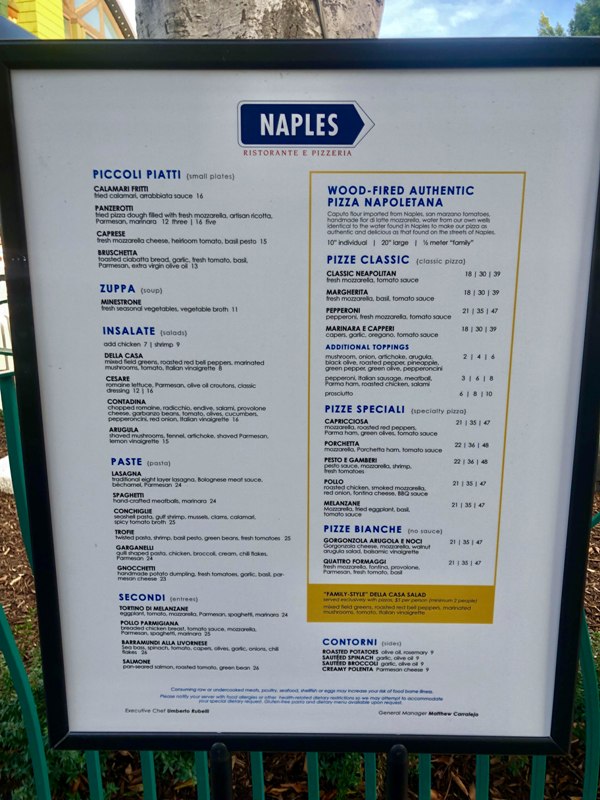 Naples had a wide arrange of appetizers on display for us, including a variety cheeses, antipasto, and a sampling of salads. Servers were on hand to pass out glasses of Prosecco and bite-size delights such as turkey meatballs and mini bruschetta with tomato. I also asked one of the servers why everyone who worked there is so incredibly good looking? Like, is there a modeling agency for restaurant servers? He smiled and said "thank you" but didn't answer my question, so the mystery still stands.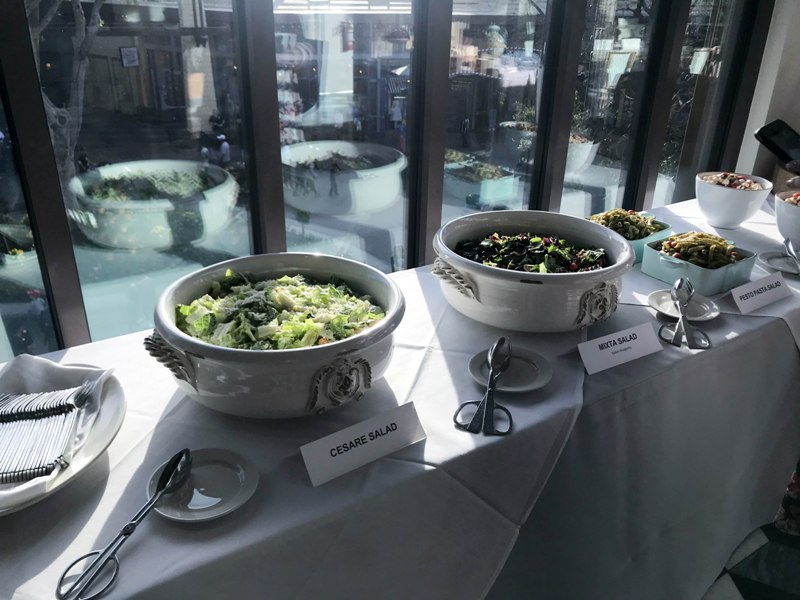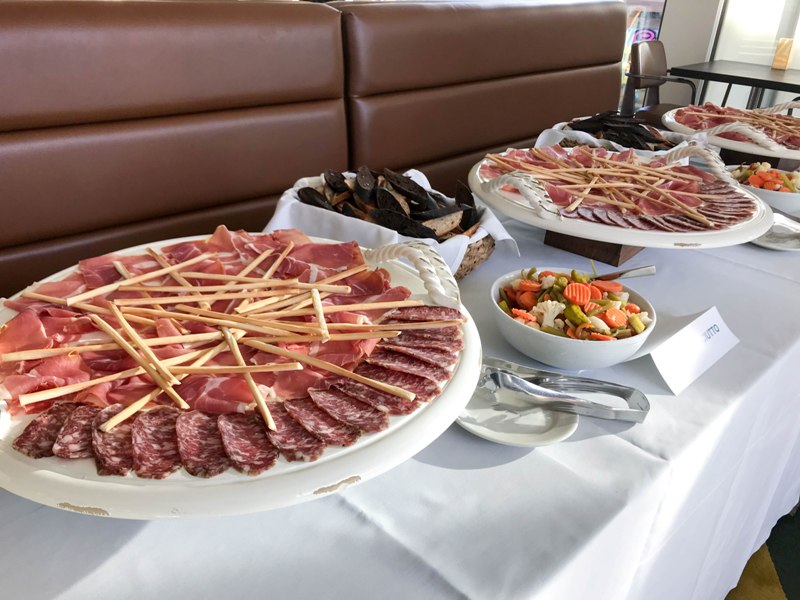 Next up is the pizza. We tried the margarita pizza and the pepperoni pizza. Naples has those kinds of pepperoni that curl up and hold in all the oil, aka all the flavor. My doctor says too much of that oil is bad for me but how can you resist? I blotted a little (get off my back, doc) and it still tasted amazing.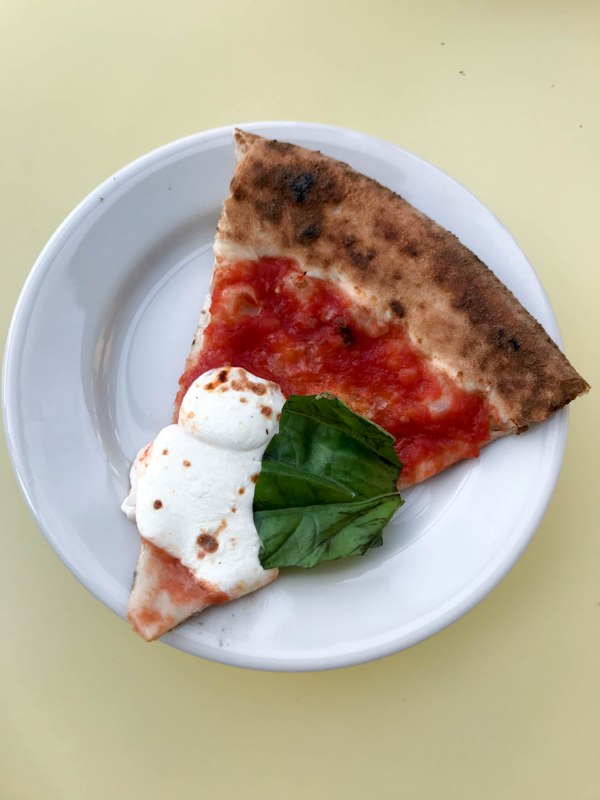 We also tried some delectable desserts, including fruit tarts and cheesecake. Everything was beyond good!
And don't forget the drinks! Aside from the complimentary Prosecco, Naples had a full bar available. I had my signature drink, a Cosmo, and my friend tried the Bloody Mary. Both delicious!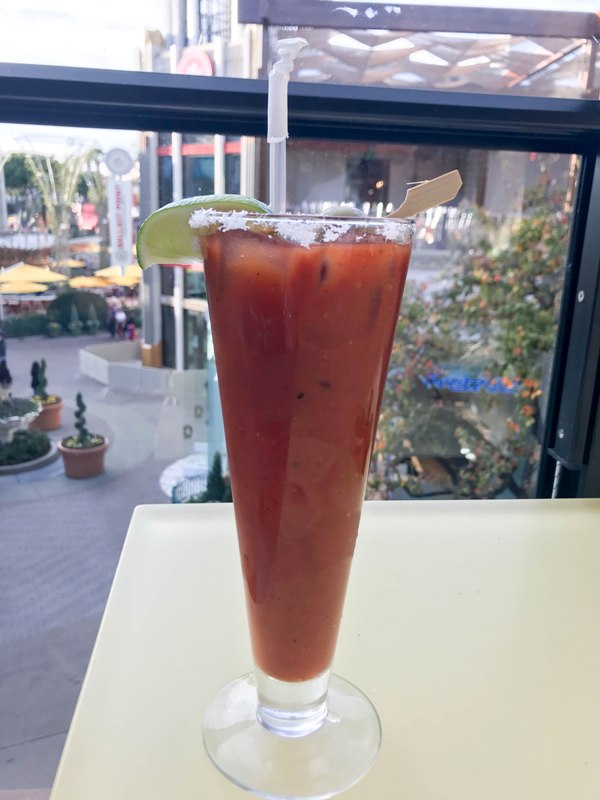 Towards the end of the event, we were all treated to a gorgeous So Cal sunset, just one of the perks of sitting on the balcony.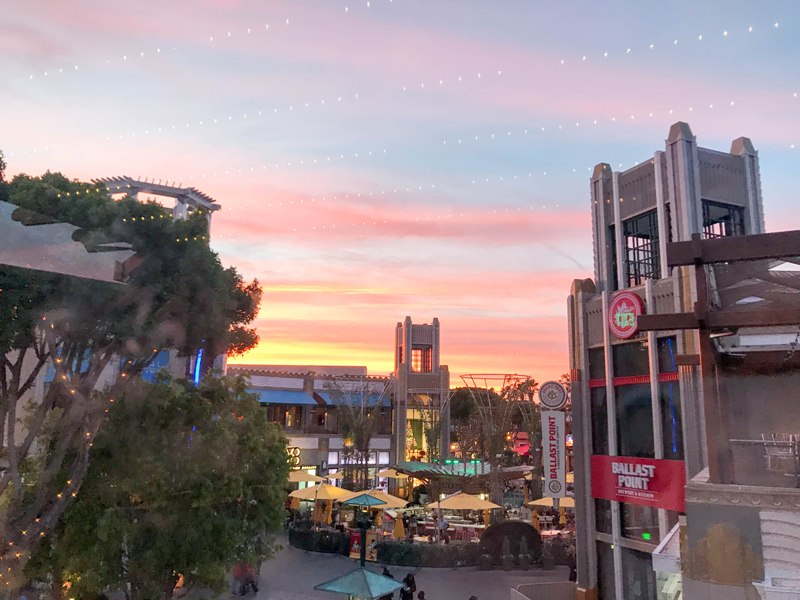 Naples continues to be one of my favorite spots at The Disneyland Resort. I'm so glad it's back open and ready for new guests to discover its charms. Save me a seat at the bar!
Thank you to Disneyland Daily for sharing some photos with me for this article.