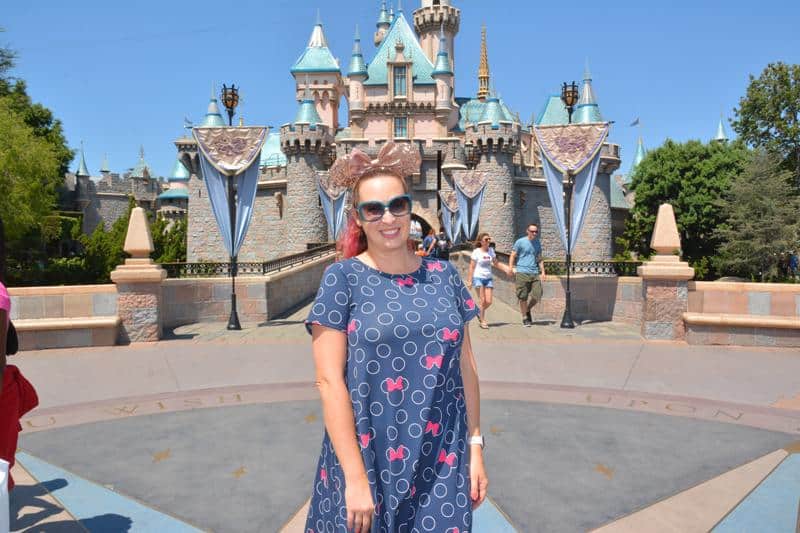 Have you ever had a solo day at Disneyland? The Disney Parks may be primarily known as family destinations, but going to Disneyland alone can be quite enjoyable!
For me, I'm a big Disney fan. Even though I don't have children and my husband isn't as big of a Disneyland fan as I am, I didn't want those to be reasons I stopped visiting the Disney Parks.
I started going to Disneyland alone when I was an adult. I had been going through a rough breakup (my first love!) and we used to go to Disneyland together all the time.
I felt sad because I thought it meant I wouldn't be going to Disneyland as often as I used to when I was in a relationship. But a friend helped me remember that I've *always* loved going to Disneyland, and just because I didn't have someone to go with didn't mean I couldn't go alone!!
At first I thought going to Disneyland alone might feel a little awkward. But then I realized … it was actually AWESOME. I could do whatever I wanted, whenever I wanted. I could experience any attraction I desired without having to check with someone else. I could have a snack when I was hungry and not have to wait for the person I was with to be hungry, too.
And the more I visited Disneyland by myself, I realized there were other Guests there who were alone, just like me. I stopped feeling awkward about it very quickly.
Now that several years have passed I've become friends with a lot of people who also love visiting the Disney Parks just like I do. But I still frequently go to Disneyland alone, because I really enjoy being on my own schedule. (Being an introvert with anxiety helps with this, too!)
For those of you who may be considering a solo trip to Disneyland Resort, I've compiled a list of tips and perks you'll want to know about! I hope this advice helps you during your visit!
Advice for Visiting Disneyland Solo
Perks for Going to Disneyland Alone
If you landed on this article then you are already planning to visit Disneyland alone, and maybe you're feeling a little awkward about it. I'm here to assure you that going to Disneyland byyourself can be incredibly fun and even a relaxing experience!
Here are some of the perks of visiting Disneyland alone:
You get to do whatever you want, on your own schedule.
A chance to eat all your favorite snacks and not share them!!
You can take advantage of the Single Rider queues for select attractions.
Go on all your favorite rides and watch your favorite shows!
You can shop for merchandise in peace … no one judging you or asking you to buy something for them.
If you enjoy having a cocktail, it's often very easy to find a single seat at one of the bars.
If you want a photo, Guests are usually friendly and will agree to snap a photo for you! Sometimes Cast Members will help you also, if they aren't too busy.
Don't feel weird about waiting in line for a character meet and greet by yourself! It actually is quite common and character performers are used to it!
Know Before You Go
Planning a solo Disneyland trip starts before you even arrive! Make sure you have your entry ticket and theme park reservation. If you're a Magic Key holder, make sure you're not blocked out and you made a reservation for your starting park.
For the best prices on Disneyland tickets, I recommend Undercover Tourist!
Make sure you have the Disneyland app downloaded on your phone and it's up-to-date. You'll also want to link your park ticket to your account for easy access.
Decide on a Strategy for Your Disneyland Day
I always recommend having at least a loose strategy for your Disneyland visits, if not a very specific strategy.
To figure out your strategy, you'll need to ask yourself a few questions. What time will you arrive and what time do you want to leave? What are your priorities? What is your budget? These are all important things to know before you start your day at Disneyland.
If your goal is to get in as many rides as possible, I recommend checking out a Disneyland strategy from Touring Plans or Disneyland Daily.
Disneyland Single Rider Queues
If going on attractions is one of your priorities, you're in luck! Both Disneyland and Disney California Adventure offer "Single Rider" queues for select attractions. This means you get to skip the regular standby queue and it *usually* means your wait will be considerably shorter. Attraction Cast Members pull from the Single Rider queue whenever they have one seat left in a ride vehicle. (For example, in a vehicle that sits four Guests, you may be seated with a party of three.)
These are the Disneyland Resort attractions that currently utilize a Single Rider queue (list is subject to change; please refer to the Disneyland website for the most up-to-date information):
Disneyland Park
Splash Mountain
Millennium Falcon: Smugglers Run
Matterhorn Bobsleds
Space Mountain
Disney California Adventure Park
Goofy's Sky School
Incredicoaster
Radiator Springs Racers
Grizzly River Run
WEB SLINGERS: A Spider-Man Adventure
Keep in mind with Single Rider, Guests must take the empty seat offered to them (there's no seat preference requests).
Do Solo Visitors to Disneyland Need Genie+?
If you haven't visited Disneyland or Walt Disney World in a while, you may be unaware of the new Genie+ system that replaced Fast Pass.
Genie+ is a premium add-on to your ticket that allows you to make reservations to go on certain attractions. Guests visiting Disneyland may purchase Genie+ via the Disneyland app once they arrive to the parks. For more info on using Genie+, visit this link.
In short, Genie+ allows you to wait in shorter queues for some attractions. Depending on your priorities for your visit, the cost of Genie+ may be worth it to you.
How to Spend Your Time During a Disneyland Solo Day
So obviously there's the attractions, and the shows, and the characters. But, what else is there to do at Disneyland? Especially if you're by yourself?
Here are a few of my favorite ways to pass the time at Disneyland:
People watch. I love to grab a snack or a drink from Starbucks, sit on a bench near Sleeping Beauty Castle, and just people watch. It's fun to look for little kids who may be experiencing their first trip, and seeing their faces light up when they see the Castle or spot Mickey. I also love to see what people are wearing. It's really popular to "Disneybound," or dressing in regular clothes that resemble a Disney character. Some Guests get really creative with their clothing!
Take note of the aesthetics. When you're not hustling from one ride to another, you can take your time and appreciate all the hard work that goes into keeping Disneyland a beautiful theme park. During the spring, you'll notice the freshly planted flowers all over the Resort. During winter, take note of all the fun holiday decorations they put up. And year round, you'll find cute little Disney details if you really pay attention! One of my favorite things to do is look for "hidden Mickeys" … the Imagineers will often include the outline of Mickey's head into their designs in a subtle way.
Grab an adult beverage. If you partake, you can find some really delightful cocktails around the Disneyland Resort. Inside Disneyland Park, there are only two places regular Guests can get an alcoholic drink: Oga's Cantina inside Star Wars: Galaxy's Edge, and Blue Bayou restaurant. However, across the way at Disney California Adventure, there are many more options! You can even order a drink and walk around the park with it. If you are looking for a really well made classic cocktail, I recommend Carthay Circle Restaurant inside Disney California Adventure, or Napa Rose inside Disney's Grand Californian Hotel and Spa. If you're in a hurry, you can mobile order a beer from Sonoma Terrace or a glass of wine from Mendocino. For even more options, venture into Downtown Disney District. My favorite place is the outdoor bar at Naples Ristorante (with USB ports for charging your phone!).
What to Pack for a Solo Disneyland Trip
No matter what your plans are, you'll want to make sure you bring everything you need to keep yourself comfortable. I always recommend wearing comfortable shoes, carry a hat or visor in the summer and a sweater in the winter, bring a refillable water bottle, and a Fuel Rod for your phone.
I really hope this guide has helped you have the perfect solo day at Disneyland Resort! I love to hear about your Disney Parks adventures, so please follow me on Instagram at @fairytalemindy and keep in touch!