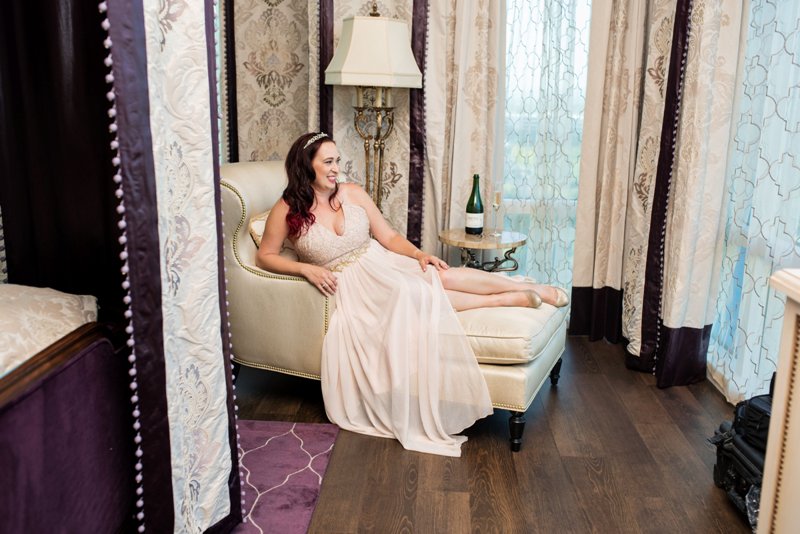 Photo by White Rabbit Photo Boutique
2017 is coming to a close, and while it wasn't the horrific dumpster fire that 2016 was, it had its own unique surprises and challenges. For me, it was a great somewhat-low-key year full of new adventures and good times with friends and family.
My word of the year was Powerful, and I think I did a pretty good job representing this. I fought the system a little, I marched for my rights, I launched my first paid course, and started selling shirts and other products … and aside from work I did something I thought I'd never do again: I completed not one but TWO half marathons! So yes, looking back on the year I feel like it was pretty powerful.
I would love to hear about your 2017 highlights, so please share them with me in the comments!
January – January saw my triumphant return to half marathons with the Star Wars Rebel Challenge at Disneyland (10k & half marathon). I also happily attended the Women's March in Downtown Los Angeles with 349,999 like-minded friends. The end of January brought the return of the Main Street Electrical Parade to Disneyland which was beyond exciting!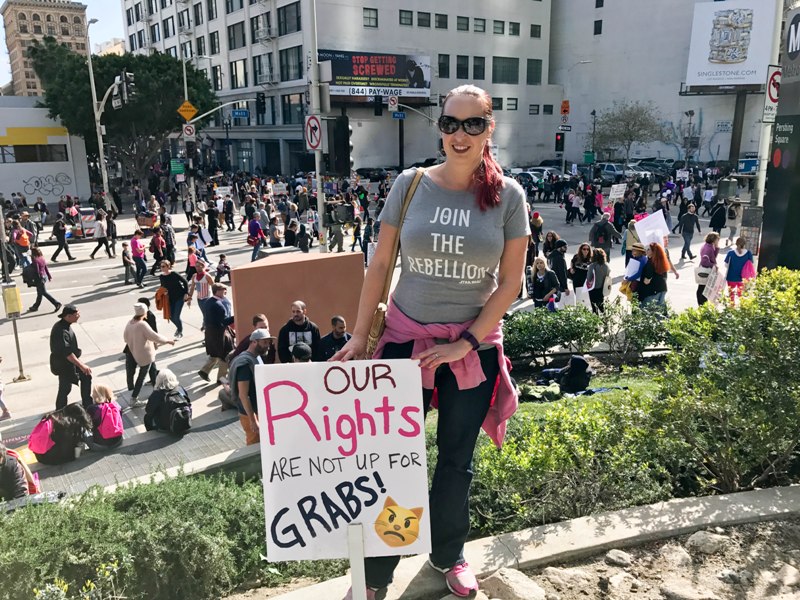 January's most popular post: 15 Perfect Cinderella Wedding Cakes
February – February started with Valentine's Tea at Steakhouse 55 and ended with Star Wars themed drinks at Scum and Villainy Cantina in Hollywood. In between, I wrote postcards to my representatives and attended town hall meetings. I'm hoping in several years I can look back on this and marvel at what a strange little blip in history this was.
February's most popular post: 7 Things I'm Glad We Did for Our Disney Wedding
March – In March I attended the press junket for the live action Beauty and the Beast where I saw Alan Menken and Josh Gad perform which was PRETTY DARN COOL. March also brought the start of Food and Wine Festival at Disney California Adventure, and it doesn't get much better than that.
March's most popular post: Live-Action BEAUTY AND THE BEAST Wedding Inspiration
April – In April we had a nice visit from Tim's parents during spring break, and – oh yeah – Tim and I went to Walt Disney World so I could complete the Star Wars Dark Side Challenge and finally get my Coast to Coast medal! Whew, that was hard.
April's most popular post: Scum and Villainy Cantina Review – Galactic Fun in the Heart of Hollywood
May – May is always a crazy month! I celebrated May the Fourth at Disneyland with friends, then returned a couple days later for Pinup Parade. For our five year wedding anniversary, we stayed a night in the magical Fairy Tale Suite at The Disneyland Hotel. Later in the month I saw U2 in concert, and a showing of La La Land at the Hollywood Bowl. So yeah, May was pretty great.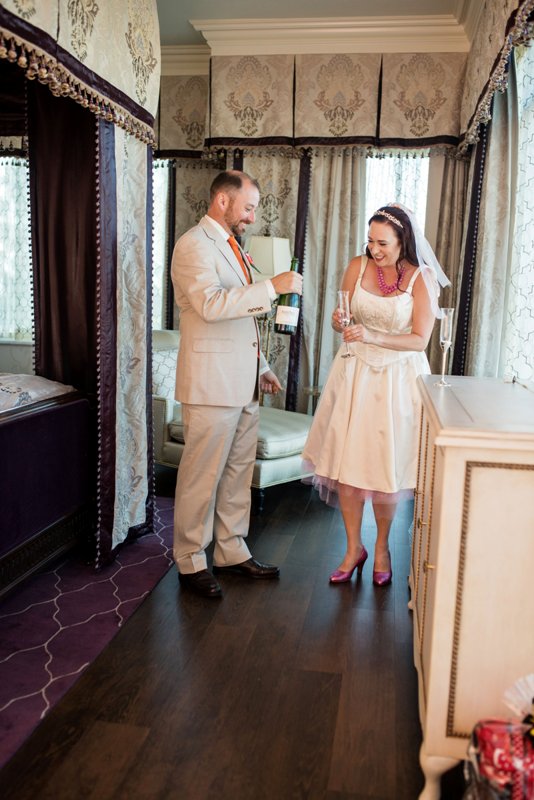 May's most popular post: A Definitive Guide to Disneyland Wall Photo Spots
June – We started off June in Las Vegas, visiting with Tim's sister who was there for work. I also visited the Museum of Ice Cream, and got back on stage for a retirement show for my high school choir director. It was fun to see some of my old high school friends, but also the experience brought back some feelings I don't ever need to feel again. High school was not my favorite.
June's most popular post: 14 Amazing Light Up Mickey Ears for your Disney Summer
July – My big news from July was the launch of Fairy Tale Life Clothing! Together with my friend Anita we came up with some fun designs for brides and grooms. The response has been really great and I can't wait to bring you more designs in 2018! Aside from that, I had two very fun and exciting events in July: D23 Expo (I'm still recovering from sleep deprivation) and the Disneyland wedding of Andrea and Ryan! Your wedding was beautiful; thank you for inviting me to celebrate with you!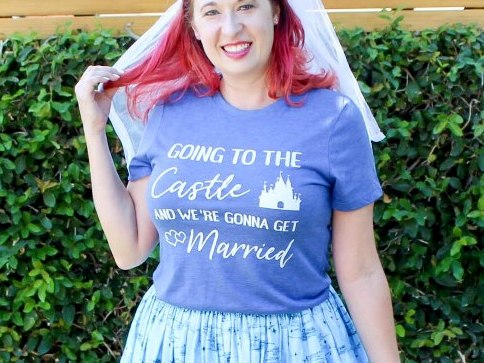 July's most popular post: Obsessed with LuLaRoe and Disney? You'll Want to See These New Patterns
August – August started with a surprise last minute invite to Club 33 (I'll never turn THAT down), and ended with one of my favorite events of the year – CHOC Walk. In between there I had minor surgery, something I've never talked about here because it was so incredibly minor. But it still involved a hospital visit and anesthesia and I milked it for a few days so I could lay around and ask Tim to refill my drinks for me and stuff. But I'm totally a-okay.
August's most popular post: Fuel Rod: Disney's Portable Phone Charger System
September – September started out with the Disneyland 10k, my third of the year (and fifth race of the year) if you're keeping count. Turns out this would be my last Disneyland race for the foreseeable future. For my birthday weekend, I celebrated with a few friends at Disneyland and then Tim and I spent the weekend at Terranea Resort, which might just be heaven on earth.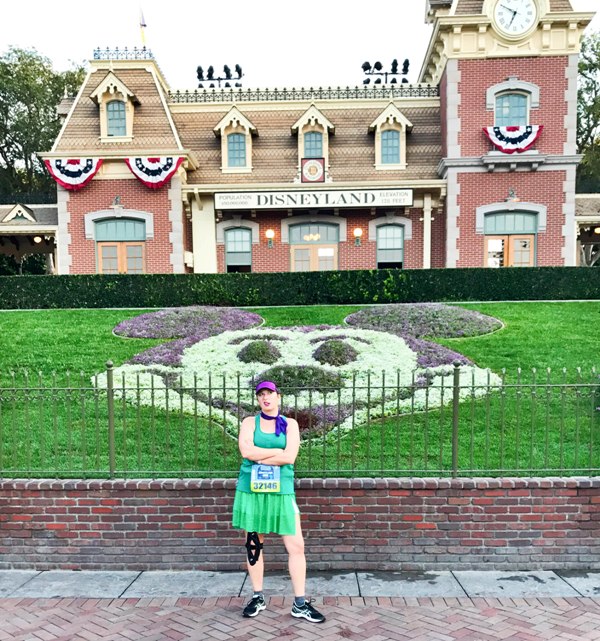 September's most popular post: This Company Has Created the Disney Princess Gowns of Our Dreams
October – October started with a big, big announcement – My online course for brides, Practically Perfect Wedding Planning, became available for sale! We also had another visit from Tim's family (they sure like us! Or maybe they just like Vela …) and we celebrated Tim's birthday at the end of the month. Also, John Stamos got engaged so RIP my hopes and dreams.
October's most popular post: Wait Until You See the Hidden Message on this Disney Wedding Veil
November – November started with the fall Dapper Day at Disneyland which is always a fun time. We had BEAUTIFUL weather this time around – not too hot and not too cold. The next weekend was the start of Festival of Holidays and you know I was there, eating and drinking all the things. I had a couple more visits to Disneyland and a triumphant return to the Museum of Ice Cream this month as well.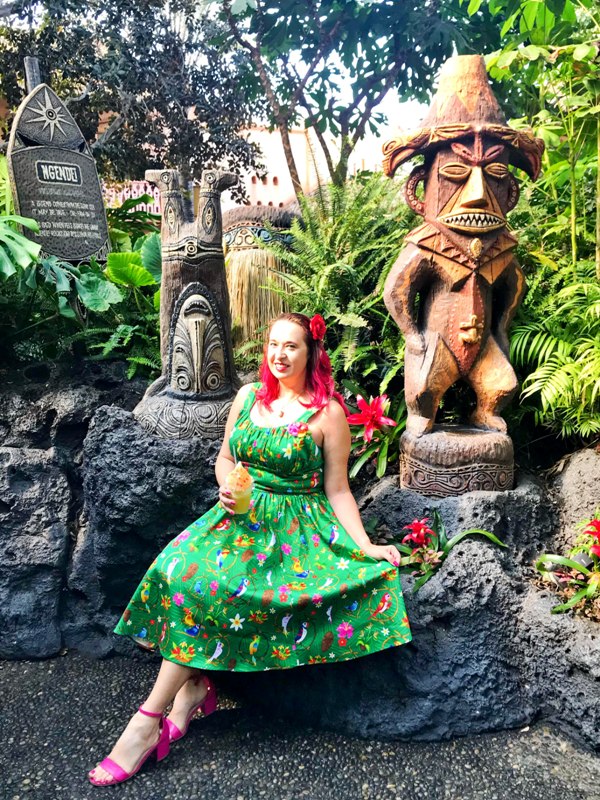 November's most popular post: Holiday Disney Weddings TV Special Coming to Freeform this December
December – December started off with three nights in a row of Tori Amos, and during the last night I was able to rush the stage and get a quick handshake. I also met up with old friends and made new ones. I absolutely LOVE my Tori sisters. I also attended the press junket for Star Wars: The Last Jedi and breathed the same air as Mark Hamill and Poe looked at me. SO THAT HAPPENED. I also visited Universal Studios with friends and Disneyland with Tim. After Christmas, we plan on spending a few days in Palm Springs, preferably by the pool with an umbrella drink and no social media.
December's most popular post: STAR WARS: THE LAST JEDI Movie Review – This is Not Going to Go the Way You Think
Best wishes for a wonderful and less stabby 2018, my friends.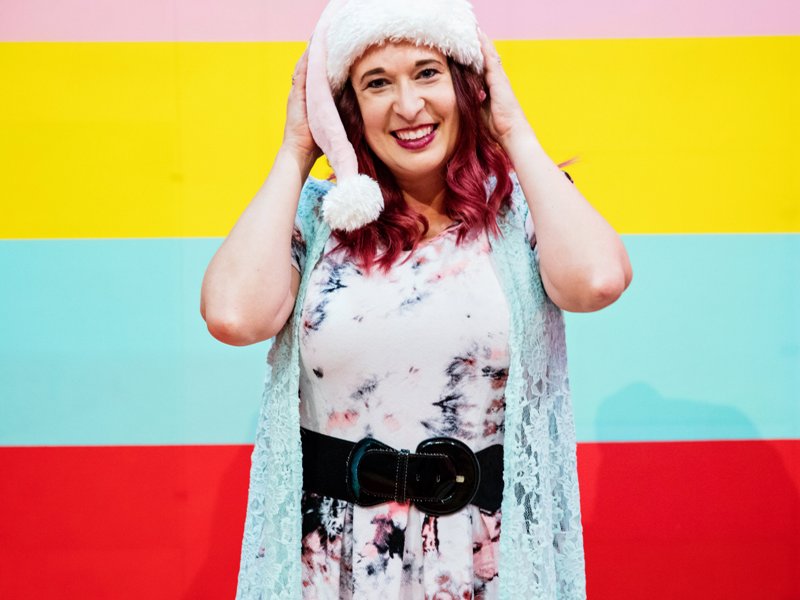 Photo by White Rabbit Photo Boutique