"Mos Eisley spaceport. You will never find a more wretched hive of scum and villainy." – Obi-Wan Kenobi
This month, Los Angeles welcomed its first "galactic" themed pop-up bar. Located in a secret and nondescript spot on Hollywood Blvd, the "it looks kind of Star Wars themed but we aren't calling it Star Wars because we don't want to be sued" Scum and Villainy Cantina is open for a limited time.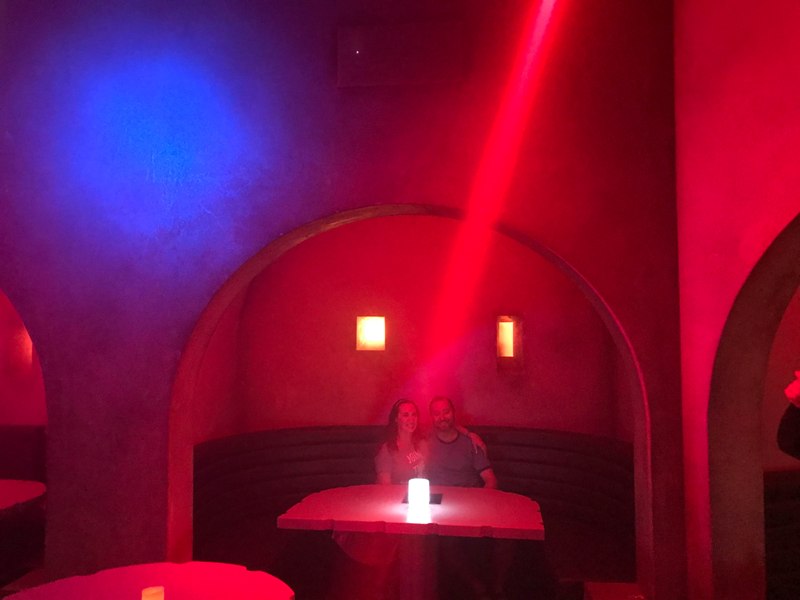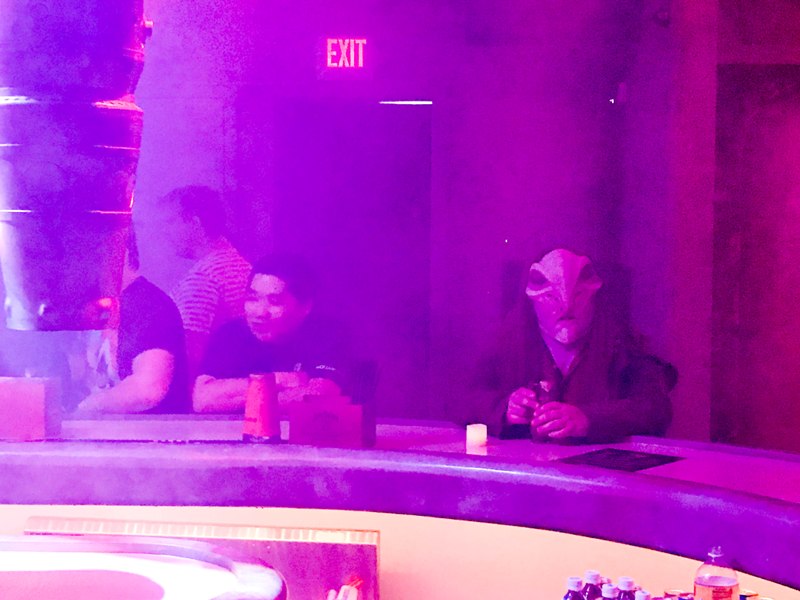 Getting a reservation for the cantina was more difficult than making the Kessel Run in less than 12 parsecs. About six months ago, myself and thousands of nerds across LA hopped online to purchase tickets to visit the cantina, without knowing any details about it except it was "galactic" themed and somewhere in Los Angeles. Then a few months later, we were all assigned a specific day to log in and make our actual reservations. Then about a week before our visit we were sent an email with the address and final instructions.
Even though I visited Scum and Villainy about two weeks after it opened, I did my best to avoid spoilers so I could be surprised and my opinions untainted by the overly high standards of the masses on the Internet.
Our group's reservation time was for 3pm on a Saturday; we decided to arrive at 2:30pm and ended up being the first group in line. However, within 10 minutes a very long line had formed behind us.
While we waited, the staff checked our names against their reservation list and gave us our two drink tokens included with our tickets. We also were given a ticket to redeem for our souvenir pint glass on the way out.
We were let in promptly at 3pm. The bar was very dark, with smoke machines and lots of laser lights. SciFi music was playing loudly. It was a fairly small space, with five large booths, a few hi-top tables, and a dozen or so bar stools. I would guess the capacity of the bar was around 60 guests.
We claimed one of the booths for our party of 6 and watched as the guests filled up the cantina after us. A few people dressed for the occasion. We saw a couple Reys, an X-Wing pilot, a handful of Jedis and Stormtroopers, and even a Jawa.
The menu was a bit limited but adequate. There were three specialty drinks to choose from, as well as a large assortment of beers. The specialty drinks were garnished with glow sticks which no doubt prompted dozens of tiny lightsaber fights. (Several at our table alone!)
The food available was standard bar food: nachos, quesadilla, tater tots, and tacos.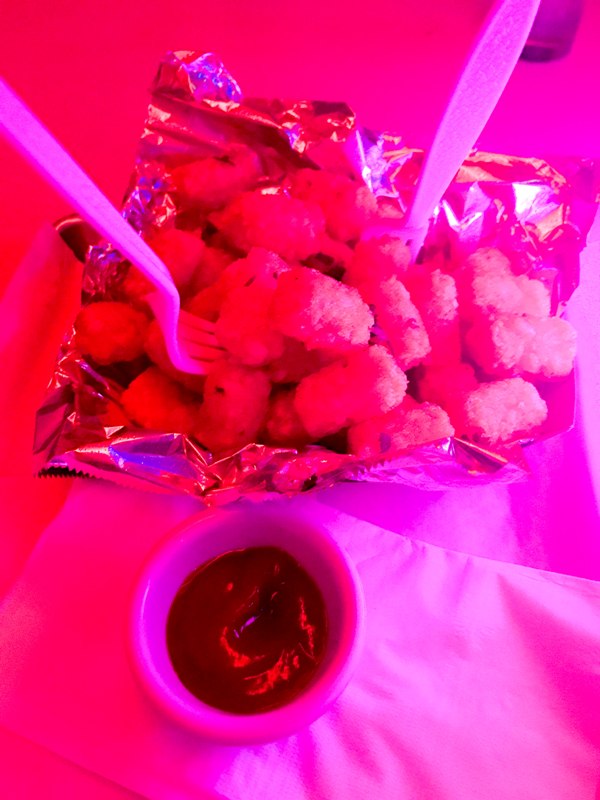 The space wasn't heavily decorated but the bar area had some fun decor. Keep in mind this is only a temporary pop-up bar … an overlay, if you will. The lights and smoke machine added a lot to the ambiance. I enjoyed it, even though it was terrible for taking photos – a blogger's worst nightmare.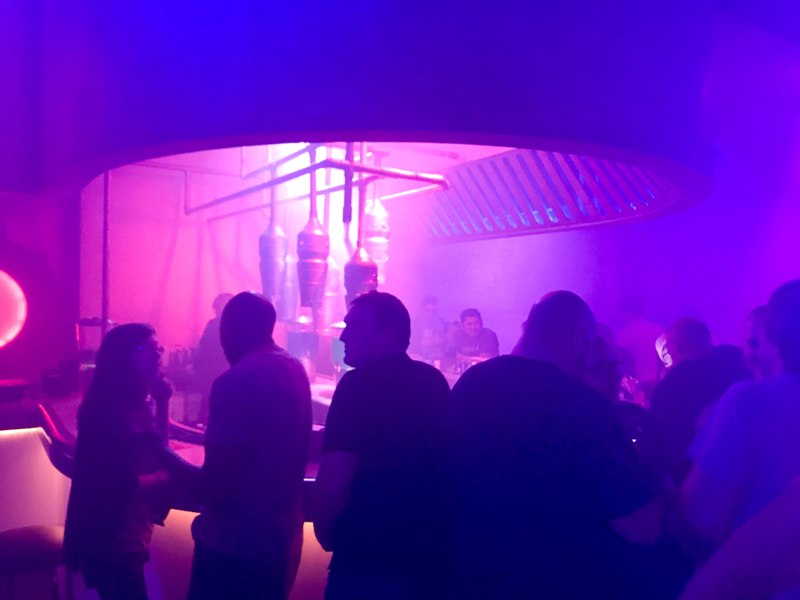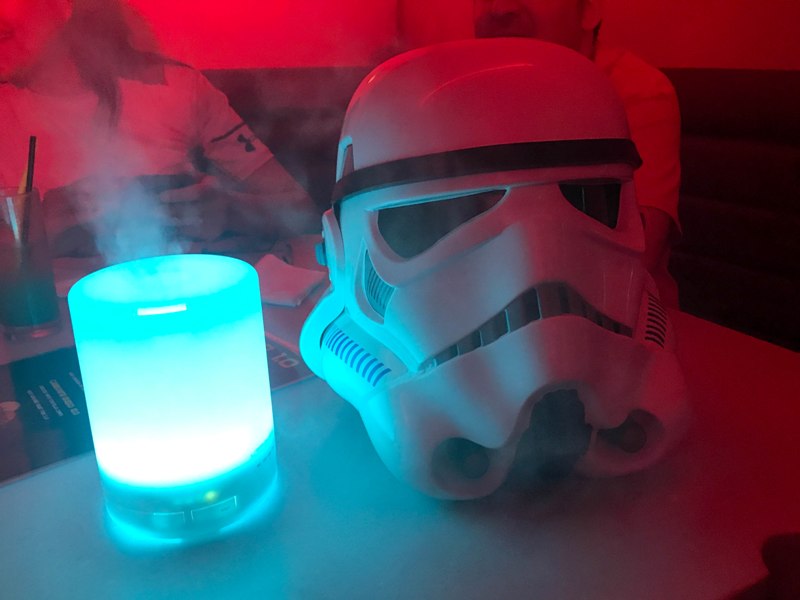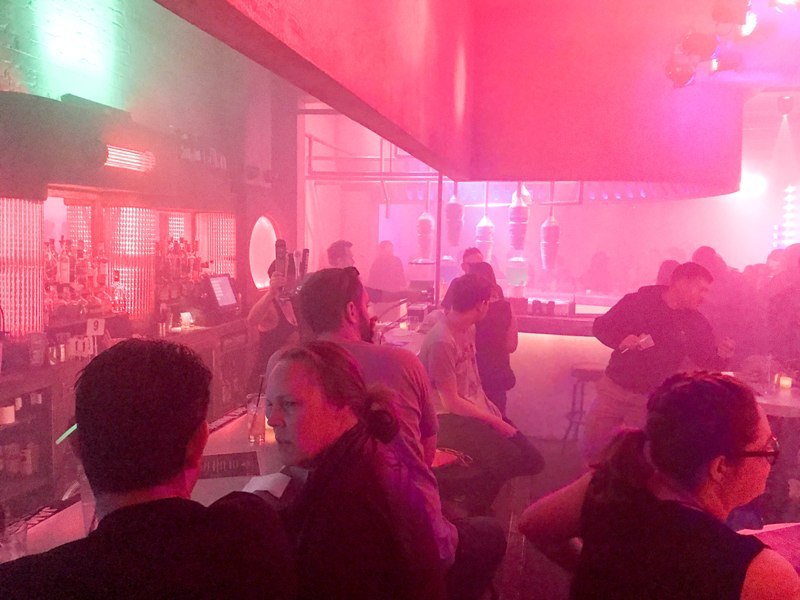 The reservation slots are for two hours which I thought was plenty of time. The place started to thin out over the course of those two hours, which meant we could move around the bar and chat with our fellow patrons and take lots of group photos.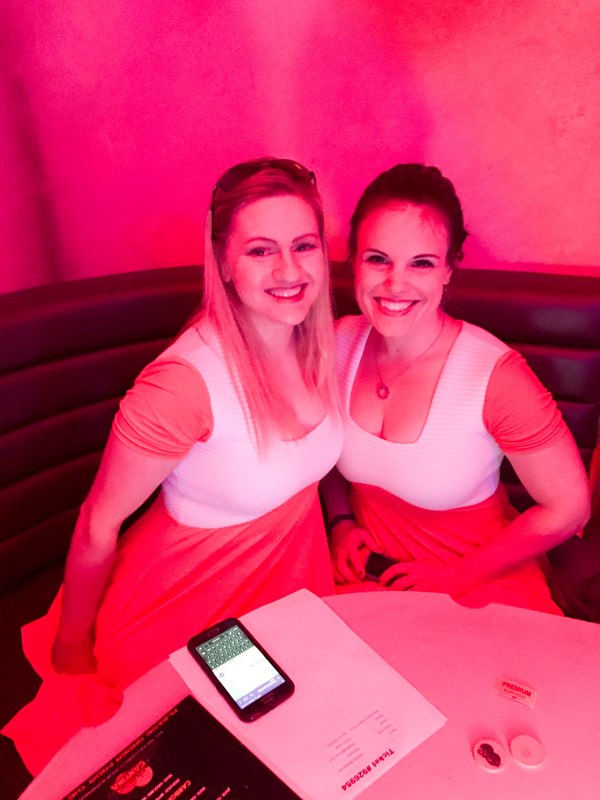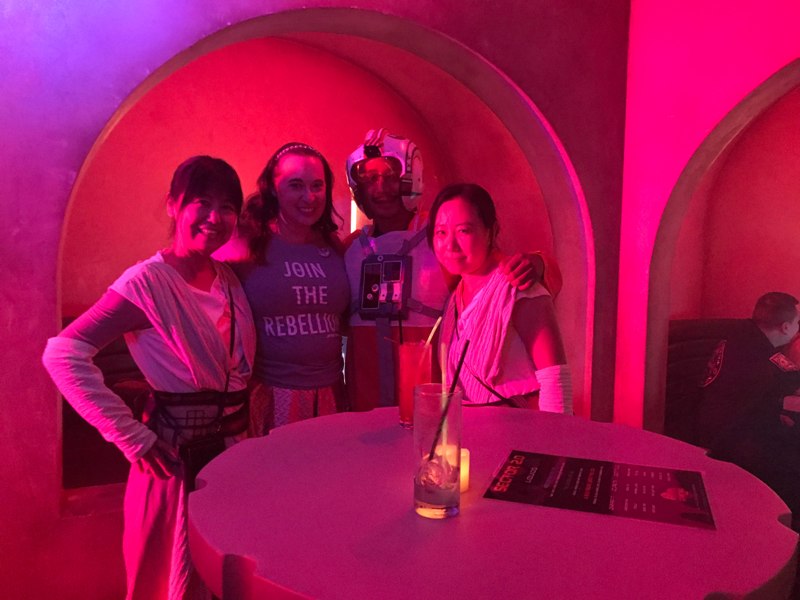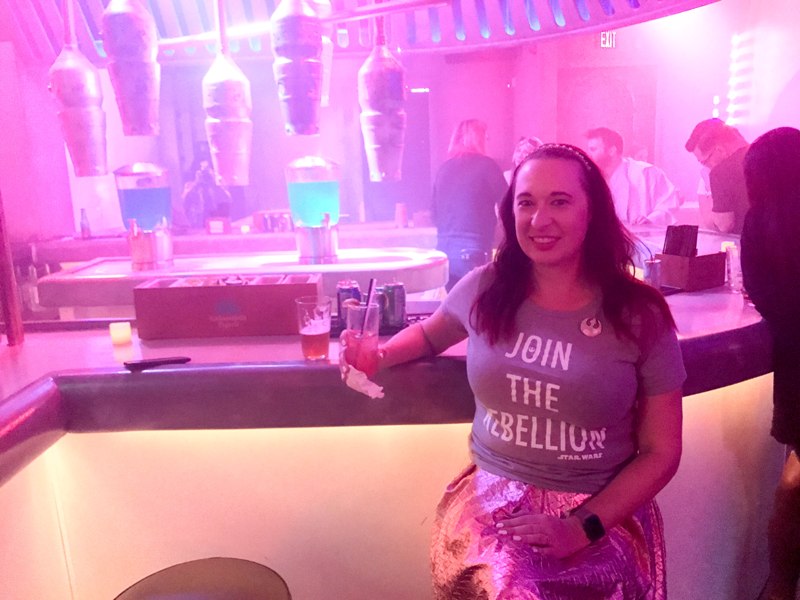 While the music playing was SciFi-esque, I lamented that I wished it was Star Wars scores and perhaps they were worried about copyright. However, about halfway through our time slot they did play the Cantina theme and everyone lost their minds. So maybe that's why they limit it, to keep it special.
The staff was very friendly, although I will say some of the servers were quick to try to remove half finished drinks and my last quesadilla slice. Efficiency is nice, but when paying $12 for a small drink you can bet I'm going to fight for every sip.
I really enjoyed my afternoon at Scum and Villainy, and would love to go back before it dismantles next month!
Reservations are sold out, but keep an eye on the Scum and Villainy Facebook page because they will announce if walk-ups are available for that day. Walk-ups pay a $20 cover charge, which doesn't include any drink, food, or souvenirs.
If you're a major Star Wars fan like I am, I think the experience is worth it especially if you dress up and mingle with the other cantina patrons.