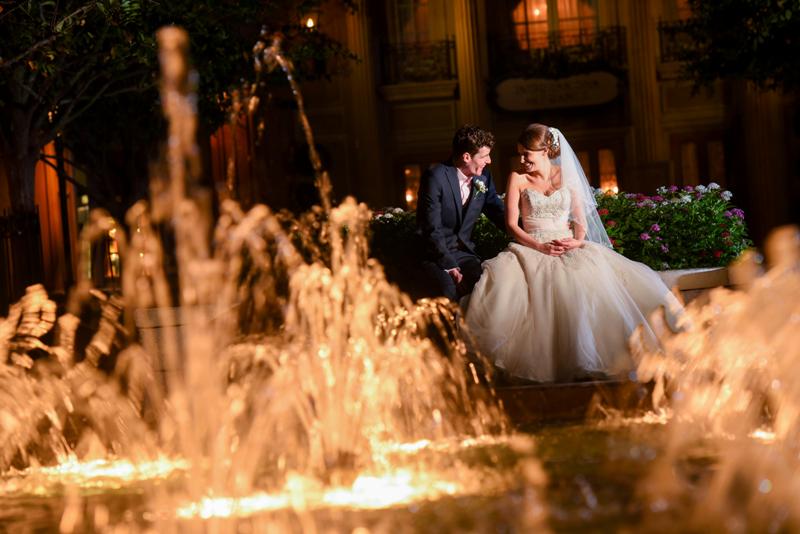 Since my blog primarily focuses on Disneyland weddings I rarely get submissions for Walt Disney World weddings. So you can imagine how thrilled I am that Katy and Matthew's beautiful wedding landed in my in-box! This cute couple planned their Walt Disney World wedding from the UK, which must present its own unique challenges. But, as you can see by the lovely photos (taken by Stephanie of Disney Fine Art and Photography), their whimsical wedding turned out flawless. And can we take a second to appreciate the breakfast-for-dinner reception meal? Is this a UK thing? Because I can totally support Mickey waffles for dinner. I also would like to sign up for a pair of those sparkly pink Jimmy Choos, please. This wedding is a total dream! Congrats to Katy and Matthew on your dream wedding day, and thank you so much for sharing your advice with us!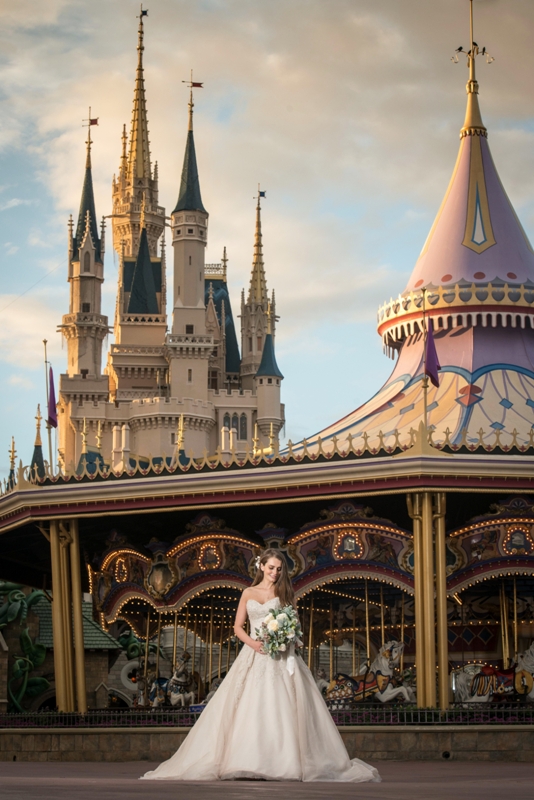 Disney Bride: Katy, 27, Derbyshire, United Kingdom
Disney Groom: Matthew, 27, Derbyshire, United Kingdom
Wedding Date: November 8, 2016
Ceremony Venue: Disney's Wedding Pavilion, Disney's Grand Floridian Hotel, Walt Disney World
Reception Venue: Rue De Paris, Epcot, Walt Disney World
Total budget: £30,000 (approx $32,000)
Guest count: 24
Why did you choose a Disney wedding?
Matthew & I are life long Disney fans. We have been together for 10 years and enjoy watching Disney movies together and visiting Disney parks. He proposed in Sleeping Beauty's Castle at Disneyland Paris on New Year's Eve 2013 and we instantly agreed on a Walt Disney World Wedding in Florida. I had always wanted to get married overseas, the great British weather can not be relied on and I always hoped for sunshine on my big day. It was actually Matthew who suggested we should just go all out and have a Disney wedding.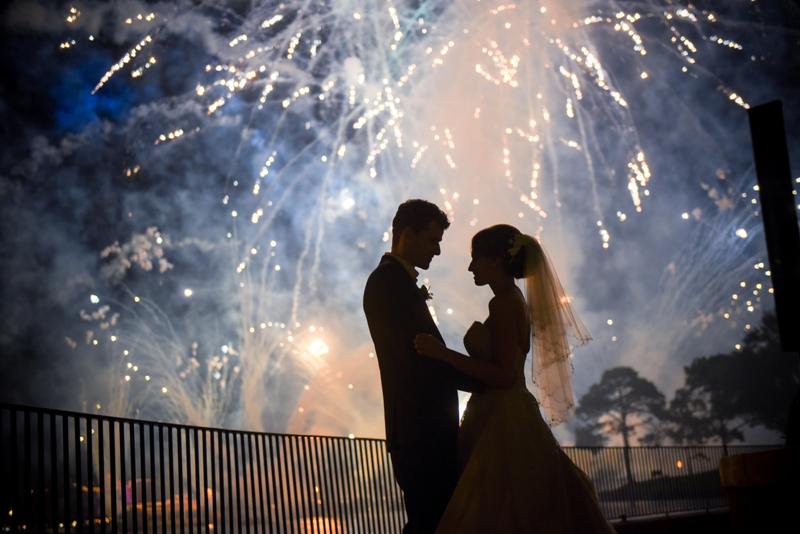 How did your family/friends react to your Disney wedding?
We had a really positive reaction from friends and family. Everyone was looking forward to a big family holiday.
What was your theme?
We didn't really have an overwhelming theme but tried to incorporate Disney touches in our reception. We had centrepieces each inspired by a Disney princess: one Ariel, one Belle and one Cinderella. Our bridesmaids and flowers were all pastel pinks and the blush pink colour of our bridesmaid's dress was carried though into the reception styling with pink rose petals on the tables and pink roses on the naked lemon drizzle cake. Our cake topper, handmade by ceramic artist Phoebe Cummings, was a delicate Cinderella's carriage adorned with pearls. I wanted favours to be something the guests would enjoy; we decided on personalised mouse ears to act as place settings and favours, the mouse ears were enjoyed on the night and also recycled throughout the holiday as people explored the parks after our wedding. They were featured in a lot of selfies!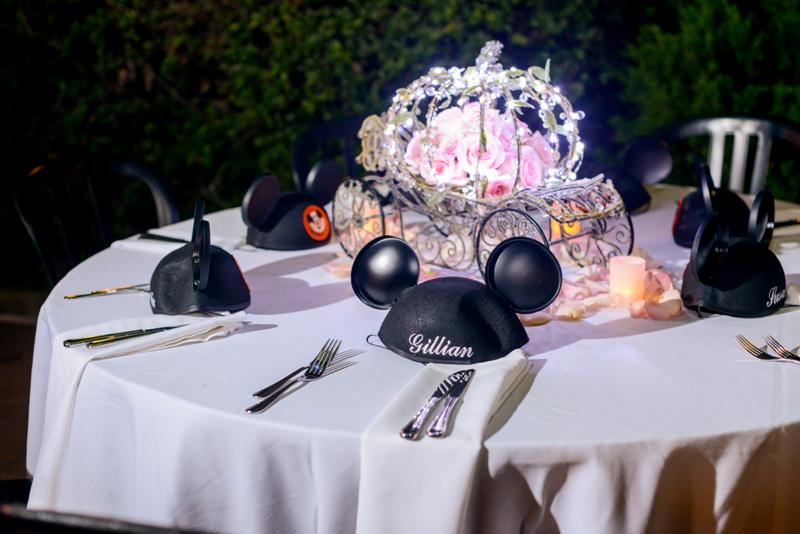 What was your biggest challenge in planning your Disney wedding?
Our biggest challenge was probably the distance. Being from the UK we did all our planning remotely via email, Skype and phone calls. We were not able to make a site visit and did not have a menu tasting so our food choices were all guess work.
Tell us about your ceremony. Did you include any Disney touches?
Our ceremony was held at the Wedding Pavilion at 5pm Tuesday 8th November 2016. Our officiant was Rev Ron Rosenweig. My dad and I walked down the aisle to Let Me Feel Your Love by Bob Dylan. The track was instrumental and played on an organ. We couldn't imagine anywhere more perfect to get married, the pavilion is whimsical and romantic, reminiscent of a Victorian era, it sits on a lake with spectacular views of Cinderella's castle, everything we could ever want. Our ceremony included a unity candle lighting, with See The Light from Tangled. Matthew had hand made the signature K and M for the unity candle from a tree which was in the garden of our first home together. This made the unity ceremony so much more personal. Our reading was an original poem which was written and read by my best friend, again giving us that personal feeling we hoped to achieve. My friend included Disney quotes in her poem which was really sweet.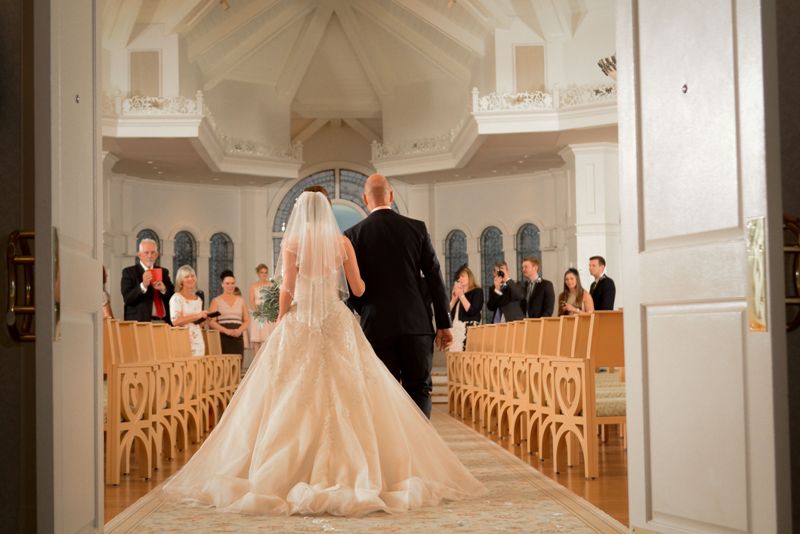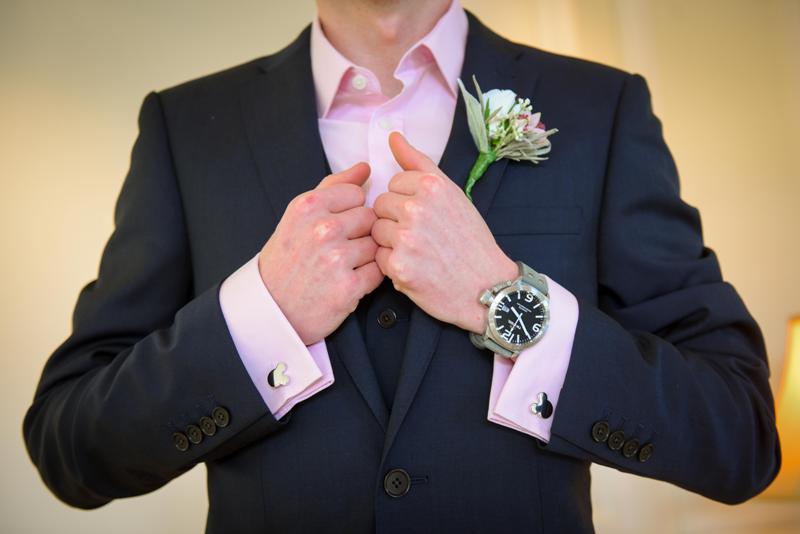 Describe your reception. Was it completely traditional or did you do anything unique?
Our reception was held at Rue De Paris, an outdoor, lake side terrace within EPCOT park. Our guests were entertained with an acoustic guitar player; he played our first dance, Wonderwall by Oasis, as well as my father-daughter dance, Brown Eyed Girl by Van Morrison. The live music continued as my guests ate and drank. Our wedding breakfast-for-dinner was quite sophisticated with the exception out our Mickey Waffle station and Mickey ice cream bars, another element of our wedding which seemed popular for selfies. We covered all bar costs and we booked and paid for all the wedding guests transport to and from their hotels, as most of our guests had come from the UK (we also had guests travel from Dubai and Korea) and we wanted the day to show them how grateful we were that they had travelled so far.
Our reception concluded with fireworks! IllumiNations: Reflections of Earth. The most spectacular fireworks, the perfect end to our perfect day. This was the overwhelming reason for our reception being outdoor! Where else in the world can your wedding end with fireworks! And Disney fireworks are the best.
Immediately following the reception Matthew and I had portraits taken in the French Pavilion at Epcot. Stephanie was super excited as this was one of the only times she had shot Epcot in the dark.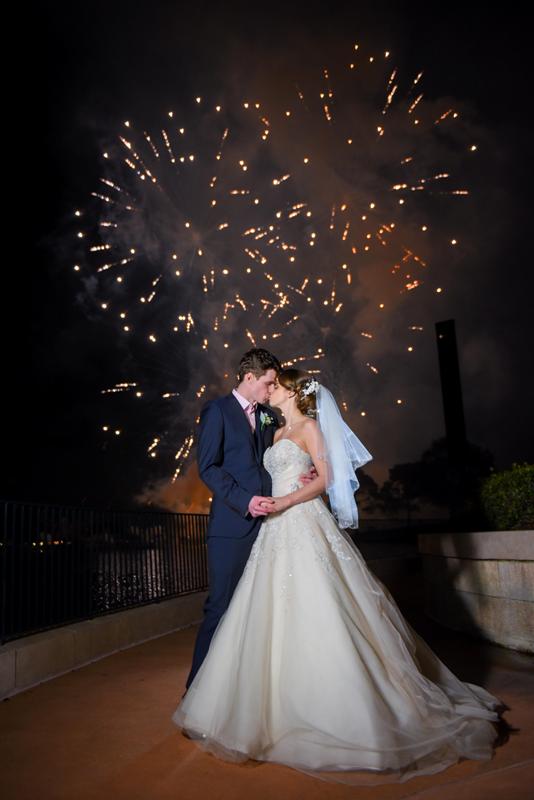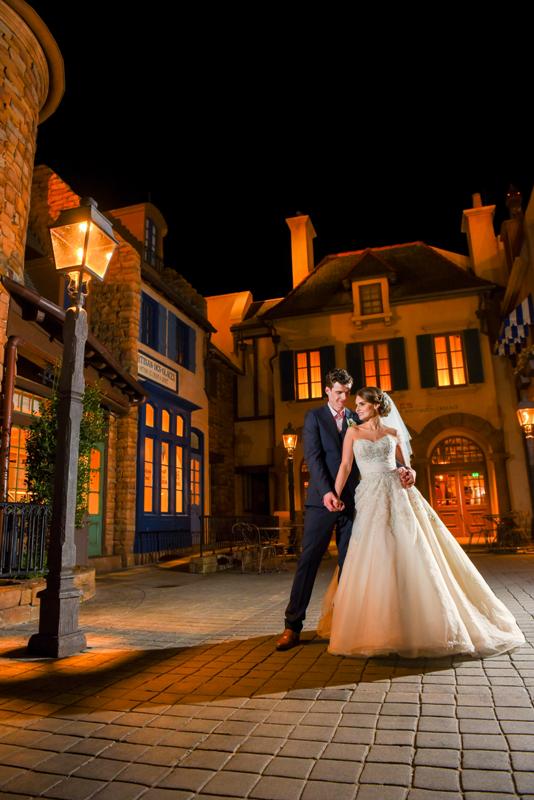 What did you splurge on?
Photography was a massively important element of our day. Since so many of our friends and family were not able to make the trip to Orlando, we wanted something to allow them to share the day with us. Disney Fine Art Photography organised for Stephanie Cauldwell, Jaime Rivera and Courtney Shapiro to capture our memories. Portraits were taken in the Grand Floridian, Wedding Pavilion, The Magic Kingdom and EPCOT as well as candid shots throughout the whole day. I absolutely revelled in the opportunity to have photographs on the famous Grand Floridian staircase; nothing will ever compare to the feeling of being a Disney princess for a day.
Where did you save money?
Stationery- We made our own invites and our own planning guides.
Flowers- I purchased my own flowers, they were a fraction of the cost quoted by Disney Floral.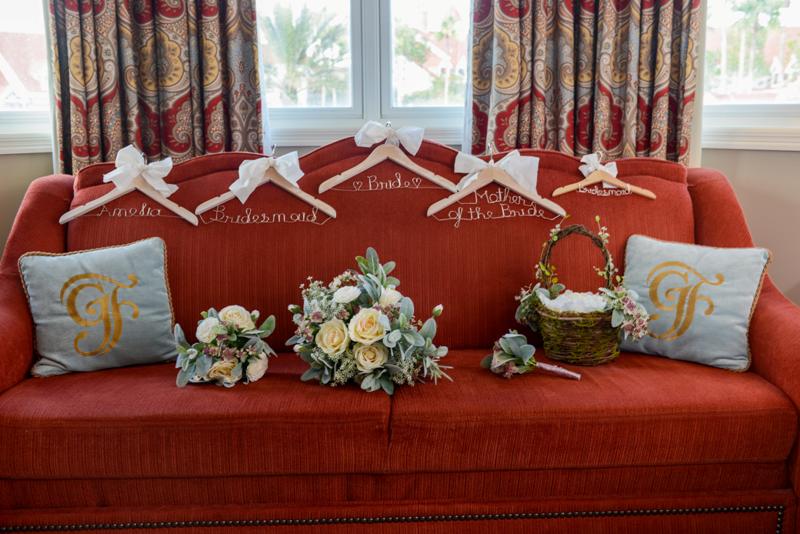 What was your favorite moment of the day?
Our ceremony was scheduled for 5pm allowing for a breakfast date with my mum, my hairdresser, my bridesmaids and a couple of very famous mice. Breakfast was another excuse to DIY! My mum lovingly made 5 polka dot "Minnie Skirts" so we could all dress to impress at Chef Mickey. Our breakfast and the time spent getting ready to put on "the dress" were some of my favourite memories of the day. We got ready at the Grand Floridian Hotel, a place I have dreamed of staying at my whole life. It was truly breath taking and exceeded my very high expectations. My sisters had put together a play list of my favourite songs and my hairdresser, Amelia, had a schedule which ensured we were all ready for our photographs which began at 1.45.
What would you change if you had to do it all over again?
If I was to do it again I would get a videographer. I never wanted a video. I always thought I would put it in the cupboard and never watch it. HOWEVER! What I had failed to consider is that the bride is the last person to arrive at the wedding …. the bride misses everyone else walk the aisle and everyone seeing the reception for the first time. So many people said how cute my sister was spreading petals but I never saw (and now never will).
The second thing is a ride mix in! I wish we had done a Frozen Ever After ride mix in. Because the queue was so big for our whole holiday there. Only Matthew and I actually rode it during our trip.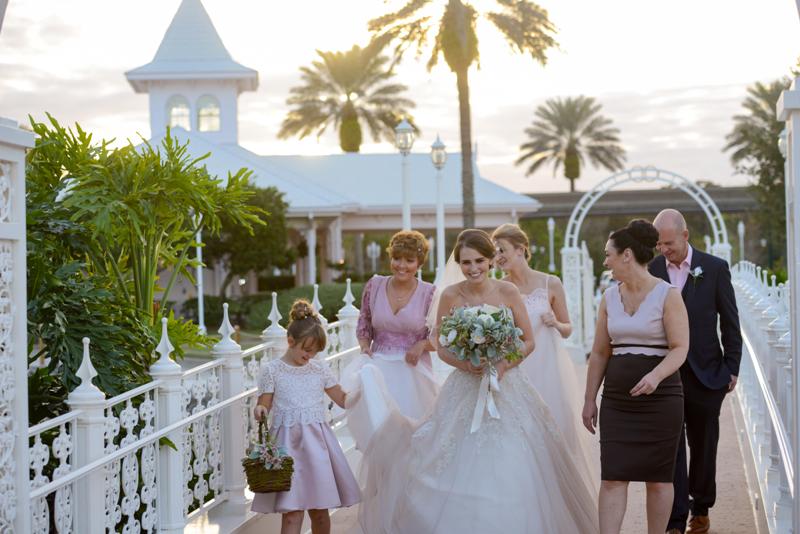 What advice would you give to couples that have just started planning their Disney wedding?
Get a video! haha!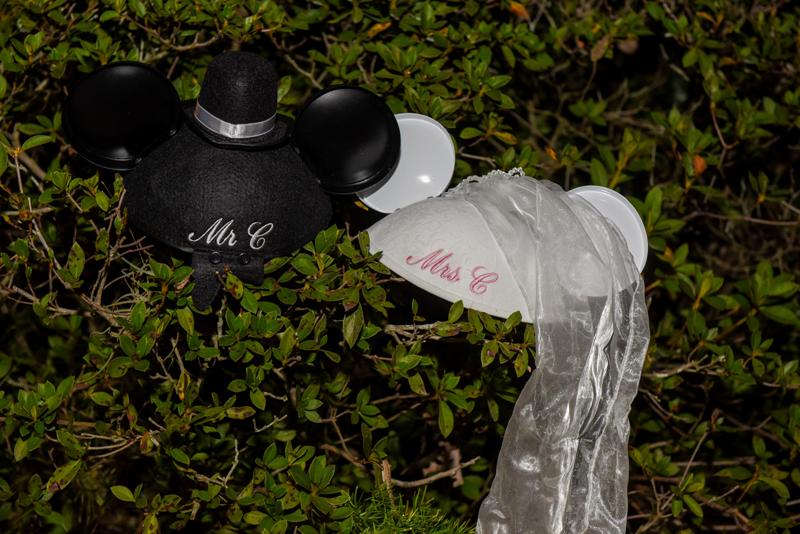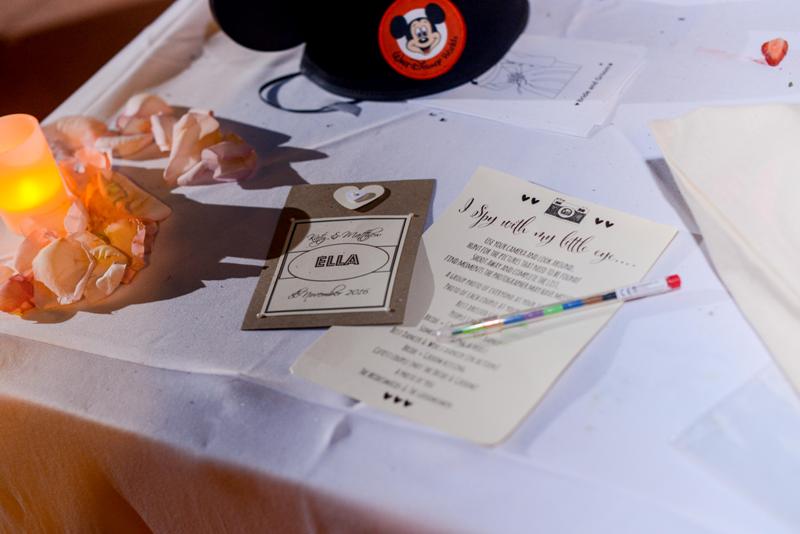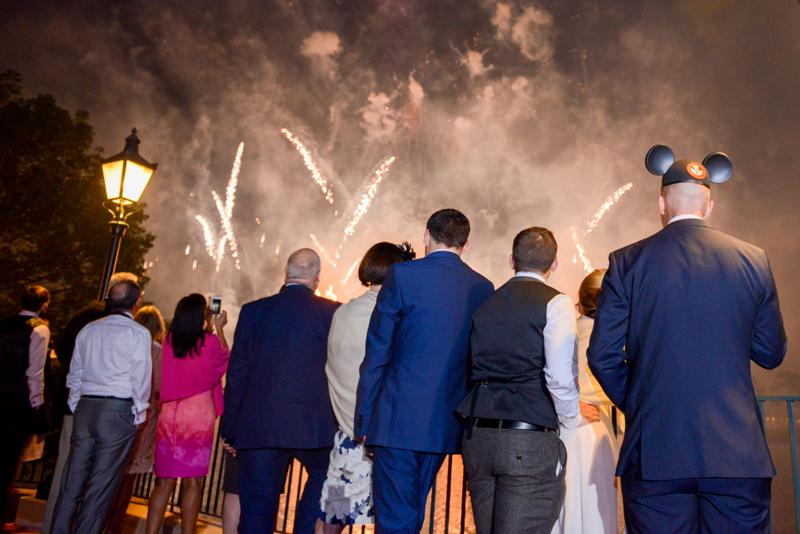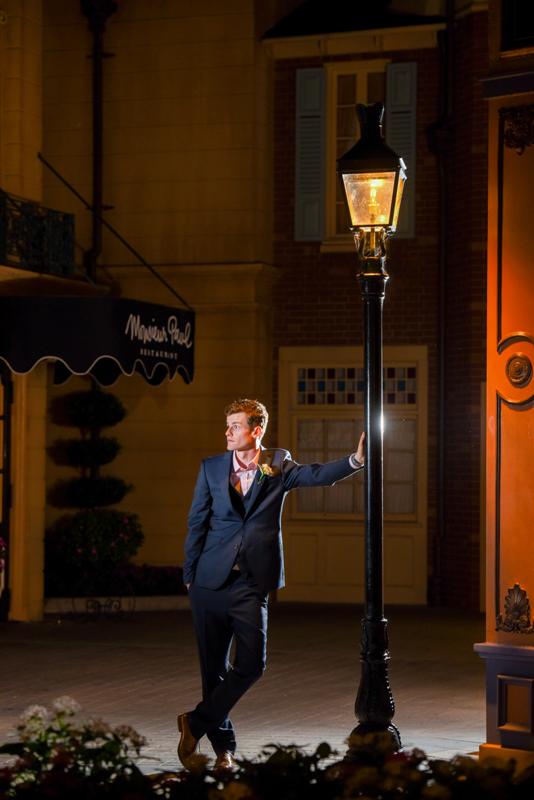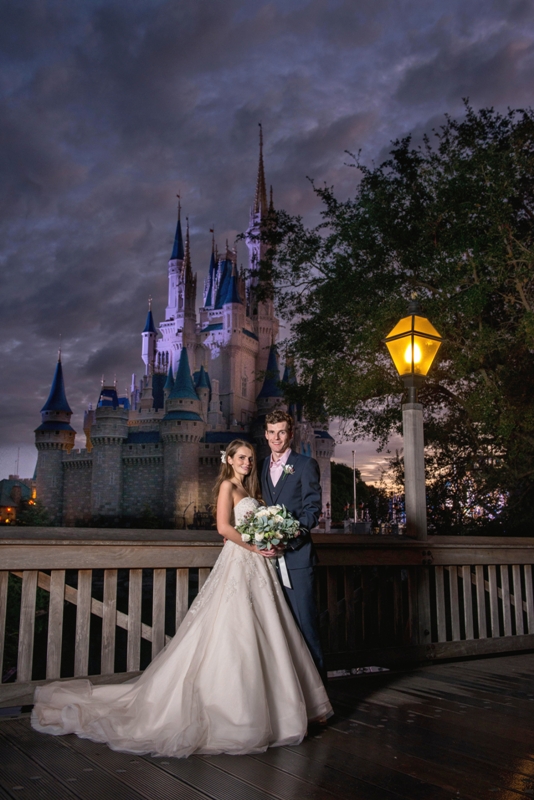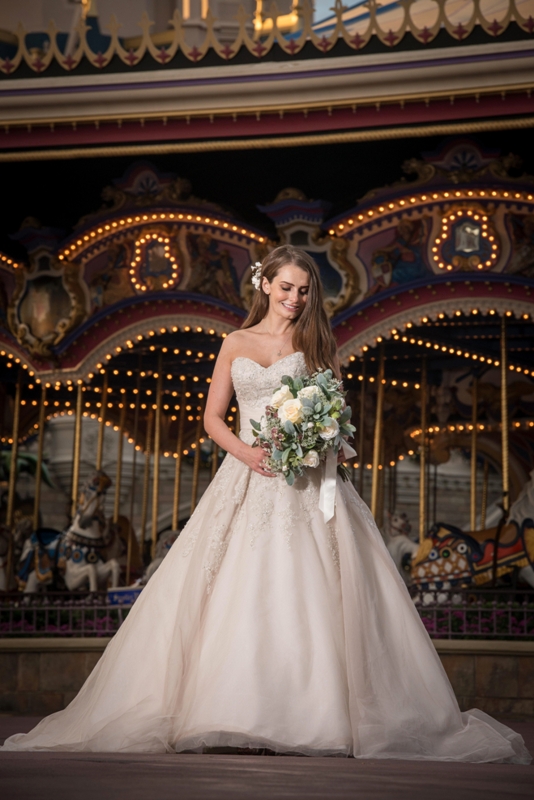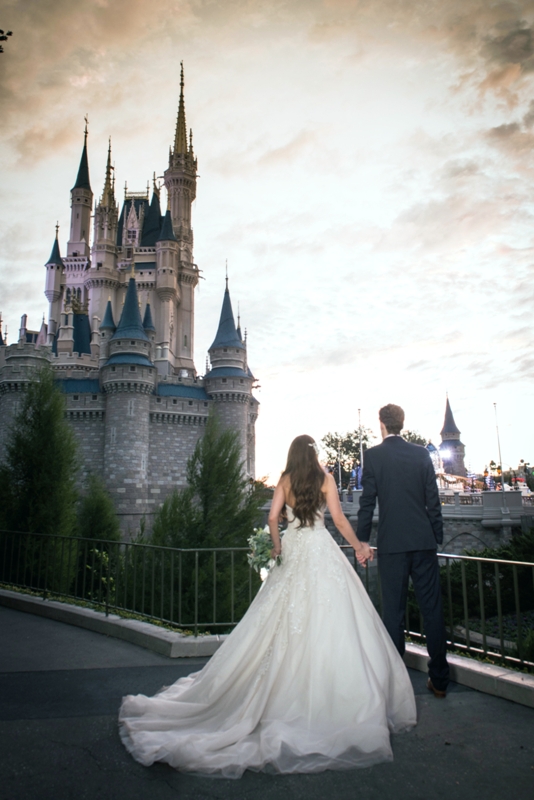 Vendor list
Wedding coordinator: Lisa Smith, Disney Fairy Tale Weddings
Photography: Disney Fine Art and Photography
We booked the Enchanted Rose Package through DFAP. 2 photographers for 10 hours and a park shoot. We upgraded our park shoot to be the Magic Kingdom.
Officiant: Ron Rosenzweig, Wed in Orlando
Musician: Acoustic guitar
Hair/Makeup: Amelia Bridal & Event Hairstyling
Stationery: Homemade