This post contains affiliate links.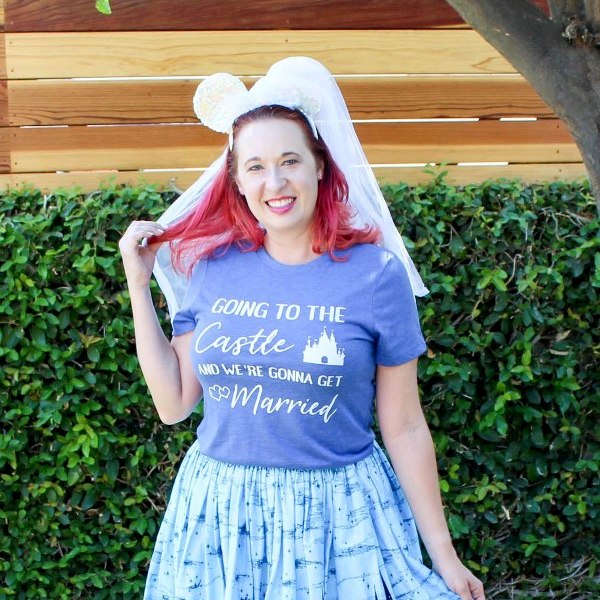 Oh goodness, I'm so excited for this post I can HARDLY CONTAIN MYSELF!!!
For years now I have always wanted to make some fun shirt designs for fairy tale brides and grooms but never had the skills or resources to do it.
Then a couple months ago, the stars aligned with the right opportunities and everything clicked!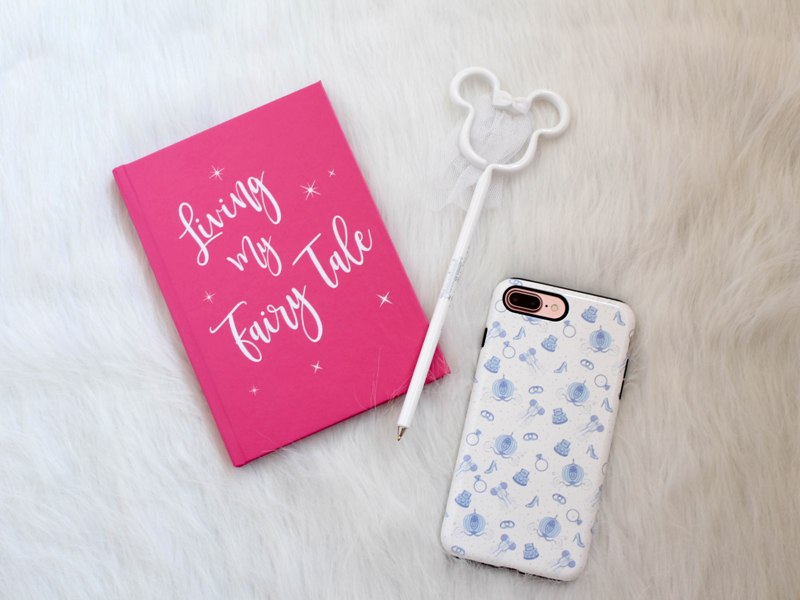 My main issue was my lack of design knowledge. I have a lot of ideas but no way to create them. So I told my ideas to my long-time friend Anita Boeira, who is a talented graphic designer and all-around creator of amazing things, and she agreed to partner with me to bring my vision to life! THANK YOU ANITA!!!
My second issue was production. As a small operation I don't have a lot of money to invest in inventory. That's where "print on demand" companies come in. I have been an affiliate of sites like TeePublic and RedBubble for years and I finally did some research on what it takes to upload a few designs. Turns out it's not tricky at all!
And now, just a few weeks after we got the ball rolling, my design … my vision … is real and it's ON MY BODY!
Introducing the Fairy Tale Life Clothing Collection! (Or FTL Clothing)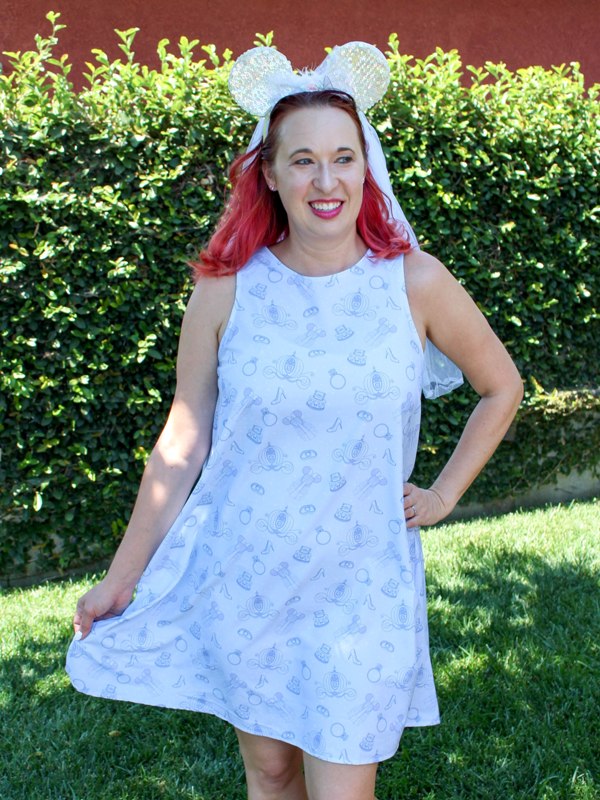 I want to create designs for fairy tale brides and grooms, but also for people who are just proud of their Disney fandom and proud of who they are. I want to create designs that are happy, inspiring, uplifting, and of course a bit whimsical. They are for you – the girls and guys out there who are living happily ever after.
And by utilizing these Print on Demand websites, my designs can be printed on more than just shirts and dresses. Just a few of the products available include: hoodies, mugs, phone cases, notebooks, posters, stickers, laptop decals, laptop cases, tote bags, and pillows.
I'm thrilled to share my first designs, and there will be many more to come! I hope you can find something you love, and if you don't … hang on, because there is more coming soon. Thank you SO MUCH for your support!!!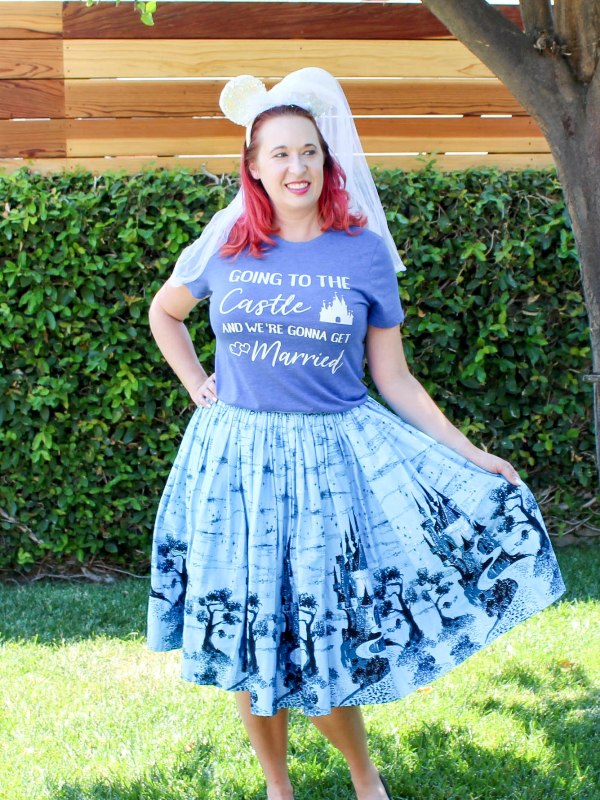 "Going to the Castle" on RedBubble
"Going to the Castle" on TeePublic
(As shown – Tri-Blend T-Shirt (Extra Soft) in Royal Heather, Female XL)
My first design! This "Going to the Castle" shirt is a great design for both brides and grooms. This is the only design so far that is gender neutral and I'm already noticing they are generally being bought in pairs. That's so awesome! I love love love this design and I'm so happy you love it too!
(For those asking, I paired this design with the Aurora skirt from Pinup Girl Clothing, which doesn't seem to be available on their website any longer.)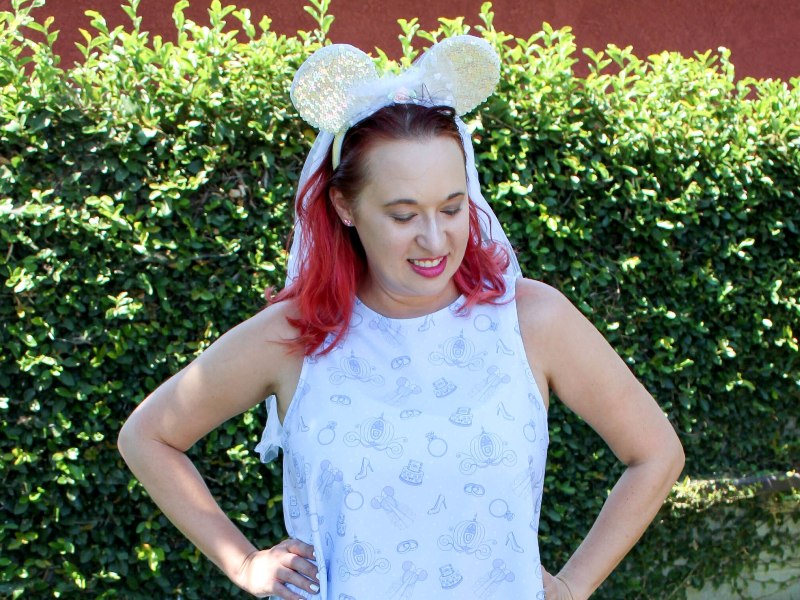 "Magical Bride" all over print in blue on Redbubble
(As shown – A-line dress in Large)
This print was just a dream of mine until Anita brought it to life! This "Magical Bride" print pays homage to all the things we love about fairy tale weddings – veil ears, the carriage, rings, glass slipper, and last but not least, cake.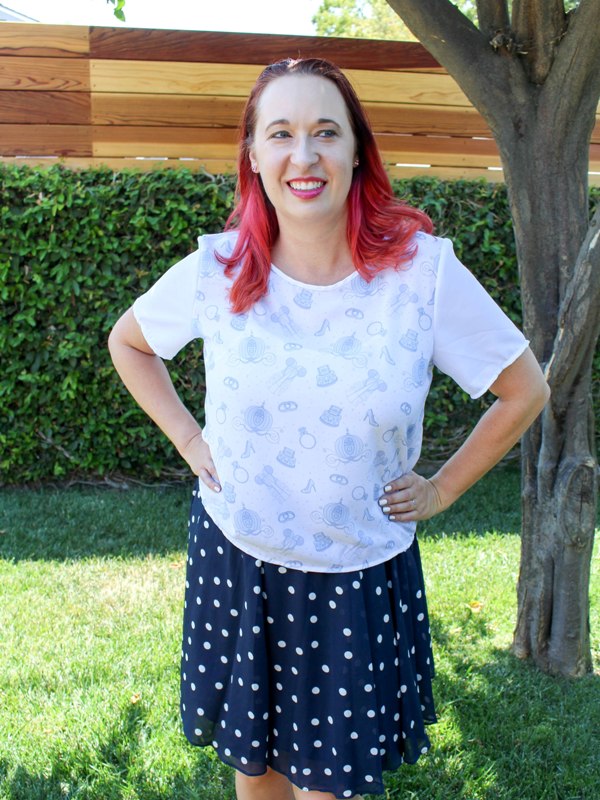 "Magical Bride" all over print in white on RedBubble
(As shown – Women's Chiffon Top White in Large)
We also made this magical print with a white background, because RedBubble makes these chiffon shirts that are just so dreamy. If you order these, be sure you select the white sleeve option (it defaults to black).
"The Shoe Fit" on TeePublic
(As shown – Premium Racerback in White, Female Large)
Utilizing Anita's lovely glass slipper design, this "The Shoe Fit" top is perfect for anyone who has found their prince or princess, or simply loves Cinderella and true love!!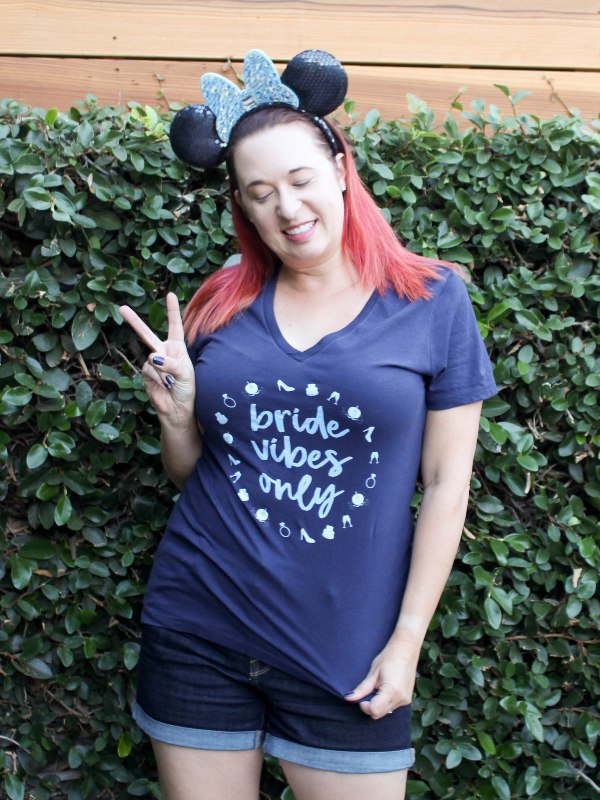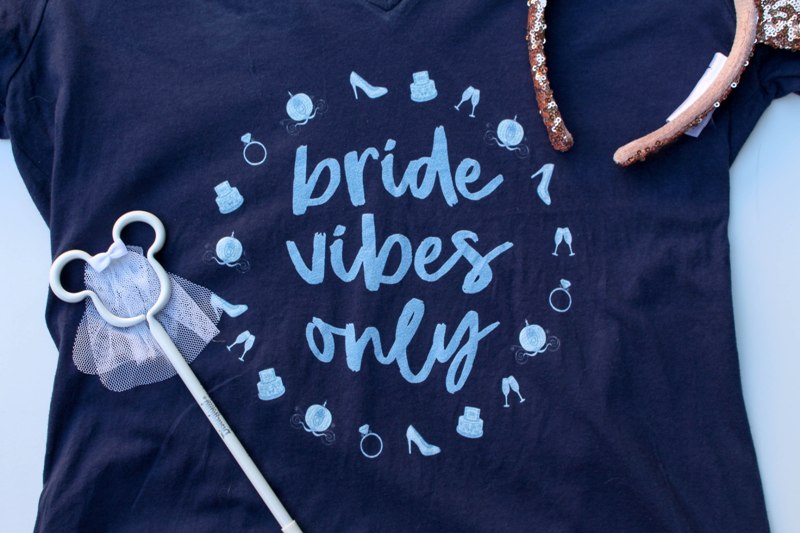 Bride Vibes Only – Fairy Tale Version on RedBubble
(As shown – Fitted V-Neck T-Shirt in Navy, Female 2XL)
This "Bride Vibes Only" design is one of my favorites! It utilizes all the little bride icons that Anita created. Isn't it fun?
"Living my Fairy Tale" on TeePublic
(As shown – Classic T-Shirt in Soft pink, Female XL)
If I'm being honest, I kind of made this design simply because I wanted it. I definitely wanted to make a shirt that represented the fairy tale life we all live, regardless of marriage or relationship status. This design is simply for all the ladies out there who are proud and confident of the life they lead. And I love it on this hardcover notebook also. I'm going to keep it by my bed to use for my evening journaling.
(The skirt was a custom order through my friend Jessica at Ena's Bazaar on Etsy.)
"Woman owned business" on TeePublic
And finally, I created this simple text design for all my badass business owners friends. I thought it would be fun on a shirt, but when I saw it on the laptop case, I knew I had to have it.
I also ordered the Magical Bride all over print in white as a phone case and laptop skin, and I LOVE how they look. And check out how nice the "Going to the Castle" design looks on a spiral notebook! Perfect for wedding planning notes.
If you want more information about the different types of shirts and styles available, check out this Facebook video where I review everything I've purchased so far!
Thanks so much for checking out the launch of FTL Clothing! You can go directly to my shops on
TeePublic
or
RedBubble
to see my current design offerings, which should be updated often! Also keep an eye on my
Facebook Page
and
Instagram
because that's where I'll announce new designs going forward. Again, I can't thank you enough for your love and support over the years. I would have never been able to get to this point without you! *MUAH!*