Food and Wine Festival is back!!
2016 brought the welcome return of the Disney California Adventure Food and Wine Festival after a long hiatus. While there were a few kinks to work out, I still had a blast trying all the fun foods and sampling wine.
For 2017, I'm happy to report that the Festival is back and vastly improved over last year! This time around there are more kiosks, more organized food groupings, lots of umbrellas for shade, MORE WHITE WINE OPTIONS, and more event spaces. Food and Wine essentially has taken over the park for five weeks and I ain't mad about it!!!
Guide to the Disney California Adventure Food and Wine Festival 2017
First of all, if you're just here for my Food & Wine Festival Printable Checklist, you can get yours by clicking right here. For this checklist, I've typed up all the menu items from the 15 food and beverage kiosks. You can check off the items as you try them, and there is also space to jot down notes about your favorite items. Be sure to print this before you head out to the Festival!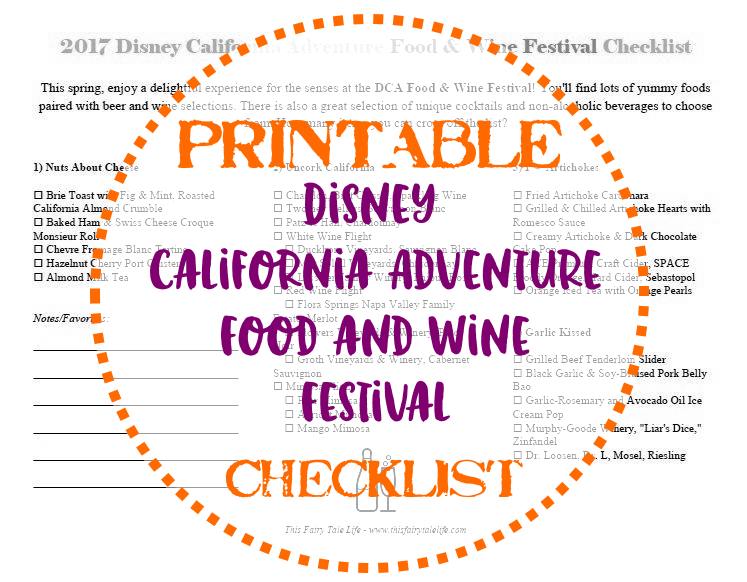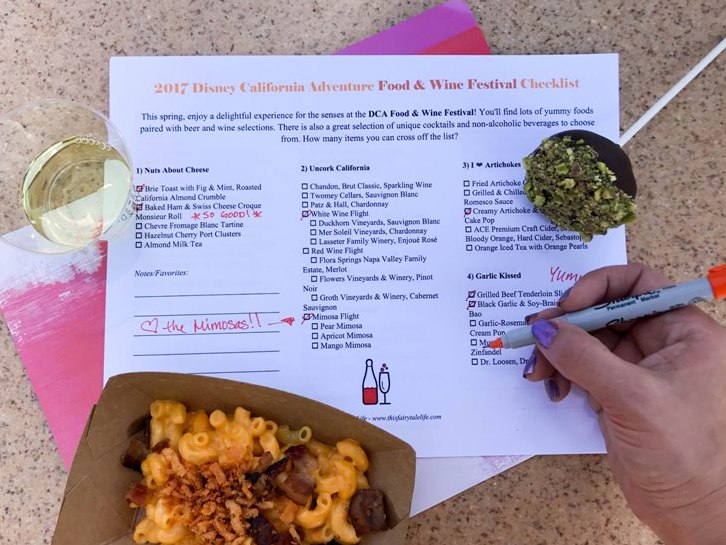 What and When is it?
Disney California Adventure Food and Wine Festival is a celebration of the delicious foods and spirits of California. Guests can purchase samples of a variety of delicious foods, wines, beers, and other drinks. Seminars, demonstrations, and guided tastings are also available, some free and some for an additional price.
The Food and Wine Festival is being offered every day between March 10, 2017 and April 16, 2017. Regular Park admission is required, and food and drink items are an additional cost.
Where to Go
Before you even enter the park, you can ask questions or get information about the festival at this new pop-up kiosk in the Esplanade. It's located between the entrance to Downtown Disney and the Esplanade, where the Mickey & Friends parking trams drop off.
When you approach the front gate of Disney California Adventure, there's nothing to indicate a special event is going on. However, be sure to pick up the Food and Wine Festival schedule after scanning your ticket/pass at the turnstiles.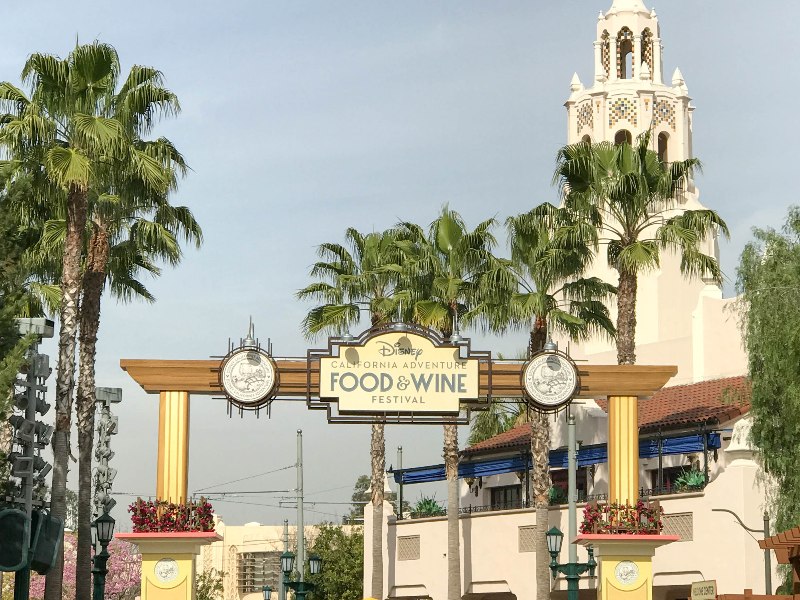 The entrance to the festival is marked by a huge sign right next to Carthay Circle. Right inside the entrance is an information booth where you can view a large map of the festival locations, as well as pick up a paper map (not yet available on Day 1 when I was there.) Most of the food and wine Marketplaces are located along the Performance Corridor (aka the parade route) in between the hub and the Golden Zephyr attraction.
There are 12 Marketplaces here, with 3 or 4 food items and 2 or 3 drink options at each. Adjacent to each Marketplace are semi-covered wooden pergolas with counters where you can stand and eat your food. Utensils and napkins are available from self service dispensers. There are also several tables with chairs and cocktail tables set up along the corridor. In between Marketplaces you'll also find kiosks selling official event merchandise, as well as some third-party products.
To order, approach the registers next to the Marketplace, place and pay for your order, then take your receipt to the window of the Marketplace. Your food and drink items will be prepared quickly, and you'll be given a cardboard tray if needed/requested. You can take your food to the nearby wooden counters or a nearby table. Don't forget to grab napkins and utensils!
Keep walking into Paradise Gardens and you'll find the Festival Beer Garden. The Food and Wine Festival map reads: "New for 2017! Enjoy some of the best California craft beers at the Festival Beer Garden in Paradise Gardens. Featuring Anaheim breweries, you may select from locally-crafted beers and enjoy the unique beer garden-inspired menu at Paradise Garden Grill." Paradise Gardens is also where you'll find a special area for Annual Passholders, with a special photo opportunity and a new commemorative button every week.
The designs for this year are on point.
The Paradise Garden Grill also received a menu makeover for the festival.
Aside from expanding into Paradise Gardens, the festival this year has also increased its presence in Hollywood Land Backlot area. Here you'll find three Marketplaces: including LA Style, Wineology, where you can choose the Sangria Flight, 3 Sangria options by the glass, or 6 wines by the glass, and The Brewhouse where you can get a variety of beers and beer cocktails, or hard root beer.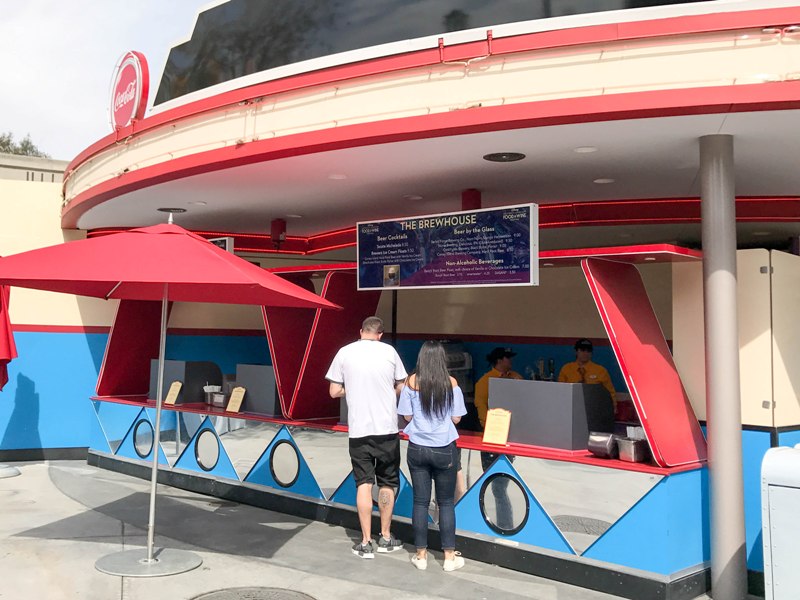 The seminars are also located in the Hollywood Land Backlot. If you're familiar with the Mad T Party area, that is where you will go to find a stage set up for the presentations. You will also find a merchandise kiosk where you can buy Food and Wine Festival branded items such as T-shirts, kitchen towels, and wine glasses. You can also get the special AP lanyard here. Each tab on the lanyard can be redeemed for one food item at any of the kiosks. The lanyard is $45 for eight tabs, making each tab worth $5.50. Food prices range between $4 to $8, so if you use the tabs on the right items this is certainly a good deal for Annual Passholders.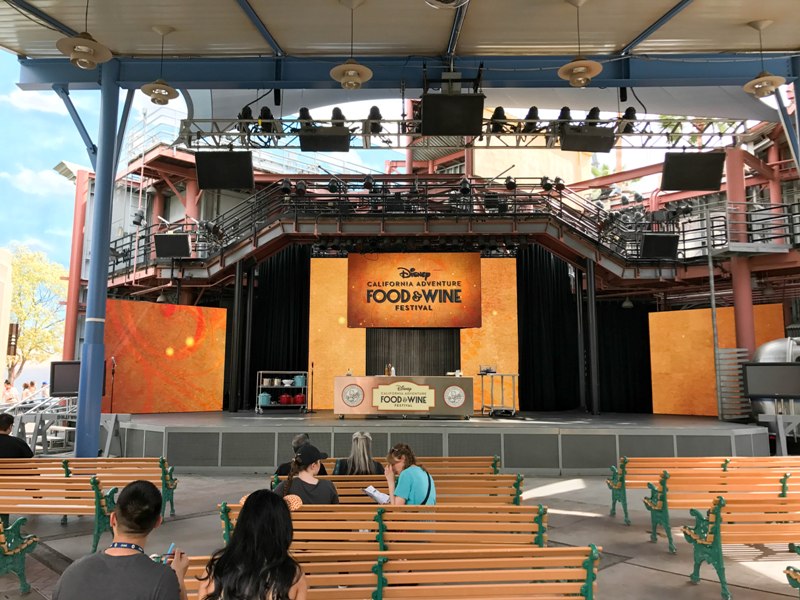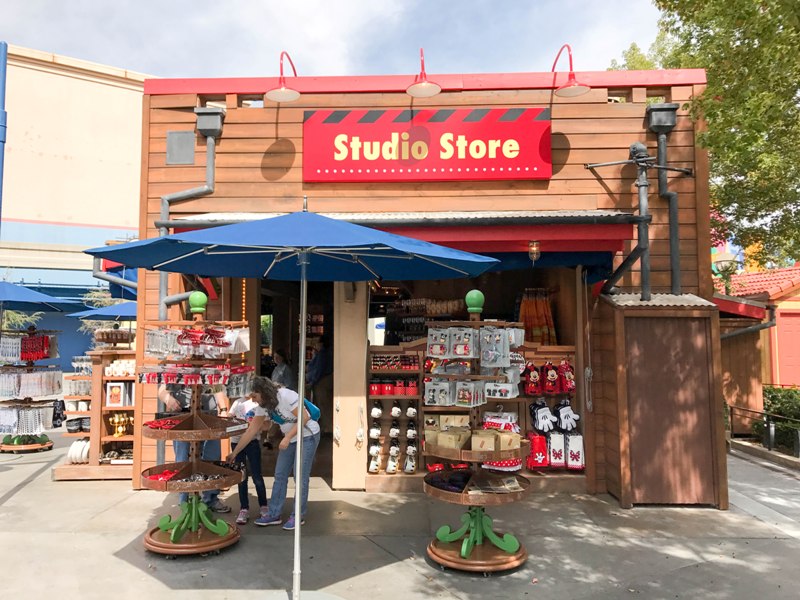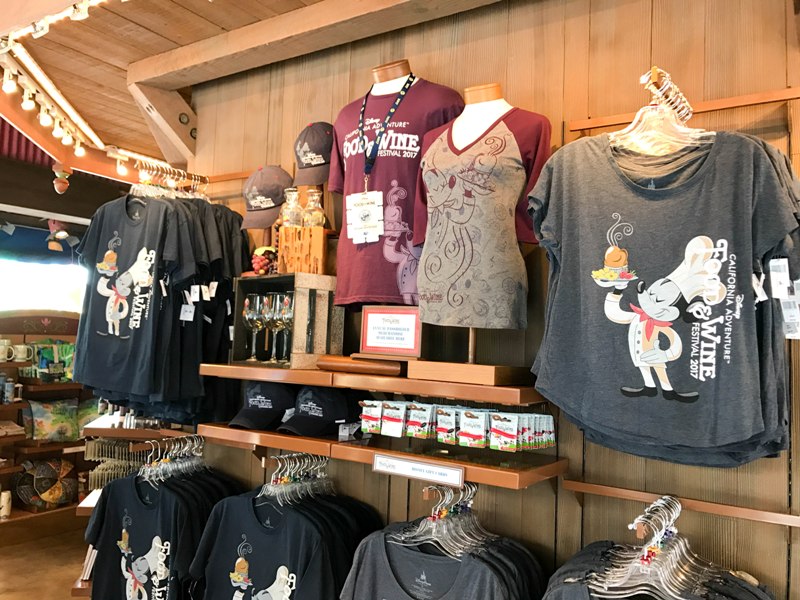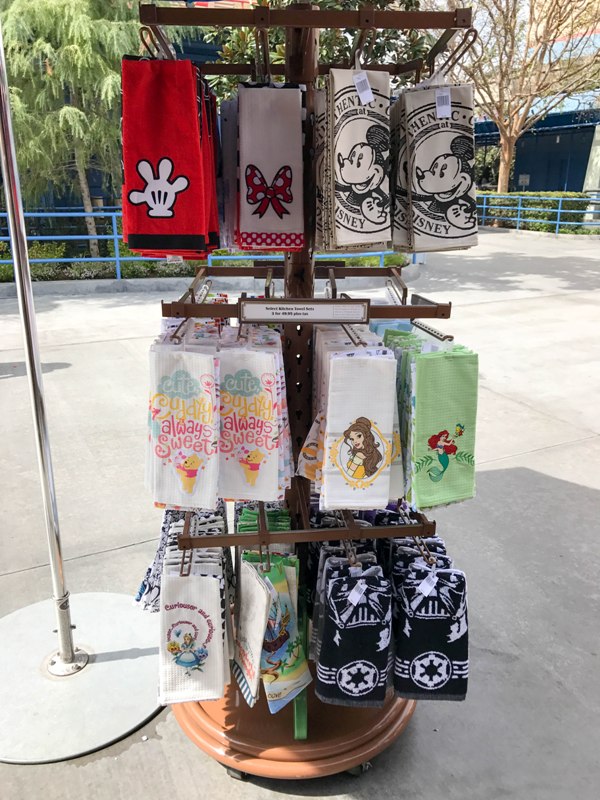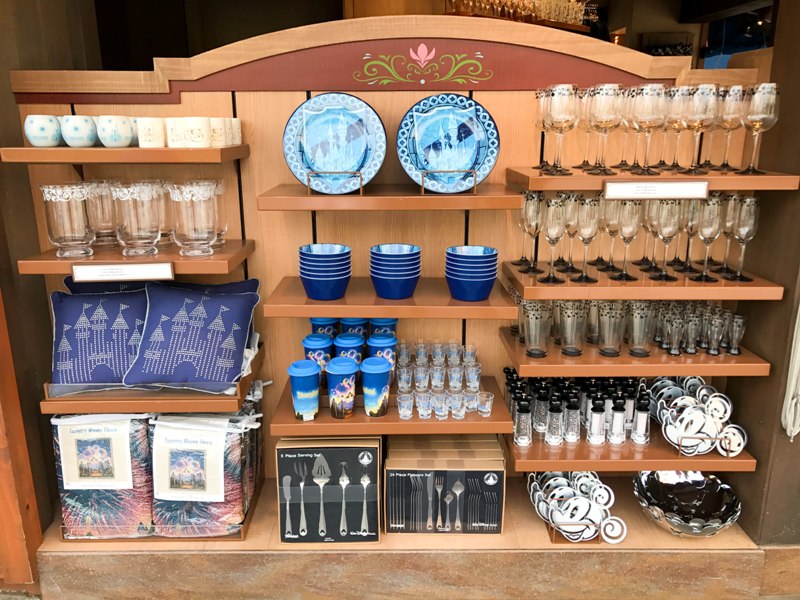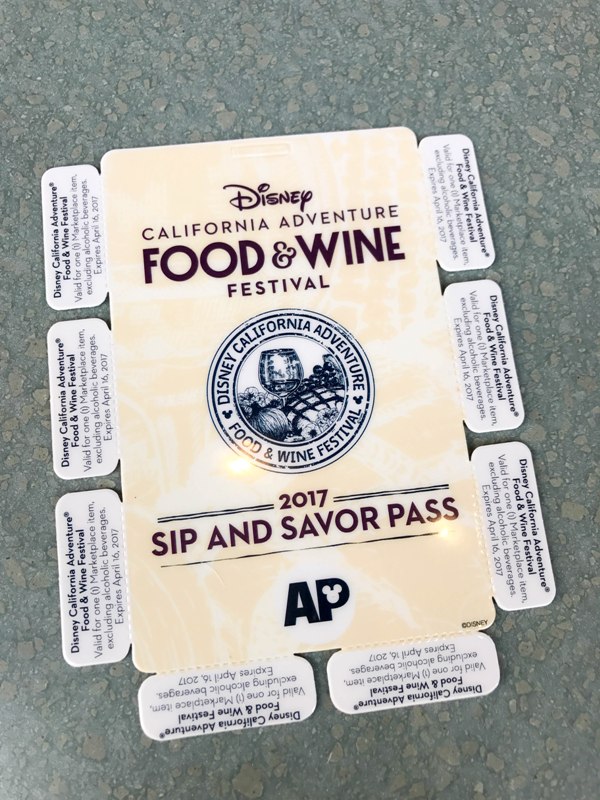 What to Do:
Aside from eating, drinking, and watching the seminars, you can go inside Stage 17 in Hollywood Land for Celebrity Chef cooking demonstrations (make reservations online here). This air-conditioned space also offers more Food & Wine branded merchandise and wine dispensing machines. From the machine you can select how much wine you want – 1 ounce, 2 ounces, or 5 ounces, and pay accordingly.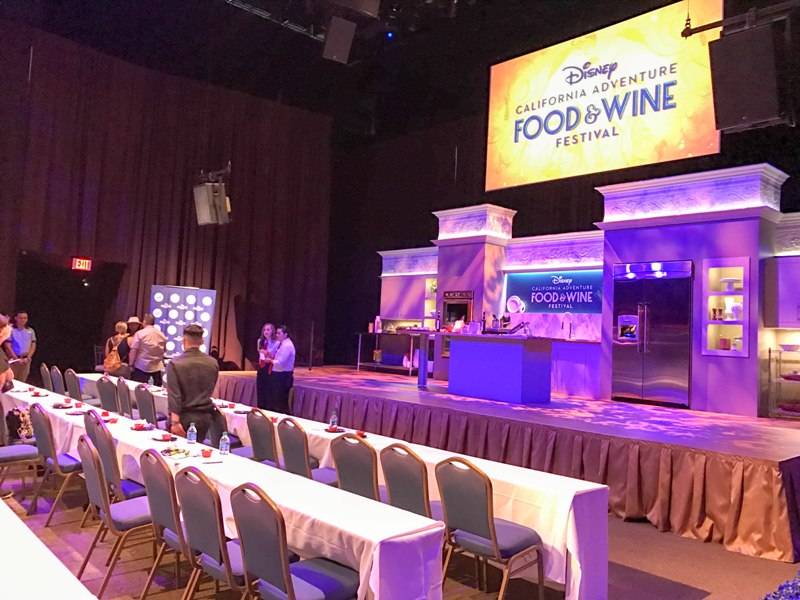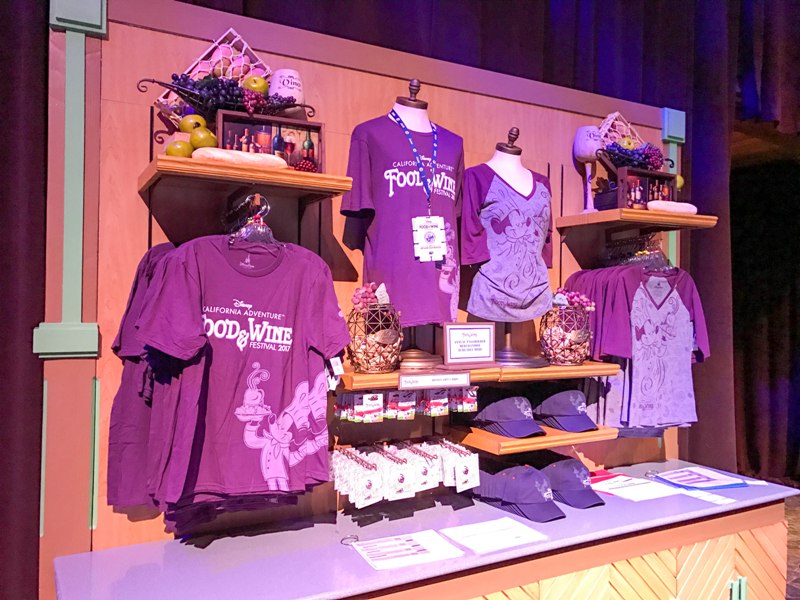 Instructor led tastings are located at the Sonoma Terrace, which is adjacent to Wine Country Trattoria. The entrance to the Sonoma Terrace is a little hidden; you'll find it near the gateway to Paradise Pier by the "Lemon Grove" food Marketplace. You can make reservations for these tastings online here.
There is a Jr Chef experience near Paradise Pier World of Color viewing area. This event is offered several times a day and is for kids ages 3 to 11.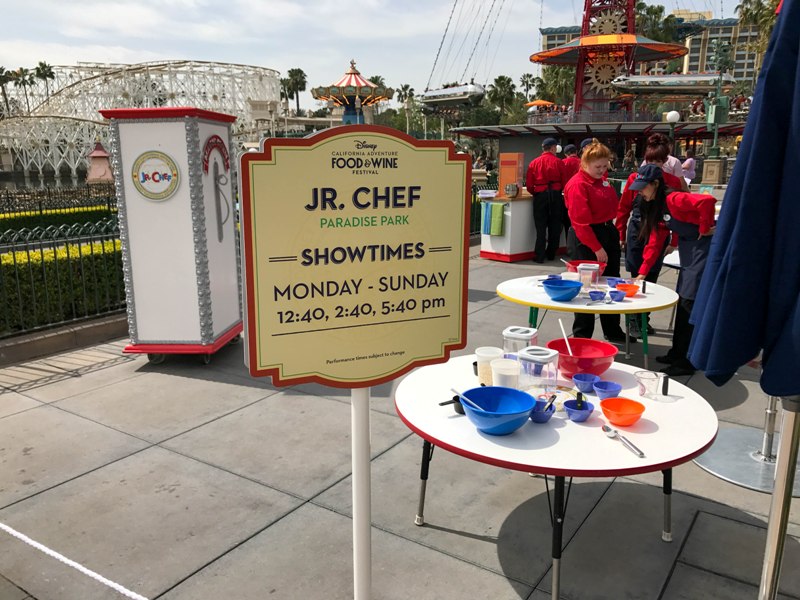 Also in the Paradise Pier area, there is a stage set up for bands to play.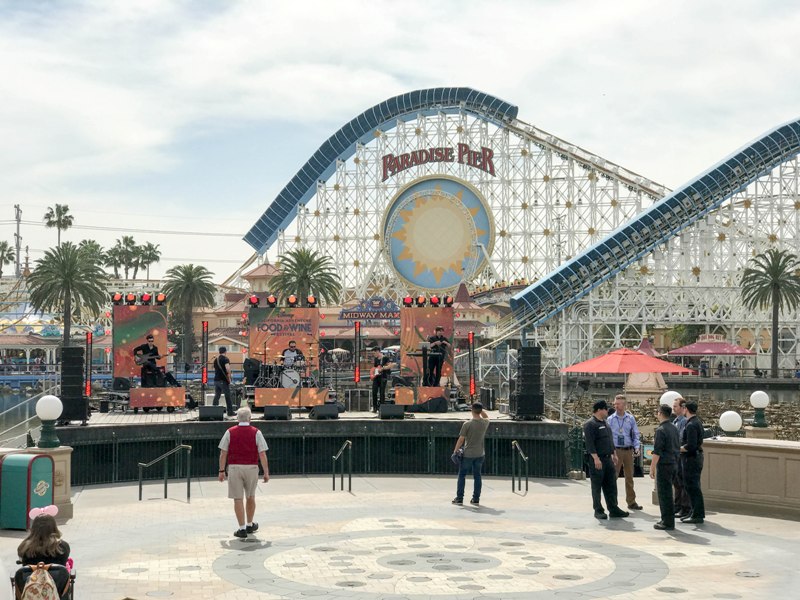 Please visit the official Disneyland website for full details/schedule of what's available during Food and Wine Festival.
What to Eat
Obviously you should eat everything! Here's what I've tried so far.
Nuts About Cheese – The Baked Ham and Swiss Cheese Roll was one of my favorite items for the event. The bread is soft on the inside but lightly crisp on the outside. I also had the Brie Toast, which I really enjoyed although be warned the fig jam is sticky.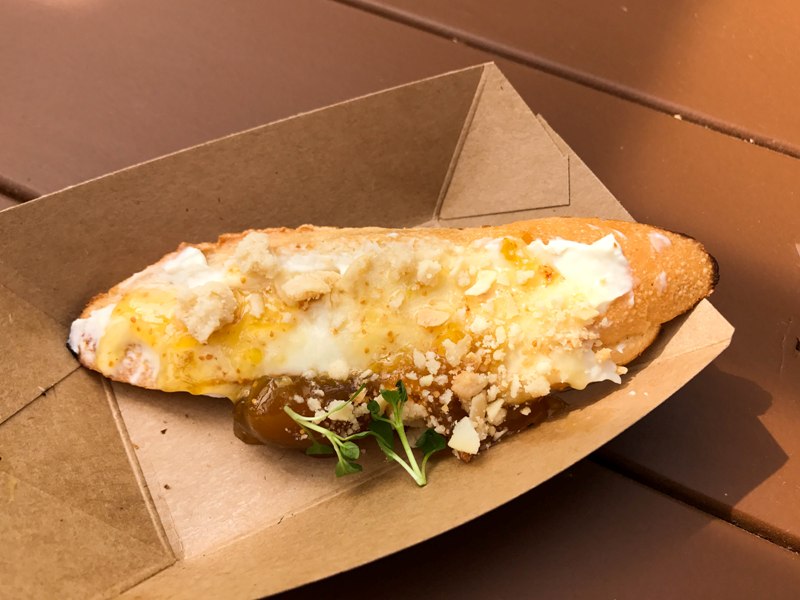 I <3 Artichokes – I had a bite of the Fried Artichoke Carbonara and didn't care for it. The Artichoke Dark Chocolate Cake Pop was good, but flavor is very subtle. It's not overly sweet, which is great for my palette.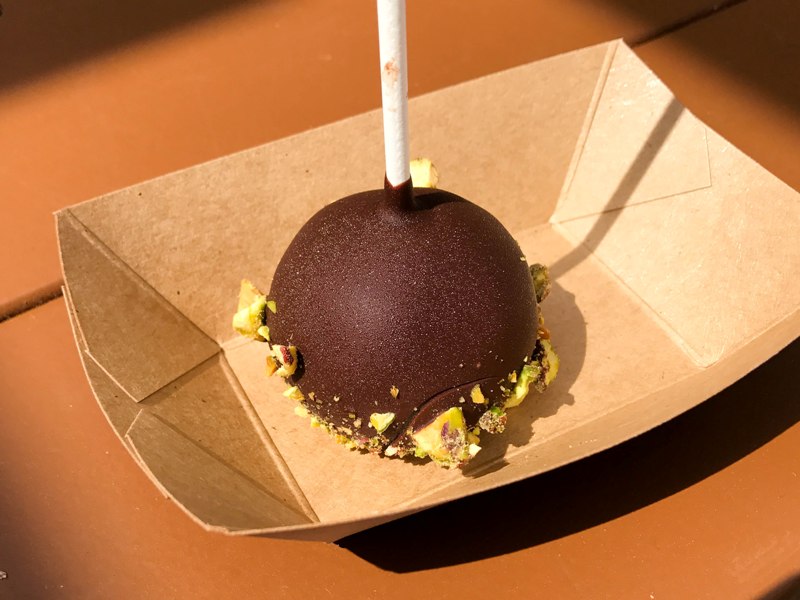 Garlic Kissed – The Grilled Beef Tenderloin Slider has been getting a lot of buzz, and it was good, but I much preferred the Pork Belly Bao. My main complaint is that there wasn't nearly enough of a garlic taste! I really do love garlic, though.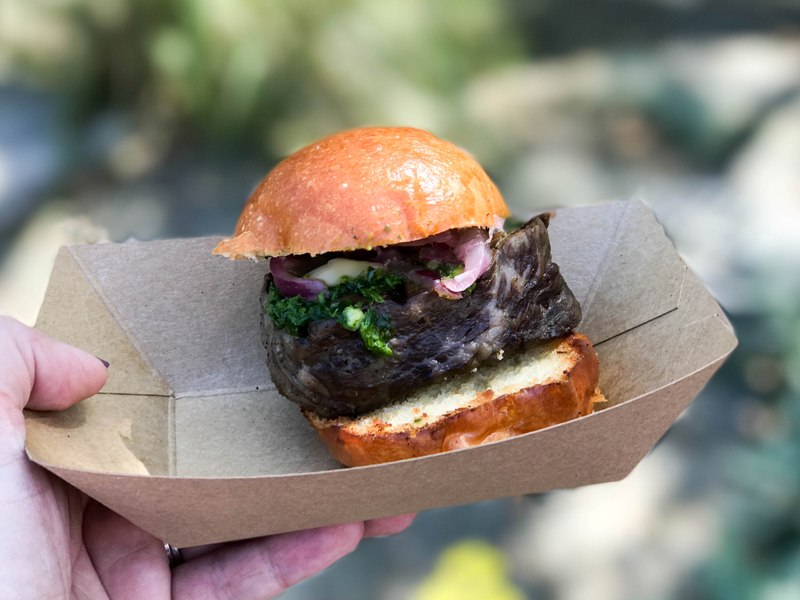 Olive Us – I tried the Olive Focaccia bread and I loved it, but I'm a huge huge fan of olive bread. This one has sea salt and fresh olive oil drizzled on top and it's heavenly. I also had the Panna Cotta, another of my favorite foods, and it did not disappoint.
Bacon Twist – I tried the Bacon Mac & Cheese, and it was good. They had a similar dish at last year's Food & Wine Festival and I can see why people like it so much. (Although I much preferred the Mac & Cheese at the Onion marketplace.) I also had the Maple-Bacon Whoopie Pie, another repeat from the prior year and it is still OUTSTANDING. My favorite dessert so far.
Lemon Grove – The Roasted Cauliflower was okay; I enjoy really crisp roasted cauliflower and this was a little soft for my liking. The yogurt cauliflower puree served with it was delicious. The Duck Confit was just "okay" for me; it tasted a little bland. I liked the potato smash more than the duck. The Meyer Lemon Macaron with Blueberry Marmalade was also delicious; this was my husband's favorite food item he tried.
Seafood … Sustained – I don't really eat seafood, but my friend tried the Deviled Eggs and dubbed them "okay."
The Onion Lair – Holy heaven on a plate … the French Onion Mac & Cheese is EVERYTHING. GO HERE FIRST. Also tried the Chocolate Hazelnut Tart and it was good, but very flaky and messy. The Passion Fruit Lemonade was good but way too sweet for me. It also just looks like regular lemonade; I was hoping it would be a fun color or have an edible flower or something to jazz it up.
LA Style – I was excited for the Chicken Teriyaki Slider with pineapple jam, but I found the chicken to be a little dry and the jam a little bland. The Korean Short Rib tacos were much better, although I had to simply eat the beef with a fork since I can't eat the corn tortillas. The kimchi slaw had a bit of a fishy taste that I didn't care for, but the beef was flavorful enough on its own.
Be sure to pick up a Tasting Passport which you can get stamped as you go from marketplace to marketplace. They are free and should be available to get at any marketplace or the information booth.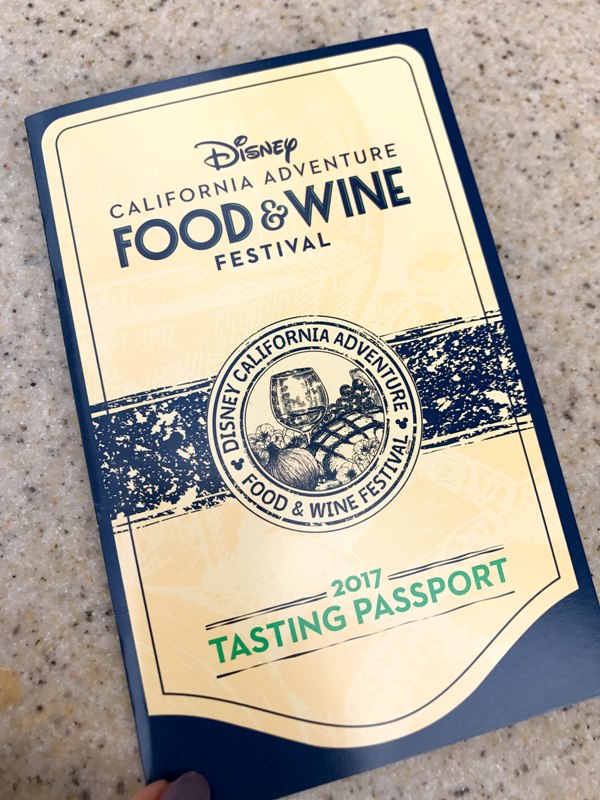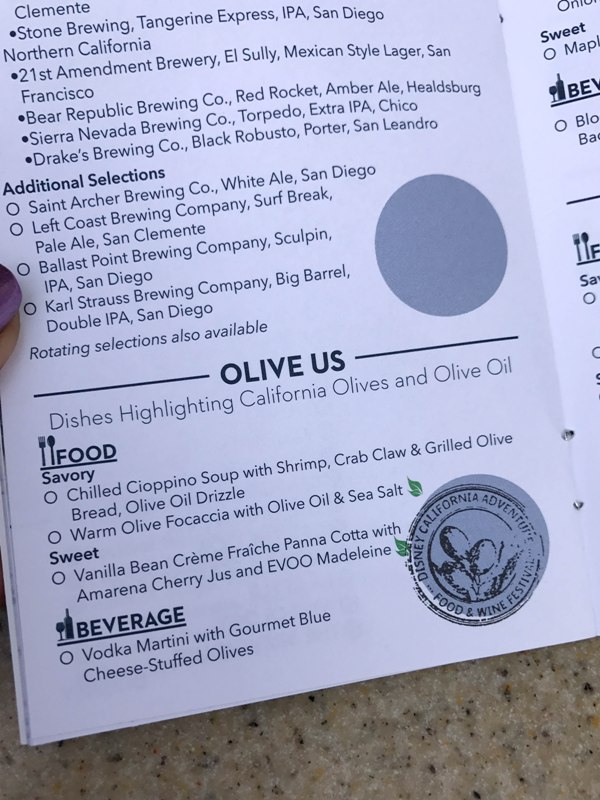 What to Drink
I don't drink beer (I have a barley intolerance) so I can't comment on any of the beers. But I did try the other drink flights.
Uncork California – The Mimosa Flight … Delightful. We saw lots of people carrying around this flight so it's a very welcome addition to the Festival lineup. With the $16 flight you get generous pours of three kinds of mimosas: Pear Mimosa, Peach Mimosa, and Mango Mimosa. My favorite was the pear, but all three are wonderful.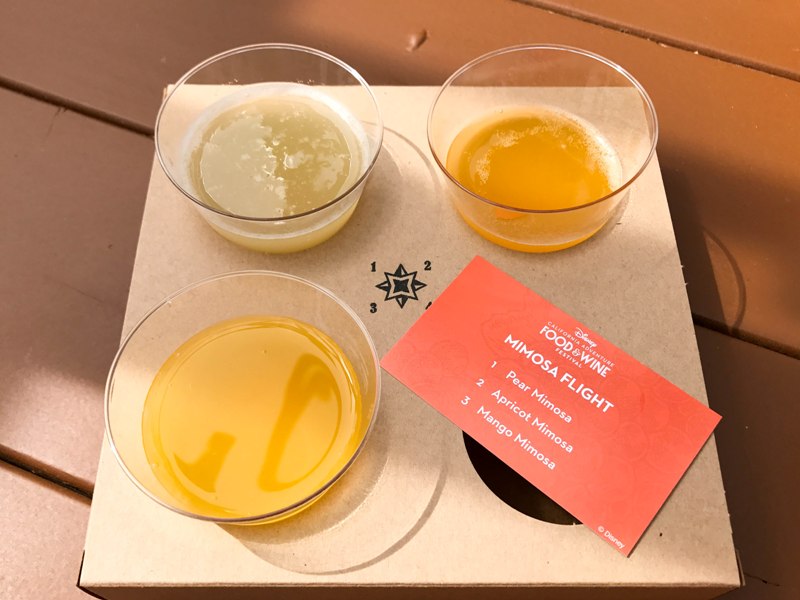 This year's white wine flight is much improved over last year's all-Chardonnay offering. This year's $16 flight includes a Sauvignon Blanc, a Chardonnay, and a Rosé. All three tasted wonderful and I was very happy with this flight. (And with individual glasses ranging between $13 – $17, the flight seems like a decent value.)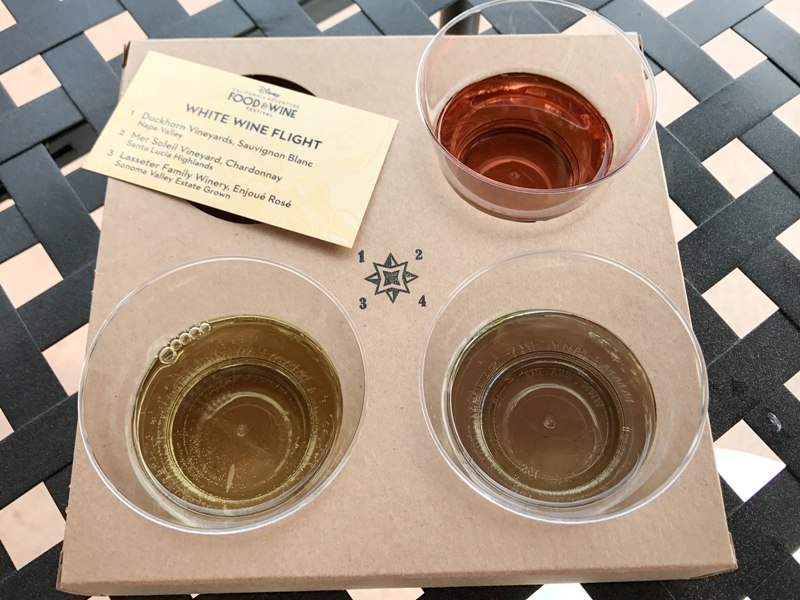 Red wine is not my jam, but it's $20 for their flight: Merlot, Pinot Noir, and Cabernet Sauvignon. The individual glasses range from $14.50 – $20 a glass.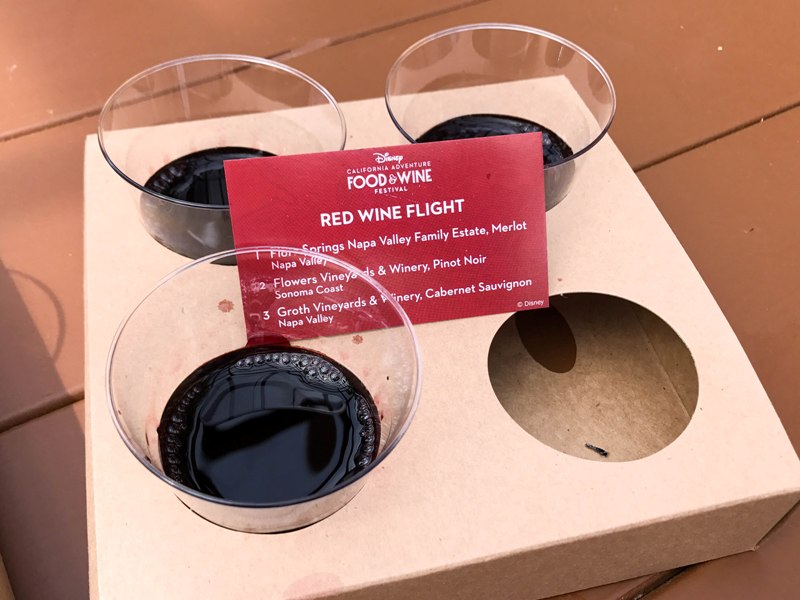 Wineology – Tried the Sangria Flight here and really enjoyed it. You get a taste of three sangrias for $9.50: White Sangria, Peach Sangria, and Red Sangria. All three are fruity and sweet. You can get a full glass of any of the sangrias for $8 each. You can also get Sangria Bark, basically a chocolate bar with sangria infused and dried fruit topping, for $5. There are also six wines by the glass available here, ranging in price between $14 – $18. I'm a little disappointed by these high wine prices; it would be nice to have a $10 or $12 option as well. $12 a glass is generally my limit when I'm out at a restaurant, and I've NEVER ordered an $18 or $20 glass of wine.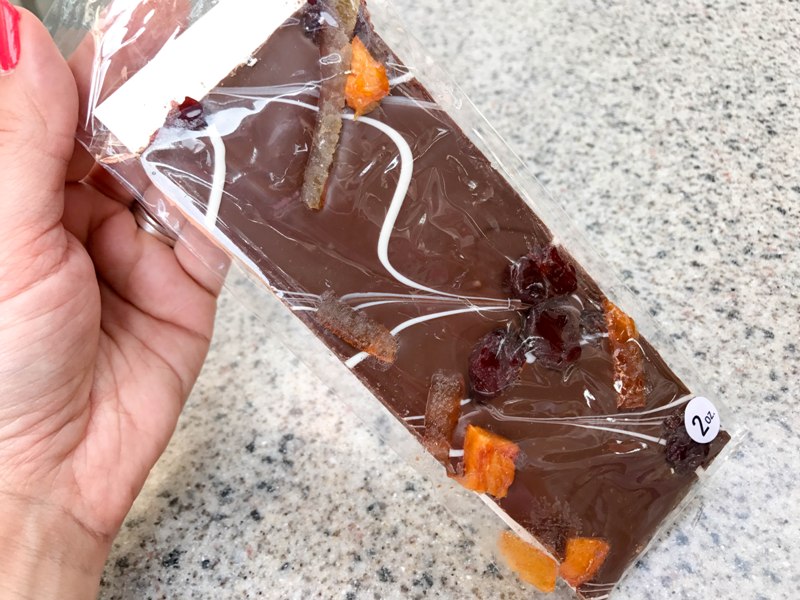 Festival Beer Garden – My husband got the Anaheim Beer Flight. There was one he loved, one he didn't care for, and was neutral on the other two. He said overall it was a good sampling.
***
I'm really excited about this year's festival! I love the new additions, the expanded kiosks, and the unique food options. I'm planning to visit a lot and try as much as I can! When you go, don't forget to
print out your free checklist
, bring a hat in case you have to stand in the sun while snacking, and drink plenty of water!