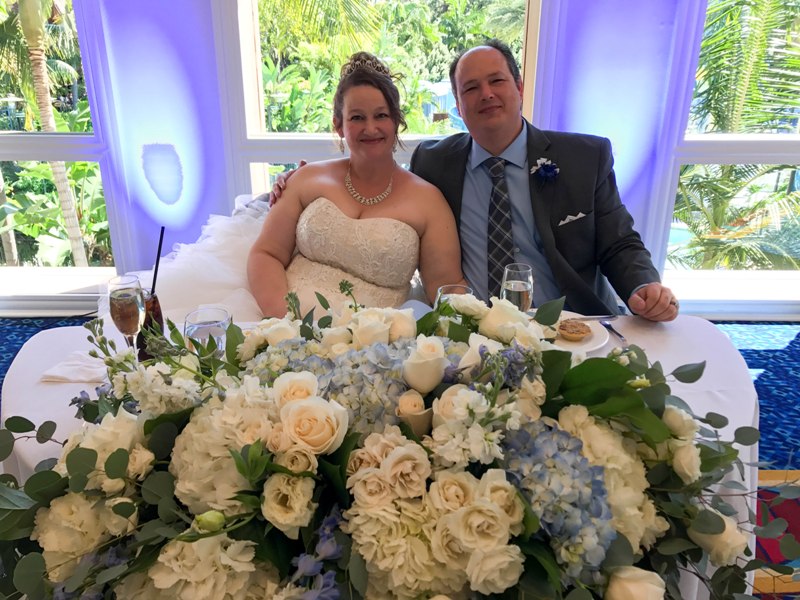 Earlier this week I had the pleasure of attending the Disneyland vow renewal of two very sweet people – Janet and Jeff! Janet found my website and told me the advice they read here really helped them with planning their vow renewal, and wanted to extend an invitation to me and a guest. I'm always SO SO incredibly honored when people do this; it's very humbling to know someone would "give up" a seat at their wedding for me and I always appreciate it. I never get tired of witnessing weddings at Disneyland, because every couple is so unique and every event ends up being so very special. I was also very excited to attend my first vow renewal! Now I can say with certainty Disney absolutely does not treat vow renewals any differently than weddings. Janet and Jeff had a simple wedding 21 years ago, and they were excited to now have a big party and celebrate with their family. Janet and Jeff are just the sweetest couple, and their family and friends were so welcoming and friendly towards us. I had such a great day celebrating with them! Here's a recap of their beautiful Cinderella themed event.
Janet and Jeff requested their guests wear blue – any shade of blue – and I love a good theme! My Pinup Girl Clothing castle skirt was perfect for the event. Everyone looked great.
Janet and Jeff had a 9:30am ceremony at the Rose Court Garden, which meant a very early wake up call for me in Burbank but it's always worth it for Disney wedding cake. It was a chilly day in early March but with clear skies, and the warmth of the sun felt good as we watched the ceremony. Jeff walked in with their two daughters and Janet was escorted by their two sons. A friend sang the processional song, which was a song about fairy tales I had never heard before! She had a lovely singing voice, and she later sang their first dance song as well.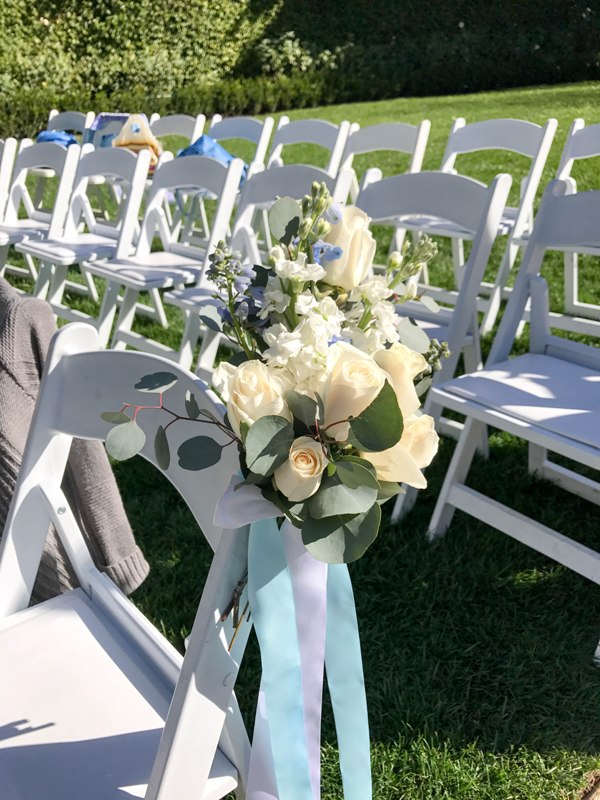 During the ceremony they honored Janet's mother, and also honored parents and grandparents who were no longer with us. Each of their children read a short speech, which was a great way to incorporate their entire family in the ceremony. The couple read personal vows to each other, and also exchanged new rings with the help of their Ring BEARers (Duffy and Shellie May). They ended their ceremony with kiss and made their way back up the aisle!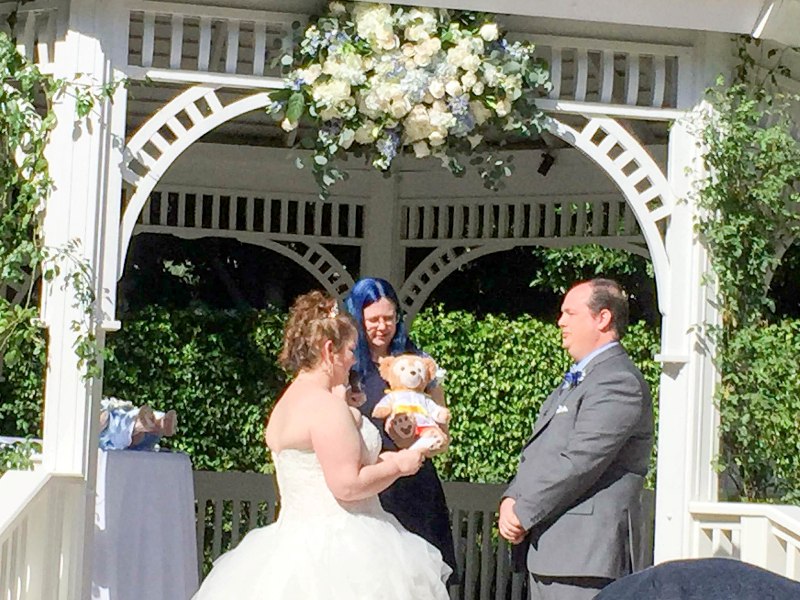 Due to the chilly weather and rain the day before, the pre-reception was moved from the Adventure Lawn to the Magic Kingdom Foyer, which is right outside the Sleeping Beauty Pavilion. This was actually my third pre-reception in this space, and it's a great spot for when weather is less than ideal.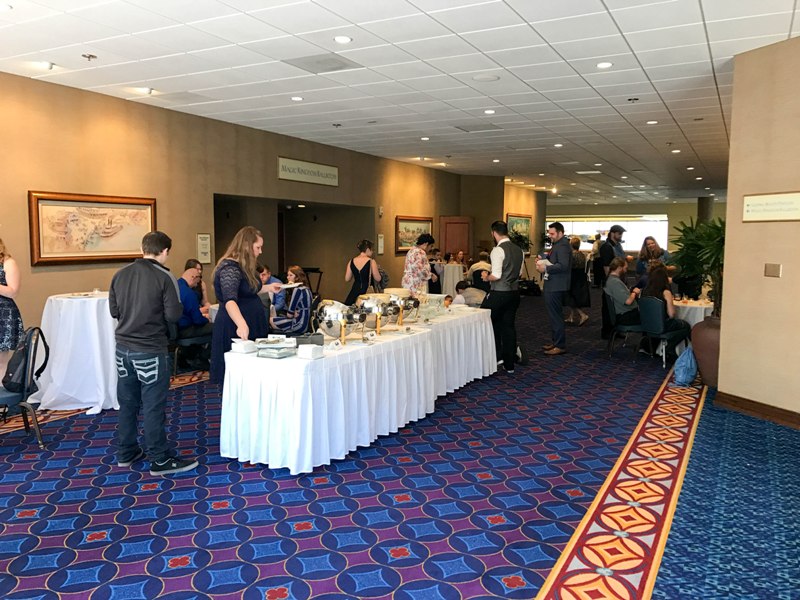 For refreshments, we had our choice of fruit punch or rum punch. This was my first time trying the punch and it was delicious!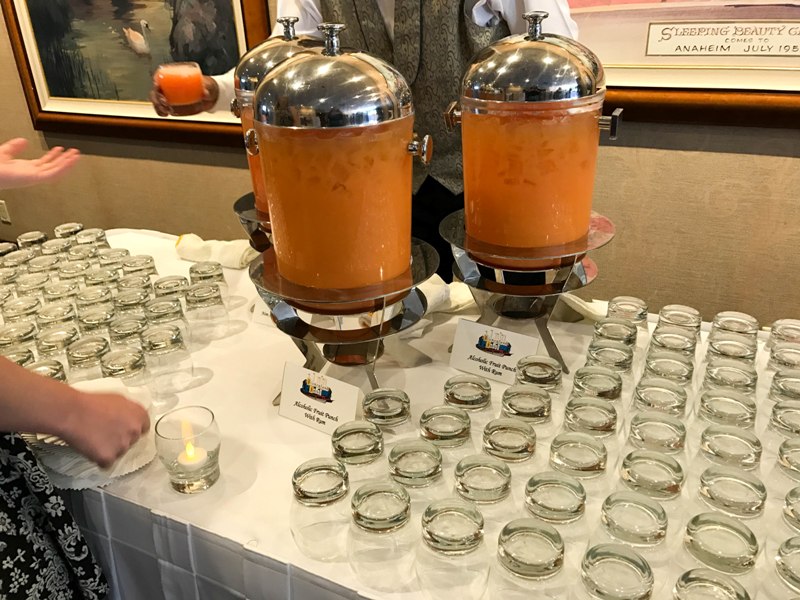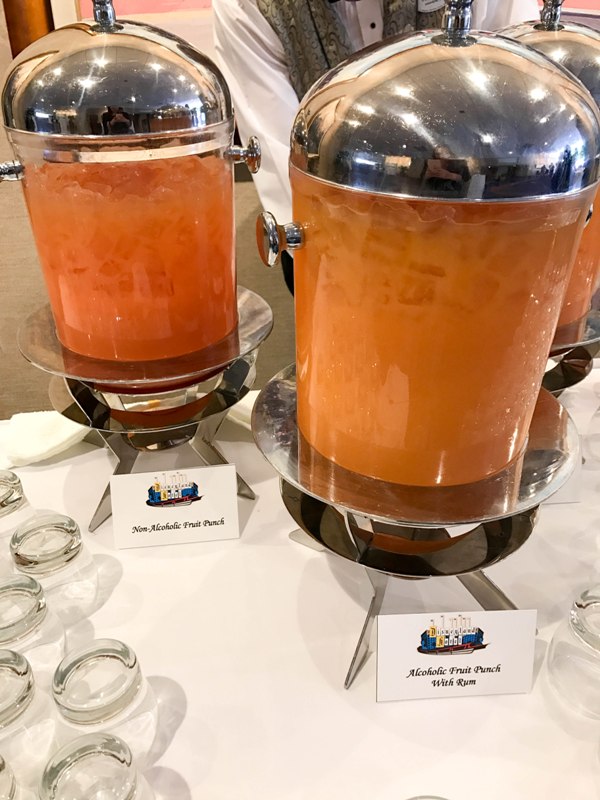 To eat there was a buffet of Polynesian-inspired foods: pineapple skewers with coconut yogurt, vegetable spring rolls, shrimp dumplings, beef skewers with soy sauce or sweet chili sauce, and passed Mandarin chicken. Everything was so good! My favorites were the pineapple skewers and the chicken.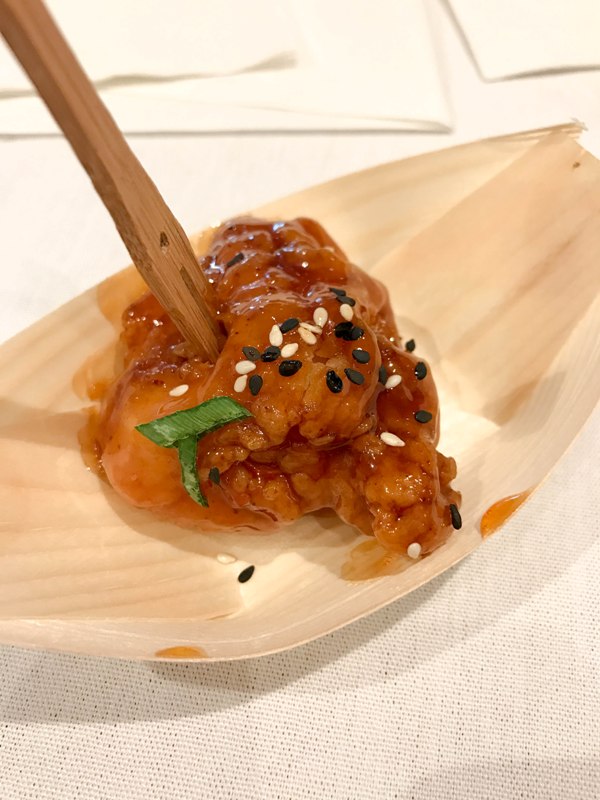 After an hour we were led into the Sleeping Beauty Pavilion. Right away we noticed the beautiful blue and white cake with a cute Mickey and Minnie light gobo above it! I had never seen this gobo set up before!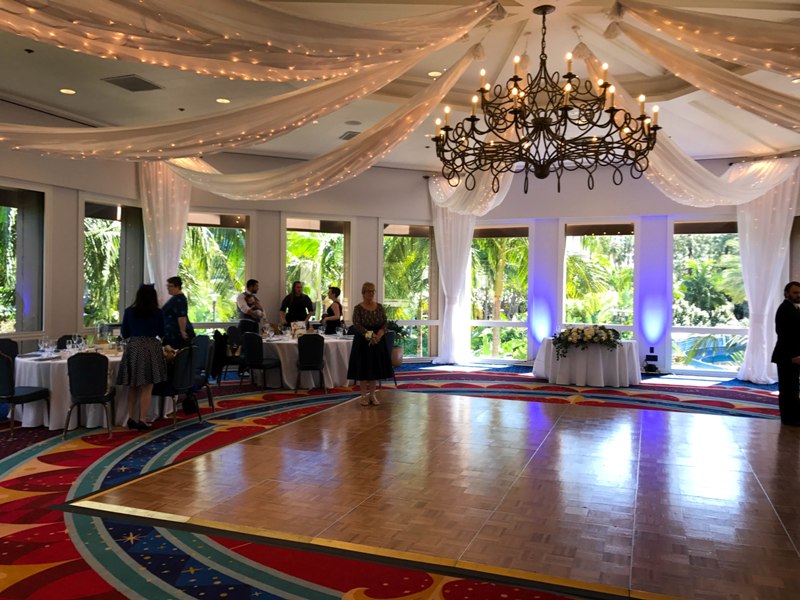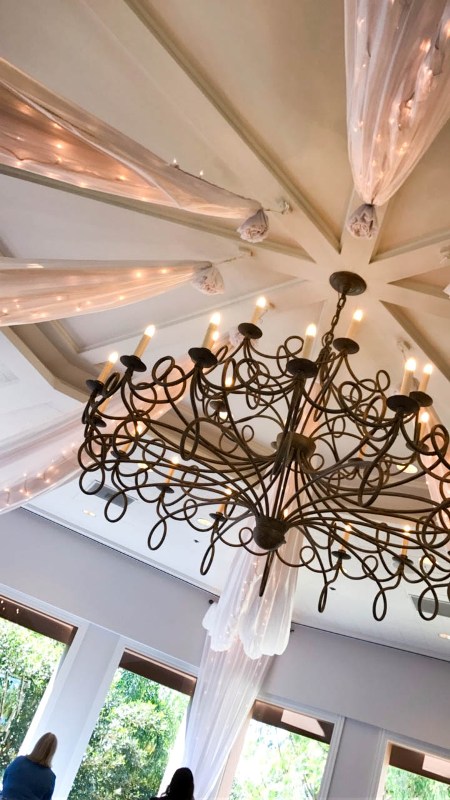 The bar is lit up to match your wedding colors!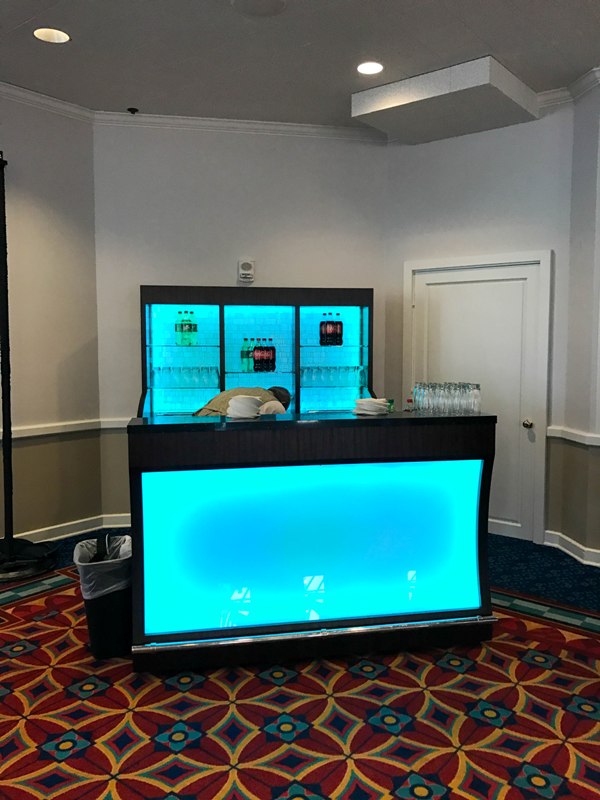 The gazebo floral arrangement was brought in and placed on the sweetheart table.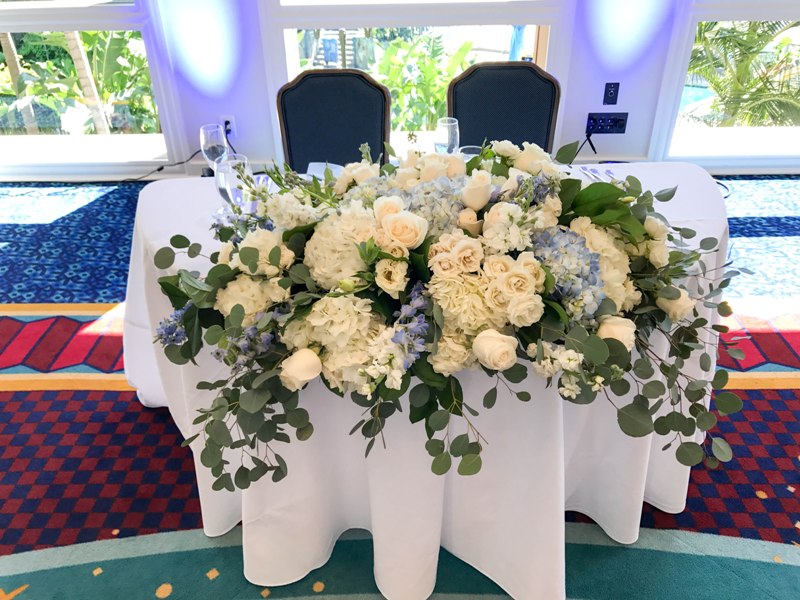 Each table had a different Cinderella centerpiece; everything was done DIY by Janet's friends. They were all so detailed and pretty! We also had pretty light blue napkins to go with the theme.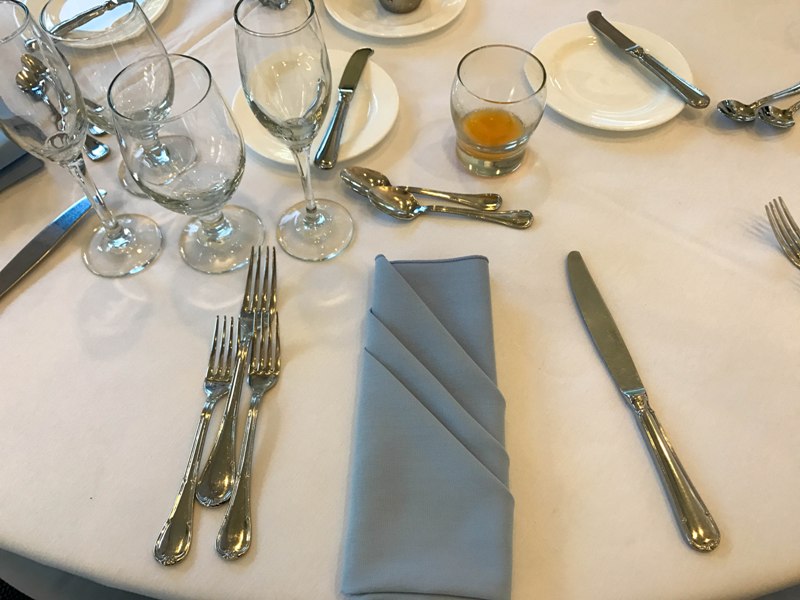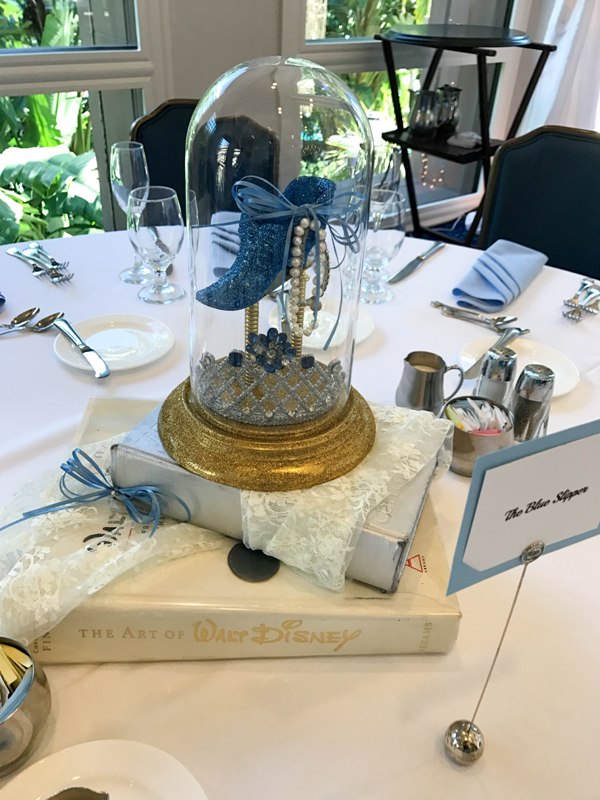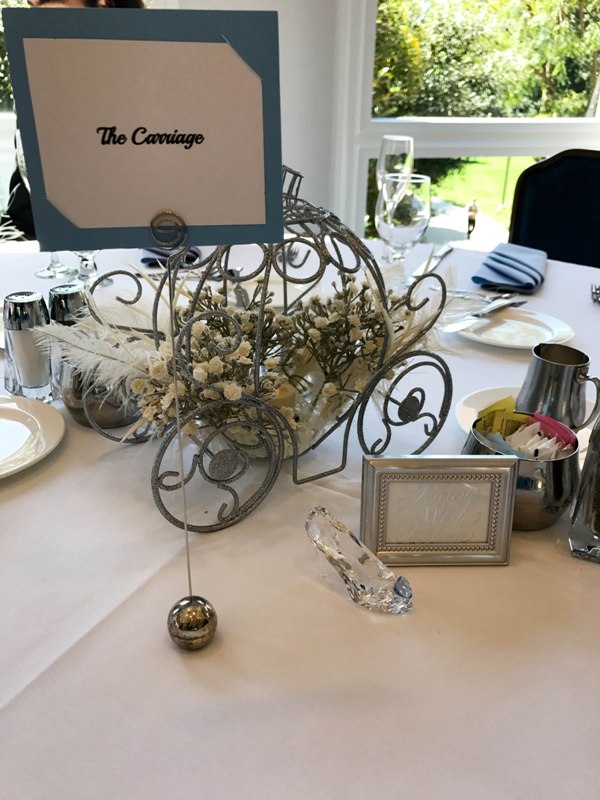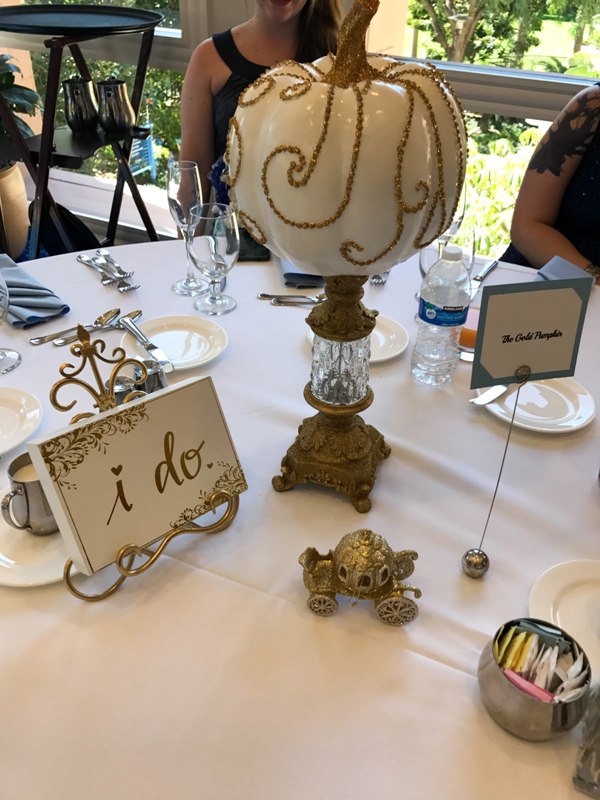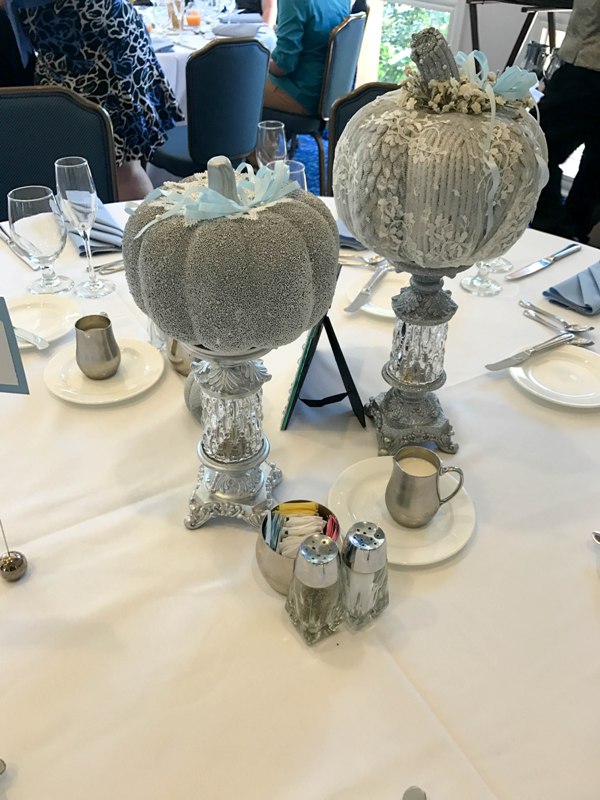 Soon Janet and Jeff were introduced and they did their first dance followed by toasts.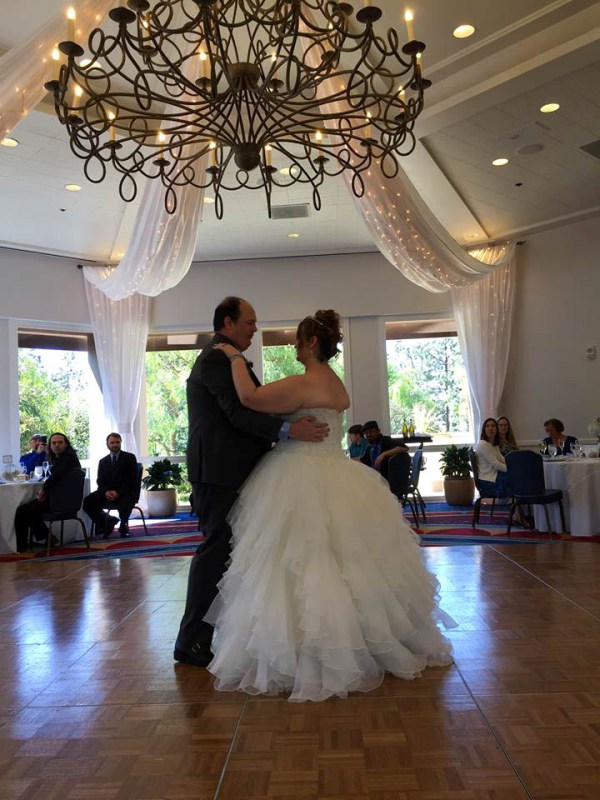 Then the buffet was opened up for lunch! The buffet had a bunch of new foods I had never tried before, so it was very exciting for me.
Here was their menu:
Romaine Hearts, Toasted Croutons, Parmesan Cheese with choice of Cesar Vinaigrette or Ranch dressing
Sweet Corn, Grilled Onions, Sage Dressing
Panzanella Salad, Toasted Bread, Olives, Sundried Tomatoes, Arugula
Assortment of breads
Seasonal Vegetable Medley
Roasted Potato, Bacon, and Caramelized Onions
Forest Mushroom Risotto
Roasted Herb Chicken, Apple Stuffing, and Chicken Demi
Braised Beef Short Rib with Pinot Noir Reduction
Beef Stroganoff, Egg Noodles, Forest Mushrooms
Herb Crusted Mahi-Mahi with Saffron Cream Sauce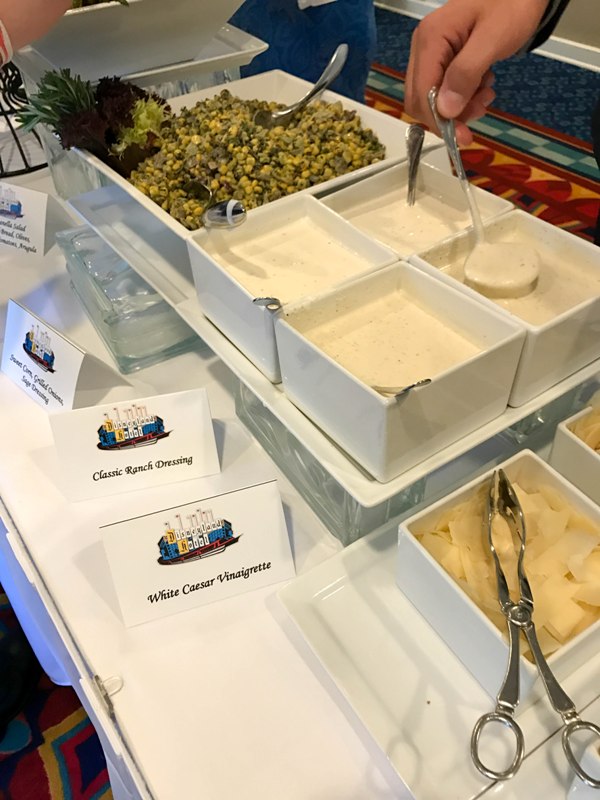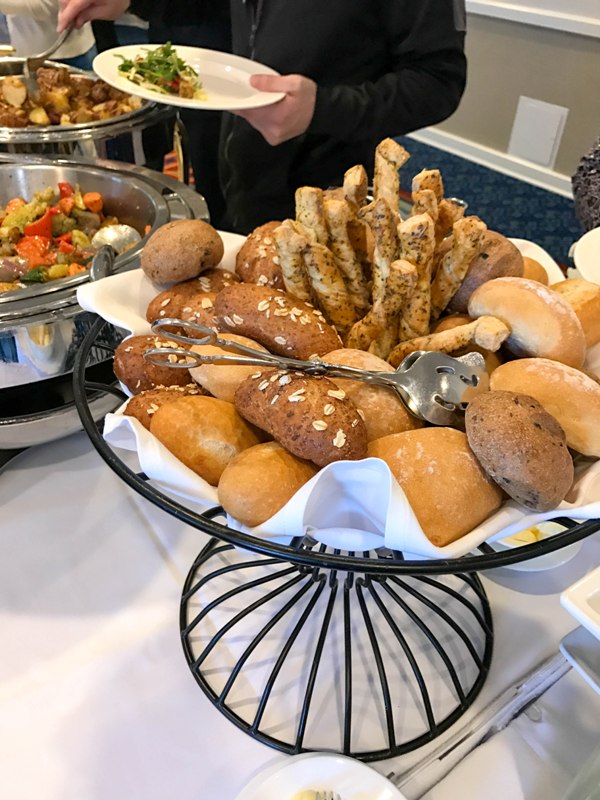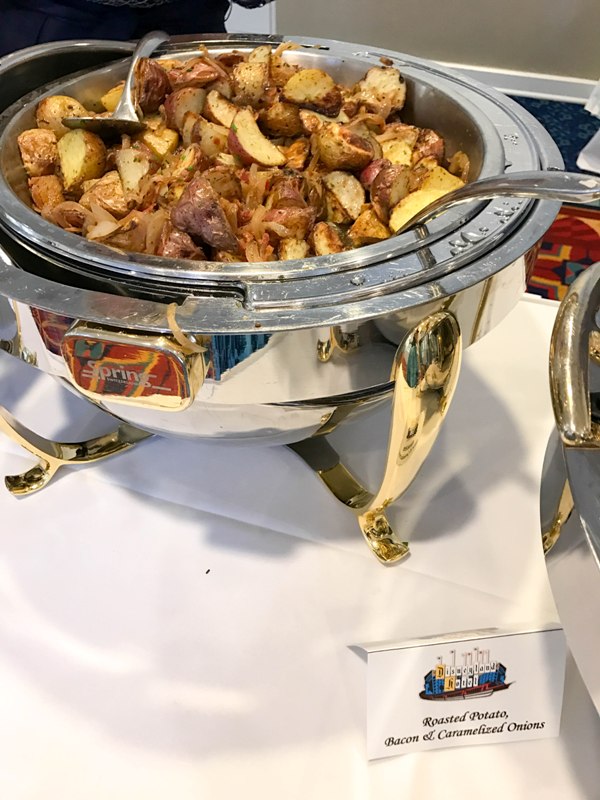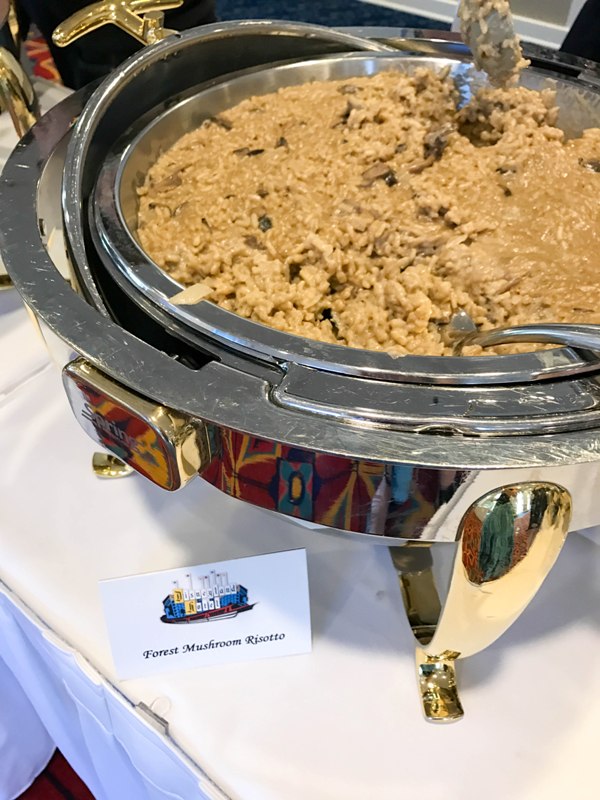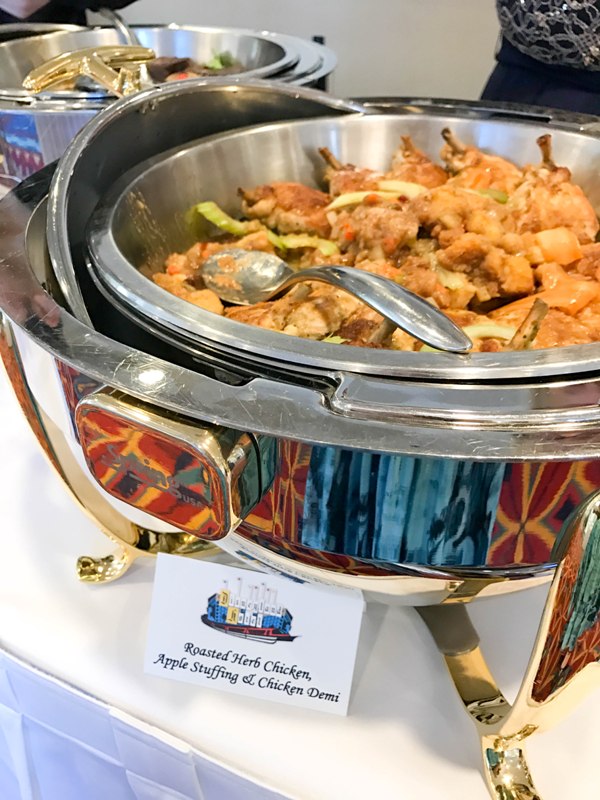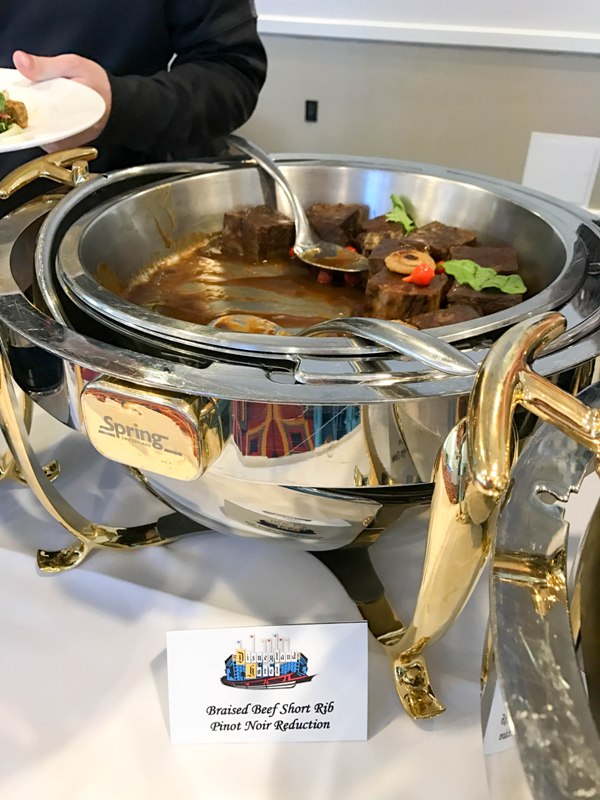 For dessert:
Snickers Cheesecake
Cherry Cheese Pie Crumble
Pecan Caramel Vanilla Creme Brulee
Sponge Cake Eclairs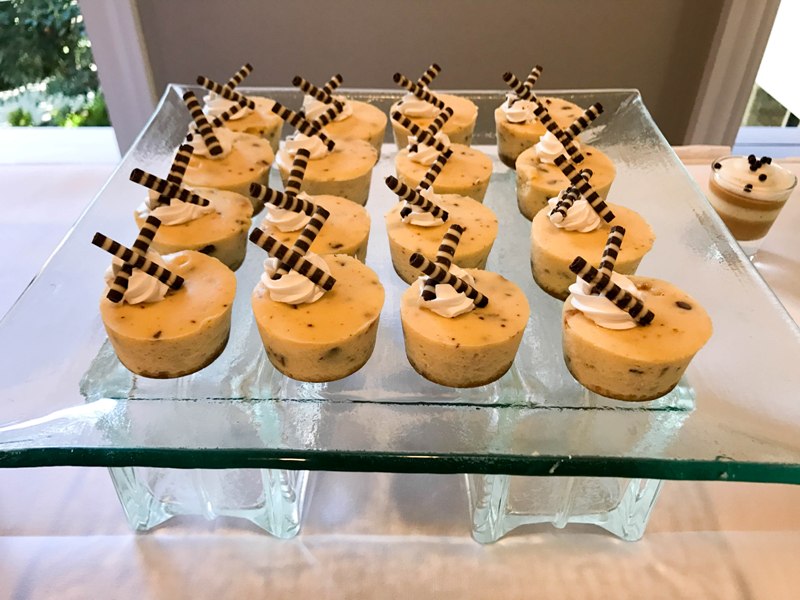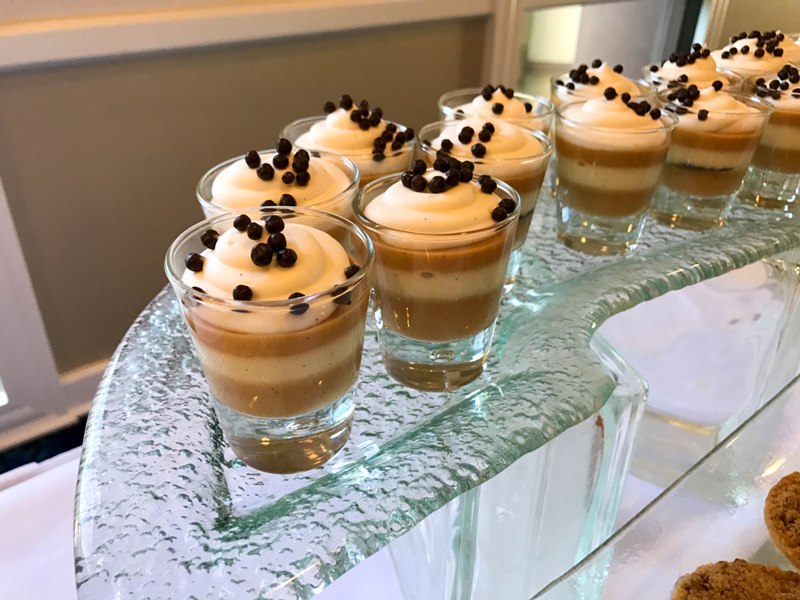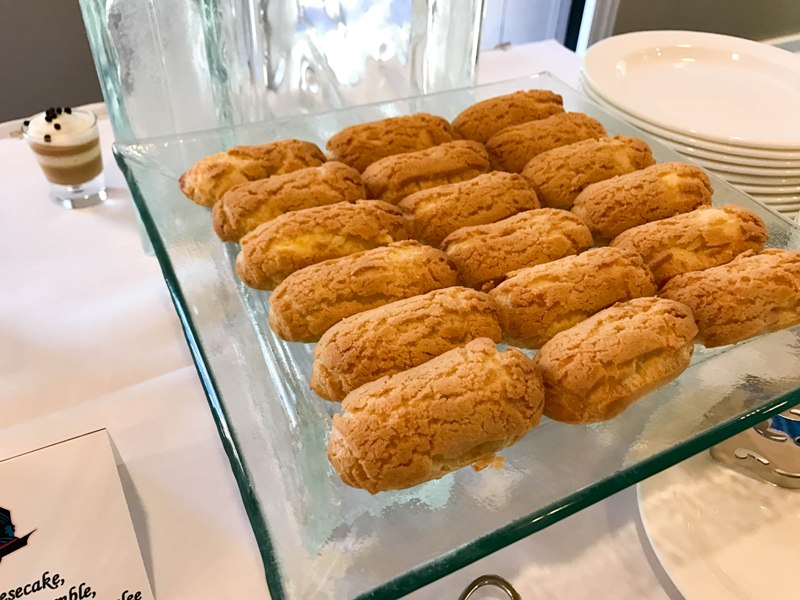 Everything was SO GOOD but my favorite was the Panzanella salad, risotto, and short rib, and the Snickers cheesecake.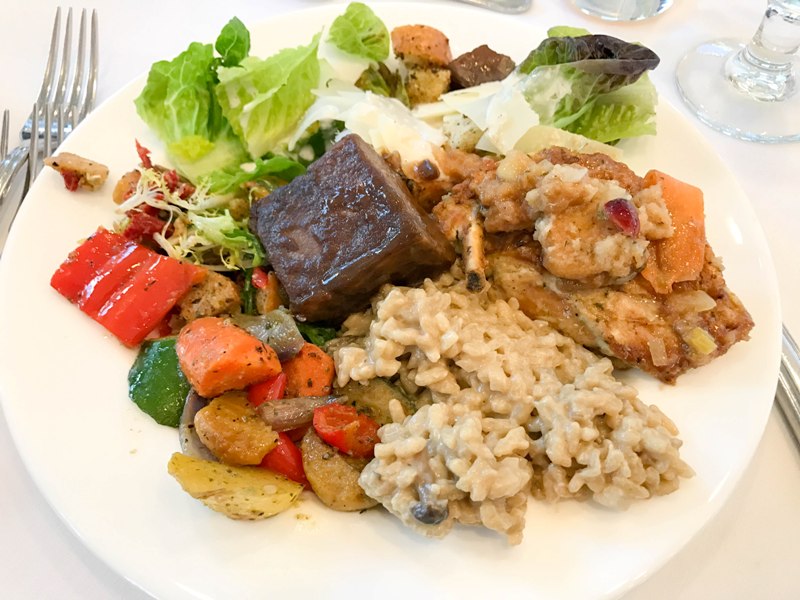 After eating, Jeff and Janet danced with their children, then opened the dance floor up to everyone. A friend was in charge of the iPod and acted as the MC and she did a great job with announcements and making sure the dance songs kept coming.
Even though we were stuffed from our meals, we were still excited for cake. We watched Janet and Jeff cut their cake and impatiently waited for our own slices. It was worth the wait! We had the famous Dole Whip cake (pineapple cake with vanilla-pineapple filling) and raspberry cake with cream cheese filling. Both were amazing!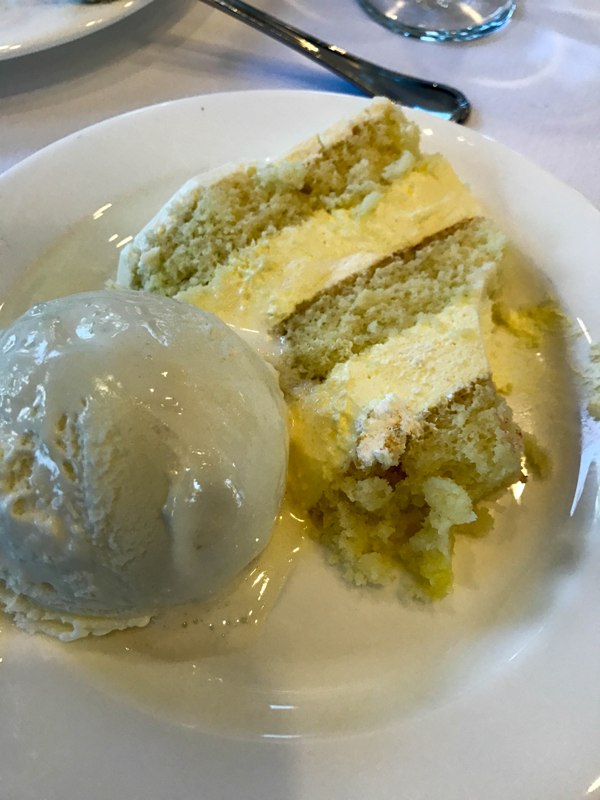 After the cake we had the opportunity to take some fun photos with the light gobo!
After a bit more dancing it was time to say goodbye! We helped clean up and pack up the centerpieces before we said goodbye to the happy couple.
Thank you again to Janet and Jeff for including me on your special day! It was truly a lovely vow renewal, and I hope I'll see you again for the next one in 21 years. *wink*