I'm so excited to have another Disneyland engagement photo session to share with you today! Disneyland transforms at night, and most spots look completely different from during the day. One of these spots is Cars Land … Ornament Valley lights up with red and orange hues, and it's absolutely stunning and romantic. I love seeing how Disneyland looks through the lens of different photographers, and getting to know the story of these sweet couples. Michael from NONPAREIL Weddings sent these stunning photos of Maura and Tim, who got married at Epcot but still wanted to showcase Disneyland, which holds a very special place in their heart. Read on for more of their sweet story!
Photographer: NONPAREIL Weddings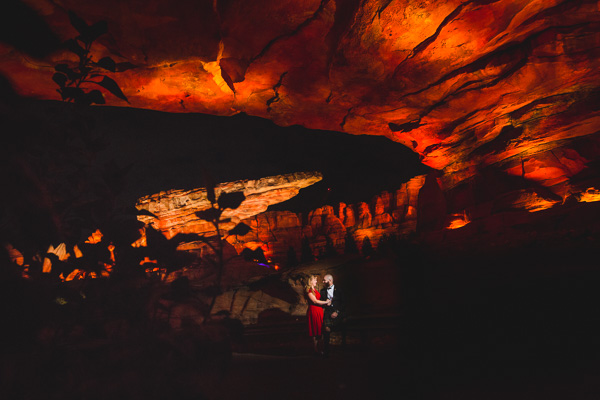 How did you meet?
We met at a mutual friend's birthday outing at Disneyland (on Main Street U.S.A.).
Are you both Disney fans?
Yes, though Maura is definitely the bigger fan.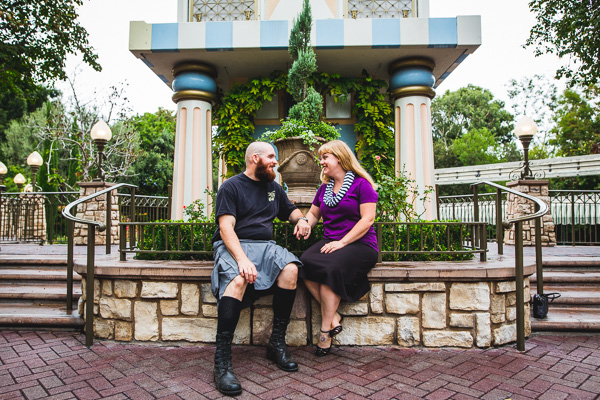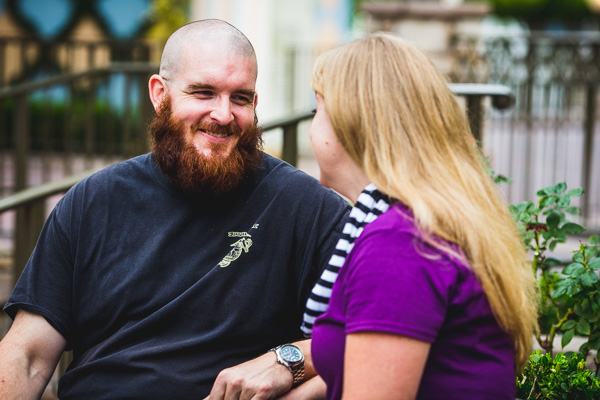 What is your favorite Disney movie/character/park, etc?
Tim's Favorites:
Movie – The Nightmare Before Christmas
Character – Stitch
Park – Depends on his mood
Maura's Favorites:
Movie – (There is no way I can choose only one) UP, Wall-E, The Little Mermaid, Aladdin, Beauty and the Beast, The Nightmare Before Christmas, Peter Pan, Alice in Wonderland, Big Hero 6, Mulan etc, etc
Characters – Tinkerbell, Baymax, Wall-E, Stitch, Hatbox Ghost
Park – Disneyland, Epcot, and Animal Kingdom (though I love all the theme parks for many reasons)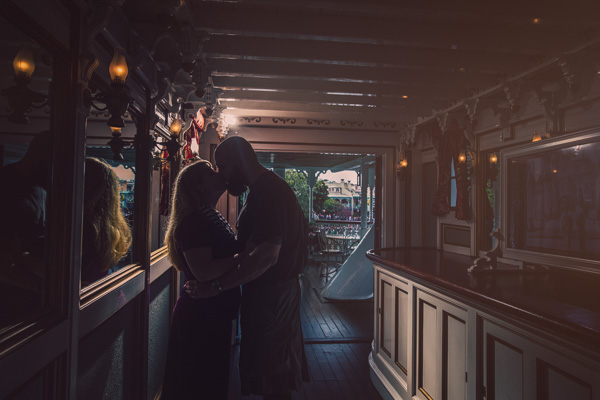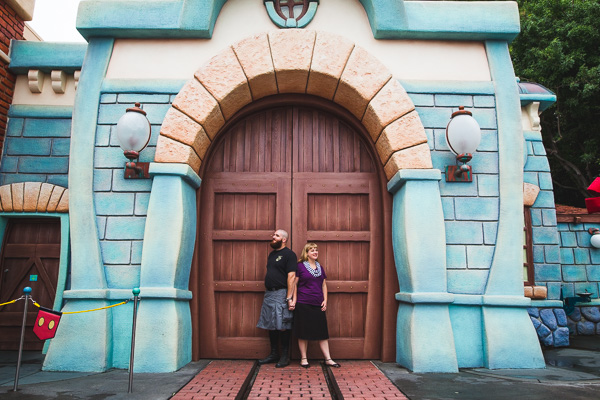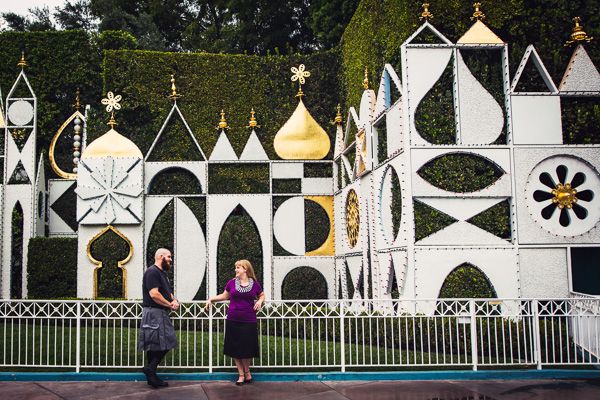 Tell us about your wedding … were there any Disney details?
Our main theme was a mashup of The Nightmare Before Christmas and Haunted Mansion (the attraction). The ceremony was held in the Japan pavilion of Epcot with the torii gate as our backdrop and the reception was held at Atlantic Dance Hall. We had tons of Disney touches from FastPass escort cards, Mickey heads in my bouquet and Tim's boutonniere, paper Mickey head "pomanders" for the Matrons of Honor to carry, Jack Skellington & Sally Finkelstein visited the reception, our first dance was to "Married Life" from the UP soundtrack, a silhouette artist, our cake had the wallpaper from the Haunted Mansion, nods to Jack & Sally, and a topper made to look like the Mickey ear hat ornaments (which we collect), and food recreations of some of our favorite foods from around Walt Disney World. We ended the day with a private dessert party in Epcot with more good food & fireworks.
Why did you decide to have an engagement shoot at Disneyland?
So many reasons! Disney has been a big part of our life together since the day we met. We met at Disneyland, spent quite a lot of time there (and at Disney California Adventure) as a couple (and as a family); it's beautiful & magical, and is Maura's happy place.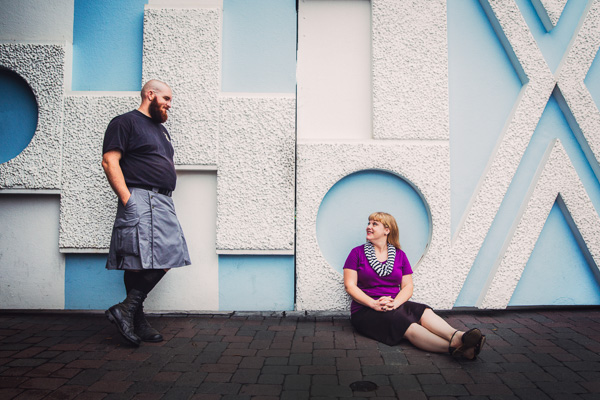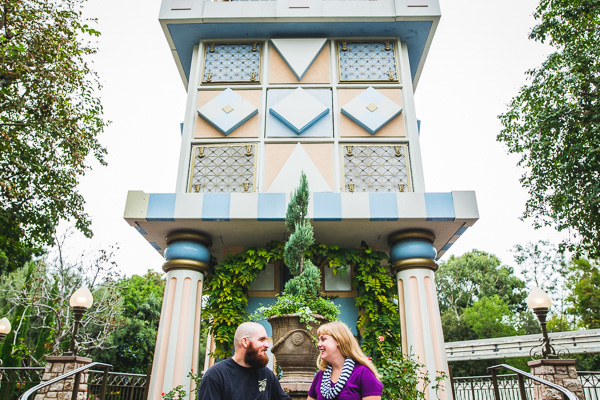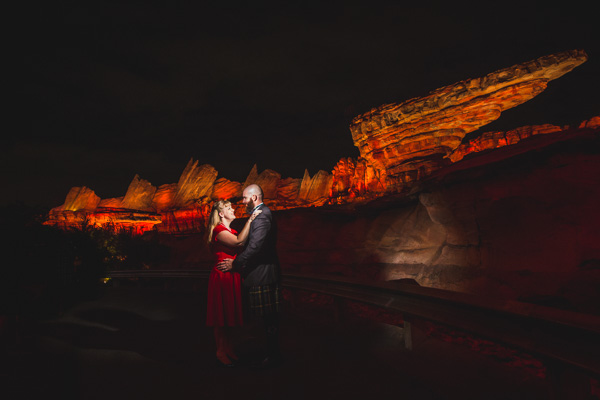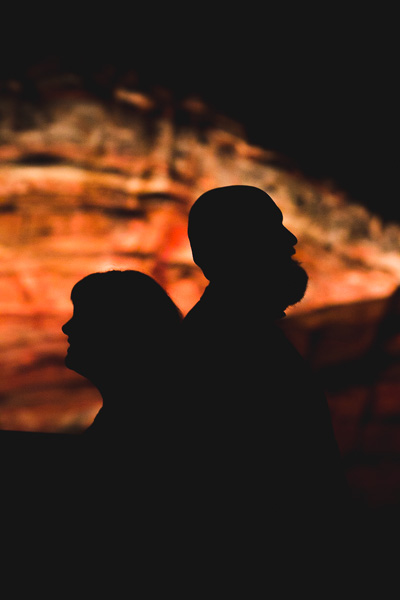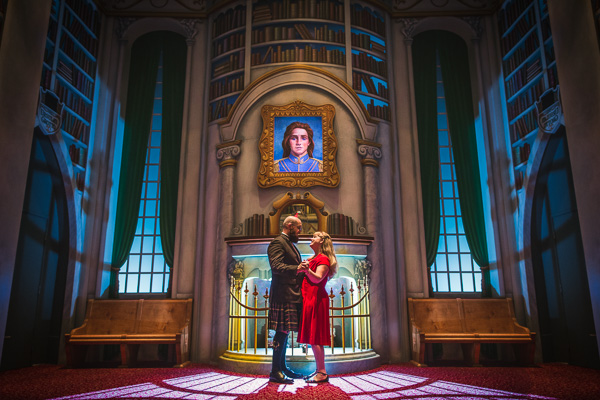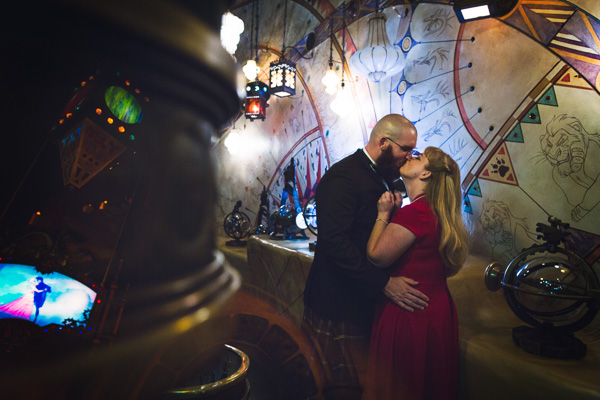 If you'd like to submit your Disneyland engagement or wedding photos, please visit the Submissions page.