On Saturday January 21, 2017, I took to the streets of Downtown Los Angeles along with my husband, my good friend Renee of Moxie Bright Events, and 750,000 allies for the Women's March in Downtown Los Angeles.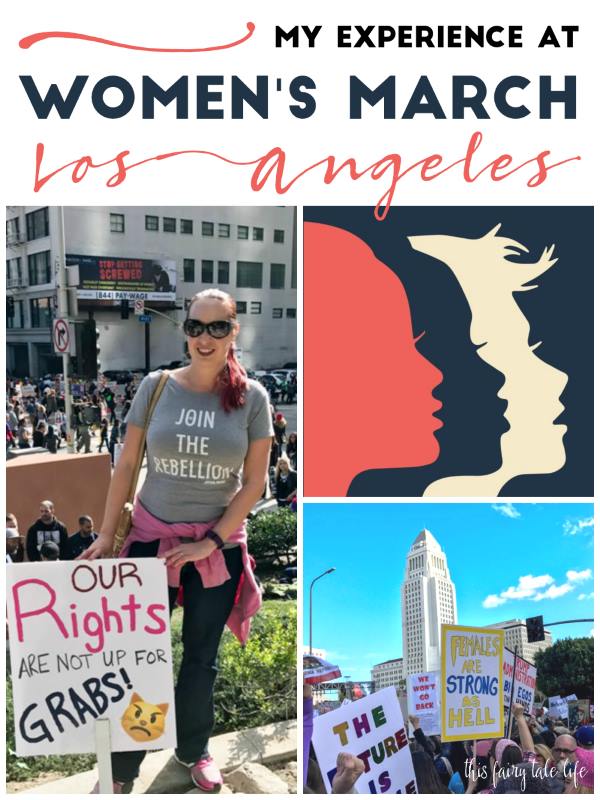 I very rarely talk about politics here, and I really dislike alienating anyone who comes here only for happy Disney things and doesn't necessarily share my societal beliefs, but the reality of our current events has forced my hand. This website is about my life, and fighting the ongoing struggle for women's rights and equality is extremely important to me. If you don't like this, you don't have to read my website or follow me on social media. I respect you and wish you well on your path, and I hope you respect me and my little corner of the Internet.
I was horrified when, over the past year or so, I heard several soundbites of our now President saying demeaning and derogatory remarks about women. The worst one being his bragging about "grabbing" any … you know … he wanted. However, being a female citizen living on planet Earth, I can't say I was surprised since I have been harassed, assaulted, demeaned, catcalled, and leered at by random guys more times than I could possibly count. To say I was severely frustrated and depressed at the election results would be an understatement. But you can't change the past, you can only learn from it and move forward.

As a result of our presidential election, the Women's March on Washington was formed, and sister marches in other major cities around America (and ultimately the globe) started springing up. As soon as I found out there was a march planned for Los Angeles, I blocked off the day on my calendar.
The night before I could hardly sleep. I was nervous and excited. My first organized march!
My friend Renee and I had a plan. We would meet up at her place near the Metro station in North Hollywood at 8:00am and ride-share to the station. We would buy our train passes and get on the train at 8:30am. The ride to Downtown Los Angeles is about 30 minutes which would put us there at 9:00am – the official start time of the march.
Oh goodness … we were so young and naive back then, a day ago.
We should have been tipped off when our ride share had 3x surge pricing. And when we were stuck in a line of cars a block long to turn into the Metro station (prompting us to ask to be dropped off at the corner across the street). And then there was the 20 minute line to purchase our fare (the line had tripled by the time we got to the front).
When we finally got inside the station, we were astounded by the crowds. We knew there would be crowds, but the platform was completely packed.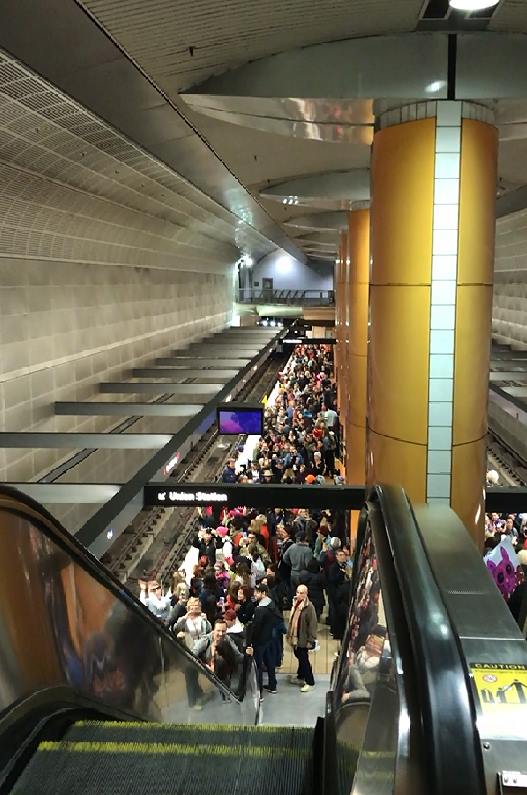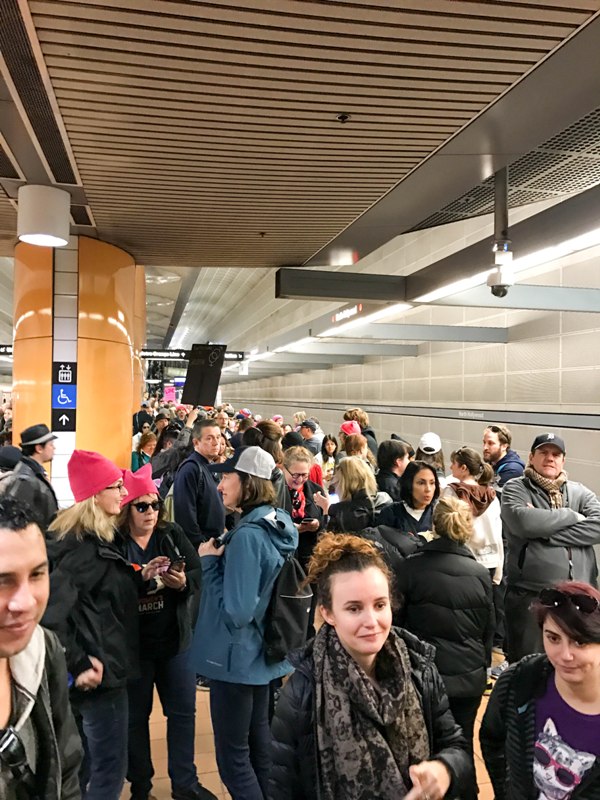 We pushed through to the end of the platform where there was more breathing room. The first train that arrived was empty and everyone cheered. People packed in but it was clear we were not getting on quite yet. "We'll get on the next one," we assumed. Again, so young, so naive.
About five minutes later another train arrived … but it was already completely full. Then another one, and another. All the trains were full. Eventually word trickled through that people were getting on the train TO North Hollywood from other stations, riding it to the end of the line in North Hollywood, and staying on the train to go back to Downtown LA. Because trains going in the direction of Downtown were all completely packed and unable to pick up any new riders along the route.
Sneaky.
All-in-all we waited about an hour on the platform before the three of us managed to wedge ourselves into one of those already packed train cars. I am claustrophobic and get motion sickness easily and riding on subways already freaks me out. But I had no choice but to be brave. It was hot, and stuffy, and I had nothing to hold onto and kept grabbing strangers as the train stopped and started at each station. Honestly, it was the most uncomfortable Metro experience of my life. But if everyone else could do it, so could I. And really, it wasn't so bad. There was an undeniable energy in the air. Everyone was SUPER friendly. There were some cute kids that made us smile. The whole experience, even just up to that point, was incredible.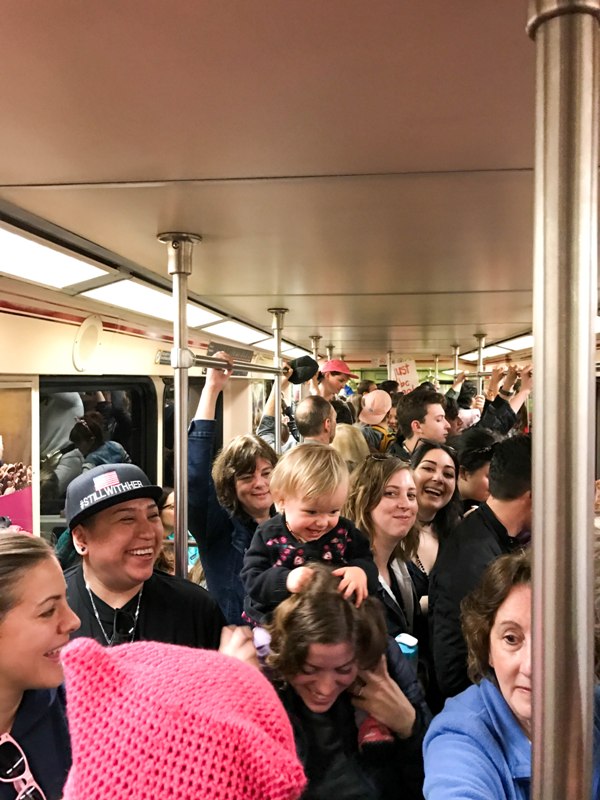 (Side note – Later in the day we learned that so many people couldn't get on the Metro in North Hollywood or the next stop in Universal City that they had an impromptu march up and down Lankershim Bvld between the two stops, which is super awesome.)
We emerged at Pershing Square around 10am and immediately joined the march on Hill Street. There were SO many people there! It was really an incredible sight.
I made a sign to carry through the march. One side was a print of art by long-time-internet-friend and artistic genius Pigment and Parchment – it reads "My body is not your political battleground." The other side was (quite obviously) painted by me. It reads, "Our rights are not up for grabs!" and includes a print out of an angry cat emoji.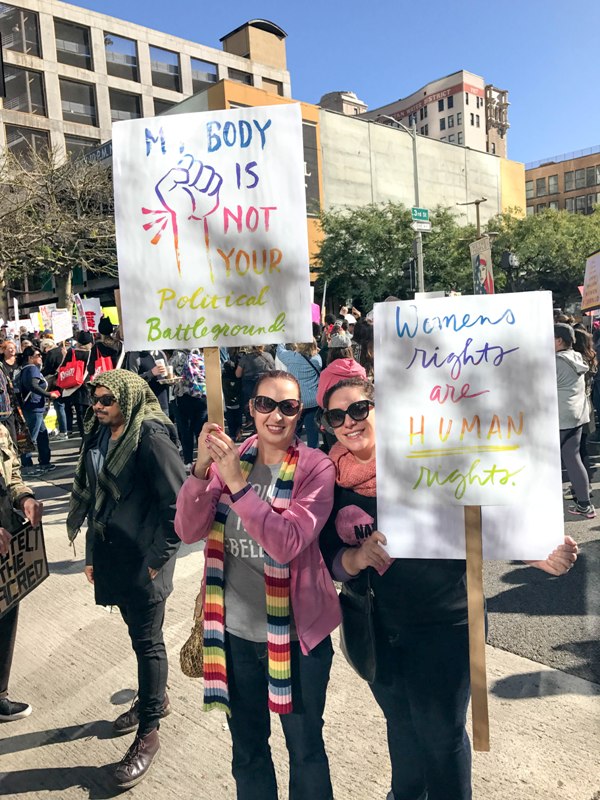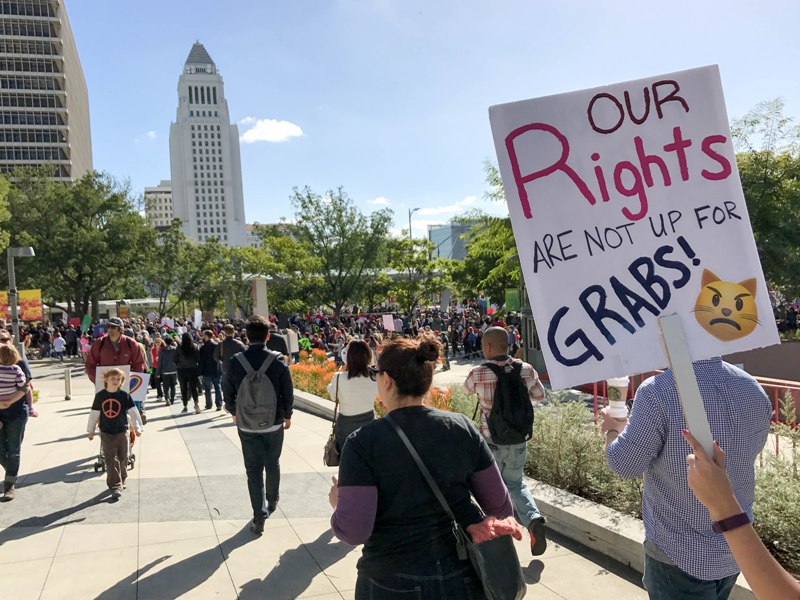 The creative signs were one of the highlights of the march. Here are a few of my favorites.
Star Wars and Princess Leia were strongly represented at the march and I think Carrie Fisher would have been very pleased.
Kimmy Schmidt represent. Unbreakable, dammit.
Can't really argue with this one. (But certain people will try …)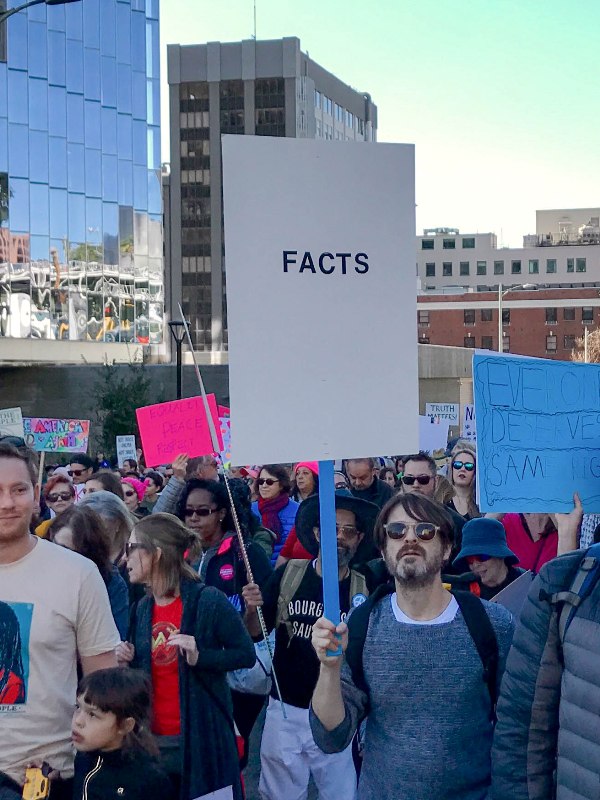 We followed the crowd and turned down First Street towards the main stage, and then decided to detour to Grand Park for coffee and restrooms. We managed to meet up with some friends and post to social media while the cellular reception was clear. Then we walked back towards City Hall and rejoined the march.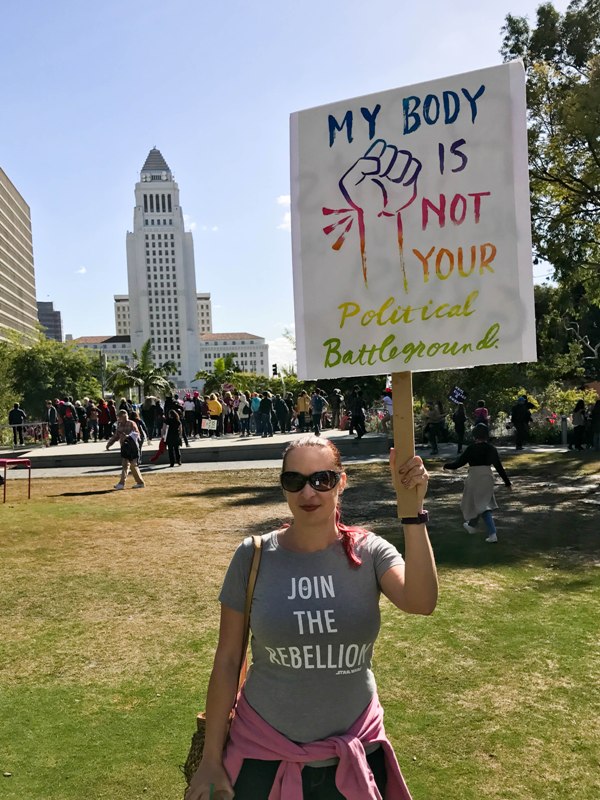 There was a stage set up at 1st and Broadway with an enormous crowd of people. We slowly inched our way through the crowd until we could hear the speakers on stage. We couldn't see anything happening on stage but we cheered and booed and chanted at the appropriate times.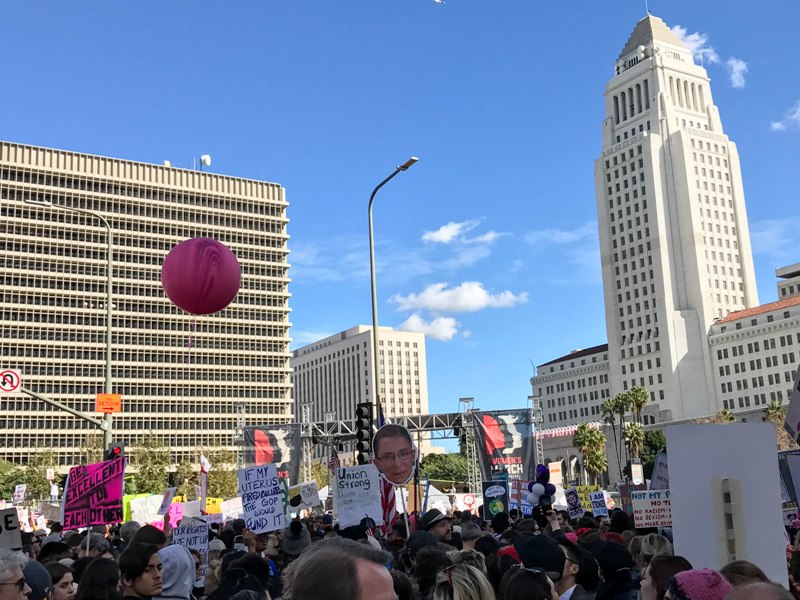 At around 1pm we decided to head back towards the Metro station to head home. As we walked back along Broadway, there were still plenty of marchers even though the crowds had thinned out. We continued to hold our signs up high until we arrived back at the station.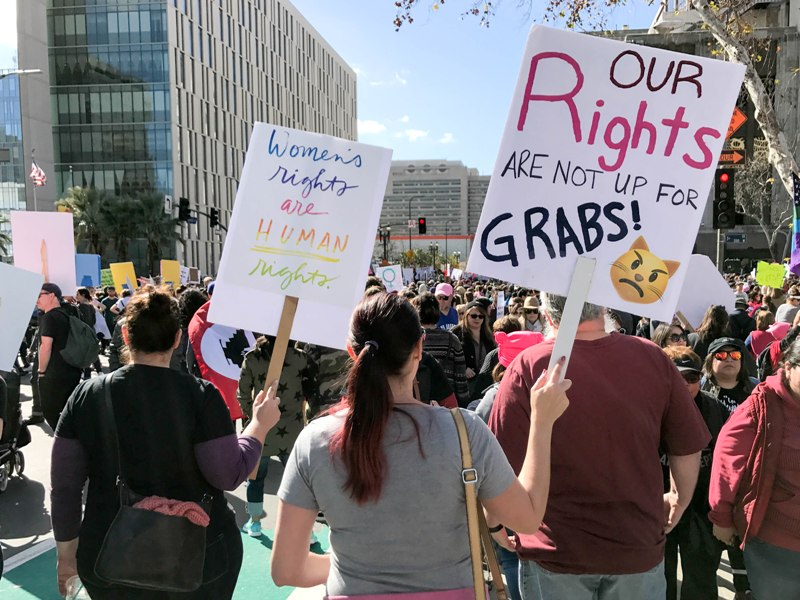 The wait for our return trip on the Metro was not nearly as long as that morning's trip, but it was just as crowded. We had some nice conversations with fellow marchers about the day. Everyone agreed it was the best we have all felt since the election, and we were all energized to continue to take action.

Art from The Amplifier Foundation
It was truly a privilege and an honor to take part in the Women's March here in Los Angeles, and to have my voice included with this historic event which ultimately included every state, over 70 countries, and all seven continents including Antarctica! I hope in the end we will prove love trumps hate.