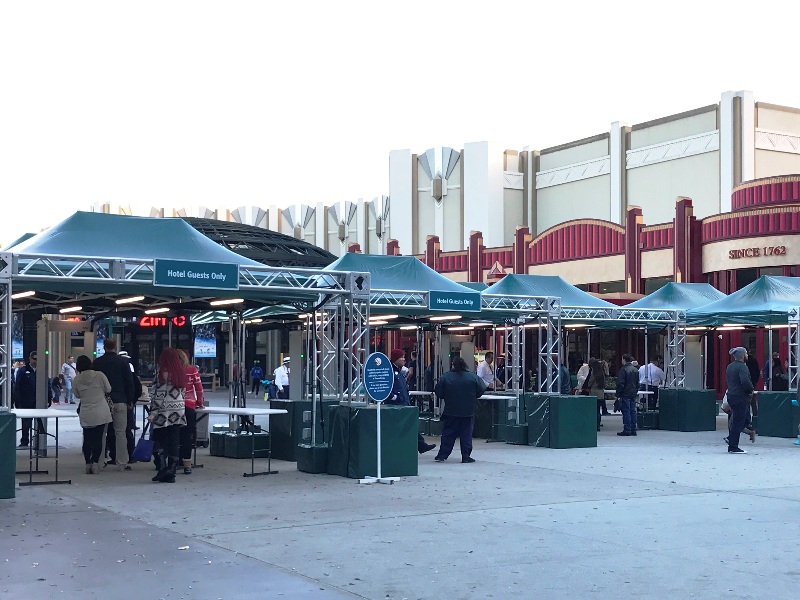 Just recently, The Disneyland Resort has made changes to its security procedures. Before the change, the security checkpoints were around the Esplanade, right before you enter the gates for Disneyland or Disney California Adventure. Security officers do a bag and stroller check, and guests selected at random are asked to go through metal detectors.
Now the security checkpoints are located between Downtown Disney and The Disneyland Hotel (pictured above), at the parking lot for Downtown Disney, and at the Mickey and Friends parking structure. There is also a new security checkpoint at the Downtown Disney breezeway from Disney's Grand Californian Hotel (pictured below). To avoid congestion at the very small Grand Californian Downtown Disney entrance, visitors are no longer permitted to enter the Grand Californian Hotel from the street unless they are a guest of the hotel, have dinner reservations, or are attending a conference/event. Non-hotel guests can still enjoy the grounds and restaurants of the Grand Californian, but you will have to go through the security checkpoint between Downtown Disney and The Disneyland Hotel first, and enter the Grand Californian via the Downtown Disney breezeway. Non-hotel guests are also no longer permitted to enter or exit Disney California Adventure through the Grand Californian entrance.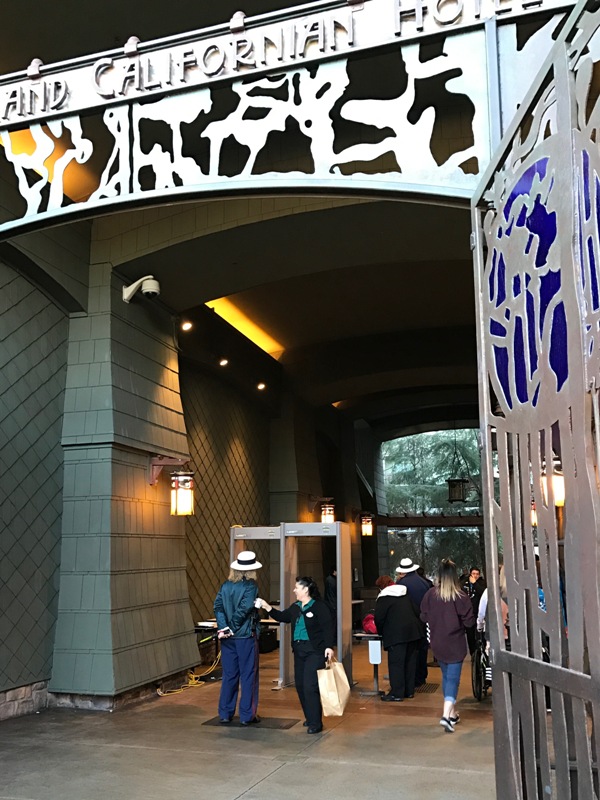 The changes put Downtown Disney within the secured area, which is great if you're spending a day at the parks and decide to step out and visit the shops or restaurants at Downtown Disney. It means you won't have to go back through security again. I also appreciate that Downtown Disney is now safer, even if it means I have to spend more time in the security lines or walk a little farther to visit the Grand Californian.
What Downtown Disney Security Means for Disneyland Weddings
But I know a lot of you are probably wondering: How will these changes affect Disneyland weddings?
Prior to the security changes, if you had your wedding ceremony at The Disneyland Hotel and your reception at Disney's Grand California Hotel, your wedding guests would be led through Downtown Disney. The new security checkpoints make this difficult now, so I've been told Disneyland Cast Members will now escort guests across Disneyland Drive to the front entrance of the Grand Californian. A Cast Member always led the way through Downtown Disney in the past, but now it's especially important for everyone to walk over together. (I assume golf carts will still be available for the wedding couple and any guests with mobility issues; be sure to discuss this with your planner if it is a concern.)
I know a lot of couples walked through Downtown Disney either before or after their wedding ceremony and took pictures. Unfortunately it seems like, as a general rule, this will not be permitted any longer. I know wedding couples have had varying degrees of success getting through the Esplanade security in their wedding attire, and I assume this will be the same with the new security checkpoints. But, it sounds like the official rule is no wedding attire past security.
If you have any official events inside the parks (such as a private World of Color showing or private attraction experience), you and your guests will be escorted by Cast Members and your planner will provide you with specific instructions for you and your guests.
If you are having your rehearsal dinner, farewell brunch, or any other wedding related event at a location in Downtown Disney, please advise your guests they will need to go through a security checkpoint and certain items, such as weapons and selfie sticks, are not permitted. If appropriate, recommend any gifts be brought in bags rather than gift wrapped so they can be brought through security.
If you are having your actual wedding at a Downtown Disney location, please check with your events team for instructions regarding security.
All things considered, I do not think the new security checkpoints are going to have much affect on most Disneyland wedding couples. Personally, we never even thought about going through Downtown Disney on our wedding day, even with our wedding events at both hotels. Hopefully the above information will help some of you with the logistics of your wedding day. If you have a wedding day security experience to share, please leave me a comment!