This post contains affiliate links.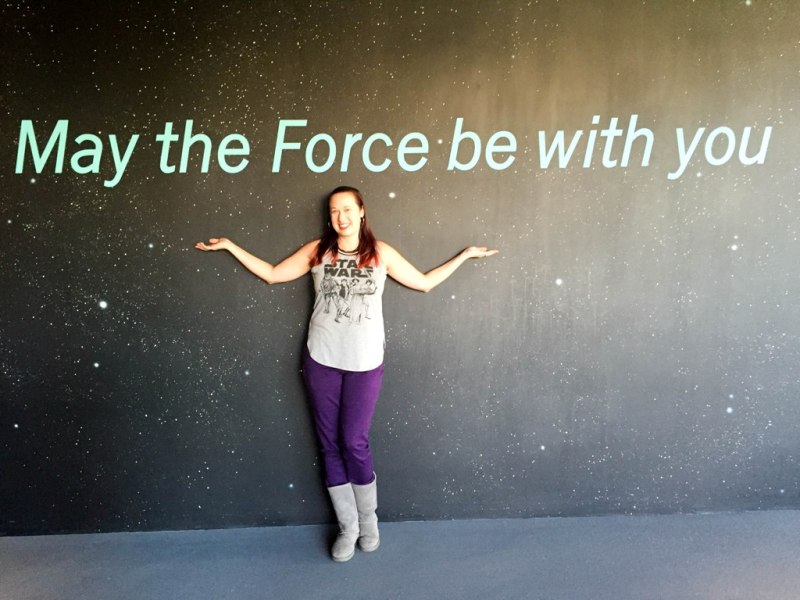 As a major Star Wars fanatic, of course I love celebrating May the Fourth. ("May the FORTH be with you" … get it?) In a perfect world, I would spend May the Fourth at Disneyland, riding Hyperspace Mountain over and over and over again. But, alas, I have to work, so I'll be celebrating May the Fourth at home this year. If you're in the same space boat as me, here are a few ideas on how you can celebrate this holiest of nerd holidays at home.
20 Ways to Celebrate Star Wars on May the Fourth
1. Wear Star Wars apparel, of course.
2. Make your own set of Star Wars Mickey ears.
3. Or go new school with BB-8 ears.
4. Be sure to eat a balanced Star Wars breakfast including a Death Star waffle.
5. And pair it with a mug of "Hoth" Cocoa.
6. Make some Wookie Cookies for dessert. (Photo by Merlot Mommy)
7. Take a coloring break with Star Wars: The Force Awakens coloring pages.
8. And color with these DIY Star Wars crayons.
9. Start training for a RunDisney Star Wars race. I recommend the Star Wars 10k at The Disneyland Resort.
10. Google images of Han Solo and swoon.
But what's with that one random guy in the second row????
11. Plan your next trip to Disneyland to experience Season of the Force in Tomorrowland.
12. Or plan your Star Wars vow renewal. (Photo by Tim Souza Photography)
13. Turn yourself into a Jedi (or Rebel Pilot or Princess Leia, etc.) using the Star Wars app.
14. Bust out your Star Wars Cover Girl makeup. Because if you can't wear frosted gold lipstick today, when can you?
15. Give yourself a Stormtrooper mani. (Photo by Cosmetics Aficionado)
16. Have a Star Wars Tsum Tsum parade.
17. Make your own Star Wars soap (would be super cute as wedding favors)!
18. Have a sweet tooth AND preparing for a Sith invasion? Make your own Lightsaber Rock Candy.
19. Let your sweetie know you're thinking about them with a special Star Wars card, like this one from artist muscra3 on RedBubble.
20. Last but not least, obviously do all of the above while a Star Wars movie marathon plays in the background.

How will you celebrate May the Fourth?