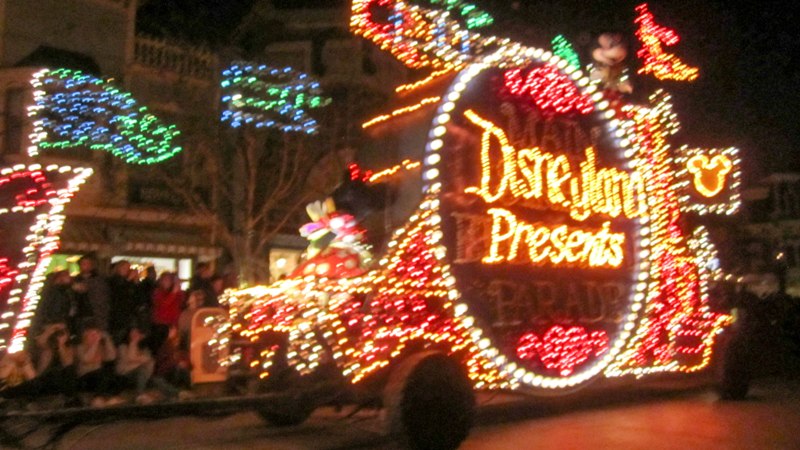 "Ladies and gentlemen, boys and girls! Disneyland proudly presents our spectacular festival pageant of nighttime magic and imagination. In thousands of sparkling lights, and electro-synthe-magnetic musical sounds: the Main Street Electrical Parade!"
Yes, friends, it's back home … The Main Street Electrical Parade has returned to Disneyland Park! After a several year run at Walt Disney World's Magic Kingdom, this popular, quintessential Disney parade is back where it originated – on Main Street USA at the original Disneyland Park.
I grew up with the Main Street Electrical Parade being a standard attraction at Disneyland, since it started before I was born and ran until my senior year of high school. However, I don't have too many childhood memories of it. While my family made annual trips to Disneyland while I was growing up, we actually went to private parties through my dad's company. The private parties were at night but there was no parade offering. I'm sure I watched it while I was growing up but I don't have strong childhood memories of it.
I have stronger memories of Disney's Electrical Parade, which ran at Disney California Adventure from 2001 through 2010. As an adult who did a lot of date nights at Disneyland, I watched the parade probably dozens of times.
Since it left The Disneyland Resort, I even saw it once at Walt Disney World when I visited for Disney Social Media Moms Celebration. Albeit I watched it from afar while standing my ground for the Wishes fireworks show, but it was exciting none-the-less.
Last week I went to check out the parade for the first time since it returned to Disneyland Park. If you haven't seen the parade since 2010, not much has changed. The parade still starts off with the train float, piloted by our friends Goofy, Minnie, and Mickey. Also the insects and reptiles still steal the show, with their spinning around and synthesizer booping and beeping.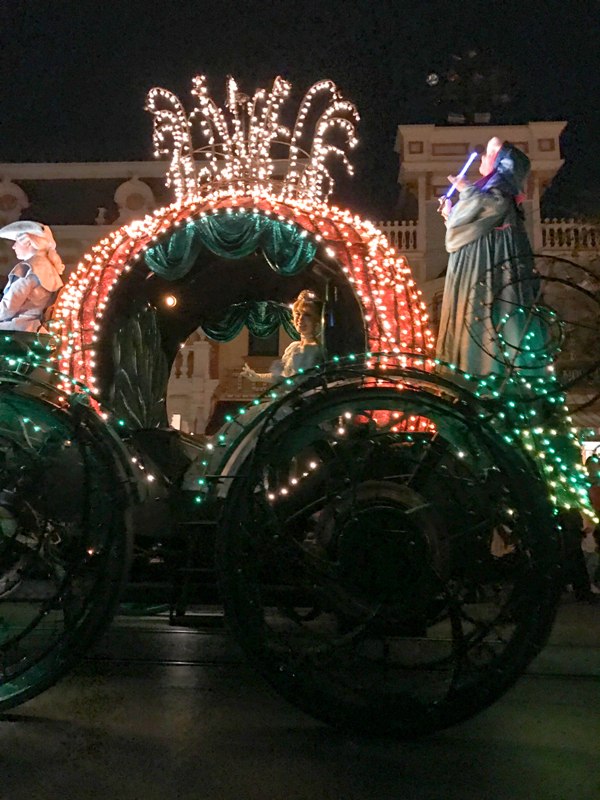 When Prince Charming looks right at you …. *swoon*
Peter Pan heard us calling out to him!
The Tinker Bell float is so gorgeous …
I was so shocked when one of the fairies came right up to the float and took some lanterns right off!
There she goes, carrying her lanterns!!
We caught Sleepy sleeping on the job …
… Oh!
The Pinnocchio Pleasure Island section is still a little frightening. That giant cupcake, tho.
The Pete's Dragon float has always been one of my favorites.
The parade wraps up with the impressive "To Honor America" float!
Don't forget to show some love for the Rope Girls!
I'm happy to have the parade back at Disneyland, even if it's just for a limited run (through June 18, 2017), and plan to squeeze in as many viewings as I can!
If you go, look out for these adorable limited-time treats themed to our favorite parade floats! There are caterpillar marshmallow wands, ladybug cake pops, and these adorable turtle eclairs.
Do you plan to watch the Main Street Electrical Parade while it's back home at Disneyland?