Continuing from my post about the 10k, today I'll be sharing about my first Half Marathon at Walt Disney World!
You can read about the Dark Side 10k here.
Both race start times were at 5:30am, so I kept my alarm as I had it for the 10k and left the hotel at 4am. Based on my experience with the 10k I probably didn't need to be up and on the bus that early but I was still nervous about everything. When our bus dropped us off I noticed the crowd level was significantly higher for this race.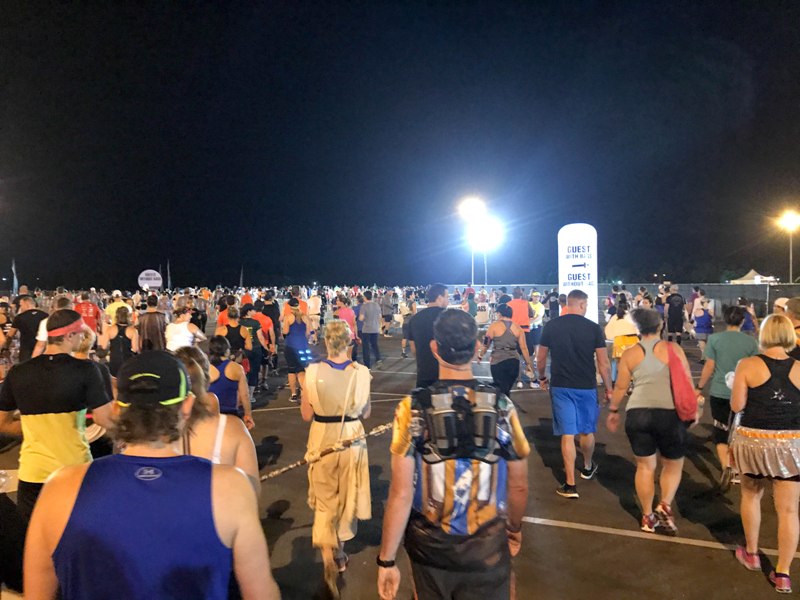 Much like the 10k, there was plenty of entertainment pre-race. Different trivia, different photo ops. This time I waited for a picture with Kylo Ren, since I was wearing my Poe inspired outfit.
Since there were so many more people for the half marathon than the 10k, and I was in one of the last corrals, I had a very long wait before I started moving. I stayed towards the back of my corral (which are HUGE – lots of space, unlike Disneyland's corrals) and stretched and meditated – just like a Jedi! Eventually, we moved towards the starting line.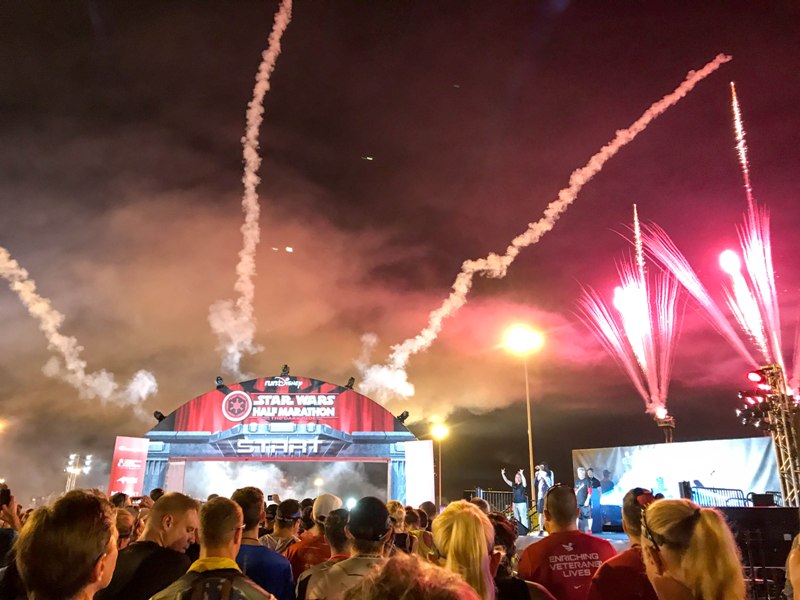 The beginning of the half marathon was much like the 10k. Very, very boring. BUT at some point, somewhere between mile 2 and 4, the runners entered into a mock Battle of Endor, which was probably the greatest thing I've ever experienced during a RunDisney race.
We were on a road, surrounded by high trees on both sides, and they had set up loud battle sounds which included the sounds of ships whizzing by, "pew pew" sounds, and little cries from Ewoks. There were smoke machines and laser lights everywhere. It was SO MUCH FUN. I tried to take a few pics but it doesn't really do much justice for the experience.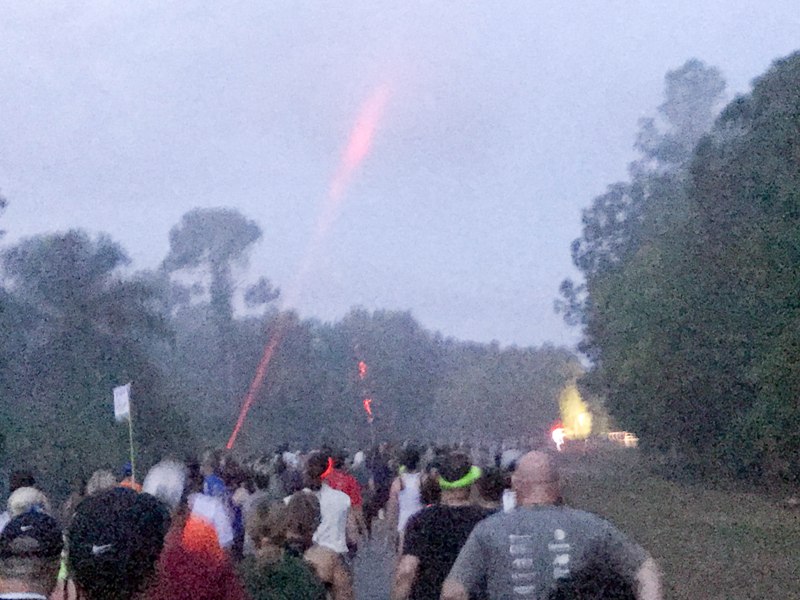 Around mile 5 we entered Animal Kingdom, and it was super fun to run through this park and see all the animals.
Entering Disney's Animal Kingdom …
We had a long break between leaving Animal Kingdom and entering Disney's Hollywood Studios around Mile 10. We did have some (outside) characters and spectators on the course, though!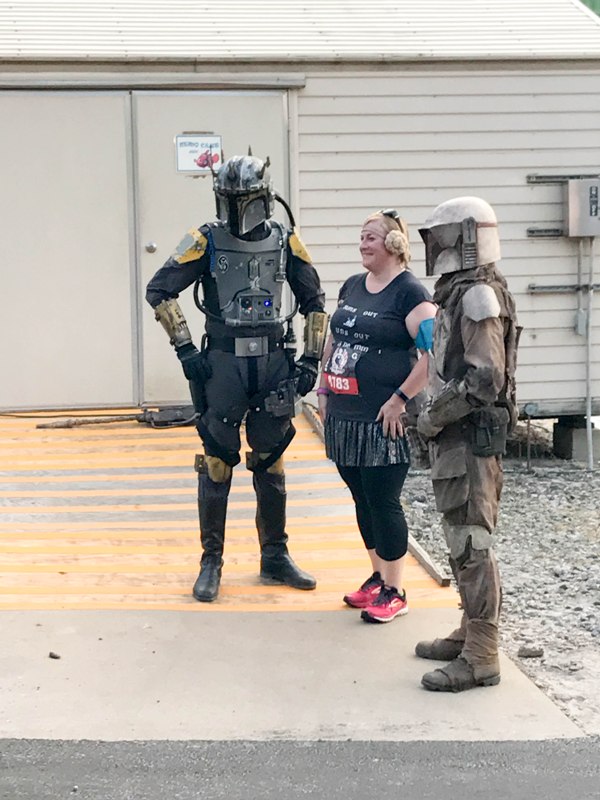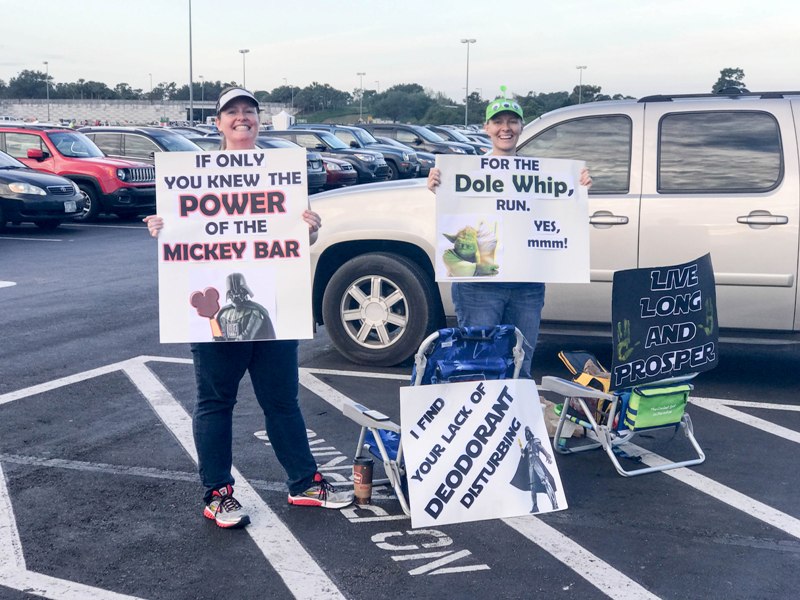 Great shirts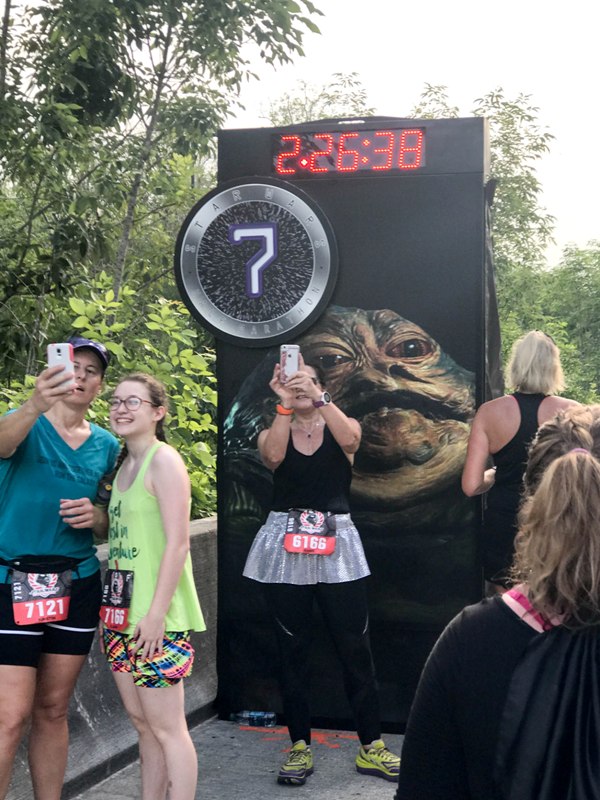 Mile 8. Over it.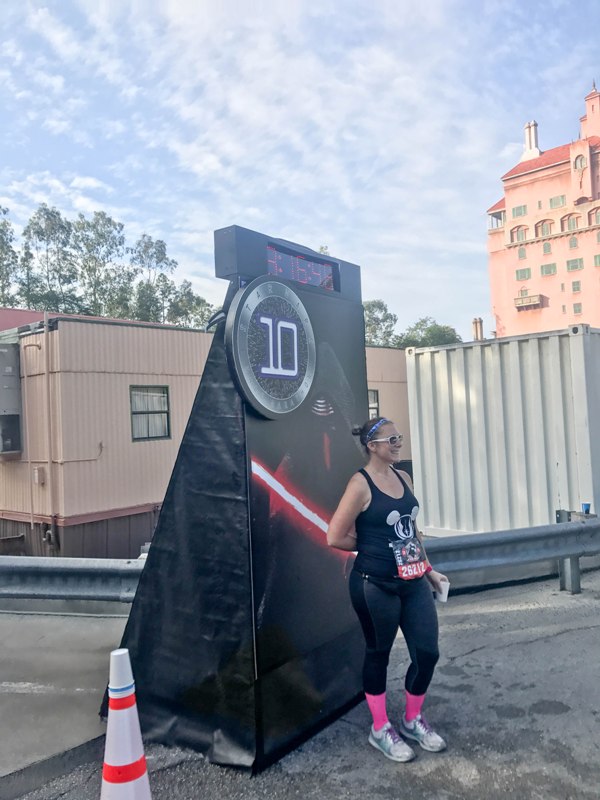 From here we again ran towards the Boardwalk area and into Epcot, taking the "other" longer way through World Showcase this time.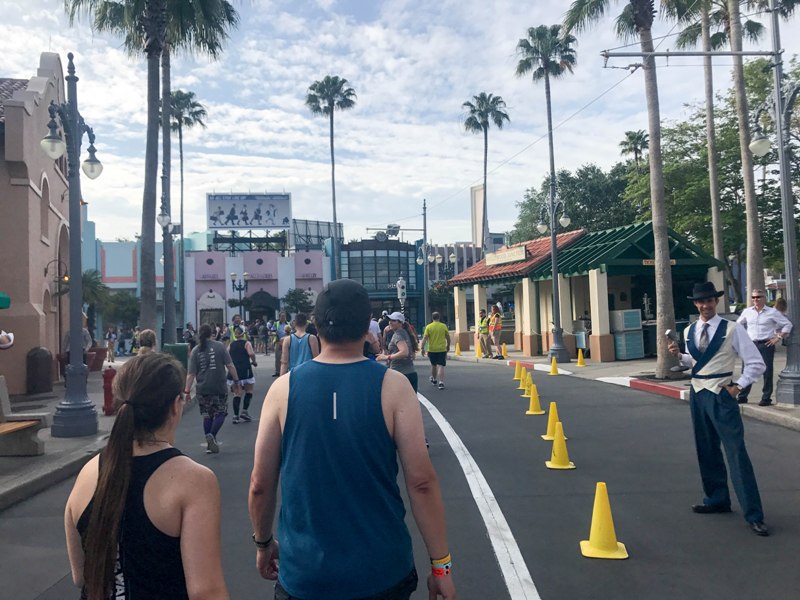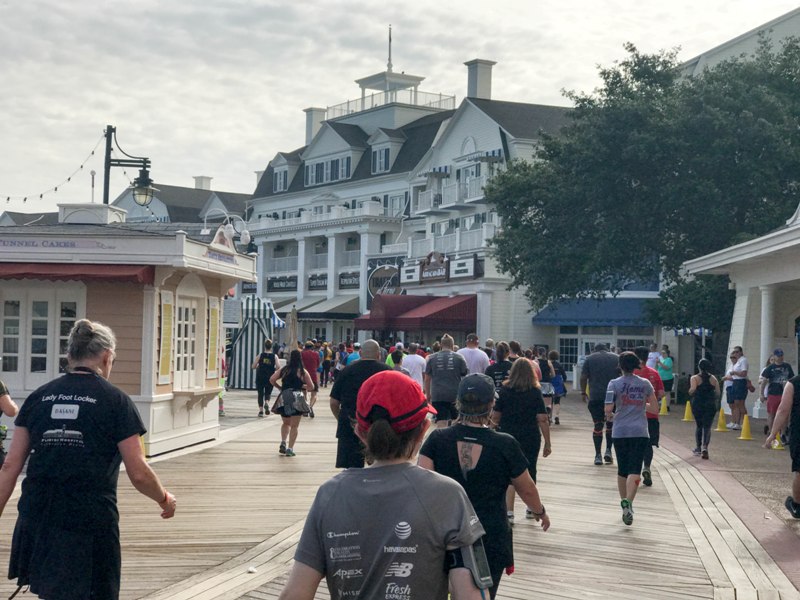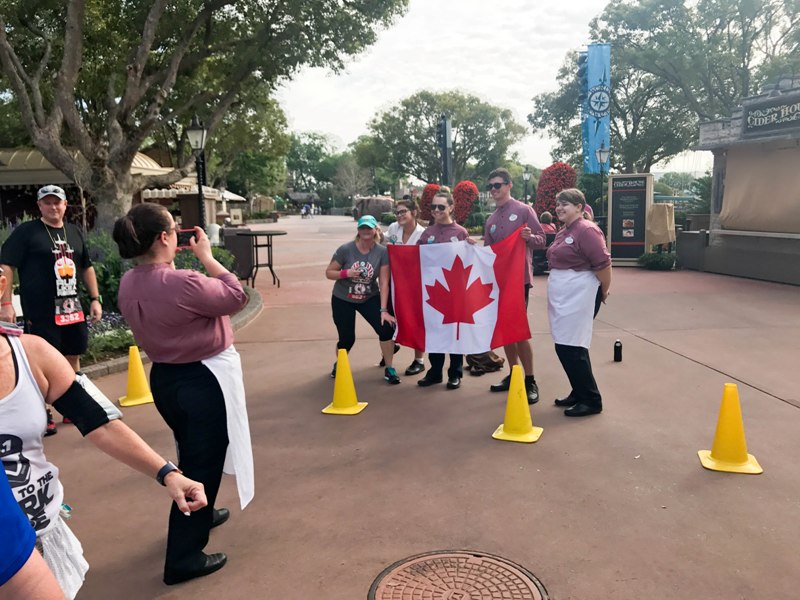 It was fun to see some of my favorite country showcases so peaceful and quiet.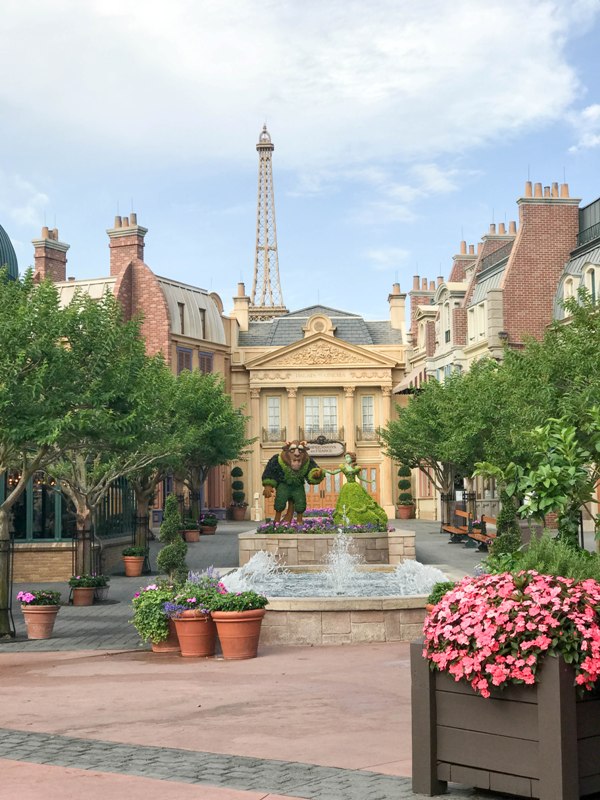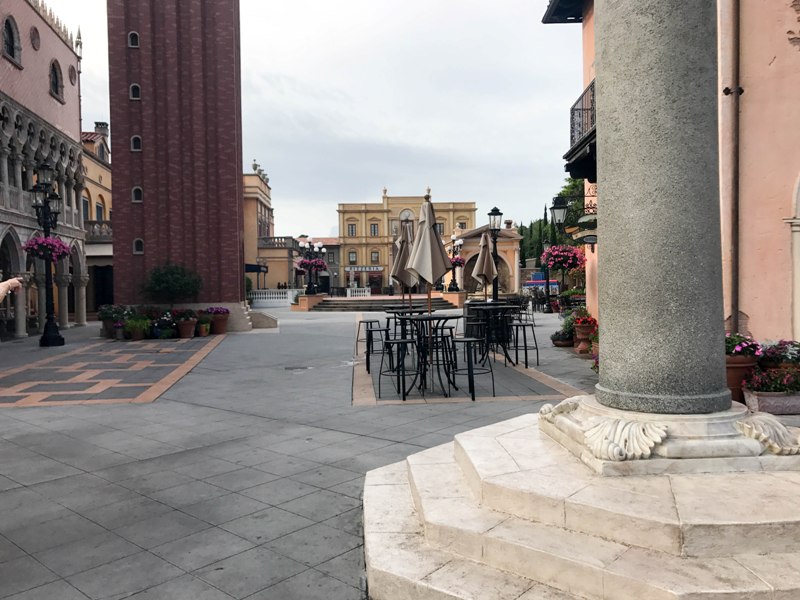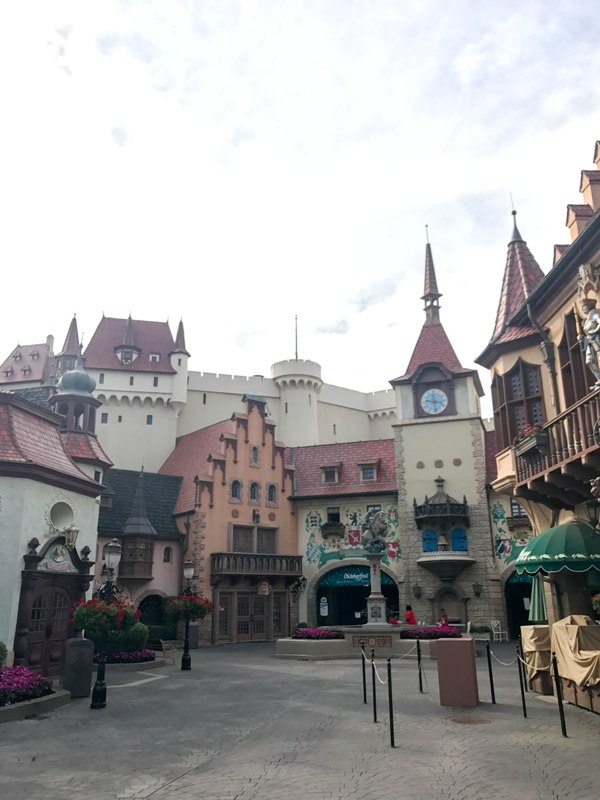 Leaving World Showcase there were lots of cosplayers out, cheering us on and posing for pictures.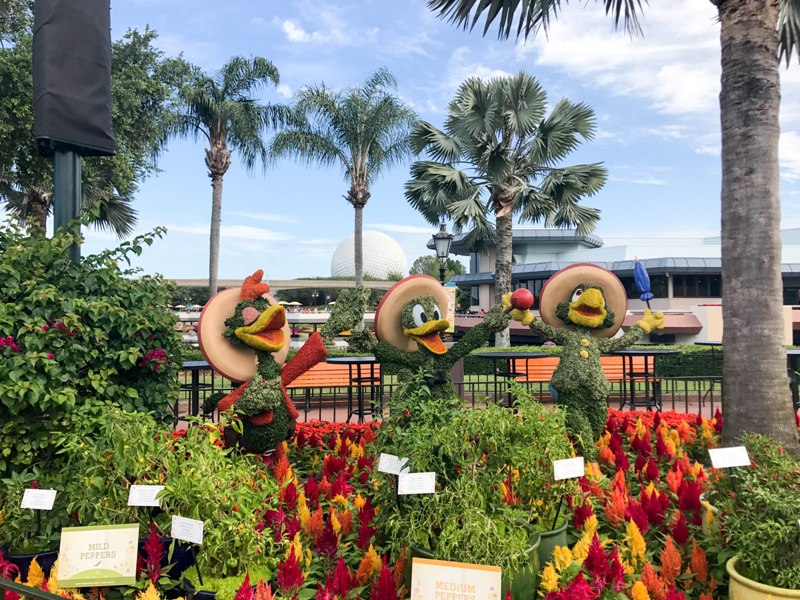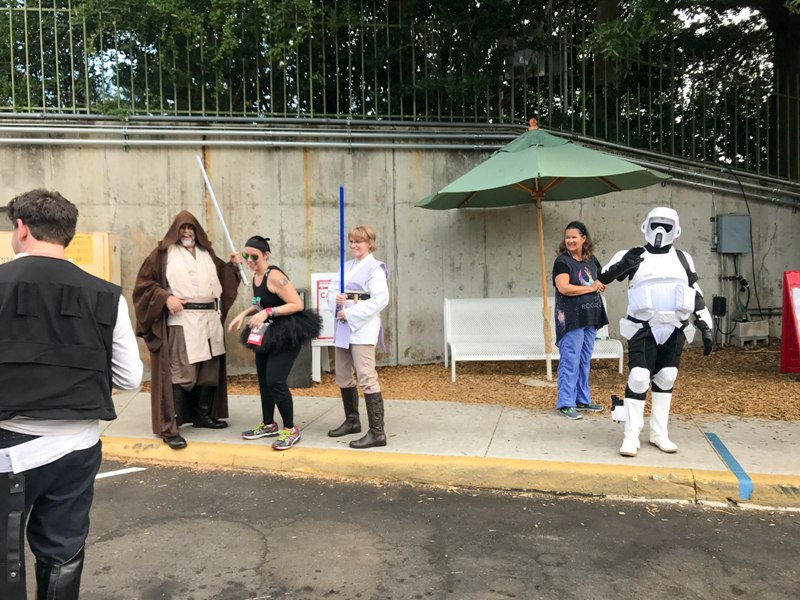 But my favorite character cheering us on was my husband! He managed to wake up and get himself to the finish line, even though he's not familiar with WDW at all and I had no way to explain where to go or how to find me, aside from some sloppy text message descriptions that apparently did the trick.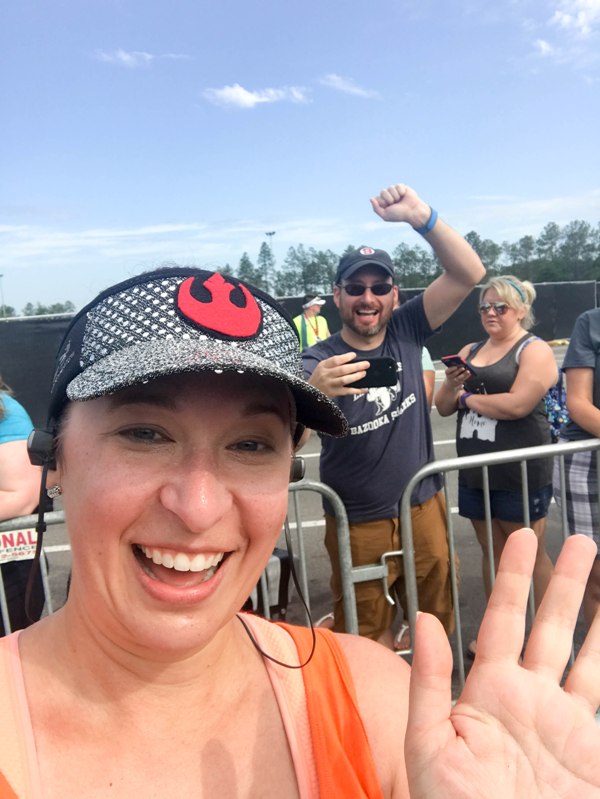 He was waiting right at the finish line and seeing him gave me a little push to finish strong.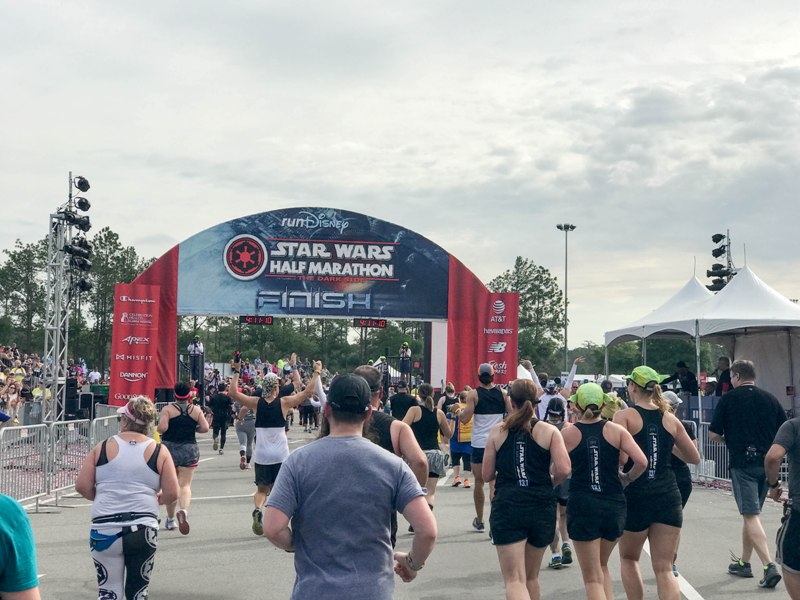 My time: 3:39:50. Four minutes slower than January, but that's okay. I blame it on the two bathroom breaks I had to take.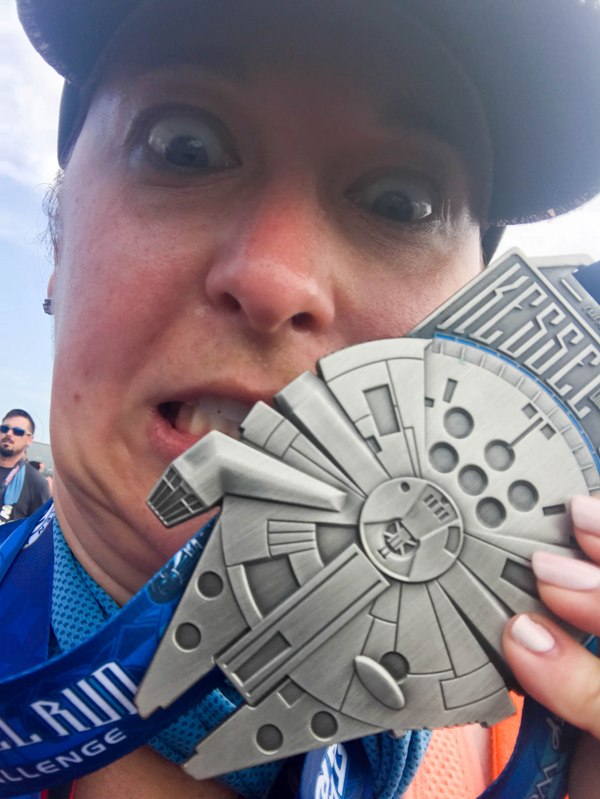 We easily found each other post race (much much easier to maneuver through crowds compared to Disneyland's finish area). I collected all my medals and banana and we got in line for our resort bus. Again we probably only waited 5 minutes before we were seated on a bus.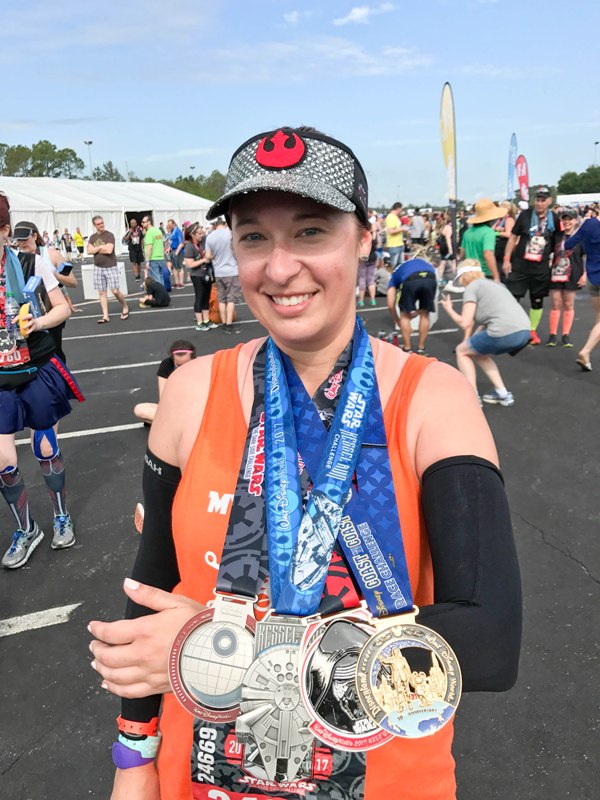 It felt so good to be done!! And the best part was I physically felt GREAT. All those months of physical therapy and training really paid off. Sure they were my slowest times but considering I thought I'd never complete a half marathon again, and within four months I had done TWO, you couldn't wipe the smile off my face. Here are some pics from PhotoPass to prove it: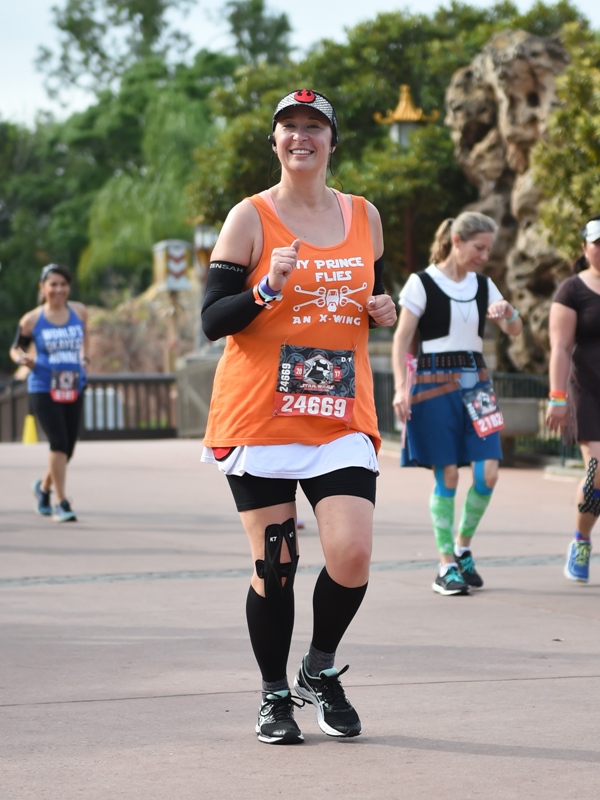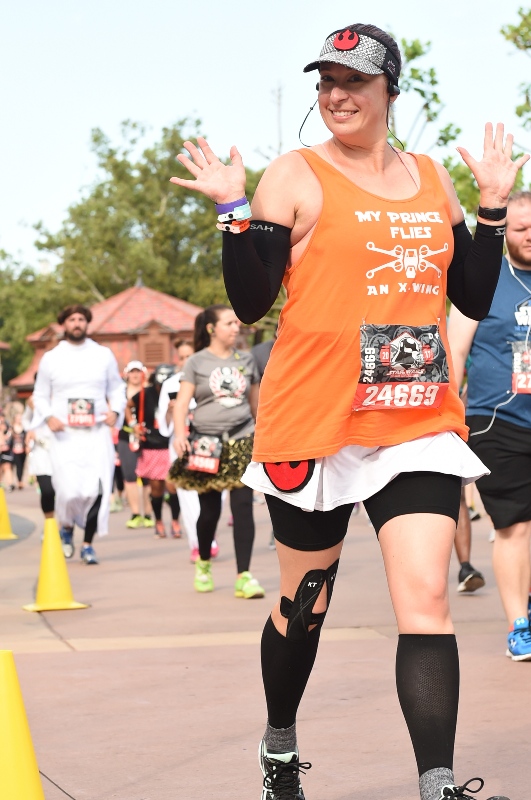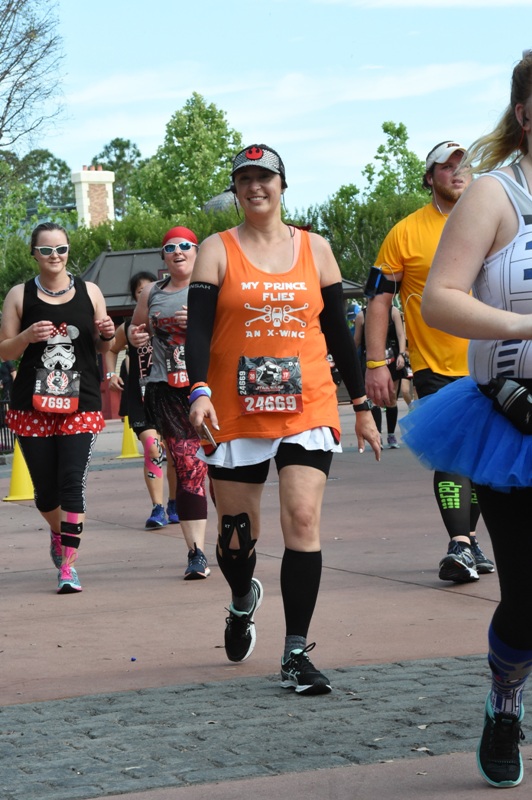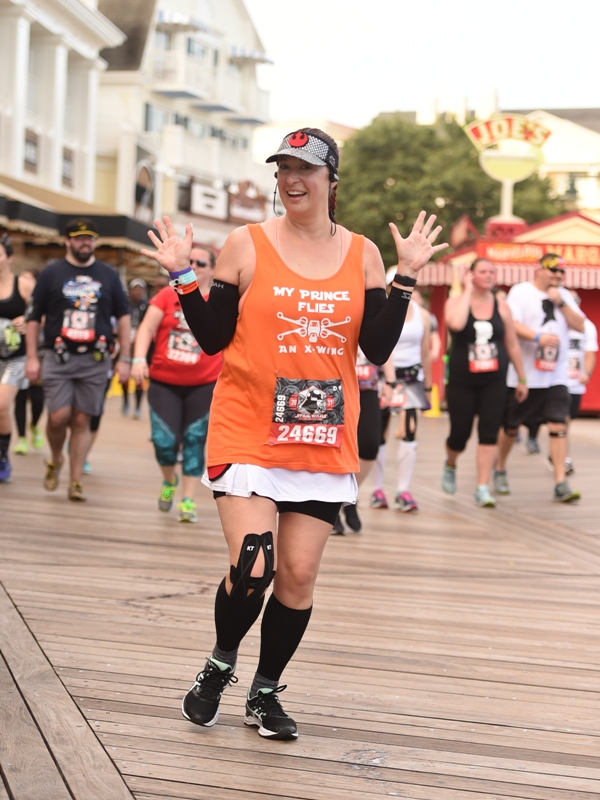 So serious!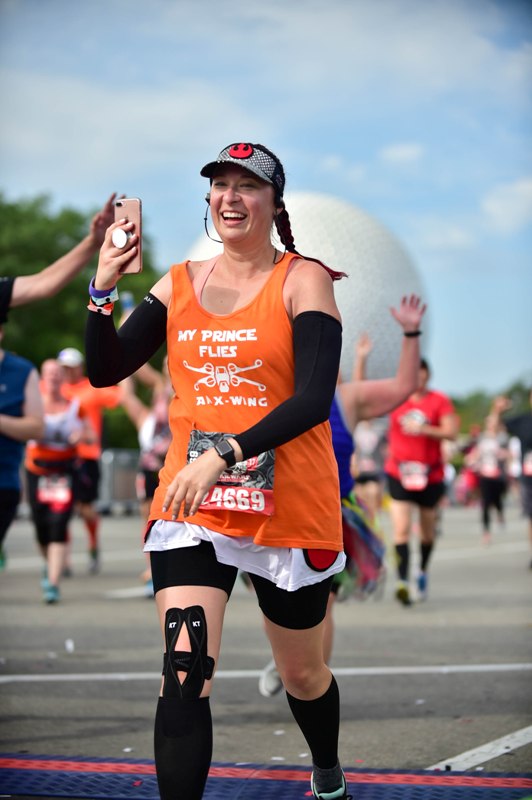 Crossing the finish line on InstaStories!
After cleaning myself up and doing a medal photo shoot at the hotel, we hopped on the bus to Disney Springs and had lunch at The Boathouse, where I ate the best hamburger of my life. I'm not sure if it was *really* that good or if I was just so famished that anything would have tasted incredible. But it quite possibly is the best burger ever.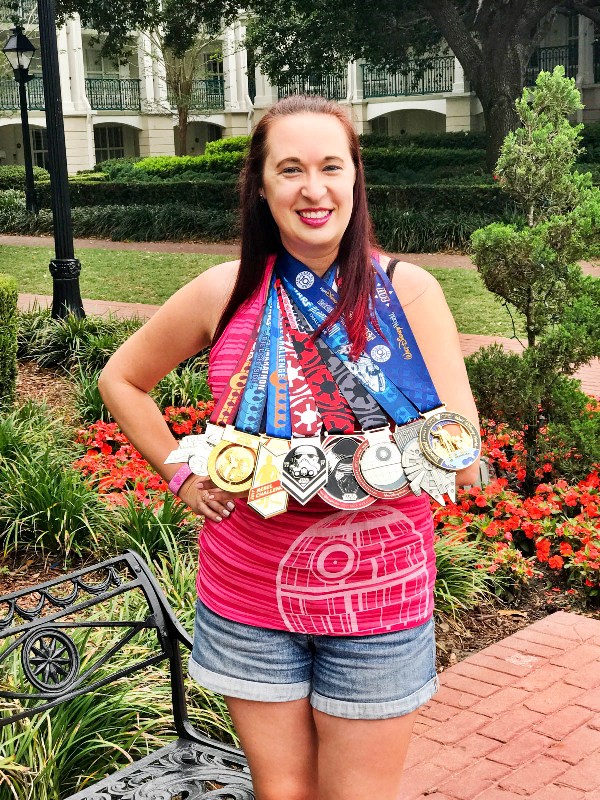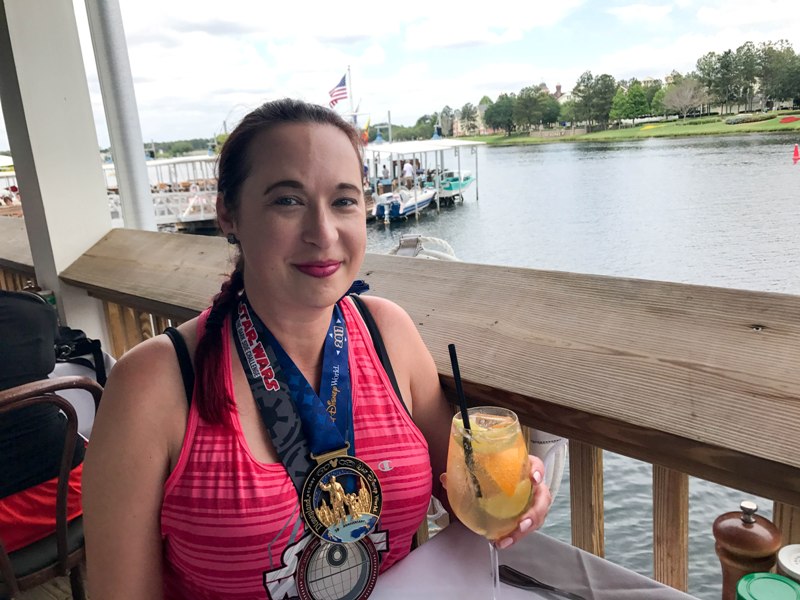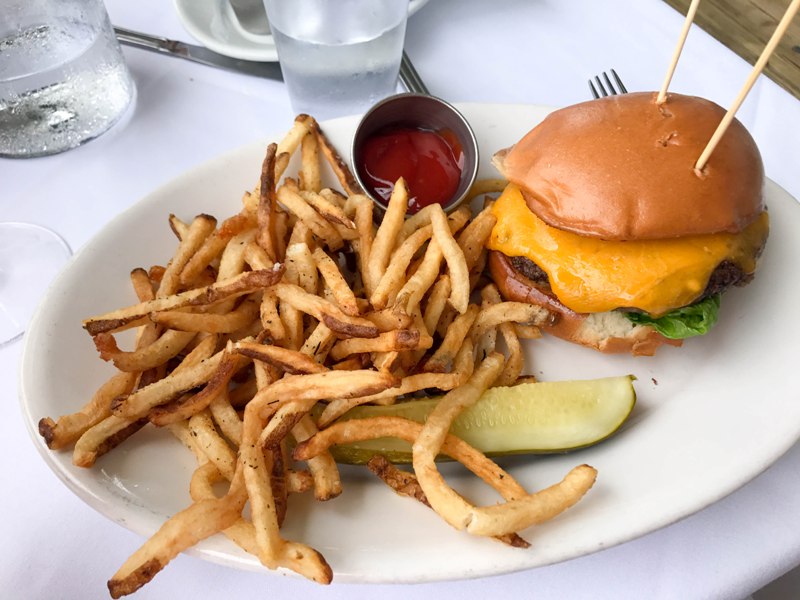 After a long afternoon nap we ended the day back in my favorite park, Epcot, and celebrated with the Illuminations fireworks dessert party. It was a perfect day!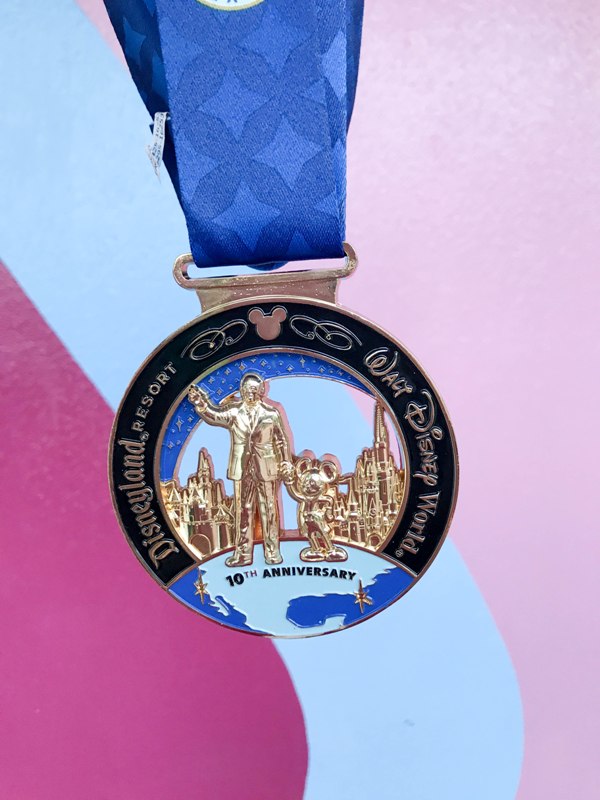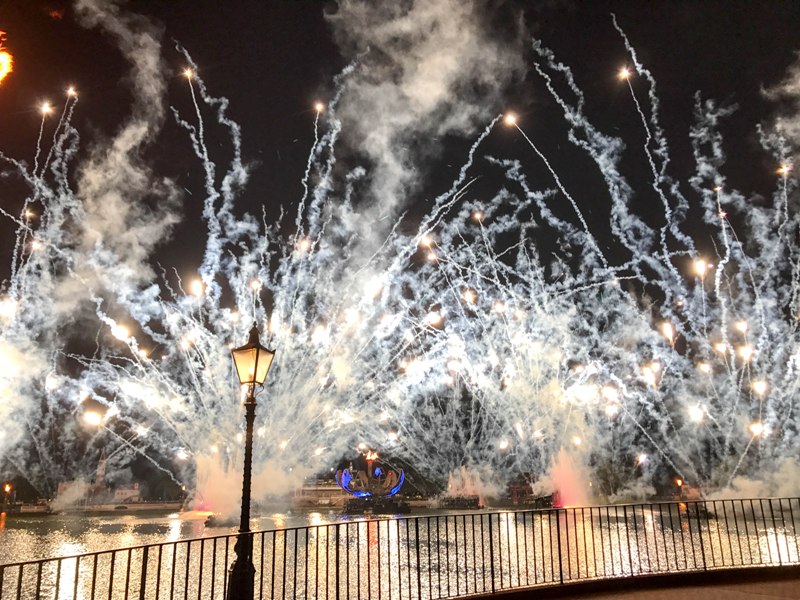 And thus concludes my Star Wars Dark Side race weekend recap! Thanks so much for following along!