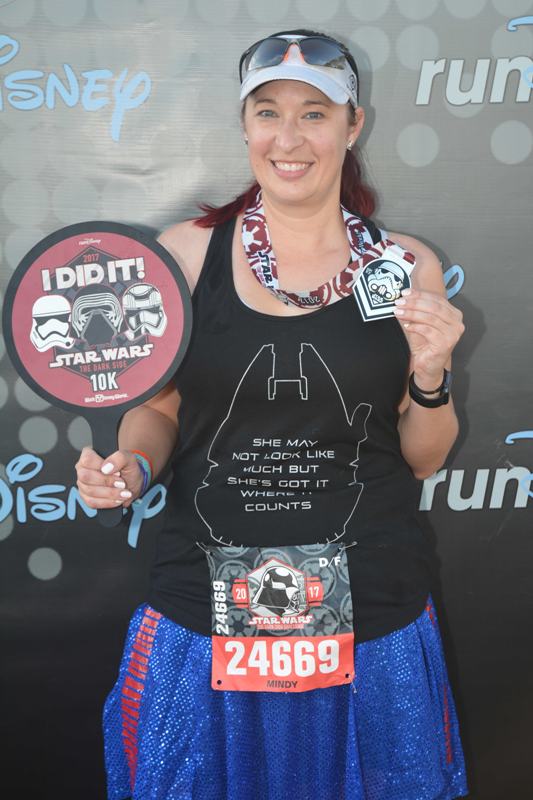 It has been a while since my trip to Walt Disney World, and I'm preparing for my NEXT RunDisney event, so it seems like a good time to finally recap the RunDisney Star Wars Dark Side Challenge I completed in April.
This challenge was a lot of firsts for me – my first Walt Disney World race, my first time doing two challenges in one year, and earning my first coast-to-coast medal! While I can walk through the Disneyland race process in my sleep by now, I had to learn A LOT about RunDisney at Walt Disney World because it's on a whole other level. But I'll save some of THAT for another post, otherwise this recap will take me a week to right.
If you want to get caught up, you can read about the Star Wars Light Side 10k and Light Side Half Marathon via these links.
When you complete the Star Wars races at Disneyland, and the Star Wars races at Walt Disney World, you get a special "Kessel Run" medal. And I was determined to earn it.
The first challenge was the 10k on Saturday morning. Normally with Disneyland races my alarm goes off an hour before the race start time, and I walk across the street from my hotel to the starting line.
It's a liiiiiiiiittle bit different at Walt Disney World.
At Walt Disney World, there are buses that come around to all the resorts to transport you to the race, and it's recommended you are on the bus 90 MINUTES before the start of the race. To me this is insanity but okay … I certainly don't want to be late for my first Walt Disney World race. So I set my alarm for 3am to leave my hotel room at 3:50 and be on the bus at 4:00am.
Our race started in the parking lot of Magic Kingdom, and the bus ride took about 15 minutes from Port Orleans-Riverside resort, where we were staying. Which means I got to the race more than an hour before start time, and I was in one of the last corrals, soooooo … I had a long wait.
Did I need to get there that early? No, probably not … there was a steady stream of buses dropping off runners right up until the start of the race. But better safe than sorry.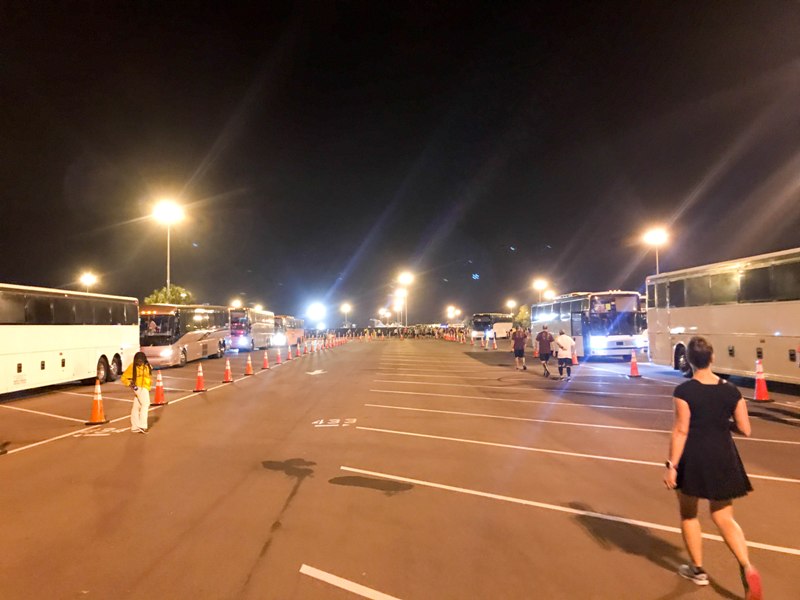 So many buses.
One nice thing about these Walt Disney World races was there was plenty of entertainment while we waited. Not only did they have a stage with an MC doing trivia and giving out prizes, but there were LOTS of characters out! Some lines were pretty long but I had nothing better to do while I waited, so I hopped in line for a photo with Jabba. I figured it would be appropriate with my Han Solo inspired outfit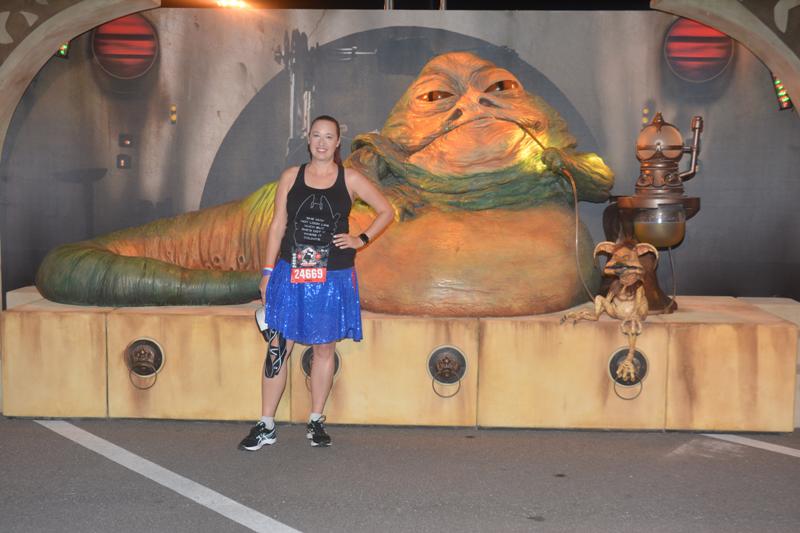 The first four miles of this course went along a road between Magic Kingdom and Hollywood Studios and was incredibly boring. There was Star Wars music playing and there were characters now and then but otherwise, it was vast fields of grass as far as the eyes could see. I'm glad I had some podcasts loaded up to listen to, because, dang.

My view for most of the race.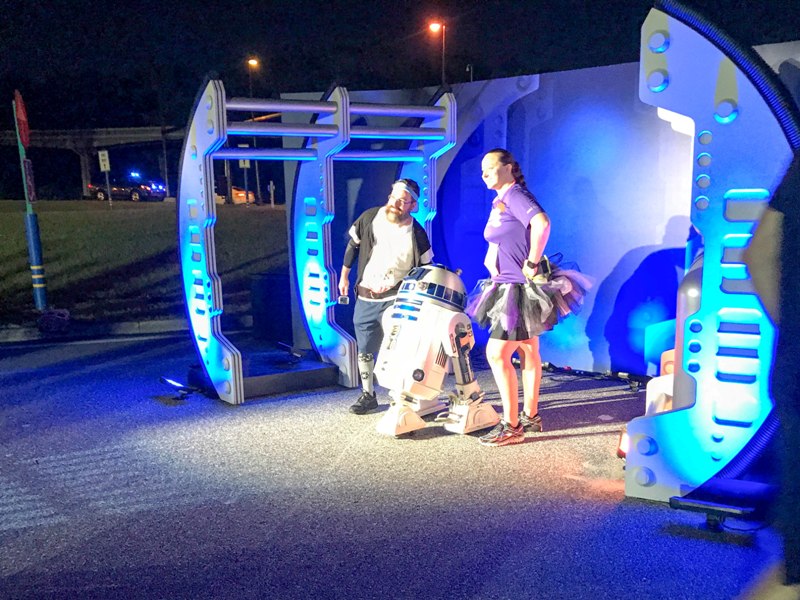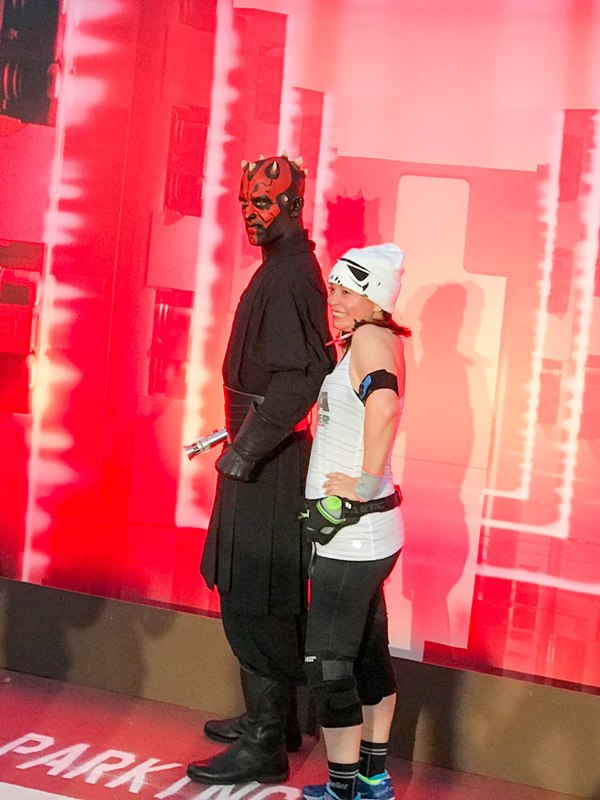 But right around mile 4, we turned the corner and suddenly we were in Disney's Hollywood Studios. Right when we entered the park, we were greeted by legions of bounty hunters and troopers. And much to my relief (and many others) there were restrooms right there, which led to another first for me – the first time I've ever stopped for a restroom break during a race.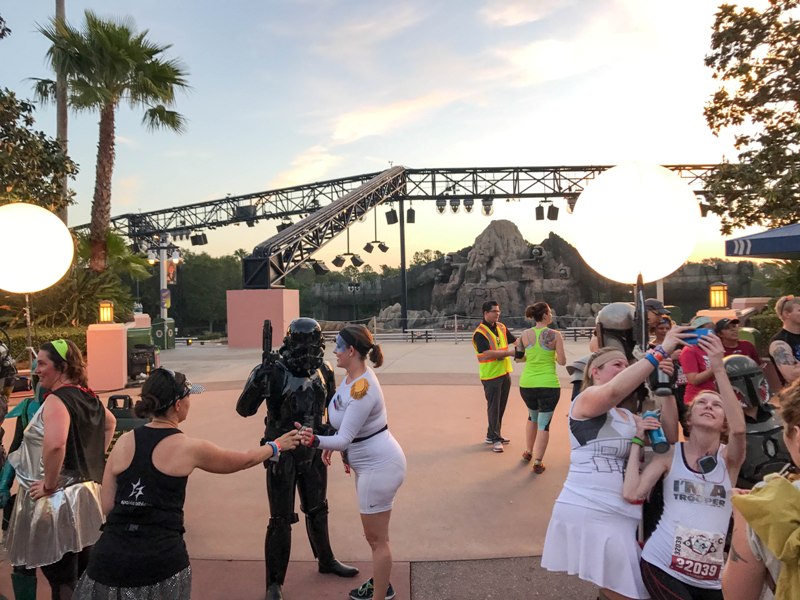 People losing their minds because there's actual entertainment on the course finally.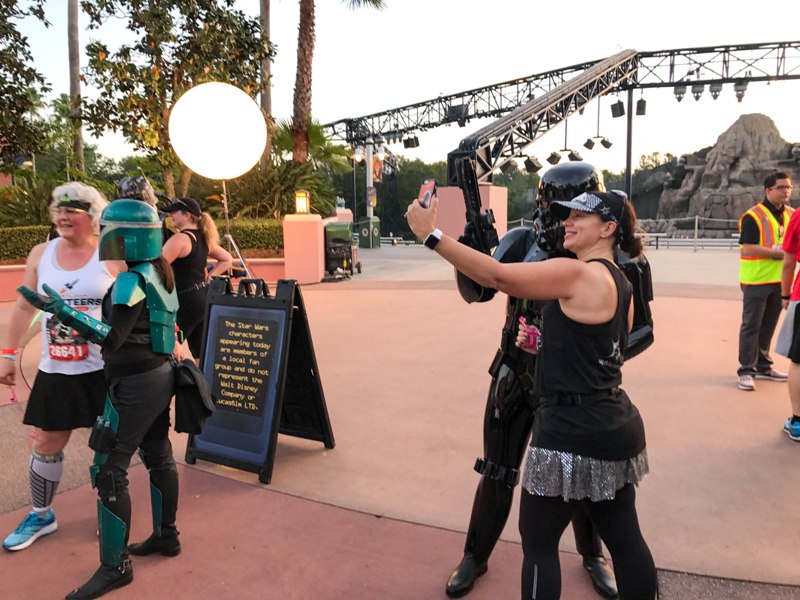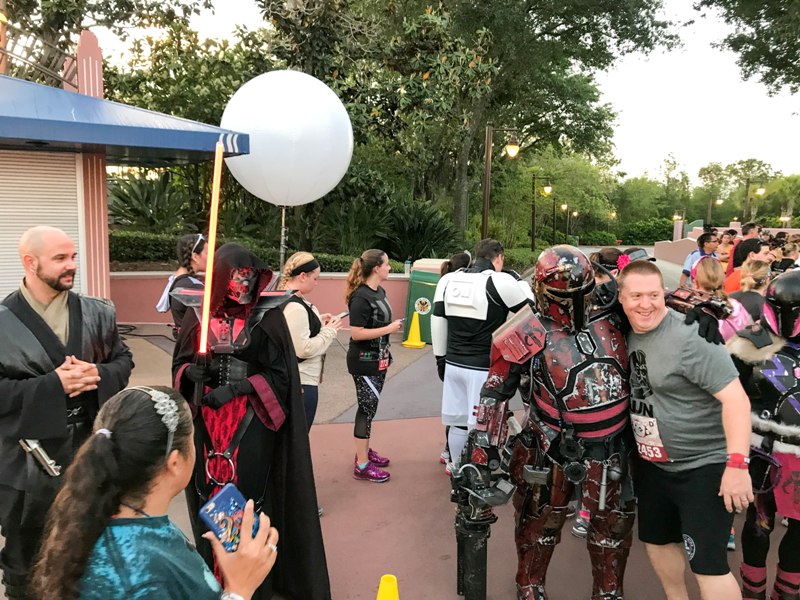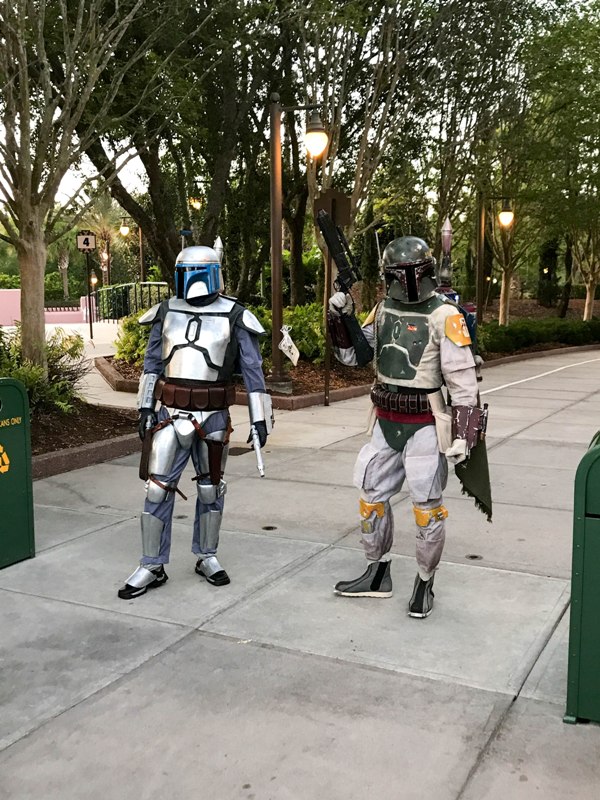 Our time running through Disney's Hollywood Studios was brief but the change of scenery and the Cast Members cheering us on was very welcome.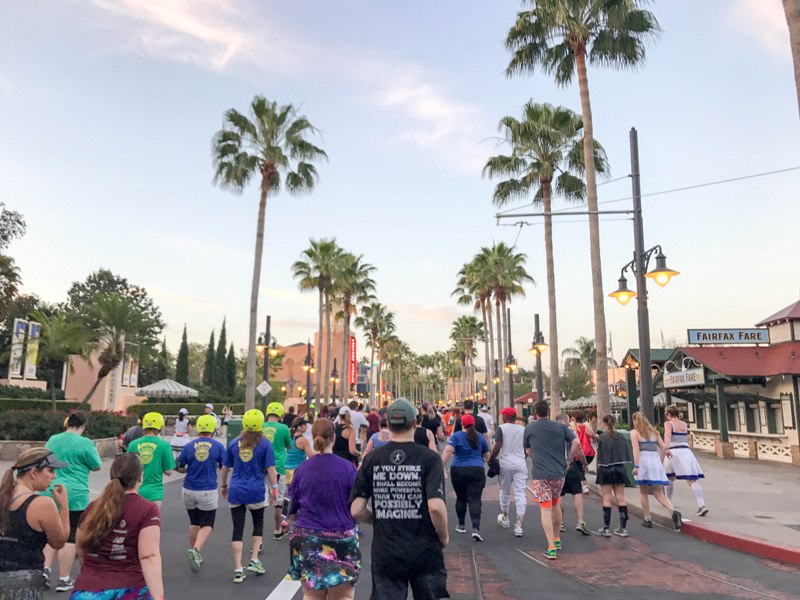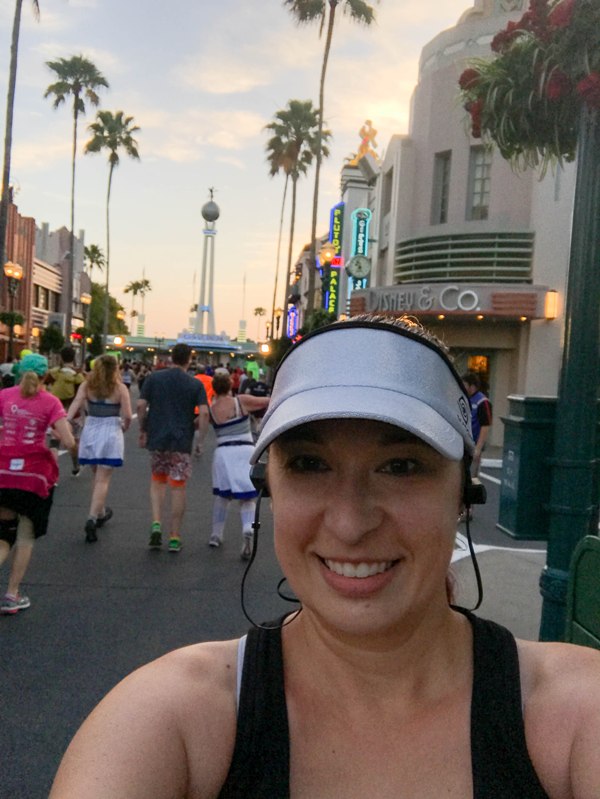 From there the course took us towards Yacht and Beach Club and then right into Epcot. Next thing I knew I was crossing the finish line in the Epcot parking lot. My first Walt Disney World race was complete!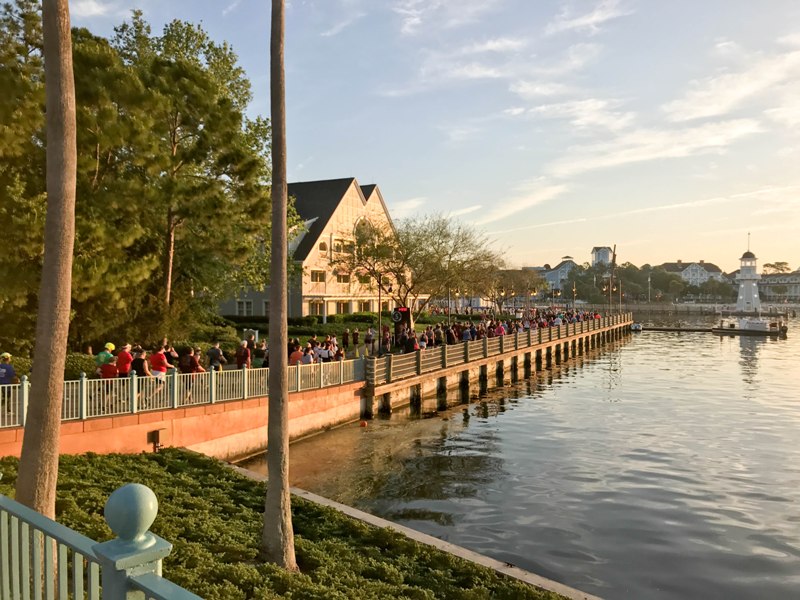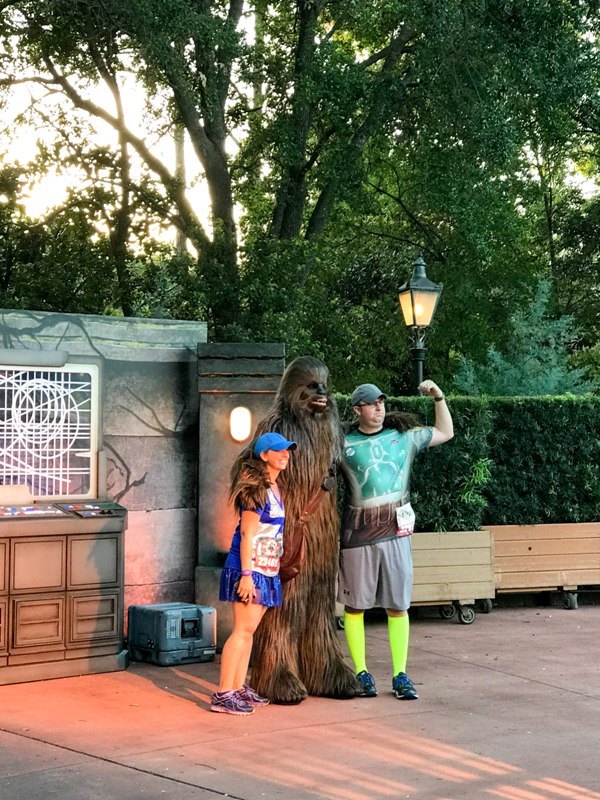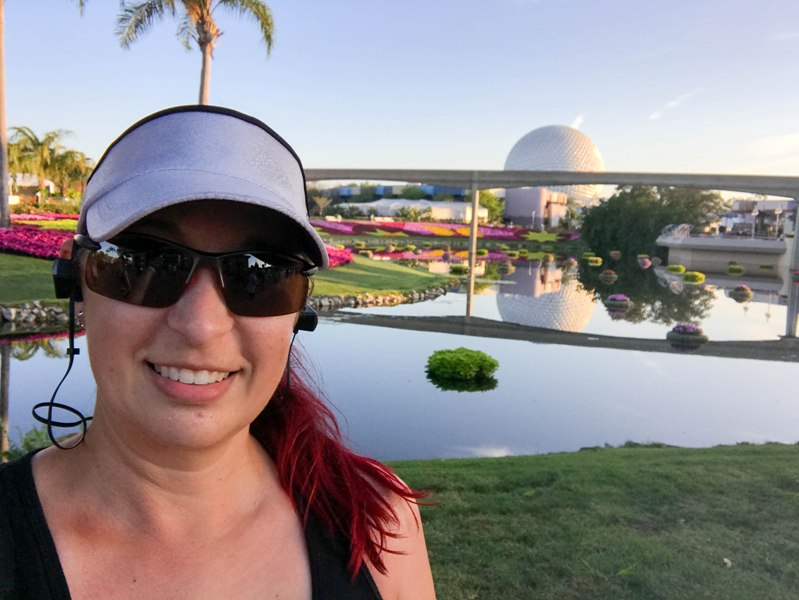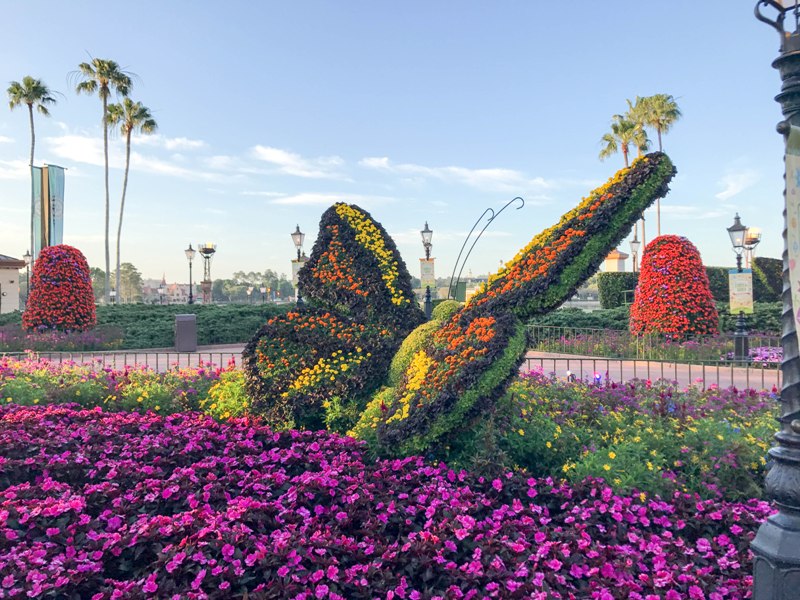 Finish line Stormtrooper selfie
My one main concern post-race was getting back to my hotel in a timely fashion. I had heard horror stories of hour long waits for buses. But everything was extremely well organized and I didn't wait more than 5 minutes for a bus on either day.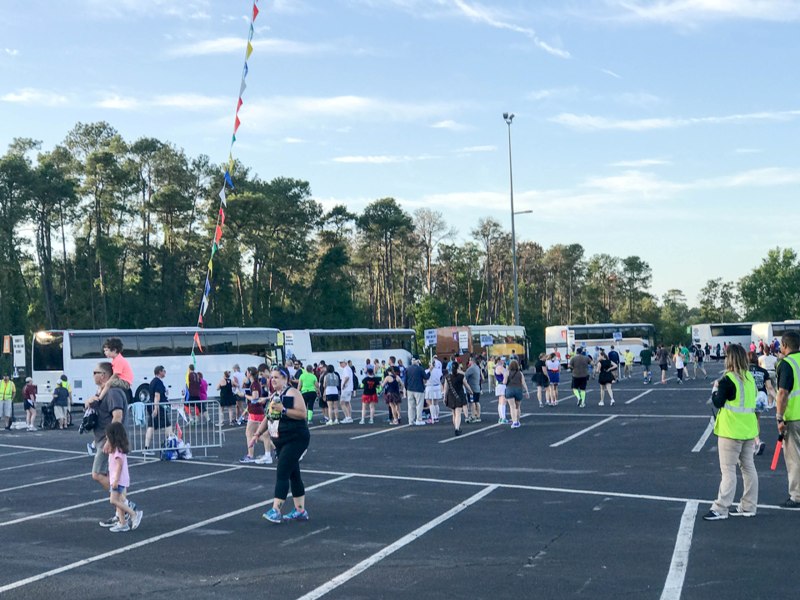 I was very impressed with the amount of PhotoPass opportunities on the course, and the quality too. Here are some where I look halfway decent: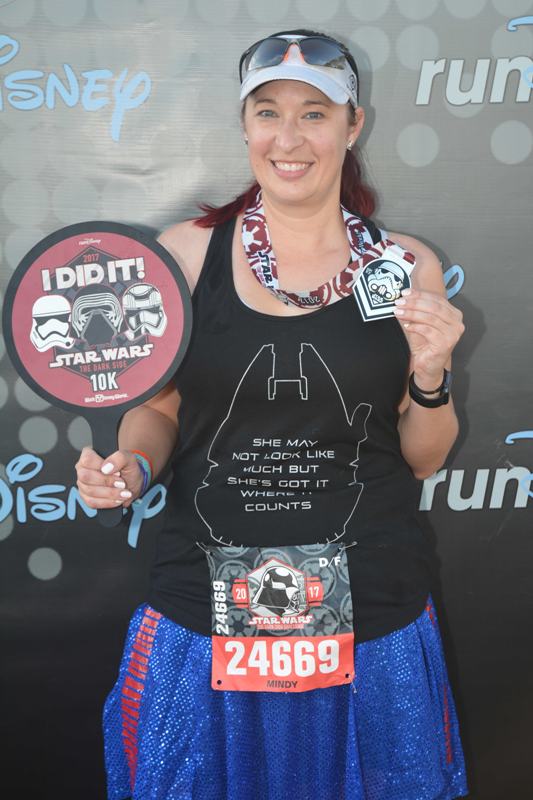 Favorite race pic ever?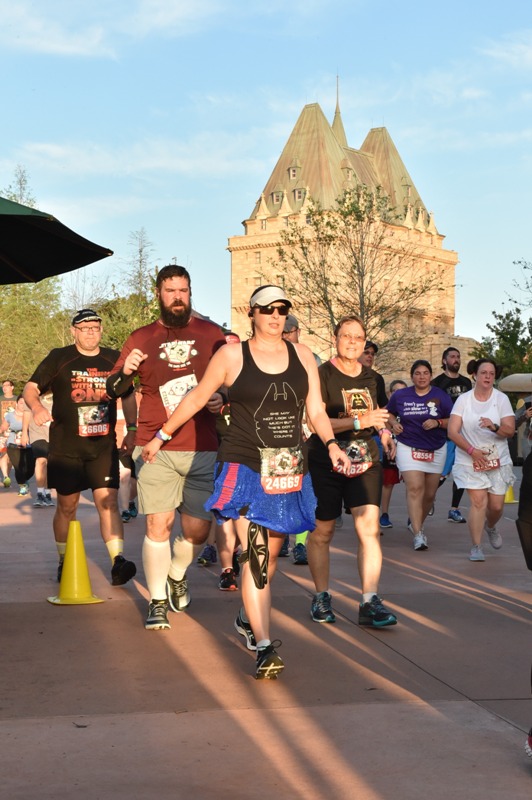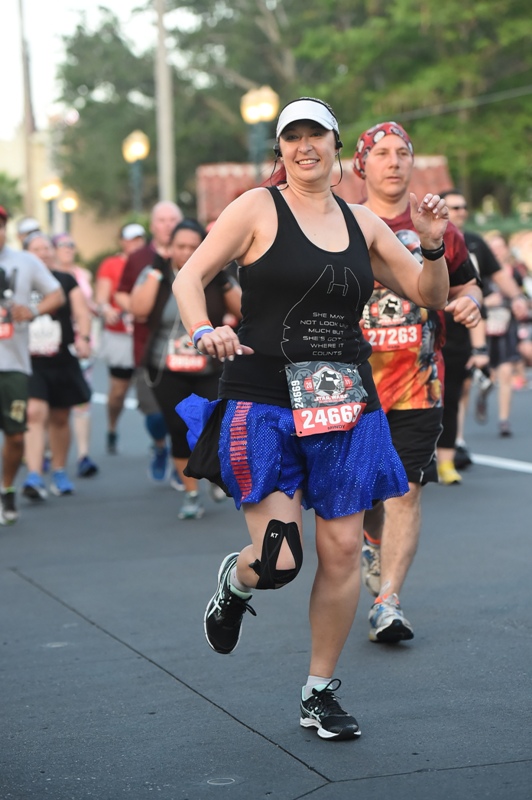 I look like a real runner here!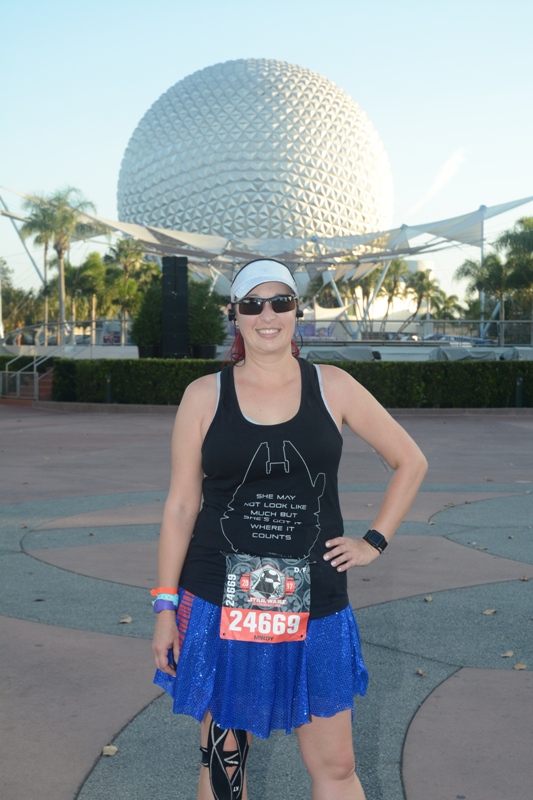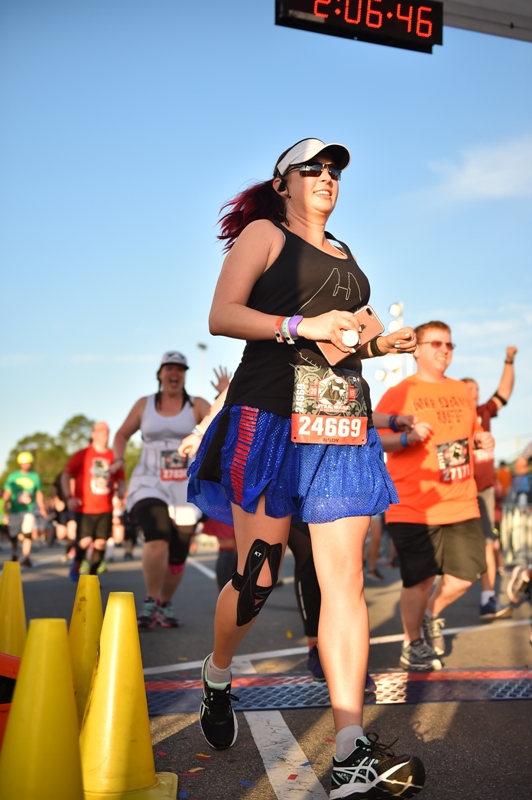 My time: 1:44:51. My second slowest ever but that's okay. I was in it for the long haul and not going for any records this weekend.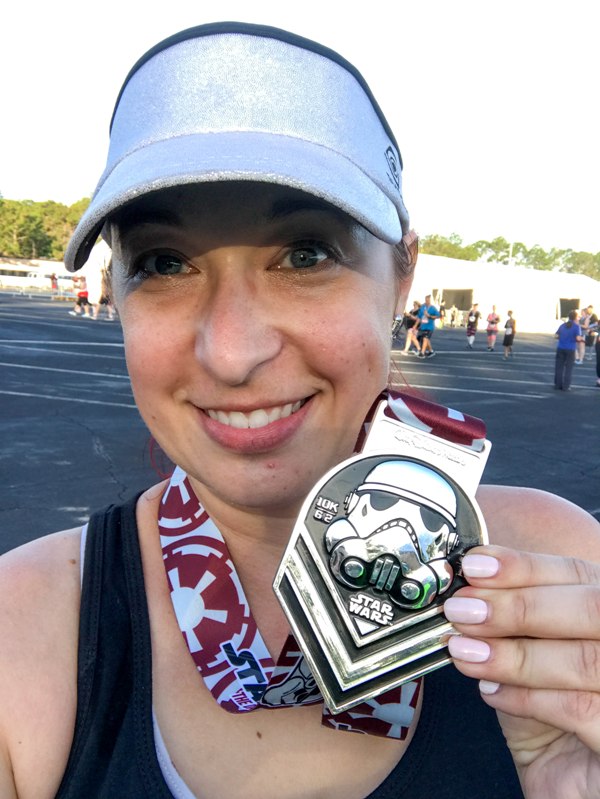 After cleaning myself up, Tim and I spent the rest of the afternoon in Epcot, eating and drinking our way around the world. Then we went over to Disney's Grand Floridian Hotel for a wonderful dinner at Citricos. It was probably my favorite meal of the trip!

Carne asada from Mexico pavilion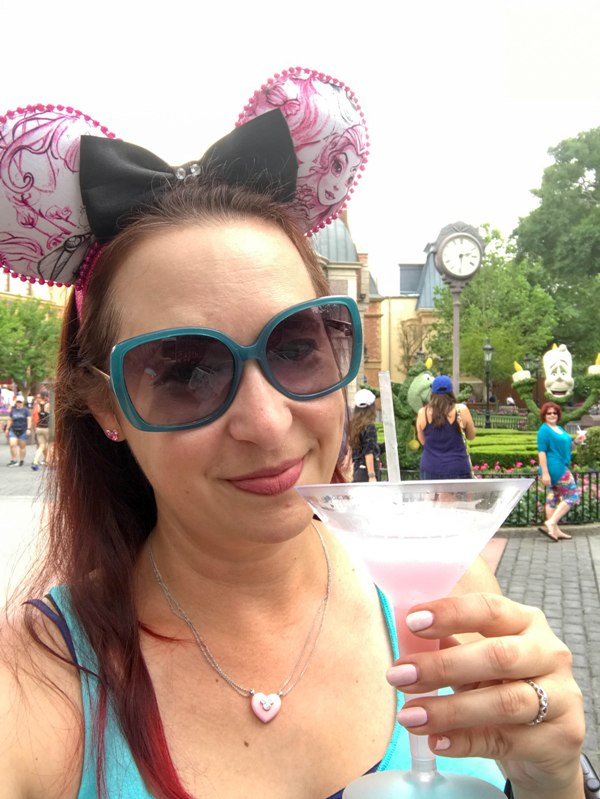 Grey Goose slushie from France pavilion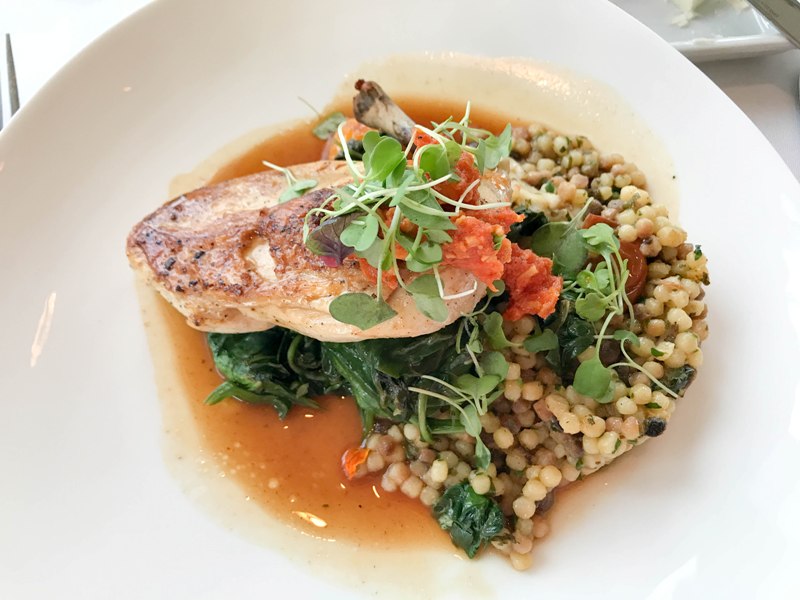 Chicken and cous-cous from Citricos
Then back to our hotel room for an early bedtime, due to my early wake up call for the half marathon the next day!
Thanks for reading! Dark Side Half Marathon recap will be up soon!