When Tim and I were planning our trip to Walt Disney World earlier this year, he said to me, "Let's splurge on something really fun."
I replied with, "How about three dessert parties? You know, for blog research."
And so it was decided. We would try the three current fireworks dessert party offerings at Walt Disney World. For YOU. YOU'RE WELCOME.
As of the date of this article, Walt Disney World is offering three nighttime fireworks dessert parties: Fireworks Dessert Party at Magic Kingdom, IllumiNations Sparkling Dessert Party at Epcot, and A Galactic Spectacular Dessert Party at Disney's Hollywood Studios. The dessert parties are considered an "Enchanting Extra," which require an additional fee on top of your ticket prices.
Here is a summary of the three dessert parties we experienced.
Walt Disney World Dessert Parties – Details and Photos
Fireworks Dessert Party at Magic Kingdom
Price: $84 per adult, $50 per child
The fireworks dessert party is located at the Tomorrowland Terrace to the right of Main Street USA. We checked in, received a wrist band, and were escorted to a table. We were a little late since we couldn't find the entrance but still managed to snag a front-row table, although a little towards the side of the terrace. There were tables a little closer to the show but all things considered we were very happy with our view.
The desserts were great. There was also an ice cream sundae cookie station, plus fruit and cheese platters. Since alcohol is not served at Magic Kingdom, we were provided sparkling cider instead, as well as sodas, juices, and a coffee station.
The show itself is obviously amazing. We saw one of the final performances of Wishes, but I know all fireworks shows at Magic Kingdom are going to be really spectacular. My one complaint is that the viewing area is very off-center, so the fireworks feel very far from the castle. I'm also used to Disneyland where everything is smaller and more compact so take this observation with a grain of salt.
On the way out we were handed a huge bag of Ghirardelli chocolates, so that was a pleasant surprise. We brought them home and snacked on them long after our vacation was over.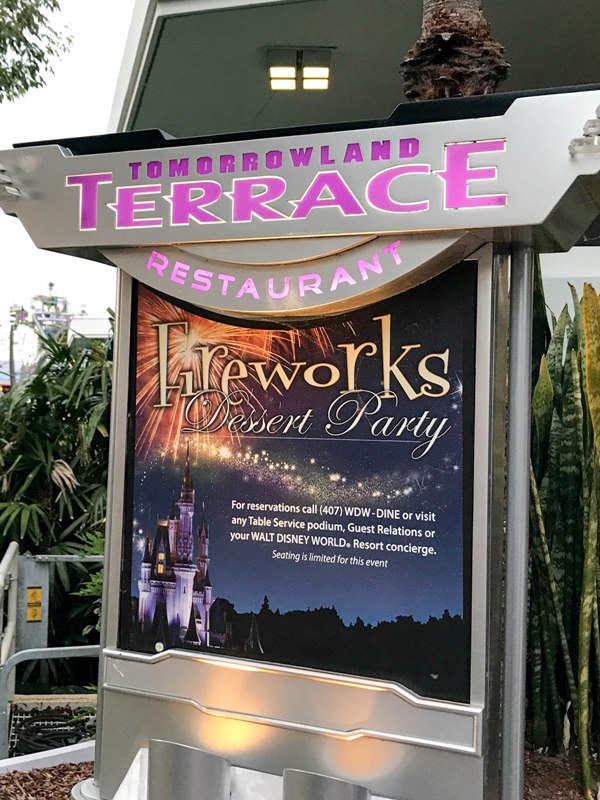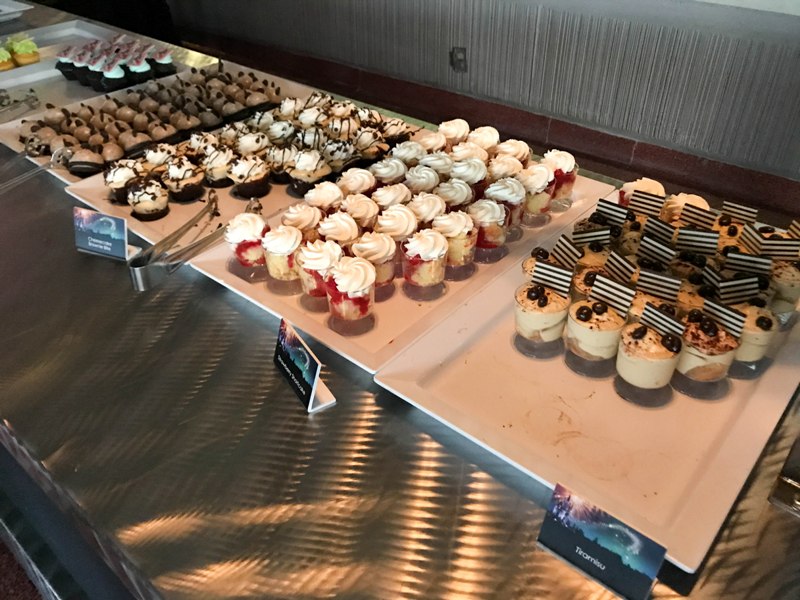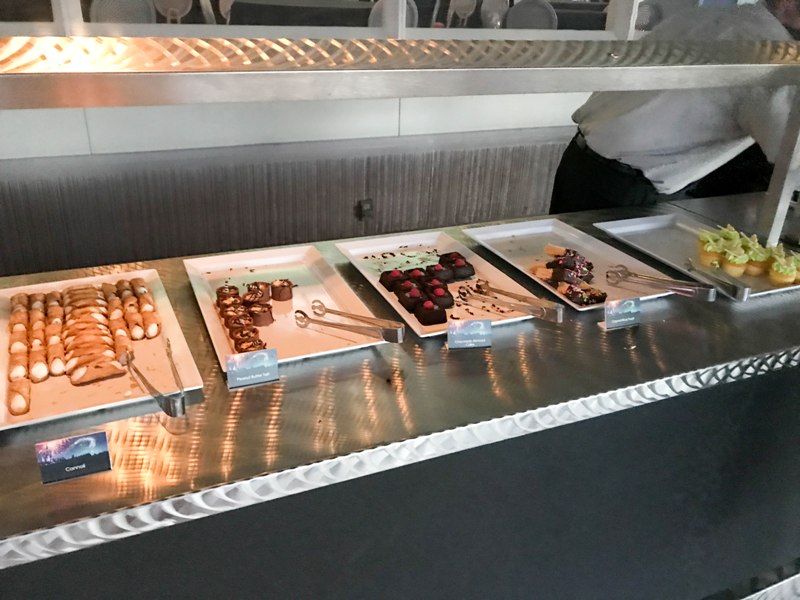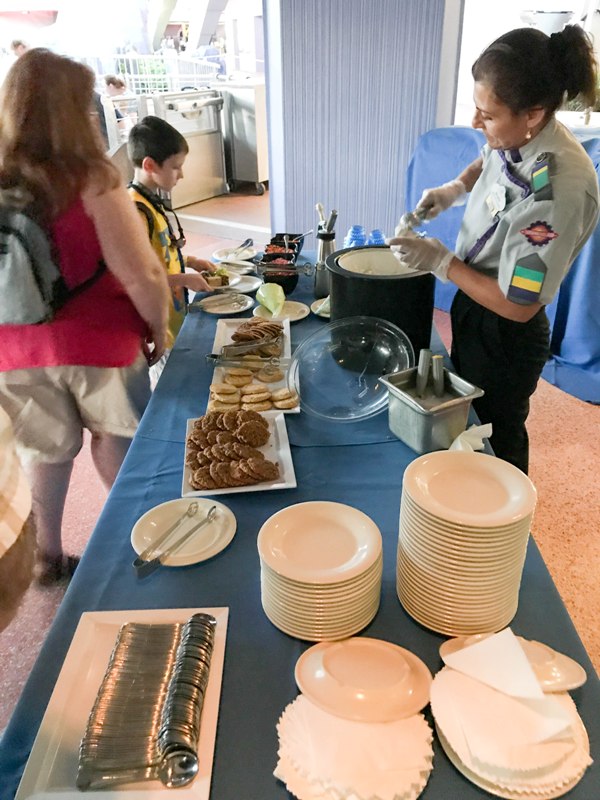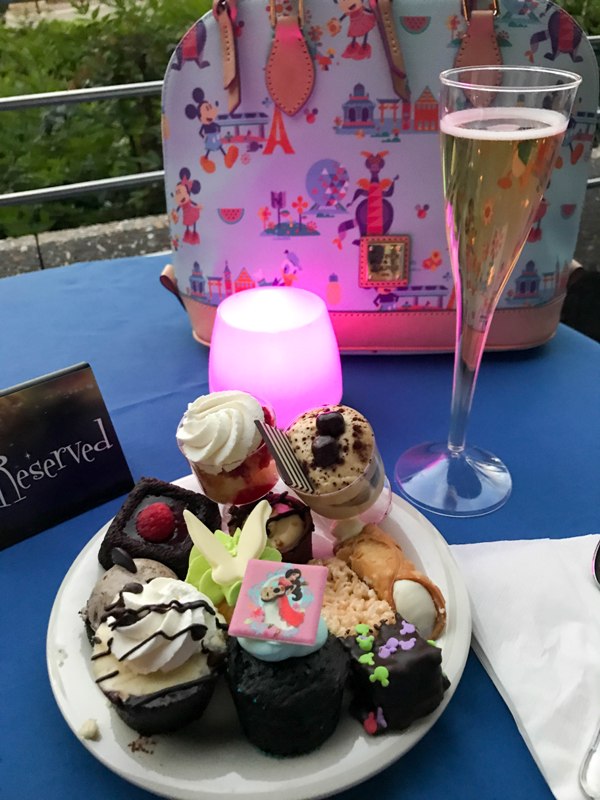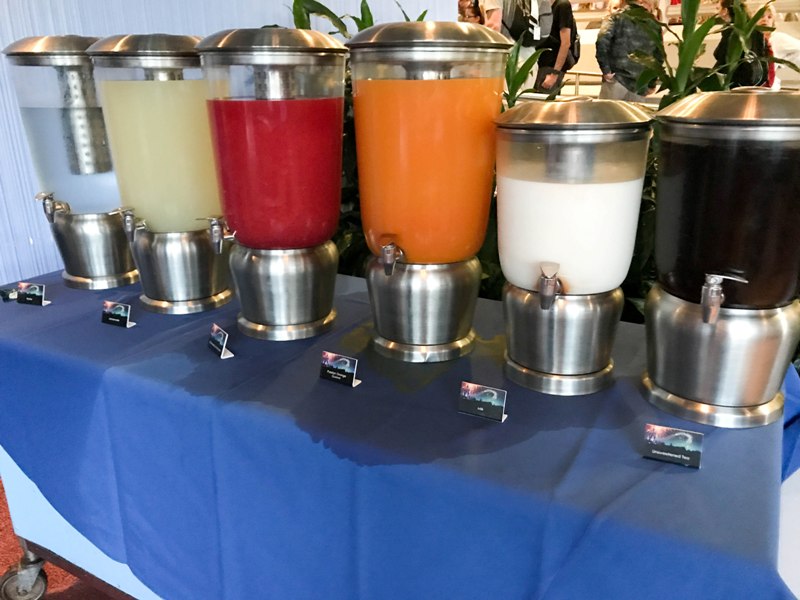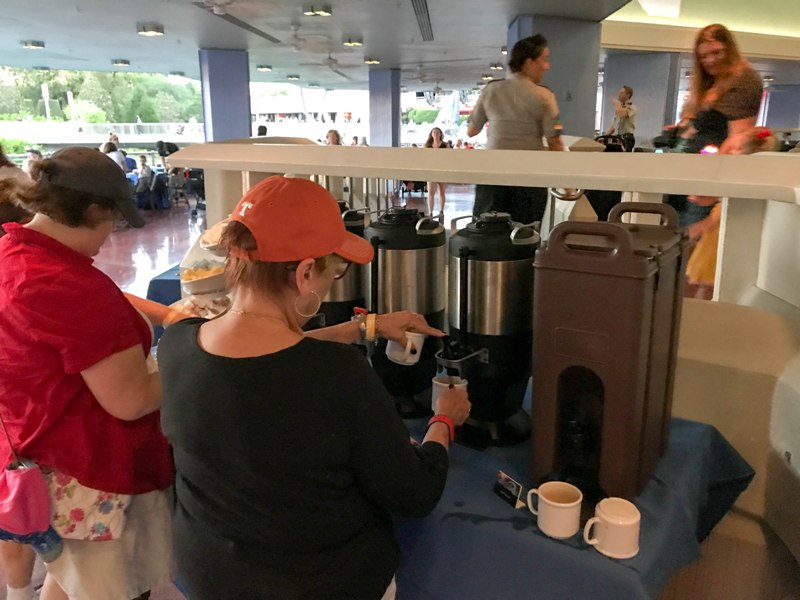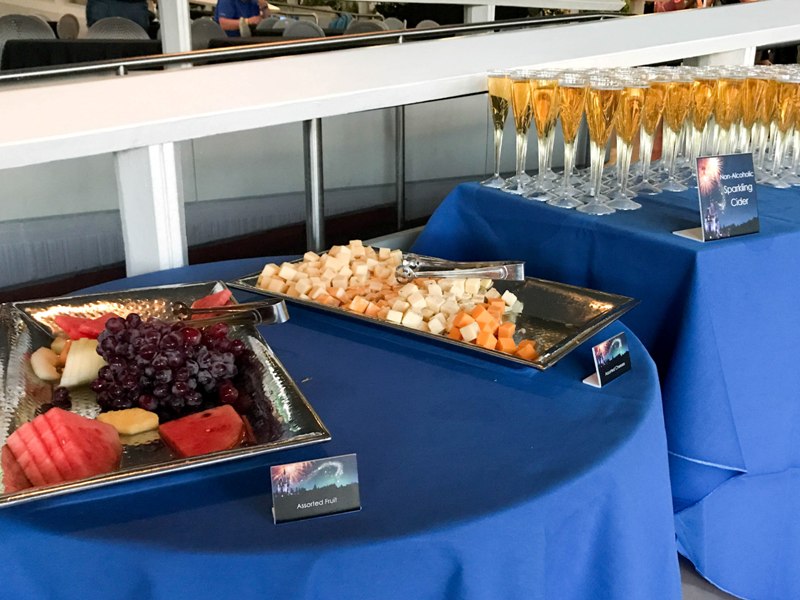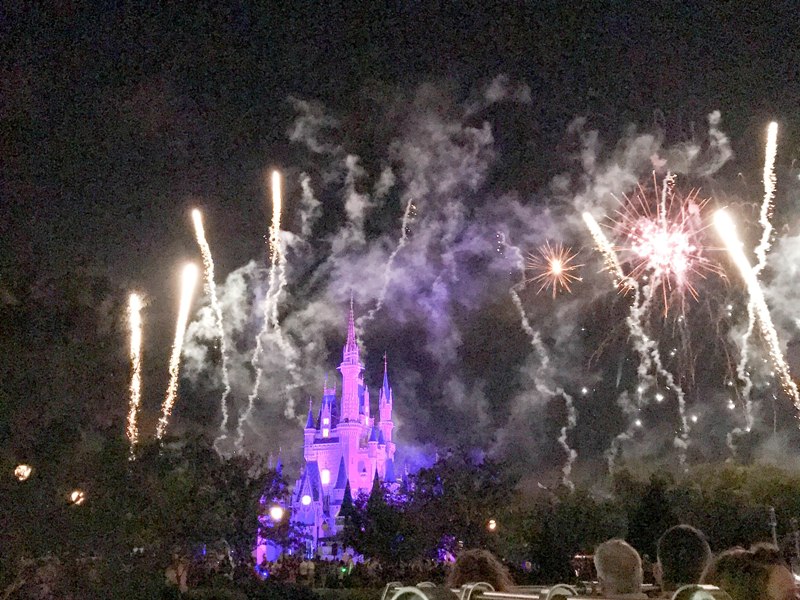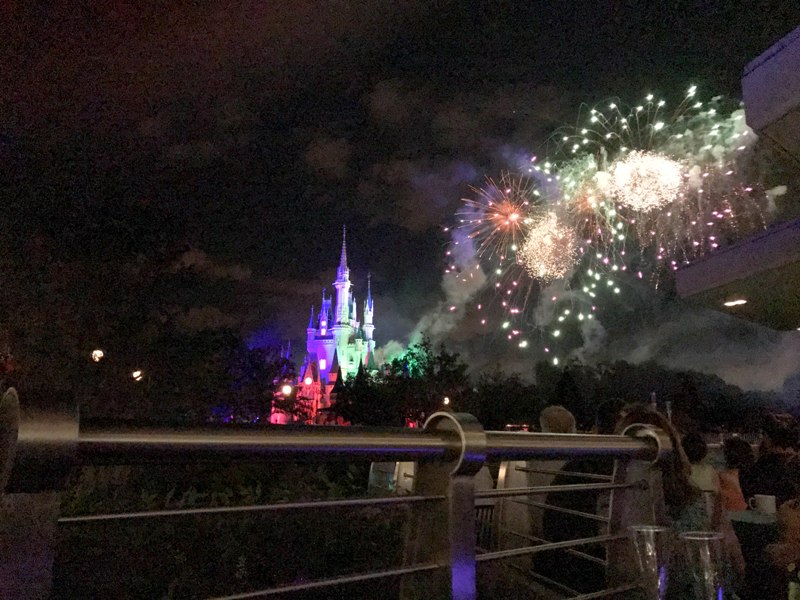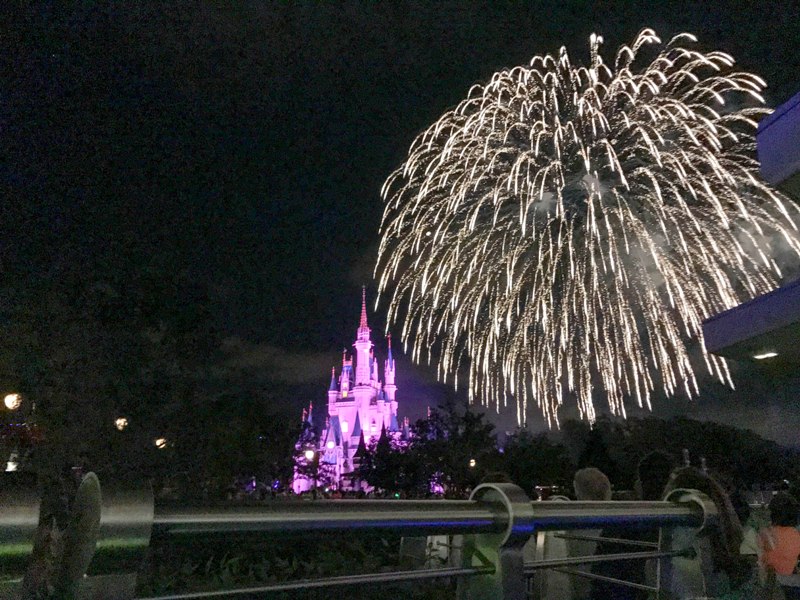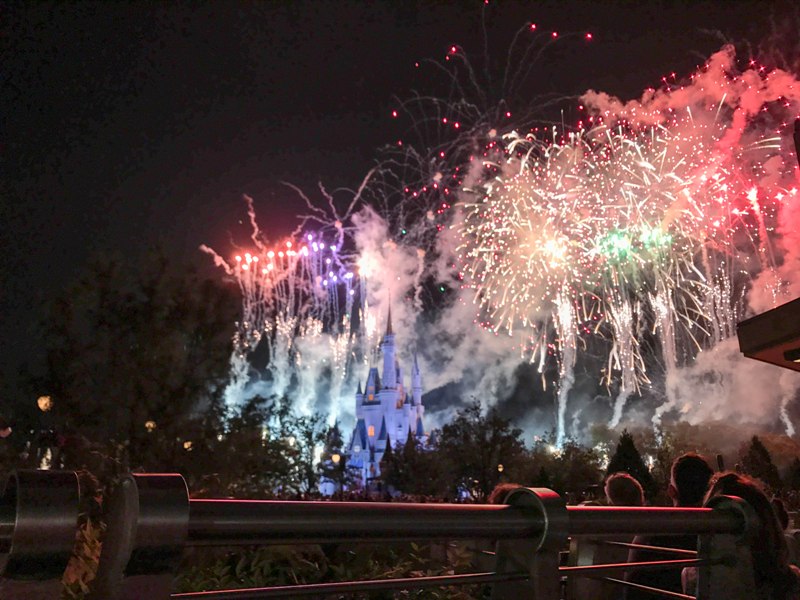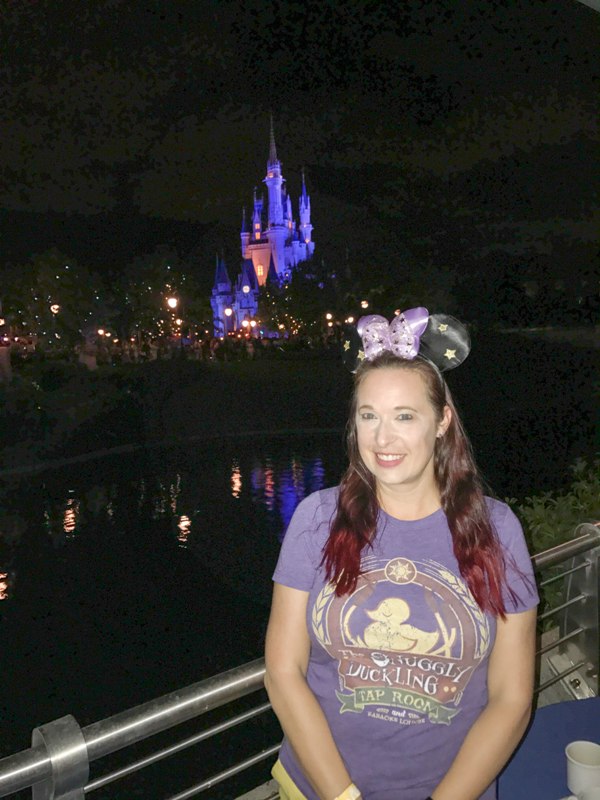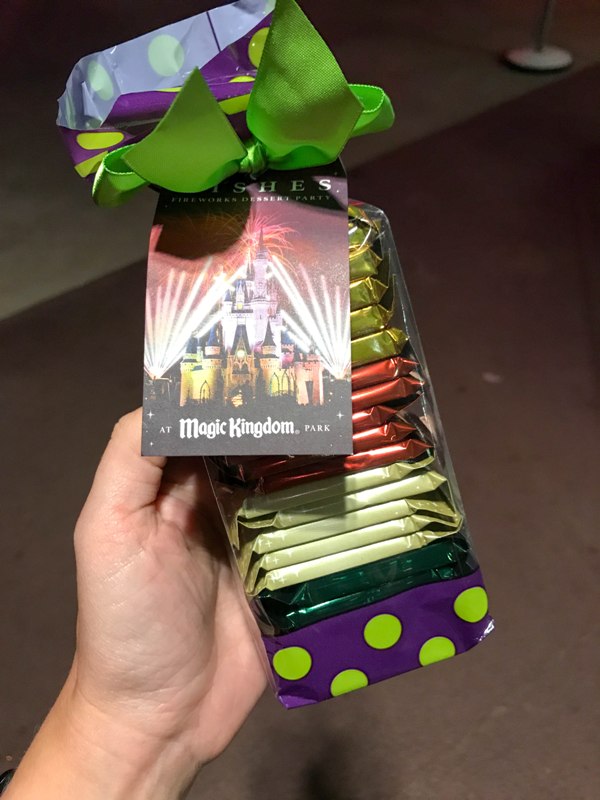 IllumiNations Sparkling Dessert Party at Epcot (Now the "Frozen Ever After Sparkling Dessert Party)
Price: $79 per adult, $47 per child
When we experienced this dessert party in 2017, it was the IllumiNations dessert party. Now it's the Frozen Ever After dessert party, with different desserts and offerings, so please check the Disney website (linked above) for current information. Also, keep in mind IllumiNations is ending in Summer 2019.
The IllumiNations dessert party entrance is right at the "entrance" to World Showcase, known as Showcase Plaza. This location offers a spacious, perfect view of IllumiNations. We arrived right at the party start time and found an already hefty queue. This party is standing room only, and any tables near planter "benches" are the first to go. We made our way down line and found a free table with a front-row view. Within minutes all the front-row tables were claimed.
The buffet-style dessert station offered treats from the various countries featured in the Showcase. Baklava from Morocco, Chocolate Pudding from UK, Ganache Tarts from France, just to list a few. There was also an extensive fruit platter, and cheese fondue with pretzel bread. Everything I tried was very, very good.
For drinks we were offered sparkling wine and various mixers. Soda, coffee, and water were also available. It was extremely windy and I lost a couple of half-consumed sparkling wine glasses. At least it was all-you-can-drink.
IllumiNations is a beautiful show and you feel like you're right on top of it in this spot. Having never seen it before, my husband was very impressed by how immersed in fireworks you seem to be. While I enjoy the IllumiNations show, it doesn't feel like "Disney" to me (and perhaps that's why some people enjoy it so much). I feel like the show could use a little refresh; it feels a little outdated.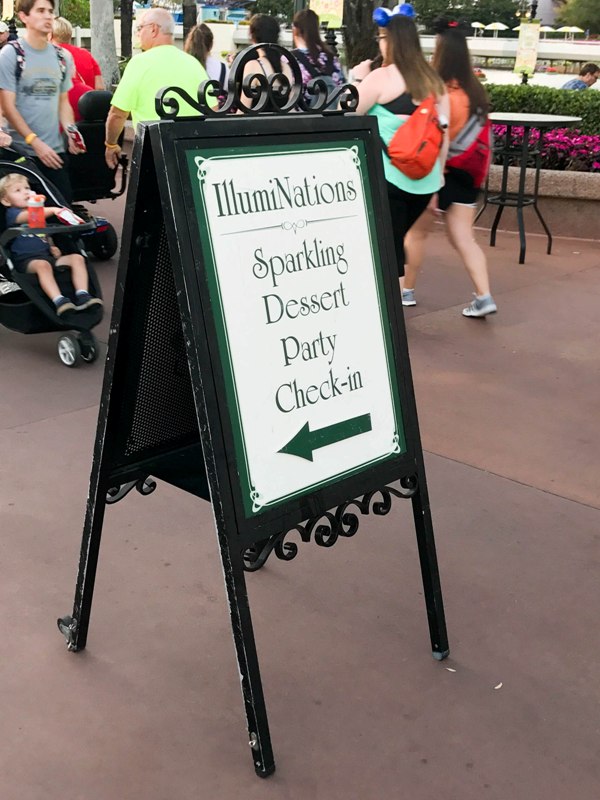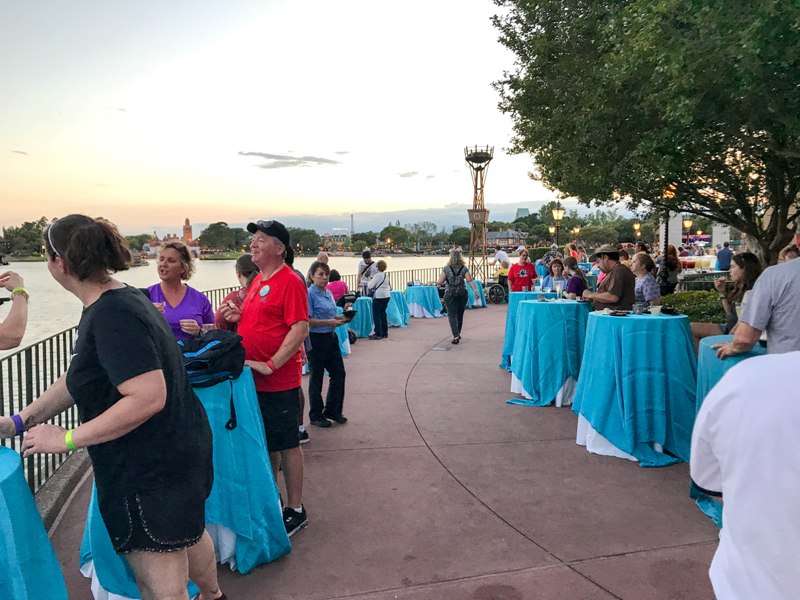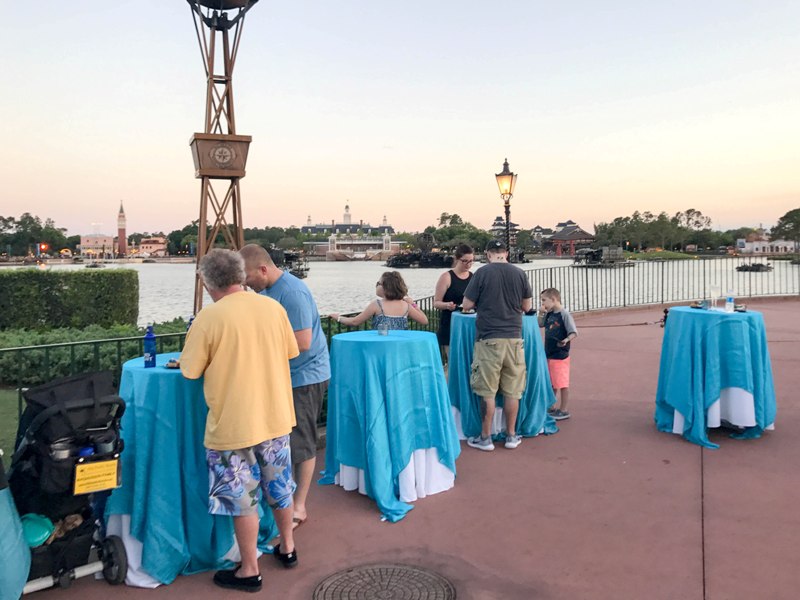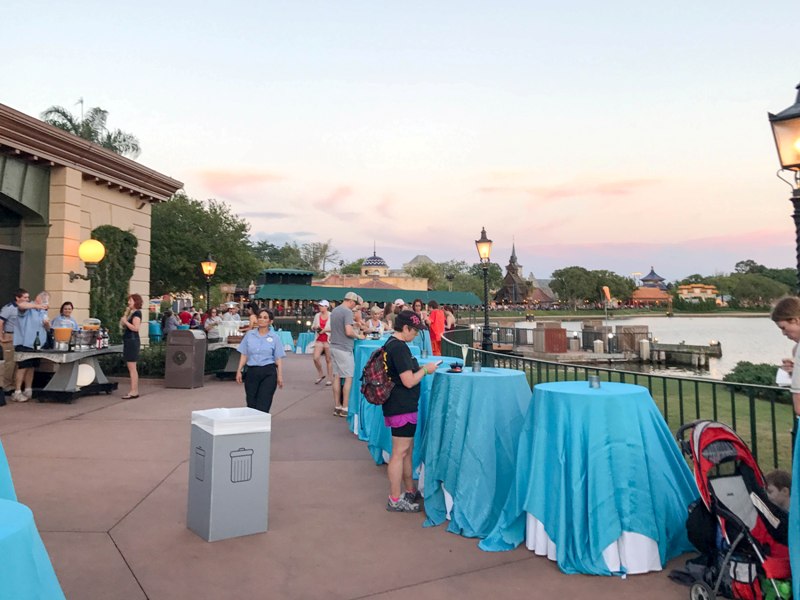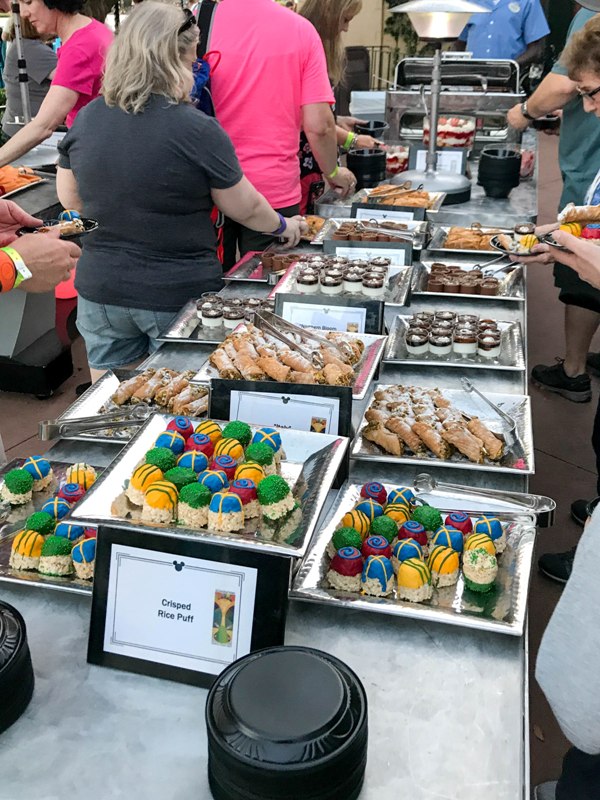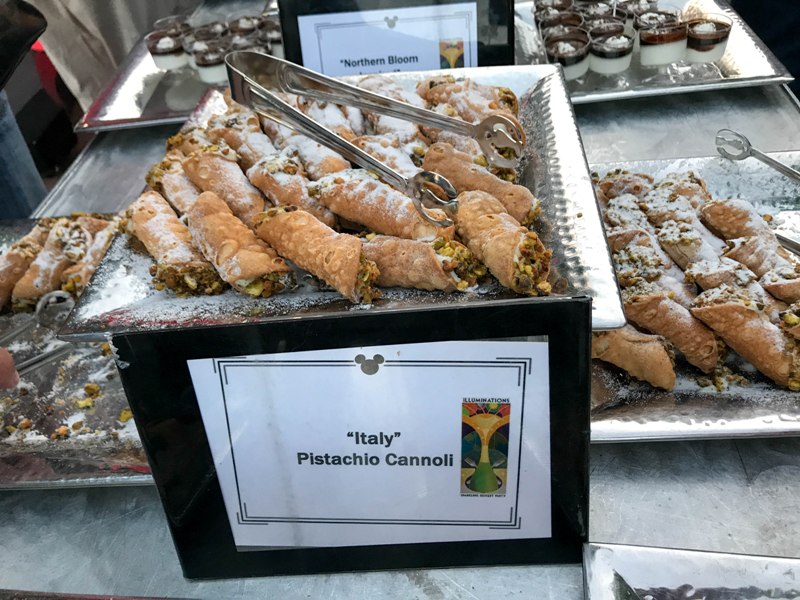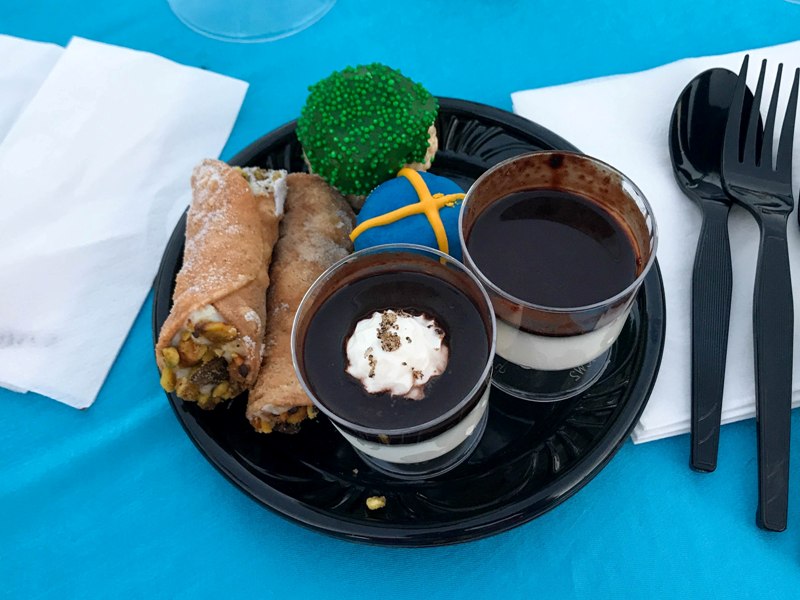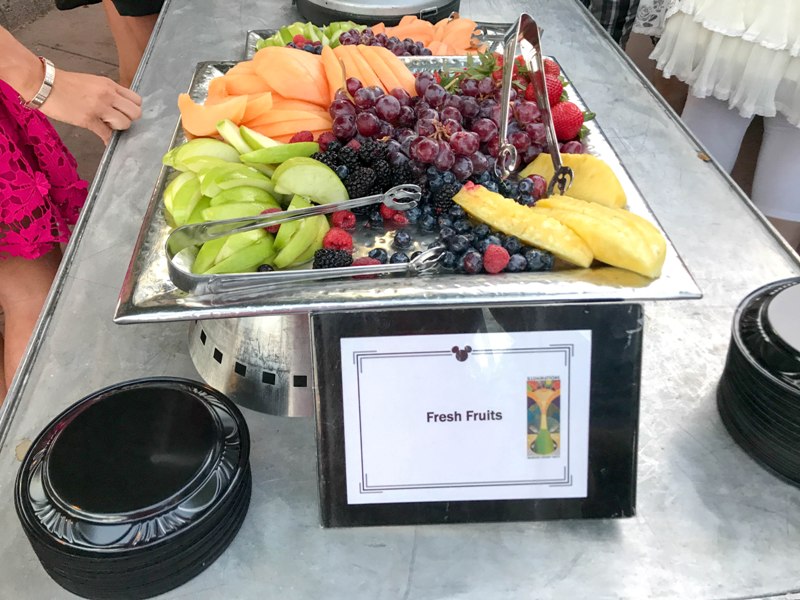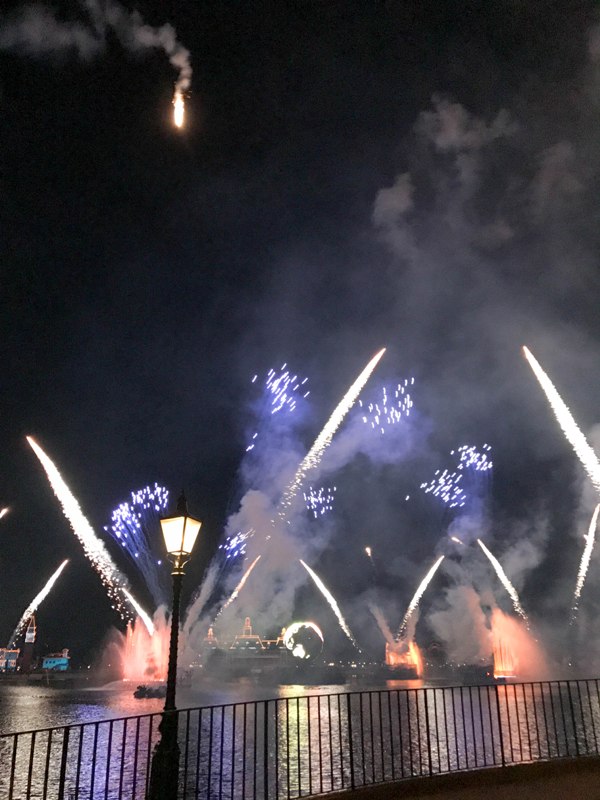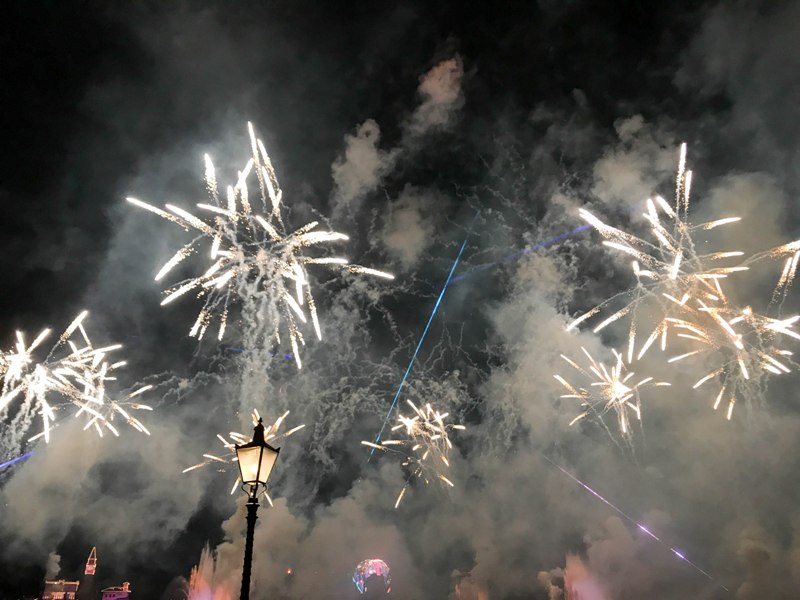 A Galactic Spectacular Dessert Party at Disney's Hollywood Studios
Price: $79 per adult, $45 per child
This Star Wars themed dessert party starts off at Launch Bay. Inside, with air conditioning, which was very nice. In the evening Launch Bay closes to the general guests and the food stations and cocktail tables are set up. There were two areas to get food, which was helpful. However, there seemed to always be a short line at the bar.
The food was great. Everything was Star Wars themed, and aside from desserts and ice cream there was also fruit and cheese available and savory treats like hummus and pita chips.
Part of the fun with this dessert party is the atmosphere and entertainment. Inside Launch Bay you can wait in line to meet characters, or interact with the Jawas roaming around. This was the only party that had "pre-show entertainment" as we called it. And since we both enjoy Star Wars, we really loved it.
About 15 minutes before the start of the fireworks, you are escorted to the reserved viewing area by Stormtroopers and a few guests were given lightsabers to hold up in the air as a guide. It's quite the production and you feel a bit like you're in your own parade.
The reserved viewing area is standing only and not in the very front, but close enough that you have a wonderful unobstructed view. The show is a lot of fun – again, if you are a big Star Wars fan. The fireworks are standard but the projections on the building facades are very well done.
We also received a free gift – one of the plastic Chewbacca steins. I keep mine near my desk and use it as a candy jar.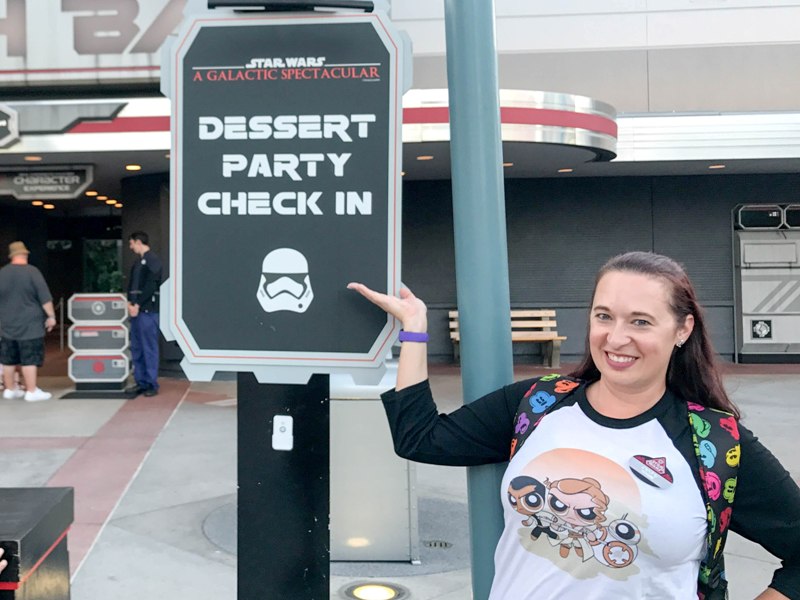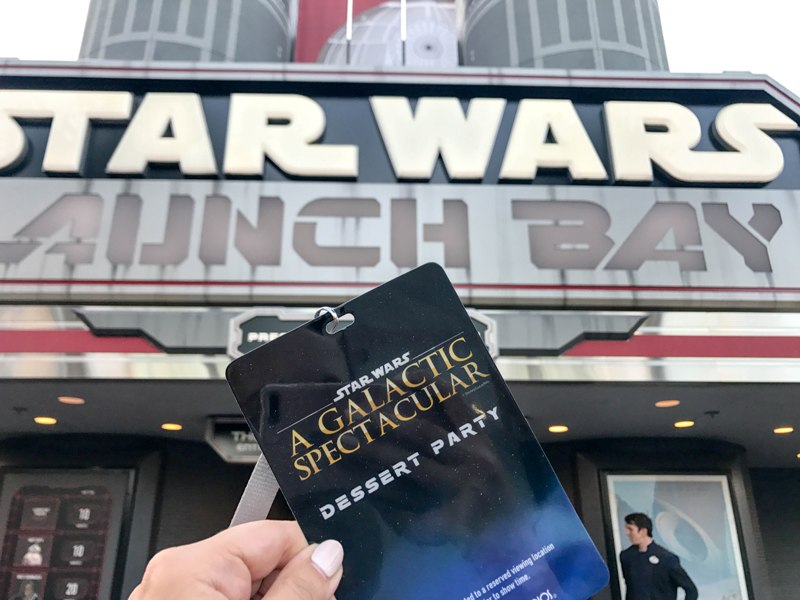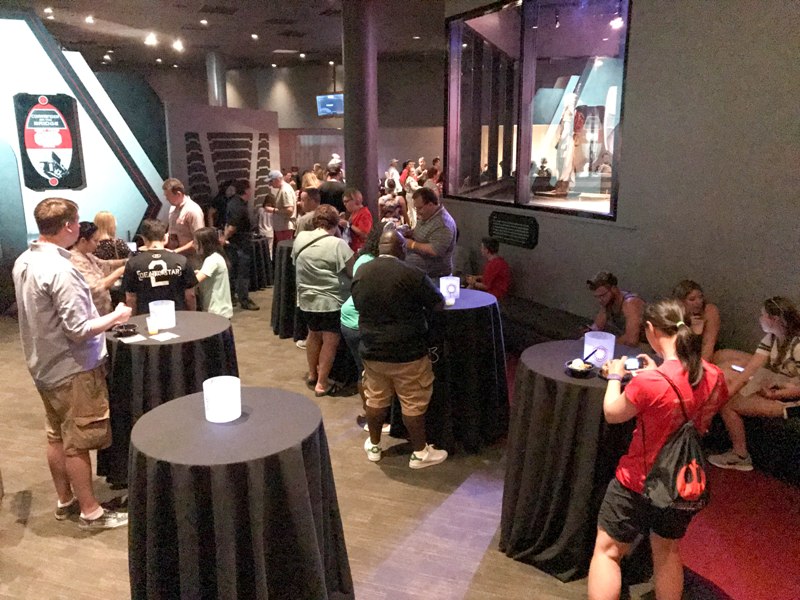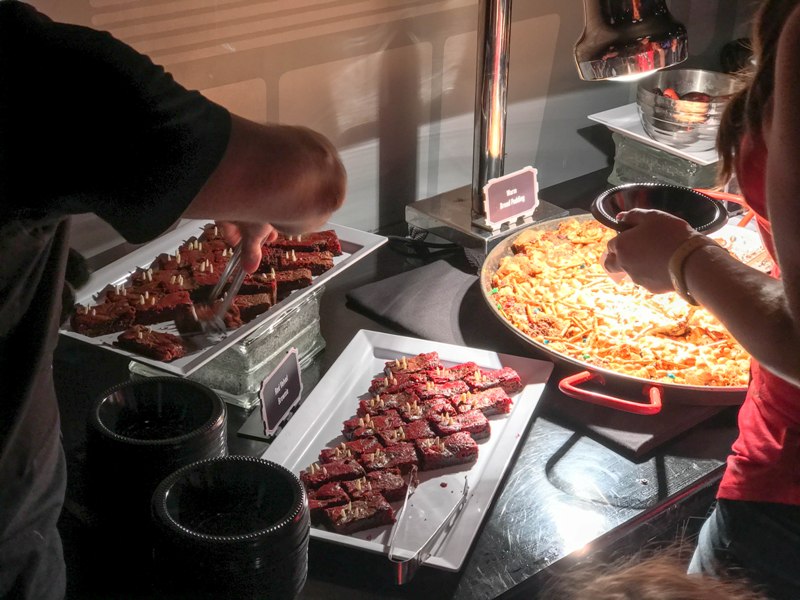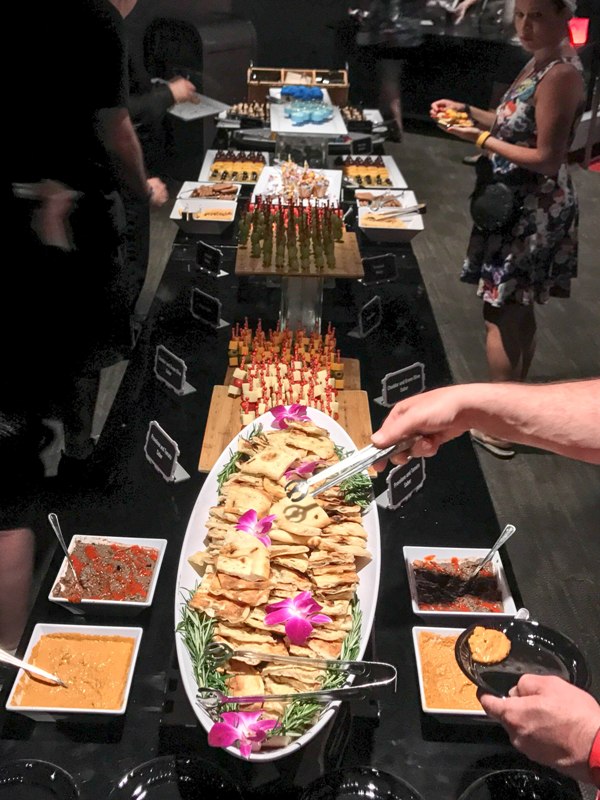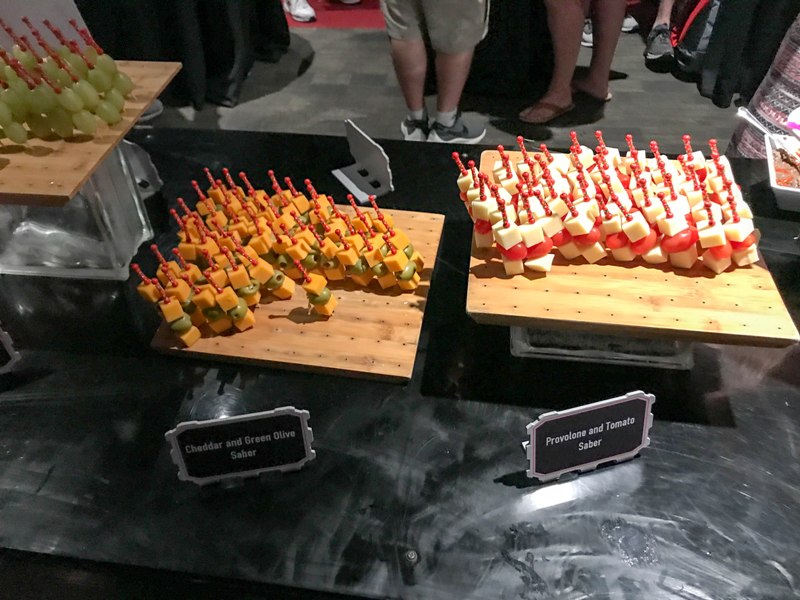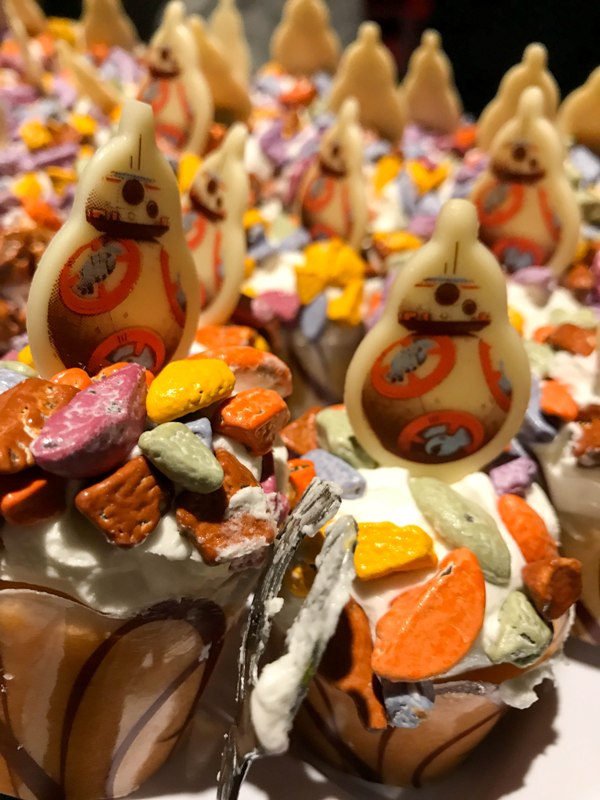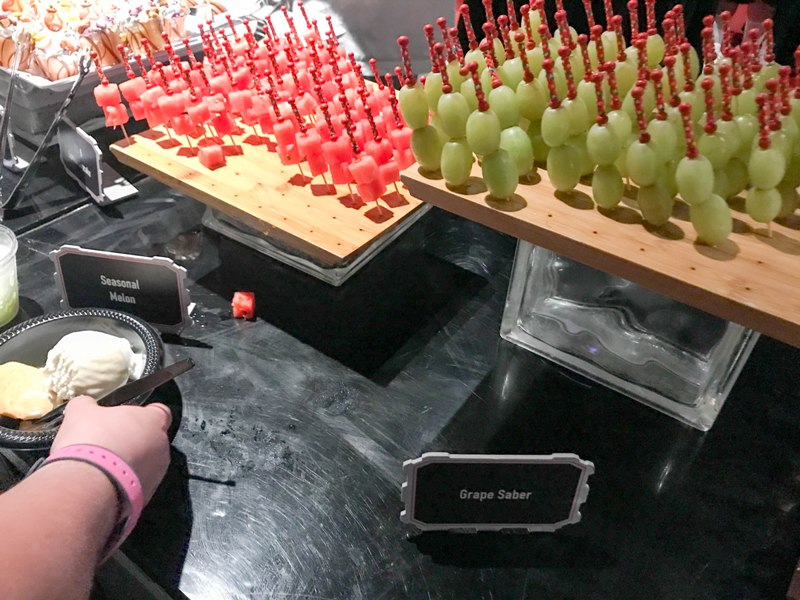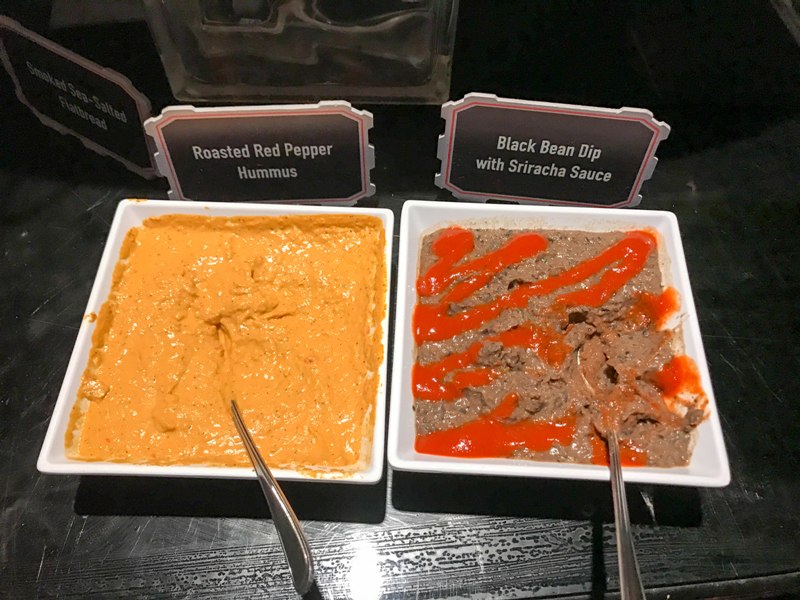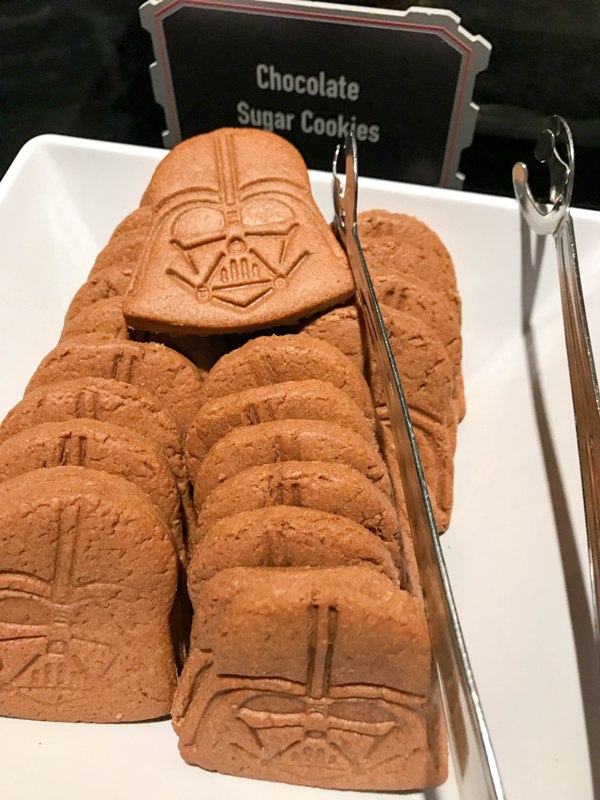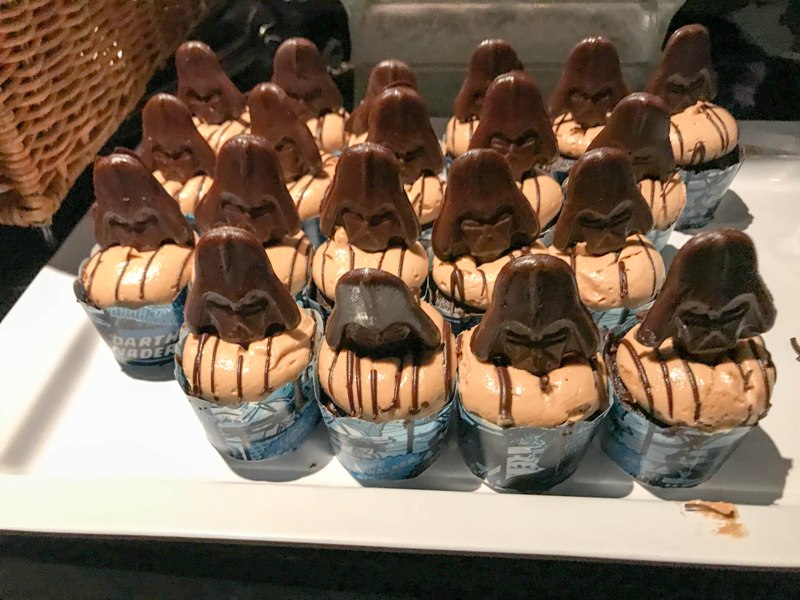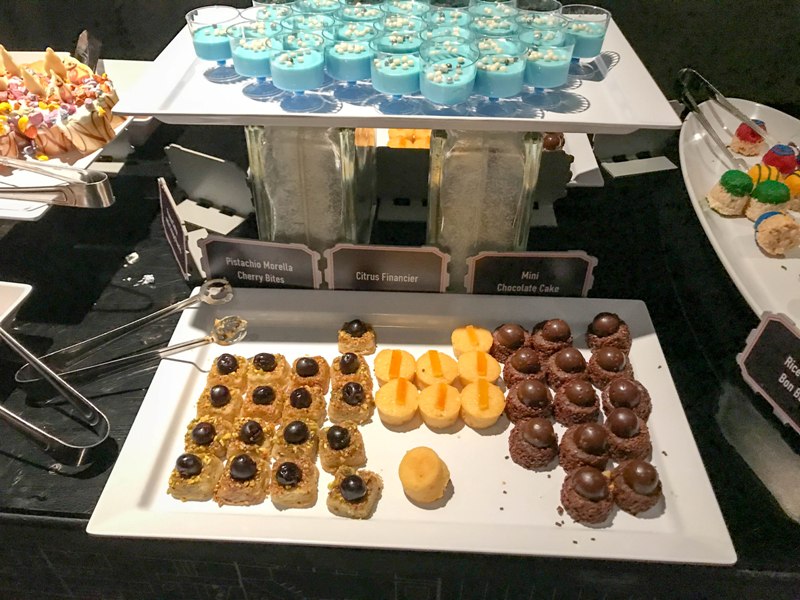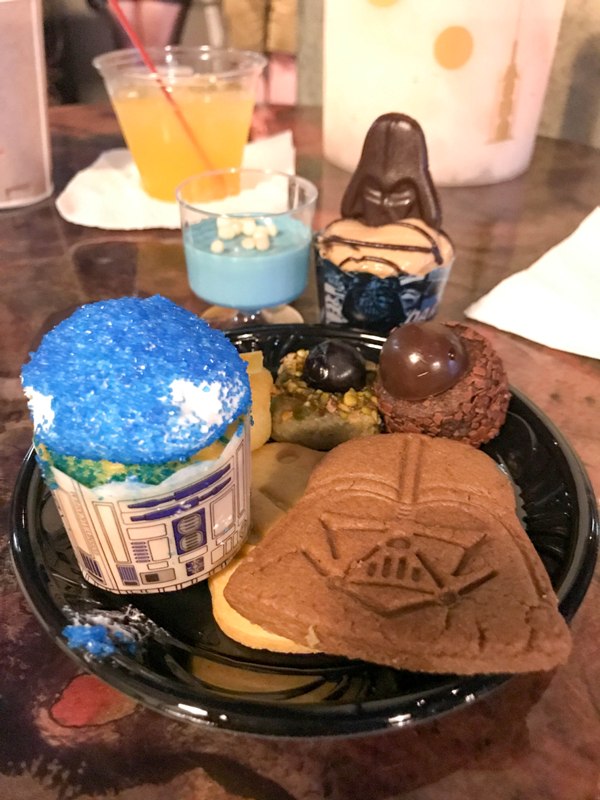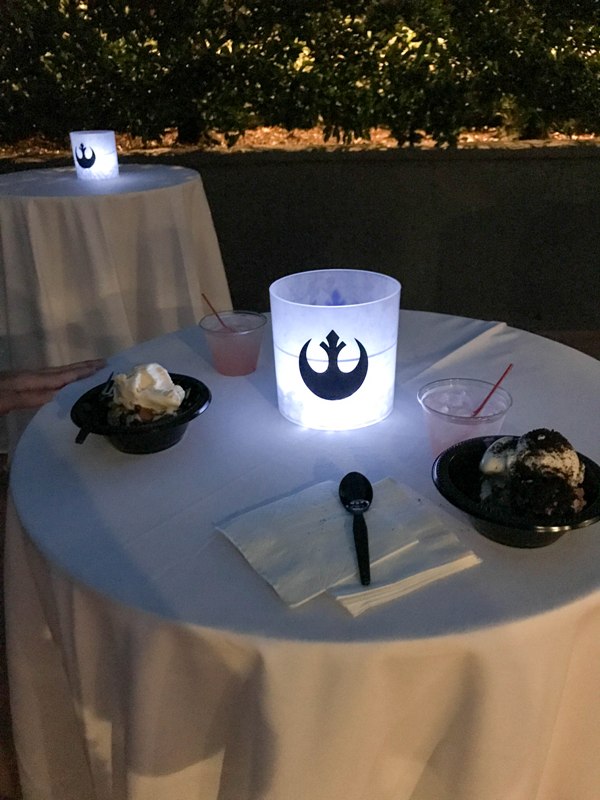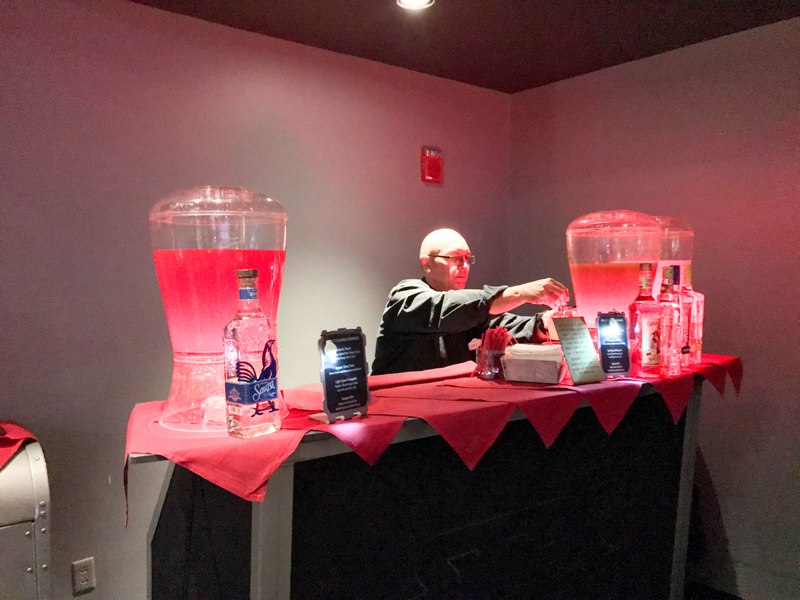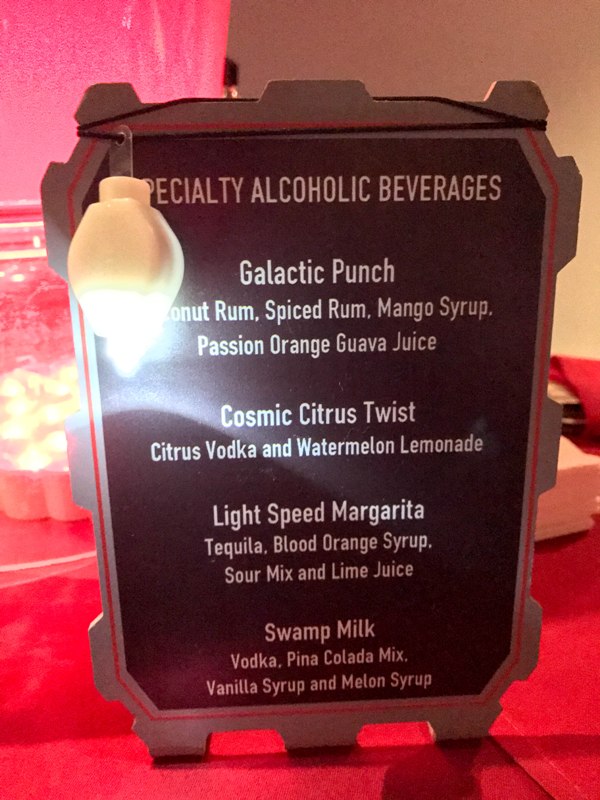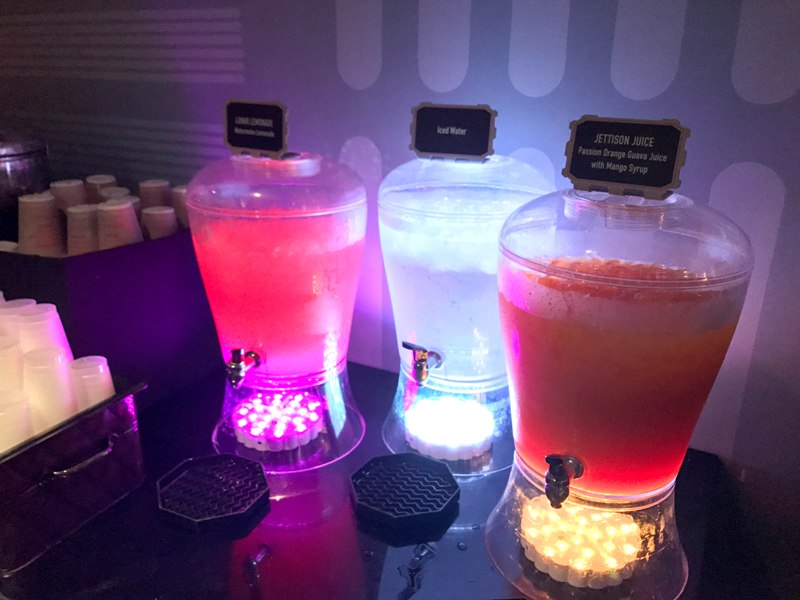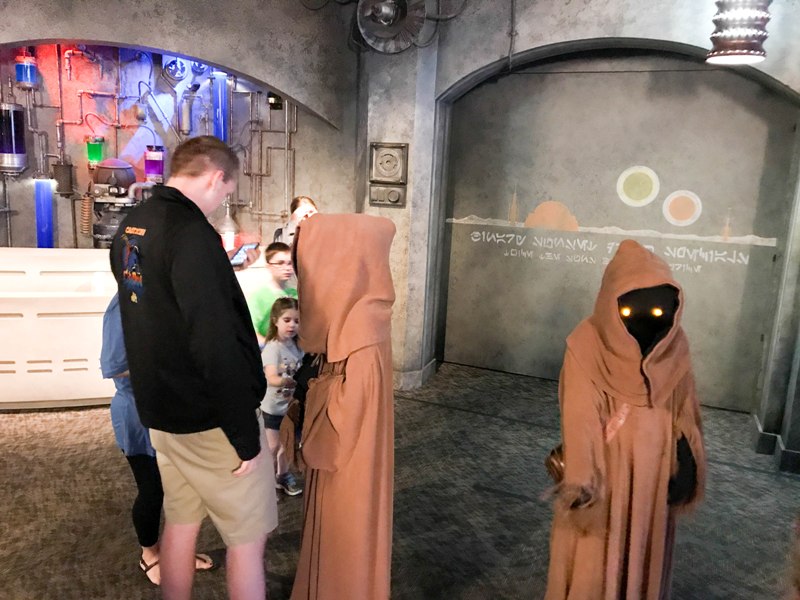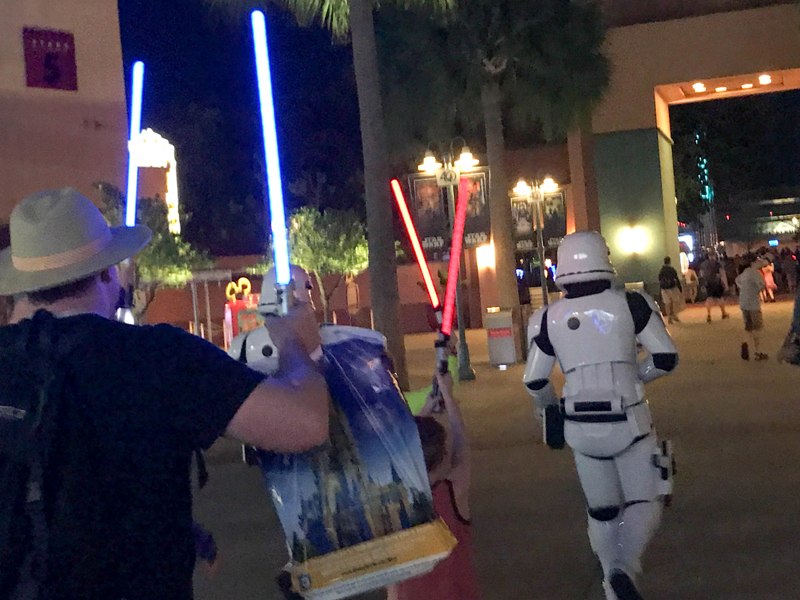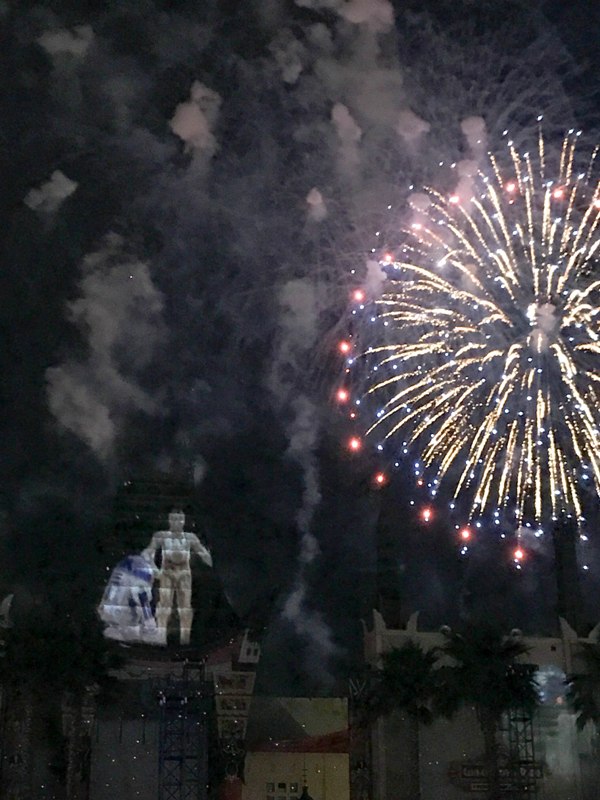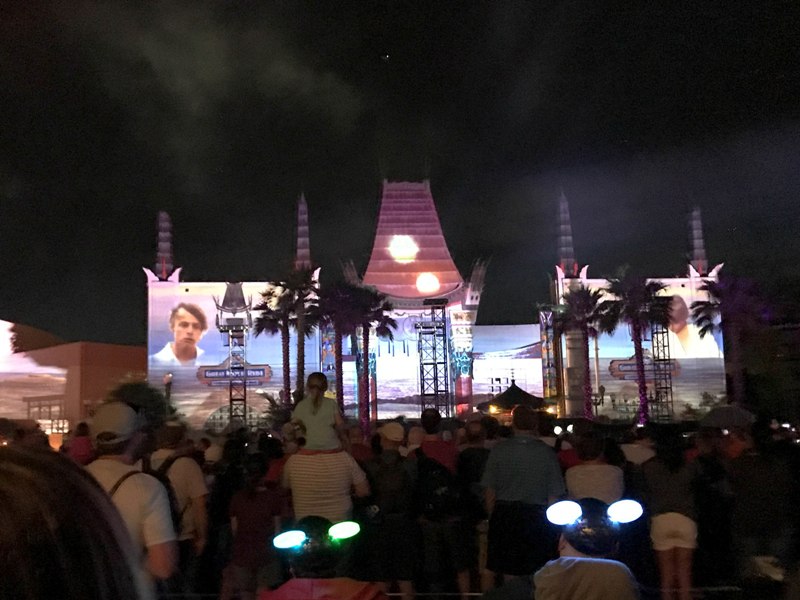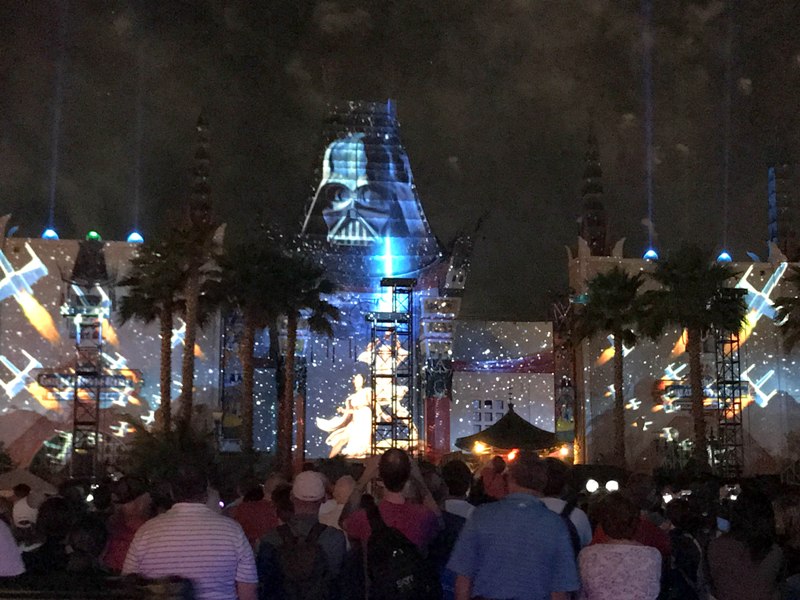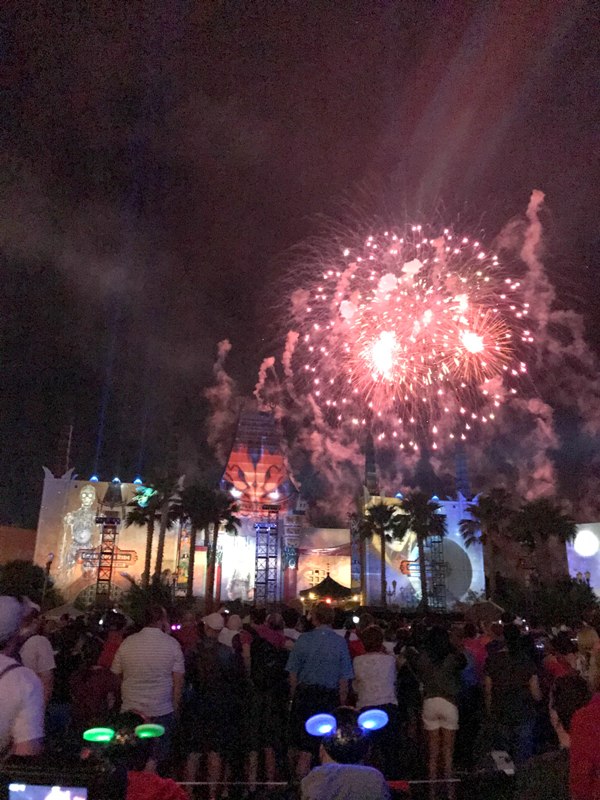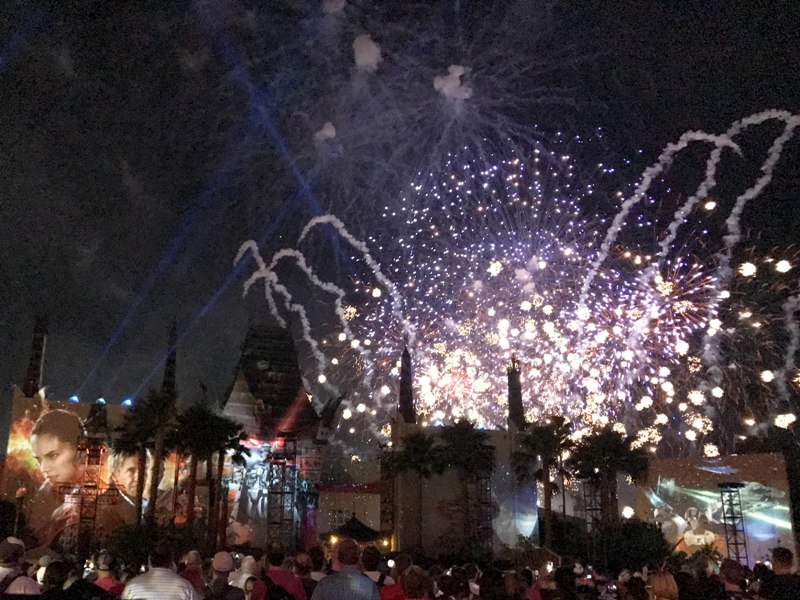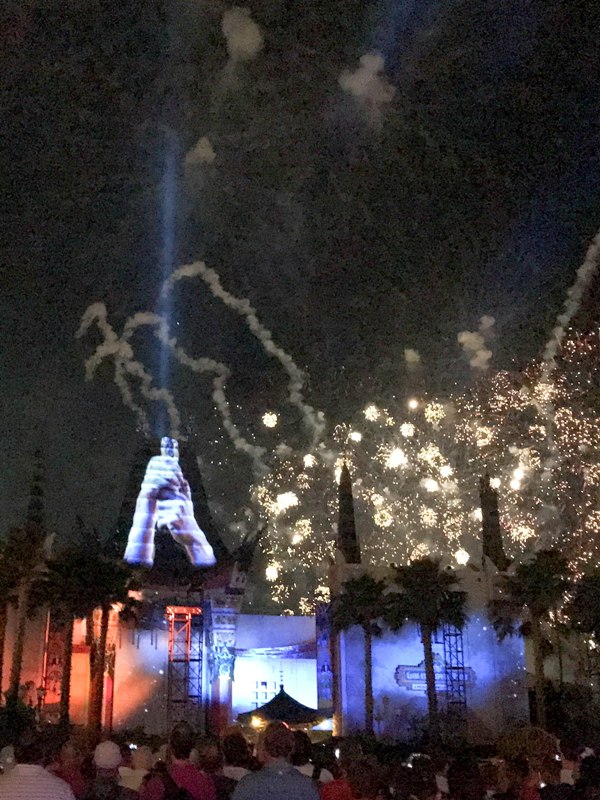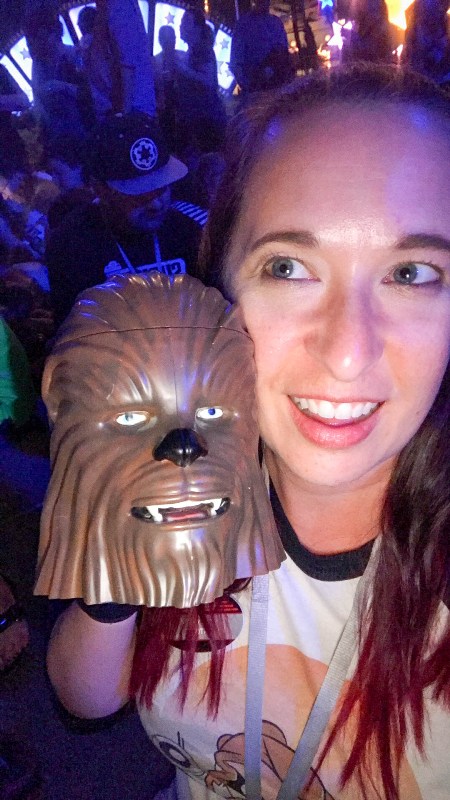 So how do all three dessert parties compare?
Hands down, my favorite experience was the Star Wars Galactic Dessert Party at Disney's Hollywood Studios. It's probably the only dessert party I would pay for again. Aside from the Star Wars factor, it was nice to start off the party indoors, with entertainment, and a wide variety of snacks and drinks. I loved the mini-parade to our viewing area and the free gift. We never felt like we were just standing around waiting for a show, we were entertained the whole time. It was so much fun.
For best value, I would choose IllumiNations if you plan to consume alcohol. I think I had 5 or 6 glasses of sparkling wine which would be a $50 value alone, plus the desserts and a very close view of the show. Once this flips over to include the Frozen attraction for more money, you'll have to judge if the value is still there. For me, I'm not a Frozen fan so it would be no.
The Magic Kingdom show is special in its own right, but is probably the least value for your buck. I do like that there is seating but with no alcohol and a far-away view of the fireworks, the experience as a whole was a little bit lackluster for me.
Have you ever tried any of the fireworks dessert parties at Walt Disney World? Which is your favorite?