Disney Bride Stephanie is planning a Walt Disney World wedding at the Canada Pavilion and GM Conference Room for March 2018.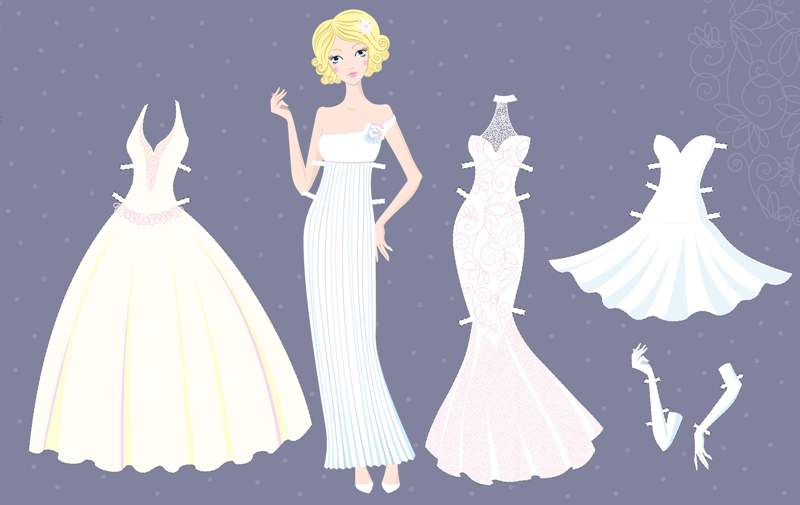 To say I was excited to start shopping for wedding dresses is an understatement. It was easily one of the first things that came to mind once I got that ring on my finger. This is the most important piece of clothing I will ever wear in my life. No pressure, right?! I wanted my dress to make a statement and have a wow-factor, without being over-the-top. I wanted something sophisticated, yet trendy. A bit of a tall order. I had a pretty good idea of what I wanted prior to shopping and all of that went out the window once I started.  Here's what I learned from my journey to find "the one."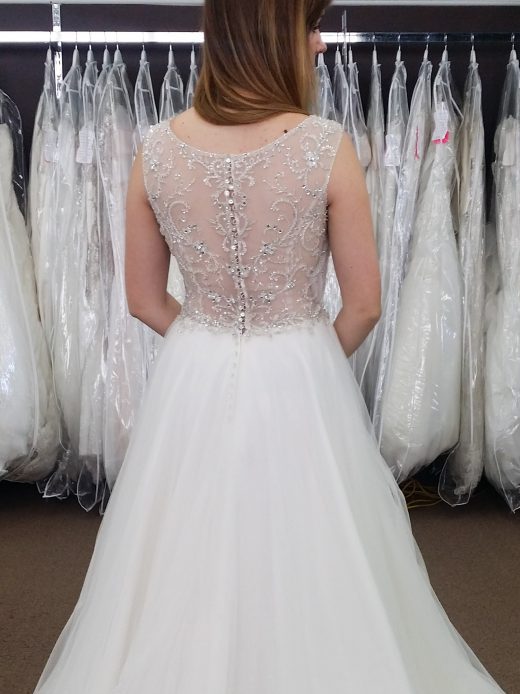 I'm a very indecisive person and one of my main concerns was over-shopping and trying on TOO many dresses. After trying on a few dresses at the first salon there was one dress in particular that I really loved and kept in the back of my mind. I was convinced for a while that this was THE dress, but something told me to keep looking, mainly because I like having other options (which doesn't necessarily help with my indecisive nature). I was also advised by my friends that I would just know once I found the right dress and it didn't matter how many dresses I had to try on to find it. Once I found "the one" I wasn't even thinking about that dress from the first salon anymore. I was happy I went with my gut and continued my search, even though I did more shopping than I originally planned.
Having a passionate and dedicated consultant makes a world of difference. I went to a total of four bridal salons and it was easy to tell which consultants were passionate and experienced. For example, one consultant simply let us choose some dresses, I tried them on, and she made the occasional comment about the dress itself which wasn't very helpful overall. Another consultant let us choose our own dresses but also pulled out some of her own choices based on the styles I told her I liked. She also provided some more helpful comments about the dress and the fit. It's not just a matter of pulling out dresses based on bride's requests, but listening to the bride's overall vision. Based on our venue, my style, the time of year we're getting married, etc, she may have thought of certain aspects of my dress that I never considered in the first place. What I loved about the consultant that sold me my wedding dress was that she brought me dresses I would have never chosen on my own, which leads to my next tip …
Go in with an open mind. I know this is easier said than done. Most women have a pretty good idea of what kind of dress they want to wear on their wedding day and they stick to it. Watching shows like Say Yes to the Dress helps too, of course.  However, I'm a firm believer of "you don't know until you try it on." Even when shopping for regular clothes, a certain style of dress can look completely different once you have it on verses when it's on a hanger. The wedding dress I chose was very different from the dress I THOUGHT I wanted! I think this is a big part of the reason why I kept that first dress in the back of my mind throughout all those appointments. It checked off everything I described but something was missing, and I would've never found my dress had I not been open-minded about trying on different styles.
There's always been this big debate on who you should bring with you to your appointments. I ended up bringing my mom, my sister, and my two best friends for the first three appointments. For my last appointment, since I scheduled it last minute it ended up just being me and my mom since no one else could make it. I felt like this actually worked in my favor because there weren't as many differing opinions being thrown my way. I love my friends and I value their opinions, but it was special to share that moment with just my mom. Had I had a bigger group of people with me, I may not have felt this more obvious feeling of "this is the dress" since my first thought would have probably been "what does everyone else think?" Having said that, this obviously isn't the case for everyone but I would definitely advise to keep your group as small as possible to allow yourself to really soak in how you feel in the dress in that moment.
I was worried I would be sad once the dress shopping concluded – I really enjoyed trying on so many beautiful gowns and figuring out which style worked best for me for our wedding. It was an experience I'll always treasure, and I'm just as excited to start shopping for accessories to perfect the whole look!