This is a partnered post with CK Mondavi and Family. All opinions are 100% mine. Search #CKSummerWines on Instagram and Twitter for more recipes and wine inspiration!
With Fourth of July around the corner, I know a lot of you are gearing up for BBQs and outdoor parties, so I thought now would be a great time to share one of my favorite burger recipes. Tim and I actually prefer to make turkey burgers instead of traditional beef burgers! Here in sunny California we BBQ a lot, so we eat burgers year round. We cook with turkey because it's a little bit healthier (although we treat ourselves to the occasional beef burger now and then). I love to experiment with added ingredients, and I stumbled across this one that's pretty darn good. All you need to do is add a bit of blue cheese and bacon bits to your patty before throwing it on the grill. Honestly, I think blue cheese makes everything better. And you can't go wrong with bacon. There's lots to love about this recipe.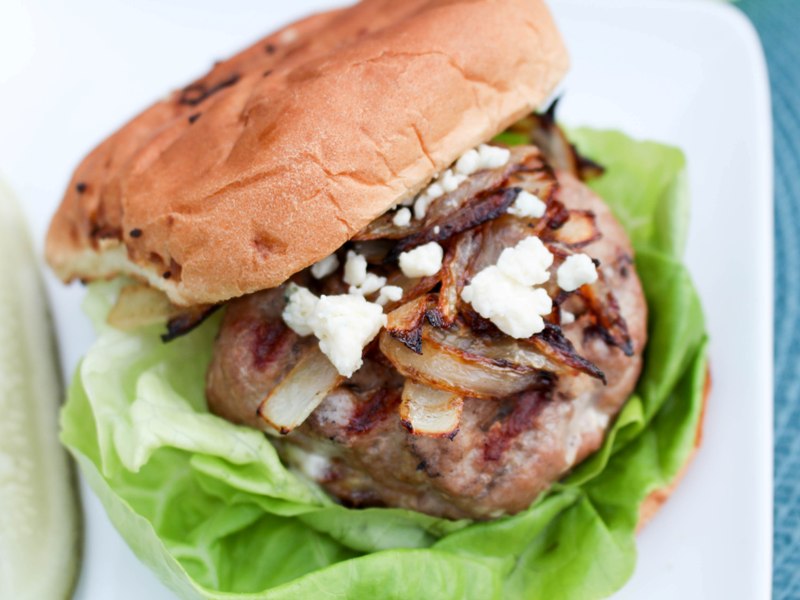 And, since I'm partnering with CK Mondavi and Family for this burger recipe, you should know CK Mondavi is doing summer in-store promotions for burgers, buns, cheese, and charcoal. Look for in-store promotions wherever you find CK Mondavi and Family wines. (BTW – have you seen the CK Mondavi and Family rebrand? I showed it off on Instagram Stories so I know some of you saw it already. I LOVE their new look but don't let it confuse you! You'll start to see these new labels rolling out but it's the same great wine you're used to.)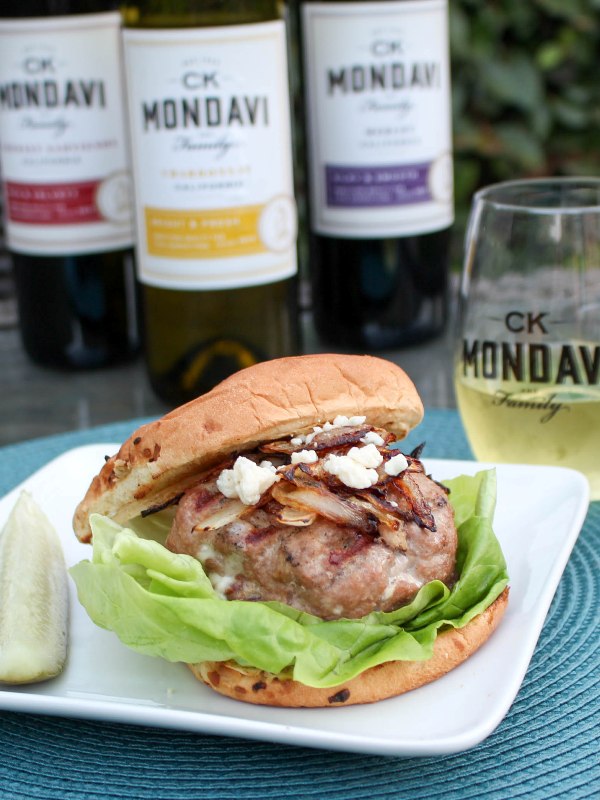 Blue Cheese and Bacon Turkey Burger Recipe
Ingredients:
Ground Turkey (We make three patties out of one pound of turkey)
Blue Cheese Crumbles
Bacon (cooked and crumbled – could also use Bacon Bits)
Onion, one, sliced thin
Oil & butter
Your favorite burger condiments
Steps:
Caramelize the onions. Melt 1 tablespoon oil (I use Olive Oil) and 1 tablespoon butter in a frying pan over low heat. Add the sliced onion and let simmer, stirring occasionally, until the onions are golden brown. Turn off heat and transfer the onions to a plate lined with paper towels.
Prepare your turkey patties. Add about 1 teaspoon of blue cheese crumbles and 1 teaspoon of crumbled bacon to each patty and mix well. The amount of blue cheese and bacon you want to add to each patty is up to you!
Cook turkey patties as usual on the grill. Remember you want to cook turkey burgers all the way through, about 5 minutes on each side but check before serving.
Place cooked turkey patty on a hamburger bun or wrap it in lettuce for low-carb, top with some additional blue cheese crumbles and the caramelized onions, and whatever condiments you like.
These flavorful turkey burgers pair well with a crisp, full-bodied Chardonnay. The CK Mondavi & Family Chardonnay is my favorite – has aromas of lemon and citrus combined with flavors of apple and pear. It's super crisp and super yummy. If you prefer a red wine, my husband likes the CK Mondavi & Family Cabernet Sauvignon. It has cherry and blackberry flavors and a hint of oak.
Let me know if you try this burger recipe and what you thought! (And if you like this recipe, please pin it for later!)