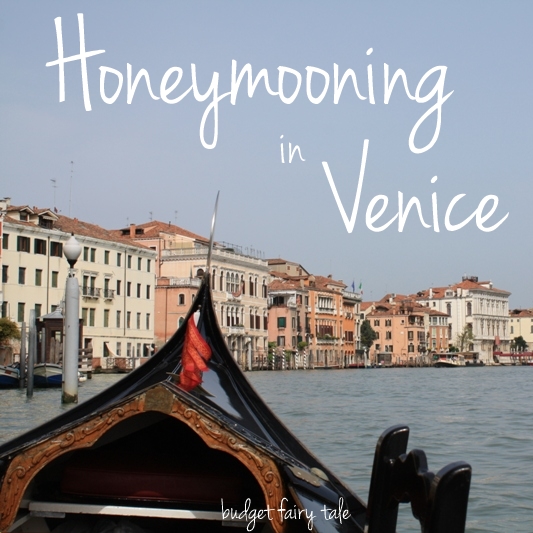 Waking up the last morning on the cruise was so sad. I had become very comfortable in our little cabin on our floating hotel and I really didn't want to leave. The only upside to getting off the ship was knowing I had a full day in Venice ahead of me. We took one last picture of our cabin door and one with our room steward Nengah ♥ ♥ ♥ before heading down to the breakfast buffet one last time. We had the place pretty much to ourselves – a benefit to having VIP late disembark!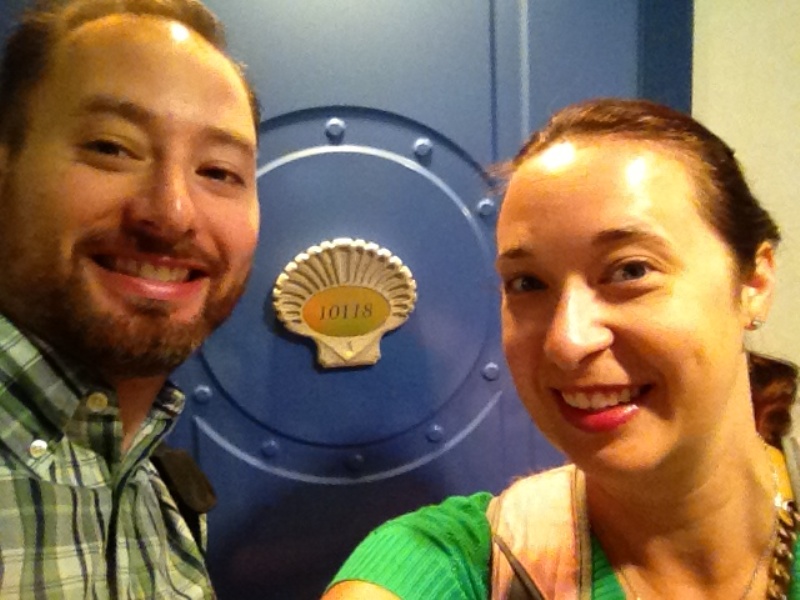 After breakfast we went to the VIP meeting area and waited for our names to be called. We were told VIP guests would have a "personal escort" off the ship. We didn't quite care about that, so after waiting in the VIP area for over 30 minutes, we asked someone if we could just leave ourselves and they said yes. We collected our luggage and scanned our cabin keys for the last time and started the long walk down the gangway and to our hotel. The thing that sucks about Venice with luggage are the bridges. We had to cross two large bridges to get to our hotel and the steps on the bridges don't make it easy. But we finally made it to Hotel Canal and Walter and checked in. It was early, maybe 9:30am or so, and of course our room wasn't ready. We were told we could leave our luggage in a back room which was unsecured. Mr. BFT and I struggled with this a little before deciding that the risk was greater than the hassle of carrying all our luggage around. Mr. BFT brought his backpack with all our valuables in it so we weren't leaving our iPads out in the open. Of course everything was fine when we went back to retrieve our stuff later in the day.
The "vintage" decor of Hotel Canal.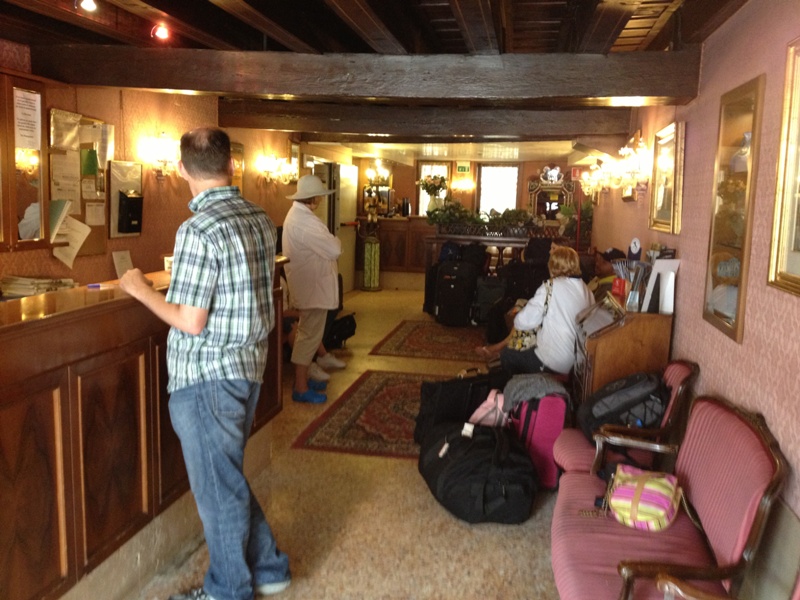 Mr. BFT's "I don't like this situation at all" face.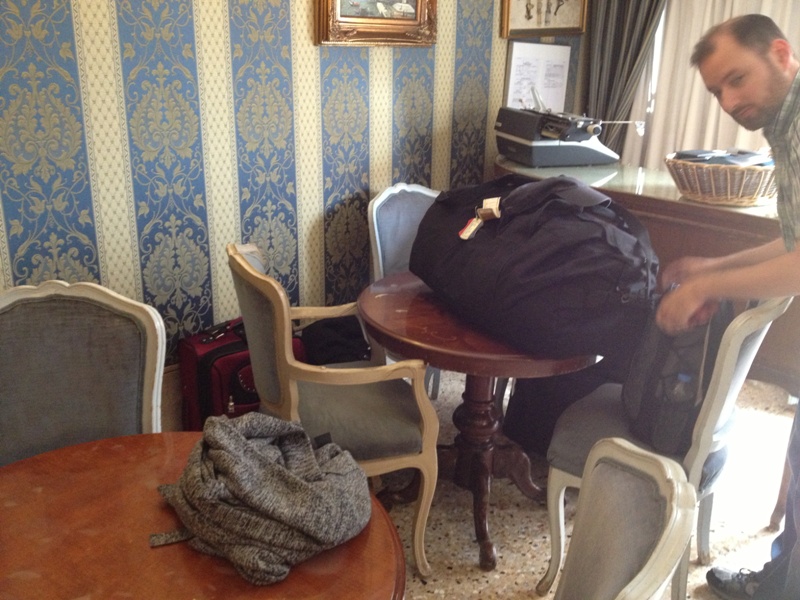 After leaving our stuff at the hotel, we started to wander around Venice with no agenda. It was early and the streets were quiet and calm. We stopped for a million photo ops and then came across a cafe with wifi. Mr. BFT had a cappuccino and I had pink moscato for breakfast, as one does when they are in Italy. We split a focaccia sandwich with veggies and cheese and watched locals shop at what I can only describe as a farmer's market on a boat.
Canal photo spot #1 of 1 gazillion.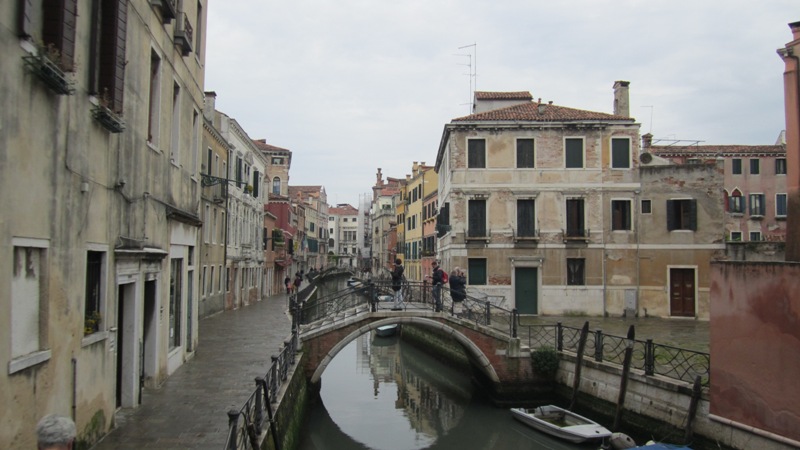 We loved stumbling upon quiet little spots like this.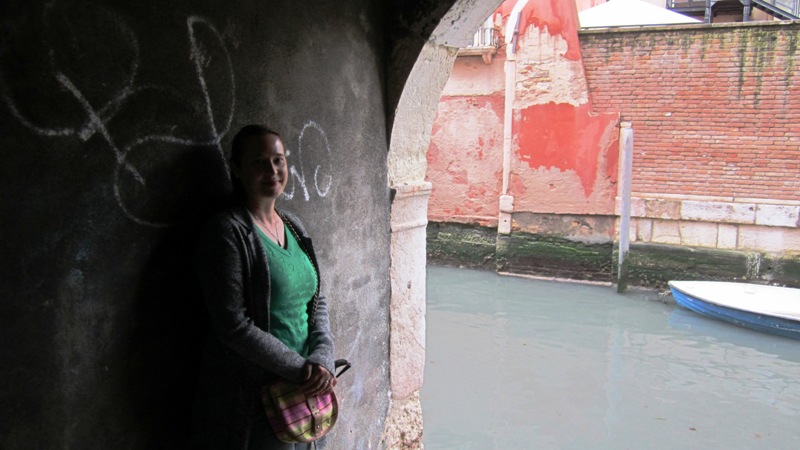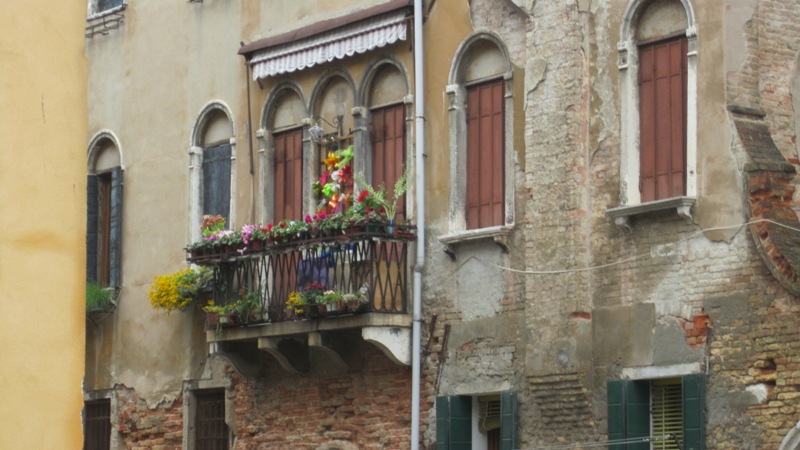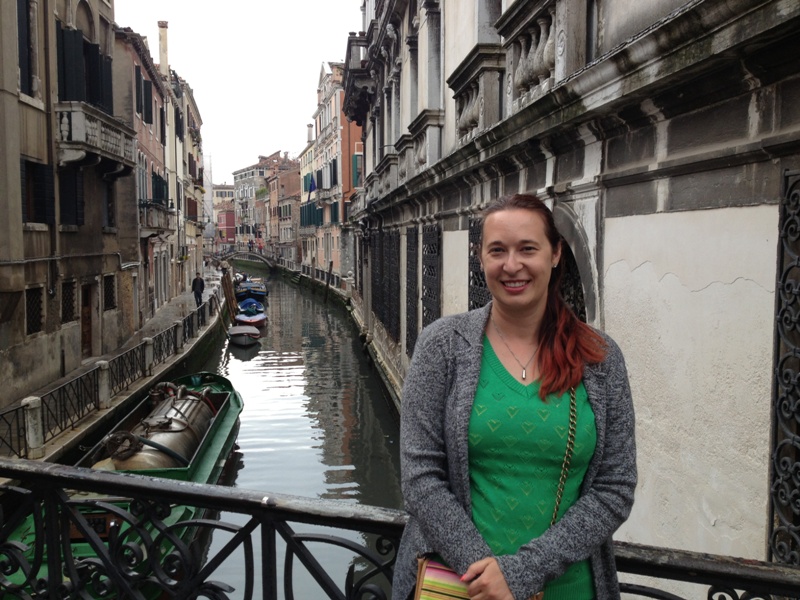 Mr. BFT was amused by Gatto magazine.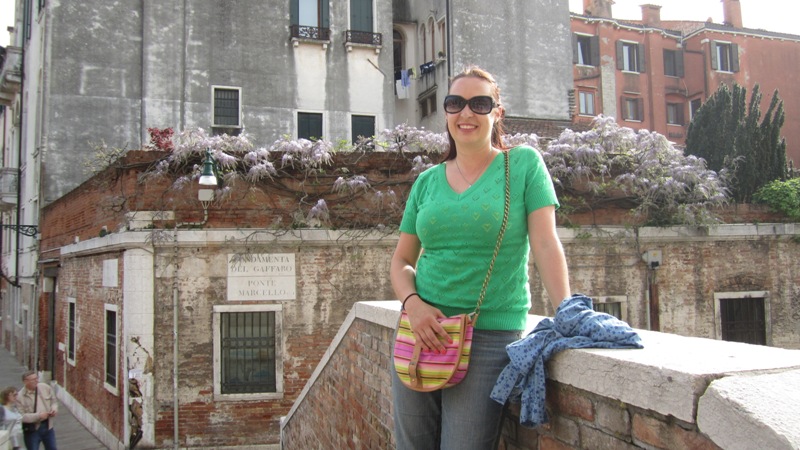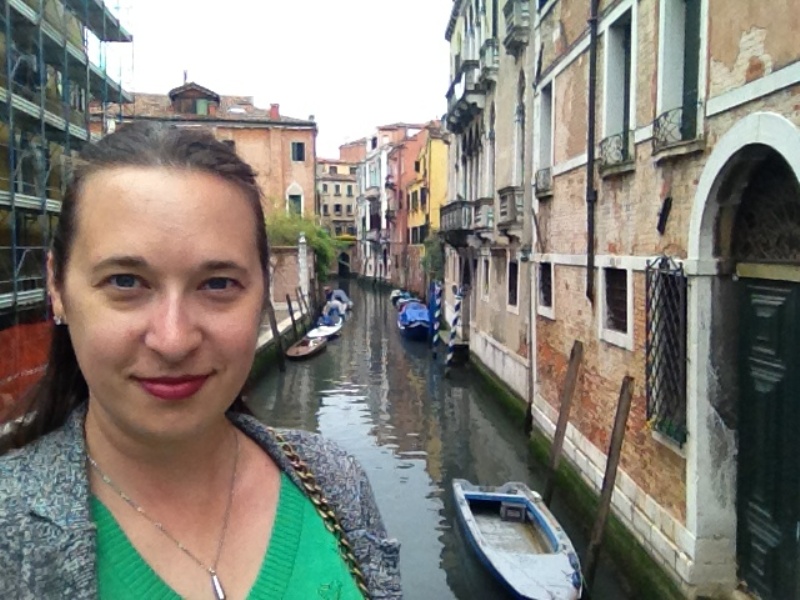 We came across a funeral and a hearse/boat so we followed it until it stopped in front of a church. I didn't want to be TOO disrespectful so I waited until all the passengers were out of the boat before snapping this picture. Best I can tell, the family/friends are gathered there on the left in the church courtyard and the two men to the right are workers. The hearse/boat reads "San Michele 2" which is the cemetery island I wrote about in my Day One recap. This was a sad scene but I was glad to stumble upon it, because it reminds you that you are visiting someone's home, not just a tourist trap (and we had another not-so-great reminder on our gondola ride later).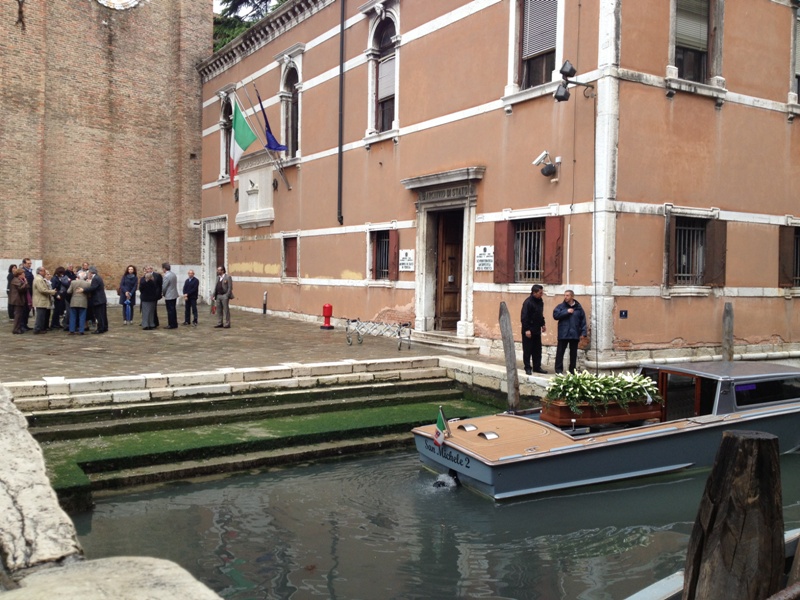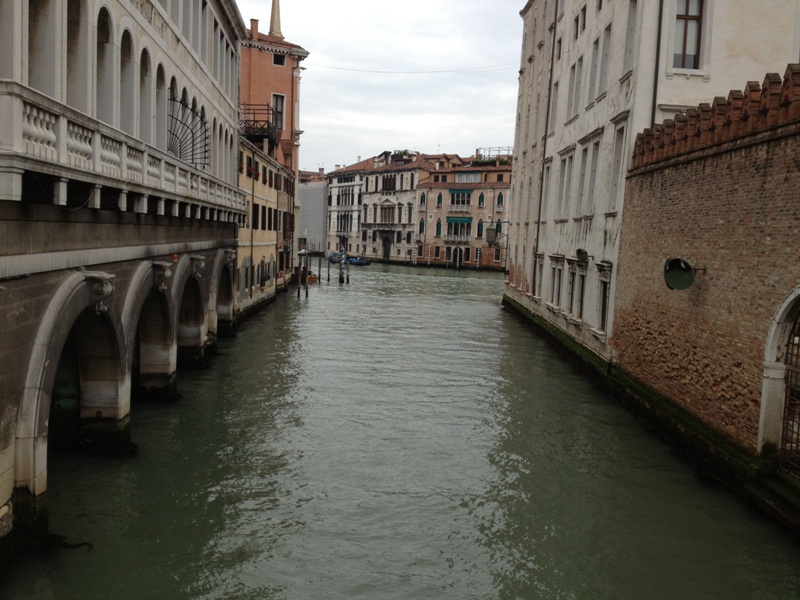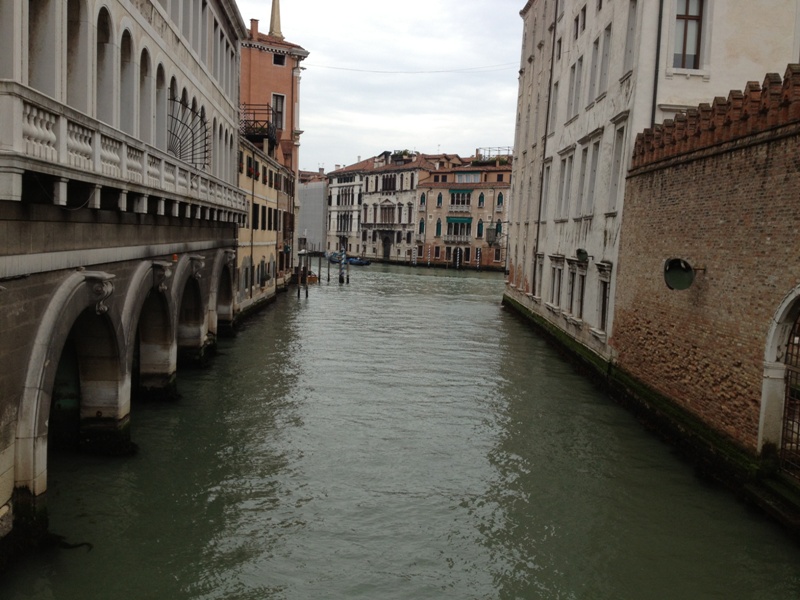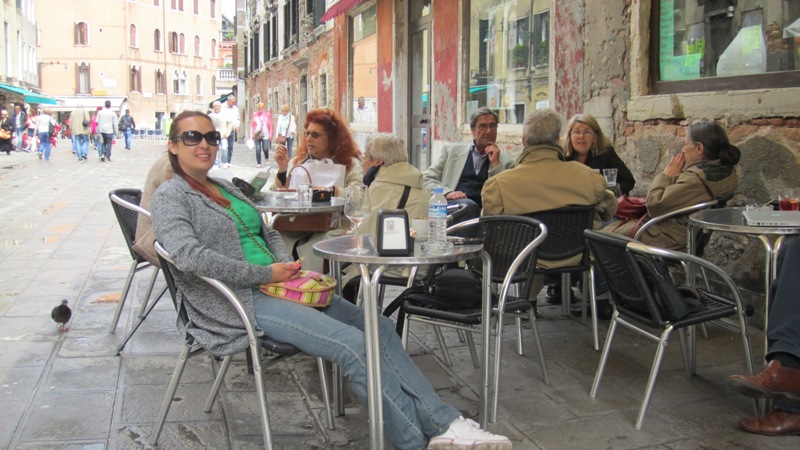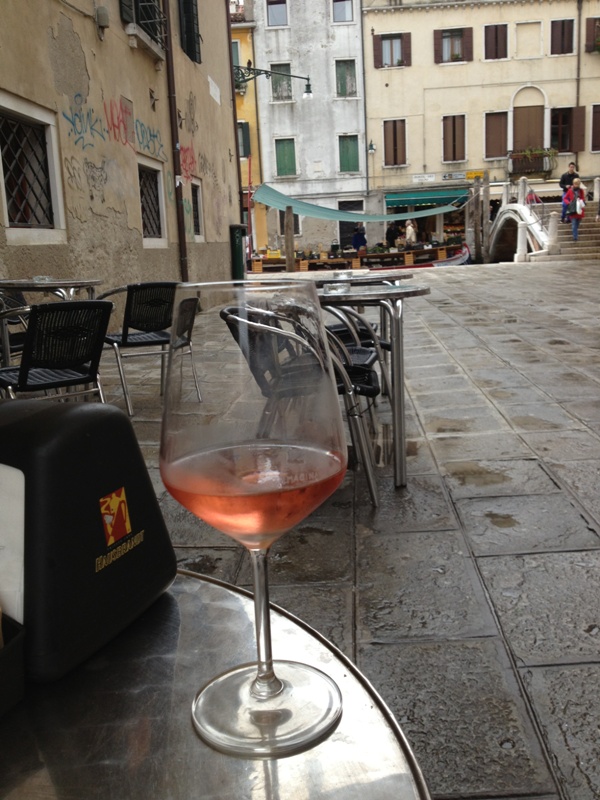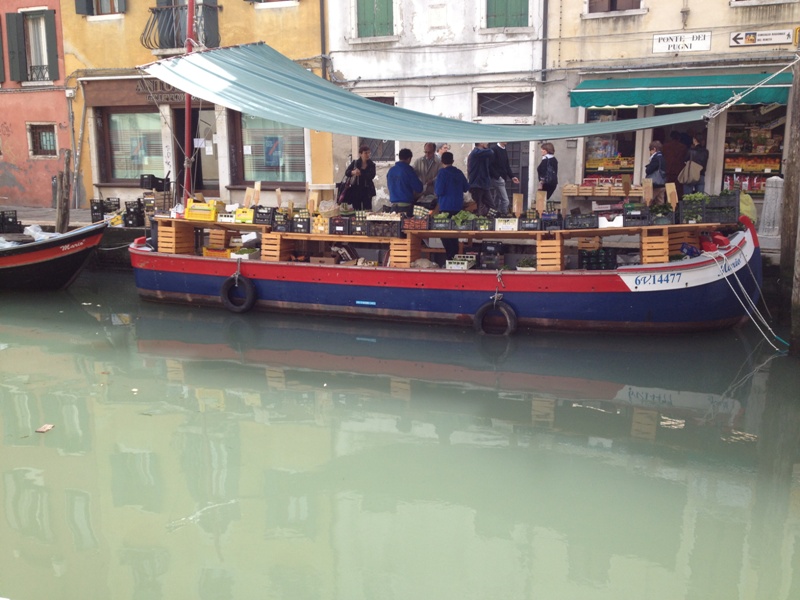 After our very long breakfast we decided to hop on the vaporetto and ride it down the Grand Canal just for fun. After a couple stops two seats opened up on the way back. What a nice ride!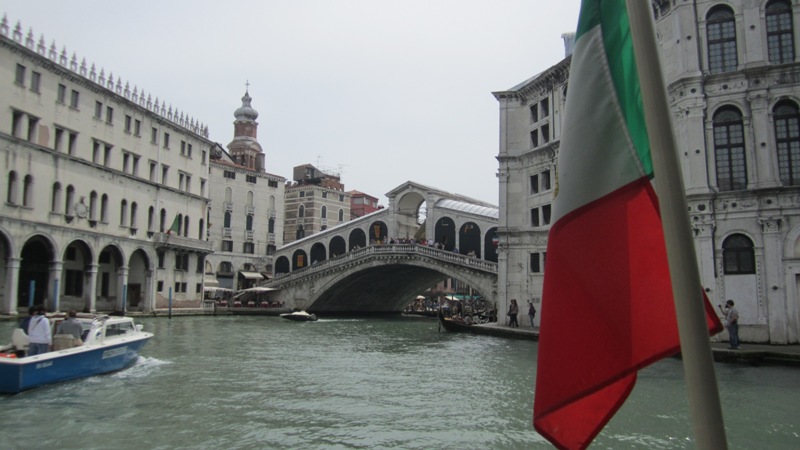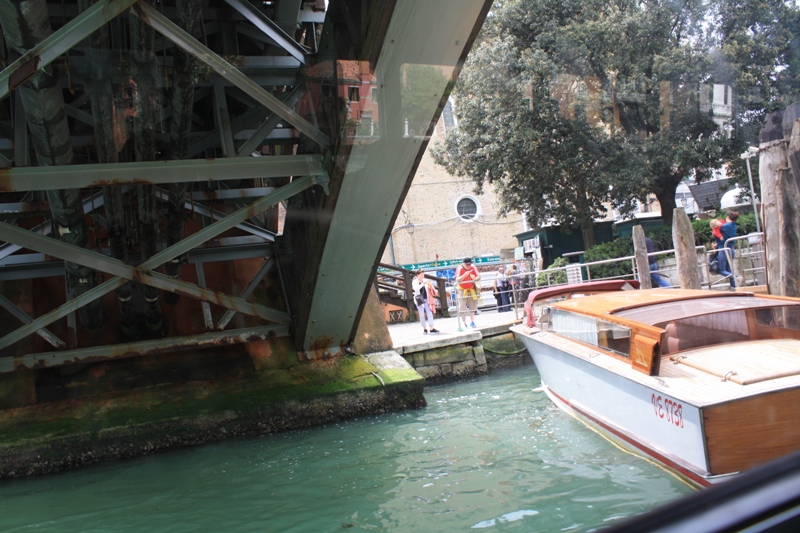 We got off the vaporetto near Saint Mark's Square and decided to pop into Harry's Bar for their world famous bellinis. Allegedly this is the birthplace of the bellini (peach nectar and champagne) and where Ernest Hemingway was said to frequent. We had heard the bellinis were overpriced but were totally shocked when we saw they cost 16.50 euros each! That's roughly $20. But we were already there and may never come back, so we ordered two. They also gave us some olives and tiny chicken croquettes complimentary, so that ended up being our light lunch. A couple from Australia sat down next to us and thought bellinis were food, and complained rather loudly when their drinks arrived, haha. Then when they were done kept raving about how refreshing and delightful it was. There are signs everywhere that say "no photos" but everyone else was, so we snuck some of our own photos.
They press their own peach nectar using a very antique press so when a seat opened up at the bar, Mr. BFT hung out there for a while to watch the process.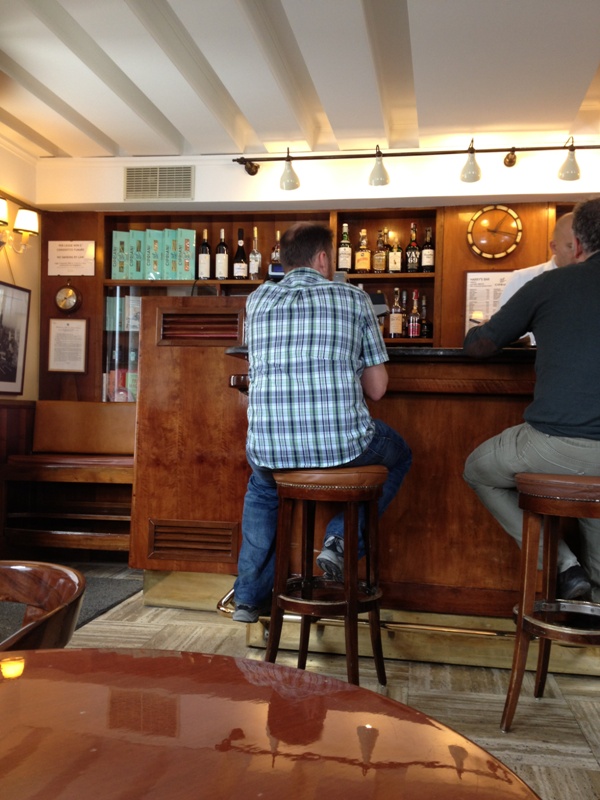 After leaving Harry's Bar I realized we were very close to the Bridge of Sighs so we walked over to take some pictures. The Bridge of Sighs connects the interrogation rooms in the Doge Palace to the prison, and the bridge was named because prisoners were thought to sigh as they passed over, getting one last glimpse of lovely Venice before being taken to their cell.
The square adjacent to Bridge of Sighs.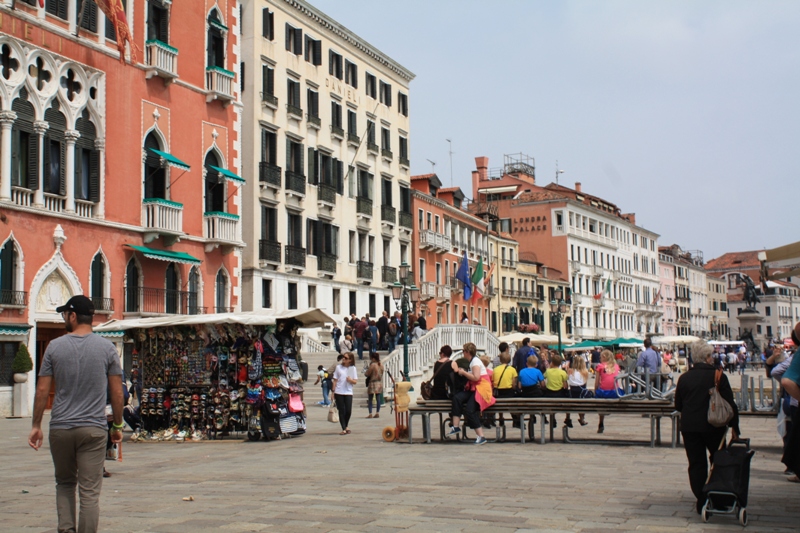 We started to walk back towards our hotel and stopped for some gelato, because, food. We found a quiet and scenic place to sit.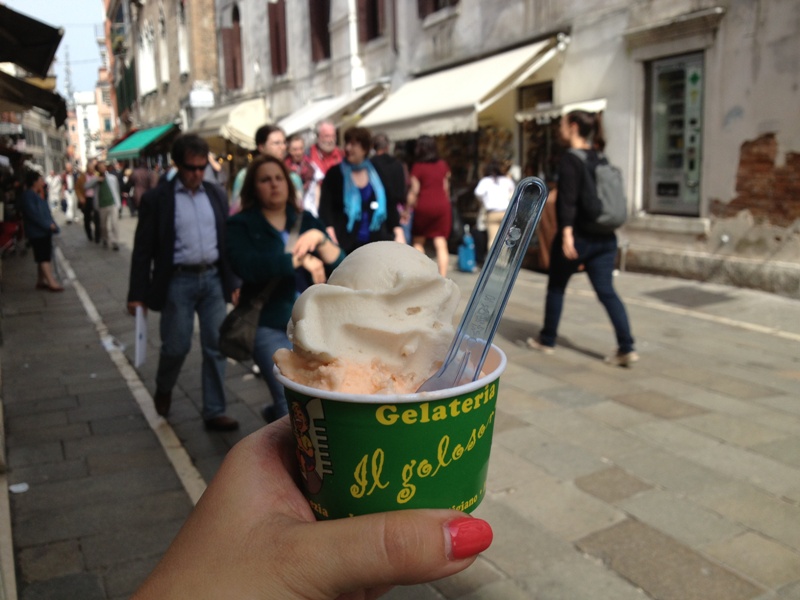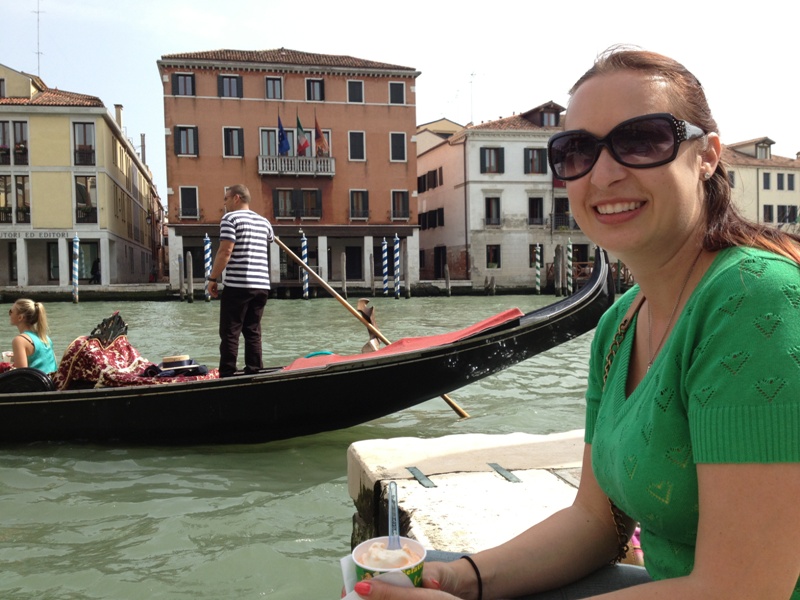 After our gelato break we kept walking and at some point decided to go on another gondola ride. We had just enough Euros left to cover it (they don't accept credit cards). We thought a private ride would be fun, and hopefully we would see some different canals. Like the day before, we asked our gondolier to take us down some quiet, lesser traveled canals. We had quite the adventure. As we were headed down a quiet side canal, an older man was standing off to the side of a building, yelling in Italian. Our gondolier yelled something back and the older man kept yelling and yelling. He was older but kind of scary, actually. Suddenly our gondolier stopped and started going backwards. Nothing was said to us and we had no idea what was going on. We kept looking forward because we didn't want to stare. Suddenly our gondolier dipped to the right (my side) and it felt like it was going to capsize! I instinctively jerked to the left and twisted my back, resulting in immediate sharp pain. We also both yelled "HEY, WHAT'S GOING ON!" and looked back to see the man was now on our gondolier (and when we yelled, the man gave us a "BAH" and waved his hand towards us, as if to say, "shut up you stupid tourists.") The best we could decipher is the man's boat had somehow broken lose and he was stranded on this little patio area, so our gondolier gave him a short lift to his boat. That's fine, but I wish we had some warning so we had known what was going on. Meanwhile I spent the rest of the gondola ride with immense back pain (Mr. BFT rubbed it for me the rest of the ride) and we didn't give our gondolier a tip. It was very upsetting at the time but I guess now it makes a good story. Mr. BFT was smart enough to discretely capture a couple photos of the whole thing.
Happier times before "the incident:"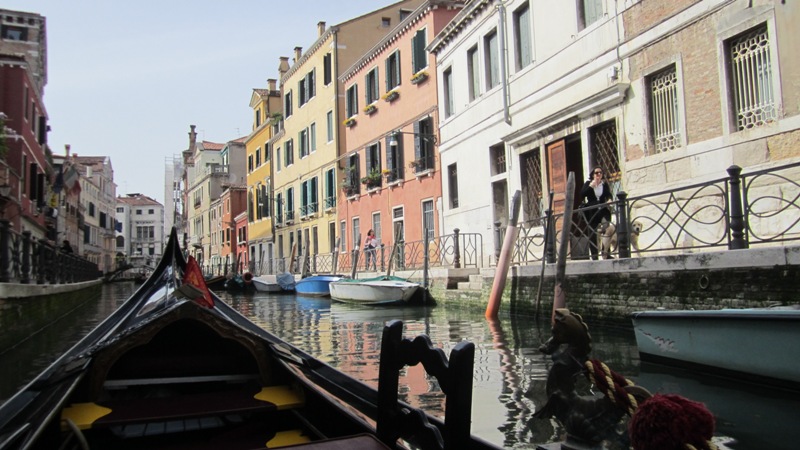 We liked this picture so much, we had it blown up on canvas to hang in our family room.
After our adventurous ride, we kept walking back towards our hotel. We found ourselves in the area of the Rialto Bridge and I decided to pop into the Disney Store. The paintings on their walls were so cool!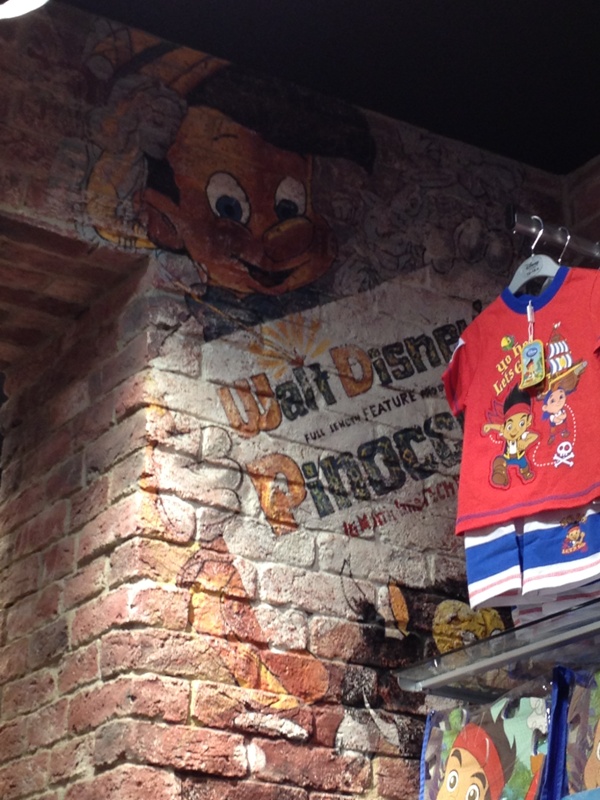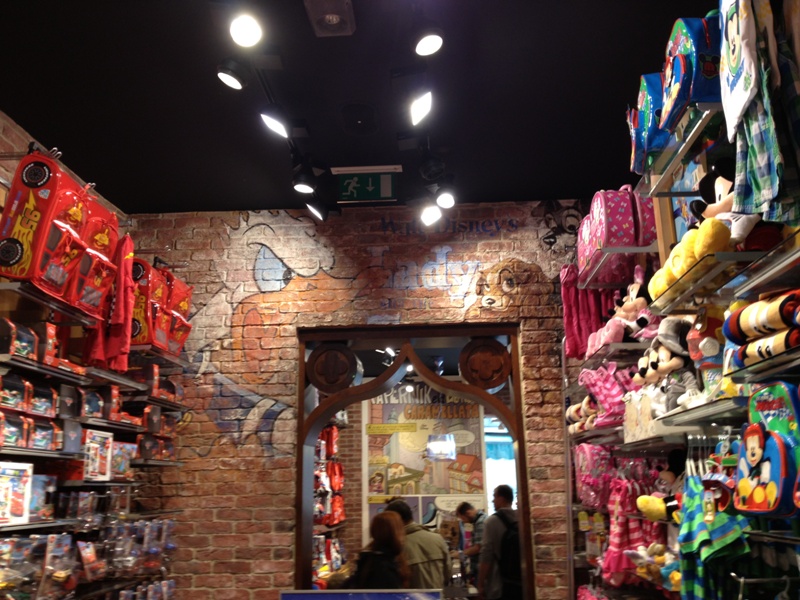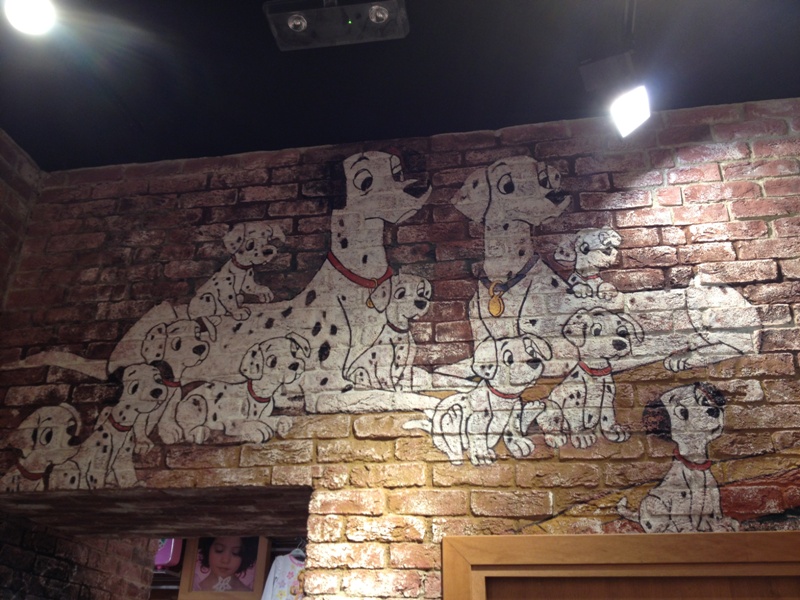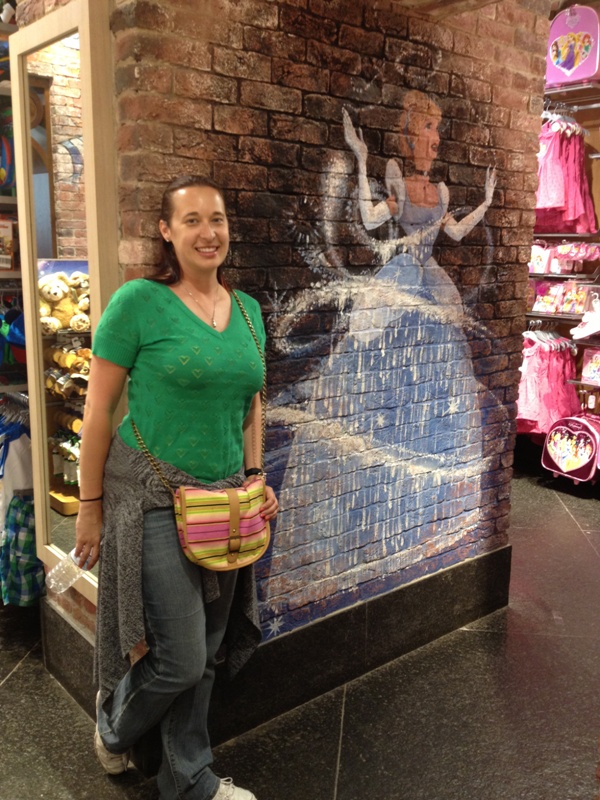 Finally we made it back to our hotel and took some pictures outside before heading in to see our room. (The entrance to the hotel is that red awning on the pink building, but the hotel is the pink and green building combined.)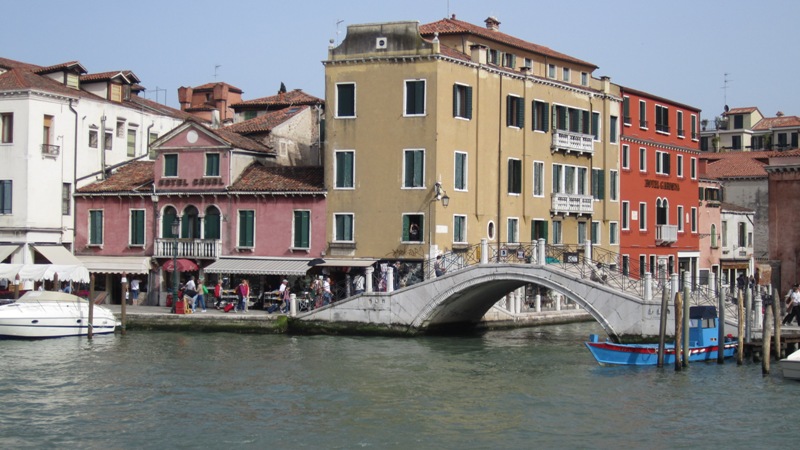 Tough to believe but the room was smaller than our cruise cabin. Thank goodness it was only for one night; I wouldn't have lasted much longer in this space.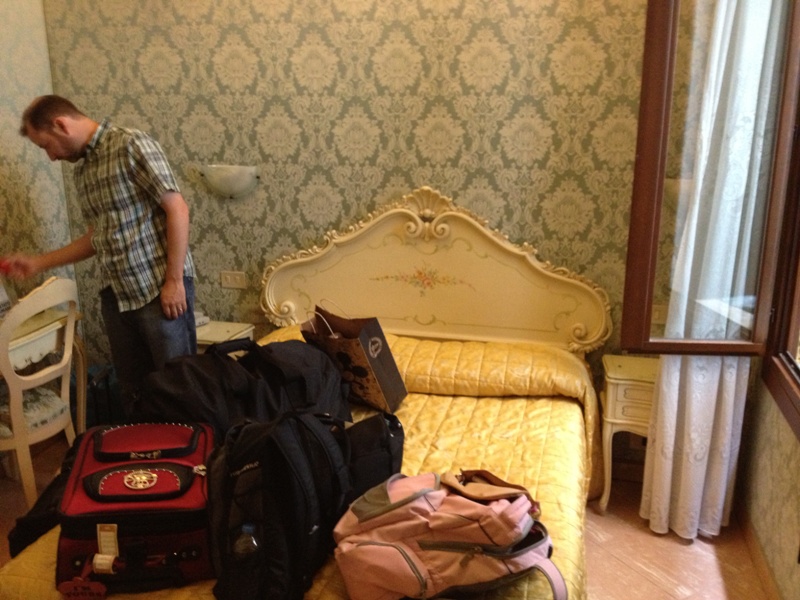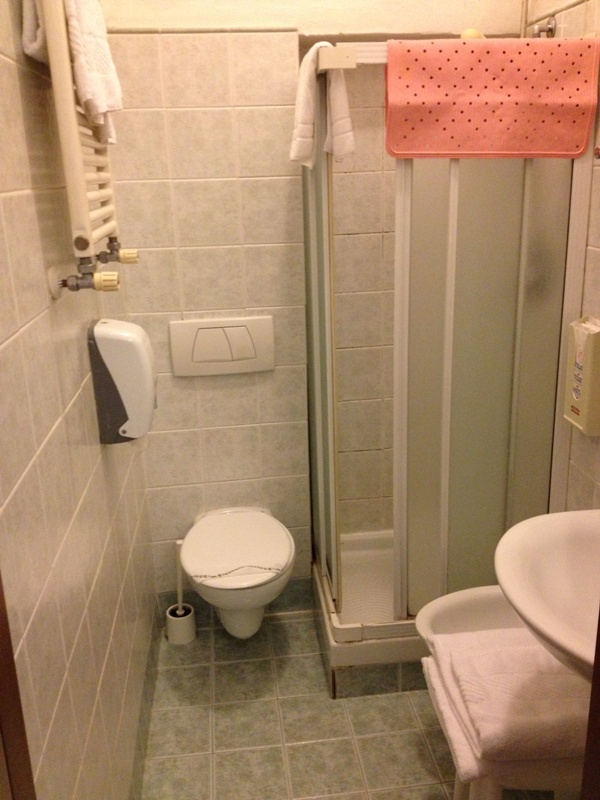 Oh, and this was the view from our window. I suppose it's better than just staring at a concrete wall. But, yeah. And I would find out later that night that those pipes? They SMELL. BAD. I had my ear plugs and eye mask but what the heck do you do when your hotel room smells like a million farts? You lay awake and you cry, is what you do.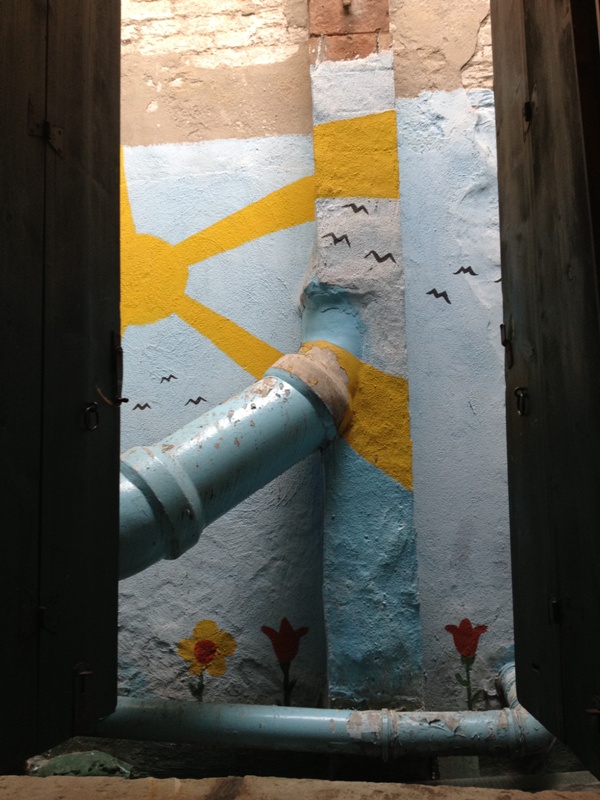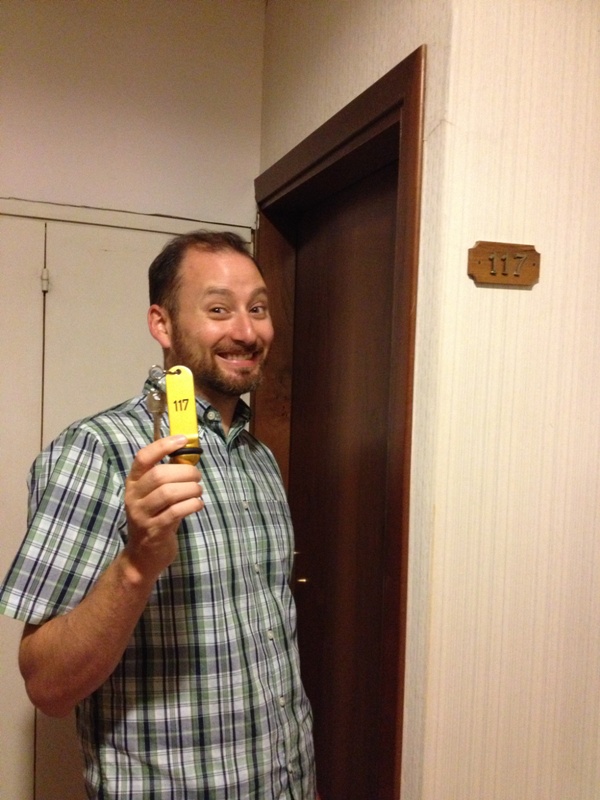 This was the view from a hallway in the window. This is what a window is supposed to look like. No poop pipes.
After securing our luggage in our room, we decided to go back out and keep wandering. We had about an hour before a planned group dinner with our cruisemates so we decided to go in the direction of the restaurant and wander around there. We didn't get too far. Just a block or so from our hotel we found this little and very crowded establishment. People were standing and sitting outside with food and tiny glasses of wine. We walked in to see what all the fuss was about. Well, it was a little bar that served small servings of wine and sandwiches for between 60 euro cents and 1 euro – that's about $1 each! Yep, I just about died and gone to wino heaven! We placed our orders, sat on the steps, and didn't move again until it was time for dinner. We made two or three trips inside and probably spent around 10 euros total. Amazing!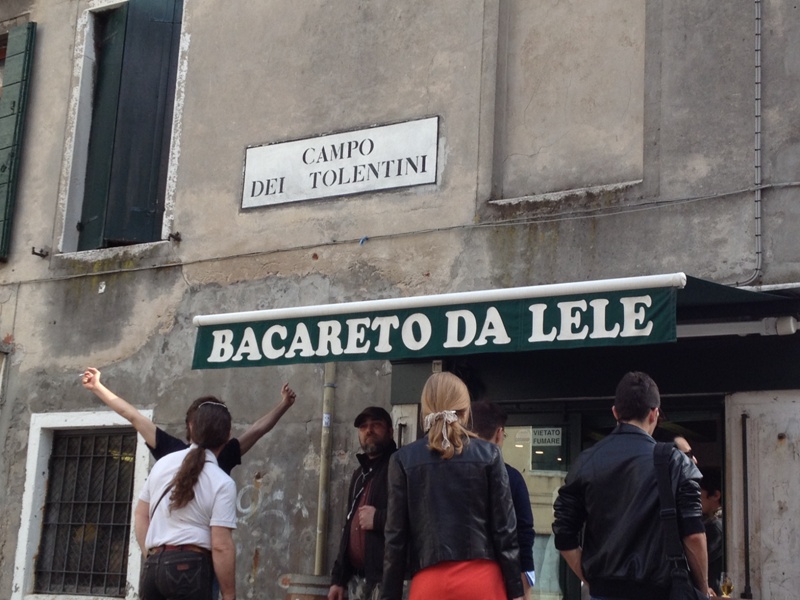 Jotting down the events of the day.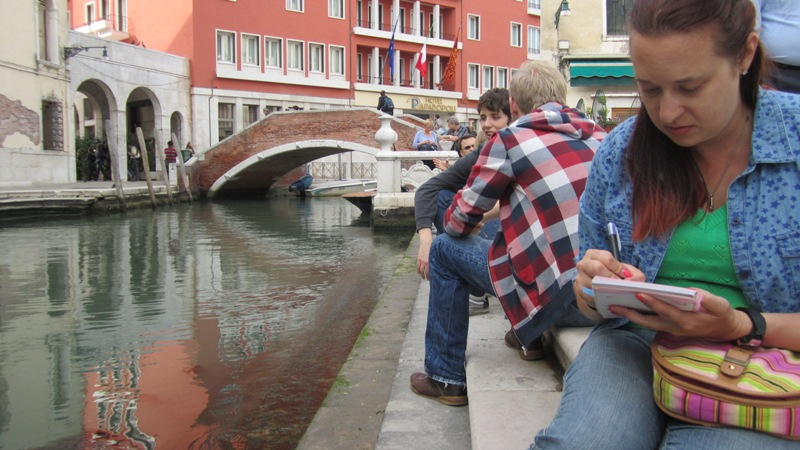 Where there's food, there are pigeons and Mr. BFT captured this incredible shot of a pigeon flying right towards him. Yikes!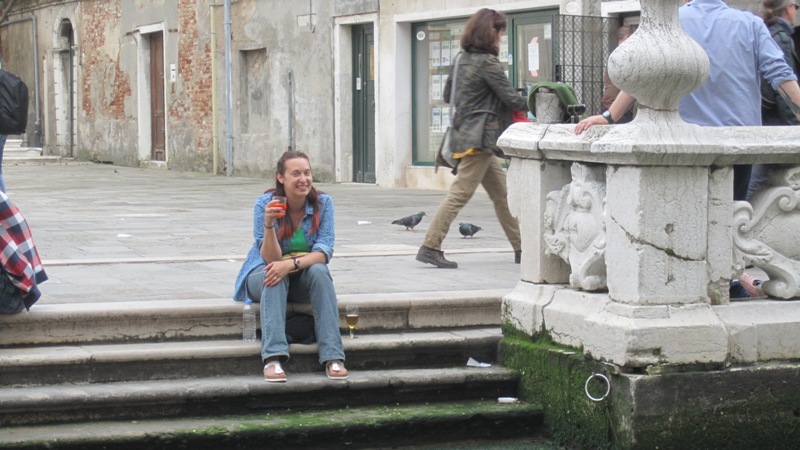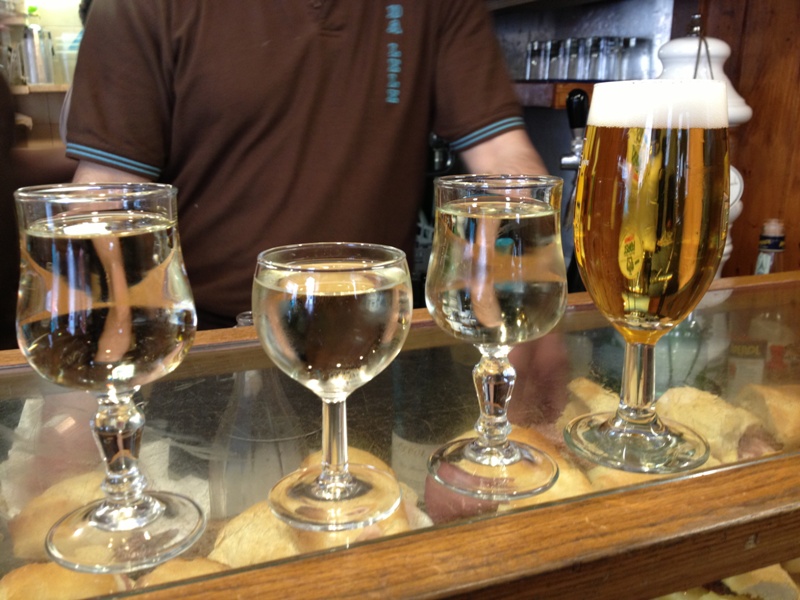 We sat there until it was time to meet up with our friends at their hotel, the Hotel Papadopoli, which is REALLY fun to say. It was also gorgeous in the lobby, not a dump like our Hotel Canal. If we go back to Venice I'm insisting we stay at the Papadopoli. Before we headed there, though, we had a little ceremony outside of the Hotel Walter. I had been carrying a tiny bit of my beloved Walter's ashes all throughout Europe, and here outside of the hotel which shared her name, we released the pinch of ashes into the Venice canals.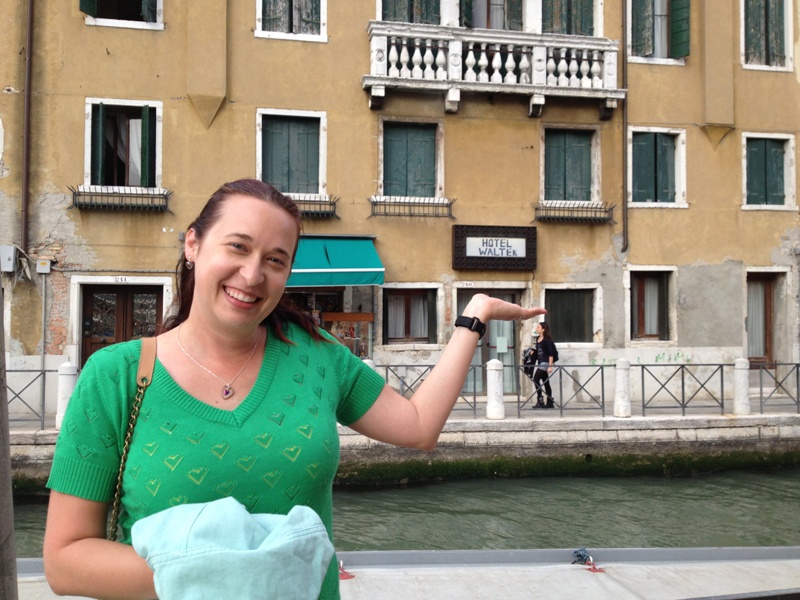 Once we met up with our group, we made our way to the restaurant. The food was wonderful and the company was even better! It was sad to know this was our last evening with all of our cruise friends. Knowing them enhanced our vacation so much!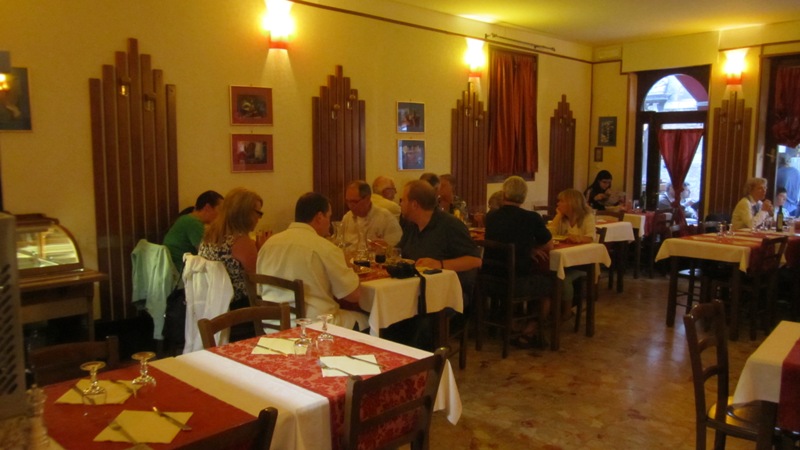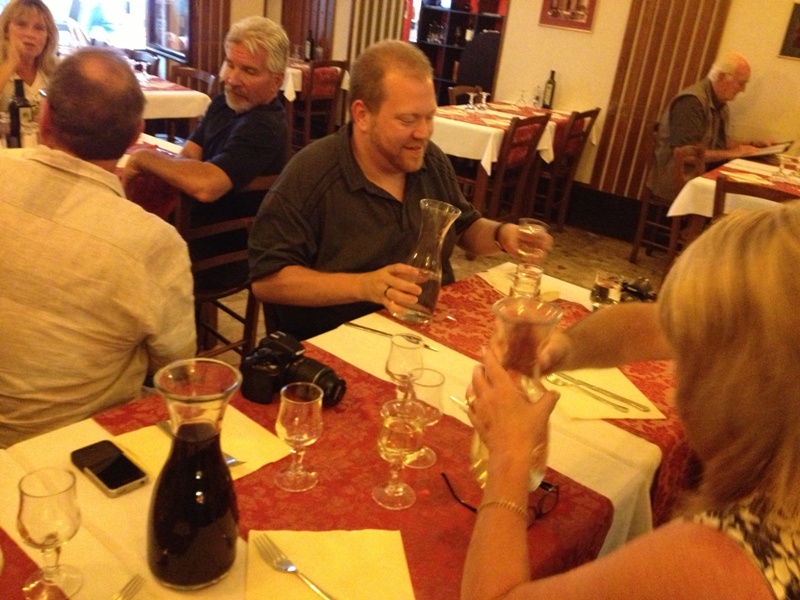 After some light chatting outside the restaurant, we all shared our final hugs and Mr. BFT and I walked back to our hotel. While it was still "early," the streets of Venice were practically shut down and we had an early wake up call to catch a cab to the mainland for our flight.
***
Not really sure how to sum up such an amazing honeymoon. I took pictures of the sunrise as we were heading towards the Atlantic and knew that it was quite possible I would never be back. This was surely the trip of a lifetime for me and I'm forever grateful that Mr. BFT and I were collectively able to make it happen.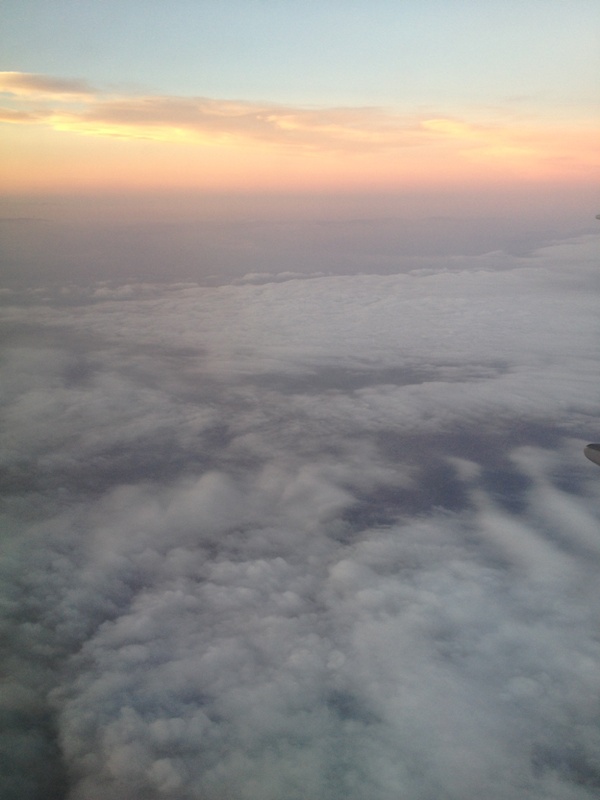 And in case you were wondering, this is what I look like after a full 24 hours of traveling and three plane rides.
Thank you for sharing this amazing journey with me!
Past Honeymoon Posts:
Chapter 1 – All Aboard the Norwegian Spirit!
Chapter 2 – Barcelona, Spain
Chapter 3 – Toulon and Bandol, France
Chapter 4 – Florence, ItalyChapter 5 – Rome, ItalyChapter 6 – Naples, Italy
Chapter 7 – Sea Day 1
Chapter 8 – Mykonos, Greece
Chapter 9 – Chef's Table on the Norwegian Spirit
Chapter 10 – Istanbul, Turkey
Chapter 11 – Izmir and Ephesus, Turkey
Chapter 12 – Athens, Greece
Chapter 13 – Sea Day 2
Chapter 14 – Venice, Italy {The Arrival}
Chapter 15 – Venice Italy {Day One}