The Disneyland Weddings Showcase took place in early March 2023, highlighting some of the venues and amenities available if you choose to get married at Disneyland!

This year, the Showcase took place at Disney's Grand Californian Hotel & Spa and their gorgeous Sequoia Ballroom. Guests of the Showcase were also treated to a sample food menu, cake flavors, and entertainment.
Disneyland Weddings Showcase at Disney's Grand Californian Hotel
The Disney's Fairy Tale Weddings team really goes all out for the Showcase! There's so much to see that it's tough to squeeze everything in to the two hour timeslot. There are some sections I missed, but I'll try to fill in any gaps from other photos in my collection.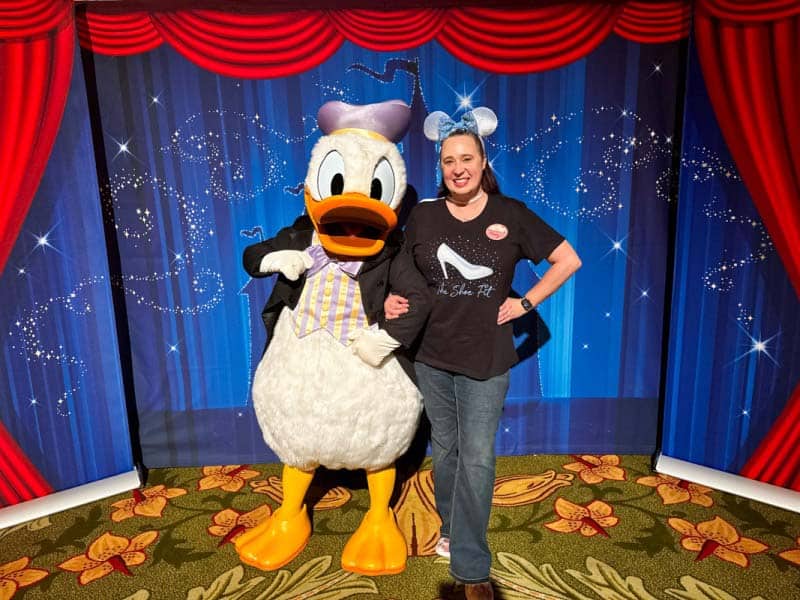 Disneyland Wedding Venues
One of the perks of attending the Disneyland Weddings Showcase is to see a few of their lovely venues in person. And, many of the venues were set up for a wedding, which shows off how the team at Disney Weddings can decorate for your event!
Sequoia Ballroom
The 12,240 square foot space is the largest of all the event spaces at Disney's Grand Californian Hotel, and can accommodate up to 500 guests. The Sequoia ballroom can also be sectioned off into smaller rooms. You can see one of the dividers using white draping in the photo below.
Trillium Ballroom
This lovely ballroom is 2,584 square feet and can comfortably accommodate up to 120 guests for a reception. It can also be sectioned off into smaller rooms.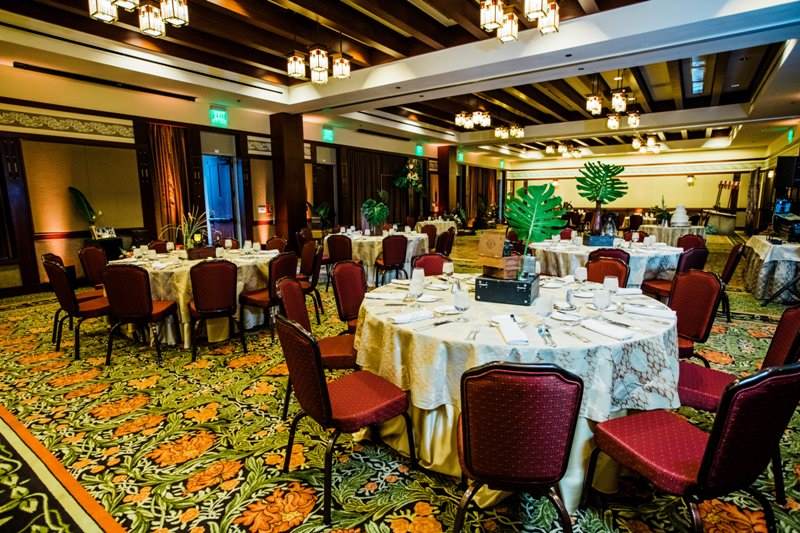 Sorrel Room
A smaller ballroom that can accommodate up to 60 guests. The Sorrel room is no frills but looks really elegant with wall draping, as seen in the background of this photo.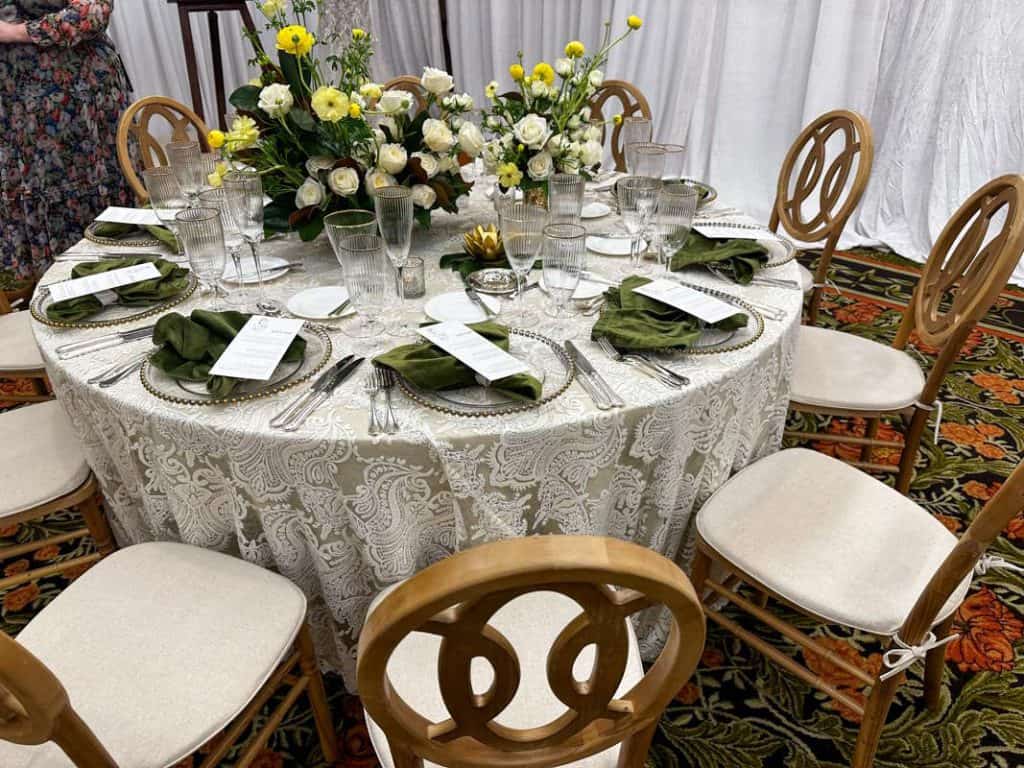 Wisteria Room
The Wisteria is a charming and unique ballroom option for a wedding reception or even a ceremony. The room is perfect for a small event, under 40 guests (although 30 guests would be a more comfortable experience). It has its own private terrace where the bar and buffet trays can go to save space in the ballroom. I really love this room!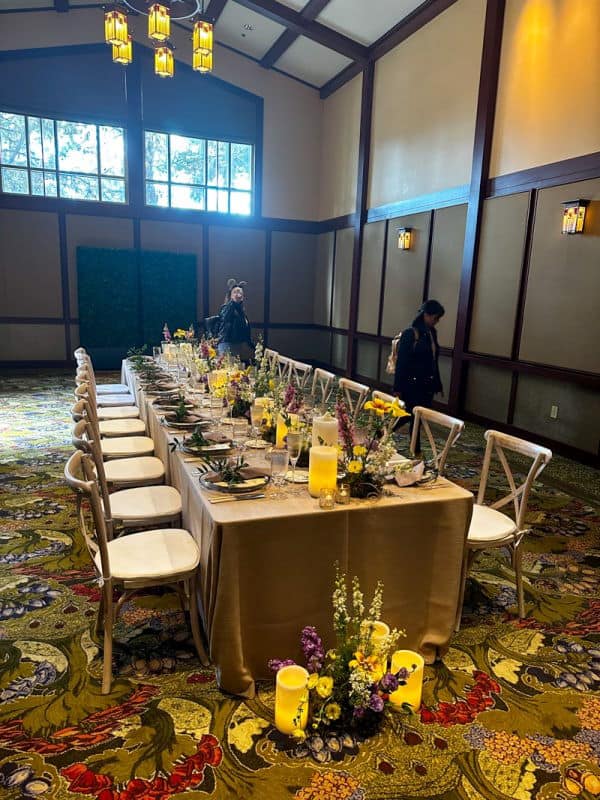 Brisa Courtyard
Brisa is a lovely outdoor event space at Disney's Grand Californian Hotel, near the entrance to Downtown Disney District.

Brisa actually consists of three separate but connected spaces. Brisa 1 is a large circular sunken area, and is perfect for both ceremonies and receptions. For the showcase it was set up for a ceremony. The smaller Brisa 2 was set up for a pre-reception. Brisa 3 is not in use for events right now.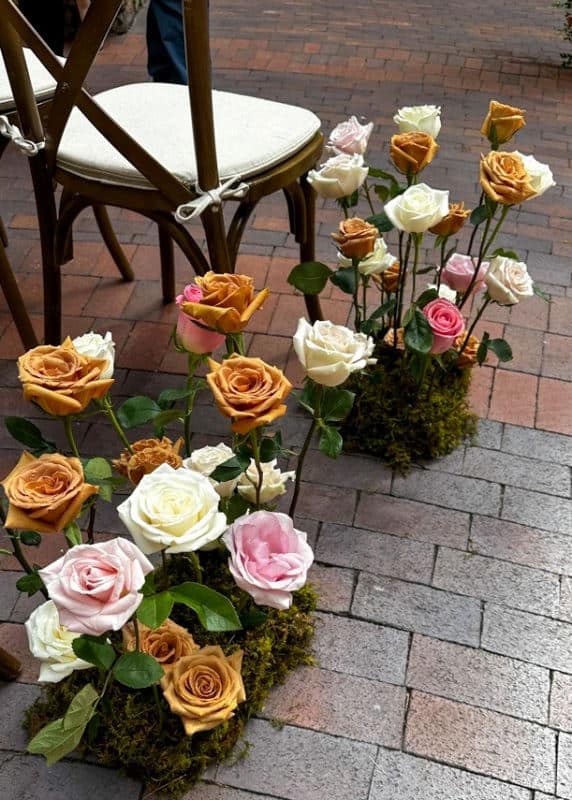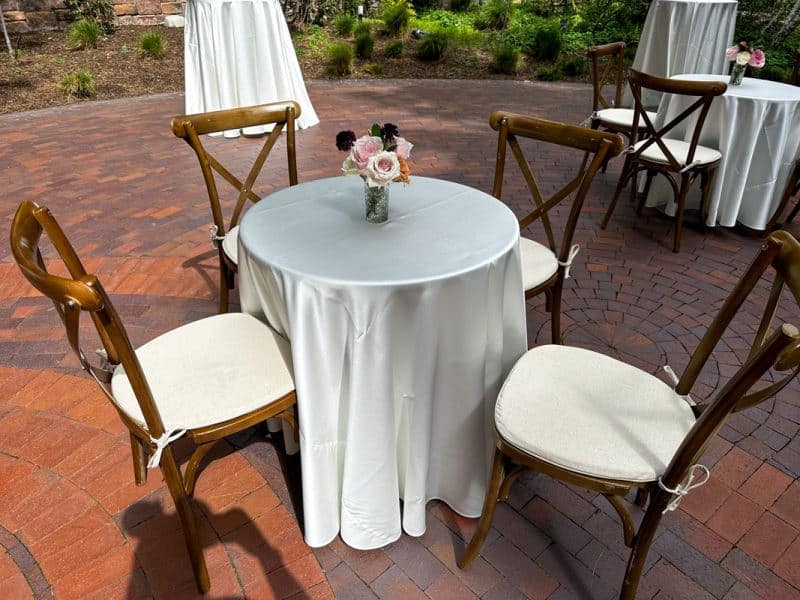 Wedding Garden
The Wedding Garden is a popular ceremony spot for small events. It's also a good location for a welcome reception or farewell brunch. Unfortunately I didn't get a photo of this location during the showcase but below is a photo from a wedding ceremony.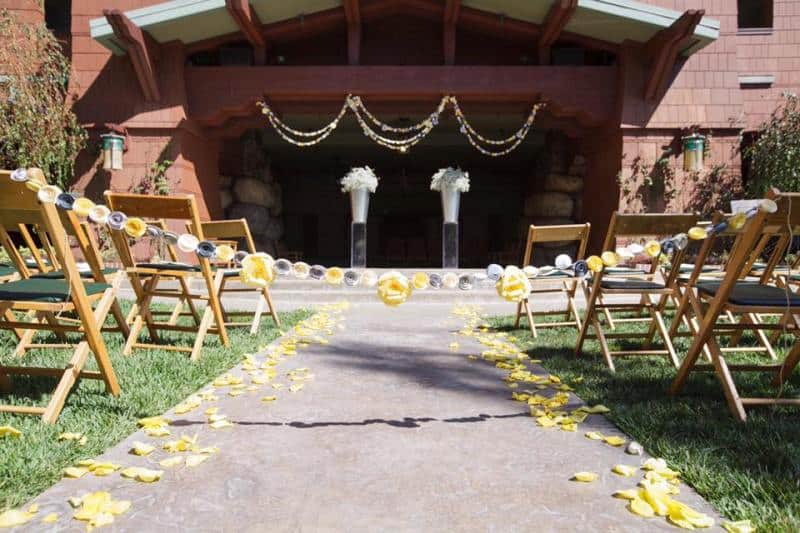 Rose Court Garden
Moving over to the Disneyland Hotel, the Rose Court Garden is the most popular ceremony venue in the entire Resort, by far. For the showcase it was decorated with beautiful pink, purple, and white florals and a subtle The Little Mermaid theme. The acrylic chiavari chairs looked lovely in this location.
Sleeping Beauty Pavilion
This unique ballroom pairs well with a Rose Court Garden Ceremony. And good news, the room recently received a makeover with new carpet! This spot can hold up to 120 Guests and has an 80 person minimum. The draping, chairs, linens, and white circular dance floor come with an upcharge.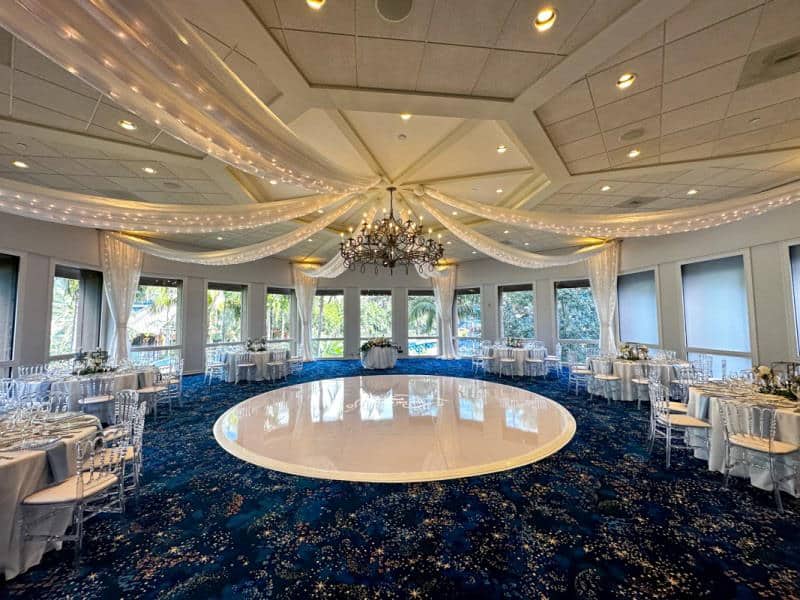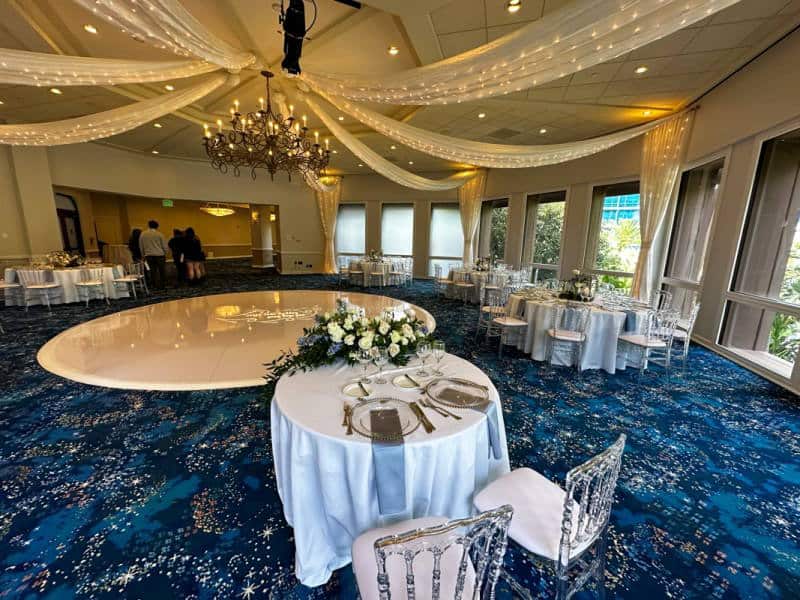 Adventure Lawn
The spacious Adventure Lawn is named for the adjacent Adventure Tower of the Disneyland Hotel. This spot can be used for just about anything – ceremony, pre-reception, reception, or any other type of gathering. For the showcase it was set up with a few cocktail tables.
Disneyland Wedding Floral & Decor
I just want to spotlight some of the decor details because it's just so pretty! All the decor was themed after Disney Princesses, including Ariel, Belle, and Rapunzel. Take a look at some of the details!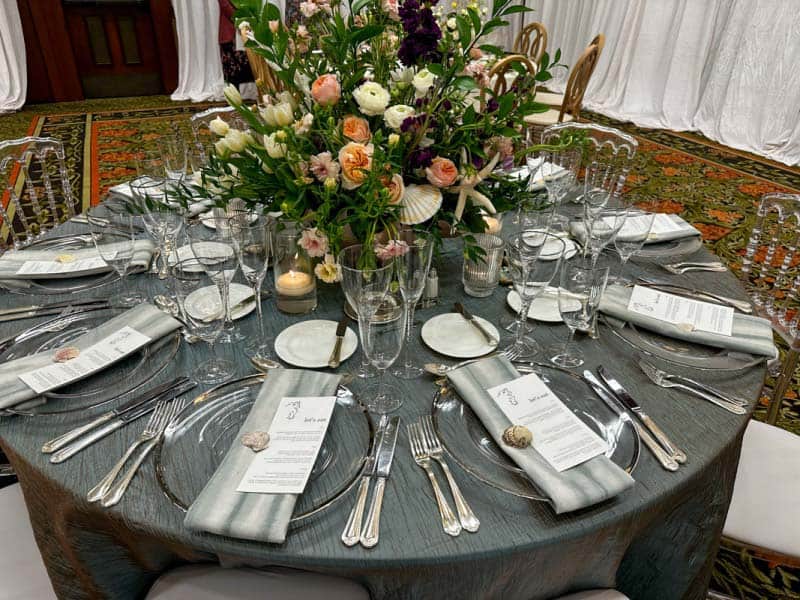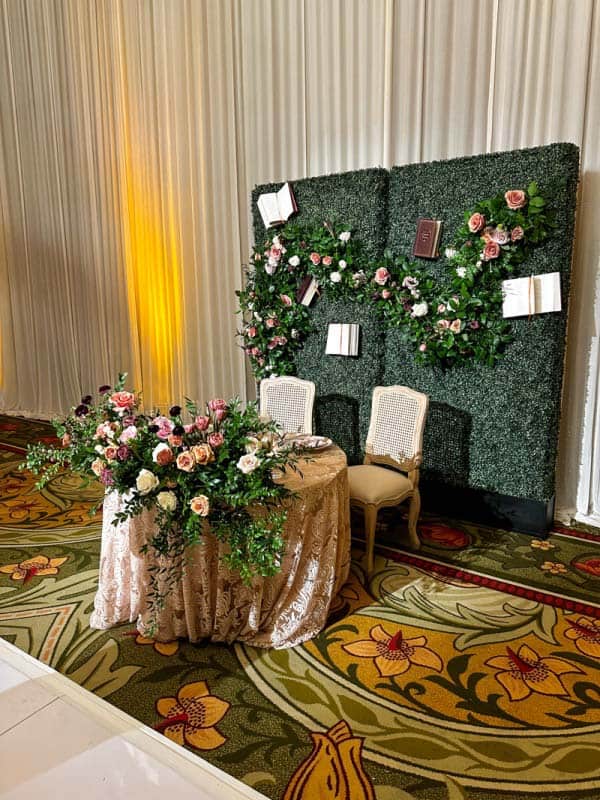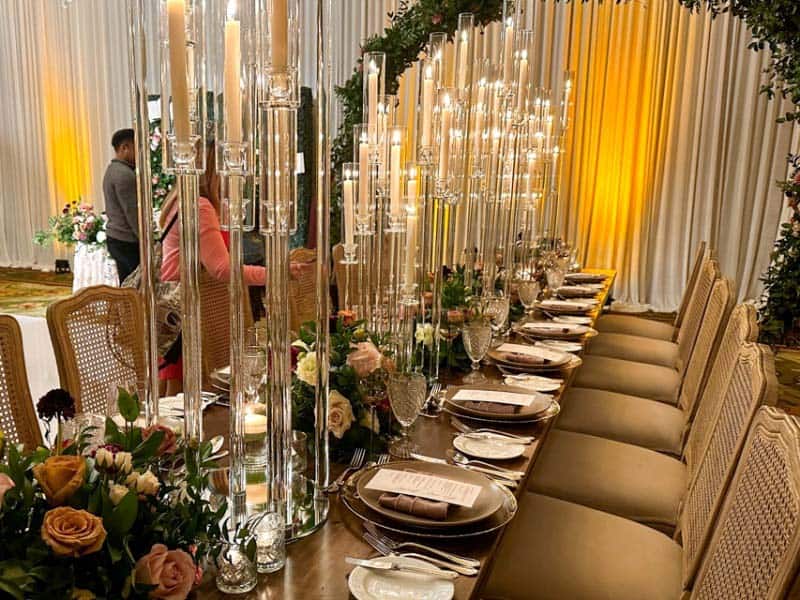 Disneyland Wedding Food & Drinks
This year, all the food was buffet style. They offered a look at a cheese and crackers appetizer, which would be great for pre-reception. There also was a mac and cheese bar with two different types of cheese sauce and a variety of toppings. They also had two of their most popular cake flavors to try – Pineapple Whip Cake and Churro Crunch Cake.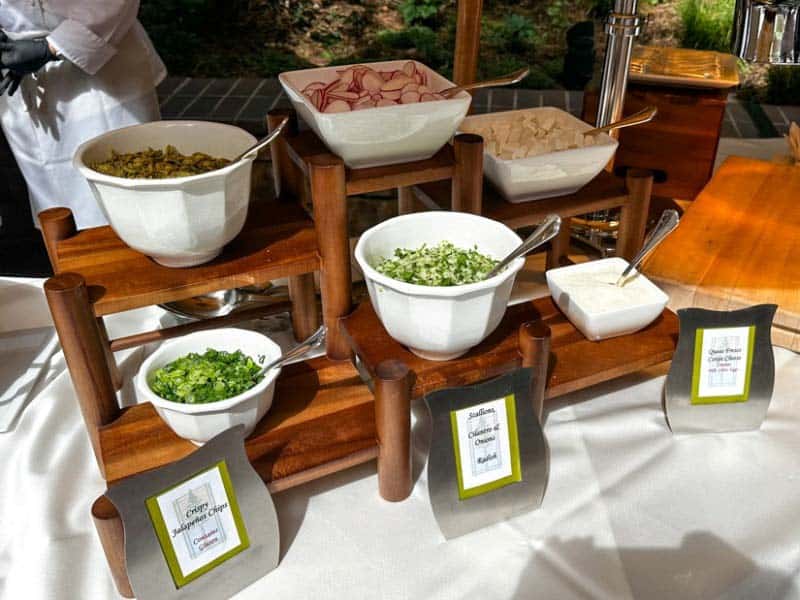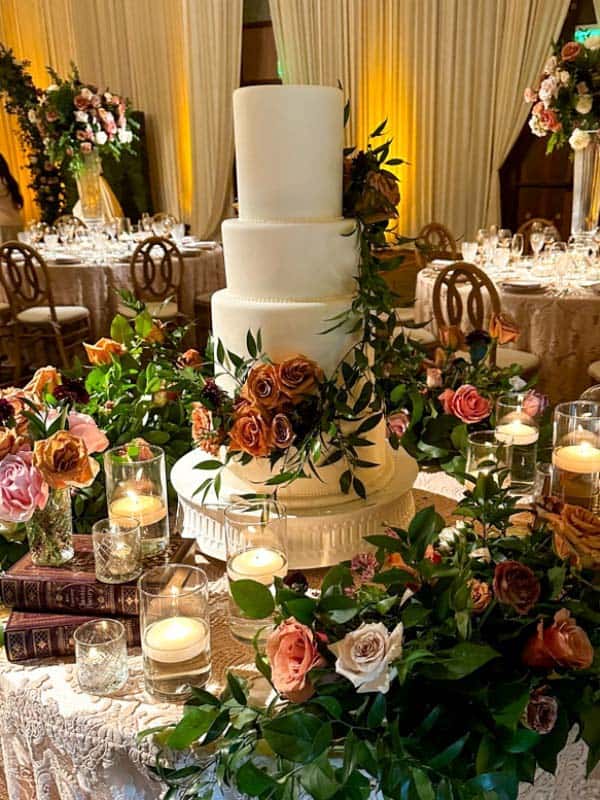 Disneyland Wedding Showcase Miscellaneous Details
Guests of the Showcase were also able to get an up close look at some of the new 2023 Disney's Fairy Tale Wedding gowns, and a look at some of the concept art for the new Crystal Carriage that will be debuting at Disneyland Hotel later this year.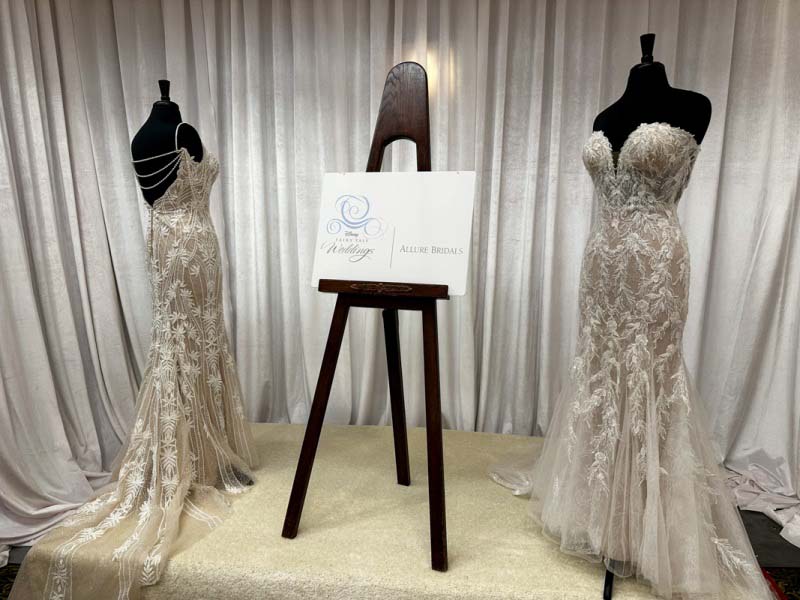 There's also a new character meet & greet backdrop available! I was told this is a Disneyland Resort exclusive!
Guests were also able to try out the Magic Mirror photo booth, which is really cool! The camera is inside the mirror, so you literally just pose while looking in the mirror! You get three poses, and they are printed out for you right there!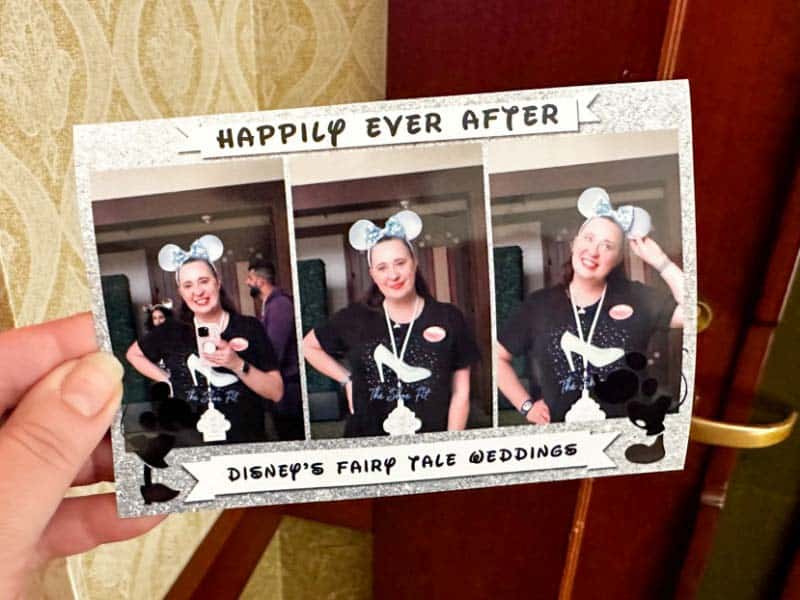 Finally, an event at Disney wouldn't be complete without characters! Guests were able to pose with Donald or Daisy, in one of their formal outfits.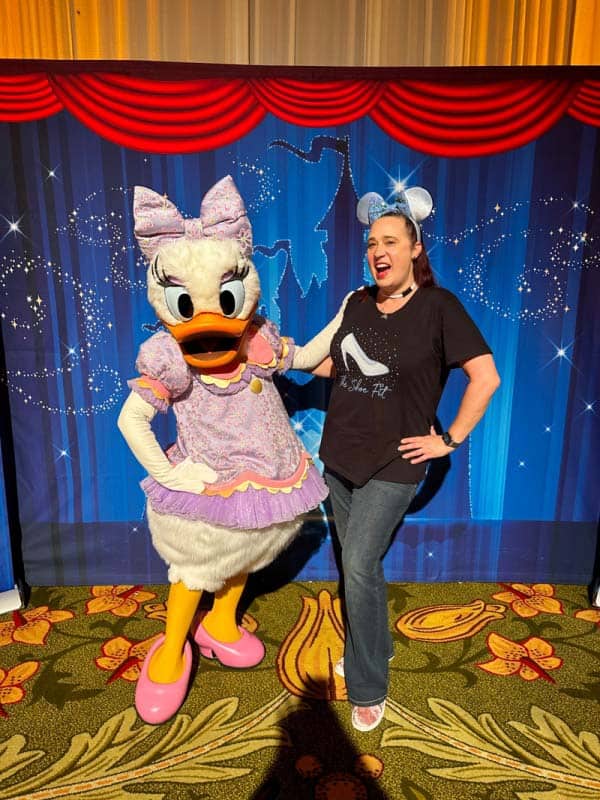 I hope you enjoyed this recap of the 2023 Disneyland Wedding Showcase! I'll see you again in 2024!
Outfit Details:
"The Shoe Fit" Shirt: RedBubble
Carriage Belt: Buckle-Down
You May Also Like:
2022 Disneyland Weddings Showcase Recap
2020 Disneyland Weddings Showcase Recap
2019 Disneyland Weddings Showcase Recap
2018 Disneyland Weddings Showcase Recap
2017 Disneyland Weddings Showcase Recap
2020 Walt Disney World Wedding Showcase Recap
Shop Disney Wedding Favorites: