Disney Bride Nicole P is planning a Walt Disney World wedding at the Wedding Pavilion and Disney's Grand Floridan Ballroom for December 2017.
2016 was turning into a banner year for me. I had gotten engaged in Walt Disney World, asked my girlfriends to stand with me on my wedding day at a princess themed bridesmaid brunch, and then celebrated our engagement with family and friends at an amazing "Up" themed engagement party. The first half of 2016 was truly spectacular. The second half of 2016 promised to be equally as memorable and amazing.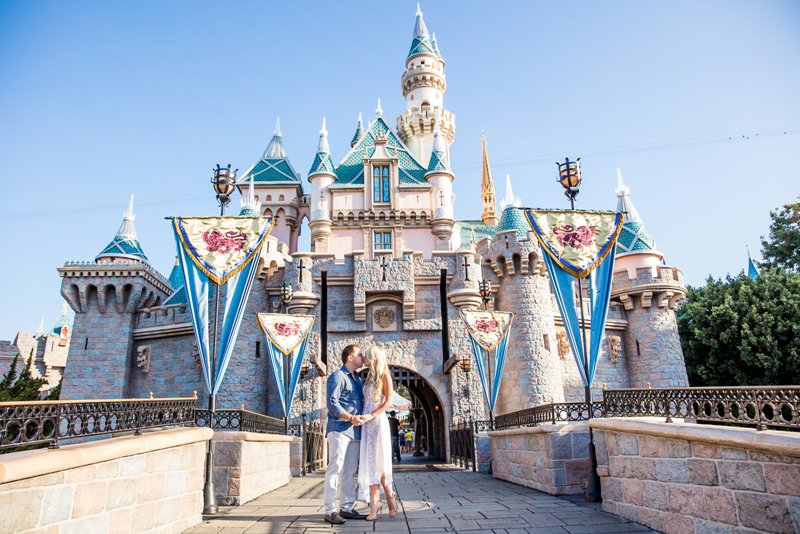 The next thing on my wedding agenda was to plan an engagement photo shoot. I wanted to select photos for our "save the dates" from this session.
I tell everyone Walt Disney World is my favorite place on the planet. I don't mention as often how much I absolutely love Disneyland in California as well. Not only is it truly magical and just so much fun, the weather there is practically a guarantee. What could be more beautiful than a photo shoot at sunny Disneyland and Disney California Adventure?
My fiancé, being the great guy he is, booked Disney's Grand Californian Hotel for our September visit. It was my job to research and book the photographer for the photo shoot. I searched "Disneyland photo shoots" on the Internet and found Jenna from White Rabbit Photo Boutique. Her reviews were amazing. After one look at Jenna's portfolio, I knew I had found the right artist to take these once in a lifetime photos.
Once I decided on Jenna, we had a pre-photo shoot telephone conversation. I told her I wanted my photos to have a whimsical feel, one that included sentimental favorites like the tea cups and carousel. We discussed wardrobe and Jenna suggested I bring more than one outfit. Once I put them together I emailed her a photo of each so she could start planning locations to match.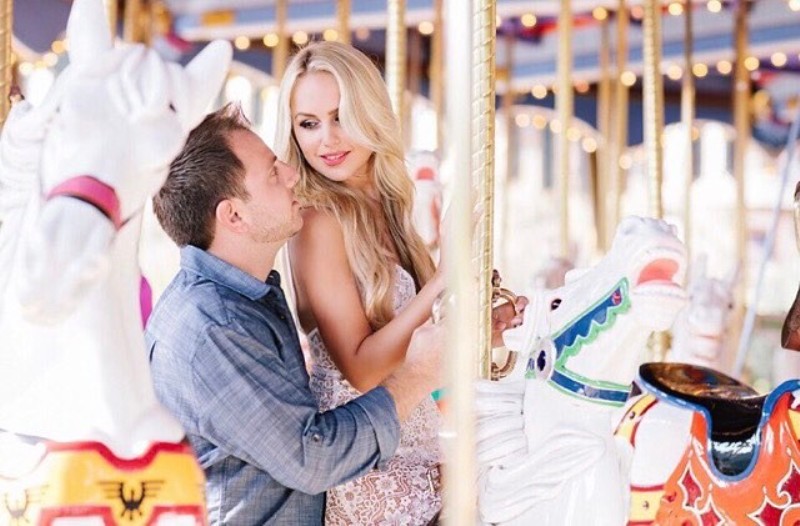 Finally our first day of vacation had arrived! After a quick stop at In-N-Out burger (this is a must for us East Coasters), we headed over to Disney's Grand Californian Hotel to check in. Stepping into the grand lobby is like walking into a Northern Californian National Park lodge from a bygone era. We spent the day and a half before our photo shoot just enjoying the parks and relaxing at the hotel.
I woke up at 7 am on September 16th, the day of the photo shoot. I did my own hair and make-up before my fiancé and I headed over to the park. It was a clear, cool and perfect sunny day. I was wearing a white tea-length lace "For Love and Lemons" dress with tan Stewart Weitzman heels. While waiting to get into Disneyland several people began questioning my choice of footwear. Before long, just about everyone in that line knew that we were having our engagement photos taken. Soon my fiancé and I were being flooded with handshakes, congratulations and well wishes!
We met Jenna in front of Sleeping Beauty's Castle at 8 am, right when the park opened. We started with photos in front of and around the castle. We then walked over to Snow White's Grotto Wishing Well and Heart Bridge. This is a glorious secret part of the park that I never knew existed and is a total must see! I really got the feel I was looking for – whimsical and fun. While we took pictures in front of the Matterhorn a little boy in a stroller was blowing bubbles. As he passed by, Jenna seized the opportunity to get those bubbles in a few shots. Jenna seemed to know just about everyone in the park. We then took photos in the visually stunning "Pixie Hallow." It was from this location that I found some of my very favorite shots! We even got to jump right on King Arthur's Carousel without having to wait since it was so early. Jenna jumped right on with us!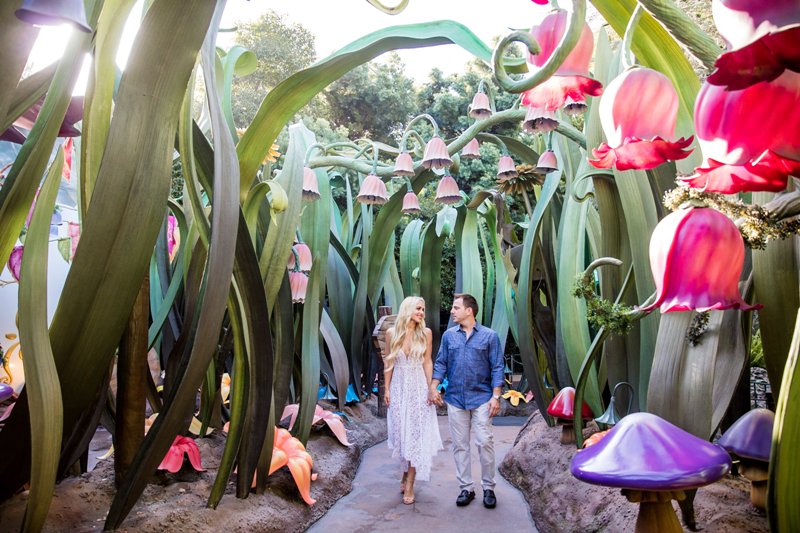 Next it was time for a wardrobe change; I changed into another "For Love and Lemons" dress. This time it was a baby blue floral maxi. We headed over to Fantasyland and took some of the best photos from the shoot in front of the Dumbo ride. We also took some photos at the Mad Hatter Tea Party, and in front of the It's A Small World backdrop. The Small World backdrop in Disneyland is absolutely stunning and quite different from the entrance to the ride in Walt Disney World. We ended our Disneyland photo shoot with a visit to the heavenly Candy Palace located on Main Street USA. Jenna photographed us with all our favorite treats, from candy apples to cake pops and giant lollipops.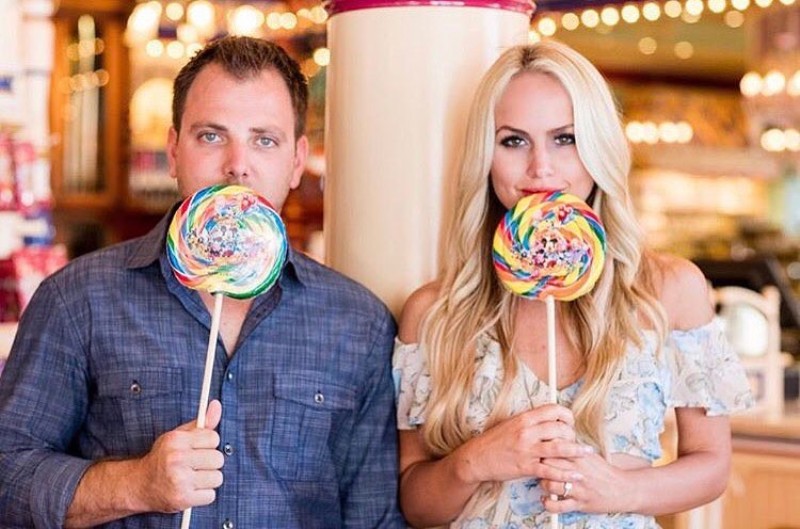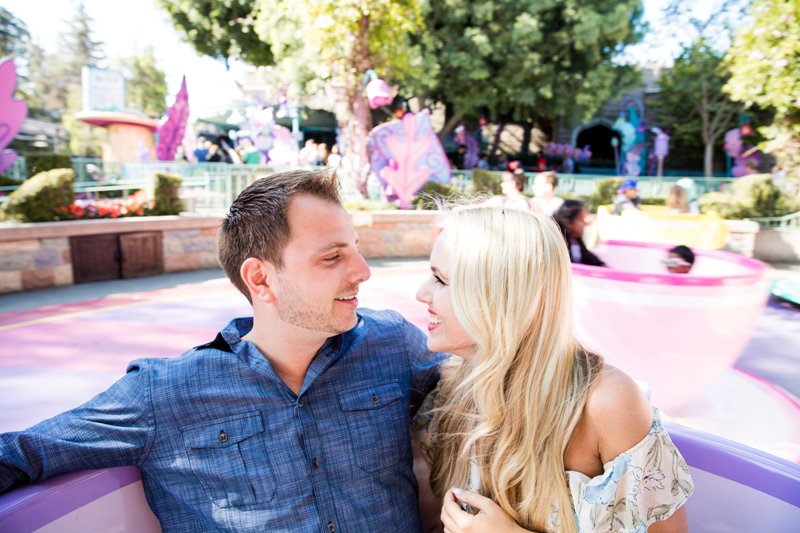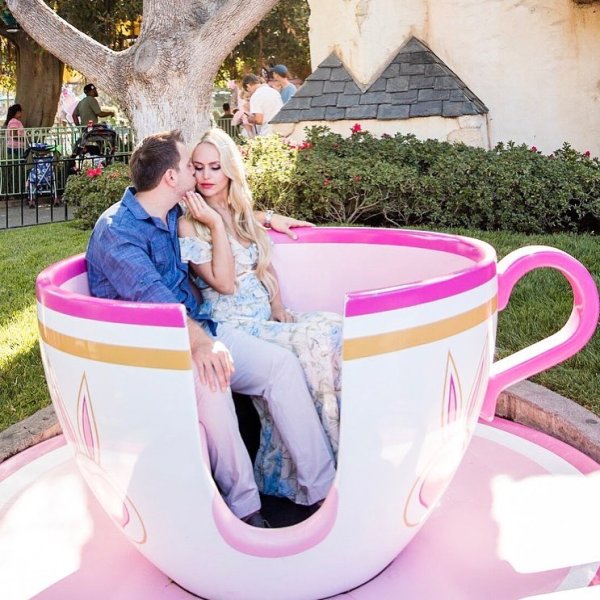 It was time to head over to Disney California Adventure. First stop, the washroom for another outfit change. Jenna suggested I wear something more casual for these photos to fit in with the laid back feel of the park. I decided on my favorite pair of jeans with a white off the shoulder lace top. We walked over to Paradise Pier, an absolutely stunning recreation of an early 20th century California boardwalk, complete with a giant Mickey themed Ferris wheel and a classic "wooden" roller coaster. We found tons of amazing places to take photos. Next we visited Cars Land, my favorite place in the park. We took photos in front of Flo's Diner, the raceway and all around Radiator Springs. We even got to hang out with Mater. A very thoughtful Cast Member handed us a chalkboard and we then wrote messages relatable to the photo shoot on it. Jenna then grabbed some cotton candy and took our last couple of photos with my favorite snack!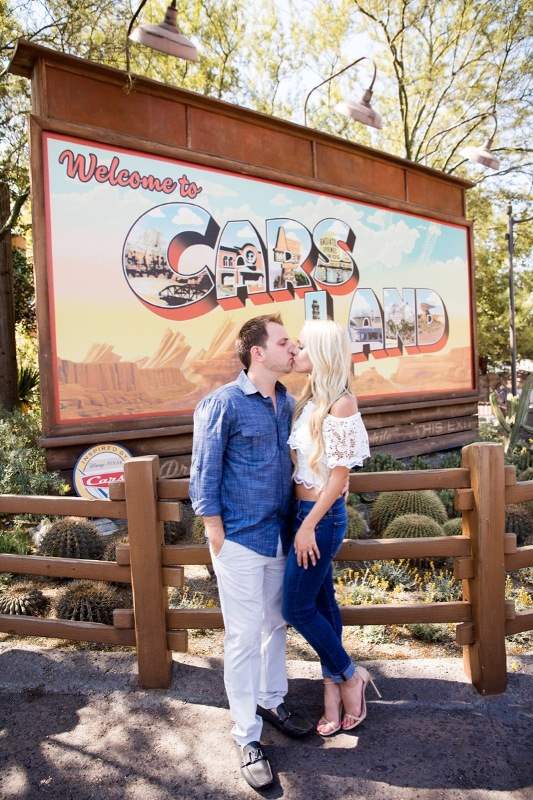 After between 2-3 amazing and fun hours, we parted ways with the sweet and talented Jenna. As we were eating lunch, I got a text from Jenna that included a small sample of photos from the shoot. My fiancé and I were thrilled! This small sampling far exceeded our expectations! We finished out the rest of our short vacation just enjoying the parks. When I received all the photos from our shoot they were absolutely wonderful. From that photo shoot we had literally hundreds of gorgeous engagement shots! Next came the hard part, deciding which few we would use to create our "save the dates!" I love how they turned out and can't wait for our guests to see them.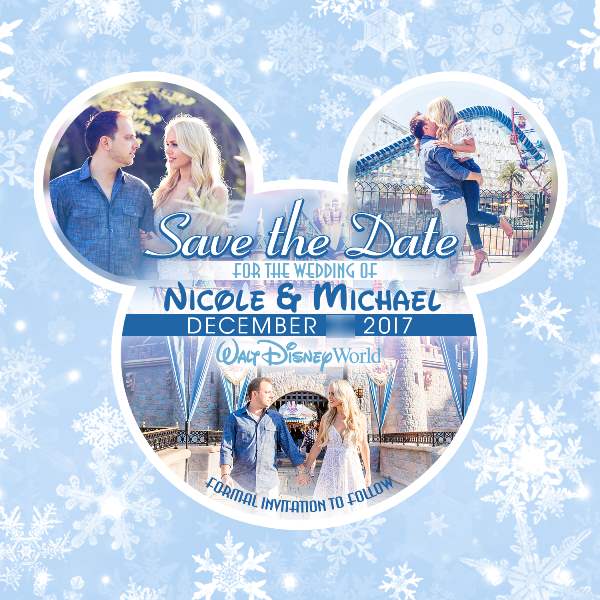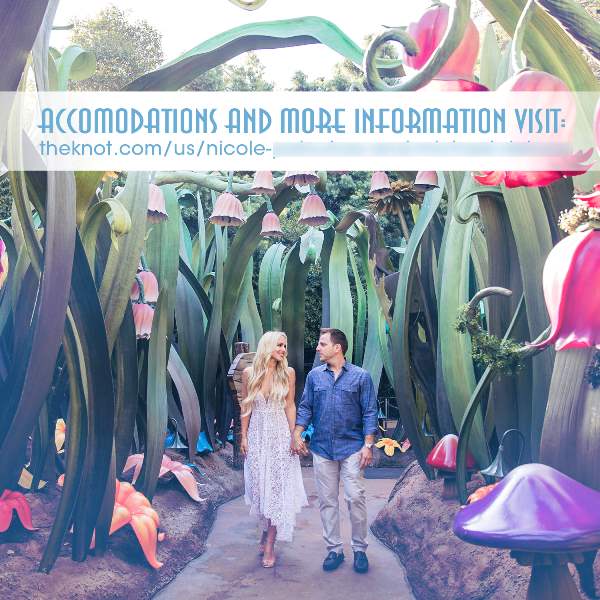 Taking engagement photos inside Disneyland was one of the best decisions we have made so far for our wedding planning. Not only was it an excuse to have a fun vacation, but now we have these beautiful photos to treasure forever.