This post contains affiliate links.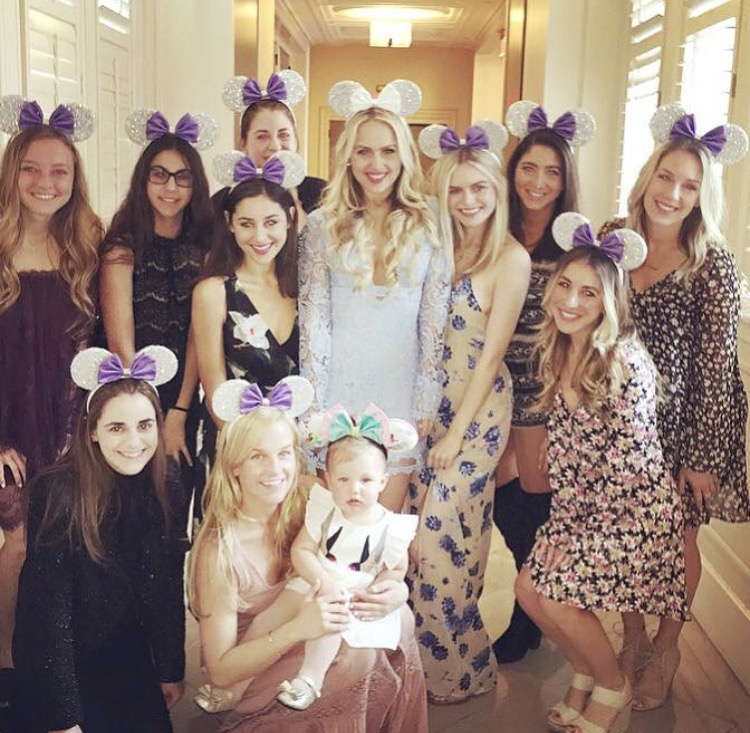 Disney Bride Nicole P is planning a Walt Disney World wedding at the Wedding Pavilion and Disney's Grand Floridan Ballroom for December 2017.
I had just been proposed to by the love of my life in my very favorite place on earth. I was beyond ecstatic. After coming down from the cloud I had been on, my mind started racing. It was like cold water was being splashed in my face. I started to realize that becoming engaged was the easy part. My fiancé did literally all the work (A+ Michael!). Planning my one and only wedding now became my main focus, and a daily source of joy and of trepidation.
I knew the first thing I needed to do was to select my bridesmaids and maid of honor. Selecting my kind, funny, and beautiful little sister Katerina as maid of honor was a no-brainer! Selecting my BFF Amanda to assist my sister was also an obvious choice. I was fortunate enough to get to grow up with a large group of friends. We have been hanging out since middle school. Back in the day we called ourselves the biffs. Selecting from that group was the most difficult because I truly love each girl. I decided to pick the girls that I saw and talked to most often: Angee, Sarah, Jessa, Rachael and Gabrielle. I also knew I could never get married without Hope, my amazing, and most trusted friend since the third grade. Her family has always been like a second family to me. I wanted to include even more family so I decided to ask my beautiful niece-to-be Taylor, and my gorgeous cousin Nicole. Finally I selected Sasha, a new mom to a beautiful daughter and my best friend from college, and a newer friend but definitely my partner in crime, Lauren. I chose Angelina, my dad's cousin's sweet, smart, and pretty daughter, to be my junior bridesmaid.
If you think that sounds like a huge bridal party, you're right! Just add six flower girls and you can see where this is going!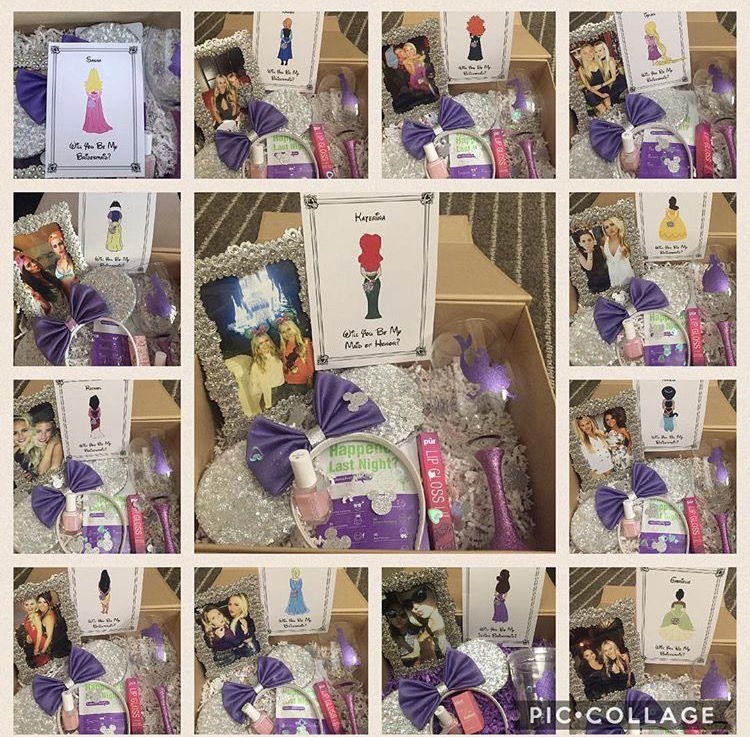 I knew that I wanted to find a really unique,  memorable, and fun way to ask each girl. After all, I considered this to be my first wedding event.
After throwing around a ton of ideas, my mom and I decided to do an elegant bridesmaid brunch. We checked out a ton of places. When we went to see Nineteen, a restaurant at the top of the historic Bellevue Hotel in Philadelphia, we knew we had found the place.
When I was a little girl, I used to love to have "princess" parties. I'd usually decide to be Belle or Cinderella, and then allow my friends to choose which princess they wanted to come as. I decided to carry on this tradition with my bridesmaids. I would be Cinderella, of course!, and I would assign a princess to each girl. A good friend and excellent graphic artist at Fox News Channel (where I work) offered to draw each of my friends as the princess they had been assigned, to put on a card requesting they be in my bridal party.
I also wanted to make each girl a themed bridesmaid box. I knew being a part of my Walt Disney World destination wedding was going to be a huge undertaking. I wanted each girl to know how much I valued their friendship and would appreciate their help in pulling this all off. I ordered special glitter gift boxes from Glitter Props in London (similar). I had Kikii Glitter and Glam on Etsy create a custom wine glass for each girl with her assigned princess painted on the front and their name on the back (I figured this would come in handy for all the upcoming wedding events).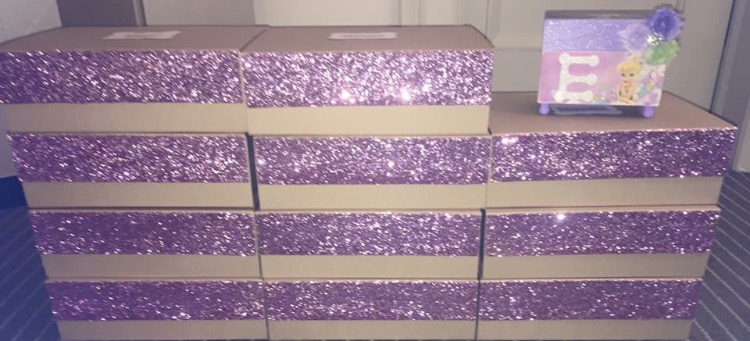 I then ordered each girl a pair of glittery mouse ears from Shop House of Mouse. After everything was delivered, I was off to Sephora to pick out a lip color, nail polish, and a morning-after face mask for each girl (I figured this also might come in handy).
I put all the boxes together. I then handmade floral crowns for each girl that coordinated with her particular princess. Yes, it was a lot of work but well worth it!
I invited the girls to Sunday Brunch without giving them a reason. By the time they arrived, I had each sit at a beautifully decorated table with a gift box in front of each place setting. I sat the appropriate crown on top of each princess box.  I had everyone open their gift box at the same time to the sound of "When You Wish Upon a Star."
That Sunday was a rainy day like no other in Philadelphia but we didn't care. Everyone was beyond excited. We spent the morning talking, laughing, drinking tea and mimosas, and munching on eggs, Belgium waffles, Crab Cake Benedict, and pastries.
It felt amazing to have my first wedding event turn out to be such a great success. Now on to the next event – let the planning continue!