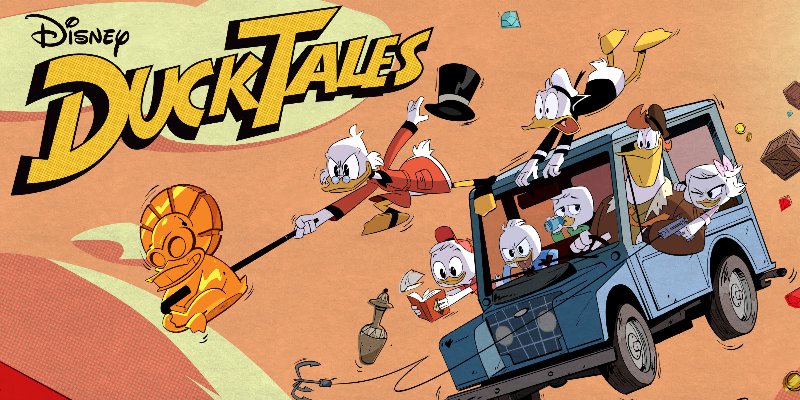 If you were a child of the 80s or 90s, then you remember rushing home from school to watch Ducktales (woooo-oooo!) as part of Disney Afternoon. And perhaps you watched in awe and wonder as Uncle Scrooge jumped into his enormous money bin and swam around during the opening credits.
Well, as so often happens with Disney, dreams can come true. At the D23 Expo 2017, Uncle Scrooge's money bin was on display to promote the reboot of Ducktales on Disney XD. And yes – guests willing to brave the intense lines could get their own chance to jump in the money bin themselves!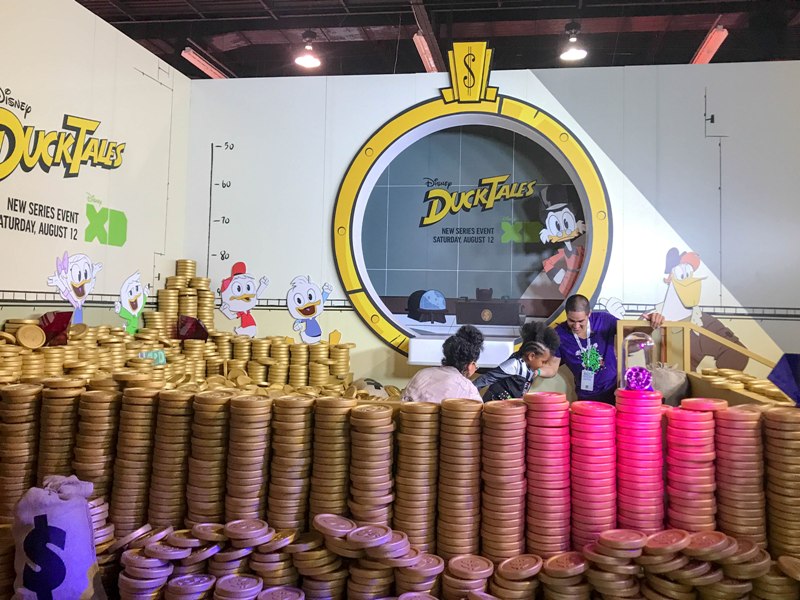 Aside from the panels in the main Hall, I assumed the money bin would be the hottest attraction at the expo and assumed I would never have the patience to wait in the long lines. On Friday the money bin line was constantly being cut off because they reached queue capacity, which was a three hour wait. I didn't stand a chance. But as I kept watching the jumps and seeing the fun GIFs being posted on Instagram, the FOMO became too real. I decided to line up early outside the expo on Saturday morning and rush straight to the money bin when I got in.
Cut to Saturday morning at 7am – me waiting in line with thousands of eager Disney fans, many of whom likely have the same game plan as me. Once the expo doors opened at 9am and we got through security, it was now 9:30 and the money bin queue was almost at capacity. My friends and I got in line knowing we had a long wait ahead of us. BUT, it must have been our lucky duck day, because the money bin operators were going through the queue offering wristbands to come back later in the day and experience a shorter wait. A money bin FastPass, if you will. We were offered the time slot of 2pm-3pm and we took it. YAHOO!!
Coming back in the afternoon, our wait time was only 20 minutes. And if you're wondering if jumping into Uncle Scrooge's money bin is as incredible as it sounds …. you'd be correct.
Essentially the money bin is like a ball pit. The over-sized "coins" are made of plastic and the bin is only about four feet deep. And you have to sign a waiver and, of course, no swan diving a-la Scrooge is permitted. Once you're in, getting out is complicated so staff members stood by to lend a hand. And you are rushed through, obviously. No time for selfies in the bin or basking in the glory of being surrounded by money. You jump in and get out. Then you have a chance to email your 90-degree GIF to yourself to preserve the memory forever. And while it was over too quickly, the experience was amazing and I have no regrets waking up early and waiting in the morning sun for the opportunity.
Want a first person view? Here's a small snippet I recorded for my InstaStories.
Right now I don't see any plans for future money bin appearances, but I'm hoping there will be other opportunities for money bin jumping in the future.
Ducktales premieres on Disney XD with a one-hour movie on August 12.