Today I'm proud to welcome this year's Real Bride Contributors! We have six wonderful brides who are ready to share their unique wedding planning journeys with us, and I'm so excited!
This year we will have four Disneyland weddings and two Walt Disney World weddings to follow. Three of those Disneyland weddings utilize the same venue – the lovely Rose Court Garden – but all three have such unique stories and themes, I think it will be great to show how versatile this space can be (we even have a RCG reception, you guys!!). The Walt Disney World weddings are also unique, with one at Disney's Grand Floridian Wedding Pavilion and one taking place at the Canada Pavilion in Epcot.
One of the best decisions I made when wedding planning was keeping a wedding planning journal – which eventually turned into this blog. I love that I can look back on everything I wrote and everything I was feeling … some of it makes me laugh and some of it makes me angry and some of it makes my eyes well up with happiness. Some of it even makes me roll my eyes, just a bit. Planning a wedding really is a fun time, but it can also be stressful. There is so much emotion that goes into this one day, the big day that kicks off your happily ever after. So I hope these brides enjoy the process of writing about their wedding planning and it helps keep them sane the way it helped me. I also hope all of you out there can relive the joy of wedding planning with these ladies, or get some good ideas or helpful advice for your own planning journey.
I want to thank everyone who applied to be a contributor this year. I can't wait to see your weddings unfold!
Introducing the 2017 Real Disney Bride Contributors
1. Alexis and Garrett
The Disneyland Resort – Rose Court Garden and Sleeping Beauty Pavilion
October 2017
Garrett and I met in passing at Disneyland. I was a cast member working at Candy Palace on Main Street, and we happened to lock eyes through the window while I was making caramel apples. After my shift, I went back into the park to meet up with a friend, and to my surprise, Garrett was hanging out with him! We decided to part ways with our friend later that evening and ride The Haunted Mansion. The rest is history.
The day he proposed, two of my aunts and his mother were there (I should have put two and two together). We had breakfast at Carnation Cafe and then Garrett told me to go shop for a little but and meet him and his mom at the Haunted Mansion. When I got to the line, we were sent through the fast pass line (again, I was oblivious). We were taken into the room before the stretching room, and I thought that it was awesome that they just let our family go in alone. Then off to the stretching room. And that's where it happened! When the lights turned back on, Garrett was on one knee! The doors opened, and everyone in the line queue started cheering! It was amazing! I was a sobbing mess.
Now for the wedding planning! Our budget is $25,000, the ceremony is going to be at the Rose Court Garden at The Disneyland Hotel, and the reception at Sleeping Beauty Pavilion. We are having a brunch wedding and our theme is heavily Star Wars influenced, so I am very excited! This has seriously been a dream come true so far!
2. Nicole and Michael
Walt Disney World – Wedding Pavilion and Disney's Grand Floridian Ballroom
December 2017

Photo by White Rabbit Photo Boutique
Hello, my name is Nicole. I am a 27 year old graphics producer at Fox News Channel in NYC. Anyone that knows me knows that I love to travel. They also know that my very favorite destination is Walt Disney World. I love all things Disney! I have been to Disneyland and Walt Disney World more times then I can count. I have even visited Disneyland Paris. I am considered an expert on all things Disney, making me the go-to-girl whenever anyone I know needs help planning their own Disney getaway.
On February 5, 2016, surrounded by all my favorite Disney Princesses, my fiancé Michael got down on one knee and proposed inside of Cinderella Castle in the Magic Kingdom. I had been dreaming of that exact proposal since I was a little girl. My fiancé truly is a prince. Michael made my dream a reality, down to the very smallest detail.
In December 2017, I plan to walk down the isle of Disney's Wedding Pavilion, just as the sun is setting, to the sound of a violin playing "Can You Feel the Love Tonight." Our "Frozen" themed reception, held in the ballroom of the Grand Floridan, will immediately follow the ceremony.
Being a true Disney girl to the core, I am not only planning a Disney themed wedding, I am also making all of the events surrounding my wedding Disney themed. From my "Disney Princess" bridesmaid brunch, our "Up" inspired engagement party, to our Disneyland photo shoot, all events that have already taken place have been Disney themed. Still in the works are my Disney themed bachelorette in California, my "Alice in Wonderland" themed bridal shower, and our "Beauty and the Beast" rehearsal dinner being held at the France Pavilion in Epcot. We even plan to honeymoon at Disney's Aulani!!
3. Jamie and Ash
The Disneyland Resort – Rose Court Garden and Sleeping Beauty Pavilion
February 2018
Ash and I are both cast members now but we met quite by accident at Trader Sam's. We developed a friendship while I lived in Washington state and he lived in California. We had our first date in Seattle and quickly fell in love. I moved down to California with a suitcase and a dream.
A bit about us … Ash is in grad school while working. He is a great man and a great provider including stepping up to my daughters Hannah (16), my maid of honor, and Madison (6), my flower girl. He is such a romantic and has swept me off my feet. I am a cast member in Disney Entertainment. I am a complete Disney Geek! To most who know me I am called a fairy godmother. I also am in the film industry in makeup, moving into writing and production. We have been together for over two years and feel like our wedding is going to be amazing because not only are we bride and groom, we are cast members!
My love proposed to me at the Rose Court Garden which is why we are doing our wedding ceremony there with reception at Sleeping Beauty Pavilion. Our colors will be wine and silver with a splash of light pink. Our budget is roughly $20,000. And we are looking for a romantic fairy tale wedding. I have never felt like a princess because of being a mom for so long but with this wedding in a place I hold so dear, surrounded by those I love, I really feel I could.
4. Stephanie and Mark
Walt Disney World – Canada Pavilion and GM Convention Center
March 2018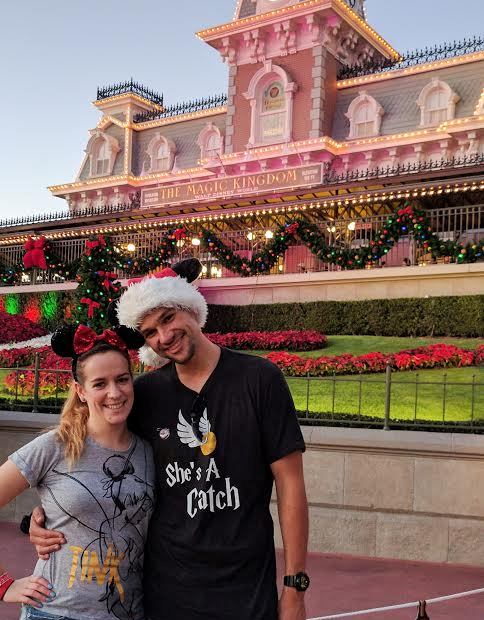 My name is Stephanie and I live in Ottawa, ON Canada. I work as a program agent for the Government of Canada. My fiance, Mark, lives in Titusville, PA. He works as a firefighter.
We will be getting married at Walt Disney World in March 2018. The ceremony will be held at the Canada Pavilion, and it will be followed by a brunch reception at the GM Convention Centre. Our budget for the wedding is under $20,000. We are expecting to have around 40 guests.
Mark and I met on a Disney dating website (mousemingle.com – it's fun to see people's reactions when I tell them that!). I never expected to find someone like him. I had just gotten out of a long-term relationship, and he's everything I've ever wanted in a partner. We both knew early on this was something special.
My 30th birthday was in February and Mark decided to plan a trip to Walt Disney World and Universal for me. We had discussed getting engaged in the near future, so I had a strong feeling a proposal would happen during this trip. We had breakfast at Cinderella's Royal Table the morning of my birthday. He gave me my birthday gift, which was the Adventure Book from the movie "Up." He filled it with pictures of us, tickets to shows, movies, receipts – he pretty much saved everything since the first day we met, including my dating profile from Mouse Mingle! Needless to say, I was crying almost instantly. After flipping the last page that had photos on it, the following page said "Thanks for the adventure, now let's start a new one!" and I flipped it to the next page that said "Will you marry me?" with a Just Engaged button! It was absolutely perfect and I had a permanent smile on my face the entire day. The following day, we met with a consultant to discuss our wedding plans.
Both Mark and I are planners – I absolutely love that he's getting so involved in the wedding, and every day we come up with new ideas for the wedding. Although we have been dealing with some family drama and also finding it a challenge to figure out how many guests will actually attend, since it is considered a destination wedding and it's a little under a year away, the planning process has been very fun so far.
5. Yvette and Joshua
The Disneyland Resort – Rose Court Garden
April 2018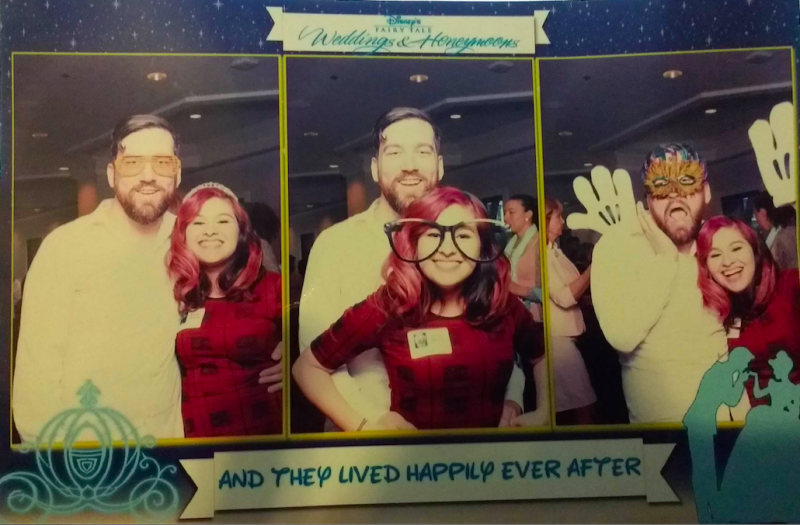 Via Magic Mirror Photo Booth
Hello, my name is Yvette. I'm currently a graduate student studying colonial American history. I'm a big Disney fanatic, in fact when I was a child I went to Disneyland every month. It's just one of the many perks of growing up in Orange County! My favorite princess of all time is Alice in Wonderland. As a child I was a complete daydreamer and I haven't changed. My hobbies include playing the harp, snowboarding, and traveling. This year my fiancé and I are traveling to Europe in the spring and Tokyo in autumn. I'm excited since we are going to the Paris and Tokyo Disneyland Resorts.
Joshua proposed to me on July 6th, 2016. I was annoyed that day because after months of hyping the day up Joshua wouldn't tell me what special surprise he had in-store for us. I hate surprises! Also, he was pretending to be lost in Anaheim. He kept driving in circles asking me, "Where is the freeway again?" Then he pulled into the Disneyland parking lot and I was screaming! He had planned for a beautiful day where we could enjoy both Disneyland parks.
That day we were able to get on every single ride and one of my favorite moments was when we got some popcorn went inside the old timey Mickey Mouse theater to relax. After riding the Haunted Manson ride for the third time he asked if we could go to the castle. It was almost time for the park to close when he got down on one knee and asked me if I would marry him. That moment was a blur and all I remember was the sound of people clapping, a beautifully illuminated castle, and him kissing me. I couldn't have asked for a better engagement moment.
Our wedding is taking place in April 2018 at the Rose Court Garden. We are getting married on the day I met my fiancé, Joshua, and it is also my sister's birthday. I plan to do something special for her so that my wedding won't overshadow her birthday. We are planning a garden wedding inspired by Lewis Carroll's Alice in Wonderland. We're asking our guests to dress up in vintage attire, just as one would see on Dapper Day. Overall, I want our special day to capture the whimsical feeling of Alice in Wonderland.

Please join me in welcoming our new contributors for 2017!