This post contains affiliate links.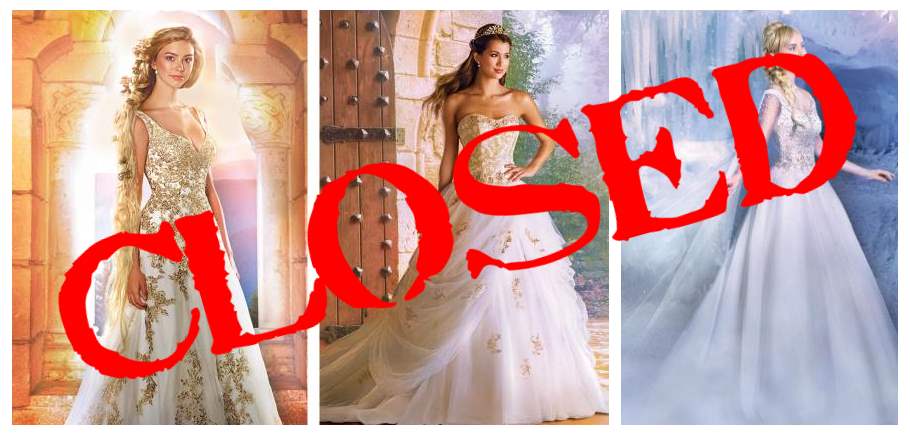 Last week, the very popular bridal gown company Alfred Angelo quietly closed their doors. The closure came unexpectedly to both employees and customers. As word spread through the Internet, panicked brides ran to their closest salons and banged on doors. Some were successful at getting their ordered gowns, some walked away with whatever was in stock that would fit, and some were left with nothing.
This was especially concerning for the Disney Bride community, since Alfred Angelo partnered with Disney's Fairy Tale Wedding for their popular line of Disney Princess gowns. So many Disney Brides are affected by this closure, and my heart breaks for you. But I have no doubt Disney will find another bridal company to partner with, since their princess-inspired gowns are so beloved.
I think we can all agree Alfred Angelo handled their shut down very poorly. We now know a company wide conference call around July 12 informed store managers not to open their doors the next day. Some employees came in anyway (without pay – bless them) to call customers with pending orders to let them know. It wasn't until several days later that Alfred Angelo made an official announcement on their website and social media pages:
Alfred Angelo filed for Chapter 7 bankruptcy on July 14, 2017. As a result, all Alfred Angelo stores, corporate offices and Alfred Angelo wholesalers are closed. Margaret Smith is the Court appointed Chapter 7 Bankruptcy Trustee. If you wish to be contacted regarding your order status, please send an email to [email protected]. In your email, please include your order number, name as it appears on your order and the location of your purchase. We will post additional information regarding the status of pending orders on this website as it becomes available or otherwise contact you as we receive more information regarding your purchase.
We apologize for the inconvenience and hardship resulting from this event. We appreciate your patience. Thank you.
It's easy to sit here and be angry at Alfred Angelo and scream about what they should have done, how they should have acted, and how dare they treat their customers this way. But what's done is done … let's figure out where to go from here.
I've compiled a list of resources that I hope stranded brides will find helpful. My heart goes out to you – truly. Nobody deserves this nightmare before one of the happiest moments of their lives. I can only compare it to when our honeymoon cruise was cancelled three weeks before, and we had to scramble and pay more money to re-book another trip. That felt like a nightmare but ultimately it all worked out. If you're stuck without a dress and out hundreds of dollars, I hope you can find a solution that ends up being even better than what you had before.
Resources for Brides Left Dress-less by Alfred Angelo Bankruptcy
– If you paid for your dress deposit with a credit card and never got the dress, you can dispute the charge with your bank. Call the number on the back of your card for more information. Same with paying by check. Call your bank and see what they can do for you.
– Send an email to the trustee. If you wish to be contacted regarding your order status, please send an email to [email protected]. In your email, please include your order number, name as it appears on your order and the location of your purchase. No one really knows what happens after you send an email but it's likely you will not get your dress. Perhaps you will get your money back, way down the line. I think that's the best case scenario here, unfortunately. But I hope I'm proven wrong.
– Start the search for a new dress. Pre-Owned Wedding Dresses can be a great resource for finding your dream Alfred Angelo dress. Believe it or not, Ebay may also be a great place to check. Also check the comments sections of the Alfred Angelo Facebook Page and Instagram Page. Some brides are offering up their dresses for rent.
– Did you know Amazon sells wedding gowns and accessories? They totally do. Some even with Prime shipping and free returns. Before you order, make sure you read reviews (DO NOT buy anything that doesn't already have reviews) and communicate with the seller regarding style, fit, and processing/shipping times.
– Consider a rental. Vow to be Chic is offering 10% off new orders with code VOWTOHELP10. Also take a look at Rent the Runway. Both websites are great options for renting bridal, bridesmaid, or Mother of the Bride/Groom gowns.
– If you're a Disney Bride, check out the DISBrides Facebook Page for a thread where past brides are willing to rent or lend their gowns to other Disney brides.
– David's Bridal is offering special discounts and waiving alteration rush fees to customers who can show their Alfred Angelo receipt.
– Call your local boutiques and tell them your story. I have seen lots of articles and comments mentioning small boutiques offering discounts for brides who got stiffed by Alfred Angelo. Too many to link here, but worth looking up your local shops and asking if there's anything they can do to help.
If you have an Alfred Angelo story or can help a stranded bride in any way, please leave a comment on this article to help other brides. And best of luck to all the brides and loved ones out there who were affected by this sudden closure.