Did you realize you don't need a park ticket to celebrate Christmas at The Disneyland Resort? The hotels and Downtown Disney have their own special festive celebrations, which is especially handy if your AP is blocked out between Christmas and New Year's Day. Honestly, even though my AP has no block-out days, I really enjoy having a meal and a cocktail in Downtown Disney and soaking up the festive atmosphere. And the hotels have so much to offer; the lobby areas are a great place to relax during hectic park days!
Celebrating Christmas at The Disneyland Resort Hotels and Downtown Disney
All three Disneyland Resort hotels have fun holiday decorations and activities, including visits with Santa! And, anyone can enjoy the holiday atmosphere, even non-hotel guests.
Disney's Grand Californian Hotel
The grand lobby of craftsman style Disney's Grand Californian Hotel features a jaw-dropping 35-foot tall Christmas tree, decorated in lovely rustic ornaments and thousands of white lights. Pro tip: Go up to the third floor for a stunning view.
Also located in the lobby, you can smell the "Grand" gingerbread house from the moment you enter the building. Yes, the 7 1/2 food tall gingerbread house is made with real ingredients including 600 pounds of gingerbread, 600 pounds of powdered sugar, and 250 pounds of fondant, and took a 25 member team 1225 hours to create! There are 25 hidden Mickey's on the house; can you find them all? (Because I can't!)
And right next to the gingerbread house is the holiday cart, serving up some yummy snacks and drinks! I tried the Mickey whoopie pie (good, but huge … share this with friends) and the cookie shot. The cookie shot is an edible cookie shot glass which can be filled with milk or chocolate milk ($8) or select liquors ($15). Liquors available were Bailey's, Rumchada, Peppermint Schnapps, or Spiced Rum, but availability may vary. I tried the Bailey's and it was delightful!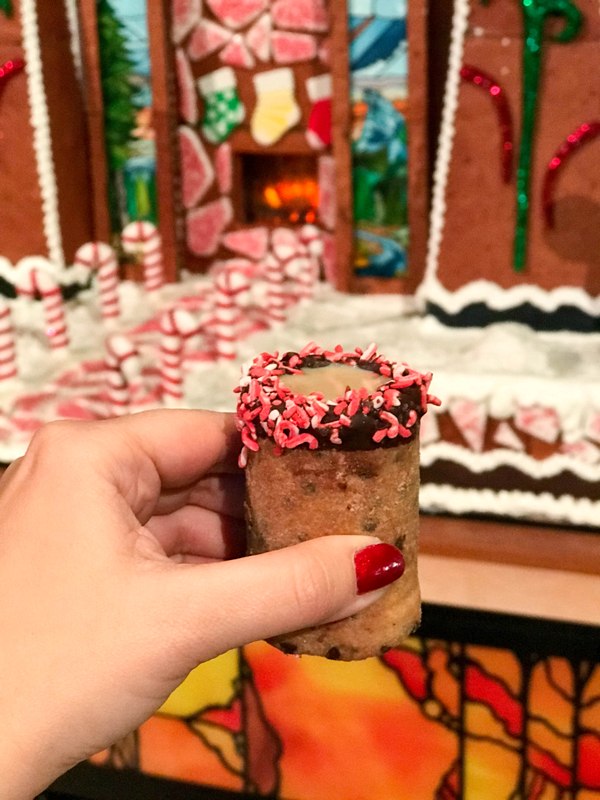 In the evenings, you might catch a visit with Santa or hear Bell Carolers in the lobby, too! Check with the Cast Members for hours.
The Disneyland Hotel
The beauty of the holidays begins before you even enter the building! Hundreds of colorful lights adorn the greenery outside, and don't forget to look up!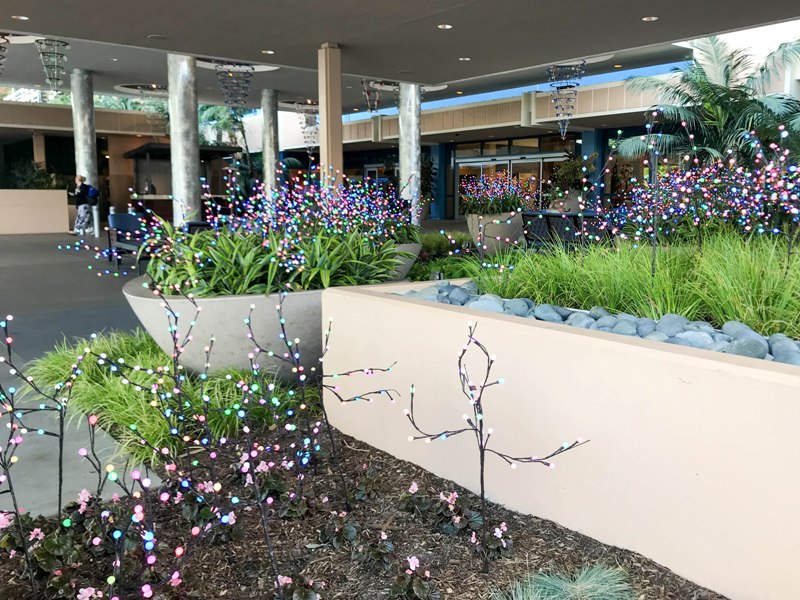 When you walk in you're greeted with a cute oversize postcard greeting, flanked by two Christmas trees. Perfect for family photos!
Looking for holiday swag? Stop in the Fantasia gift shop. They had plenty of attire, decorations, and ornaments to take home.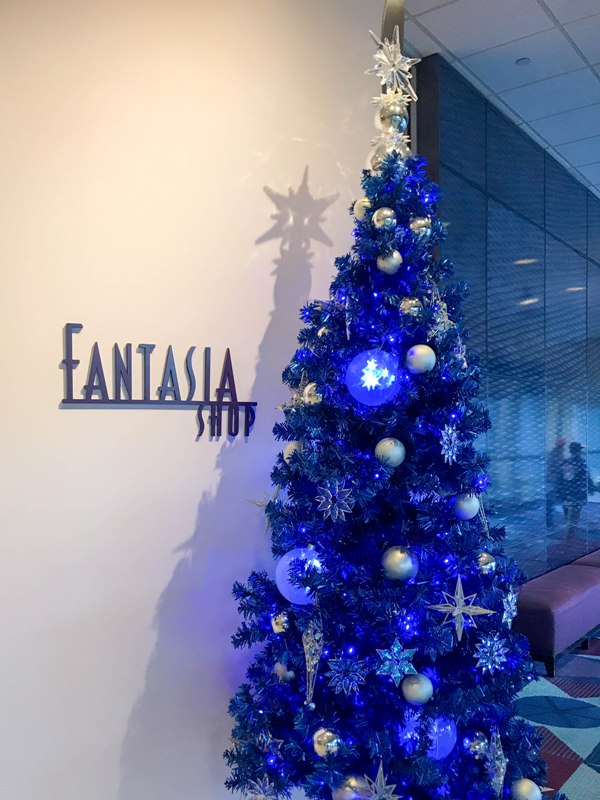 On the other side of the gift shop, you'll find the "holiday scene." Every year Disney sets up a cute immersive scene for photo ops with Santa. For the last few years, they have featured this mid-century living room and I'm not at all mad about it. In fact, one year I dressed in vintage style JUST for this photo op. Obsessive Disney fan? Perhaps.
Keep going towards the restaurants and you'll find some properly themed Christmas trees. In fact, I have a whole seperate article dedicated to the Christmas Trees at The Disneyland Hotel, if you want to see them all!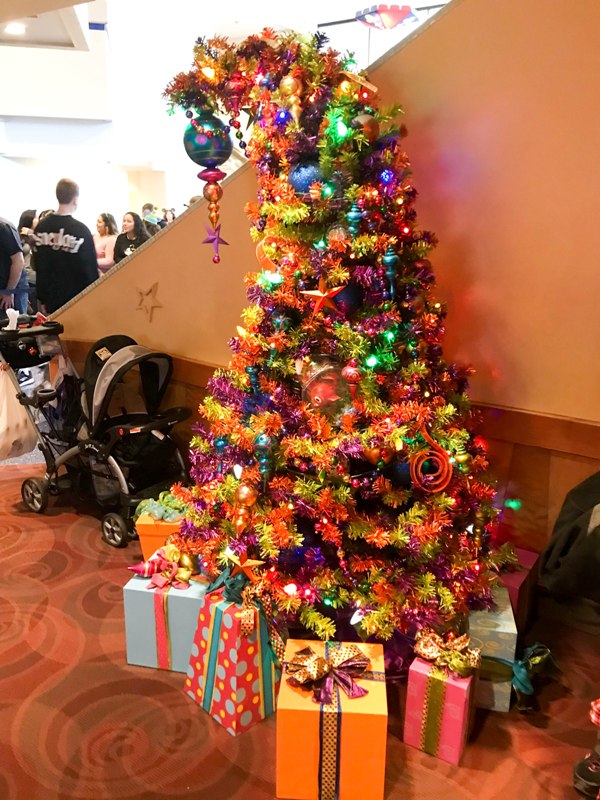 Finally, stop by Trader Sam's to enjoy their festive holiday decor and a drink or two or three!
– Sam's Slay Ride: honey-flavored whiskey, orange and ginger liqueurs, Sam's Gorilla Grog, lemon juice, and cinnamon syrup garnished with a mint sprig and a cherry
– Rum Around the Christmas Tree: spiced rum, lemon juice, simple syrup, apple juice, and ginger syrup garnished with an apple slice dusted with cinnamon
– Under the Swizzletoe: chartreuse liqueur, pineapple juice, lime juice, and falernum syrup dusted with cinnamon and nutmeg and garnished with a mint sprig
Disney's Paradise Pier Hotel
I love that all the Christmas decor at Disney's Paradise Pier Hotel is beach and ocean themed! Their lobby tree is just gorgeous, and peek around the first floor because you'll find other cute trees! I was told Santa is available for photos by the big tree in the lobby in the morning.
The Surfside Lounge bar also has a special holiday drink available called "Winter Enchantment." However, the Cast Member refused to tell me what was in it, so, it's a mystery!
Downtown Disney
Downtown Disney has its own holiday charm, from oversized ornament decorations to seasonal music playing throughout. This year featured some fun photo ops on the currently shuttered ESPN Zone building, as well as a huge colorful Christmas tree near Splitsville.
Lots of restaurants have holiday food and drink specials, too! Here are just a few:
Naples – The newly remodeled Naples has a lot of impressive features, including a wide variety of holiday specials! I tried the "Poinsettia" which was made with Prosecco and St. Germain and, holy wow, yum!!!
Uva Bar – Uva also had an impressive list of holiday specials, including Spiced Sangria and a Salted Caramel Martini.
Catal – It's presumed you can get any Uva Bar drink at Catal as well. Also, Catal hosts "Breakfast with Santa," which you can read about over on Disneyland Daily.
Ralph Brennan's Jazz Kitchen – Back this year is the delicious Pumpkin Pie martini, made with whipped cream vodka and pumpkin spice liquor. I try to grab this one every year!
Some additional helpful information:
Parking – Parking is available at the Downtown Disney lot. From their website: "Enjoy 3 hours of parking when you make a $20 minimum purchase and receive validation from any Downtown Disney location (including quick-service restaurants, merchandise locations and kiosks) — or up to 5 hours of parking with validation from any Downtown Disney table-service restaurant." Beyond your validation, each additional 30 minutes is $6, up to a maximum of $48. You can also park in the Mickey and Friends parking structure for $20 flat.
Hours – Hotel lobbies are accessible 24 hours a day (but hanging out in a hotel lobby at 3am when you're not staying there is a little weird, so don't do it). Restaurants, bars, and lounges have varying hours; check online or with a hotel Cast Member. Downtown Disney establishments have varying hours as well, with most restaurants closing between 10pm and midnight.
What's your favorite holiday tradition at The Disneyland Resort?
Comments
comments