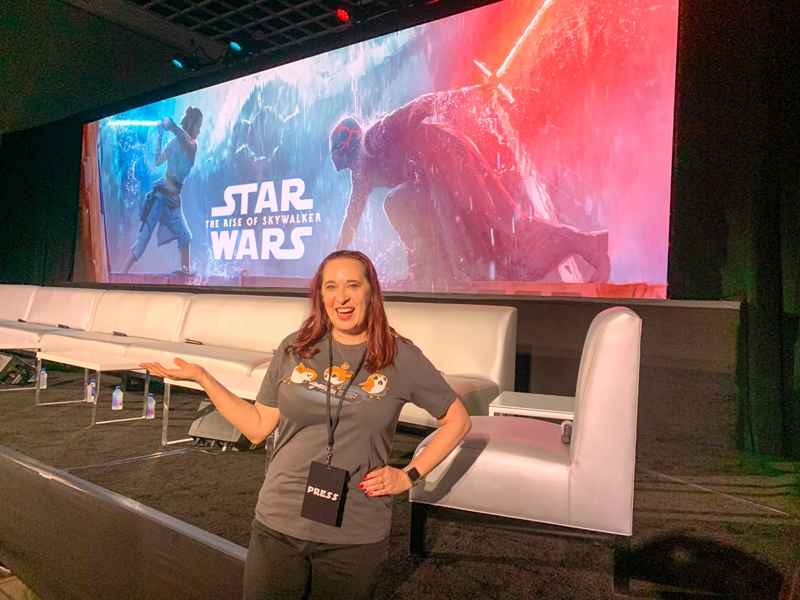 In several years when I look back on my blogging career, I'm sure many, many highlights will stand out. Attending the global press conference for both Star Wars: The Last Jedi and Star Wars: The Rise of Skywalker will be among them.
As a huge Star Wars fan, I can't believe I have been blessed with two new Star Wars trilogies in my lifetime, and to be considered media during the run of one of them – WOW! Grateful doesn't even begin to cover it.
While I've been to several movie press conferences now, I can tell you there was something special in the air. A sense of history playing out before our eyes with a group of people who you can tell have become very close friends. And you better believe, when Billy Dee was introduced … I teared up. I cannot wait to see Lando on the big screen again.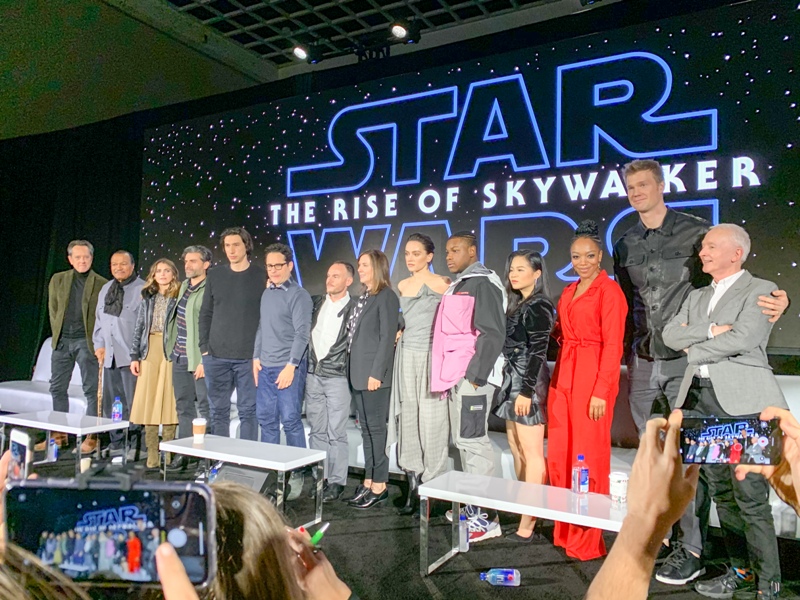 Today I'm sharing some of the highlights from the press conference. These are some of my favorite moments from the cast and creators of the film. Again, such an honor to be in this room so a huge thanks to Disney Studios for inviting me!
Included at the press conference were J.J. Abrams (Director / Writer / Producer), Daisy Ridley ("Rey"), Oscar Isaac ("Poe Dameron"), John Boyega ("Finn"), Adam Driver ("Kylo Ren"), Keri Russell ("Zorii Bliss"), Kelly Marie Tran ("Rose Tico"), Naomi Ackie ("Jannah"), Joonas Suotamo ("Chewbacca"), Anthony Daniels ("C-3PO"), Richard E. Grant ("General Pryde"), Billy Dee Williams ("Lando Calrissian"), Chris Terrio (Writer), Kathleen Kennedy (Producer and President of Lucasfilm)
Interviews With the Cast of STAR WARS: THE RISE OF SKYWALKER
WHAT WAS IT LIKE TO RETURN TO STAR WARS?
J.J. ABRAMS: We didn't know at the beginning of Force Awakens exactly what it would look like to have Daisy Ridley and Adam Driver and Oscar Isaac and John Boyega. What would that cast be like? We had to figure it out and discover it. First day of The Rise of Skywalker, we sort of knew some of those things. We knew those things were working. What we didn't know was everything else. And this was wrapping up not one film, not three films, but nine. And so, the responsibility was significant and the movie, this is a pretty big picture. The scale of the movie is pretty enormous. We knew we had this incredible cast who I think have gone above and beyond anyone's expectations and are truly spectacular in the film.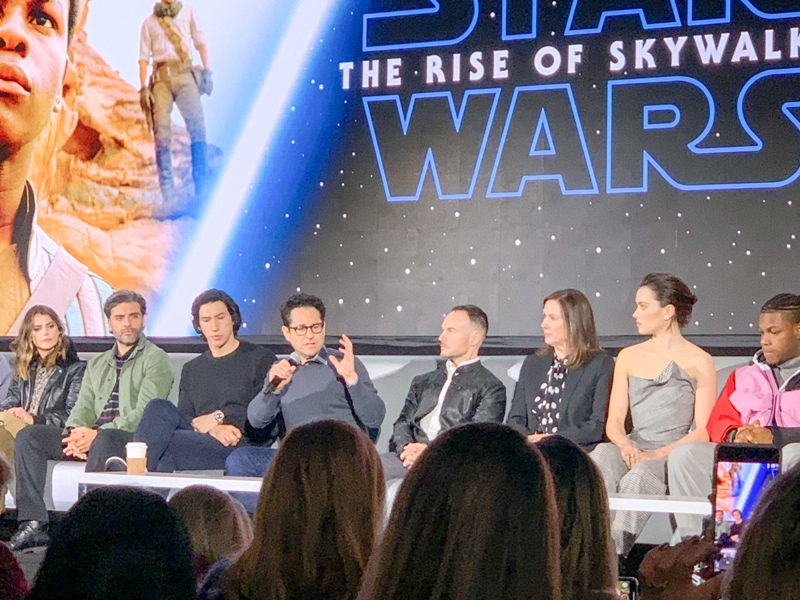 Chris (Terrio ) and I got together, we knew immediately we wanted to tell a story of a group adventure. There were some very specific things that we were both drawn to immediately and we just started doing the thing that you do, which is you say, what do you desperately want to see? What feels right? And then my job as the director was to make sure that all the pressures of all the obvious things, fan expectations and studio and all those practical, logistical issues as well, weren't brought to set, that on the set, we could have a sort of buoyancy and a sense of sort of being spry. And while it was never quite an indie on the set of this movie, we needed to keep the thing feeling as human as possible and not like a massive machine.
KELLY MARIE TRAN: It was really wonderful. I think that from the last film, there seems to be such a bond between everyone. And then also the new guys. It sounds so cheesy and so cliché and it is, but it truly feels like everyone's a family and we're all just there to have fun and be part of something that's so much bigger than us as individuals and that's a really cool thing to share with people.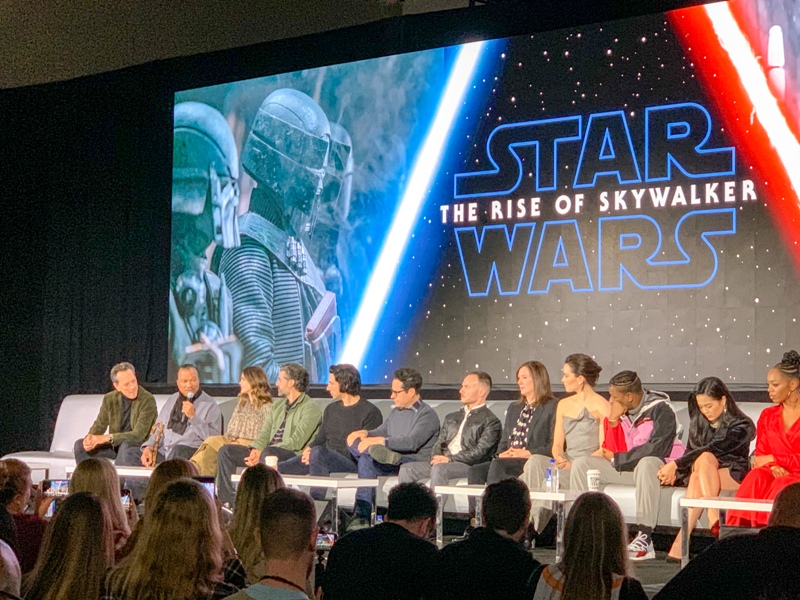 BILLY DEE WILLIAMS: This has been a great pleasure for me coming back to do Lando. I didn't think that it would happen. I just wrote it off. And I said, "Well, I did what I had to do and that was it." But when I got the call from J.J. and then when we met, I just sat there and I just chuckled, because I thought it was just a wonderful gift. So, I'm a very, very happy human being right now.
WHAT CAN WE EXPECT FROM YOUR CHARACTERS IN THE NEW FILM?
OSCAR ISAAC: I mean, (Poe has) kind of always been a bit of a wild card energy in figuring out where he fits in the story and what story is being told. And I think with this one, J.J. and I talked a bit. Yeah, I remember J.J. being excited about kind of dirtying up the squeaky flyboy image that he's had for a bit, and just revealing a bit more of his personality. And I think that really comes out because I've been taken away from my little box in space. And I get to join my friends this time and you really get to see the interaction with the three and the hope that I think that he in particular brings in this one.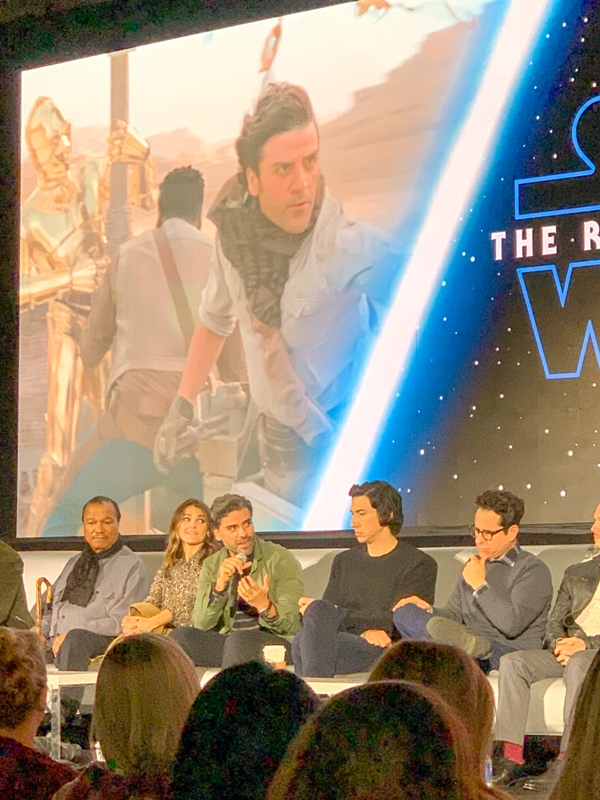 JOHN BOYEGA: Loyalty is something that I find very, very important in my personal life. I think it's just super-important to be loyal and to understand the way in which people want to be loved and communicated with. Throughout the film, a lot of the times, Rey is going off on this really hard journey as a character blessed with so much power and Finn tries to support her in that journey. And sometimes it's hard. And in my real life, if I've tried to get in contact with you three, four times and you're going off, I'm going to leave you alone. Finn's going to come for you and try and make it work regardless.
HOW DID YOU PREPARE TO PLAY NEW STAR WARS CHARACTERS?
NAOMI ACKIE: I felt like Jannah's strength was in her body, like she's a very grounded character. So, when I got to training, that's when I started to be like "okay, I got this." Okay, like being able to do pull-ups and horse riding and then I guess with that came a confidence that I hadn't previously experienced. And then working with J.J. and figuring out like what the balance was between strength of a character, but also a vulnerable side, someone with a heart. We don't always have to just be like strong and fierce, but you can also, sometimes vulnerability is strength at the same time, so kind of finding that balance is really interesting.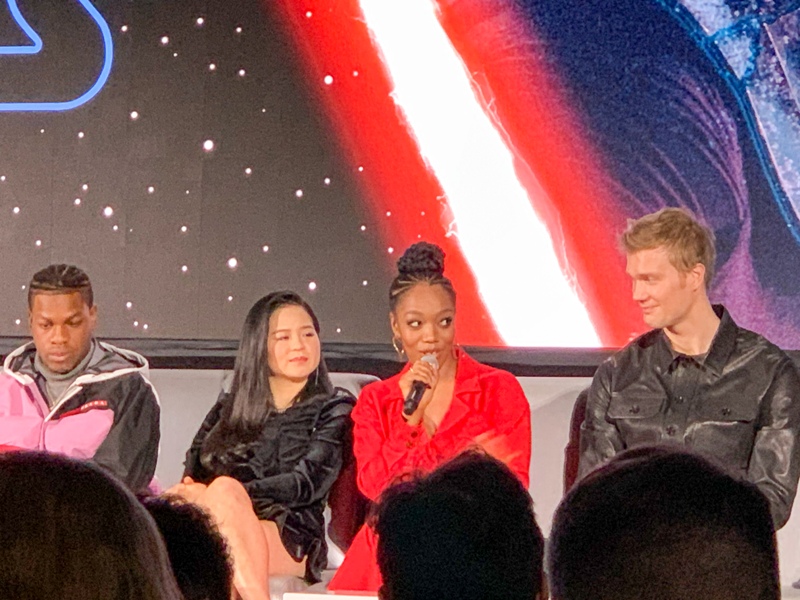 KERI RUSSELL: J.J. called me or e-mailed me and said, "Do you want to be in Star Wars?" And I was like, "Yeah." But then he told me about the idea about the mask. And yeah, personally, I love the mask. That's my fantasy dream sequence that I can see everyone in the super tough version of myself costume and no one can see me. That's my dream. So, it's a real power play in a way, because no one can really see what you're thinking, but you can see everyone else.
J.J. ABRAMS: Keri loved the mask so much that the first two days she worked as Zorii, the entire two days, I never saw her face.
HONORING CARRIE FISHER
J.J. ABRAMS: There was no way we were going to do a digital Leia. There was no way we would of course ever recast it. But we couldn't do it without her. And when we went back to look at the scenes that we hadn't used in Force Awakens, what we realized is we had an opportunity … to use the footage to create scenes that Leia would be in. And of course, had Carrie been around, and it's still impossible for me to believe that she isn't, because we've been editing with her for about a year and she's been very much alive with us in every scene. And it ended up being, if we had Carrie around, would we have done some different things here and there? Of course, we would have. But we had an opportunity to have Carrie in the movie and working with all the actors including Billie Lourd, her daughter, who is in scenes with her. We were able to I think do something that
Carrie herself, I'd like to think, would be happy with.
KELLY MARIE TRAN: … There is sort of this idea that J.J. has talked about ending nine films. And Carrie was such a big part of all of that. So, I think for me personally, there was a lot of wanting to honor this thing and do right by this thing. And I think that she's pretty incredible in this movie, so yeah.
WHAT SHOULD FANS EXPECT FROM THE FINAL MOVIE OF THE SERIES?
RICHARD E. GRANT: … Having seen the first one, I was a theater student when I was 20 years old, and before any of the younger cast were even born, it's an extraordinarily emotional thing to see just the passing of time that goes through all of these movies. And it felt really like a compilation of everything that I'd read in the Bible, Greek mythology, The Wizard of Oz, all rolled into one, in this extraordinary summation of the whole story that delivers an emotional wallop at the end that I was totally unprepared for and I was wiped out and I barely slept.
KERI RUSSELL: I just feel like J.J. got to finish a piece of history, in a way, by getting to do this. And he did such a great job.
WHY IS STAR WARS SO SPECIAL TO YOU?
J.J. ABRAMS: The truth is that there's the movie that you know you're presenting to the world, and then there's the thing that you're doing not necessarily secretly, but meaningfully. We live in a crazy world. We live in a crazy time. And Star Wars for me was about hope. And it was about community, it was about the underdog, and it was about bringing people together. And seeing all odd balls represented in the most unlikely friends and the most unlikely places and the family that you make is really your family. And so to tell a story that is of course a giant spectacle and a sort of like you say, the blockbuster wrapping, but the thing that mattered to me most more than all the spectacular, unbelievable I would argue best work ILM has ever done, all the departments going beyond expectations, the thing that matters, I would say most and only in the film is really
the people who are sitting here and what you're watching and the eyes of the characters and the heart of the characters. I will say it really is about hope and it's about coming back to a sense of possibility, about unity, and if Star Wars can't do that for us, I don't know what can.
JOONAS SUOTAMO: I'm really happy that we're part of something that's so much bigger than ourselves, but that we still get to play and have fun and for that, I'm forever grateful to be a part of this.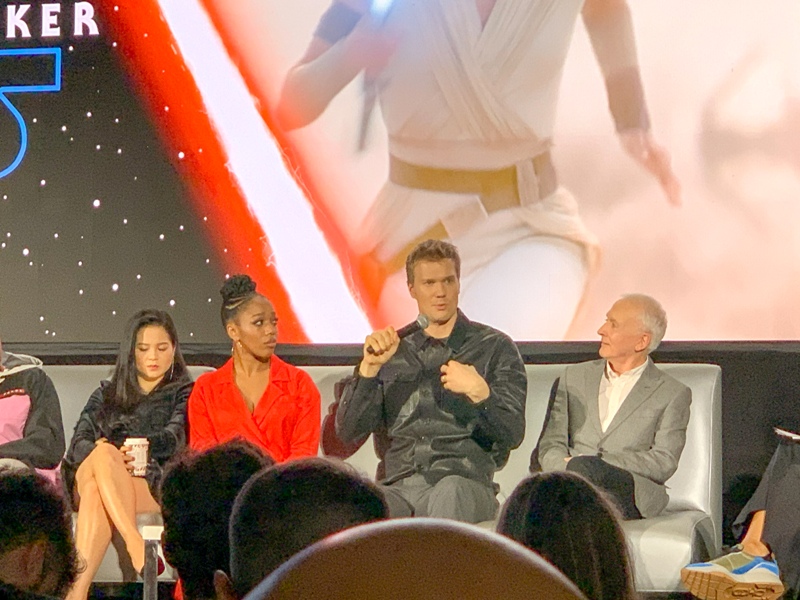 ANTHONY DANIELS: Well, I just realized in the last few months something that I hadn't ever got before. The questions I really don't like is "what was it like" or "how does it feel to be in Star Wars". Well, I've only just realized that because I've been in all of them and all the spin offs and stuff, I am so close to it and I said it's rather like having a nose up against the planet. You can't see how big that planet is. And gradually now, I'm beginning to get a perspective on it. And that comes from talking to fans, to people who say what Star Wars has meant to them over the years. It's meant something completely different to me. It's a job. It's kind of fun. It's kind of awkward sometimes. As we all know, it's not a smooth ride. But finally, I'm getting to see it almost from the other perspective. And that's the perspective of the audience who've been there all this time. And I'm really glad to have survived all this long enough to get this perspective.
DAISY RIDLEY: I think in itself, being part of a team of people that look a little different, that are from different places like in whatever form in that is, gender, race, whatever it is, I think that in itself is a legacy to be proud of. Yeah. And like J.J. was saying, this is a film of hope. And I think we are reflective of the world at large. There are a lot of people up against magnificent forces that are fighting the good fight. And the characters aren't real, but what they're doing is perilous in cinema. So, to be able to portray even a tiny part of that in this crazy world is very special.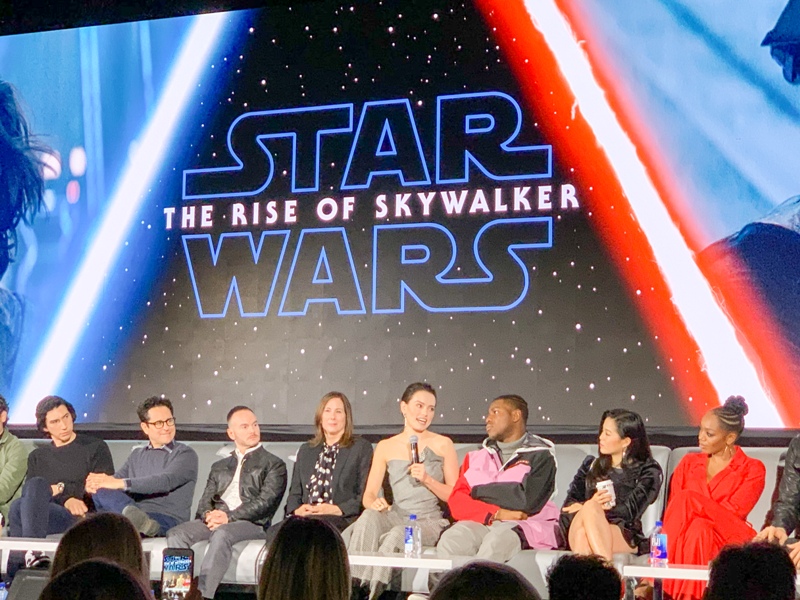 Star Wars: The Rise of Skywalker opens in theaters everywhere December 20th!