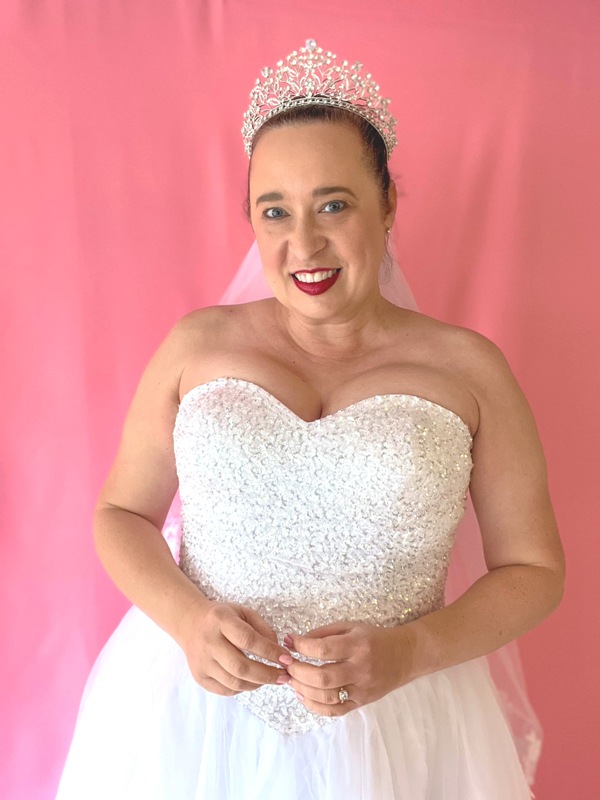 This is a project I've been wanting to do for a long time, and I'm so excited to finally share it!
Like many of you, I love shopping on Amazon. I've been an Amazon Prime member for as long as I can remember; in fact, I'm old enough to remember when Amazon only sold books.
A lot has changed since Amazon launched in 1995, and now Amazon offers pretty much everything under the sun … including wedding dresses!
I've always wondered if ordering a wedding dress from Amazon would be a good experience. After all, our wedding attire may be the single most precious clothing item we ever wear.
And the wedding industry knows this, too. The average price of wedding gown is $1800 (Source: The Knot, 2022) and, let's be real … that's a LOT of money for one piece of clothing.
Even for a "budget wedding dress" at a bridal salon you're looking at around $500.
That's still really high! What about the couples who need more affordable options?
That's exactly where Amazon comes in!
I understand some brides and grooms may not want to order their wedding dress online, and I understand that!
Going to a bridal salon and trying on wedding gowns is part of the once-in-a-lifetime planning experience.
… Even if I did eventually purchase my wedding dress from a second-hand store.
I also know there are a lot of wedding couples out there who are less traditional and more casual! So these suggestions are for you!
I chose 5 wedding dresses from Amazon to try on and review. (Technically 4 dresses and 1 amazing jumpsuit.)
And since I primarily write about Disney weddings, I had to choose some fairy tale accessories. I think you're gonna love them! I sure did!
I hope this article answers all of your questions about buying a wedding gown from Amazon. Overall I think it's a great option for any couples who are on a tight budget, or just don't want to bother with the hassle of trying on gowns at a bridal salon.
5 Affordable Wedding Gowns from Amazon
Princess Ballgown
This dress was a total dream! If you're having a Disney wedding or just want to feel like a princess, this gown is a great choice. Seriously, I couldn't stop smiling and twirling while wearing this ballgown!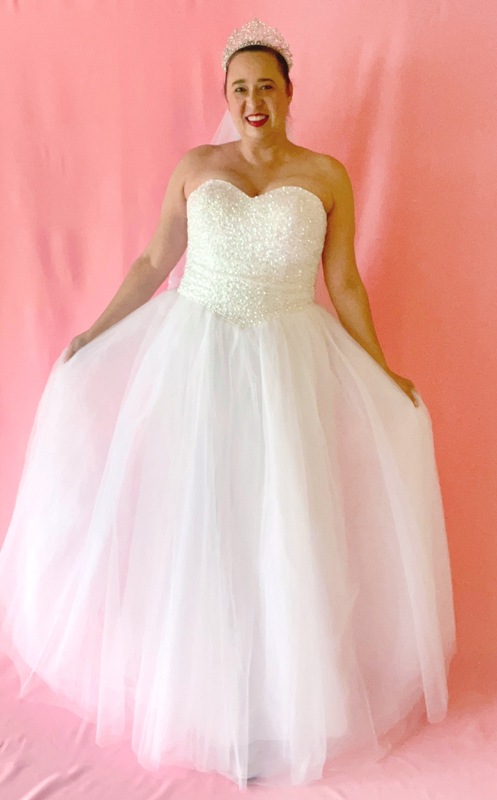 The beading on the bodice really shimmers in the light, and there's some sparkle in the tulle (the layers and layers of tulle) and really made me feel like Cinderella.
And the corset backing provides a perfect fit.
As someone who tried on several bridal gowns at a salon, I could certainly see the difference in quality between this mass-produced dress and a satin ballgown that retails for $1000+.
Was it still one of the fanciest gowns I've ever worn? YES!
Will your guests be able to tell the difference between this ballgown and one that's 10x the cost? NO!
[lasso ref="likedpage-womens-ball-gown-bridal-wedding-dresses" id="44955″ link_id="30331″]
Cocktail Dress with Lace
Perfect for a more casual luncheon celebration or could even be a bridal shower dress. Comfort is the name of the game with this dress.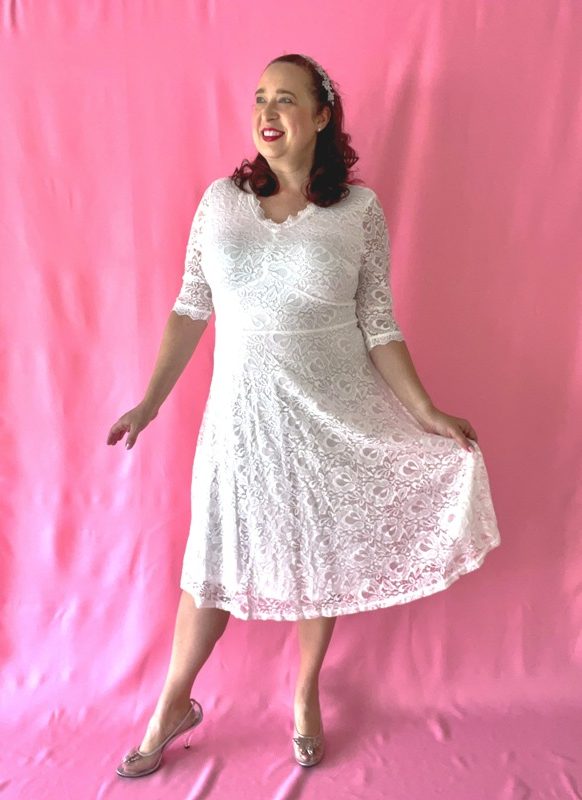 Dress it up with a rhinestone headband and a sparkly belt and you have the perfect summer wedding outfit.
[lasso ref="jasambac-cocktail-dress-for-women-vintage-wedding-guest-lace-midi-dress-party" id="44954″ link_id="30196″]
Elegant & Vintage-Inspired
For the bride who wants something a little different. I felt like a celebrity on the red carpet in this dress. However, size up for this one, if you're top heavy like I am.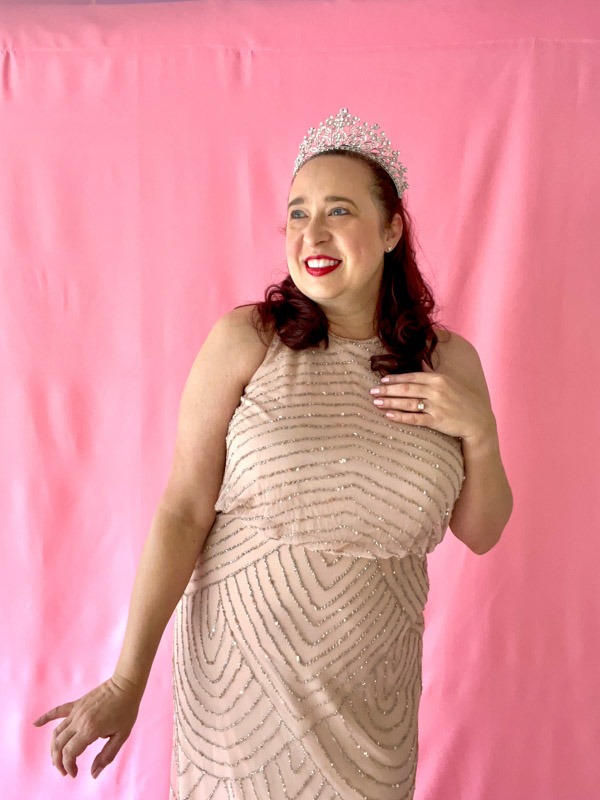 [lasso ref="adrianna-papell-womens-halter-art-deco-beaded-blouson-dress" id="44956″ link_id="30197″]
A-Line Tea Length (Plus Size)
This dress may seem more casual than your typical bridal gown, but it would be perfect for a courthouse wedding or even a welcome dinner or engagement photos. The quality of this dress is top-notch; I was surprised at how heavy the dress was when I took it out of the box (but not at all uncomfortable to wear – just high quality fabric).
As a plus size woman I felt beautiful and confident in this dress. I'm currently looking for an excuse to wear it somewhere!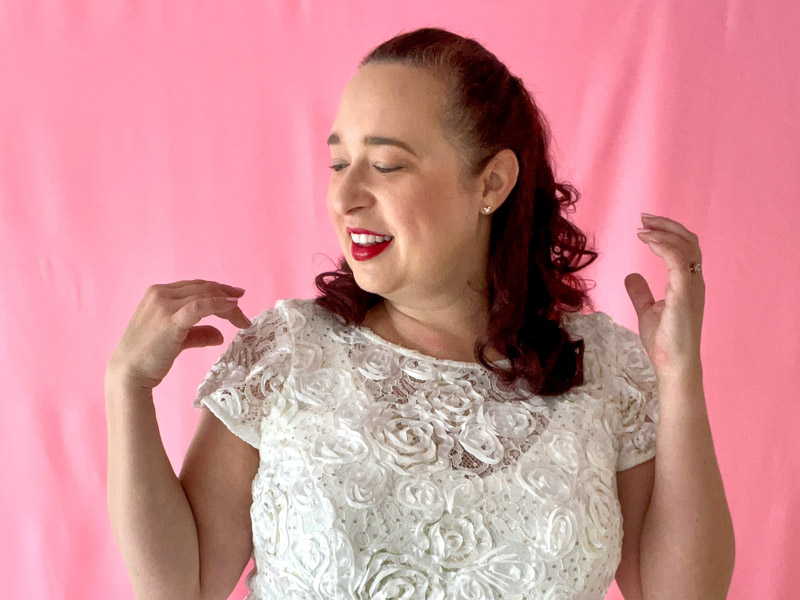 A close-up so you can really see that gorgeous rosette detail.
[lasso ref="alex-evenings-womens-plus-size-tea-length-dress-with-rosette-detail" id="44957″ link_id="30198″]
White Jumpsuit
I was skeptical to try a jumpsuit because they don't flatter my apple-shape, but this one is some kind of magic! I decided to pair it with gold glittery heels (from my collection but these heels on Amazon look similar!).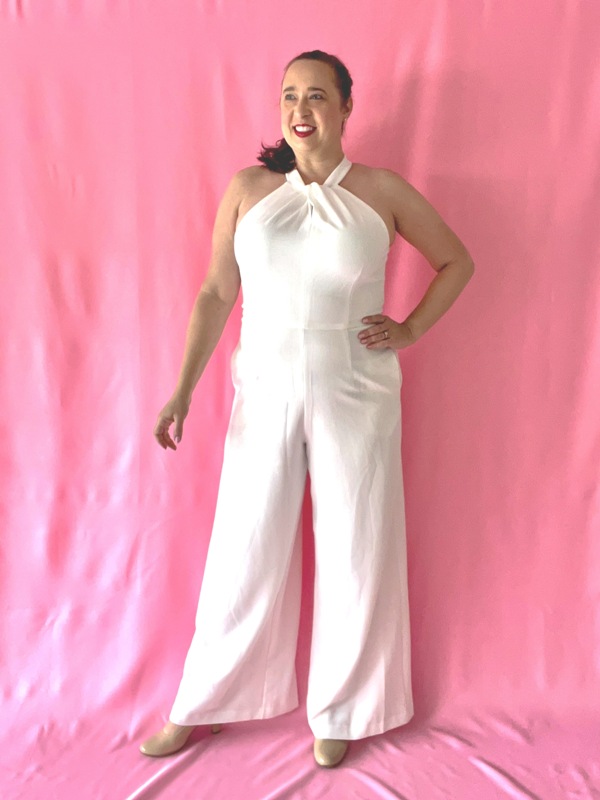 [lasso ref="julia-jordan-womens-sleeveless-knot-neck-wide-leg-jumpsuit-elegant-and-dress" id="44958″ link_id="30199″]
Accessories
Veil with Lace Trim
Did you know most veils are just tulle with some kind of decorative trim attached to a hair comb? Yeah, they are – in general – wildly overpriced. I loved this simple lace veil from Amazon and it went with nearly every outfit I tried.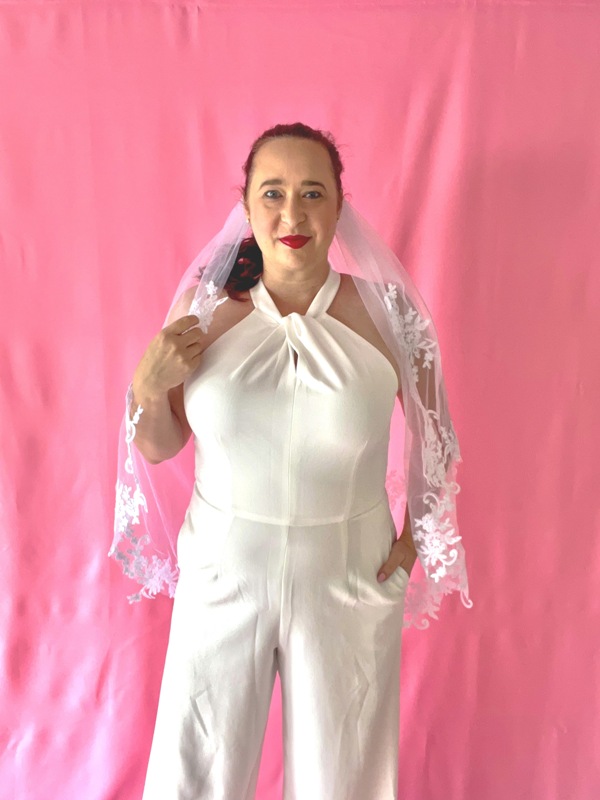 [lasso ref="elliehouse-womens-short-2-tier-lace-wedding-bridal-veil-with-comb-l24″ id="44950″ link_id="30200″]
Cinderella-inspired "Glass Slippers"
If you're searching for the perfect princess heels, look no further! These are SO magical! Reviews said to size up so I did, but they were too big! I would go with your regular size.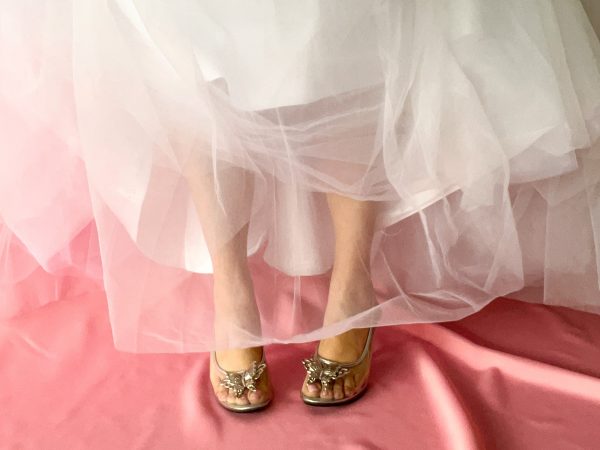 [lasso ref="ellie-shoes-womens-305-cinder-dress-pump" id="44953″ link_id="30203″]
Bridal Tiara
Amazon has such a large selection of tiaras, it was tough to choose which one to try! This one had good reviews and looked very regal, and I ended up absolutely loving it. It looks great in photos and was fun to wear.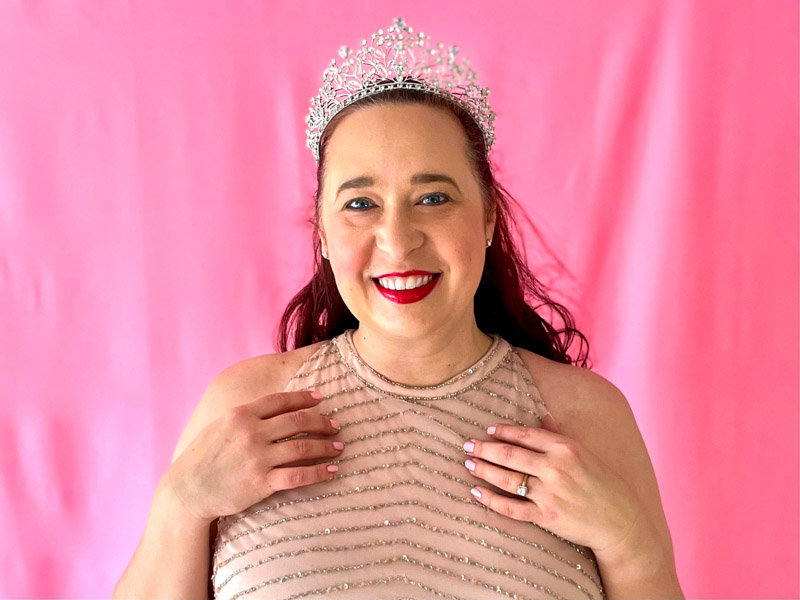 [lasso ref="aw-bridal-wedding-tiaras-and-crowns-for-women-crystal-princess-crown-rhinestone-birthday-party-prom-queen-crowns-wedding-headband-for-brides-silver" id="44951″ link_id="30201″]
FAQ About Amazon Wedding Dresses
Are Amazon wedding dresses any good?
I can confidently say – YES! While I tried on only one gown that I would consider a true "wedding dress," it was a magical experience. The quality was decent and the fit of the ballgown was phenomenal.
The rest of the gowns may not be considered bridal, but they work well enough for a wedding celebration.
I think what really pulls a fairy tale look together are the accessories. The right pair of Cinderella shoes and a sparkling tiara will elevate any outfit.
How do you get the right size?
Just like ordering any clothing of Amazon, you'll need to rely on size charts and customer reviews when selecting a size. But, sizing can be unpredictable! Out of the five outfits I tried, two ended up being the wrong sizes – one too big and one too tight! So even with reading the size chart closely, you can still get it wrong!
That is why I always recommend ordering an outfit you can return.
And, you can always have alterations done on your dress to get the perfect fit.
Can you exchange or return wedding dresses on Amazon?
One perk of shopping through Amazon is their hassle-free returns. I am an Amazon Prime member, so I looked for dresses that offered free returns through Prime. If you are not an Amazon Prime member, read the return policy closely before purchasing.
Amazon doesn't offer exchanges, per se, but a Prime membership makes it incredibly easy to return your dress and purchase a new size.
As with most companies, the returned clothing must be in new condition, with the tags still on, in order to obtain a refund from Amazon.
I hope this guide helped answer any questions you have about ordering a wedding dress from Amazon! The outfits and accessories I tried were amazing; I hope you can find the perfect ensemble for your special day!