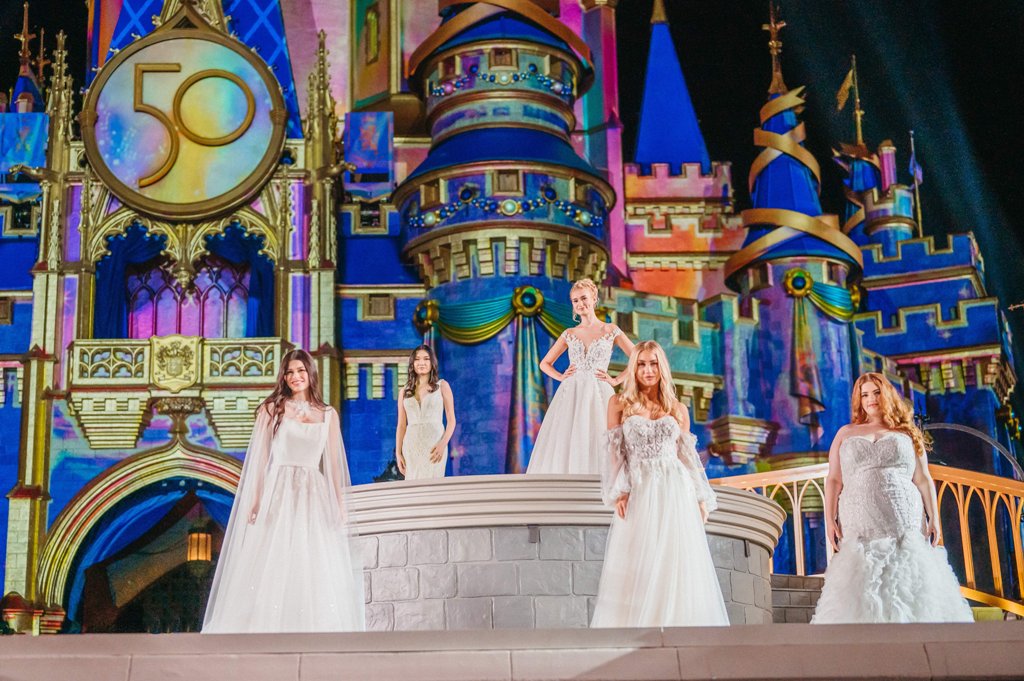 Wedding season is in full swing, which means it's time to celebrate another collection of gorgeous, gorgeous bridal gowns from Allure Bridals and Disney Fairy Tale Weddings!
The 2022 collection of wedding dresses brings 25 new styles in a wide variety of fabrics, embellishments, and fits, so there's sure to be something for every bride-to-be. Especially for those brides who are having a Disney wedding!
And if for some reason nothing in this collection matches your bridal vision, some styles in the 2021 Disney Weddings gown collection are still available.
Watch the 2022 Disney Fairy Tale Weddings Fashion Show from Magic Kingdom:

Some of the magical gowns inspired by Disney princesses in this collection are Ariel, Belle, Snow White, Jasmine, and Pocahontas.
© DisneyAnd before you get lost in this beautiful wedding eye candy, be sure to enter the "World's Most Magical Wedding Dress" contest for a chance to win this unique, one-of-a-kind Disney Fairy Tale Wedding bridal gown, inspired by Walt Disney World's 50th anniversary! (Contest ends 3/9/2022 at 11:59pm ET)
Where to Purchase Disney Wedding Gowns by Allure
The Allure Bridals collection starts at $1,799 and are available in sizes 0-30. You can find these gowns at select retailers, including Kleinfeld Bridal in New York.
New Disney Wedding Dresses for 2022
Images and descriptions from Allure Bridals website
Style: D310 – Ariel
The Ariel-inspired gown is adorned with sequins and beadwork across the dimensional patterned embroidery of the bodice. Tulle and organza swirls compose the skirt, reminiscent of the roll and swell of the ocean's tide.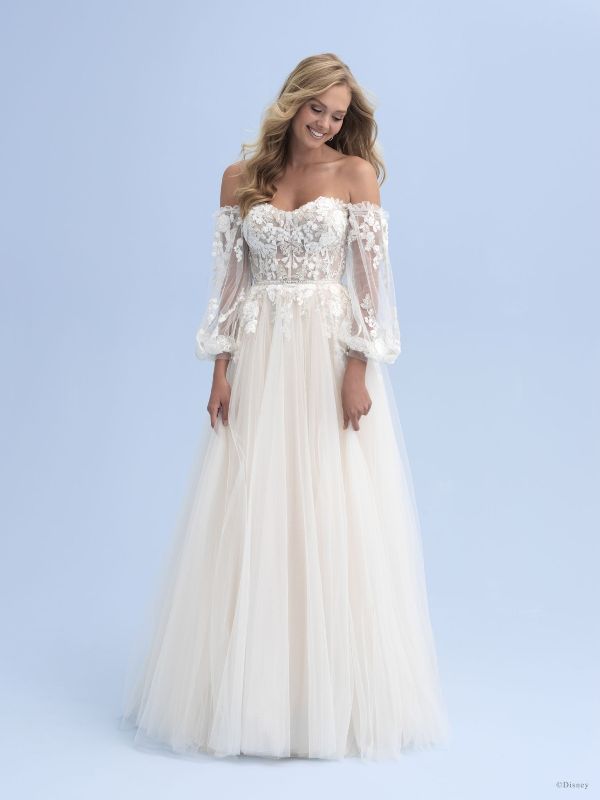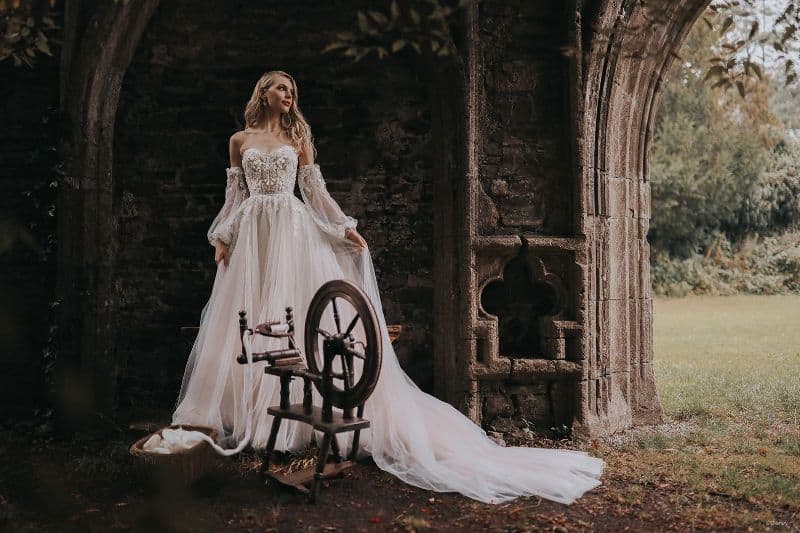 Style: D311 – Aurora
Soft, multilayered tulle lends a dreamy appeal to our Aurora gown with its understated silhouette, paired with exposed boning and delicate floral appliqués across the strapless bodice. Detachable bishop sleeves finish the look.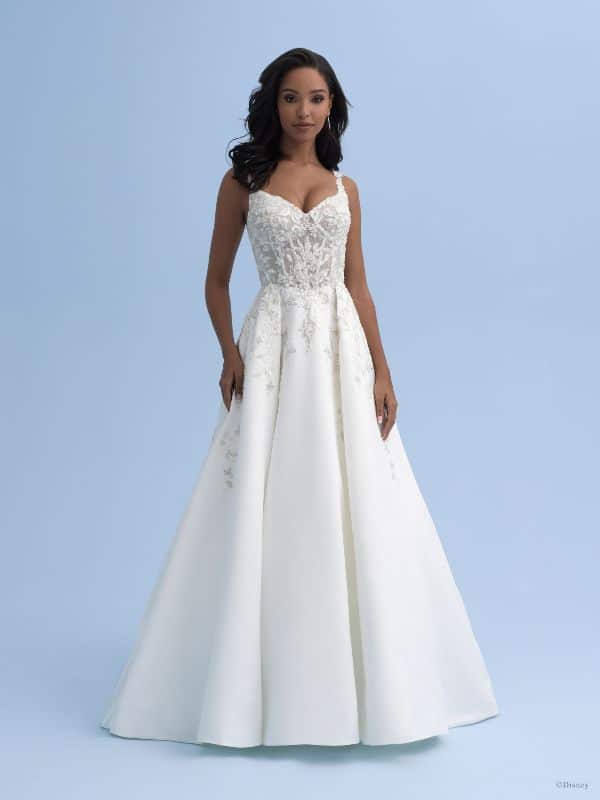 Style: D312 – Belle
This classic satin finish ballgown, lined with sparkling Swiss dot tulle, features intricately beaded floral appliqués as a nod to Belle's iconic motif: the rose.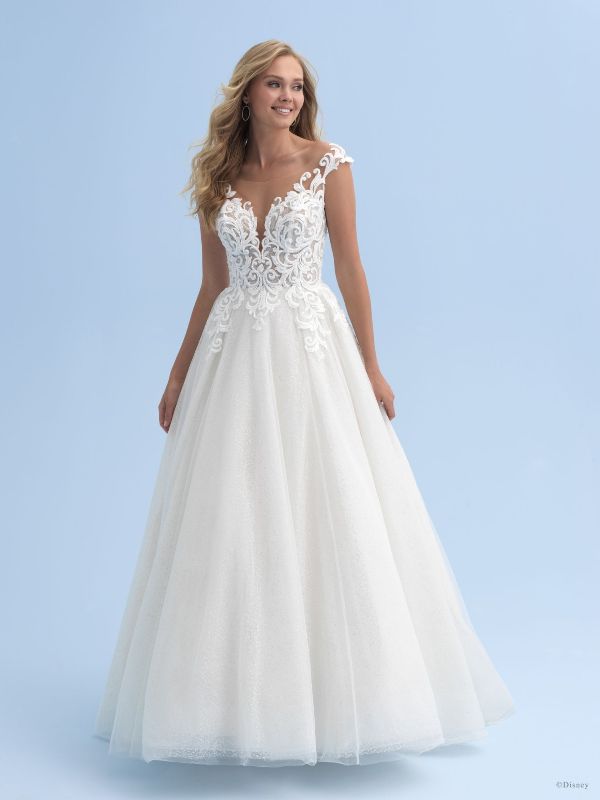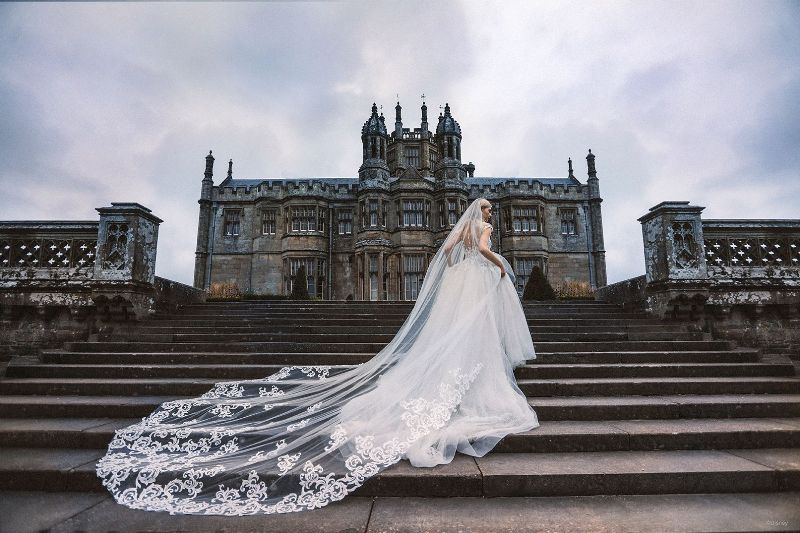 Style: D313 – Cinderella
High-contrast scrolled appliqués, adorned in tonal beadwork, cover the bodice of this Cinderella-inspired gown, leading to a stunning A-line skirt lined in our new glass slipper-inspired tulle.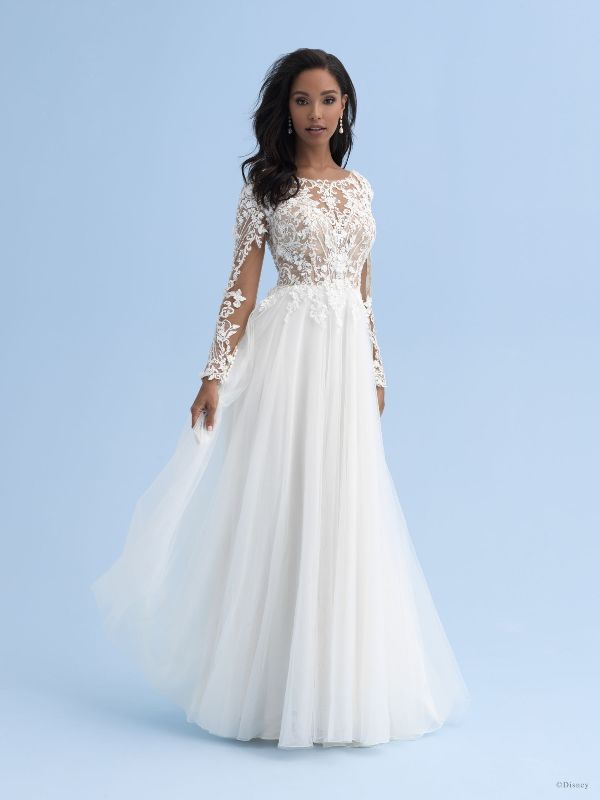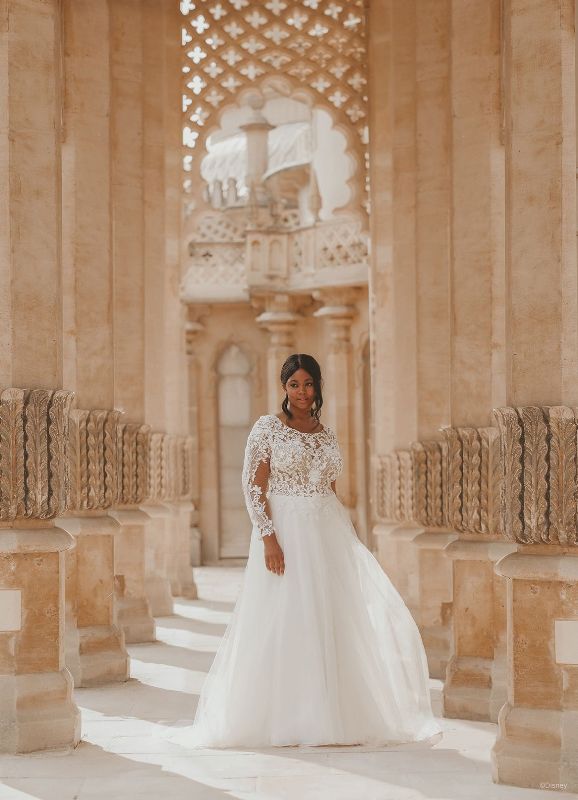 Style: D314 – Jasmine
Paying tribute to the 30th anniversary of Disney's "Aladdin," this gown reflects Jasmine's confidence — with a long sleeved bodice featuring tonal beading, dimensional blooms, and dramatic embroidery, beautifully balanced with an enchanting soft A-line tulle skirt.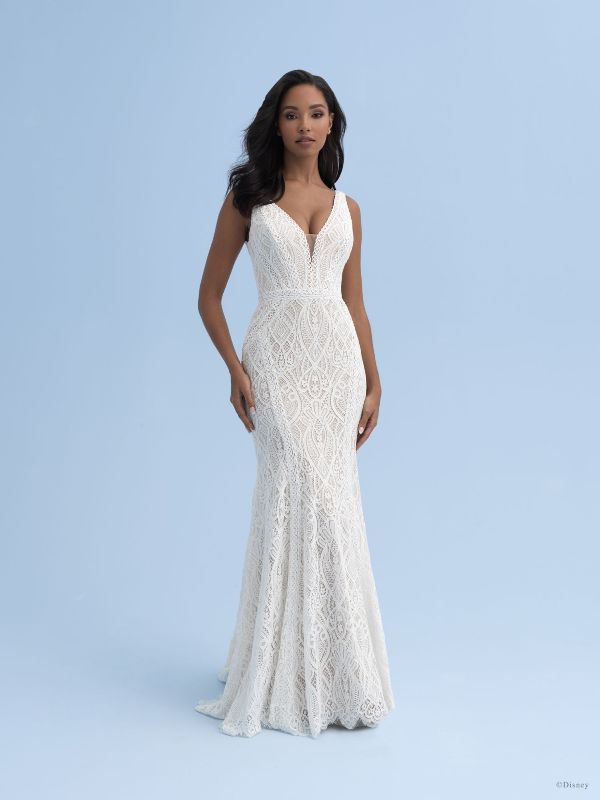 Style: D315 – Pocahontas
The Pocahontas-inspired gown features a soft cotton lace that creates a textured, natural effect across a beautiful silhouette. Finishing touches include a V-shaped neckline and back, scalloped hemline, and covered buttons.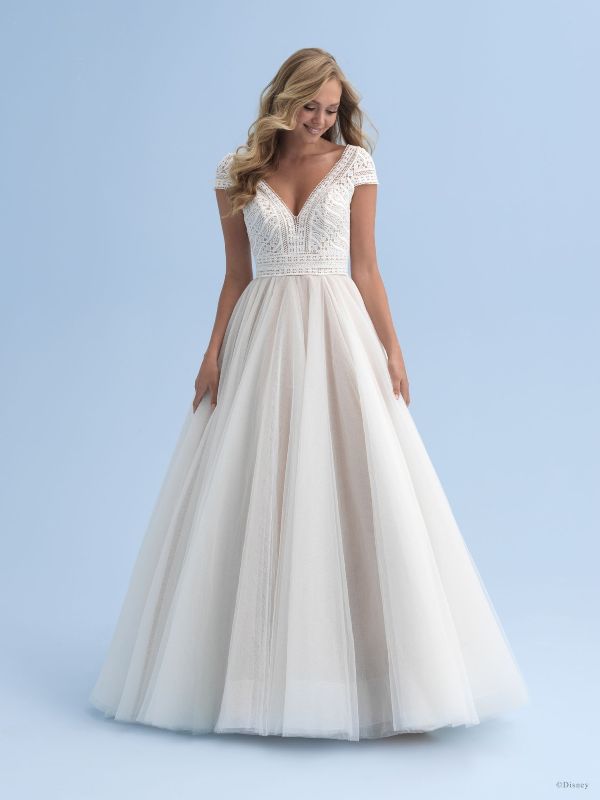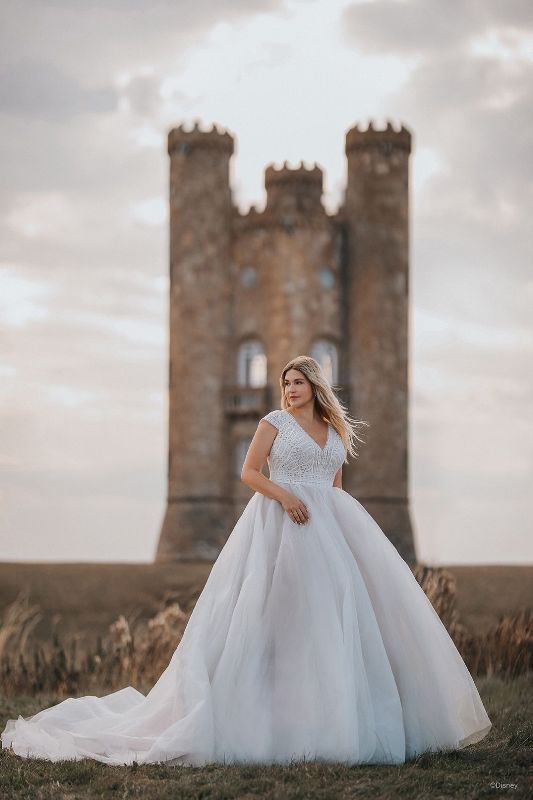 Style: D316 – Rapunzel
Inspired by Rapunzel's free-spirited nature, this ballgown features a crocheted cotton lace bodice with soft cap sleeves, along with a full skirt in swiss dot sparkle tulle — beautiful, comfortable and perfect for your wedding adventure.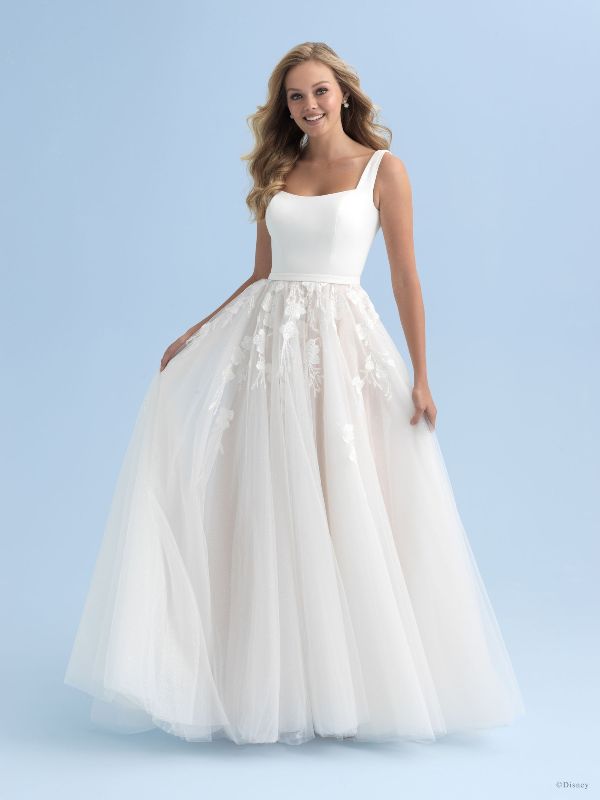 Style: D317 – Snow White
The Snow White-inspired gown pays homage to the 85th anniversary of "Snow White and the Seven Dwarfs." This gown adds a touch of modernity to the Princess's classic look with a square neck crepe bodice and soft tulle skirt, finished with a chic low back and trailing apple blossom-inspired appliqués. Accessorizing the gown is a stunning full-length cape, inspired by the film.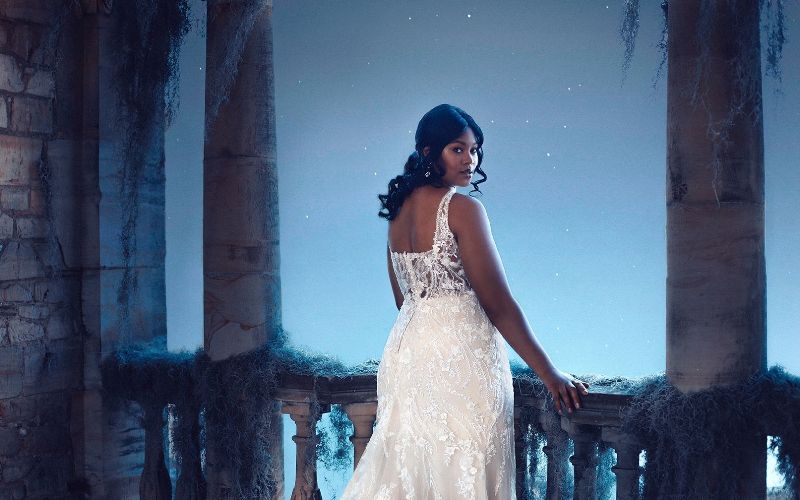 Style: D318 – Tiana
Inspired by Tiana's grace and determination, this gown features a beautiful cascading floral appliqués reminiscent of sweeping bayou foliage, iridescent sequins, Swiss dot sparkle tulle and a striking detachable train.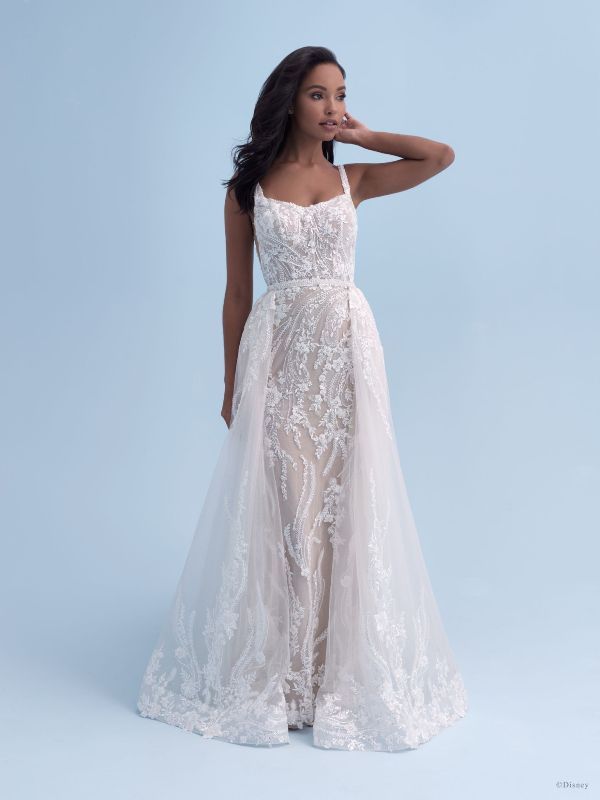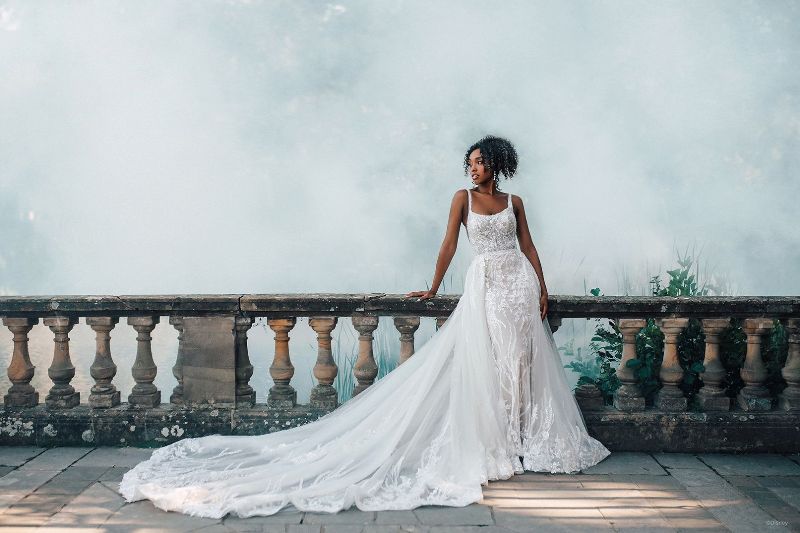 Style: D318T – Tiana Skirt
Inspired by Tiana's grace and determination, this gown features a beautiful cascading floral appliqués reminiscent of sweeping bayou foliage, iridescent sequins, Swiss dot sparkle tulle and a striking detachable train.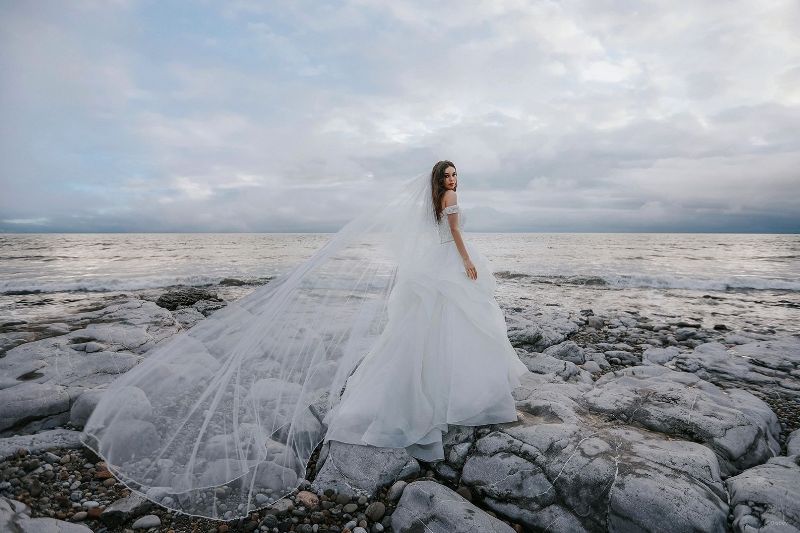 Style: D320 – Ariel
This A-line gown features stunning organza ruffles inspired by ocean waves and Ariel's sense of adventure. The off-the-shoulder sweetheart bodice, covered in pearl beading, crystals, and sequins, is simply stunning.
Style: D321 – Aurora
Delicately finished with a sheer capelet, this Aurora-inspired gown is covered in embroidered blooms inspired by briar roses and adorned with intricate beadwork, sequins and metallic threading.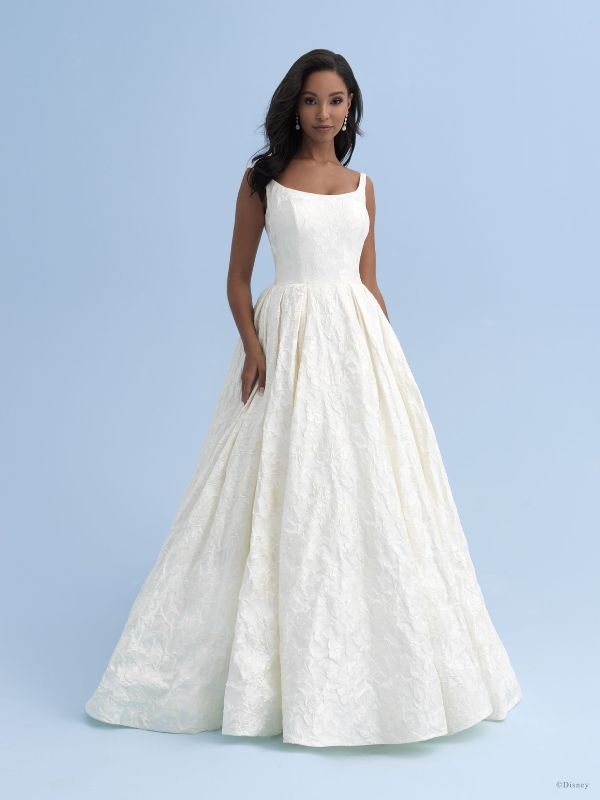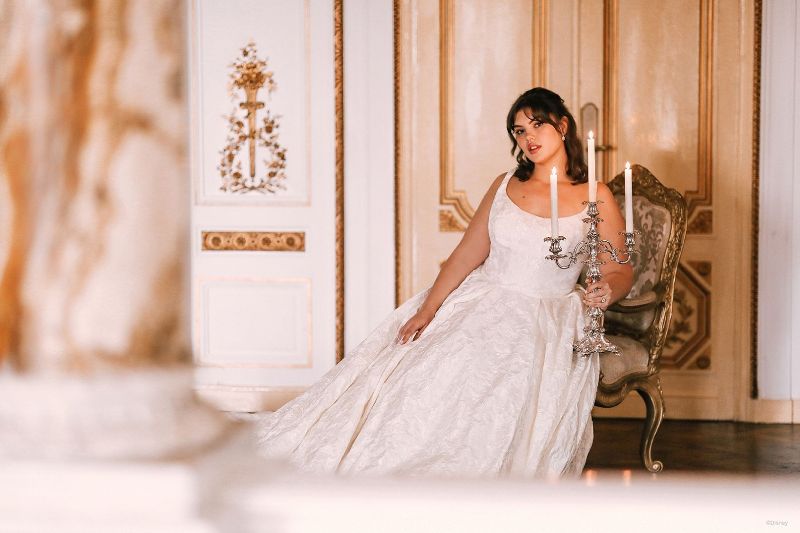 Style: D322 – Belle
The Belle-inspired gown features a timeless ballgown silhouette, corset closure bodice and scoop neckline, covered in a stunningly rich floral brocade. A gown truly fit for a princess.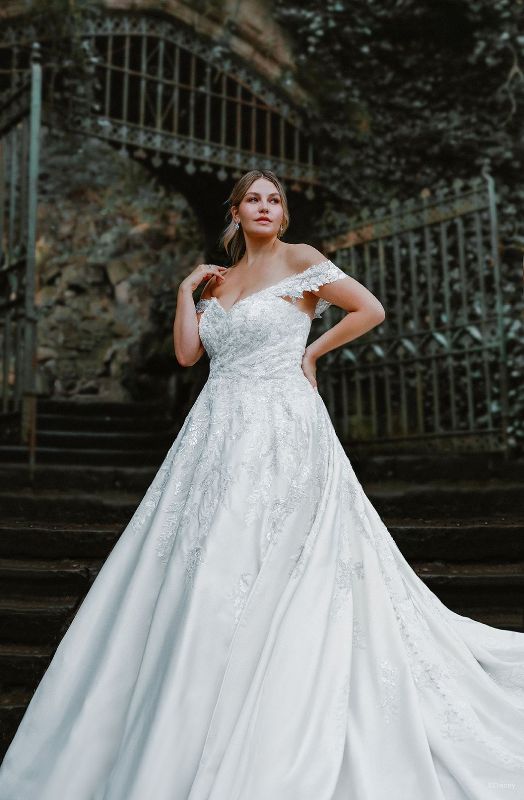 Style: D323 – Cinderella
Overlapping beaded and sequined appliqués feather across the bodice and train of the elegant Cinderella-inspired satin finish ballgown. The sweetheart neckline features an attached drape sleeve, for a touch of timeless elegance.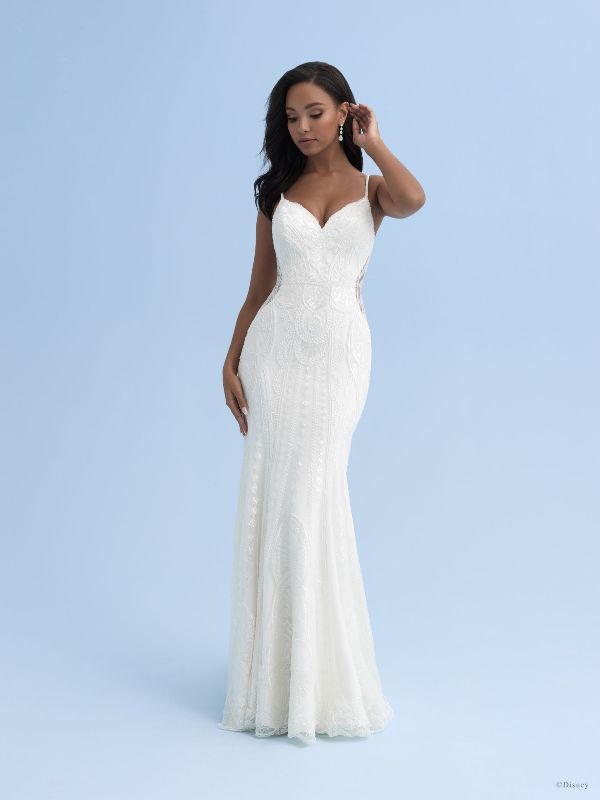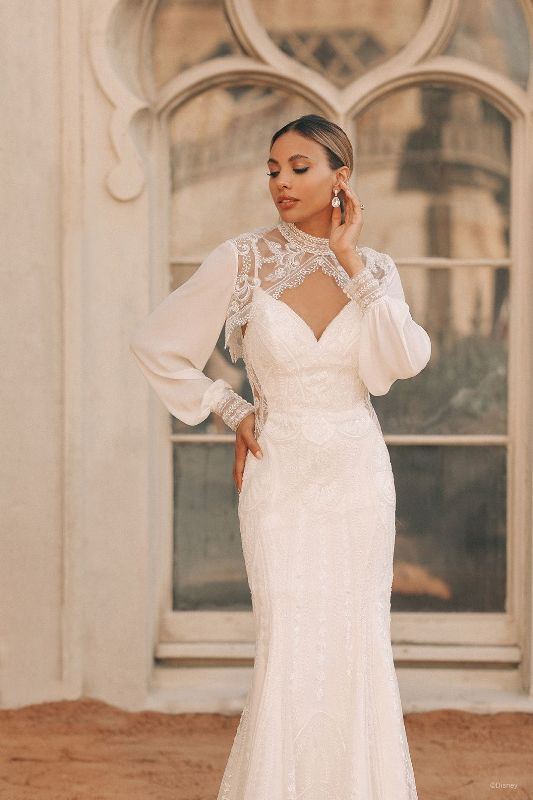 Style: D324 – Jasmine
To honor the 30th anniversary of Disney's "Aladdin," our Jasmine-inspired gown embodies the richness of her journey beyond the palace walls; iridescent sequins cover the embroidered lace seen throughout, while sheer illusion cutouts illuminate the detail of the lacework. A matching jacket finishes the look.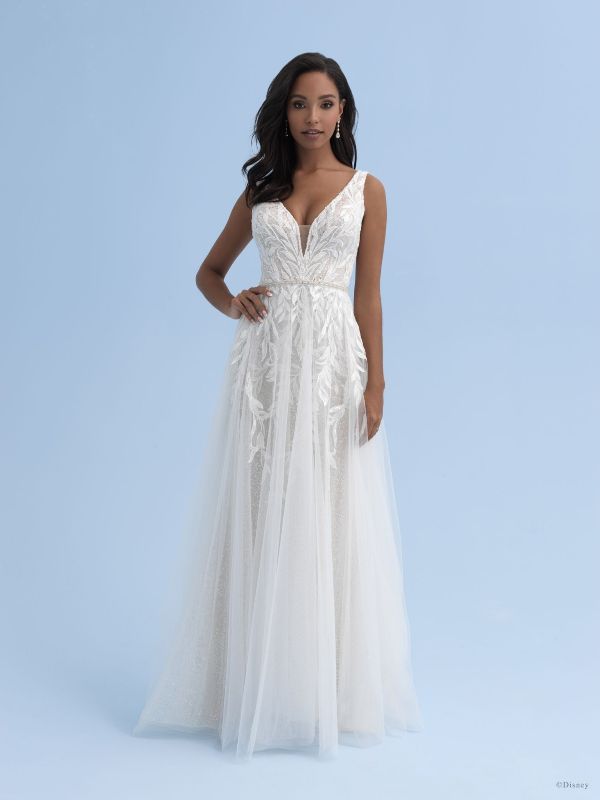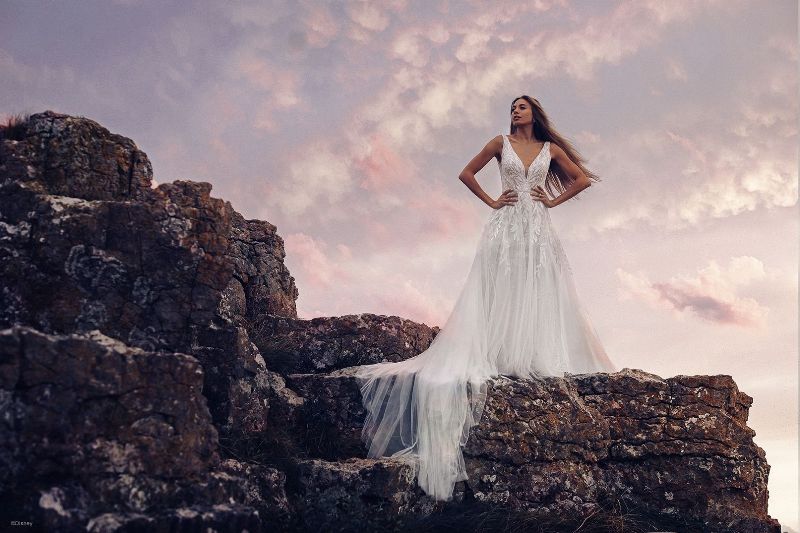 Style: D325 – Pocahontas
Reminiscent of windswept autumn leaves, the delicate leaflike lace pattern overlay on this Pocahontas-inspired gown is interwoven with beads and offset by a tonal beaded trim along the neckline and waist, as well as a fitted sparkling sequined tulle underlay.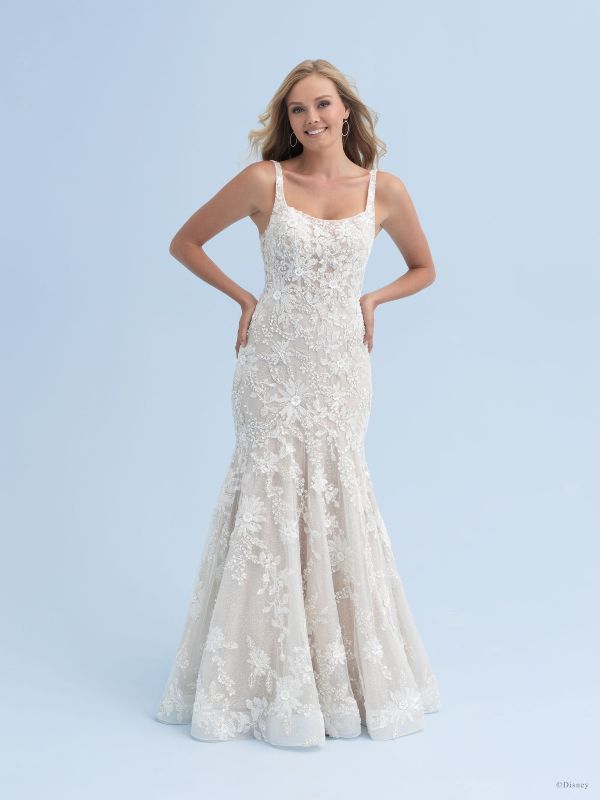 Style: D326 – Rapunzel
The Rapunzel-inspired fit and flare gown is covered in an intricately beaded floral design, connecting each iridescent ivory flower with silver threading and shimmering beadwork reminiscent of the film's iconic Sun Drop Flower.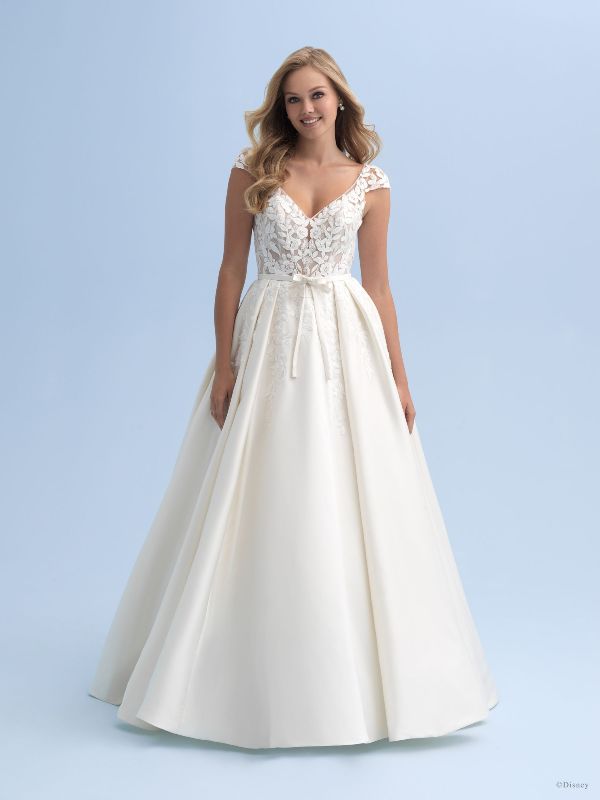 Style: D327 – Snow White
A full pleated satin skirt lends classic beauty to this Snow White-inspired gown, which is adorned with an illusion hemline, a coordinating lace illusion scoop back and delicate cap sleeves. A fitting gown for the 85th anniversary of Disney's "Snow White and the Seven Dwarfs."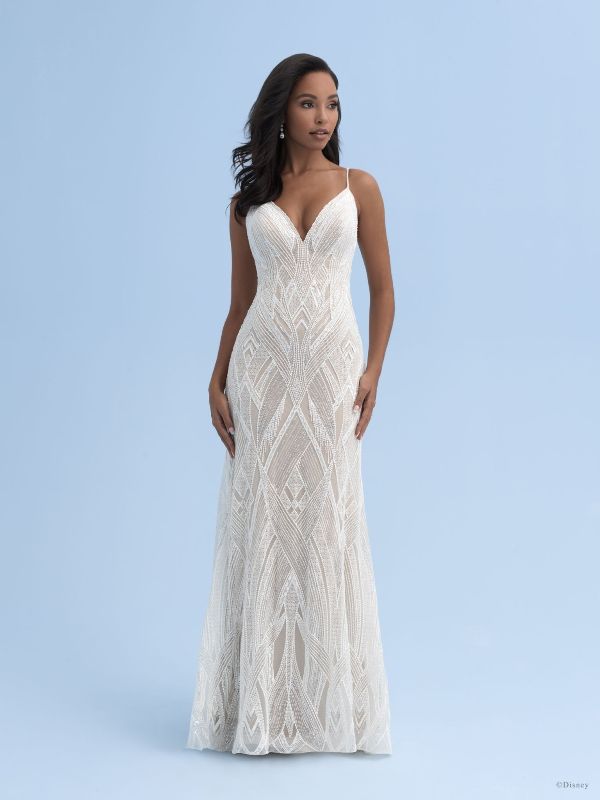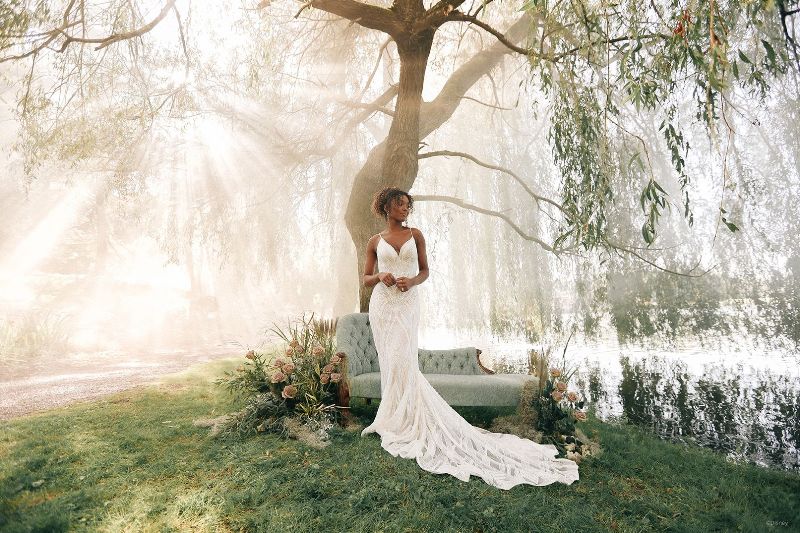 Style: D328 – Tiana
An intricate blend of Art Deco-patterned sequins and embroidery adorn a sheath silhouette — an homage to Tiana and the fabulous fashion of the Jazz Age.
Disney Fairy Tale Weddings Dresses Platinum Collection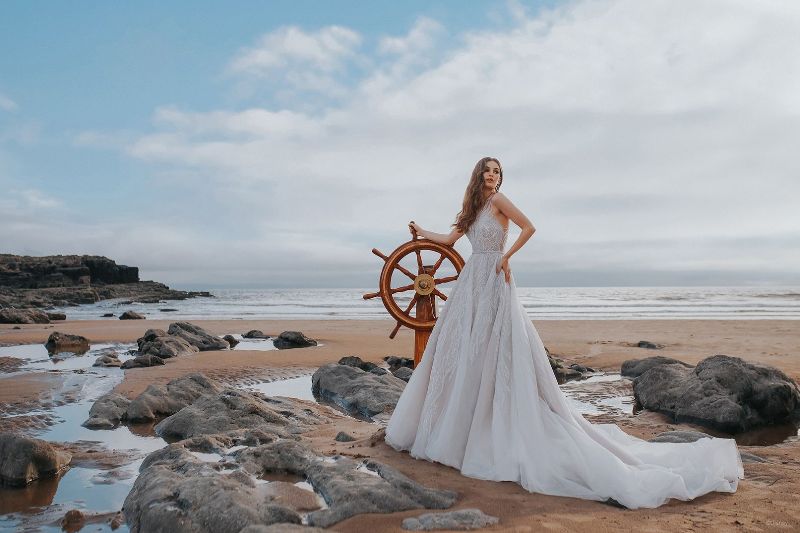 Style: DP300 – Ariel
The Ariel-inspired Platinum A-line gown features a delicate halter neckline and beaded illusion keyhole back, while the skirt is adorned with glittering beaded fronds, gently swaying like the ocean's tide. Pearl buttons and a beaded belt finish the look.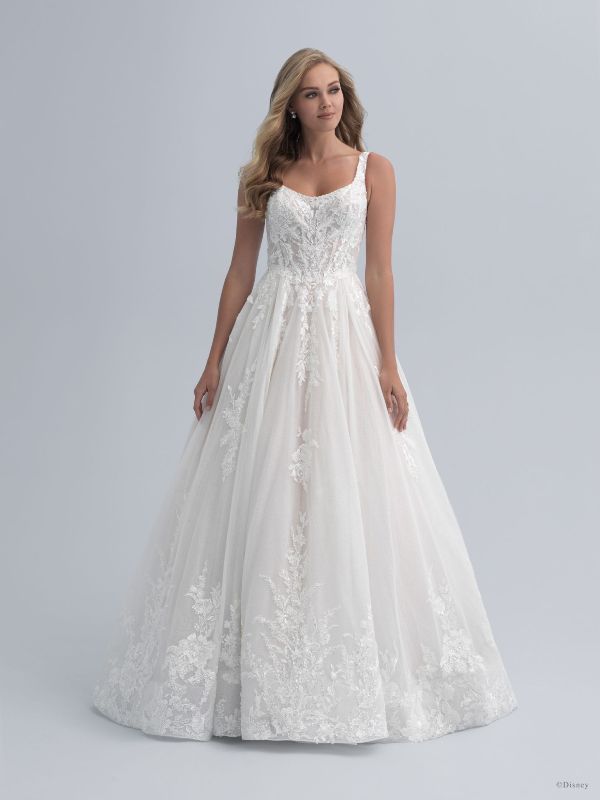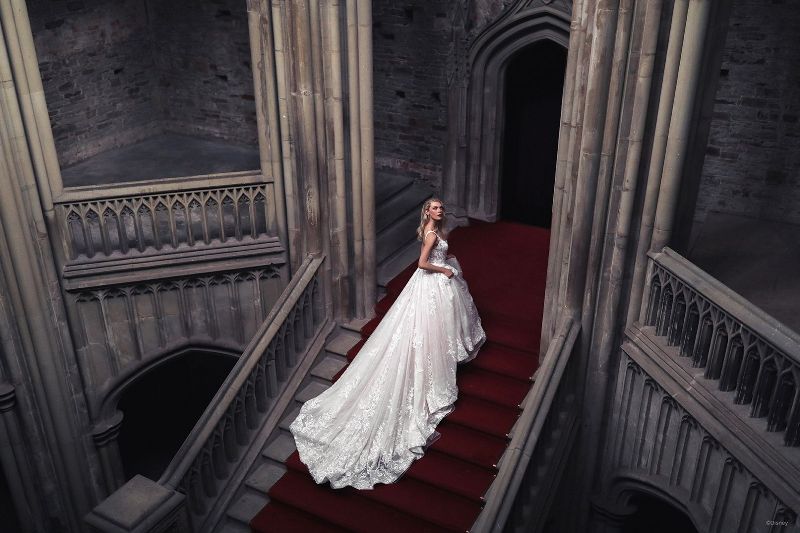 Style: DP301 – Aurora
With its graceful A-line silhouette, fitted bodice and subtle scooped square neckline, the Aurora-inspired Platinum gown features mesmerizing beaded floral appliqués across a layer of shimmering Swiss dot tulle. A truly regal gown.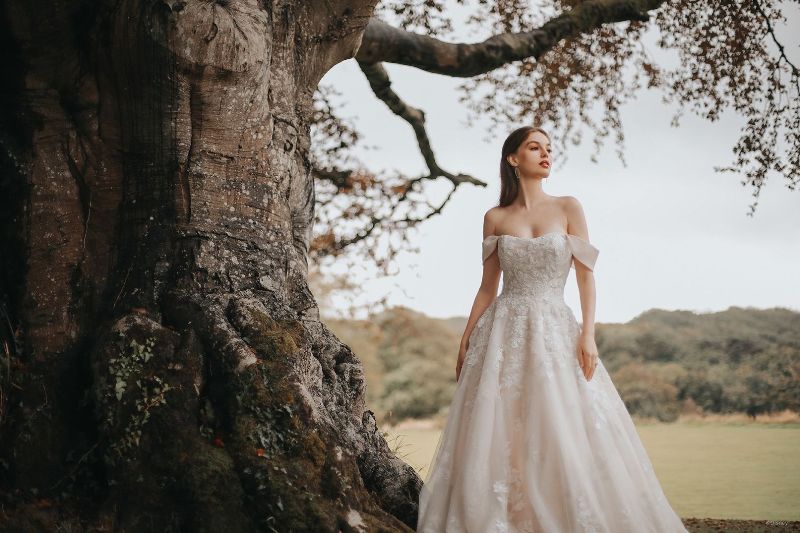 Style: DP302 – Belle
The iconic rose motif can be seen throughout the elegant Belle-inspired Platinum ballgown, with beaded lace appliqués, glitter brocade, a modified sweetheart neckline is finished with a soft drape sleeve.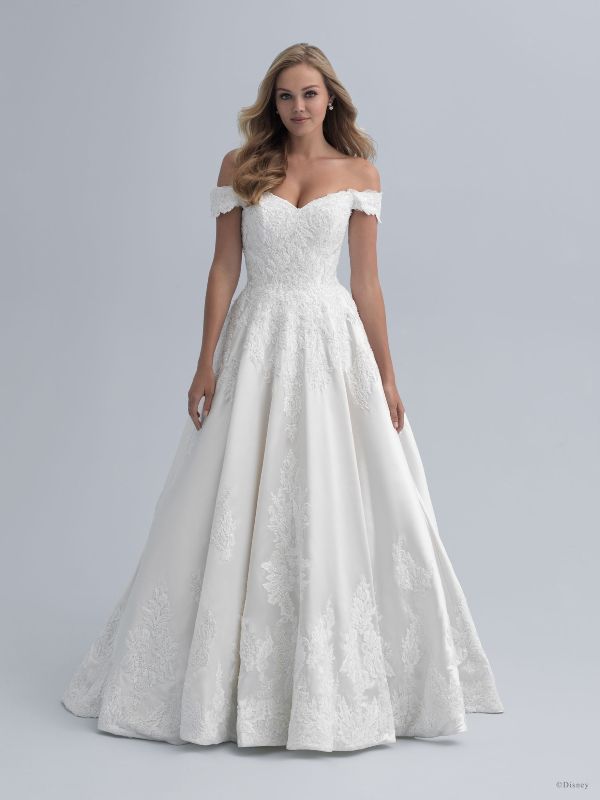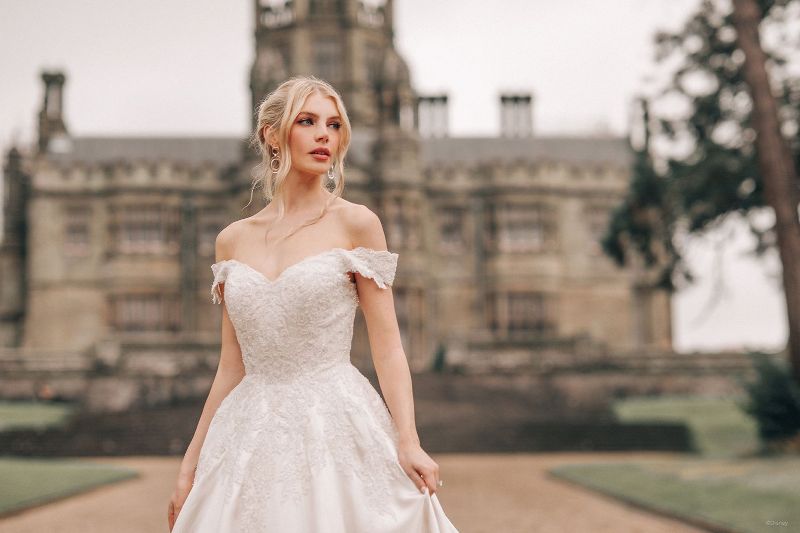 Style: DP303 – Cinderella
A pearlescent satin finish draws the eye to the timeless beauty of the Cinderella-inspired Platinum ballgown, which features texturized gorgeous embroidered clusters of textured blossoms, along with off-shoulder cap sleeves.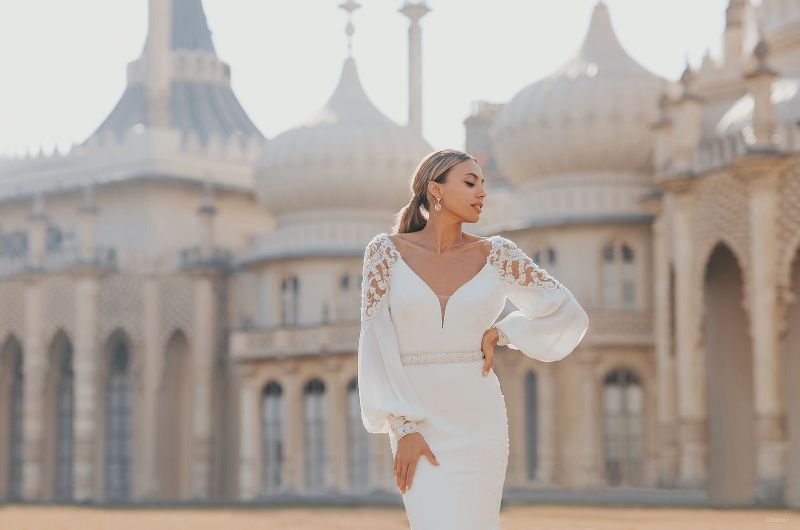 Style: DP304 – Jasmine
Taking inspiration from Princess Jasmine's confidence and sense of style, this gown features beaded cuffed sleeves with sheer illusion paneling and sequin lace appliqués across the illusion train of the stunning Jasmine Platinum gown.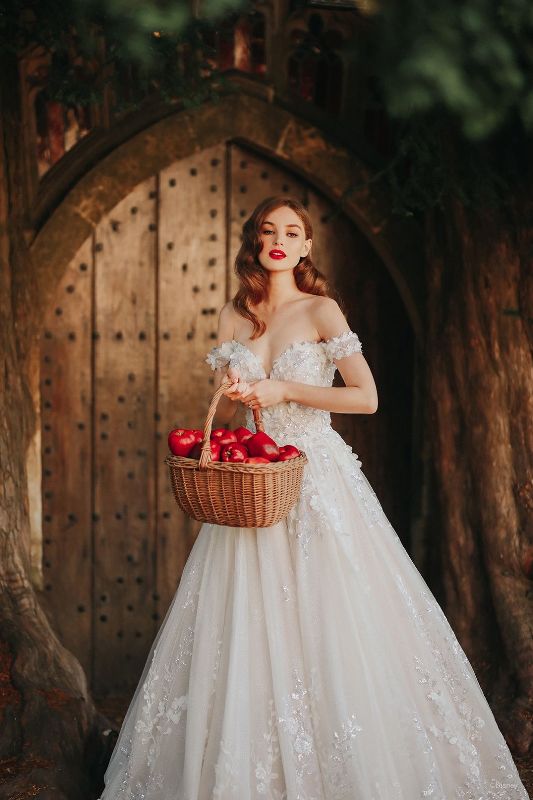 Style: DP307 – Snow White
The Snow White-inspired Platinum ballgown features shimmering dimensional floral and sequin appliqués, reminiscent of iconic apple blossoms, scattered across the bodice and waistline and trailing down the gown to pool along the hemline.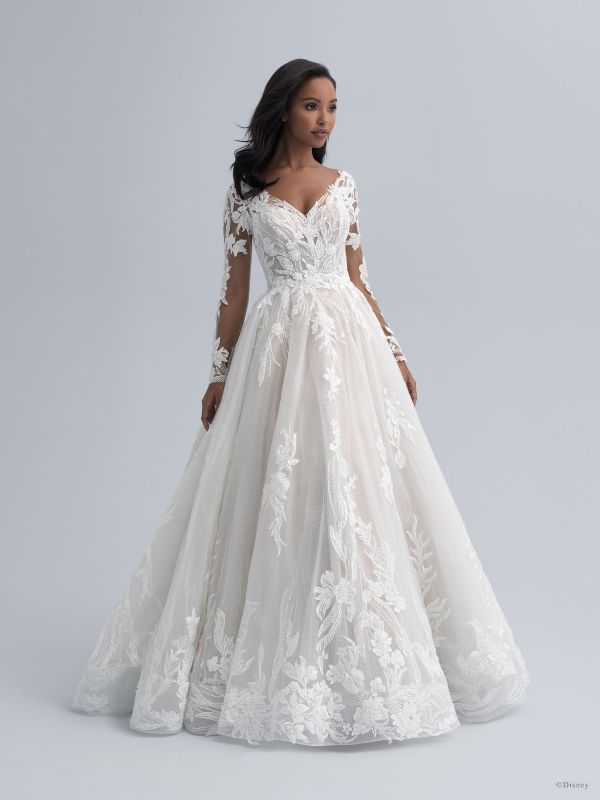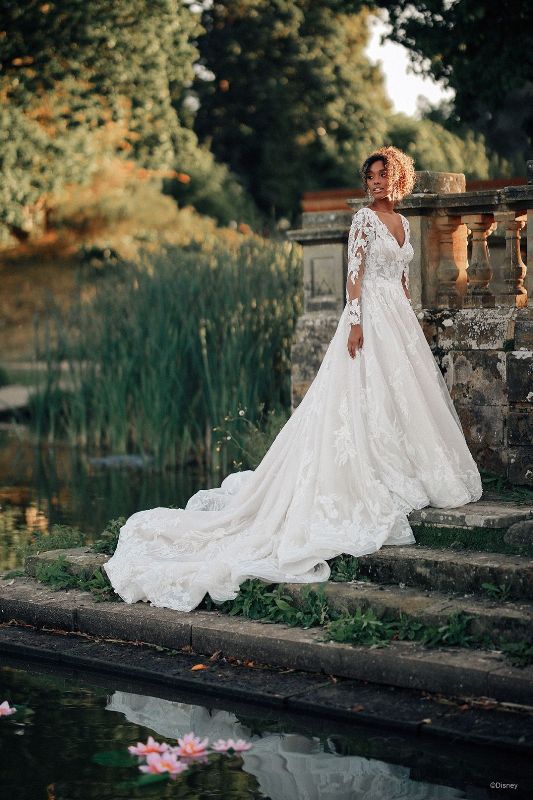 Style: DP308 – Tiana
The Tiana-inspired Platinum ballgown takes inspiration from the magnolia blossom found in Tiana's home town, New Orleans. Blossoms and leaflike appliqués wend their way across the illusion sleeves, bodice and train.
Which wedding gown is your favorite?