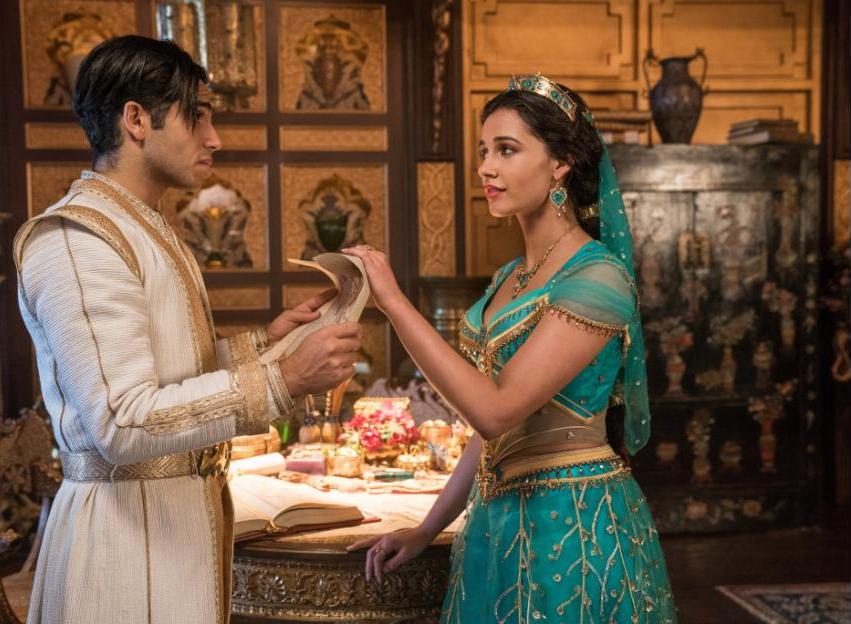 With the new live-action ALADDIN movie coming to theaters this week, I was inspired to create some Aladdin wedding inspiration for you! This was so fun to put together!
As you can see, I chose a lot of bright jewel tones and gold accents to represent the shining, shimmering, splendid colors of Agrabah. I pulled some fuchsia accents from Jasmine's beautiful dress and, of course, some blue to represent the Genie. The Morocco Pavilion at EPCOT makes a beautiful backdrop for bridal portraits, or you can even have your ceremony there for the ultimate Aladdin themed wedding!
ALADDIN Wedding Inspiration
Details I Love
Okay I'm cheating a little bit because I didn't use this exact image in my mood board, but, WOW – this dress! Such a stunner! Imagine this as a wedding dress, in ivory with gold detailing! It's so beautiful. The costumes in the new Aladdin movie are just jaw-dropping amazing.
I just absolutely love this cake with shades of blue and green, and gold leaf accents. It reminds me of the scene where Aladdin and Jasmine are soaring over the ocean on their magic carpet, and when Aladdin picks the white flower and offers it to Jasmine … okay, now I'm happy sobbing.
Everything about this tablescape is pure perfection … the lanterns, the candlesticks, the fuchsia accents, the patterned rugs and walls … I love it all!
I hope this collection of Aladdin wedding images inspires you for your big day!
Wedding images from Disney Weddings Dream Boards except "flying carpet fajitas" sign.
"Flying Carpet Fajitas" photo credit: Disney Fine Art Photography from Aladdin Themed Wedding Rehearsal Dinner
Aladdin poster image credit: Disney
Aladdin is rated PG and is in theaters Friday May 24, 2019!