For the second year in a row, Disney Fairy Tale Weddings are partnering with Allure Bridals to bring us 21 gorgeous new wedding gowns!
The 2021 Disney Fairy Tale Wedding gowns will be available at select retailers in sizes 1-30, starting at $1200.
"We are absolutely thrilled to introduce Allure Bridals' second collection with Disney Fairy Tale Weddings — featuring not only an incredible array of Disney Princess-inspired gowns but a wider range of pricing, because everybody deserves to feel like a princess!" Allure Bridals CEO and owner Kelly Crum said in a statement.
The showstopper of this year's collection is the Platinum Belle gown, for the 30th anniversary of Beauty and the Beast. The Platinum Belle design has rose and floral appliques, and more than 30,000 beads and crystals!
For more details on these gowns, plus retailer locations, please visit Allure Bridals.
New Disney Wedding Gowns for 2021
Images and descriptions from Allure Bridals website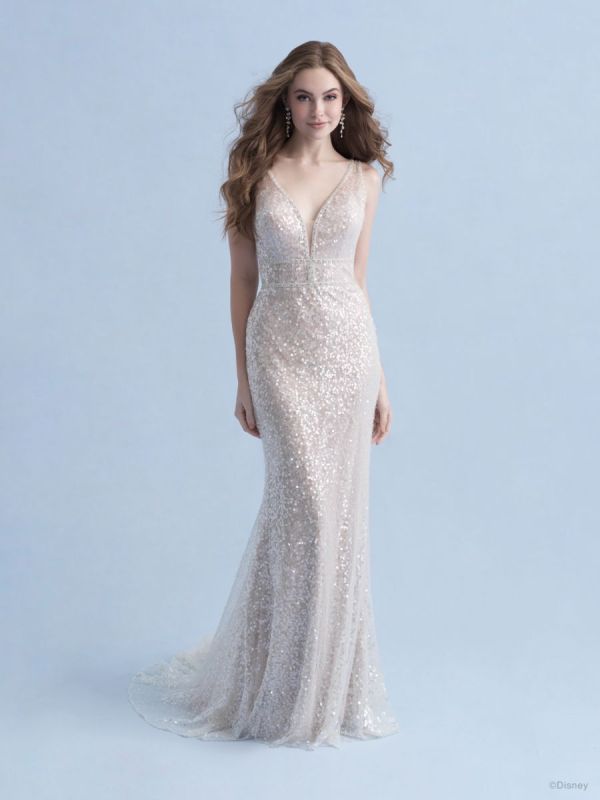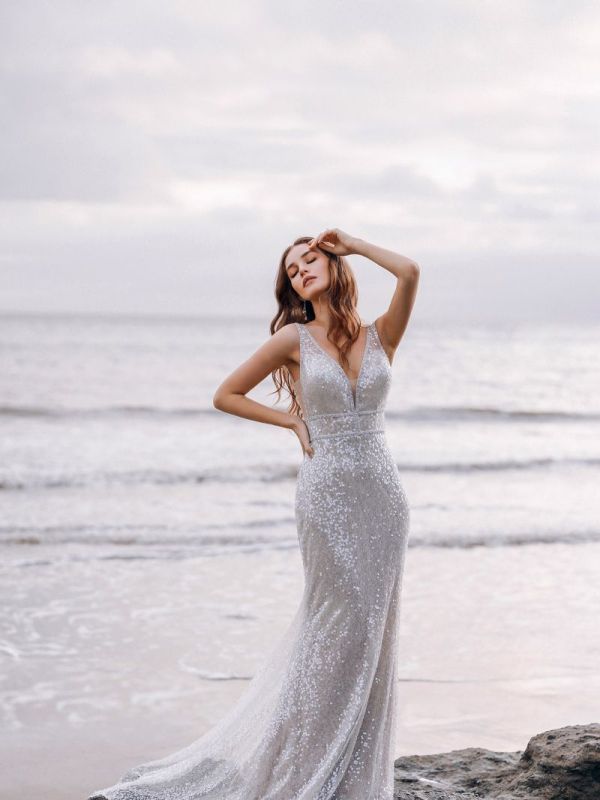 D280 – Ariel
This Ariel inspired gown is playful yet elegant. A subtle flared train is reminiscent of a mermaid's silhouette while sparkling sequins mimic the play of light across the moonlit sea.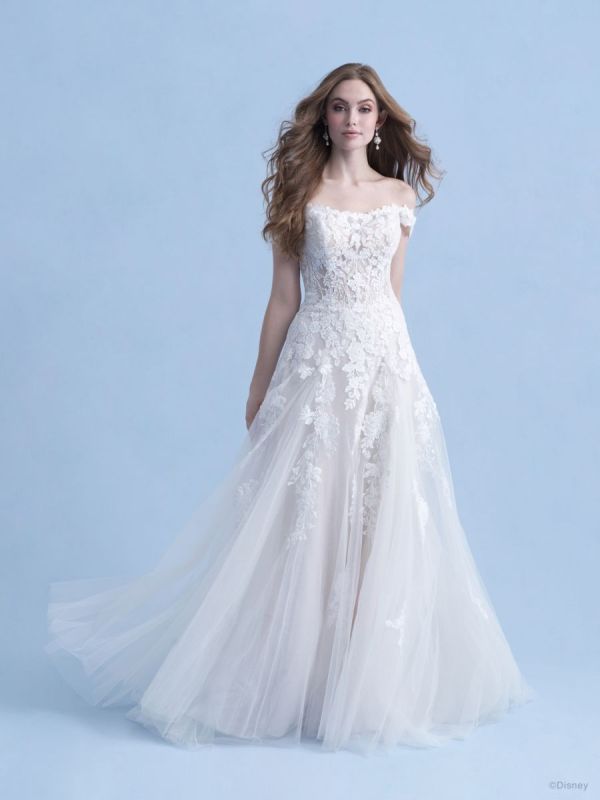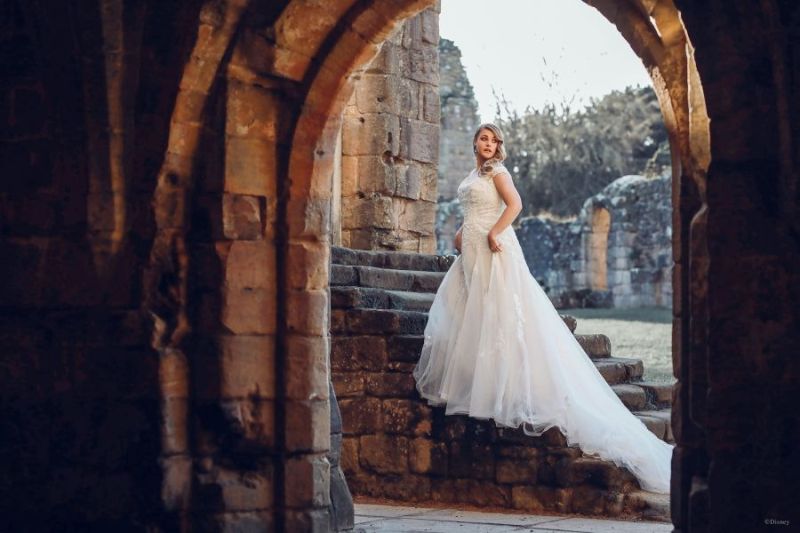 D281 – Aurora
With a nod to Aurora's iconic basque waistline and graceful silhouette, this gown tapers from a sequined floral lace bodice to a subtle A-line. Delicate, exposed boning along the back of the gown and off-shoulder cap sleeves put the finishing touches on this truly elegant gown.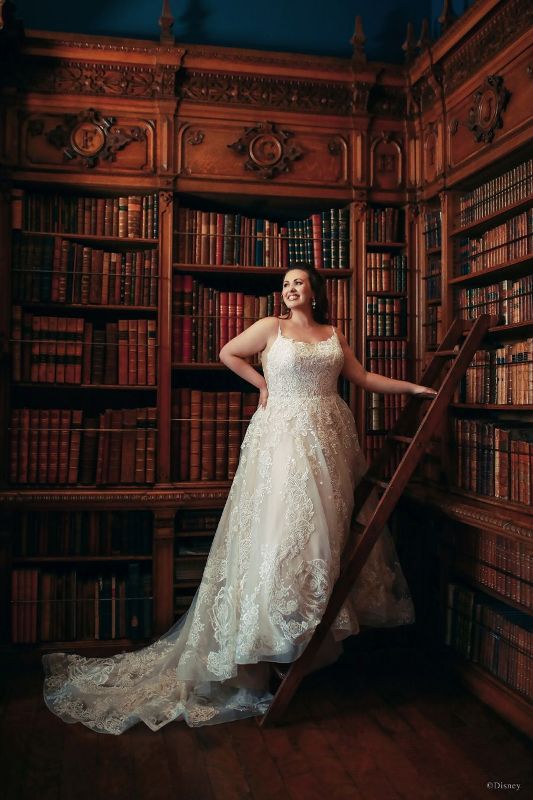 D282 – Belle
This Belle-inspired gown was designed to celebrate the 30th anniversary of Disney's 'Beauty and the Beast'. Rose motifs 'dance across the ballgown'. An embroidered lace overlay tops the tulle gown, finished with an illusion back and a structured hemline to emphasize the beauty of the rose-covered train.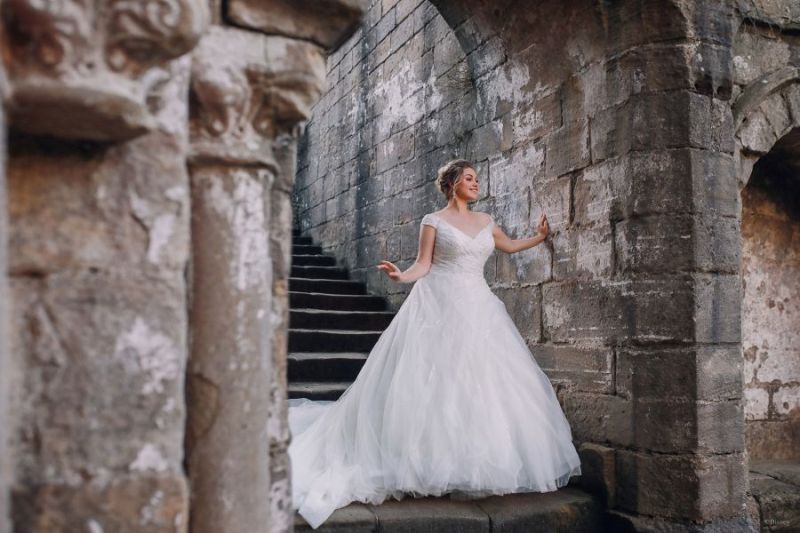 D283 – Cinderella
Inspired by Cinderella's magical transformation — this gown features yards of fabric draping gracefully into the perfect ballgown. Airy, ethereal ice blue tulle is ruched across the bodice and waistline and framed by linear sequin and bead clusters.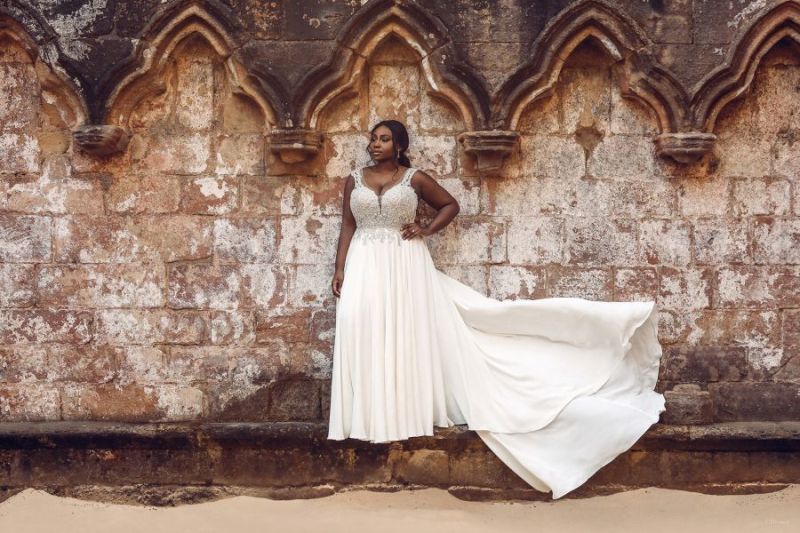 D284 – Jasmine
Inspired by Jasmine's adventurous spirit and palatial surroundings, this gown features an intricately beaded bodice, reminiscent of the palace's architecture. The gradual illusion back provides balance to the lightweight 'airy' crepe chiffon skirt, which features hidden pockets!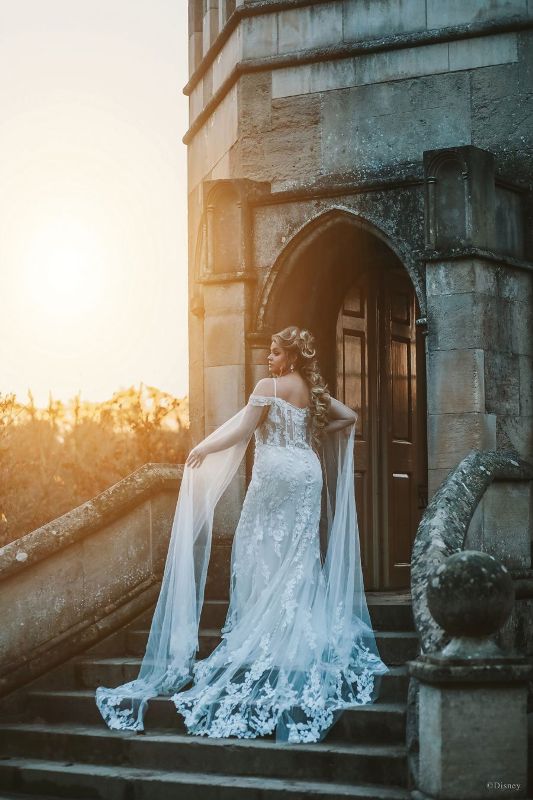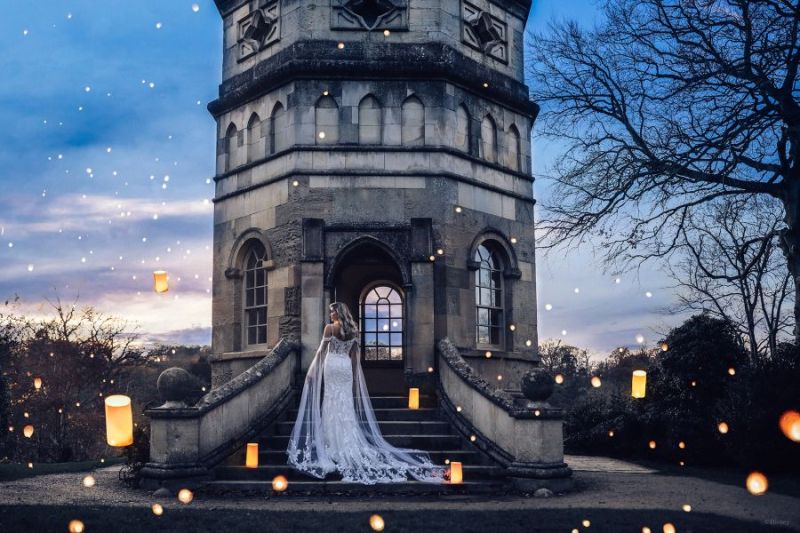 D286 – Rapunzel
Dual illusion capes cascade down the silhouette of the Rapunzel-inspired gown, echoing the Princess's floor-skimming locks. The sheath gown is sprinkled with tiny blooms and finished with cold shoulder lace cap sleeves.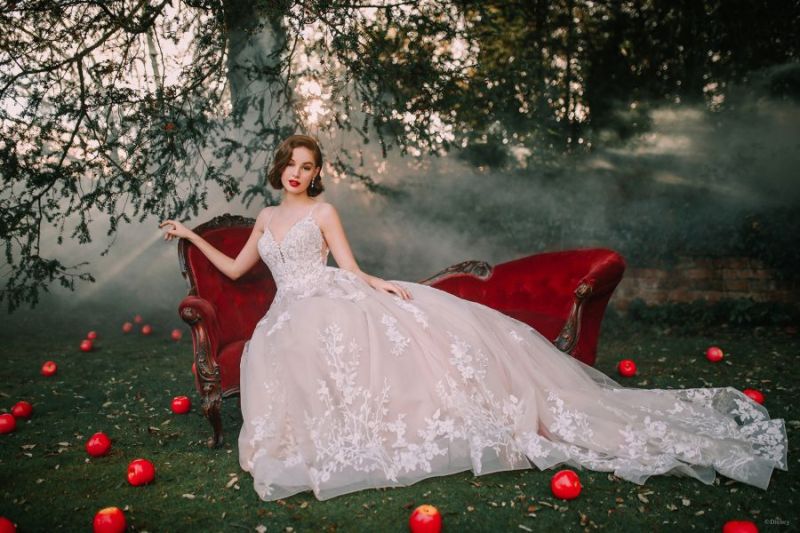 D287 – Snow White
Capturing Snow White's gentle grace and beauty, this classic-inspired ballgown features a bouquet of 'apple' blossoms on the bodice that gracefully cascade down the skirt and cluster at the hemline.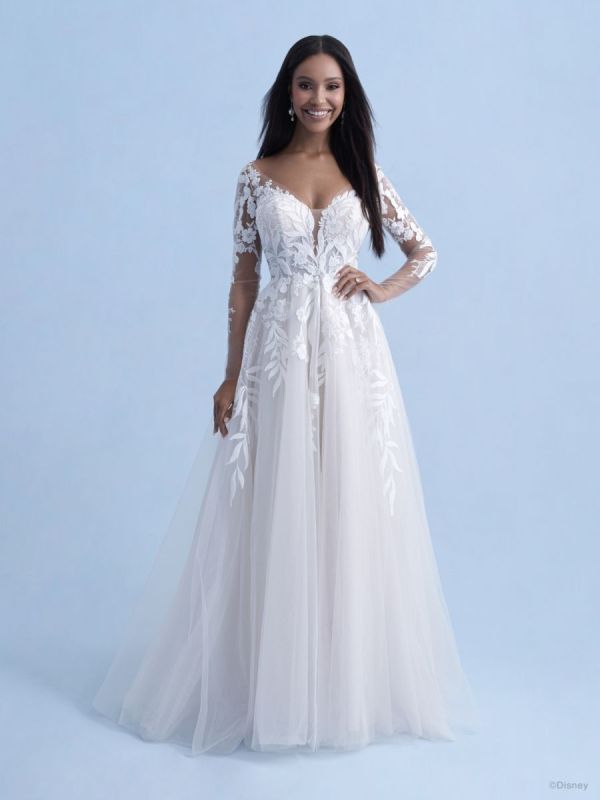 D285 – Pocahontas
Inspired by her love of nature, the Pocahontas gown pays tribute to the 'Colors of the Wind' featuring delicately strewn patterned leaf appliques along the bodice and outlining the sheer illusion back and sleeves.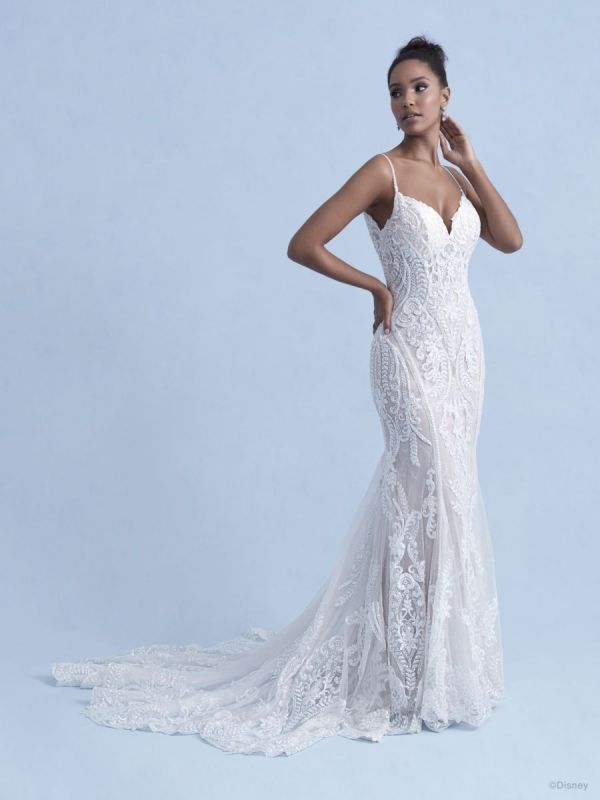 D288 – Tiana
Intricate, shimmering appliques cover the richly sequined Tiana-inspired gown. Emulating the elegant designs and heavy beadwork of the Jazz Age, this gown is truly fun with a perfectly vintage flair.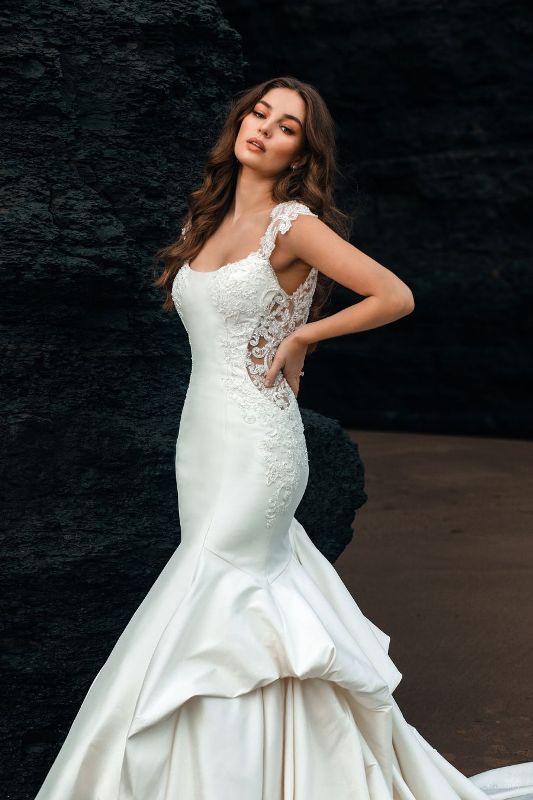 D290 – Ariel
This Ariel-inspired gown with its modern mermaid silhouette, luxurious stretch Mikado and understated shimmer emulates the ebb and flow of the ocean's tide. The fun and flirty beadwork and cutouts give a splash of the unexpected.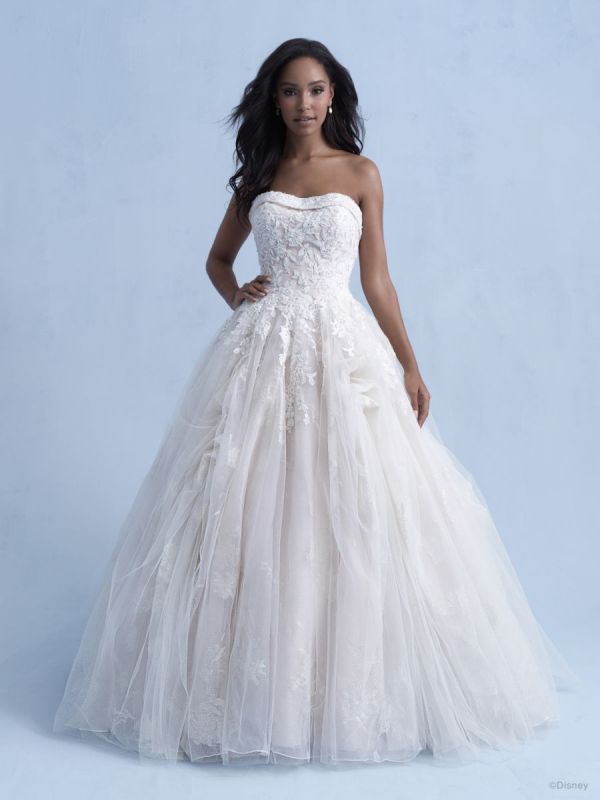 D292 – Belle
Paying tribute to the 30th anniversary of Disney's 'Beauty and the Beast', we created a ballgown with spectacular shimmering brocade featuring a beautiful rose pattern. Soft pickups across the sparkling tulle overlay lend additional texture and draw design inspiration from Belle's timeless ballgown silhouette.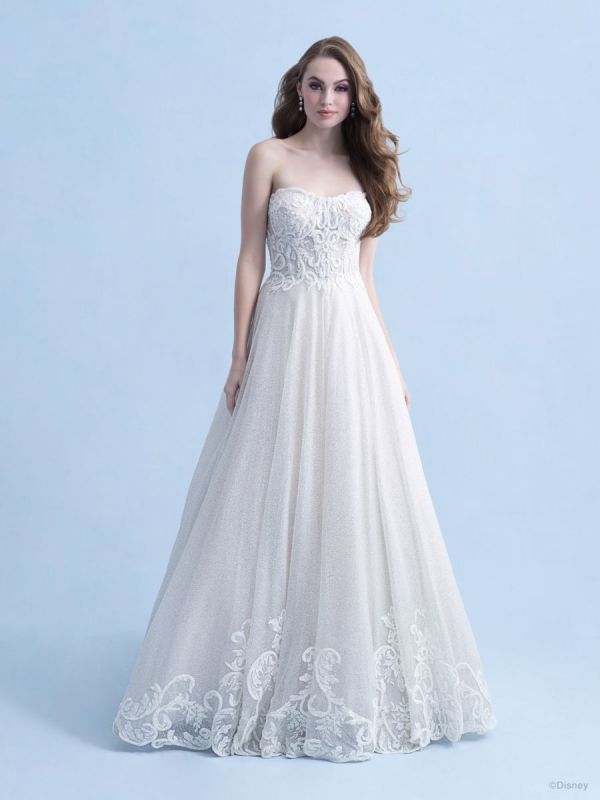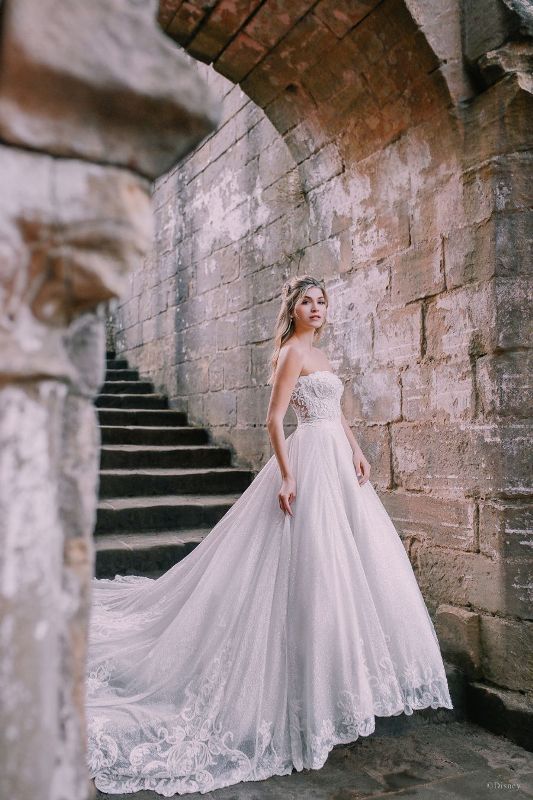 D293 – Cinderella
One enchanted evening a fairy godmother transformed a gown into a work of art. This A-line gown features scrollwork inspired-by the intricate details of Cinderellas magic carriage, while sparkling diamond tulle twinkles in the light.

D294 – Jasmine
Inspired by Jasmine's bold and adventurous spirit, this elegant gown features beautiful detailing with crystal embroidery and an off the shoulder neckline. The gown is highlighted by its striking illusion back with sparkling embroidery detail and elaborate cutaway lace train.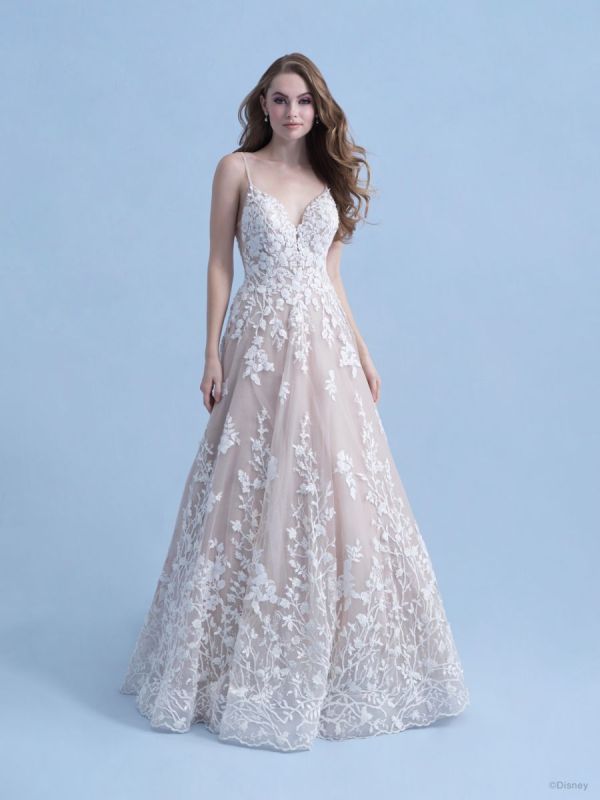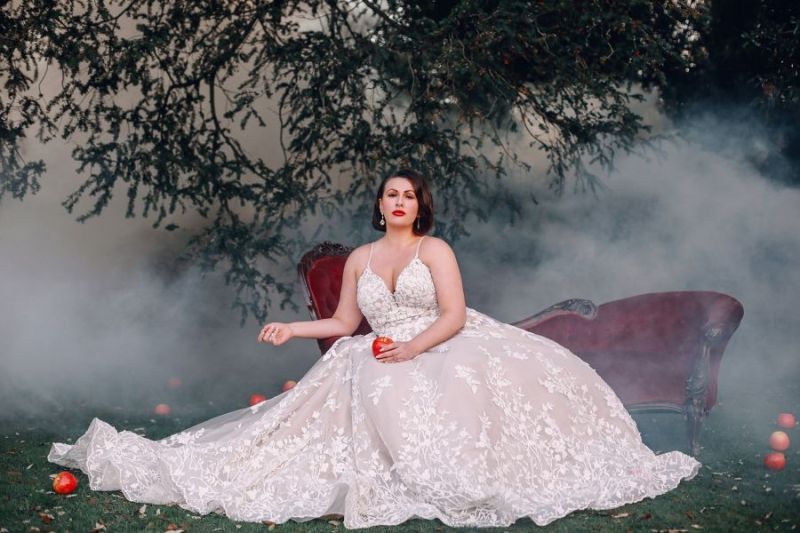 D297 – Snow White
Multidimensional tonal beadwork creates a brilliant and intricate effect across the woodland floral motifs featured in the Snow White-inspired gown. A sparkling layer of tulle ensure this eye-catching gown shimmers at every angle.
Platinum Collection
The following gowns are available exclusively at Kleinfeld New York and Toronto.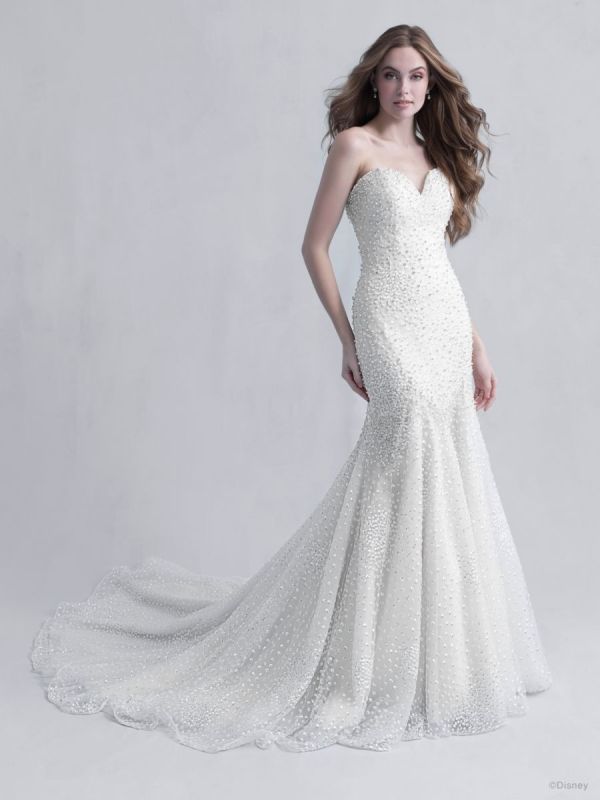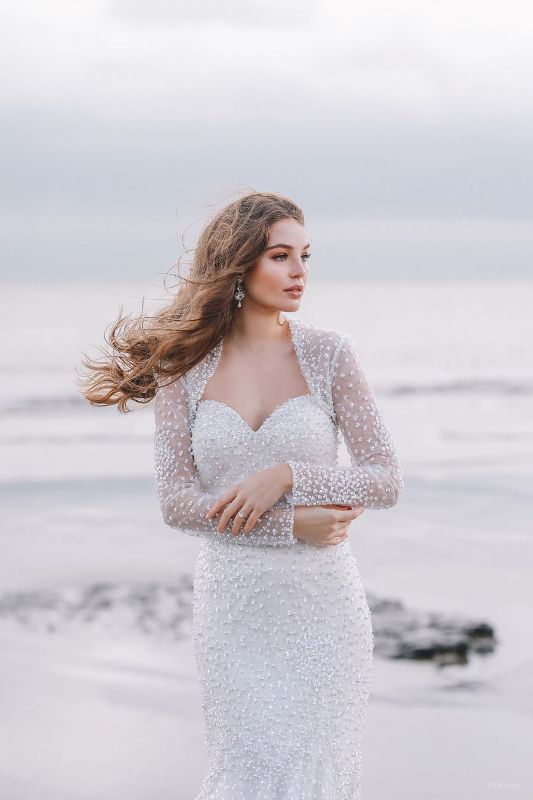 DP270 – Ariel
With layers of glittering tulle that move as gracefully as the ocean, the Ariel-inspired Platinum gown is adorned with sea-inspired pearls, crystals, glass beads, and sequins that sparkle and shimmer throughout.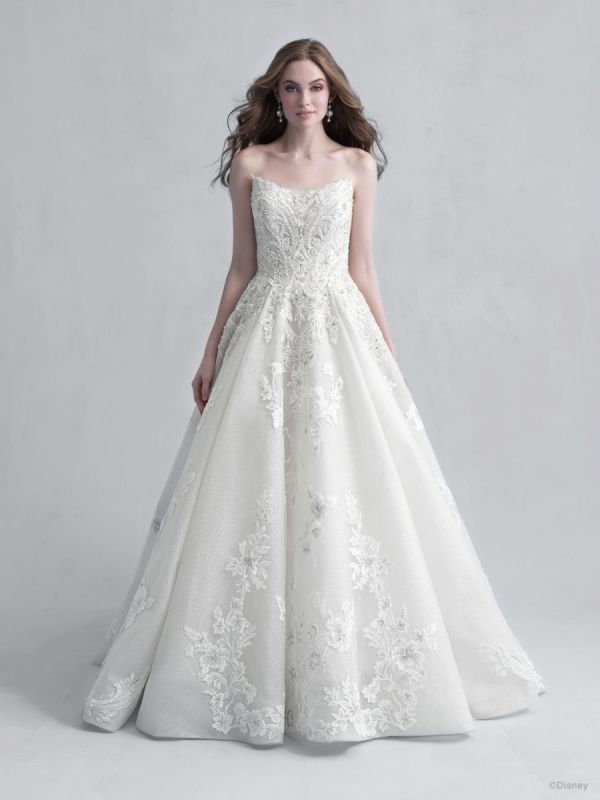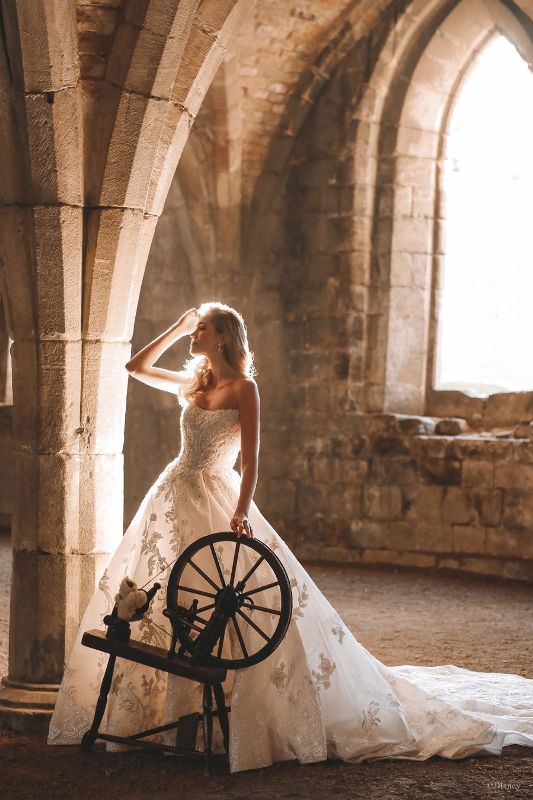 DP271 – Aurora
The timeless Aurora Platinum ballgown truly dazzles, with airy, beaded lace appliques clustered down the train in eye-catching floral 'Briar Rose' inspired detail. The striking neckline offers a sparkling focal point and reminiscent of Aurora's regal silhouettes.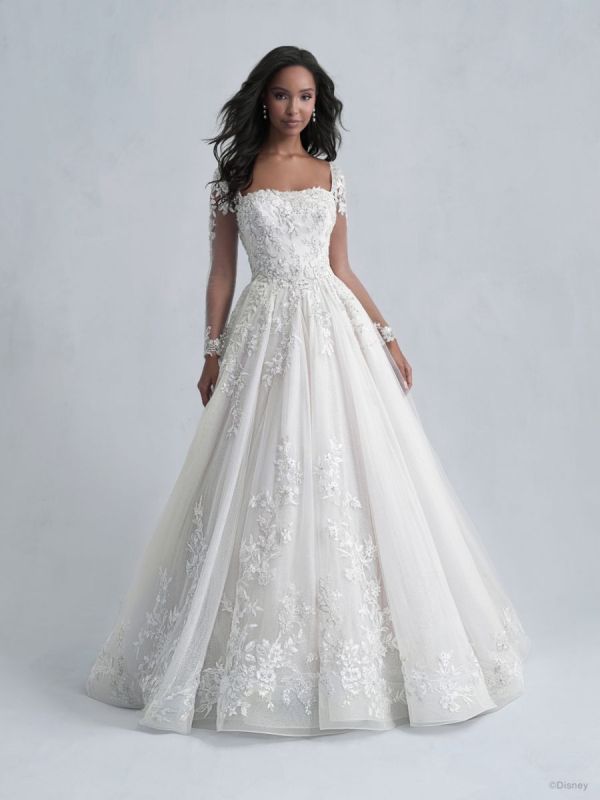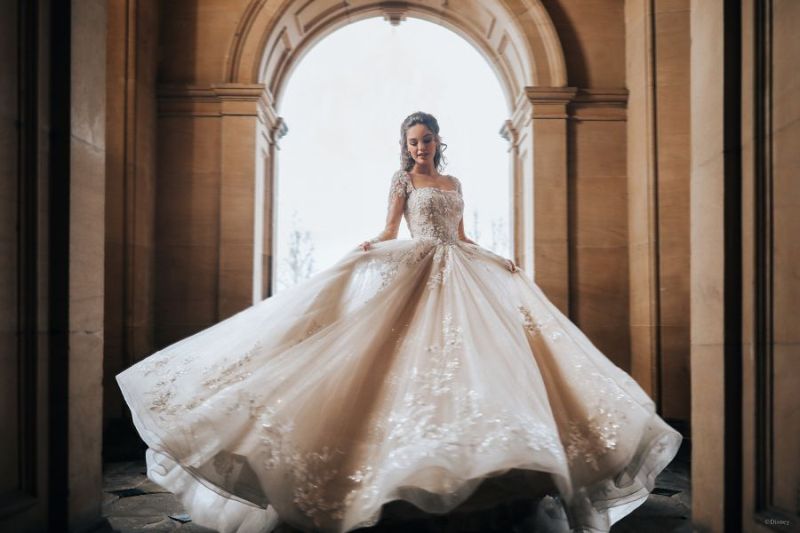 DP272 – Belle
Paying tribute to the 30th anniversary of Disney's 'Beauty and the Beast', the Belle-inspired Platinum ballgown is pure glamour. Rose and floral appliques, crystals, and sequins adorn the bodice and trail across the illusion sleeves. A lace-up corset back and crystal buttons add a touch of French flair.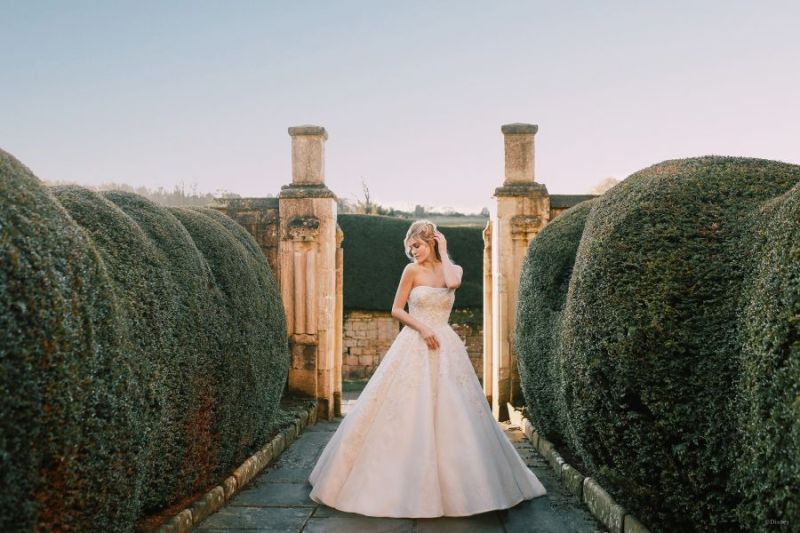 DP273 – Cinderella
Our Cinderella-inspired Platinum ballgown is a dream come true! Inspired by Cinderella's magical transformation, this graceful gown is embellished with intricate silver embroidery, delicate crystals adorn a strapless bodice and trail down the full ballgown skirt. All you need to complete the look is a pair of glass slippers!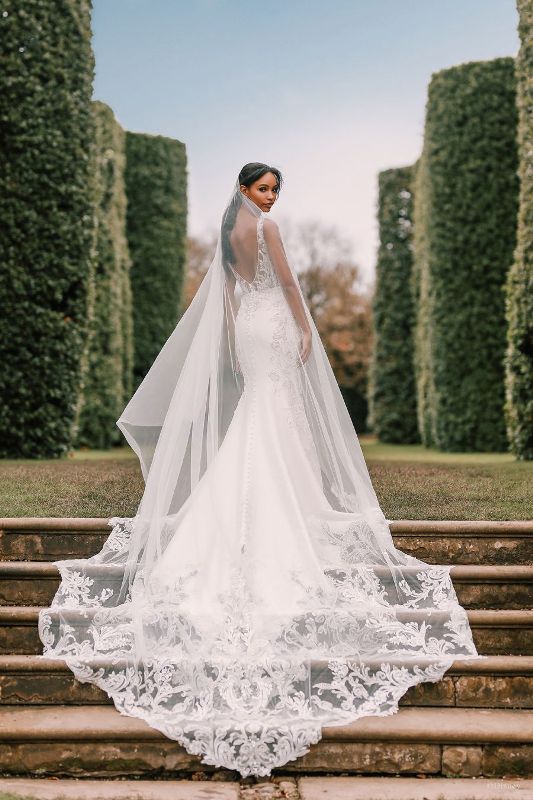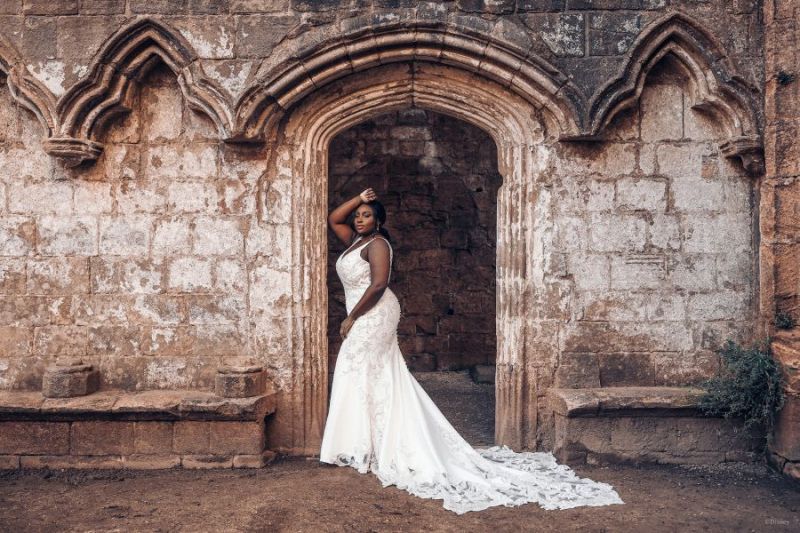 DP274 – Jasmine
Inspired by Jasmine's bold and adventurous spirit, this Platinum gown's luxurious stretch Mikado fitted silhouette features silver colored embroidery and crystal beadwork that start at the bodice and symmetrically trail down the waistline and hips, leading to a breathtaking illusion train.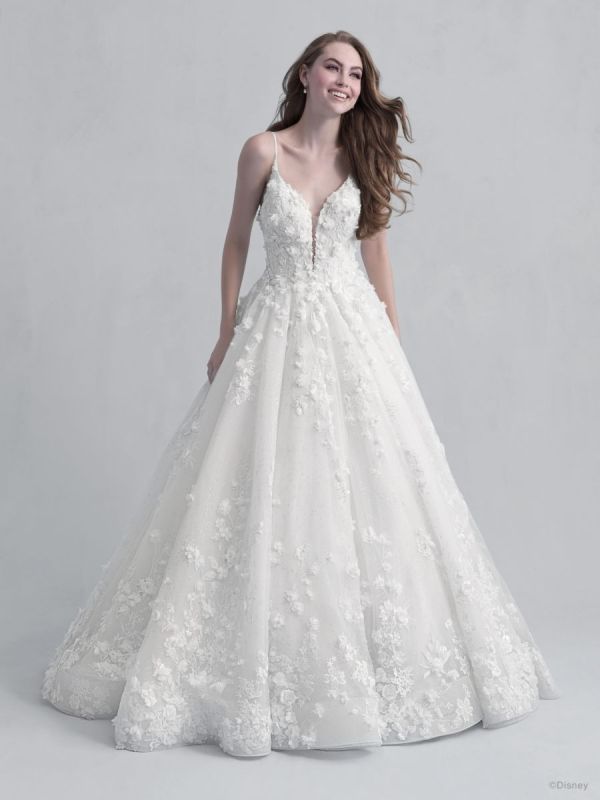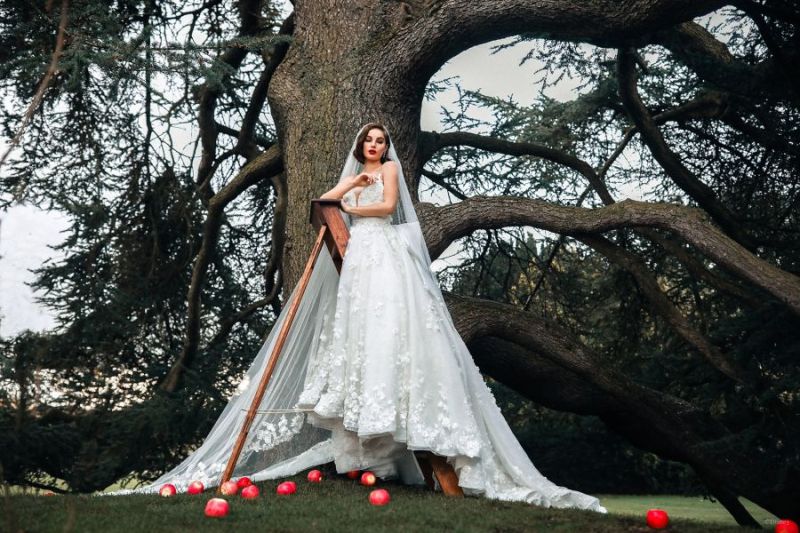 DP275 – Snow White
Capturing Snow White's grace and beauty, this Platinum ballgown features embroidered lace, seed beads, crystals and three-dimensional 'apple blossoms' scattered across sparkle tulle. A sweetheart neckline and organza bow is the finishing touch to this romantic, timeless gown.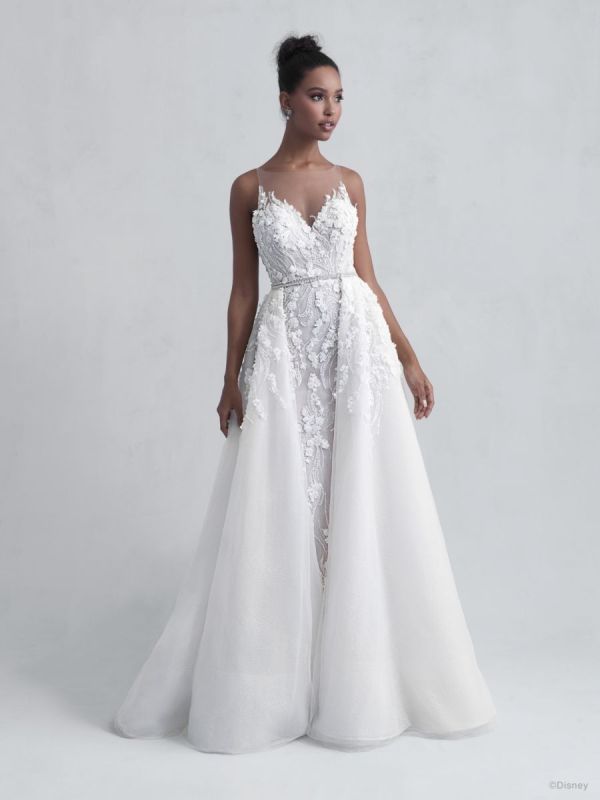 DP276 – Tiana
Capturing Tiana's confidence and joie vivre, this 1920's Platinum 'sheath' gown features crystal encrusted dimensional florals and vine like appliques that sparkle and shimmer like fire flies on a balmy night on the bayou. The finishing touch is a detachable organza overskirt adding a touch of jazzy fun.