Oh boy, some REALLY fun news was just shared by Disneyland!
The one and only Mickey Mouse is opening up his house in Toontown for private parties!
Read on to learn more …
Between January 19, 2022 and March 6, 2022, Guests at Disneyland can celebrate any special occasion with family and friends with a private party at Mickey's House in Toontown. The event is officially called Celebrate! In Mickey's Toontown.
The party can accommodate up to 10 Guests and will last 90 minutes.
Included with the event:
Take a group photo with Mickey Mouse, and receive complimentary downloads of Disney PhotoPass digital photos taken during the event
Decorate cupcakes
Participate in hands-on crafts and games designed to delight little ones and grown-ups alike
Get quicker entry to Gadget's Go Coaster at the end of your celebration
The cost is $350 per group, which equates to a reasonable $35 per person cost for 10 Guests. This does NOT include entry into Disneyland Park – a regular ticket (or Magic Key Pass) and a theme park reservation are required. An experience reservation does not include park admission.
This activity is marketed for kids and families, particularly for birthday celebrations, but I can already tell you I'm in discussion with several of my Disney Adult friends to plan our own private parties!
My Review
I attended a party at Mickey's house during the first weekend, and had a lot of fun! Here's a recap of our experience with my thoughts below.
Our party arrived at Mickey's house in Toontown 10 minutes before our party time. We checked in with a Cast Member who was standing at the gate between Mickey and Minnie's house. We were then led up the small path to a Cast Member at a podium who verified our reservation information.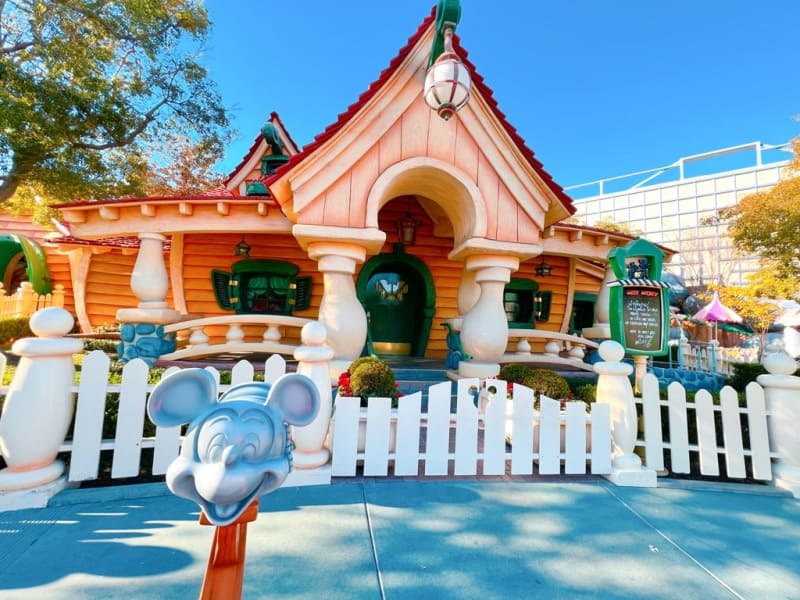 We were informed there are no restrooms located inside Mickey's house so we were given time for a bathroom break before being led in (restrooms are located right on the other side of Minnie's house).
Once our party was ready, we were all given our credentials on lanyards and introduced to our host for the day, Chloe. Chloe was absolutely wonderful!
Chloe led our party through the back of Mickey's house (the garden area) while engaging the kids in our group with a game of "I Spy."
We were then led into Mickey's movie barn where Mickey Mouse was waiting to greet us!
We all said hello to Mickey then took a group photo. A PhotoPass Cast Member was already inside, ready to snap photos. She said we could take as many photos as we like. The kids got individual time and photos with Mickey, and I did, too. Hehe.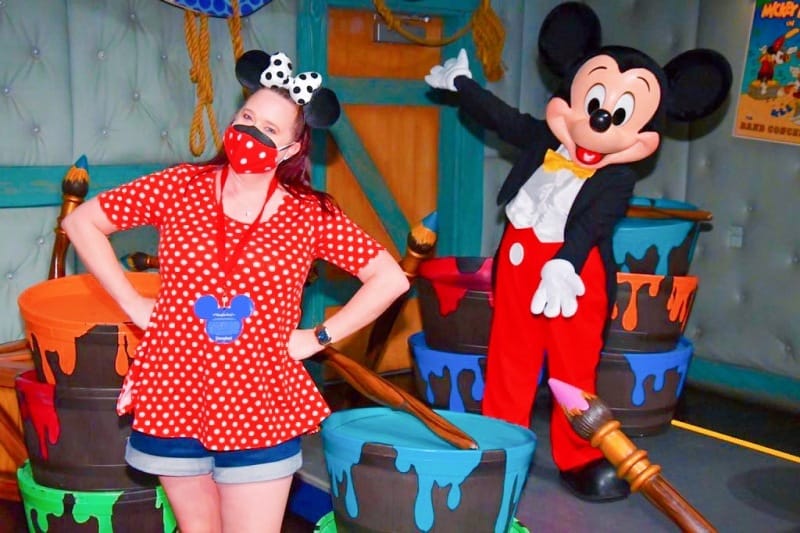 We probably spent around 5 minutes with Mickey and we didn't feel rushed at all.
Next we were led into our party room! There are multiple parties happening at any given time, in different rooms. We were in what I would call the Band Concert room.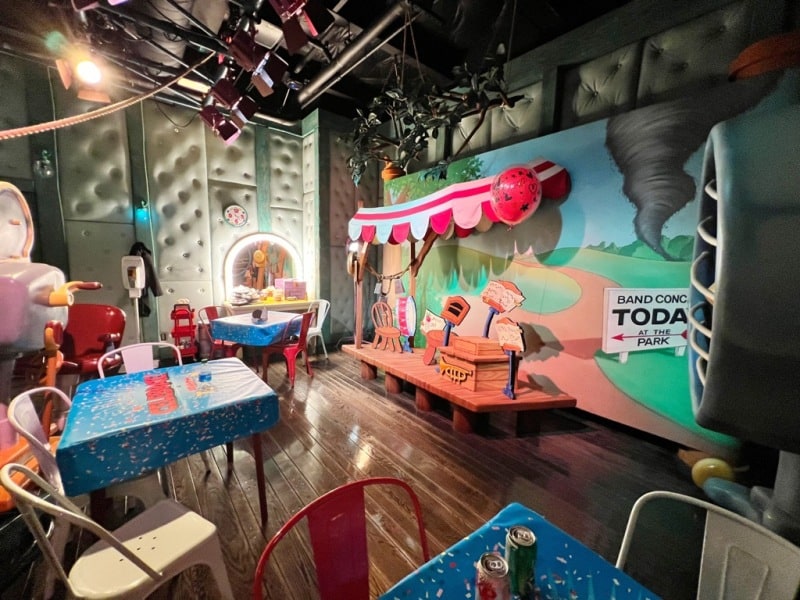 There were three small tables set up with 10 chairs. At each chair was a paper party hat and individually wrapped crayons. Chloe told us we could start the party by coloring our hats. While we were getting settled into coloring, Chloe told us some Disneyland trivia, and paid extra attention to the two children in the group.
Coloring was followed by a series of games. We played Bingo (with Disney characters on the card), charades, telephone, and a few other unique party games.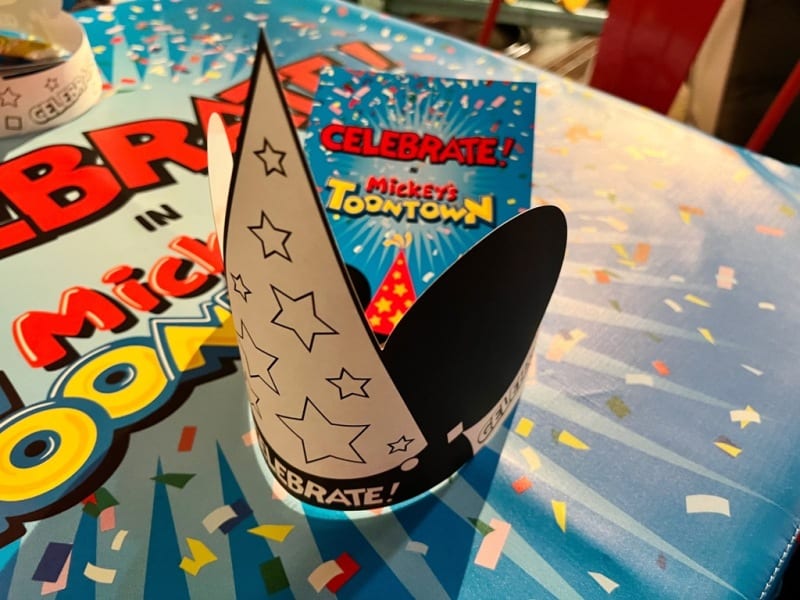 Towards the end of our hour, Chloe brought out our cupcake decorating kits! I think this was my favorite part! The cupcake was really delicious, too. We also were offered a complimentary drink (soda, juice, or water).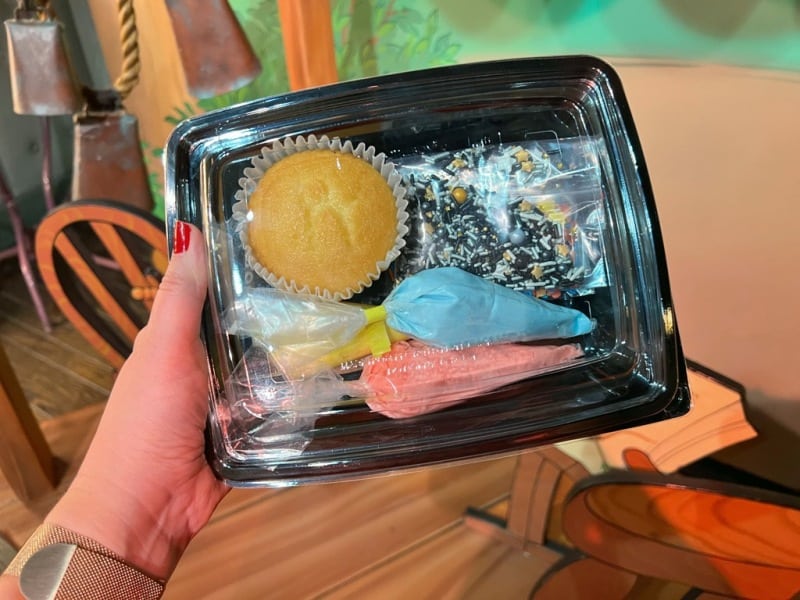 During the entire party, our PhotoPass Cast Member kept coming and going from the room, capturing candid photos (or posed photos, if we requested it). In total we received about 100 PhotoPass photos.
After about an hour had passed, Chloe guided us to start wrapping up our activities at Mickey's house before we were led over to Gadget's Go Coaster. Chloe brought us a bag for any cupcakes taken to-go and anything else we wanted to keep from our activities. Lastly, our party was given a red Mickey balloon which my friend happily attached to their stroller, so they could spot it easier!
Once outside, our party was led to the exit of Gadget's Go Coaster, where we were able to board the attraction without waiting in line!
My Thoughts
I had a great time at Celebrate! In Mickey's Toontown. This is definitely an experience geared towards young children, and the kids in our group loved it. However, if you have a group of Disney-loving adults who are willing to embrace their silly side, it can be a lot of fun!
While it's a shame we can't hug Mickey right now, it was neat to have a private meeting with him!
Our host Chloe really made our experience wonderful. She was friendly, warm, and patient.
For a party of 10, I think the price of $350 is very reasonable.
I do not think this experience would be suitable for a solo traveler, or for a couple's date night. But if you are traveling with young kids or a large group of Disney Adults, I think you'll really enjoy it!
***
You can check availability and reserve your party time here: Celebrate! In Mickey's Toontown
Important details:
You must pay the full amount for the experience at the time of booking.
The experience is limited to 10 Guests total, including infants.
At least one person in the party must be an adult 18 years or older.
Guests with special dietary needs should discuss their requests upon arrival.
Strollers must be parked outside (unless needed for accessibility).
Guests who do not cancel their reservation at least 72 hours in advance will forfeit the full price.
There are no discounts for this experience.
Event will happen rain or shine.
All prices, experiences, information, and offerings are subject to change without notice.
The experience takes place indoors, and current Covid protocols will apply.
Check-in for the event 15 minutes prior to the start time in the area between Mickey and Minnie's houses. The whole party must be present at check-in. Late arrivals may not be accommodated.
Remember, Mickey's Toontown is closing in March 2022 for a full reimagining, so this would be a fun way to say "so long" to old Toontown before it gets spruced up!
Are you excited to party with Mickey?