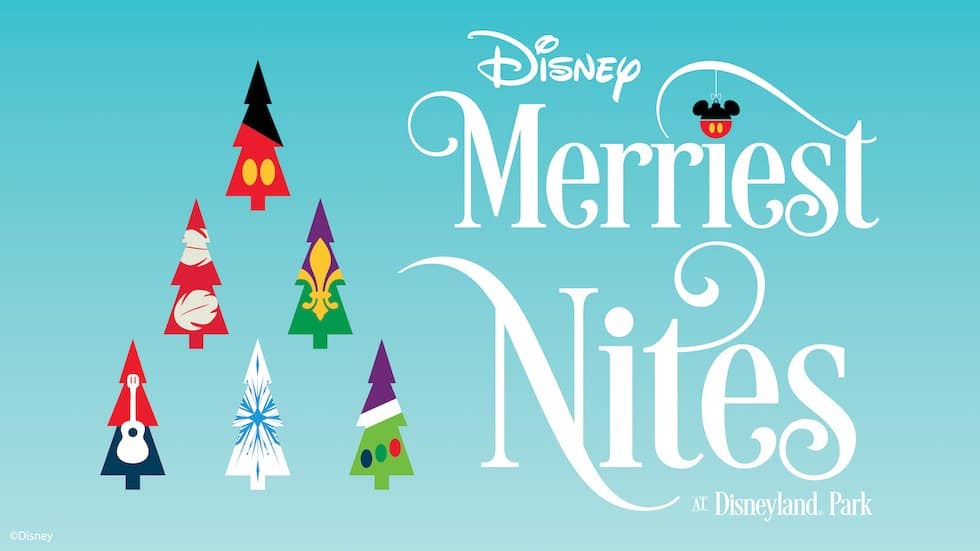 New in 2021, Disneyland Resort introduced their first after-hours holiday event called Merriest Nites. Being offered only five nights this year, many Disneyland fans believe this is a test to see how guests react to a paid holiday party inside Disneyland.
Since all five nights sold out within a few days, I'd say the experiment was a success.
So is Merriest Nites worth the money? Read on for my Merriest Nites holiday party review.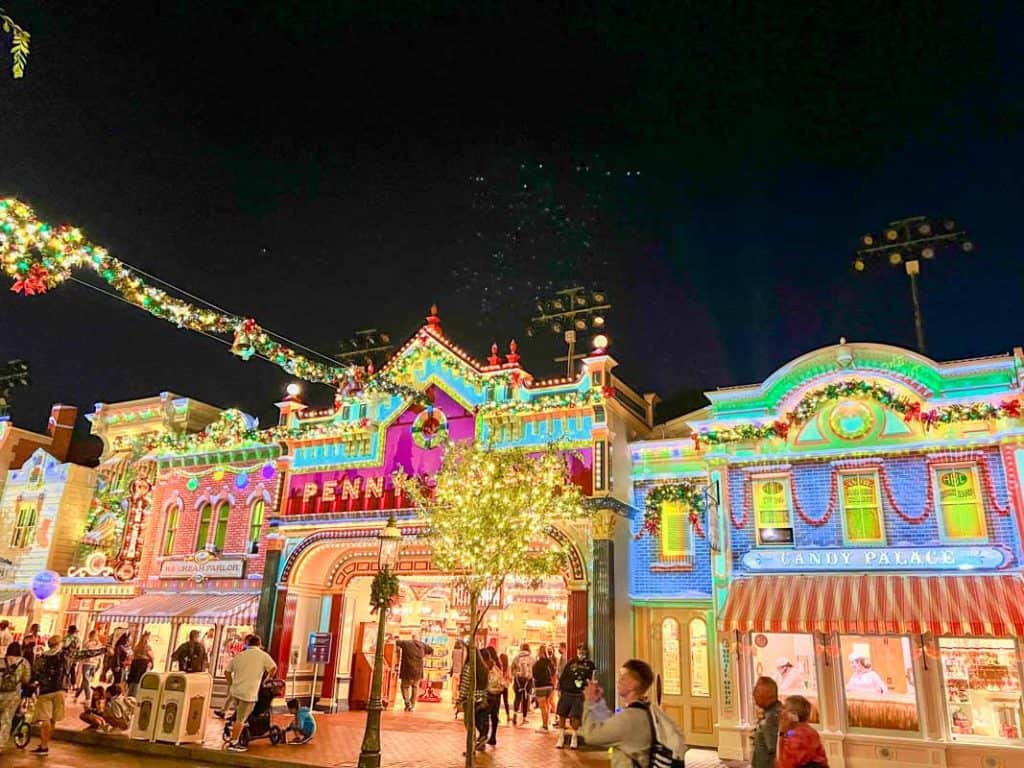 Merriest Nites After-Hours Event at Disneyland
What is it?
Merriest Nites is an after-hours holiday event taking place at Disneyland Park in California during November and December 2021. The exact party dates are November 11, 16, 30, December 7, and 9, 2021.
The party starts at 8pm and lasts four hours, with mix-in starting at 5pm, which equates to seven hours of access to Disneyland.
Once the Merriest Nites party starts, it includes rare character interactions, live music entertainment, a viewing of A Christmas Fantasy parade, photo opportunities, a dance party, access to select attractions, exclusive food and drinks, and complimentary PhotoPass downloads.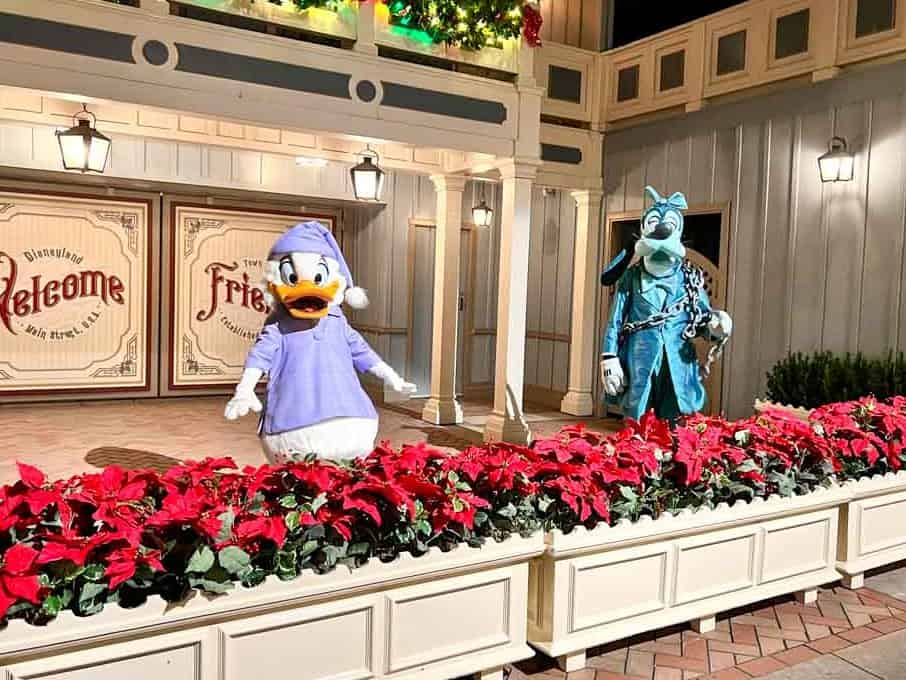 How Much Does it Cost?
In 2021 the November 11 party was $175 per person. The rest of the dates were $165 per person. There were no Magic Key discounts offered in 2021, and parking is not included.
What is there to Do at Merriest Nites?
Lots! And there's definitely too much to see and experience everything, so I recommend strategizing before the party start time and prioritizing your "must do's."
Rare Characters
Here's a list of characters who made appearances at Merriest Nites in 2021:
Mickey's Christmas Carol (Mickey Mouse as Bob Cratchit, Minnie Mouse as Emily Cratchit, Scrooge McDuck, and Goofy as Jacob Marley) – Main Street, U.S.A. across from Mad Hatter
Santa Claus – Fantasyland at Fantasy Faire
Fantasia's Frozen Fairy Wings – Fantasyland
Belle & Beast in holiday attire – Fantasyland on the backside of Sleeping Beauty Castle
Frozen (Elsa, Oken, Wandering Oaken, and Duke of Weselton) – Fantasyland near it's a small world
Donald's Snow Fight – Fantasyland at Fantasyland Theater
Pluto's Christmas Tree – Fantasyland near Pixie Hallow
Princess Tiana – New Orleans Square (on the balcony above Royal Street Veranda)
Santa Jack and Sally – Near Orleans Square (on the Haunted Mansion balcony)
Buzz Lightyear – Tomorrowland (second level of Star Wars Launch Bay building)
Lilo and Stitch – Adventureland (outside of Enchanted Tiki Room near Tropical Hideaway)
Miguel – Frontierland near Big Thunder Mountain Railroad
Muppets Caroling Coach
The whole reason I bought a ticket for Merriest Nites was to see The Muppets caroling on Main Street USA and this is NOT disappoint. It was the best part of the whole night.
Some of our favorite Muppets – Kermit, Miss Piggy, Fozzie, Gonzo, Pepe, Sam the Eagle, and Gonzo's Chickens – ride the Main Street Omnibus starting in Town Square, traveling up Main Street, then doing a loop around the Partners Statue hub, before coming to a stop in the middle of the street right in front of the statue. If this sounds a little confusing, it's not you … it's tough to describe, so take a look at my video or ask a Cast Member for the best spot to stand when you're there.
Once stopped, The Muppets sing a few carols before doing another loop and making their way down Main Street USA again.
The show is four times a night; check your map guide for exact times. This is a MUST WATCH.
A Christmas Fantasy Parade
This holiday parade has been a mainstay of Disneyland for years. There are no new additions to the parade, and the same parade runs during regular operating hours at Disneyland. My advice would be to skip the parade and watch it on another day, unless Merriest Nites is your only visit to Disneyland during the holidays.
The parade will start in Town Square on Main Street USA and make its way past the Matterhorn to it's a small world. Check your program for the start time and exact parade route.
Tomorrowland Dance Party
Buzz Lightyear joins a live DJ for a techno dance party outside of STAR WARS Launch Bay. This is such a good idea in theory, but the amount of guests dancing was very sparse. I think it's tough to get people hyped to stop and dance when there's so much to see and do during the 4 hour party.
Live Music
I spotted several small bands and groups of performers all around the park during Merriest Nites! Just a few:
Handbell carolers on Main Street USA train station
Jazz Band on the deck of the Mark Twain
Mariachi Band on the balcony of Golden Horseshoe
Brass Band near Casey Jr in Fantasyland
A Hawaiian duo (perhaps the same gentlemen who used to perform at Trader Sam"s?) on the second level of Jungle Cruise queue
Food & Drinks
Ahh … here's where things took a turn for me. I was excited to try the holiday sandwich from Jolly Holiday, and not only did it take two hours to prepare (they were having a rough time with their system; not Cast Members' fault), but once I received my sandwich it was cold and did not look appetizing. A huge let down!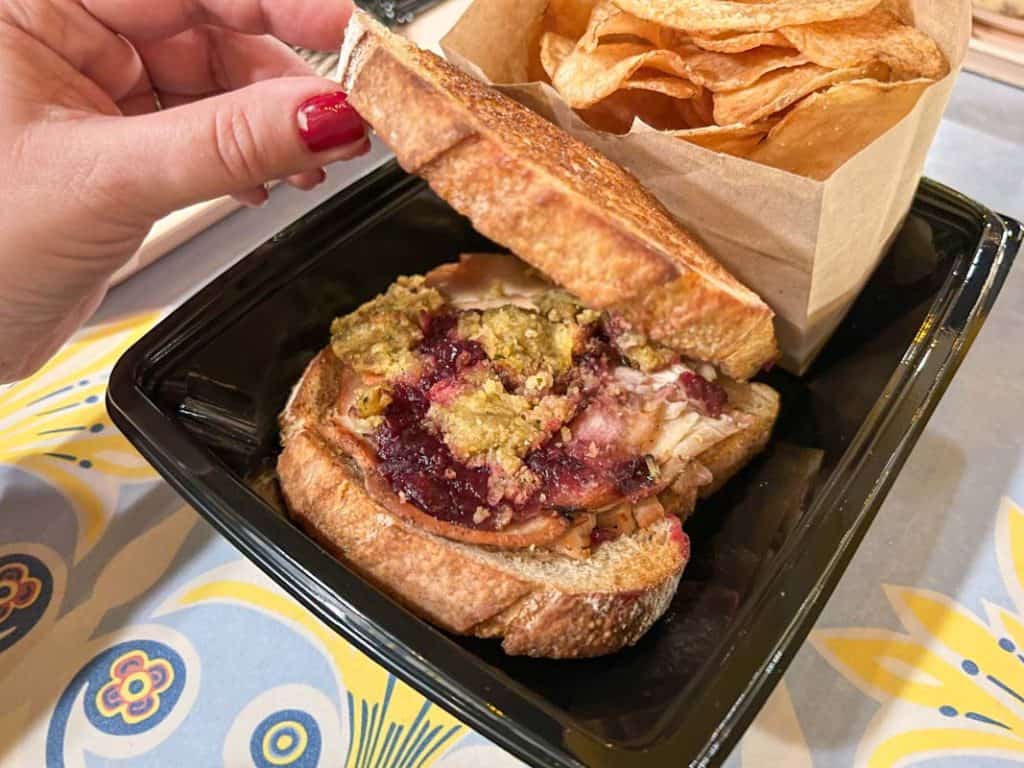 I also ordered the sipping chocolate with waffle dippers (a party exclusive food – it was just okay) and the Maple Walnut Cheesecake which was waaaaaay too sweet for me.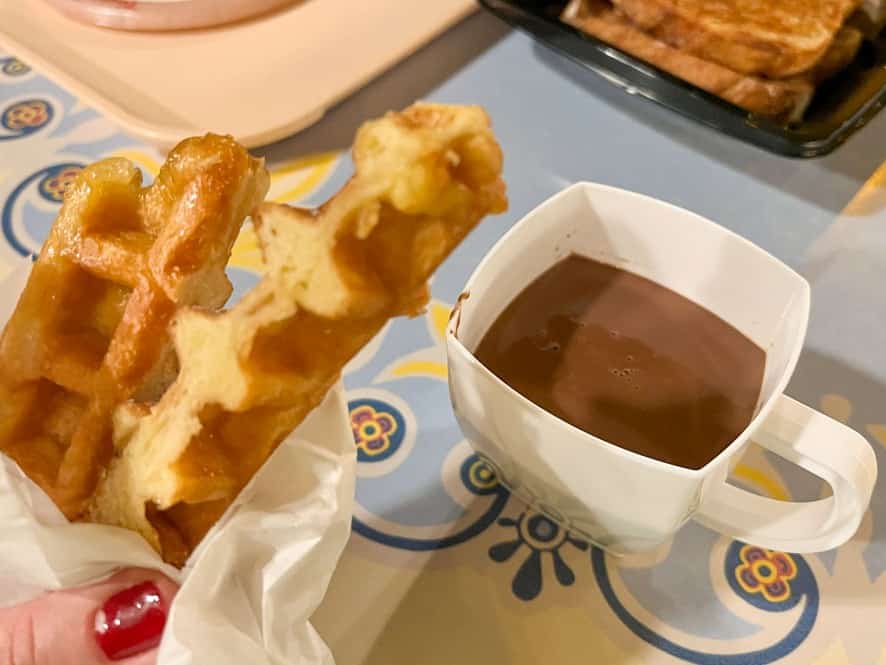 I also had a bite of the Holiday Grey Stuff which I liked, but was very dense. Definitely a dessert to share.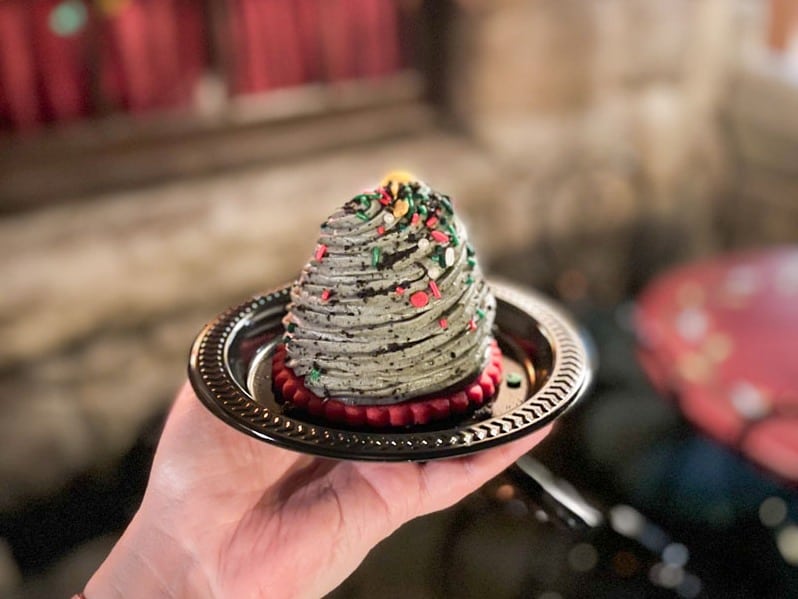 Ultimately the best thing I ate was my favorite chicken skewers and rice dish from Bengal Barbeque, which I ordered and picked up very quickly when I realized my Jolly Holiday order was not going to be available anytime soon.
PhotoPass Opportunities
Remember, PhotoPass downloads are free with your Merriest Nites ticket so take advantage!
Aside from socially distanced photos with characters, there are also six backdrops themed to each land. They artwork was created by different artists and there are signs next to each backdrop with the artist's info.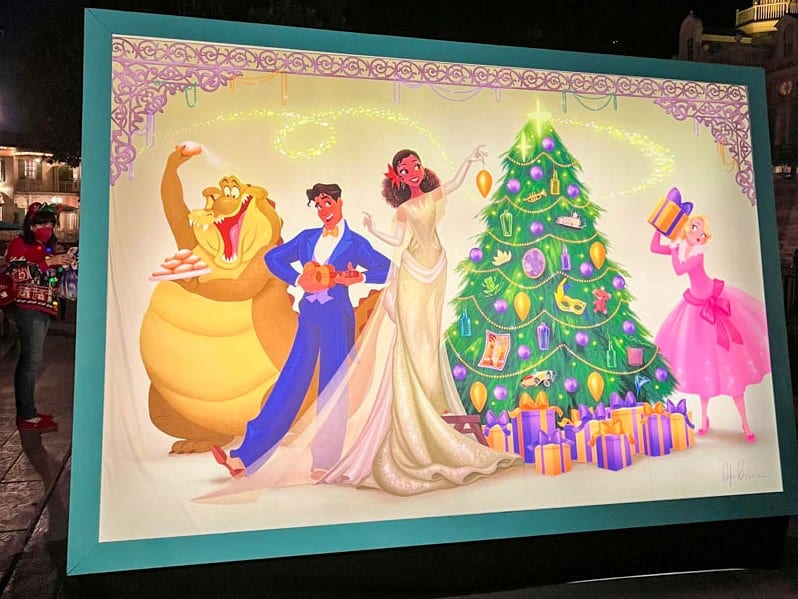 The only problem with these backdrops is that they are lit up, from the inside, which means you are backlit in the photo. Great concept in theory, and PhotoPass photographers did their best with what they were given.
Attractions
Several attractions are operating during Merriest Nites, with very short waits. As you can imagine, attractions like Haunted Mansion Holiday will have the longest waits, but the wait will still be shorter than an average Disneyland day.
Main Street USA Projection Mapping
Not an "official attraction" for Merriest Nites, but I simply loved the unique projection mapping done on the facades on Main Street USA. It was so fun to watch. So, I'm making a special mention of it!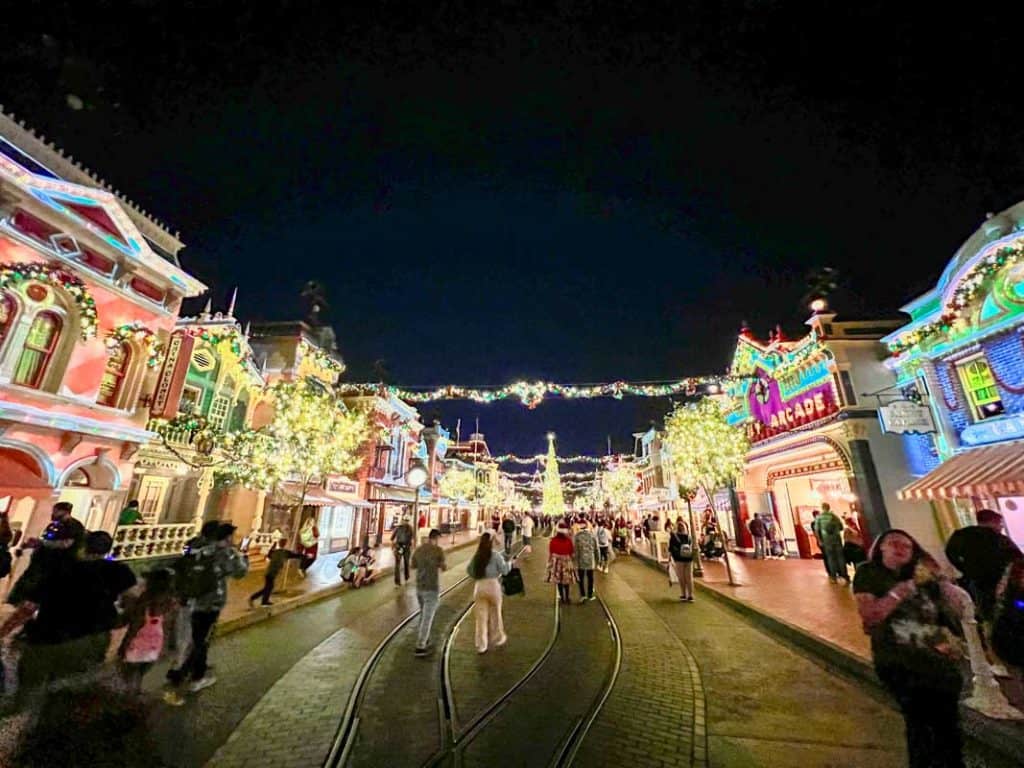 What is the Best Strategy for Merriest Nites?
My recommended strategy is going to depend on your Disneyland visiting frequency.
If this is going to be your only visit to Disneyland during the holidays, then I certainly recommend watching A Christmas Fantasy Parade, riding Haunted Mansion Holiday (and any other attractions you love), get a photo with Santa, and trying some of the holiday snacks.
If you're a Disneyland regular, you'll certainly want to pay special attention to the party exclusives – rare characters, The Muppets Caroling Coach, and free PhotoPass. The parade, snow on Main Street, Santa, and holiday snacks are available during Disneyland's regular operating hours.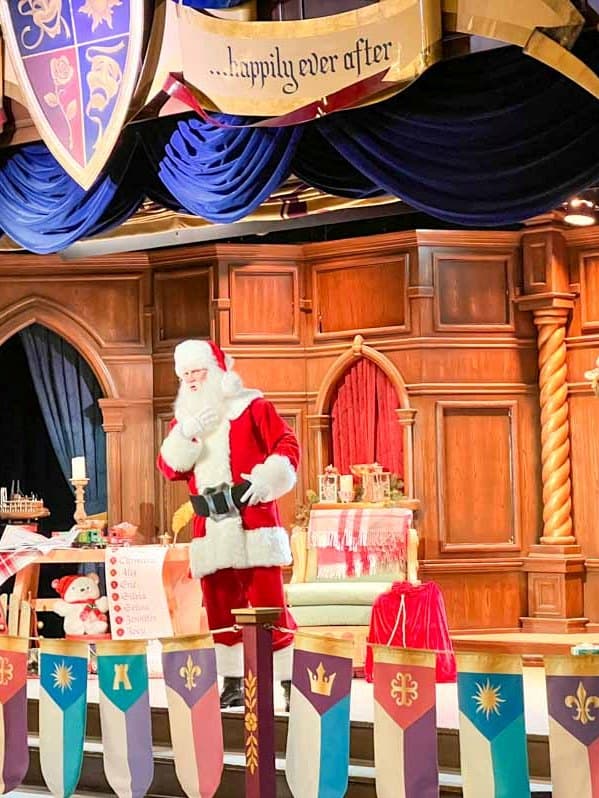 For everyone, I recommend the following:
Enter Disneyland at 5pm or at least before 8pm. Lines on Main Street look long but move fast.
If you are inside Disneyland before 5pm due to a separate reservation, exit and enter through the Merriest Nites lines at the front gate. Guests can get their Merriest Nites wristband at Launch Bay but the lines are long and move slow. I waited 45 minutes for mine, while friends at the front gate got inside much quicker.
Study the guide map prior to 8pm, and plan a strategy for the evening. Get your priorities done first!
If the exclusive foods don't interest you, eat dinner before 8pm so you're not wasting precious party time on eating.
Multi task when possible. If you're waiting for the parade or in a long character queue, grab a snack or drink beforehand.
Take advantage of the free PhotoPass to get some nice photos; perhaps even a photo for your holiday card!
Is Merriest Nites Worth the Price?
At $165 per ticket, Merriest Nites certainly seems like a splurge. But break it down into the 7 hours of park time you get, that's $24 per hour. Still much more expensive (per hour) than a regular Disneyland day ticket, but are the above exclusive experiences worth that value to you? For me, it was. However, my priorities were seeing The Muppets and other rare characters, and I knew this when I purchased my ticket.
A lot of my peers who also visited on the first night compared Merriest Nites to the very popular Oogie Boogie Bash, which was less expensive and longer than Merriest Nites, and felt the value wasn't there for them.
I think Merriest Nites has potential and this was a good first year, but will ultimately need to offer more exclusive experiences for seasoned Disneyland regulars to keep them coming back year after year.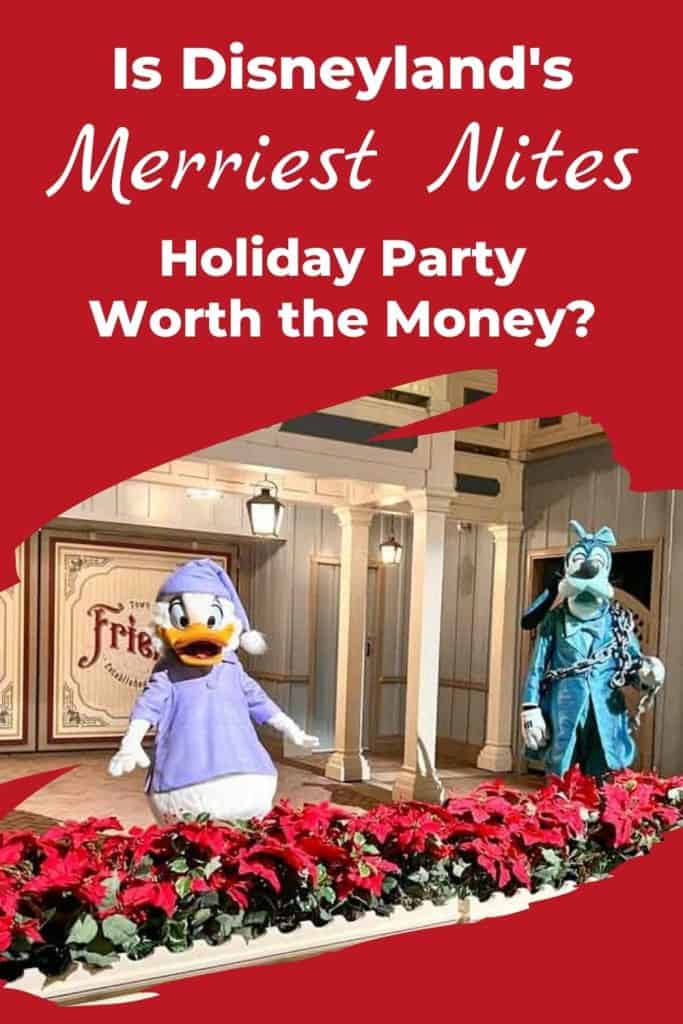 Related Articles:
Celebrating Christmas at The Disneyland Resort Hotels and Downtown Disney
Guide to Visiting Disneyland Resort
Guide to Festival of Holidays 2021 at The Disneyland Resort
Disneyland Hotel Review – Disneyland Resort in Anaheim, California