This page provides updated information about the Disneyland Resort's response to the COVID-19 global pandemic, including reopening updates.
This page provides updates about The Disneyland Resort in Anaheim, CA only.
Newest Disneyland updates are at the top.
March 31, 2022 – Disney Parks have announced non-distanced character interactions will return starting April 18, 2022.
If you have been to Disneyland lately, you may have noticed characters are "socially distanced" from Guests, but all that will change starting Monday April 18! Guests will once again be able to high five, hug, or just stand next to our favorite characters.
The language Disney Parks used of "starting April 18" means non-distanced characters may be phased in slowly.
February 15, 2022 – Disneyland announced they are dropping their indoor mask mandate for vaccinated guests effective February 17, 2022. Here is the verbiage from the Disneyland website:
"Beginning February 17, 2022, face coverings are required for unvaccinated Guests (ages 2 and older) in all indoor locations, including throughout indoor attractions and indoor queues. Face coverings are required for all Guests, regardless of vaccination status, in certain indoor settings including Disney shuttles and in health settings, such as in First Aid. Face coverings are optional for Guests in outdoor areas."
Proof of vaccination is not required.
December 22, 2021 – Room service has returned to Disney's Grand Californian Hotel and Spa. Starting today, Guests of the hotel were offered a paper menu featuring a small selection of breakfast and dinner items, as well as cocktails, beer, and wine. Breakfast is available from 6am to 11am, and dinner available from 5pm to 12 midnight. (Source: DAPS Magic)
October 25, 2021 – Disneyland Resort has raised the prices for some tickets, as well as parking costs. Visit my Guide to Visiting Disneyland for more info.
August 4, 2021 – Disneyland Resort has announced the return of additional dining experiences:
Trader Sam's Tiki Bar (lunch hours) beginning August 15. Reservations open on August 11.
Carnation Cafe beginning September 16. Reservations TBA.
Disney Princess Breakfast Adventures at Napa Rose beginning August 26. Reservations open on August 11.
Goofy's Kitchen (no characters) beginning August 18. Reservations open on August 11.
August 3, 2021 – Disneyland's annual passes are returning via the Disneyland Magic Key program! Click here to read all about Disneyland's Magic Key passes.
July 30, 2021 – The Walt Disney Company (TWDC) is requiring all salary and non-union hourly employees to be vaccinated. Employees will have 60 days to prove vaccination, and new hires will have to submit proof of vaccination.
Official statement:
At The Walt Disney Company, the safety and well-being of our employees during the pandemic has been and continues to be a top priority. Toward that end, and based on the latest recommendations of scientists, health officials and our own medical professionals that the COVID-19 vaccine provides the best protection against severe infection, we are requiring that all salaried and non-union hourly employees in the U.S. working at any of our sites be fully vaccinated.
Employees who aren't already vaccinated and are working on-site will have 60 days from today to complete their protocols and any employees still working from home will need to provide verification of vaccination prior to their return, with certain limited exceptions.
We have also begun conversations around this topic with the unions representing our employees under collective bargaining agreements. In addition, all new hires will be required to be fully vaccinated before beginning employment. Vaccines are the best tool we all have to help control this global pandemic and protect our employees.
July 28, 2021 – Both Disneyland and Walt Disney World have updated their mask guidance. Effective July 30, 2021, all guests and Cast Members must wear face masks indoors regardless of vaccination status.
Official statement from Disney:
We are adapting our health and safety guidelines based on guidance from health and government officials, and will require Cast Members and Guests ages 2 and up, to wear face coverings in all indoor locations at Walt Disney World Resort and Disneyland Resort beginning Friday, July 30, regardless of vaccination status. At Walt Disney World Resort, this includes upon entering and throughout all attractions and in enclosed transportation vehicles, including shuttles, buses, monorails and at Disney Skyliner.
Source: Laughing Place
July 15, 2021 – Character dining is returning to Disneyland! Storytellers Cafe will have character brunch starting July 22, and Plaza Inn returns with Minnie and Friends breakfast on August 12. Booking opens for Minnie & Friends August 11.
Carthay Circle Restaurant (upstairs) is reopening on July 22. Golden Horseshoe is also reopening on July 29 (but no shows).
July 8, 2021 – Not necessarily a COVID related announcement, but Disneyland is bringing back Halloweentime and the special ticketed event Oogie Boogie Bash for 2021.
Check the Disney Parks Blog for more details.
June 28, 2021 – Disneyland has announced some additional dining locations that will reopen in July:
Disneyland Park
Harbour Galley (opening July 1; mobile order available)
Hungry Bear Restaurant (opening July 1; mobile order available)
Refreshment Corner (opening July 8; mobile order available)
Kat Saka's Kettle (opening July 15)
Disney California Adventure Park
Lucky Fortune Cookery (opening July 1; mobile order available)
Corn Dog Castle (opening July 1; mobile order available)
Schmoozies! (opening July 1; mobile order available)
Clarabelle's Hand-Scooped Ice Cream (opening July 8; mobile order available)
See the full list of open Disneyland dining locations on the Disney Parks Blog.
June 16, 2021 – Additional Disneyland dining locations are joining the reopening list:
Maurice's Treats (opening June 24)
Edelweiss Snacks (opening June 24; mobile order available)
Mendocino Terrace (opening June 17)
Lamplight Lounge – Boardwalk Dining (opening June 24)
Jack-Jack Cookie Num Nums (opening June 24)
Cozy Cone Motel – Popcone (opening June 24; mobile order available)
June 15, 2021 – Fireworks are returning to the skies over Disneyland on July 4, 2021. Mickey's Mix Magic will play nightly during the summer (weather permitting).
June 14, 2021 – Lots of updates today:
MASKS
Disneyland has announced effective tomorrow, June 15, face masks are no longer required to be worn by vaccinated guests. Proof of vaccination is not required, but guests will be asked to "self attest."
Guests ages 2 and up who are not vaccinated are still required to wear masks while indoors unless actively eating or drinking.
When the Toy Story parking lot reopens on June 18, all guests – regardless of vaccination status – will be required to wear face masks while on the bus to and from the Resort.
SOCIAL DISTANCING
Disneyland says "The state has removed the physical distancing requirements with respect to Guests, so we will allow Guests to self-determine distancing." Disneyland is starting to remove social distancing markers and signage effective today.
TEMPERATURE CHECKS
Effective June 15, Guests will no longer have their temperature checked prior to entering the Resort area.
Source: Disneyland website
June 8, 2021 – More Disneyland Resort dining locations are returning soon!
Oga's Cantina – Opening June 17
Wine Country Trattoria – Opening June 17
Tiki Juice Bar (mobile order available) – Opening June 17
Docking Bay 7 Food & Cargo (mobile order available) – Opening June 17
Alien Pizza Planet (mobile order available) – Opening June 17
Rancho del Zocalo Restaurante – Opening June 17
Lamplight Lounge Brunch – Returns July 9 (Friday, Saturday, Sunday Brunch only)
Book your reservations for Oga's Cantina, Wine Country Trattoria, and Lamplight Lounge Brunch starting June 14.
May 26, 2021 – Disneyland Resort announced out-of-state guests can once again visit the Disneyland theme parks starting on June 15, 2021. Remember, June 15 is California's target date for lifting all COVID restrictions. Guests are "strongly recommended" to be vaccinated or obtain a negative COVID-19 test before entering the theme parks, but it is not required. Theme park reservations will still be required for the time being.
Disneyland also specifically stated face masks will be required for all guests on property except when eating or drinking. There was no specific announcement about capacity limits or social distancing.
Also, guests can now make theme park reservations up to 120 days in advance. (Previously it was 60 days.)
We are also still waiting on an announcement about a replacement for the Annual Pass program.
Source: Disney Parks Blog
May 20, 2021 – Disneyland Resort has announced the Disneyland Hotel will reopen on July 2, 2021. Reservations are available now.
Trader Sam's and Tangaroa Terrace will be opening with the hotel on July 2. Tangaroa Terrace will offer mobile order. There is no mention of when Steakhouse 55 will reopen.
May 18, 2021 – Orange County will be moving into the YELLOW tier effective May 19, 2021. This means Disneyland has the ability to move up to 35% capacity if they choose.
May 6, 2021 – A bunch of updates out of The Disneyland Resort today!
– Paradise Pier Hotel will reopen with limited capacity on June 15, 2021. Guests can start making reservations today! Dining/restaurants at the hotel will not be available when it reopens.
– Napa Rose and Storyteller's Cafe at Disney's Grand Californian Hotel will reopen on May 28, 2021. The restaurants will be available to non-guests!
– Both restaurants will have a limited menu and no character dining at this time. No specifics on if the Napa Rose Lounge will be open.
– Select Downtown Disney restaurants will be offering delivery to guests staying at the Disneyland Resort hotels. Guests can order via their in-room television and the food will be delivered to the lobby.
– The direct entrance into Disney California Adventure from Disney's Grand Californian Hotel will reopen on May 28, 2021 to Disneyland Resort hotel guests only.
– Alfresco Tasting Terrace at Disney California Adventure will reopen on May 20, 2021 for Legacy Annual Passholders only!
Source: Disney Parks Blog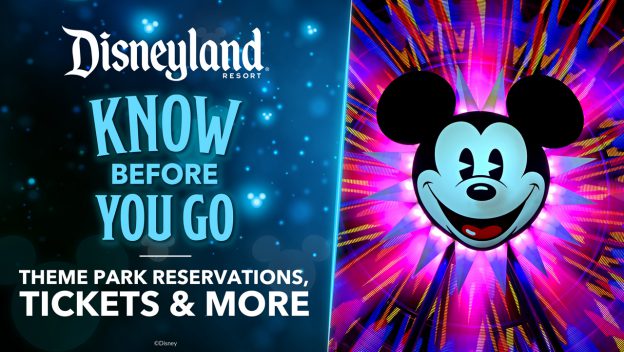 April 6, 2021 – Disneyland has announced new details about purchasing tickets and making reservations for their reopening on April 30, 2021.
Theme Park Reservations: To enter the Disneyland park or Disney California Adventure park, both a theme park reservation and a valid admission ticket for the same park on the same date are required for guests ages 3 and up.
The theme park reservation system will launch on April 12 for guests with existing valid theme park tickets.
Theme park ticket sales will resume on April 15. Guests without existing valid tickets may purchase their tickets and also make park reservations on this date.
Key dates to remember:
April 9: If you currently hold a theme park ticket, you can check available days for your 1-day ticket type beginning April 9 on Disneyland's availability calendar.
April 12: The theme park reservation system will open no earlier than 8 a.m. PT on April 12 and guests who already have valid theme park tickets may begin making park reservations.
April 15: Theme park ticket sales will resume no earlier than 8 a.m. PT on April 15, and guests without park tickets may begin purchasing tickets and making park reservations. Reservations for Disney's Grand Californian Hotel will also open on this date.
April 22: Dining reservations will open.
Additional info:
– Staying at Disney's Grand Californian Hotel does not guarantee a theme park reservation.
– Guests with park hopper tickets may choose which park to begin their day. Park hopping will be available after 1pm.
– Park hours will be 9am to 7pm for both parks.
– Parking will be available at Mickey and Friends, and Pixar Pals structures. There is no mention of Toy Story lot.
According to the OC Register, the following attractions will be operating on opening day (subject to change):
Disneyland Park:
Alice in Wonderland
Astro Orbitor
Autopia
Big Thunder Mountain Railroad
Casey Jr. Circus Train
Disneyland Railroad
Dumbo the Flying Elephant
Gadget's Go Coaster
Haunted Mansion
Indiana Jones Adventure
It's a Small World
King Arthur Carrousel
Mad Tea Party
Main Street Vehicles
Mark Twain Riverboat
Millennium Falcon: Smugglers Run
Mr. Toad's Wild Ride
Peter Pan's Flight
Pinocchio's Daring Journey
Pirates of the Caribbean
Roger Rabbit's Car Toon Spin
Snow White's Enchanted Wish
Space Mountain
Splash Mountain
Star Tours — The Adventures Continue
Star Wars: Rise of the Resistance
Tarzan's Treehouse
The Many Adventures of Winnie the Pooh
Walt Disney's Enchanted Tiki Room
Surprise character sightings
Disney California Adventure:
Games of Pixar Pier
Goofy's Sky School
Guardians of the Galaxy — Mission: Breakout
Incredicoaster
Inside Out Emotional Whirlwind
Jessie's Critter Carousel
Jumpin' Jellyfish
Luigi's Rollickin' Roadsters
Mater's Junkyard Jamboree
Mickey's PhilharMagic
Monsters, Inc. Mike & Sulley to the Rescue!
Pixar Pal-A-Round
Radiator Springs Racers
Silly Symphony Swings
Soarin' Around the World
The Little Mermaid — Ariel's Undersea Adventure
Toy Story Midway ManiaTurtle Talk with Crush
Attractions not on the list:
Disneyland Park:
Buzz Lightyear Astro Blasters
Chip n Dale Treehouse
Davy Crockett's Explorer Canoes
Great Moments with Mr. Lincoln
Finding Nemo Submarine Voyage
Goofy's Playhouse
Jungle Cruise (under refurbishment/reimagining)
Matterhorn Bobsleds
Mickey's House and Meet Mickey
Pirate's Lair on Tom Sawyer's Island
Sailing Ship Columbia
Sleeping Beauty Castle Walkthrough
Star Wars: Path of the Jedi
Storybook Land Canal Boats
Disney California Adventure:
Animation Academy
Anna & Elsa's Royal Welcome
Disney Junior Dance Party
Golden Zephyr
Grizzly River Run
Red Car Trolley
Redwood Creek Challenge Trail
Turtle Talk with Crush
One item that has not been announced yet is ticket prices. Also no information about any perks for Legacy Annual Passholders. I will update further as new information is announced.
March 30, 2021 – Orange County, where Disneyland is located, is moving into the orange tier effective tomorrow, March 31, 2021. If Orange County can remain in the orange tier through April 30, Disneyland parks can reopen at 25% capacity. For reference, Orange County was previously in the red tier, which meant only 15% capacity.
It is possible COVID numbers could continue to decrease, moving Orange County into the yellow tier before April 30. If that happens, capacity can be raised to 35%.
As a reminder, the California reopening tiers are:
Purple (most restrictive)
Red
Orange
Yellow (least restrictive)
As of right now, there are no tiers beyond yellow. So presumably, we would go from the yellow tier back to "normal" once the California government deems it safe enough to do so.
I'll share more whenever it is announced!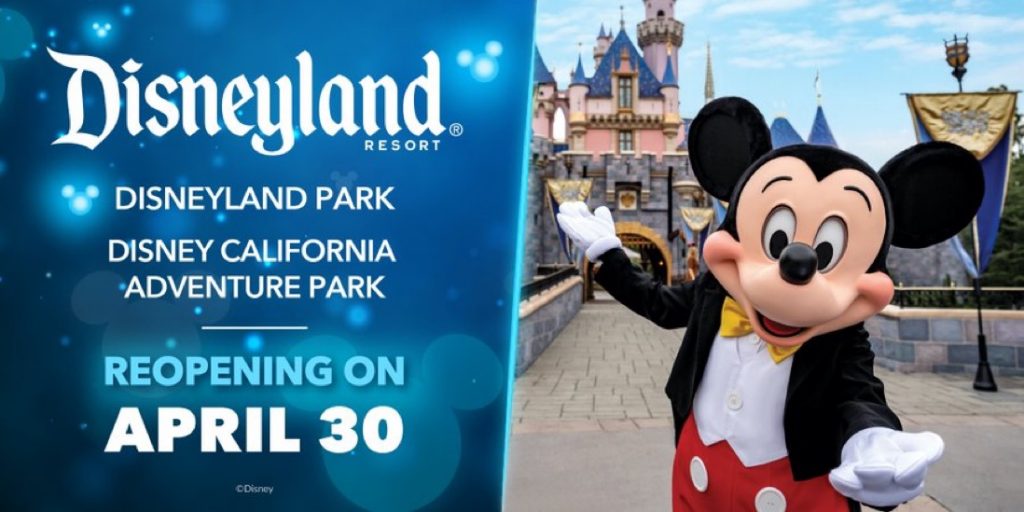 March 17, 2021 – Disneyland has announced a planned reopening date of April 30, 2021. You can read details on the Disney Parks Blog.
A few items of note for reopening:
Capacity will be limited to 15% (per California guidelines)
Only CA residents (per California guidelines)
A new reservation system will be implemented
Disney's Grand Californian Hotel will reopen with limited capacity on April 29
No parades or nighttime shows
Physical distancing still enforced, so no character meet and greets
The reimagined Snow White's Enchanted Wish will be open
Avengers Campus will reopen later in the year
FASTPASS, Disney MaxPass, Magic Morning and Extra Magic Hour will not be available
What we don't know:
Will masks be required? Very likely yes, but the Disney Parks Blog article does not mention them
Reopening dates for Disneyland Hotel and Disney's Paradise Pier Hotel
Which attractions will be operating
Which dining locations will be operating
Ticket options and cost, and when they go on sale
No announcement yet for new annual pass options
I'll share more when it's annouced!
***
March 9, 2021 – During a shareholders call/meeting earlier today, Walt Disney Company CEO Bob Chapek announced the intention to reopen Disneyland in "late April." He also said they will be recalling more than 10,000 Cast Members for that initial phased reopening. This is about half of the Cast Members that were furloughed nearly a year ago.
It was also mentioned that Avengers Campus would NOT be included in the phased reopening and would instead open sometime later in 2021.
An opening date will be announced in the coming weeks.
March 5, 2021 – Updated California reopening guidelines indicate Disneyland and other California theme parks could reopen as early as April 1. The guidelines for amusement parks are now as follows:
counties in the red tier: limited to 15% capacity
counties in the orange tier: limited to 25% capacity
counties in the yellow tier: limited to 35% capacity
no indoor dining
limits on indoor rides
Right now Orange County is in the most restrictive Purple tier, with the order being Purple, Red, Orange, then Yellow.
Previous guidelines indicated theme parks could not reopen until the county reached the Yellow tier, so this is unexpected and welcome news for the theme park industry.
Disneyland's president Ken Potrock released a statement saying they were looking forward to sharing an opening date soon.
This is breaking news and more info will be released soon.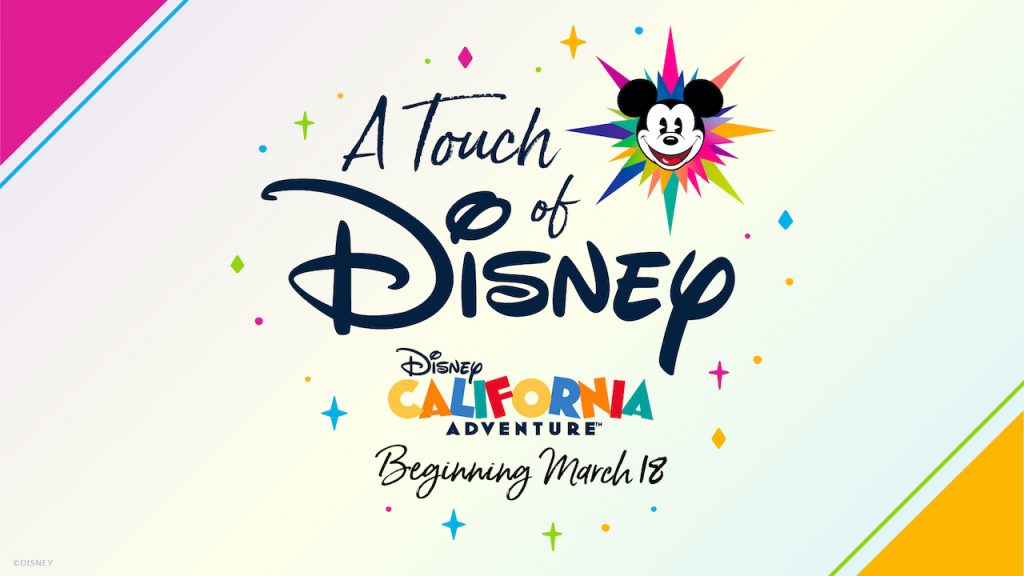 February 24, 2021 – Disneyland has announced more details about their limited-time ticketed event. "A Touch of Disney" will open March 18, 2021 at Disney California Adventure. Here are some basic details:
– Starts March 18
– Open Thurs through Mon from noon to 8pm
– Tickets are $75 and date specific
– Ticket includes parking at Mickey and Friends, unlimited PhotoPass downloads, and a $25 gift card you can use on that day only.
– Online reservations open March 4. Dining reservations for Carthay Circle Lounge and Lamplight Lounge open on March 11.
For more details, please visit the Disney Parks Blog.
February 23, 2021 – Disney announced they are reopening Disney's Grand Californian Hotel for DVC members on May 2, 2021. At this time the hotel grounds will not be open to the public, and only available to DVC guests with a current reservation for the hotel. More details to come!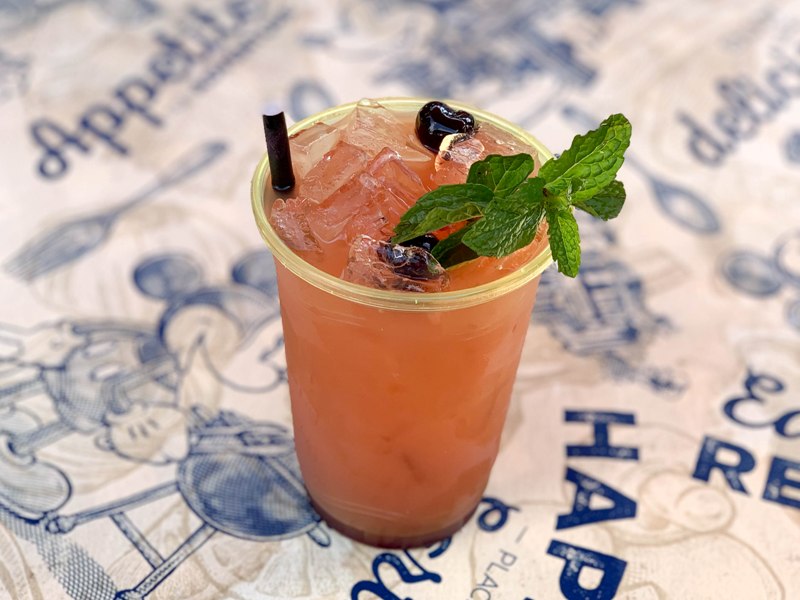 February 8, 2021 – Amongst celebration posts for Disney California Adventure's 20th anniversary today, The Disneyland Resort has announced DCA will reopen for a "limited-time ticketed event."
"Currently planned to begin mid-March, we will debut an all-new, limited-time ticketed experience, focused on our world-famous food and beverage offerings from around the resort, the latest merchandise and unique, [and] carefully crafted entertainment experiences," Disneyland president Ken Potrock said in a letter to cast members.
As reported in the OC Register, the event should bring around 700 cast members back to work. The event will include food offerings, merchandise, and some entertainment, although no parades, shows, or anything else that would attract a crowd. No attractions will be operational.
There is no word on if Disneyland will be offering credit for unused Food & Wine Festival tabs purchased in 2020. I expect more details will be announced about this event shortly.
Based on state re-opening guidelines, it is likely the theme parks will not re-open until late spring or summer.
February 5, 2021 – Outdoor dining has resumed at selection Downtown Disney restaurants, including Carthay Circle Lounge, Smokejumper's Grill, and Award Wieners on Buena Vista Street. Parking is still at Simba lot for a flat fee of $10. Reminder that outdoor dining does not mean you can dine with people outside your household.
January 14, 2021 – Are you sitting down for this one? The Disneyland Annual Passport program is ending.
Disneyland Resort President Ken Potrock made the announcement on their website. Part of the announcement is quoted below:
For nearly four decades, our Annual Passport program has been an important part of connecting with some of our most valued Guests. We are incredibly honored and grateful for that legacy, and the memories and magical moments you have helped us create over the years.
It's because you've played such an important part in the history of the Disneyland Resort that I personally wanted to share this news with you. In the next several days, we will begin the process of issuing appropriate refunds for eligible Disneyland Resort Annual Passports and sunsetting the current Annual Passport program due to the continued uncertainty of the pandemic and limitations and expected restrictions around the reopening of our theme parks.
The announcement goes on to state that new membership offerings are being developed:
I know that sunsetting the Annual Passport program will be disappointing to many of our Passholders who are just as anxious as we are to reopen our gates and welcome Guests back when the time is right. But we are also very excited about what's ahead. We plan to use this time while we remain closed to develop new membership offerings that will utilize consumer insights to deliver choice, flexibility and value for our biggest fans. Once we have more information to share about future membership offerings, our Passholders will be the first to hear from us as we embark on this next chapter.
Anyone who had an AP valid on March 14, 2020 may continue to receive some discounts at Downtown Disney until new offerings are announced. Furthermore, January 15 through February 25, 2021, passholders can receive a 30% discount on select Disney merchandise at select Downtown Disney locations, Monday through Thursday.
December 5, 2020 – Due to new stay-at-home restrictions for Southern California, all outdoor dining at the Downtown Disney District, including Buena Vista Street, will close effective Monday, December 7, 2020. This includes Disney-operated food carts. Some Downtown Disney dining locations may choose to offer carry-out menus, but food may not be consumed on property.
The following statement is from Disneyland's website:
While the Downtown Disney District has begun a phased reopening, beginning Dec. 7, restaurants and dining locations that do not offer take-out will close. At that time, Guests will not be permitted to open or consume any food or beverage items on property, and food and beverage items purchased at the Downtown Disney District must be taken to-go, for consumption off property only. Retail locations will remain open with enhanced health and safety measures in place.
Under the new restrictions, retail locations can operate with 20% capacity (currently 25%).
The restrictions will be in place for at least 3 weeks to help reduce the capacity of hospital ICUs.
Mask up, wash your hands, and stay home as much as possible.
December 4, 2020 – Disneyland is postponing the reopening of the Villas at Disney's Grand Californian Hotel and Spa, which were originally planned to reopen on December 6 for DVC members.
The decision comes after the California Government issued warnings of a new stay-at-home order for certain areas if the hospital ICU capacity reaches above 85%. Orange County in Southern California is dangerously close to these levels.
November 16, 2020 – Orange County, where Disneyland is located, has been moved back into the Purple tier. Purple is the most restrictive tier. This means indoor dining locations (which were operating at 25% capacity) must close. Only outdoor seating will be permitted at Downtown Disney and on Buena Vista Street when it opens on November 19.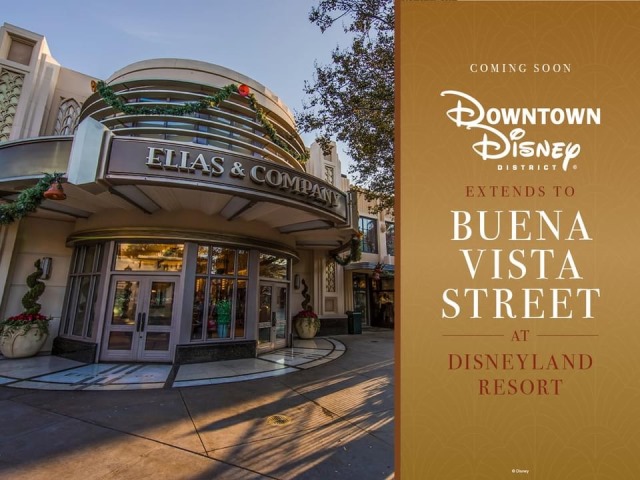 October 23, 2020 – The Disneyland Resort announced today they will be opening Buena Vista Street in Disney California Adventure for shopping and dining. This new offering will be considered part of Downtown Disney's operation. Disney California Adventure will NOT be open as a theme park. No attractions will be available.
Buena Vista Street will open on a yet-to-be-announced date in November 2020. Access will be through Downtown Disney, not the front gates.
Shopping and dining experiences will include:
– Elias & Co
– Julius Katz & Sons
– Kingswell Camera Shop
– Trolley Treats
– Fiddler, Fifer & Practical Cafe
– Carthay Circle Lounge (which will offer an expanded outdoor dining section and an all-new menu of cocktails and dining)
– Smokejumpers Grill (with a "streamlined" menu and mobile ordering only)
Popcorn and churro stands will also be operating.
Stage 17, part of Disney California Adventure that recently reopened as a shopping experience, will remain open with a separate entrance via the Esplanade.
I will share more information on this as it is released!
October 20, 2020 – Larger theme parks cannot open until Tier 4 (yellow) with limited capacity of 25%. All theme parks must implement a reservation system and screen guests for symptoms before entering. Face coverings will be mandatory unless eating or drinking.
Currently Orange County, where Disneyland is located, is in the "red" tier, with no sign of moving up to the orange tier anytime soon, as cases are rising in the area.
Source: California Public Health
October 9, 2020 – Orange County, where The Disneyland Resort is located, has moved into the "red" tier, which means restaurants can operate indoors at 25% capacity.
There are still no guidelines from the California government for reopening theme parks. It does not seem hopeful that the Disneyland Parks will reopen any time soon.
June 24, 2020 – The Disneyland Resort has postponed the re-opening of Disneyland Park, Disney California Adventure, and the Disneyland Resort Hotels. As of right now Downtown Disney will continue its phased re-opening on July 9, 2020.
The postponement is due to the California government not reviewing any theme park re-opening plans prior to July 3, which would make it impossible for Disneyland to move forward with it's planned July 17 reopening. A new planned re-opening date has not been announced.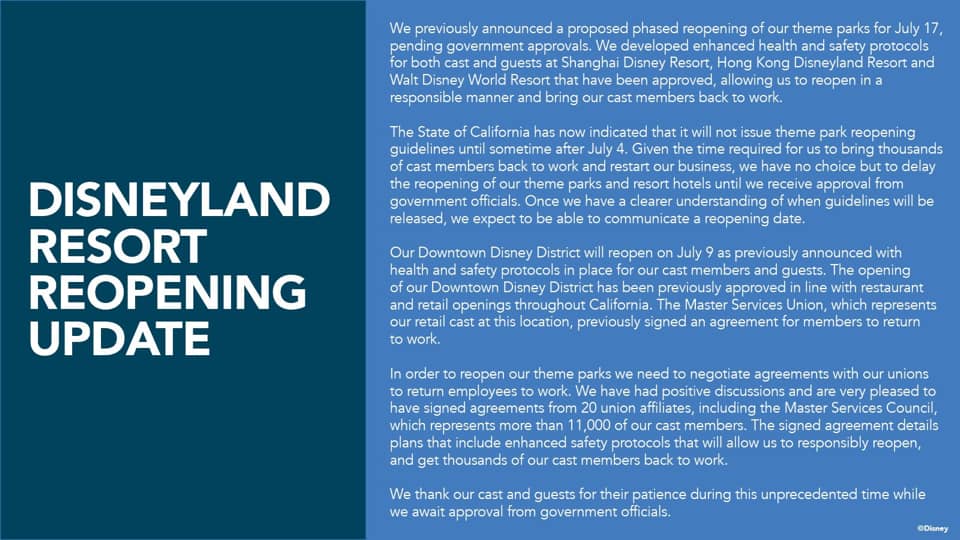 June 22, 2020 – The Disneyland Resort has released new guidelines for visiting Downtown Disney District when it reopens on July 9. New guidelines include:
– Face coverings required (guests must bring their own face masks)
– All guests will have their temperature screened. Guests with temperatures 100.4 or above will be denied entry, as well as those in their party.
– Social distancing and capacity limits will be enforced
– Parking will be in the Simba lot. Guests may enter from the west entrance, or via the esplanade from Harbor Blvd. Valet parking will not be available.
– Hand sanitizer and hand washing stations will be set up.
Disney has added the following disclaimer on their Downtown Disney District website: "An inherent risk of exposure to COVID-19 currently exists in any public place where people are present. COVID-19 is an extremely contagious disease that can lead to severe illness and death. According to the Centers for Disease Control and Prevention, senior citizens and Guests with underlying medical conditions are especially vulnerable.
By visiting the Disneyland Resort, you voluntarily assume all risks related to exposure to COVID-19."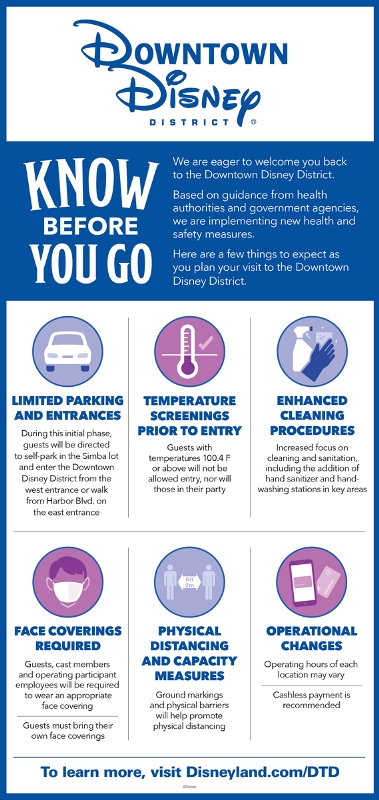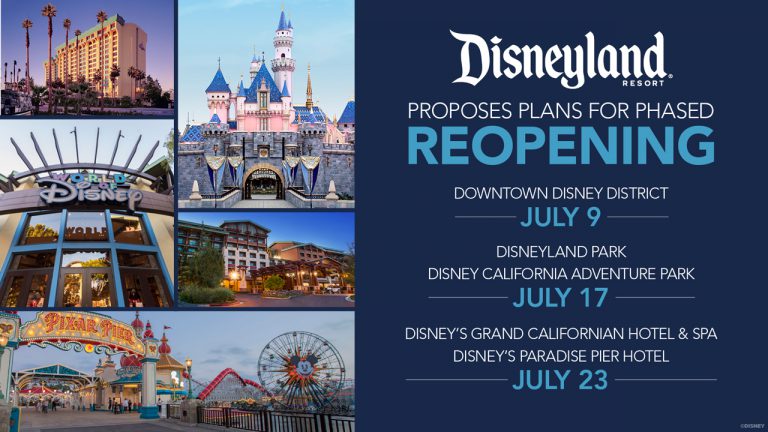 June 10, 2020 – The Disneyland Resort is proposing a phased re-opening on July 9 for Downtown Disney District, July 17 for Disneyland Park and Disney California Adventure, and July 23 for Disney's Grand Californian Hotel and Disney's Paradise Pier Hotel.
Additional info: Capacity will be limited so all guests will need a new theme park reservation, including APs.
Parades, nighttime shows, and character meet & greets will not be available.
World of Disney will be open on July 9 when Downtown Disney reopens. A full list of shops and restaurants is not available yet.
The Disneyland Hotel is not mentioned at all in the reopening plans.
May 23, 2020 – Today the California Governor approved Orange County's request to move into "Phase 2" of reopening, which includes in-person dining at restaurants and retail establishments, among other things. This means some locations at Downtown Disney or Disneyland Resort hotels could potentially open. Under the reopening guidance, establishments must perform a detailed risk assessment plan, train employees on how to limit virus spread, implement control measures and screenings for employees, establish disinfectant protocols, and implement social distancing for customers.
Disney has not made any comments on when any areas of The Disneyland Resort may reopen.
Based on Disney's guidelines for Disney Springs, which reopened last week, it is safe to predict face masks will be required once The Disneyland Resort opens.
May 8, 2020 – The Disneyland Resort is now taking reservations for travel dates July 1, 2020 and later. Previously they were taking reservations for June 1, 2020 or later.
If you currently have an arrival date before June 30, 2020, please call (714) 520-5050 for assistance.
March 12, 2020 – Disney announces the temporary closure of Disneyland Park and Disney California Adventure at the end of business on March 13, 2020. Disneyland Resort hotels close on March 16, 2020, and Downtown Disney stores closed March 17, 2020.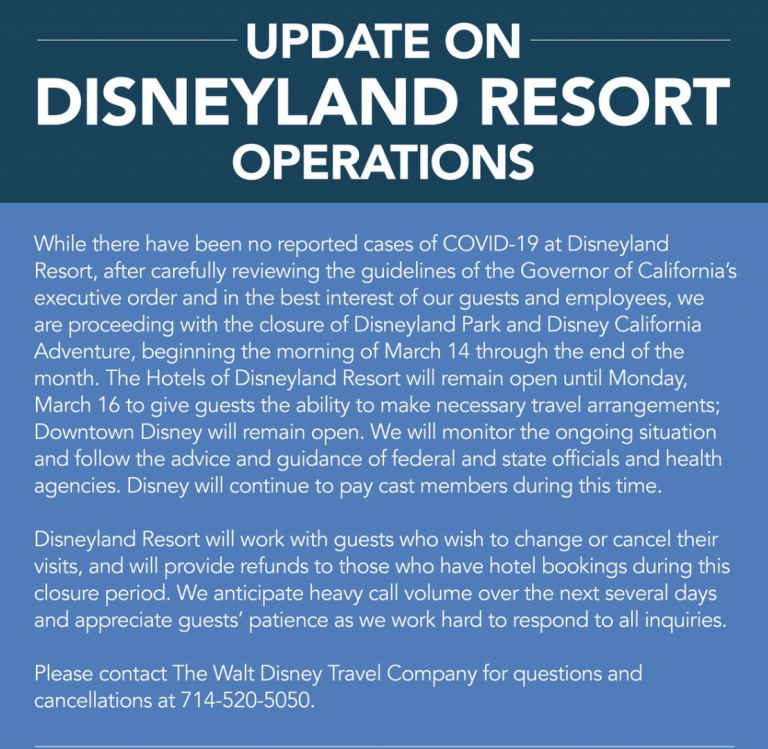 Frequently Asked Questions
➤When will The Disneyland Resort reopen? – At this point there is no information regarding when Disneyland will be open again. Keep checking this page for updates, or keep an eye on the Disney Parks Blog as all announcements will be shared there first.
➤When will other Disney Parks be opening? – Shanghai Disney Resort was the first resort to close, and is also the first to reopen. They began a phased reopening on March 9, 2020 (some shops and dining locations). Shanghai Disneyland reopened with new safety measures, including reduced capacity, on May 11, 2020.
Disney Springs, located at Walt Disney World, will begin phased reopening on May 20, 2020, with reduced capacity, temperature checks, and required face masks.
➤What can we expect when Disneyland opens again? – There have been no announcements regarding new safety measures but we can expect to see the same practices put into place at Disneyland that we are seeing at other Disney locations, including:
– Locations at Downtown Disney will likely open first
– Reduced guest capacity
– Temperature checks
– Required face masks
– Social distancing
– Increased hand-washing stations and hand sanitizer dispensers
– Cashless transactions recommended
– Mobile ordering
– Virtual queues
➤Will it be safe to visit The Disneyland Resort when it reopens? – There's no easy way to answer this question, obviously. Until there is an effective vaccine for COVID-19 and enough of the population gets the vaccine, there will always be a threat of the virus spreading.
That being said, I trust Disney to do everything possible to reopen their parks with minimal risk to their guests and Cast Members. Abiding by the safety procedures – social distancing, wearing masks, using hand sanitizer – will certainly minimize the risk of getting sick.
The only sure way to avoid contracting COVID-19 is to stay home and avoid contact with others. If you are immunocompromised or otherwise in a high risk group, I recommend staying away from any places with large public gatherings for the time being.
➤Will you be going to Disneyland once it reopens? – Now that Disneyland has announced a re-opening date, I can say I will not be going. It is way too early for theme parks to be re-opening, and no large gatherings of people should be taking place anywhere in California or Florida until the cast counts and hospitalizations go down and stay down. I personally have no problems with cooperating with any safety measures Disneyland puts in place, including wearing a face mask and having my temperature checked, and bringing hand sanitizer with me. But after seeing the general public's behavior now that stores and restaurants are re-opening, I don't trust other Guests to follow the rules needed to keep me safe, and it's impossible for Cast Members to enforce these vital rules 100% of the time. So no, I will not be visiting any time soon.