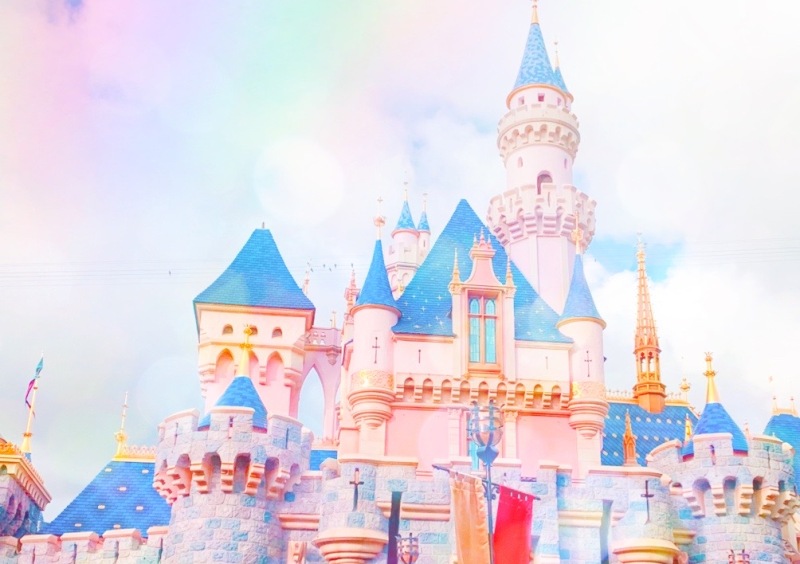 This page provides updated information about The Disneyland Resort's response to the COVID-19 global pandemic, including closure updates and news about reopening.
This page provides updates about The Disneyland Resort in Anaheim, CA only.
Newest updates are at the top.
November 16, 2020 – Orange County, where Disneyland is located, has been moved back into the Purple tier. Purple is the most restrictive tier. This means indoor dining locations (which were operating at 25% capacity) must close. Only outdoor seating will be permitted at Downtown Disney and on Buena Vista Street when it opens on November 19.
Click here for the most up-to-date information about COVID-19 and Orange County.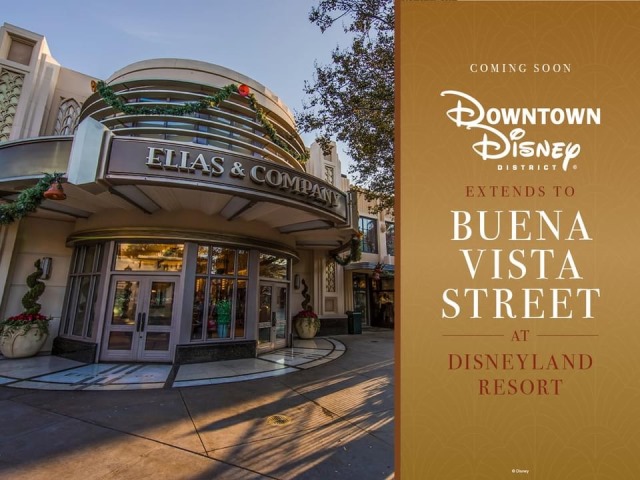 October 23, 2020 – The Disneyland Resort announced today they will be opening Buena Vista Street in Disney California Adventure for shopping and dining. This new offering will be considered part of Downtown Disney's operation. Disney California Adventure will NOT be open as a theme park. No attractions will be available.
Buena Vista Street will open on a yet-to-be-announced date in November 2020. Access will be through Downtown Disney, not the front gates.
Shopping and dining experiences will include:
– Elias & Co
– Julius Katz & Sons
– Kingswell Camera Shop
– Trolley Treats
– Fiddler, Fifer & Practical Cafe
– Carthay Circle Lounge (which will offer an expanded outdoor dining section and an all-new menu of cocktails and dining)
– Smokejumpers Grill (with a "streamlined" menu and mobile ordering only)
Popcorn and churro stands will also be operating.
Stage 17, part of Disney California Adventure that recently reopened as a shopping experience, will remain open with a separate entrance via the Esplanade.
I will share more information on this as it is released!
October 20, 2020 – Larger theme parks cannot open until Tier 4 (yellow) with limited capacity of 25%. All theme parks must implement a reservation system and screen guests for symptoms before entering. Face coverings will be mandatory unless eating or drinking.
Currently Orange County, where Disneyland is located, is in the "red" tier, with no sign of moving up to the orange tier anytime soon, as cases are rising in the area.
Source: California Public Health
October 9, 2020 – Orange County, where The Disneyland Resort is located, has moved into the "red" tier, which means restaurants can operate indoors at 25% capacity.
There are still no guidelines from the California government for reopening theme parks. It does not seem hopeful that the Disneyland Parks will reopen any time soon.
June 24, 2020 – The Disneyland Resort has postponed the re-opening of Disneyland Park, Disney California Adventure, and the Disneyland Resort Hotels. As of right now Downtown Disney will continue its phased re-opening on July 9, 2020.
The postponement is due to the California government not reviewing any theme park re-opening plans prior to July 3, which would make it impossible for Disneyland to move forward with it's planned July 17 reopening. A new planned re-opening date has not been announced.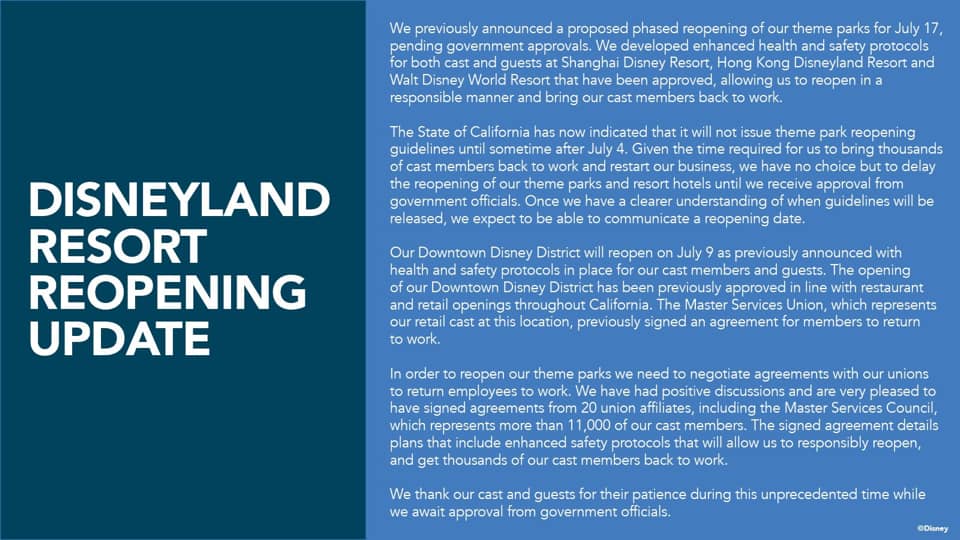 June 22, 2020 – The Disneyland Resort has released new guidelines for visiting Downtown Disney District when it reopens on July 9. New guidelines include:
– Face coverings required (guests must bring their own face masks)
– All guests will have their temperature screened. Guests with temperatures 100.4 or above will be denied entry, as well as those in their party.
– Social distancing and capacity limits will be enforced
– Parking will be in the Simba lot. Guests may enter from the west entrance, or via the esplanade from Harbor Blvd. Valet parking will not be available.
– Hand sanitizer and hand washing stations will be set up.
Disney has added the following disclaimer on their Downtown Disney District website: "An inherent risk of exposure to COVID-19 currently exists in any public place where people are present. COVID-19 is an extremely contagious disease that can lead to severe illness and death. According to the Centers for Disease Control and Prevention, senior citizens and Guests with underlying medical conditions are especially vulnerable.
By visiting the Disneyland Resort, you voluntarily assume all risks related to exposure to COVID-19."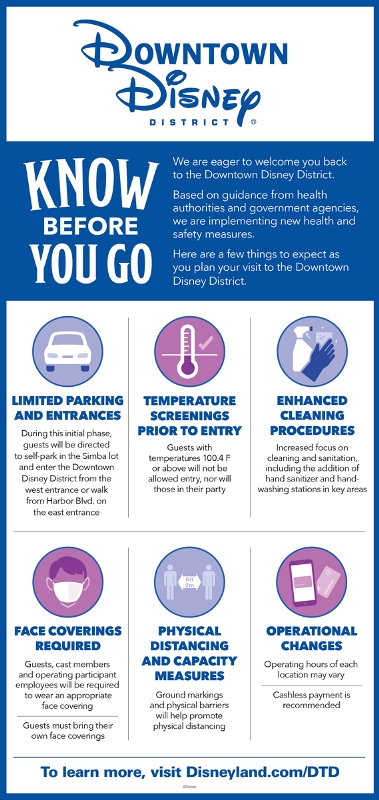 Find these and any new updates here.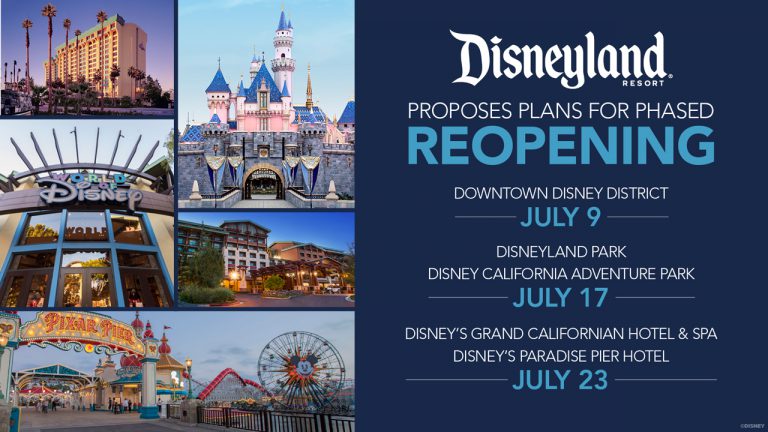 June 10, 2020 – The Disneyland Resort is proposing a phased re-opening on July 9 for Downtown Disney District, July 17 for Disneyland Park and Disney California Adventure, and July 23 for Disney's Grand Californian Hotel and Disney's Paradise Pier Hotel.
Additional info: Capacity will be limited so all guests will need a new theme park reservation, including APs.
Parades, nighttime shows, and character meet & greets will not be available.
World of Disney will be open on July 9 when Downtown Disney reopens. A full list of shops and restaurants is not available yet.
The Disneyland Hotel is not mentioned at all in the reopening plans.
May 23, 2020 – Today the California Governor approved Orange County's request to move into "Phase 2" of reopening, which includes in-person dining at restaurants and retail establishments, among other things. This means some locations at Downtown Disney or Disneyland Resort hotels could potentially open. Under the reopening guidance, establishments must perform a detailed risk assessment plan, train employees on how to limit virus spread, implement control measures and screenings for employees, establish disinfectant protocols, and implement social distancing for customers. (Source)
Disney has not made any comments on when any areas of The Disneyland Resort may reopen.
Based on Disney's guidelines for Disney Springs, which reopened last week, it is safe to predict face masks will be required once The Disneyland Resort opens.
May 8, 2020 – The Disneyland Resort is now taking reservations for travel dates July 1, 2020 and later. Previously they were taking reservations for June 1, 2020 or later.
If you currently have an arrival date before June 30, 2020, please call (714) 520-5050 for assistance.
March 12, 2020 – Disney announces the temporary closure of Disneyland Park and Disney California Adventure at the end of business on March 13, 2020. Disneyland Resort hotels close on March 16, 2020, and Downtown Disney stores closed March 17, 2020.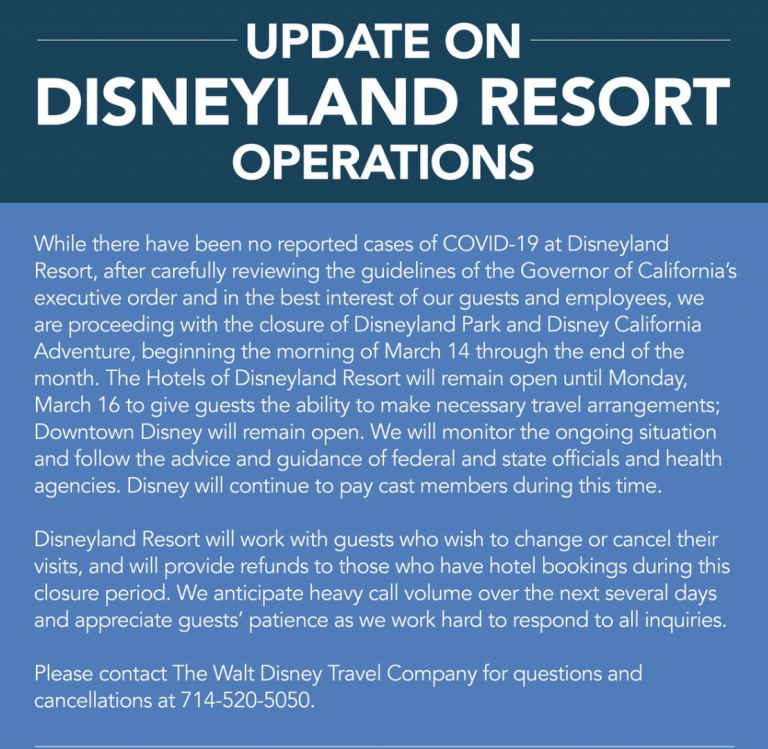 Click here for official updates from The Disneyland Resort.
Frequently Asked Questions
➤When will The Disneyland Resort reopen? – At this point there is no information regarding when Disneyland will be open again. Keep checking this page for updates, or keep an eye on the Disney Parks Blog as all announcements will be shared there first.
➤When will other Disney Parks be opening? – Shanghai Disney Resort was the first resort to close, and is also the first to reopen. They began a phased reopening on March 9, 2020 (some shops and dining locations). Shanghai Disneyland reopened with new safety measures, including reduced capacity, on May 11, 2020.
Disney Springs, located at Walt Disney World, will begin phased reopening on May 20, 2020, with reduced capacity, temperature checks, and required face masks.
➤What can we expect when Disneyland opens again? – There have been no announcements regarding new safety measures but we can expect to see the same practices put into place at Disneyland that we are seeing at other Disney locations, including:
– Locations at Downtown Disney will likely open first
– Reduced guest capacity
– Temperature checks
– Required face masks
– Social distancing
– Increased hand-washing stations and hand sanitizer dispensers
– Cashless transactions recommended
– Mobile ordering
– Virtual queues
➤Will it be safe to visit The Disneyland Resort when it reopens? – There's no easy way to answer this question, obviously. Until there is an effective vaccine for COVID-19 and enough of the population gets the vaccine, there will always be a threat of the virus spreading.
That being said, I trust Disney to do everything possible to reopen their parks with minimal risk to their guests and Cast Members. Abiding by the safety procedures – social distancing, wearing masks, using hand sanitizer – will certainly minimize the risk of getting sick.
The only sure way to avoid contracting COVID-19 is to stay home and avoid contact with others. If you are immunocompromised or otherwise in a high risk group, I recommend staying away from any places with large public gatherings for the time being.
➤Will you be going to Disneyland once it reopens? – Now that Disneyland has announced a re-opening date, I can say I will not be going. It is way too early for theme parks to be re-opening, and no large gatherings of people should be taking place anywhere in California or Florida until the cast counts and hospitalizations go down and stay down. I personally have no problems with cooperating with any safety measures Disneyland puts in place, including wearing a face mask and having my temperature checked, and bringing hand sanitizer with me. But after seeing the general public's behavior now that stores and restaurants are re-opening, I don't trust other Guests to follow the rules needed to keep me safe, and it's impossible for Cast Members to enforce these vital rules 100% of the time. So no, I will not be visiting any time soon.