Disney Bride Teresa is planning an At-Home wedding with a Haunted Mansion theme for October 2016.
The worst part of my wedding planning has been wedding dress shopping. Being plus size and also wanting something slightly non-traditional caused things to be difficult. After trying on a lot of dress which resulted in a lot of crying, I made the leap and had a dress custom made online. It finally came in the other day and I seriously had tears of joy when I opened the box for the first time. It was hard to drop a bunch of money on something I had never seen or tried on but it was totally worth it in the end.
Wedding dress shopping … so close but not quite right
The thought of ordering my wedding dress online gave me nightmares. There are definitely horror stories out there about ordering wedding dresses online but there are also horror stories about buying dresses from brick and mortar stores, so I had to push all those illogical thoughts out of my head and simply become as knowledgeable about the process as possible before I made the big purchase. Below you'll find some helpful tips and guidance on how to make the dress ordering process as stress-free as possible. I ended up finding a dress designer and sending her pictures of dresses and ideas that I loved, and then she created my perfect wedding dress! You may also find these tips helpful if you are ordering your dress online but aren't going the custom route.
7 Tips for Ordering Your Perfect Wedding Dress Online
Don't buy online just to save money. I know a lot of people do, but there is a chance that you could be really disappointed in what you get. Some places will cheap out on fabrics, patterns, lining, etc., and it can really affect the quality of what you get. If you want something that's good quality, you'll need to pay more for it. Saving money can end up being an added bonus, though! Any dress I considered purchasing in a store was around $2500 and the dress I had made came in at $1900, so I saved a few hundred dollars (not too shabby)!
Try not to shop internationally. This is one easy way to help ease your mind. Most of the horror stories about dress shopping online involve ordering knock-off gowns for cheap from overseas. There are so many variables such as different countries having different sizing, the shipping time, possible language barriers, return policies, and countless other factors that could definitely put some added stress on the whole process that you don't need. So if you're located in the United States, look for a dress maker who also lives in the States.
Go to a bridal store and try on dresses. Even if you know you want to order a dress online you should definitely still visit the shops and try on a few styles. Though at first my intention was to purchase my dress from a store, trying on different gowns helped me figure out the silhouette that looked best, what I found comfortable, and what materials I liked the most. None of the stores I visited gave me the hard sell or made me feel like I had to make a decision on the first visit so if you're worried about that, don't be.
Read reviews and be critical. Any designer, Etsy shop, or online store where I considered making a purchase, I went through their reviews. If their reviews were hit or miss I considered them a complete miss and moved on. I only focused on places which had consistently rave reviews. Why bother taking that chance and being one of the misses?
Start a dialogue with the dress maker. If you find something you like send a message with a few questions. Buying your wedding dress is a big deal and you want to work with someone who understands that and will be easy to communicate with.
Set aside money for alterations. Even if the dress is getting made to your measurements there's a good chance it might still need some tweaking.
Don't wait until the last minute! Order something with ample time before your wedding date in case the dress needs alterations.
These are just some ways that helped me ease my mind about letting go of all my fears of ordering my wedding dress online. Just remember you don't have to settle for anything you don't want or that isn't 100% you! I couldn't be happier with what I ended up getting and I wish I could share it with all of you now but until after the wedding, all you get is a tiny glimpse!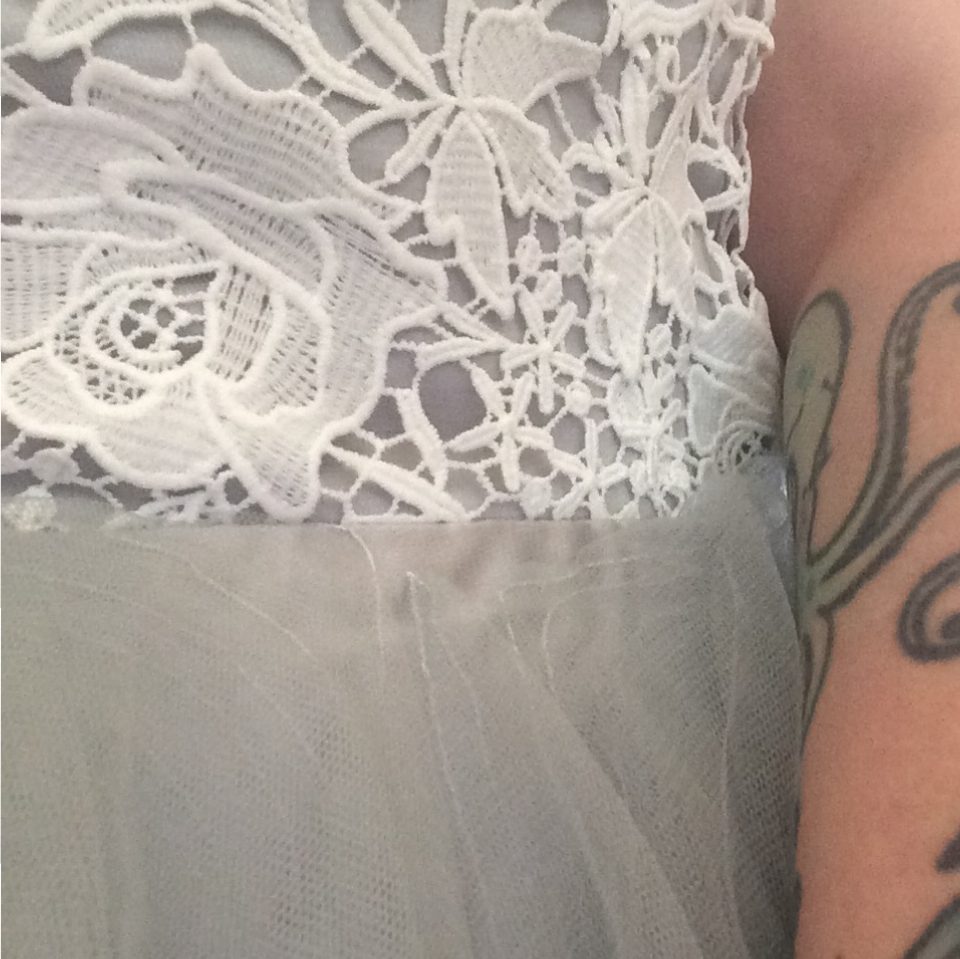 Would you consider having your wedding gown custom made online?