Everyone, make sure you're sitting down because the pretty from this Disney Dream Cruise Line wedding might make you faint. Not only is it a gorgeous wedding, but the bride and groom typed up some REALLY great advice for all of you planning DCL weddings. I also love how they describe their wedding theme as "Tropical Simplicity." Doesn't that sound like a wedding you want to be a part of? I now have new Vow Renewal goals, and they involve my toes in the sand and a bright bouquet of orange calla lillies. ALSO, let's talk about the new Star Wars area on the newly renovated Disney Dream, shall we? Do you SEE the Millenium Falcon cockpit? DO YOU SEE IT? Why am I not there RIGHT NOW??? Life certainly isn't fair, sometimes. I will have to live vicariously through Dominique and Jonathan until I can save my pennies for another Disney Cruise. Congrats to them on their Happily Ever After, and thanks so much for sharing this great advice for Disney Cruise weddings!
Photographer: Jessica Lea Photography
Disney Bride: Dominique Rios, Houston TX
Disney Groom: Jonathan Starnes, Houston TX
Wedding date: December 20th, 2015
Wedding venues: Castaway Cay, Bahamas and Disney Dream
Total budget: $20,000 (wedding + all guest cruise fare & travel)
Guest count: 8 including us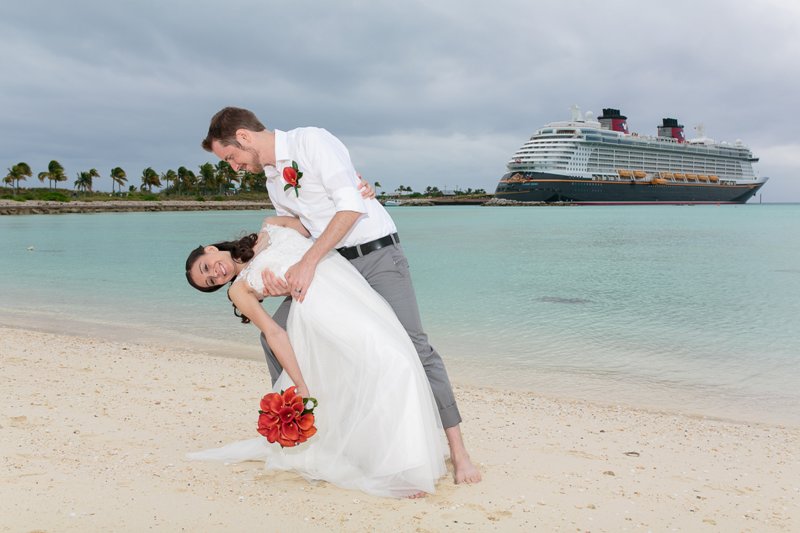 Why did you choose a Disney wedding?
We originally planned to have the normal, big traditional wedding but after attending a few of our friends' weddings, we realized it just wasn't us and started looking at other options. We decided if we were going to throw the normal wedding out the window, we wanted to do something completely unexpected and different so we started looking at destination venues. I love anything nautical related and we started looking at a beach wedding in the Caribbean when we ran across cruises options. I hate flying so a cruise was perfect and we loved how everything was so clear with Disney; we knew exactly what we were getting. The process was so super easy and I loved how I didn't have to do much wedding planning at all.
How did your family/friends react to your Disney wedding?
We kept our wedding a secret for the most part because we were only going to invite our parents and siblings. Our original wedding guest list was near 150 and we ended up taking six – both sets of parents and a sibling each. I knew by having a destination wedding it was going to cost a lot for our guests to come along and I also didn't like the stress that came along with big weddings so I opted to just have it be the small group of us. My parents in particular were super excited, they had never been on a cruise before and my dad really didn't want to have to deal with a big wedding. The way we explained it to them was, we would rather spend all of that money taking them on a vacation and have fun for a few days then be stressed out with a bunch of people we hardly knew for six hours. We had a blast, best decision ever!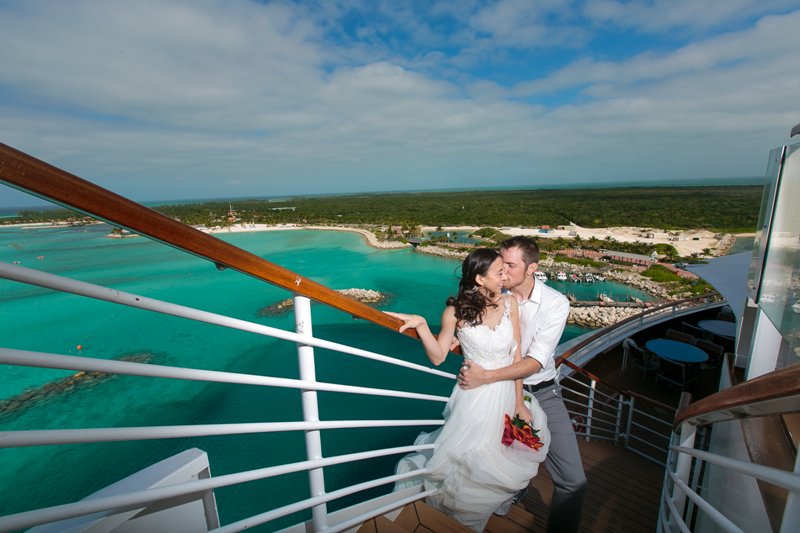 What was your theme?
We didn't really have a theme, I guess if anything it was "tropical simplicity." We wanted something really simple and sweet and beachy.
What was your biggest challenge in planning your Disney wedding?
Not knowing exactly how things were going to go until they were happening was the biggest challenge. The wedding coordinator you talk to before departure is different than the coordinator you have on the ship. You also don't see or test any of the wedding features until it's there. I didn't see the beach area that we were married at until I was walking down the aisle. So the biggest challenge was trusting that they were going to have everything just perfect which it being Disney, of course it was.
Tell us about your ceremony.
Our ceremony was on the beach at Castaway Cay, Bahamas on the Disney island. It was really early in the morning, about 10AM, for the ceremony start. The wedding area itself is fairly public, people were fairly close by on the beach enjoying their day and people could easily stand at the back of the ceremony area and watch, and we had a few people here and there that we spotted watching, being completely respectful of course. Despite being in the open area, it was really quiet and peaceful and the ship was in the background and we were married barefoot in the sand. We had a Bahamian official marry us and he was super awesome and laid back and had quite a few funny jokes for us (my dad LOVED him). The ceremony was super sweet and only lasted about 15 minutes which was great, we didn't want to be up there forever.
Describe your reception. Was it completely traditional or did you do anything unique?
The small reception that comes with your wedding package only includes a wine toasting, first dance, and cake – which we loved! We were not after a big reception, we were eager to send our family back to their vacation. The reception took place in the Outlook Lounge which is on deck 14 at the top of ship. We had brought a CD of music to play but a pianist is actually included in your package and he was kind of amazing so we just let him play whatever instead. He actually heard us talking about Star Wars casually – we are big fans – and started playing Star Wars music at one point, so that was pretty awesome.
What did you splurge on? Where did you save money?
We did add a few of the Disney extras to our package. I picked the orange mango calla lilies for my bouquet and that was extra but they were stunning. I would've never thought to pick orange ever in my life but they were gorgeous and tropical and super fitting for a beach wedding. We also bought a small bouquet and boutonniere for our sibling wedding party. And then finally we added on a special sea shell design to our cake to really make everything tropical. The chocolate shells were scrumptious.
The major extra was hiring our outside photographer which I totally recommend to anyone wanting to have this type of wedding. Disney offers photography packages for you for way less than we spent but you don't really know what or who you are getting as your photographer. You don't get their photographer for very long and from what I hear, it's just like all of their other photographers that just roam around the ship and it's just not the same personal touch you would receive from your own photographer. Jessica was just amazing and our photos were more than we could've ever asked for and we'd spend the money all again if we had to, no regrets.
A non-wedding package extra that we made was we booked a concierge room for ourselves which cost a lot more than our parents' rooms. We got a lot of extras though and the service is a little more personal and we used them more than once with wedding questions and getting a few things ironed out. Our onboard wedding coordinator actually found us in the concierge lounge at boarding around noon to talk with us instead of our scheduled meeting later that day at 3:30. So it was really nice, it was definitely worth the expense to have that extra personal touch.
We saved money by not buying all of the island extras. You have the option to have tiki poles and roses pedals line the ceremony aisle and other things but you literally get married on a white sand beach under two giant palm trees with the crystal clear ocean in the background, there were no extras needed for that perfect picture. We also were really frugal on clothing and accessories in general. I wanted a simple flowy dress for the beach which only cost me about $600 from BHLDN in Houston and we bought the clothes for my husband at Express. I didn't have any fancy jewelry or shoes and my husband wore Chuck Taylors. We really wanted it to just be about the beach and us and all of those fancy extras just didn't make sense in such a natural environment.
What was your favorite moment of the day?
My favorite moment of the day was at some point we were in the ship atrium taking photos and I was obviously getting looked at a lot because I had this big obvious white dress on, and I heard a little girl ask about me to her mom and I remember her mom responding to her with "No, she's a real princess" and it was just the sweetest thing. I really don't get very mushy but that definitely made me mushy, I'll just never forget that moment.
What would you change if you had to do it all over again?
Pretty much nothing. I don't normally like vacations, I'm a workaholic and taking a break and going somewhere purely for relaxation and enjoyment is just not me and I remember telling my husband the morning of disembarkation that I genuinely didn't want to leave. There was no better way to describe it other than Disney really is somehow magical. The whole thing was like a dream, all of the weddings we had been to were not even remotely close to what we had all just experienced. Disney really is perfect.
What advice would you give to couples that have just started planning their Disney wedding?
Trust Disney, they will make your dream come true, that's what they are good at, which is why we chose them. If an option, bring your own photographer, especially one who knows Disney already, ours made the whole day super easy. Other than that, just have fun, enjoy the ride, it's different and uncommon but it really is just the best way to get married.
Any other details you want to share?
Don't be afraid to not have a traditional wedding. It's your day and it should be what you want before anything else.