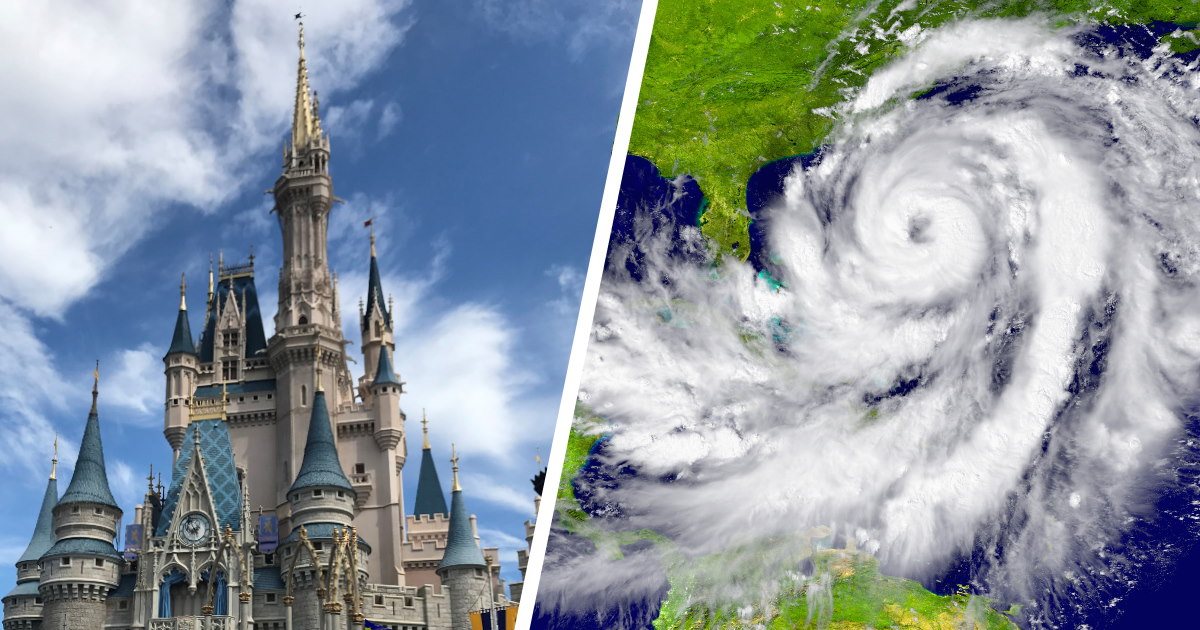 With hurricane season approaching, I remembered my good friends Renee and Diana (see their beautiful Disneyland wedding here!) were at Walt Disney World during a hurricane a couple years ago. I asked them to do a little write-up about the experience and share anything guests might need to know!
The good news is, it sounds like Walt Disney World is really prepared for these emergencies, and the Cast Members go above and beyond to try to make the guests experience as good as it can be. Can we all agree Disney Cast Members are the best?!?!
If you find yourself in a situation where a hurricane is interrupting your Walt Disney World vacation, I hope this recap gives you peace of mind.
What It's Like at Walt Disney World During a Hurricane
When you think of all the fun you can have on a trip to Walt Disney World, the last thing that would ever come to mind is riding out a hurricane. However, that is exactly what happened to my wife, Diana, and I at the end of our vacation in September 2017.
We rode out hurricane Irma at WDW, and it actually wasn't a bad experience overall. If you're going to ride out a hurricane at WDW, here is some important information to know:
Hurricane paths can change a lot, and very quickly
Plan accordingly. What would eventually become hurricane Irma began forming off the Cape Verde islands on August 30, 2017. We arrived in Florida on August 31 for a cruise to the Bahamas followed by a trip to Walt Disney World before we were scheduled to head home on September 11.
Hurricane Irma made landfall on mainland Florida as a category 3 hurricane on September 10 right at the end of our vacation. However, the path that Irma could have taken through Florida wasn't very clear up until the hurricane made landfall; the entire state of Florida was essentially marked as possibly in the path of the hurricane in all of the weather prediction models, and the spaghetti models were changing daily up until landfall. This made it very difficult to figure out if we should stay or if we should cut our vacation short and leave early.
Ultimately, our original flight was cancelled by Southwest on September 8 and we couldn't get a flight back home until September 13, so we were staying through the hurricane. We did not have trip insurance, but Southwest waived any fare differences associated with switching your flights.
In the case of a massive storm like Irma, you need to make a decision sooner rather than later if you want to ride out the storm or go since flights will get cancelled and hotels will get booked up; otherwise the decision will be made for you.
Pay attention to the My Disney Experience app
Major announcements about the storm and operations were made through MDE. It was the best source of up to date information. Make sure to regularly check MDE to find out about park closures, resort restrictions, and when the parks are resuming operation.
A lot of people evacuate to WDW and the resorts suspend "no pets" policies
Many people from the coastal areas of Florida will evacuate to central Florida during a hurricane, filling up the hotels. Storms discharge energy as they move over land so the winds are less intense and damaging by the time a hurricane reaches Orlando compared to the coastal areas. We were told that Disney's Beach Club was designed to withstand the winds of a Category 4 hurricane.
If something were to happen, Disney has a pretty solid disaster plan in place to keep people safe. One of the Cast Members on the Club Level provided me with a little information about how they handle various scenarios when I asked and it was clear Disney knows what they were doing.
It made me feel incredibly safe and like I had nothing to worry about.
Since Irma had such an unknown path, there were a lot of people evacuating from the coast to Walt Disney World. This also included many pets since Disney resorts suspended their no-pets policies for the storm. We saw all kinds of dogs, cats, and even a potbellied pig at Disney's Beach Club. While it was very entertaining (and, as an animal lover, completely heartwarming to see that Disney was giving people an option of somewhere to go since they didn't have to make the choice to not evacuate to stay with their pets), if you have any kind of animal allergies be aware the animals may be allowed in common areas like the lobbies.
Also, since these are not service animals with impeccable public manners, it can be chaotic, loud, and potentially frightening if you have a fear of dogs, and you might hear a woof or two from some rooms during the storm.
Disney does their best to continue the magic even during a hurricane
Before I dive into the experience of riding out a hurricane at Walt Disney World, I need to point out that we were extremely lucky for Irma. When we visit WDW we typically will do split stays across several resorts.
This trip was no different.
The last few nights of this trip we were scheduled to stay at Disney's Beach Club in a Club Level room. As soon as we found out our flight was cancelled, we extended our stay in the Club Level room. This probably is what contributed most significantly to my overall positive perception of riding out a hurricane at WDW.
Our floor was relatively quiet and the Cast Members working Club Level for the duration of the storm were just spectacular. They managed to continue to provide the outstanding service Disney is known for, including the wonderful chef who made sure Diana and I had plenty of vegetarian and vegan friendly dining options to accommodate our vegetarian diet.
Prior to the storm we were informed that it was not guaranteed we would be receiving Club Level service during the storm, but they managed to pull it off and then some. I am incredibly grateful for everything they did because they took what could have been a pretty scary experience and made it fun.
Due to Irma being such a substantial storm with an unknown path, the hurricane preparations across all of WDW began several days before landfall. The parks closed early on September 9 and didn't reopen until September 12. The resort bocames your source of entertainment.
At Disney's Yacht and Beach Club, sign boards were posted in the lobby with daily activities listed. Characters made frequent appearances and Cast Members regularly held all kinds of events in the lobbies, including a pet parade. The arcade was free to play. Various Disney movies played on TVs continually.
Up until the hurricane made landfall, you could wander outside around the resort and surrounding areas. While it was a bummer to not be able to go into the parks, we still had a lot of fun experiencing the resorts in a new, different way.
Stock up on water and snacks early
And be prepared to wait for meals. Some of our friends under evacuation came to stay with us during the hurricane and brought some basic supplies with them (fruits, snacks, and water). We are so grateful for them doing this. By the time we got off the cruise on September 4, the governor of Florida had already declared a state of emergency and things like bottled water had become hard to find. Though we were taken care of on Club Level, we would have been in trouble without those resources or our friends.
The lobby of the hotel becomes utter chaos during a hurricane when the parks shut down. There are a ton of people all looking to be entertained, and even more people looking to take advantage of what dining is available.
The dining locations at the resort operate on a modified schedule with limited menus while the parks are shut down, typically offering a buffet style option or Grab 'N Go meals. Be prepared to wait for either of these options. I remember seeing a line for Cape May Café that was over an hour wait to get food for the buffet they were serving.
Plan ahead and have snacks and water in your room to avoid waiting in these lines.
You will be asked to stay in your room if the hurricane passes over Orlando
We were allowed to roam all over the resort up until the hurricane started to approach Orlando. At that point Cast Members zip tied all the exterior doors of the hotel shut and asked guests to please stay in their rooms.
It is important to have some kind of entertainment for this period. While Disney does operate on its own power grid (and they do a pretty darn good job of keeping it up and running even during a hurricane), it is a good idea to have something to do that doesn't require electricity, like cards or a board game, just in case the power goes out while you're stuck in your room.
And don't forget extra charged external battery packs for your phones and tablets! You won't be let out of the resort until Disney has made sure it is safe to do so. Keeping guests safe is one of their top priorities.
After Irma had passed, there were a lot of downed trees and some minor damage to electrical fixtures surrounding the resort. We weren't allowed out of the hotel again until Cast Members had made sure it was safe for guests to be outside again.
Be kind to Cast Members
During a major hurricane, Walt Disney World operates its resorts with ride-out crews. These are individuals who choose to stay through the hurricane and work extremely long hours trying to keep guests entertained, safe, and happy.
During our stay at Disney's Beach Club, we only saw one bellhop working for the entire resort until the public officials determined conditions were clear again. We had the same individuals working our Club Level for the duration of the storm. They are doing their best to help the guests under challenging conditions.
Be aware when the resorts are operating like this that things such as daily housekeeping and room service are suspended. They're operating with a smaller pool of employees under very demanding conditions.
Plan accordingly and be patient. These are locals who are choosing to stay at Walt Disney World to serve guests with a smile on their face rather than attend to their own property during a major storm.
No one ever wants to find themselves in a position where they're stuck in a hurricane, but if that is something you're facing, Walt Disney World is probably one of the best places to go through it.
The Cast Members really go above and beyond to do what they can to keep you comfortable and safe. Every resort has different activities available to keep you entertained, and Disney makes sure to keep you up to date by providing information on My Disney Experience and in the hotel lobbies.
Not even a major hurricane like Irma can stop Disney from providing top notch service and a wonderful vacation experience!
This article was originally published in August 2019 and has been updated.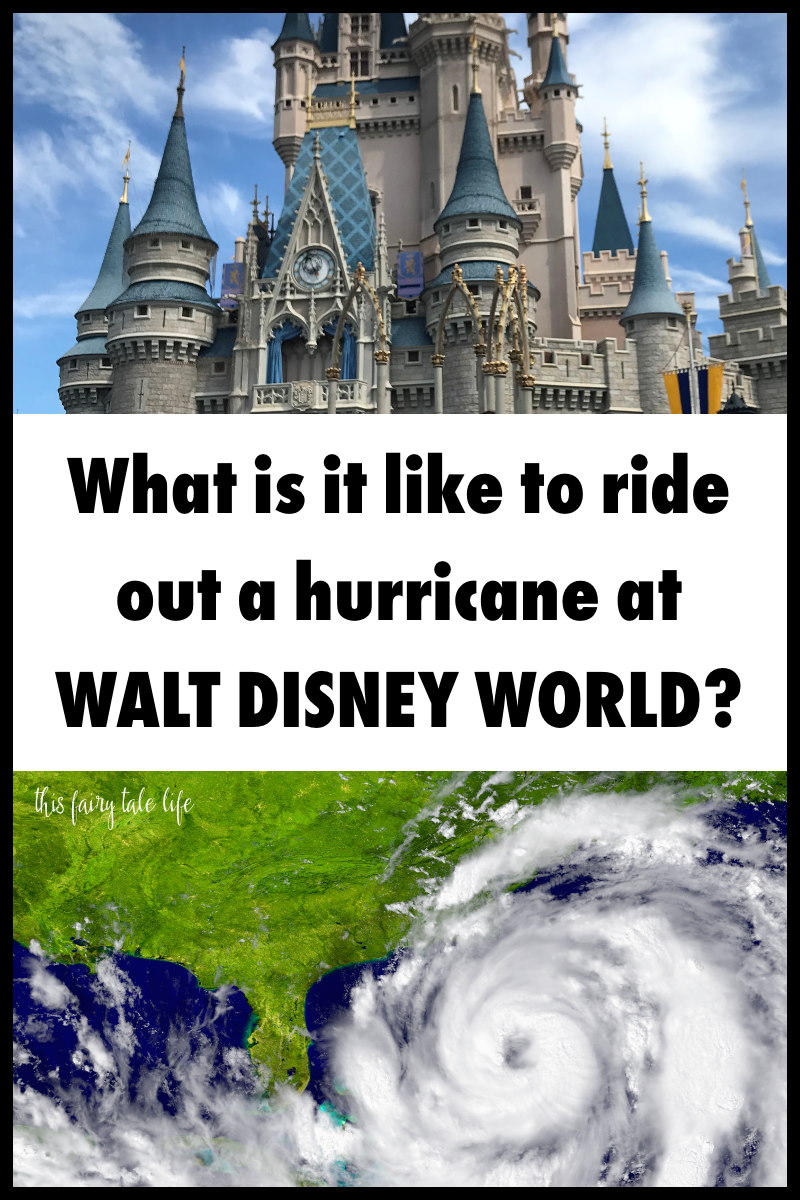 [mv_create key="17″ layout="hero" title="You May Also Like:" type="list"]