I'm always thrilled when I get a Real Disney Wedding submission, but this wedding is extra special for a few reasons. First of all, I was honored to be a guest at Renee and Diana's Disneyland wedding! It was such a wonderful wedding, full of family and kindness and happiness and warmth (despite the chilly December weather). It was also a foodie's DREAM – Renee and Diana requested some custom food options to accommodate their dietary restrictions and everything Disney came up with was wonderful! But this wedding is also very special to me because it's the first same-sex wedding submitted here, and I'm honored to feature it. I remember when Renee and Diana were planning, they were lamenting that they could not find pictures of any Disneyland weddings with two brides out there on the Internet. But all that is about to change! I hope you love their beautiful wedding as much as I do. Thank you so much to Renee for submitting their wedding story, photos, and budget breakdown, and thank you to their photographer C & B Pictures!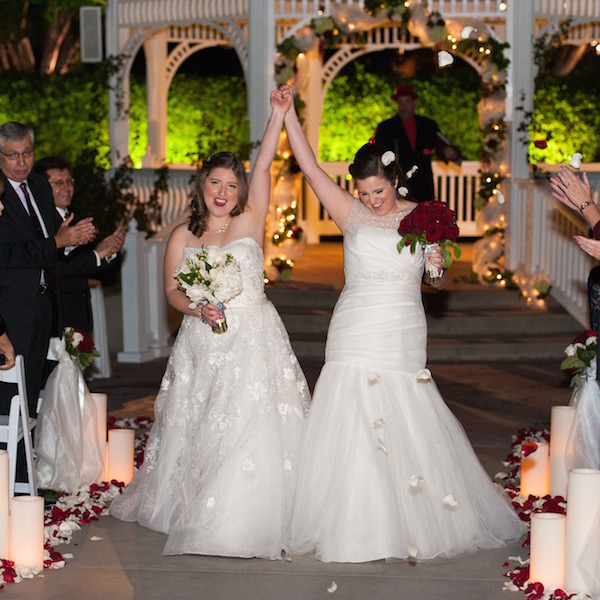 Disney Bride: Renee Forero-Cook, 28, Southern California
Disney Bride: Diana Forero-Cook, 26, Southern California
Wedding date and venue(s): December 14, 2014 – Rose Court Garden and Sleeping Beauty Pavilion
Total budget: Around $45,000
Guest count: 80
Why did you choose a Disney wedding?
Diana and I are Disney fanatics. It was something very early on in our relationship we discovered that we shared a passion for all that is Disney. Beyond loving Disney, we never felt we were being targeted or treated differently because we are a same-sex couple. Their customer service is fantastic and they are always so professional. We knew that by choosing a Disney wedding that we would have nothing to worry about.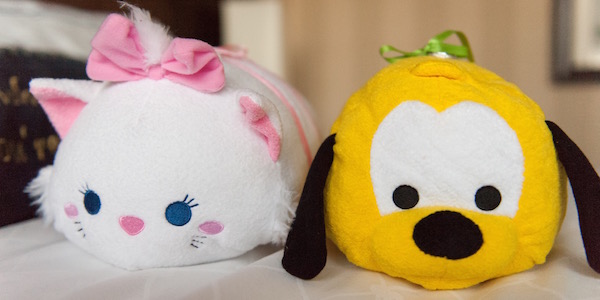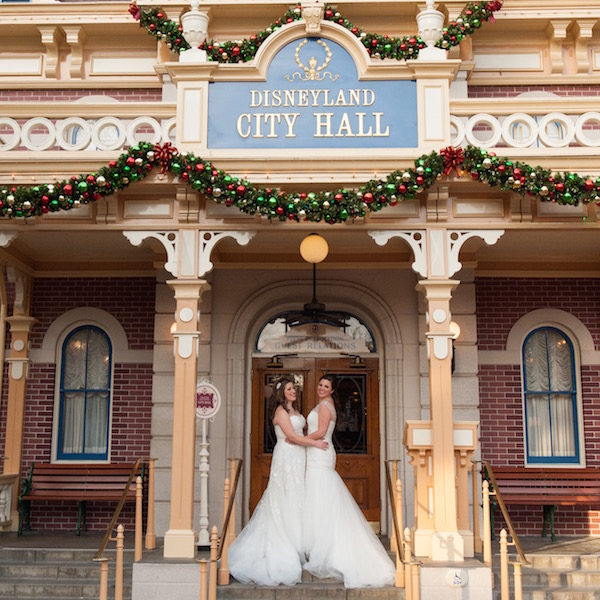 How did your family/friends react to your Disney wedding?
Due to our mutual love (obsession) with Disney, our families were completely unsurprised. I mean, most our fur children are named after Disney characters, we spend all our free time at Disney, and we have Mickey and Minnie permanently inked into our skin. I think they actually would have been more surprised if we didn't have a Disney wedding.
What was your theme?
We used Beauty and the Beast as our inspiration for the wedding. It is a story we both loved growing up and thought adding elements like red roses, books, etc would be a nice way to translate pieces of a story that means so much to us both.
What was your biggest challenge in planning your Disney wedding?
We planned our wedding in five months. We signed our contract mid July 2014 and had the wedding in December. Prior to actually signing the contract, we had only discussed the idea of a big wedding in very general terms and almost never specifics, so we had to come up with everything and put it together in five months. Thankfully, Disney is more than capable of handling such a time frame and everything was so easy through them.
Beyond that, there were a few issues within our families and us being a same-sex couple that we had to navigate. Ultimately, it was a lot easier to just accept this mantra: Let people keep their drama to themselves and we'll do what we want, and the people who want to be there will be there.
Tell us about your ceremony. Did you include any Disney touches?
Our ceremony started at 5PM in the middle of December, shortly after sunset, which netted us some (what I think are) amazing shots. Neither of us had a bridal party, though we did appoint my 13 year old cousin as our shared best man so he could wrangle our rings for us. The entire ceremony was infused with Disney. We had the string quartet and our parents walked down the aisle to Tarzan's "You'll be in My Heart" while we walked down the aisle to Little Mermaid's "Kiss the Girl." My bouquet had hidden Mickeys interspersed throughout it. My cousin brought the rings in on Tsum Tsum pillows. During our unity glass ceremony, "Something There" from Beauty and the Beast was playing. We used "There's a Great Big Beautiful Tomorrow" as our recessional. There was a lot of Disney at our ceremony.
We used Alan Katz from Great Officiants and he crafted us a custom ceremony that was completely personalized to our relationship. It was so perfect and beautiful. During the ceremony we also performed a unity glass ceremony (rather than sand) and had the glass beads made into a custom blown glass piece after the wedding that we can display in our home forever.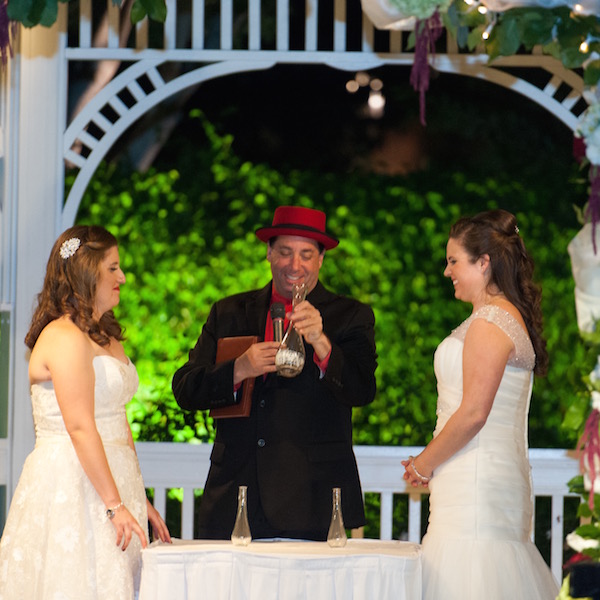 Describe your reception. Was it completely traditional or did you do anything unique?
Our reception was basically a big formal dinner and dance party, with some Disney characters thrown in for fun, and a few adventures along the way. We had intended to join our guests at the pre-reception and lead them into the reception space and into our first dance. Our first dance was pretty special. Diana was accosted by a bee, and I ran away like a chicken leaving my brand new wife to fend for herself. She hulk smashed that bee into the ground good.
The traditions we adhered to were the first dance, a welcome statement from us, the father-daughter dance, and the cake cutting. We also had characters at the wedding! Donald joined us for the cake cutting while Mickey and Minnie came for a character meet and greet with all our guests.
What did you splurge on? Where did you save money?
We splurged on photography/cinema, the gazebo decor, the draping, the characters, and our string quartet. We saved money on our DJ by opting to not go through Disney (and he was phenomenal), having my mom make our personal floral, by making our own invitations (from Michael's with coupons!), and by not sending save the dates (seemed pointless less than five months out).
What was your favorite moment of the day?
It is a tie for me. I loved our first look before the ceremony, but I also loved our first dance due to the bee incident. It was just such a great moment to represent what our relationship is like.
What would you change if you had to do it all over again?
I would plan more time for hair and makeup and remember that my hotel room has a phone so cell reception doesn't matter. Also, I would see if Disney would budge on the start time of 5PM and maybe push it to 4PM since it was a Sunday evening (or maybe even do a lunch time wedding). That is one thing that has weighed the heaviest on my mind, but ultimately when I think back about how the time of day of our wedding ties into the little moments I loved so much and how it felt, I don't think I would really change the time of day. Also, I would not get a concussion one week before my wedding.
What advice would you give to couples that have just started planning their Disney wedding?
Ask any question that comes to mind and don't be afraid to ask your planners for suggestions to capture what you're looking for if they tell you that you can't do something. They have some really great ideas. Make your budget very clear and very known to each other before you dive into the planning. There are lots of really tempting expensive options that can be very hard to say no to. Know what your priorities are and keep them in a handy list for when you're making decisions. The most important I think is focus on each other because you can get so many opinions with a wedding, especially a Disney wedding, that it is easy to lose sight of what is most important to you. The couple is all that really matters on a wedding day.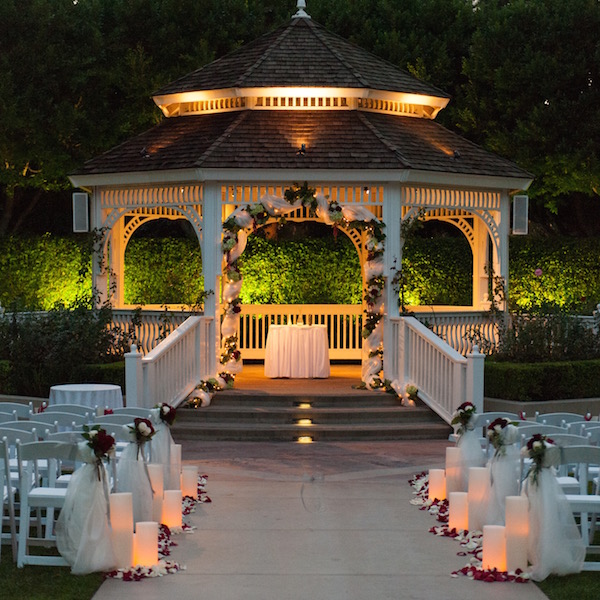 Any other details you want to share?
Fried potato fritters with gruyere cheese sauce are amazing. It was a special request we made for our pre-reception and the guests loved them. I would pay someone serious dollars to have that at their wedding and let me come and eat them.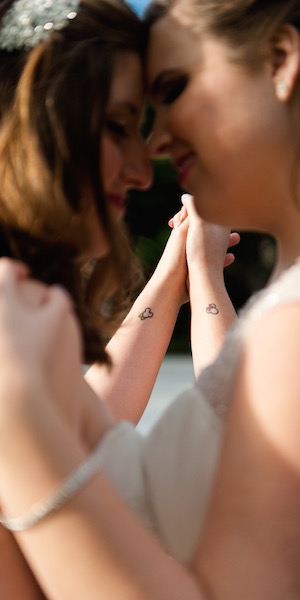 Budget breakdown
Venue: $2000++
Food/Drink: $14,900++
Floral: $4400++
Other Decor: $1850 for draping
Officiant: $500
Ceremony Music: $2145
Reception Music: $850
Other Entertainment: $250++ to extend the reception an hour, $159++ for power for our DJ, $2400 for characters
Photography/Videography: My photo/cinema was a packaged deal (discount from a bridal show). After all the extra video we bought and upgrades we paid for, our photo/cinema cost about $7300.
Early morning Sleeping Beauty's Castle shoot: $3000
Bride's attire: About $600 for one dress and $900 for the other. (Purchased pre-owned from a charity.)
Hair/Makeup: $1200 (For three people day-of, two trials, and reapplication for morning castle shoot.)
Unity glass: $500
Misc (hotel room, rings, accessories, etc): $2500
++ Prices listed do not include required taxes and service fees.
Pricing at Disney is subject to change at any time.
Vendor list
Wedding coordinator: Michiel Logan, Disney's Fairy Tale Weddings
Photography & Videography: C&B Pictures
Officiant: Alan Katz – Great Officiants
DJ: Eric Mosqueda – SoCal DJ
Hair/Makeup: Chelsea Bugarski – Fuse Hair and Beauty
Stationery: DIY from Michaels