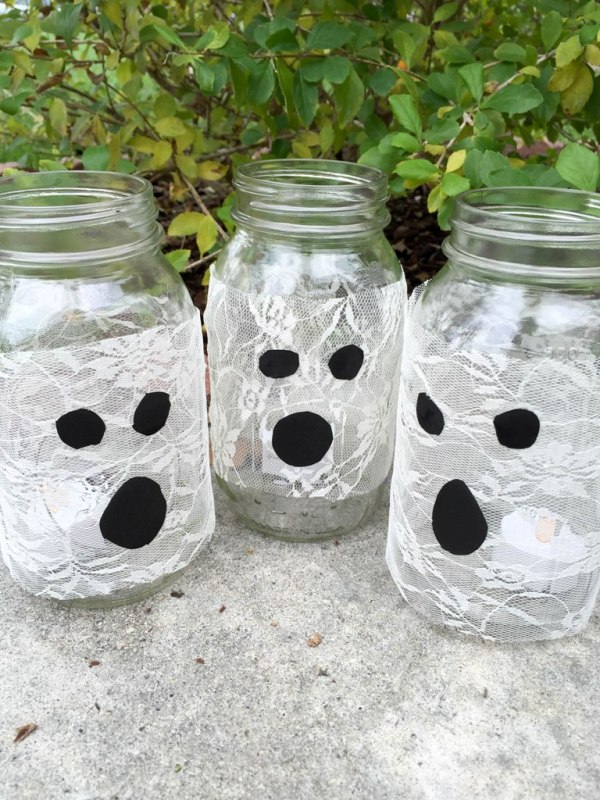 How cute are these super easy DIY mason jar ghost luminaries I made for Halloween last year? They looked so cute lining the walkway up to our front door … until it started raining and I had to bring them in. There is no rain in the forecast this year so I'm hoping they can stay out all night!
If you want to make your own, trust me when I say they are so simple!
Easy DIY Mason Jar Ghost Luminaries
Supplies:
White or ivory lace
Black duct tape (sheets of tape are easiest)
Clear Mason jars
Scissors
Clear tape
Battery operated tea lights
Steps:
Step 1 – Cut out a piece of white or ivory lace to wrap around your mason jar. Once you have the correct size, use that piece of lace as a template to cut out however many you need. Secure the lace to the jar with a piece of clear tape
Step 2 – Use the scissors to cut out round pieces from the black duct tape. Each mason jar should have two smaller pieces for the eyes and one larger piece for the mouth. If the tape has protective backing, remove the backing and stick the tape to the mason jar.
Step 3 – Place a battery operated tealight or votive candle in each mason jar.
And you're done! I told you it was easy! Display these little guys (or ghouls) wherever you desire.